Traditional bathroom ideas – 22 timeless styles and classic decor inspiration
Be inspired by these elegant traditional bathroom ideas that will breath new life into your space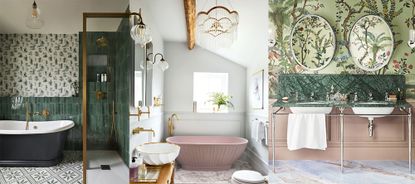 (Image credit: BC Designs/Drummonds)
Your bathroom is a sanctuary, and these traditional bathroom ideas will help you to create your dream space, where you can shut off from the rest of the world. From color schemes and flooring to furnishings and sanitaryware, every element must work together to create a harmonious scheme.
Decorating with traditional bathroom ideas doesn't mean your bathroom needs to be dated. Instead, traditional bathroom ideas are about uniting modern bathroom ideas, technology and amenities with the elegant and timeless shapes and patterns of traditional decor.
'When designing a traditional style bathroom, select interesting pieces that incorporate a feeling of timelessness to the space, and avoid items that are considered sleek and modern. The idea is to add character and charm to the design through details that can be pulled from different design eras of the past,' says Anna Franklin, interior designer and founder of Stone House Collective. 'A signature feature in a traditional bathroom is a standalone claw-foot tub, accented with faucets in a brass or bronze tone (try to avoid chrome hardware wherever possible). Consider adding floral-printed wallpaper or wood paneling to the walls to create visual interest and design depth.'
Traditional bathroom ideas – 22 looks for a dreamy space
Whether you are redecorating the family bathroom or creating a classically inspired ensuite bathroom idea, it is important that your bathroom is a place that you love. After all, it is one of the few spaces where you can lock the door and give yourself some much needed 'me time'.
From freestanding tubs and elegant shower enclosures to eye-catching fittings and statement walls, there are countless ways to create a space that really works for you and chimes with your own taste and styles. Draw on classic decorating ideas to inspire your design while also being aware of the unique challenges of the bathroom environment.
1. Consider the silhouettes of your sanitaryware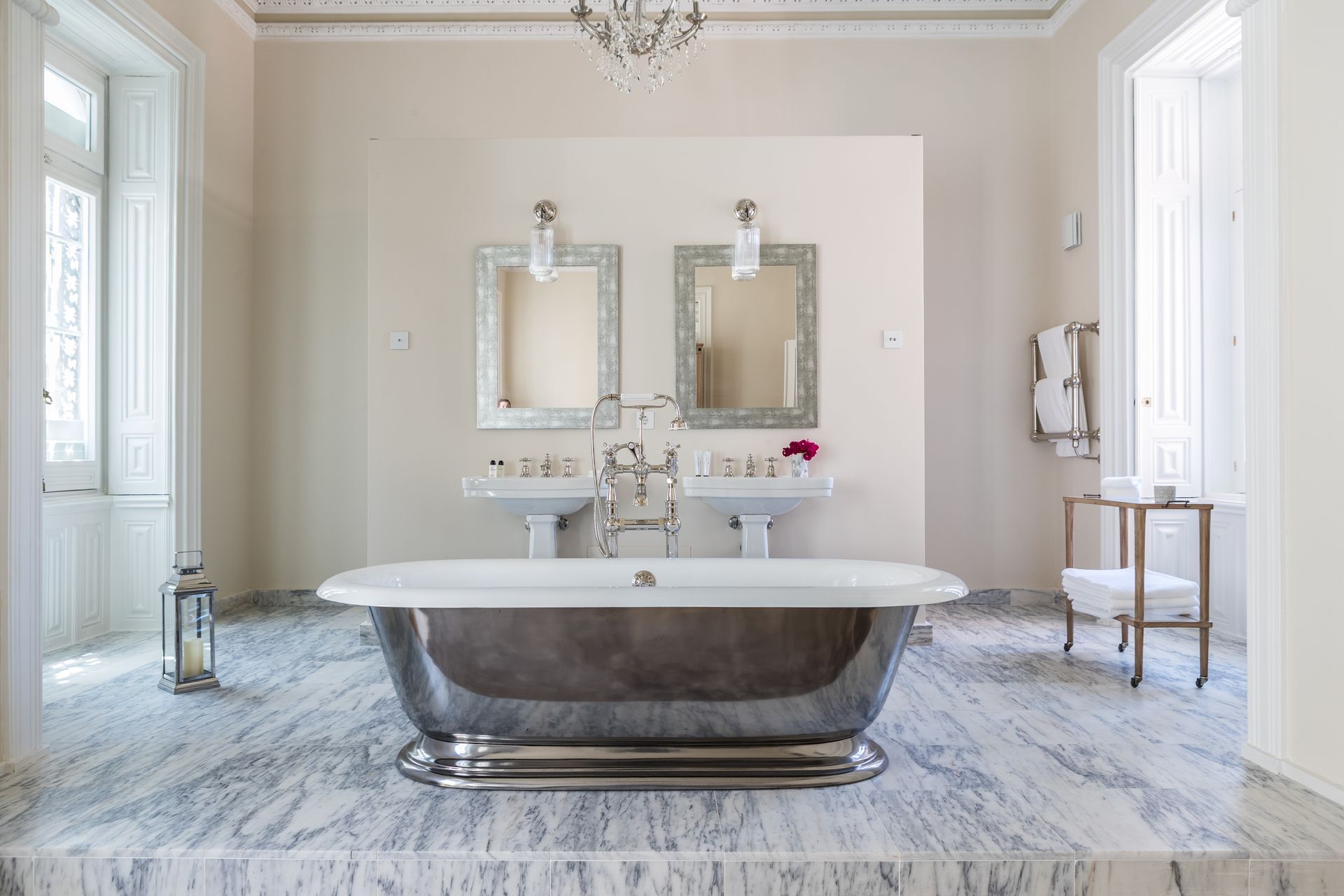 As a general rule, modern bathroom ideas embody clean lines and sharp angles. Therefore, if trying to embody traditional bathroom ideas opt for cabinetry and sanitaryware with softer silhouettes.
'Curved items such as oval freestanding bathtubs, sink faucets with rounded soft edges, round shower heads and trim, provide a more traditional look,' recommends Jil Sonia, interior designer and founder of Jil Sonia Interior Designs.
2. Think about your color schemes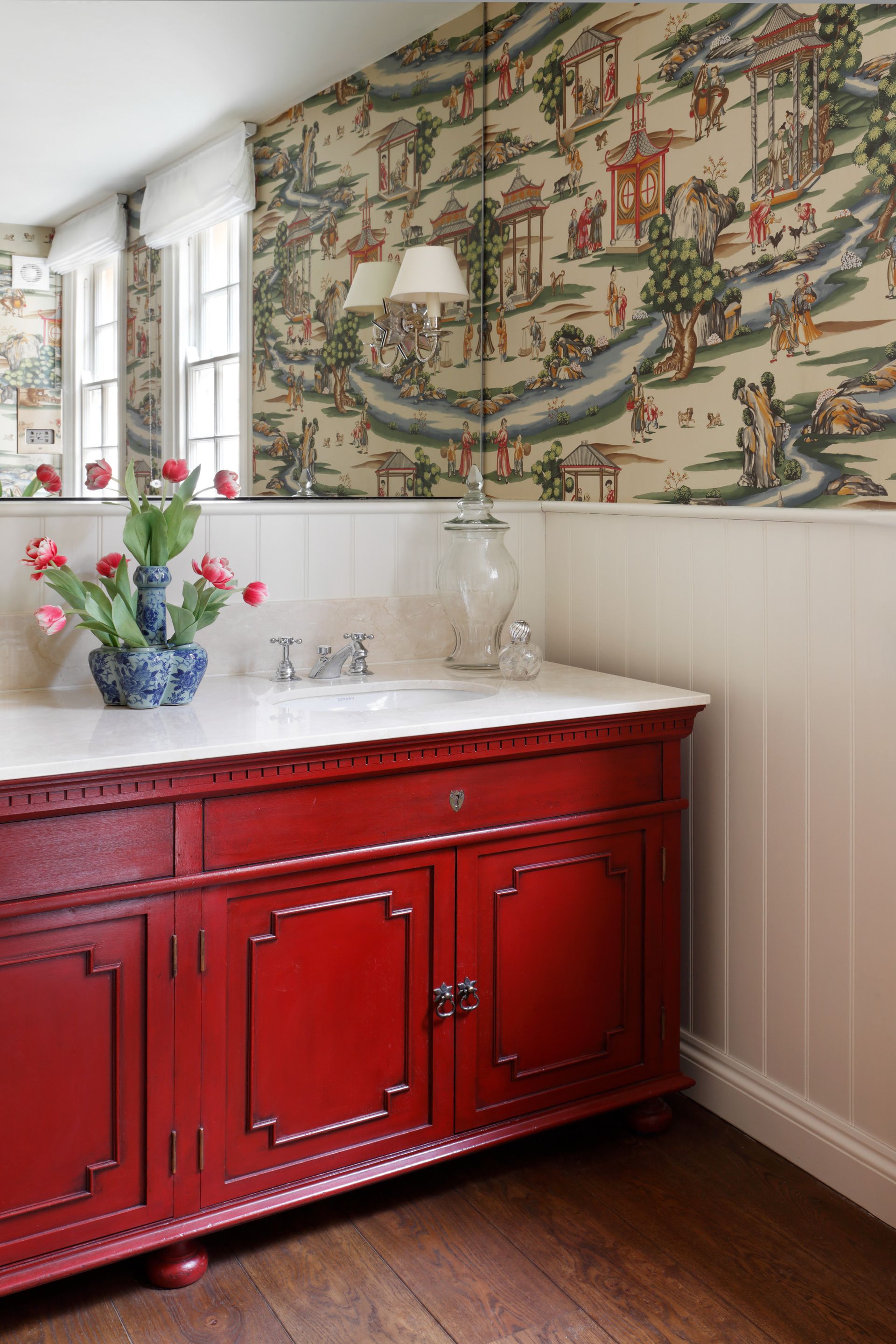 In any room, color schemes play a vital role in curating the space. When it comes to the bathroom, there are plenty of different bathroom color ideas from which to choose. However, for a classic look keep your palette to a minimum. Pair one bold hero color with softer neutrals such as whites, creams, or beiges to create balance.
When painting a bathroom, paint finishes are another essential consideration. Opt for a formula that is dedicated to the bathroom as it will be able to withstand the moist environment. Also consider a mould resistant formula to keep your bathroom looking elegant without the maintenance requirements of a standard paint.
3. Have a shower and a tub for the best of both worlds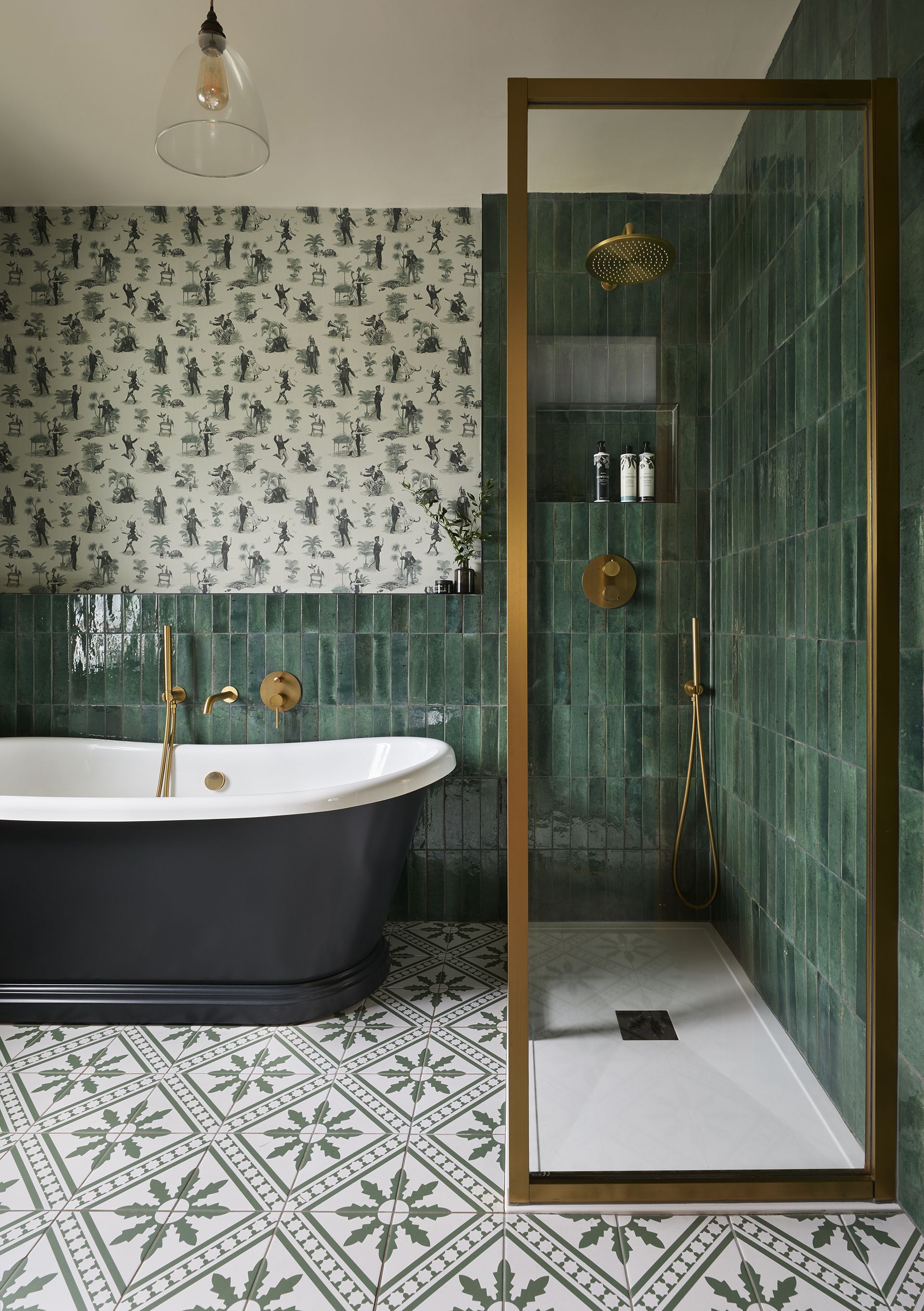 With us all having busy lives, the shower has become a staple part of the morning routine. For many households, it is a non-negotiable addition. However, there are myriad bathroom shower ideas from which to choose. Whether a compact cubicle, dedicated wet room or a complete over-bath system, it can be challenging to know which option is the best fit for your home and lifestyle.
'The choice of shower that you decide on can be partly dictated by the space and shape of your bathroom. If space is limited, having a shower over the bath is a practical way of ensuring you can still have both, which can be important in a family bathroom. Wet room ideas have grown in prominence as a bathroom trend over the last two years, and are a great way of opening up a space to make it feel larger. Glass screens can still be used to 'zone' areas, but keeping the flow of the same tiles can help the room to feel much larger and as one,' explains Barrie Cutchie, design director at BC Designs.
4. Design your traditional bathroom around a bold focal point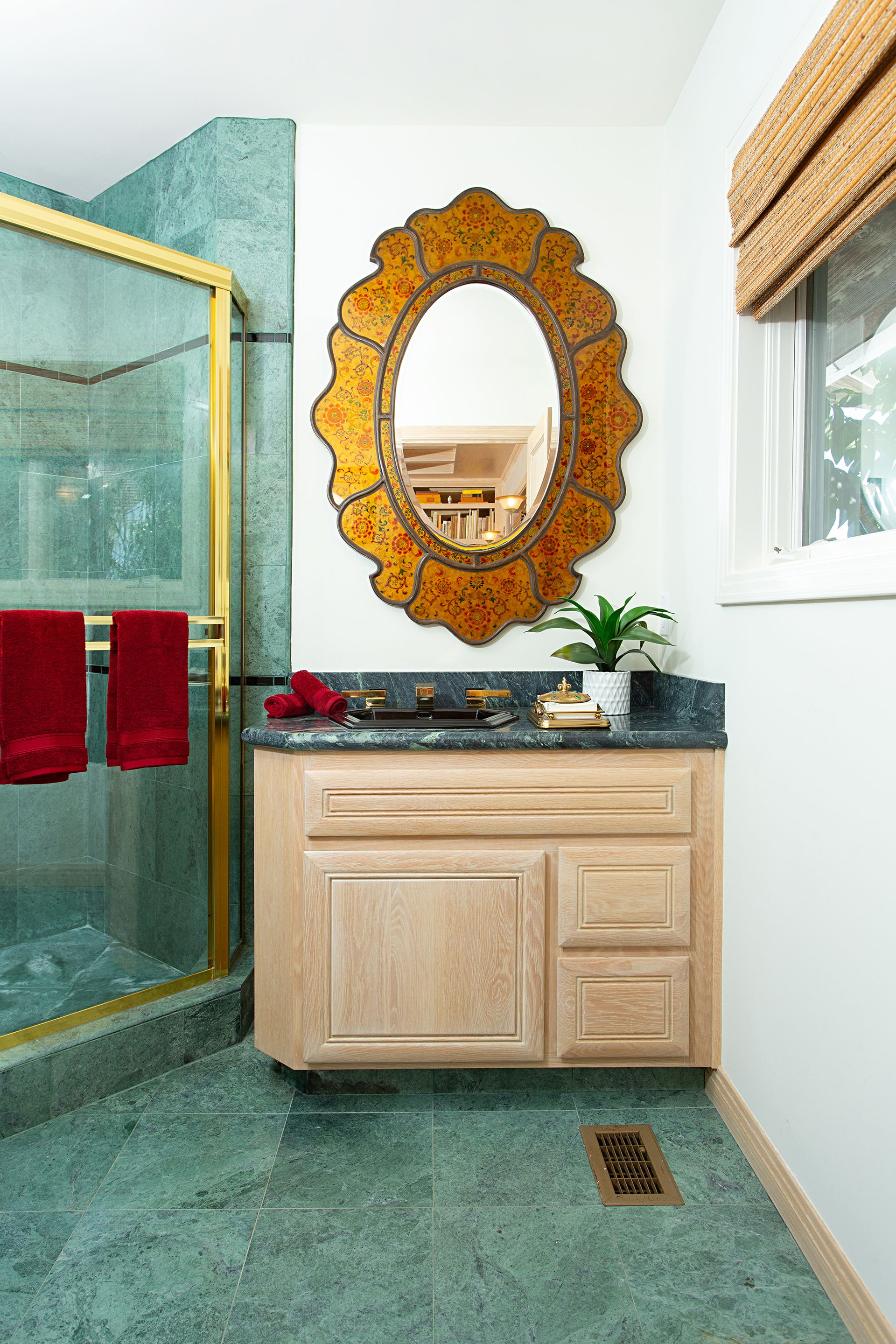 If you're unsure where to start with your traditional bathroom ideas, begin by selecting the hero piece for your scheme. This could be a statement roll-top bath, a beautiful tile or a bold accessory. From here, tie all the other elements of your design to this piece, making sure that they complement – this will ensure your entire scheme retains a cohesive and sophisticated look.
'When creating a traditional style bathroom there are a couple features to focus on to make sure you hit the mark,' says Megan Dufresne, principal designer at MC Design. 'The details are where any design comes to life. I like to make sure the finishes tie the whole design together. In traditional bathrooms, brass or chrome are popular metal finishes and can be incorporated with just about any color scheme. Overall, the traditional style is a bit more elaborate and decorative so we want all the features to work in harmony.'
5. Opt for warm wood flooring for character underfoot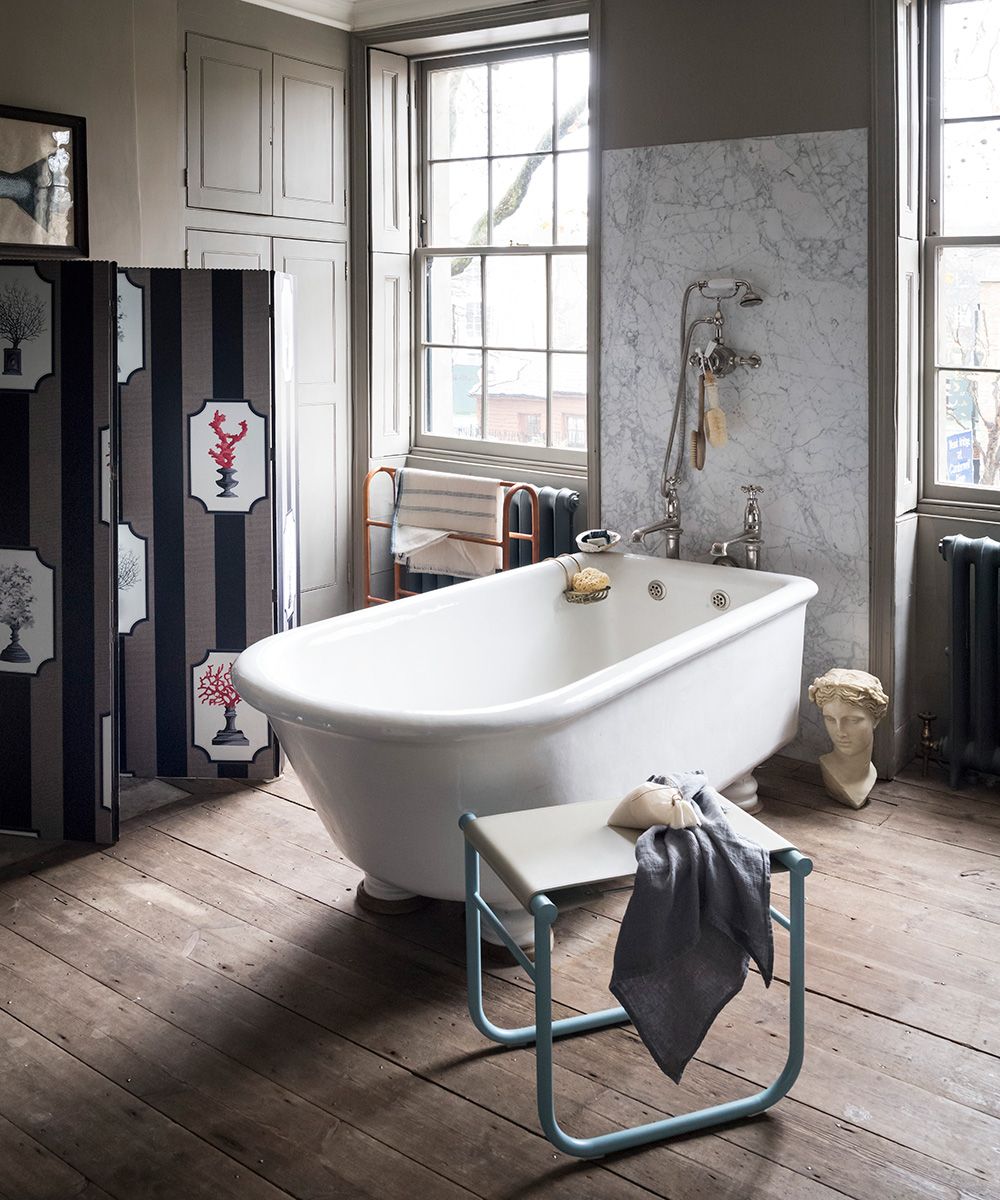 Bathroom flooring ideas are one of the biggest challenges of bathroom design. Bathroom flooring must be comfortable underfoot – especially bare foot – and offer high levels of slip resistance while also being impervious to water ingress and not swell or warp in the humidity.
While tiles are the traditional choice for bathroom flooring, wooden flooring is also worth considering – particularly as a part of traditional bathroom ideas – as it brings a softer, warmer aesthetic that is inline with this timeless style.
'By adopting a wooden floor you're creating that sense of natural wonder, making the space feel more in tune with the world around it,' says Zoey Dromgoole, interior designer at Wood Flooring Ireland. 'You can't just lay hardwood flooring in a bathroom, you'll need to go the engineered wood flooring route. This special type of flooring is constructed by layering sheets of wood on top of one another and then placing a veneer of solid wood around 5mm on top, giving the hardwood feel with added structural integrity. Due to its construction, the engineered flooring is more than capable of dealing with the moisture content and rapid shifts in humidity that you get in a bathroom space.'
6. Take inspiration from historical design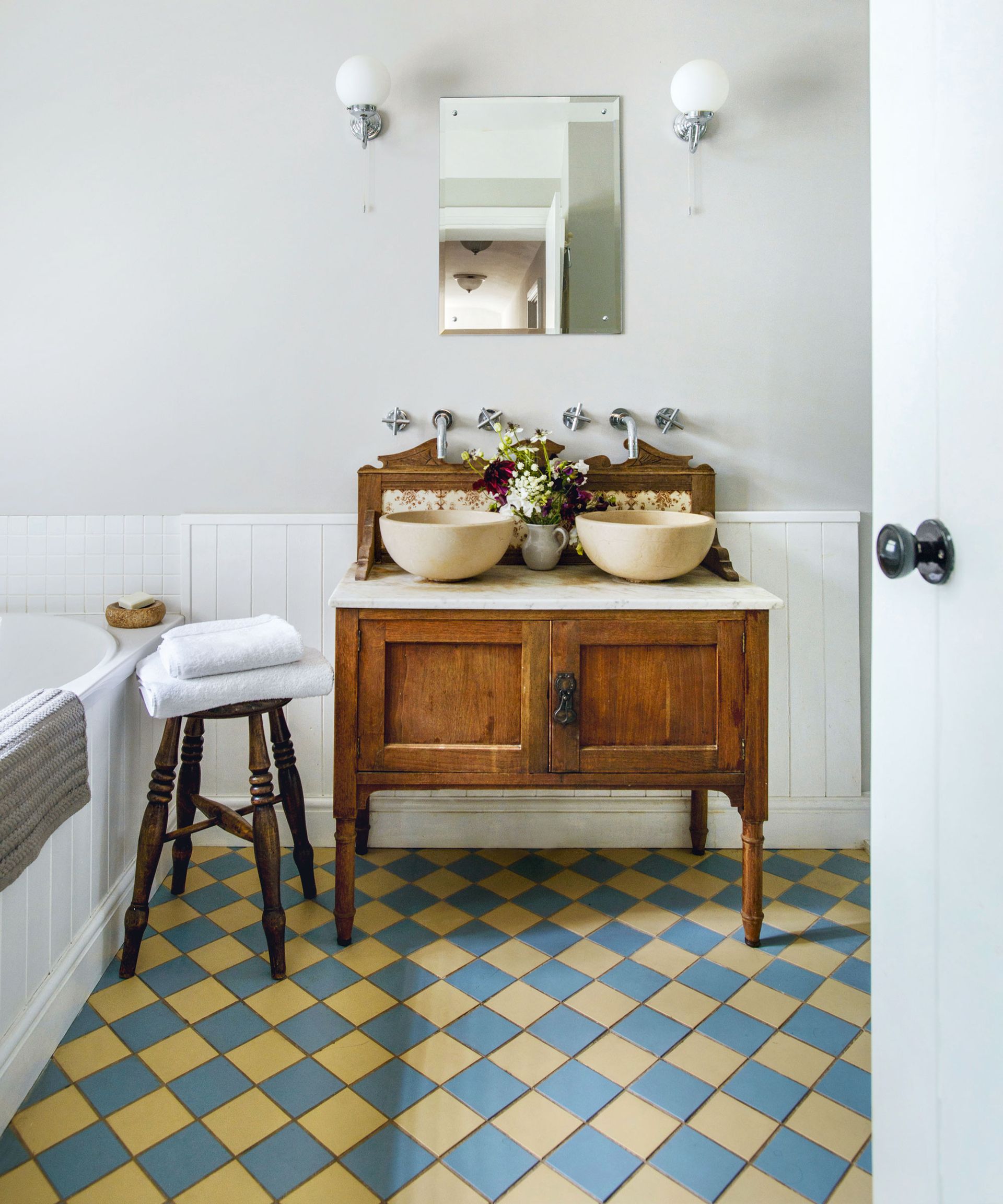 As its name suggests, traditional style is one that is born from history. Therefore, the best way to embody traditional bathroom ideas in your home is to incorporate vintage or antique pieces into your design.
This could be achieved by celebrating original beams or plasterwork and making them a standout feature. Or, if you are not lucky enough to have original architectural features in your bathroom, then you can supplement the look by introducing antique accessories and furniture into the scheme. Picking a few statement antiques such as bathroom mirror ideas, glassware or cabinetry will instantly imbue your home with heritage charm.
7. Create a statement with a sophisticated shower cubicle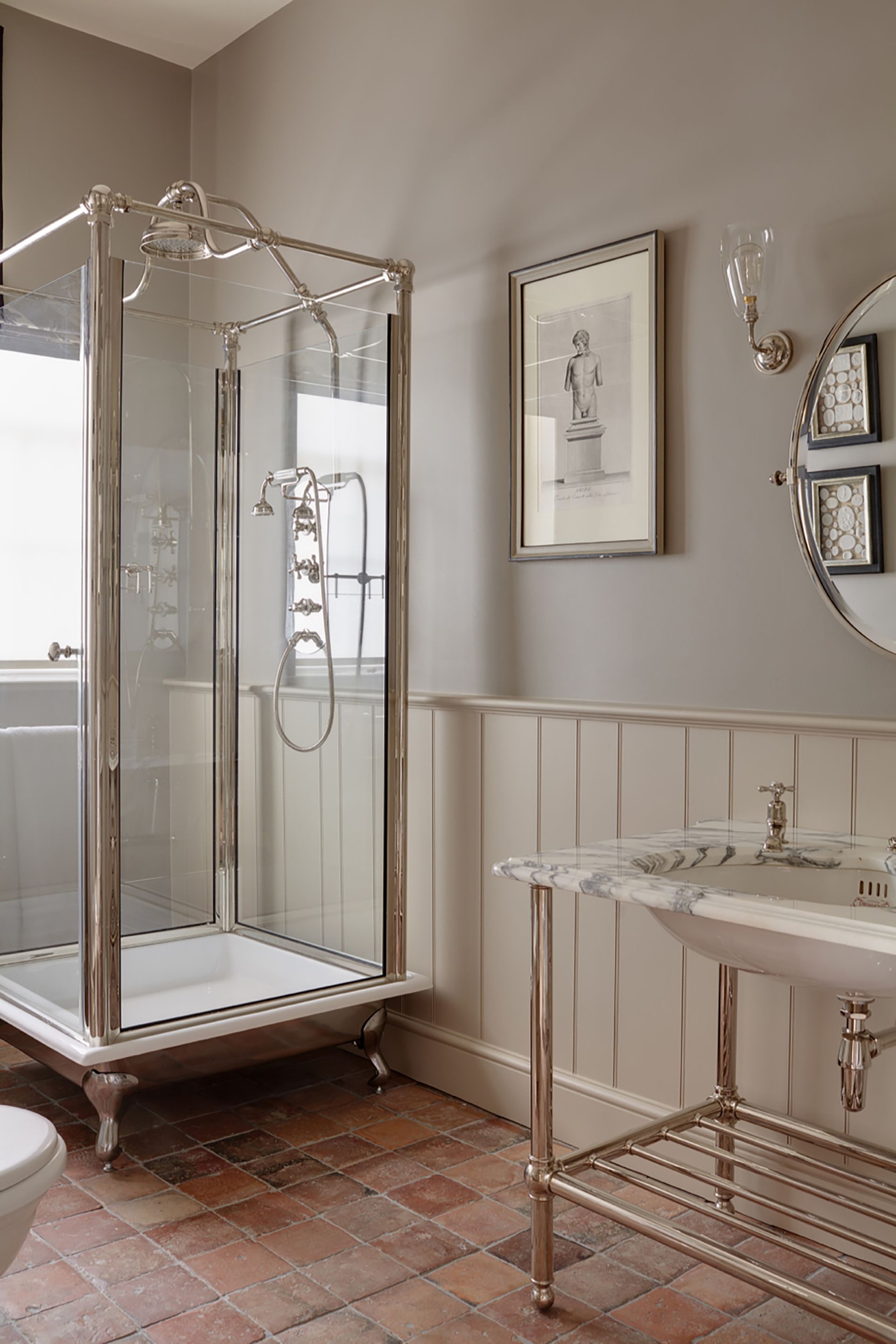 The easiest way to add a shower into your bathroom is to install a shower enclosure. Simply, this self-contained unit removes the need for waterproof tiling, additional waterproofing and adding screens around your bathtub. This elegant design from Drummonds would make a showstopping centrepiece to a large bathroom or would look equally stunning against a wall.
8. Don't forget accessories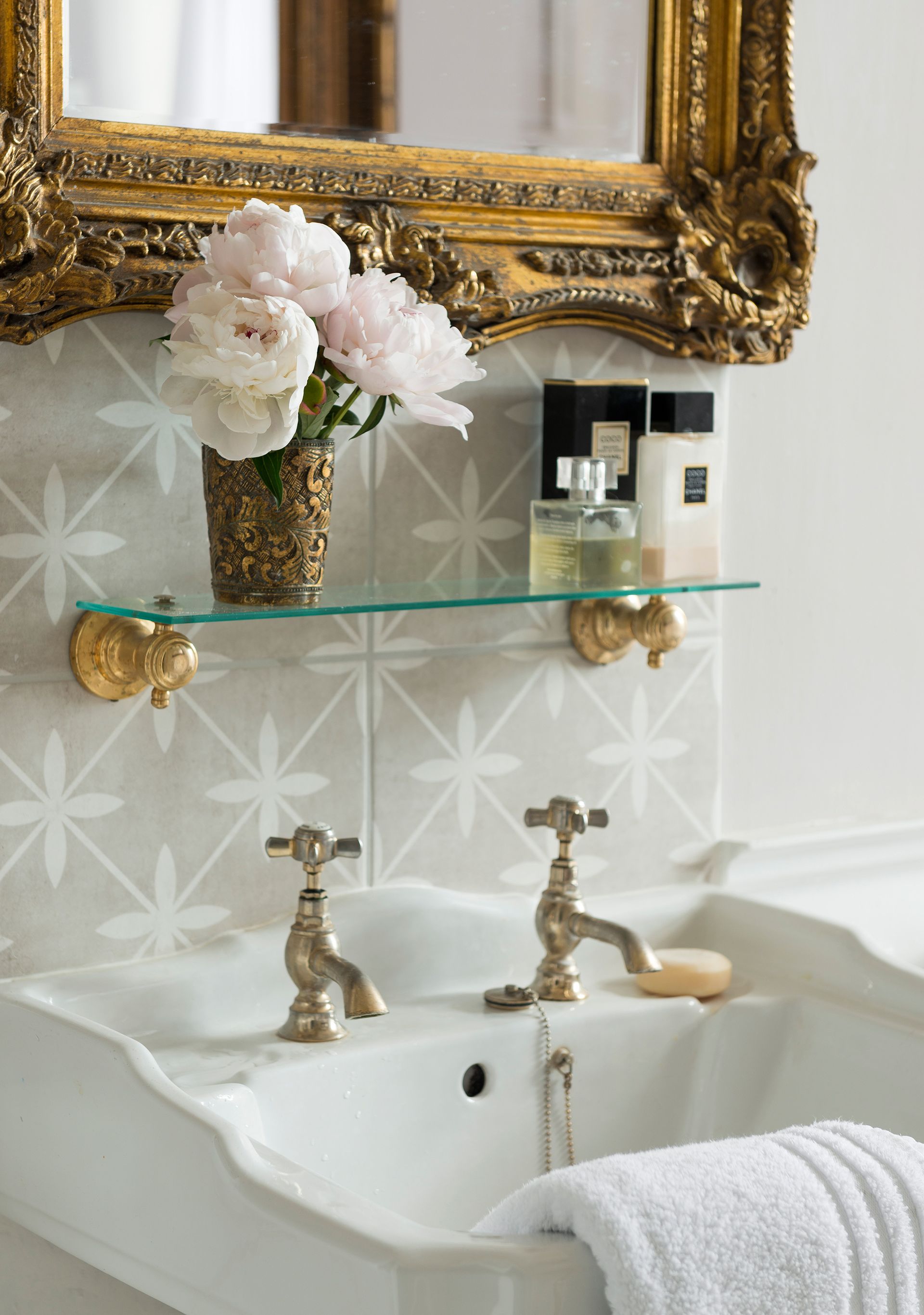 While your focus will naturally be on the larger features of your bathroom design such as baths, brassware, flooring and tiling, smaller details must not be overlooked. 'Accessories in traditional bathrooms are a must,' says Jil Sonia. 'Cut flowers in silver vases, Polished nickel hardware or Silver-plated brushes & hand mirrors can be picked up from vintage resellers, they truly personalize your bathroom!'
9. Make the most of your lighting with a mirror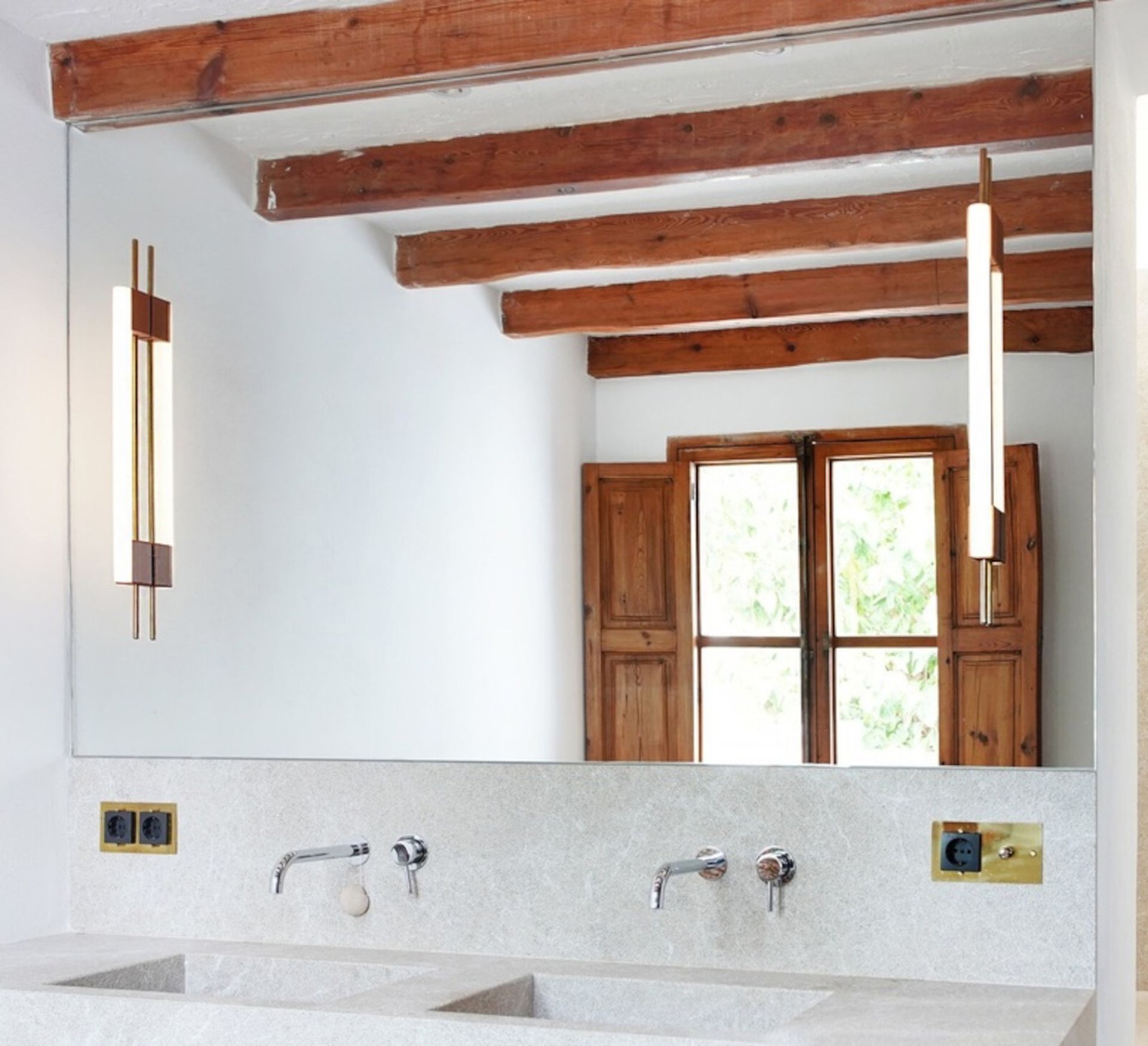 We all know the benefits of decorating with mirrors and what they can bring to smaller spaces. In the bathroom, mirrors play several roles. Firstly, they are a practical piece, allowing you to get ready and see your reflection. They also can help to increase natural light in your bathroom as well as creating the illusion of more space.
To get the most out of your mirror, position it opposite the window, then install wall lights either side of the glass, as seen above. This will mean that the mirror will reflect sunlight during the day and artificial light at night, helping to brighten your space whatever the time.
'When measuring how much light you need for a bathroom you must go off the lumens and not the watts. For a bathroom, you want to have around 500-600 lumens per 10 sq ft,' says Mitchell Elworthy, founder and director of The Lighting Outlet.
10. Add a glass shower door for an elegant alternative to a shower curtain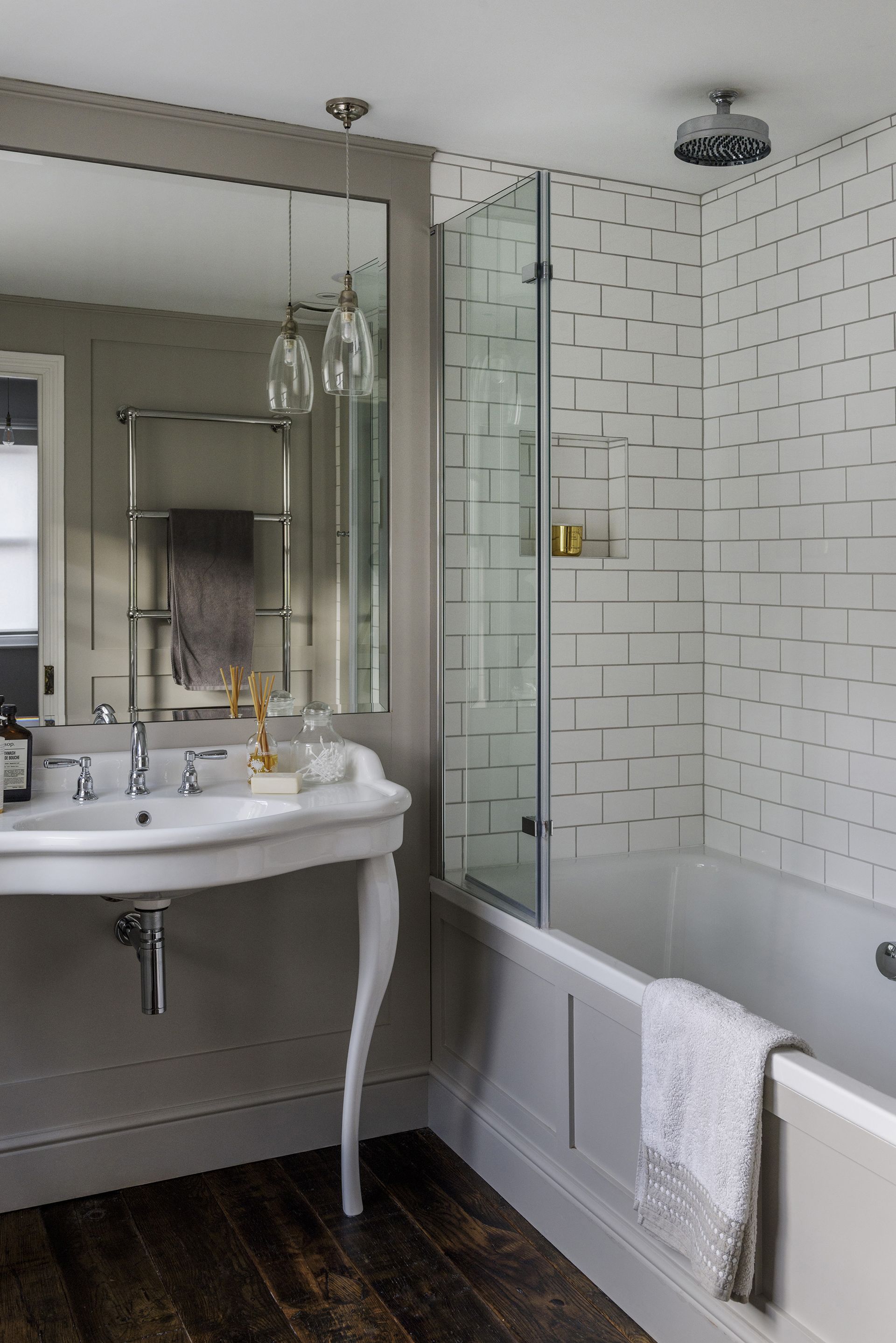 If you are opting for an over bath shower system then a shower curtain is a must. Gone are the days of unattractive plastic shower curtains that hang limply around your bath, instead consider a sleek glass design that will retain its sophisticated appearance even after years of use.
I you are still hankering for the softer look of shower curtains, however, then there are plenty of stylish shower curtain ideas that would look great as part of your traditional bathroom ideas.
11. Bring classic style with paneling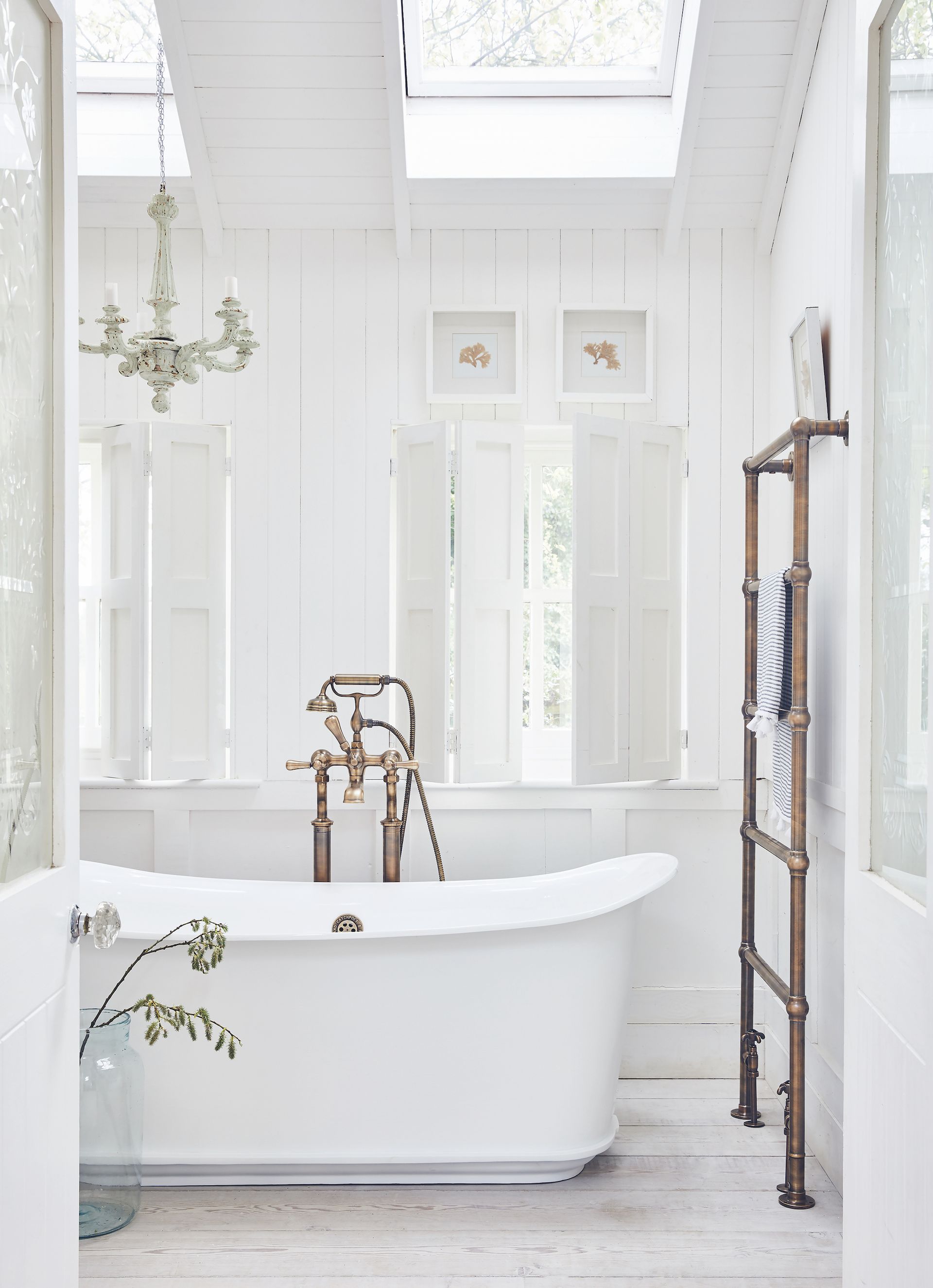 Instantly imbuing the space with warmth, bathroom paneling ideas are a surefire way to bring traditional style to your space. There are a wide variety of looks and laying-patterns from which to choose, enabling you to select the right design to suit your bathroom.
Here, rustic shiplap panels on the wall and ceiling, great for bathroom ceiling ideas, create a warm and welcoming backdrop, while square panels below the dado rail elevates the look. If pairing multiple paneling styles together, ensure you keep your color palette to a minimum to avoid overwhelming the space.
12. Create the perfect place to relax with a moody color scheme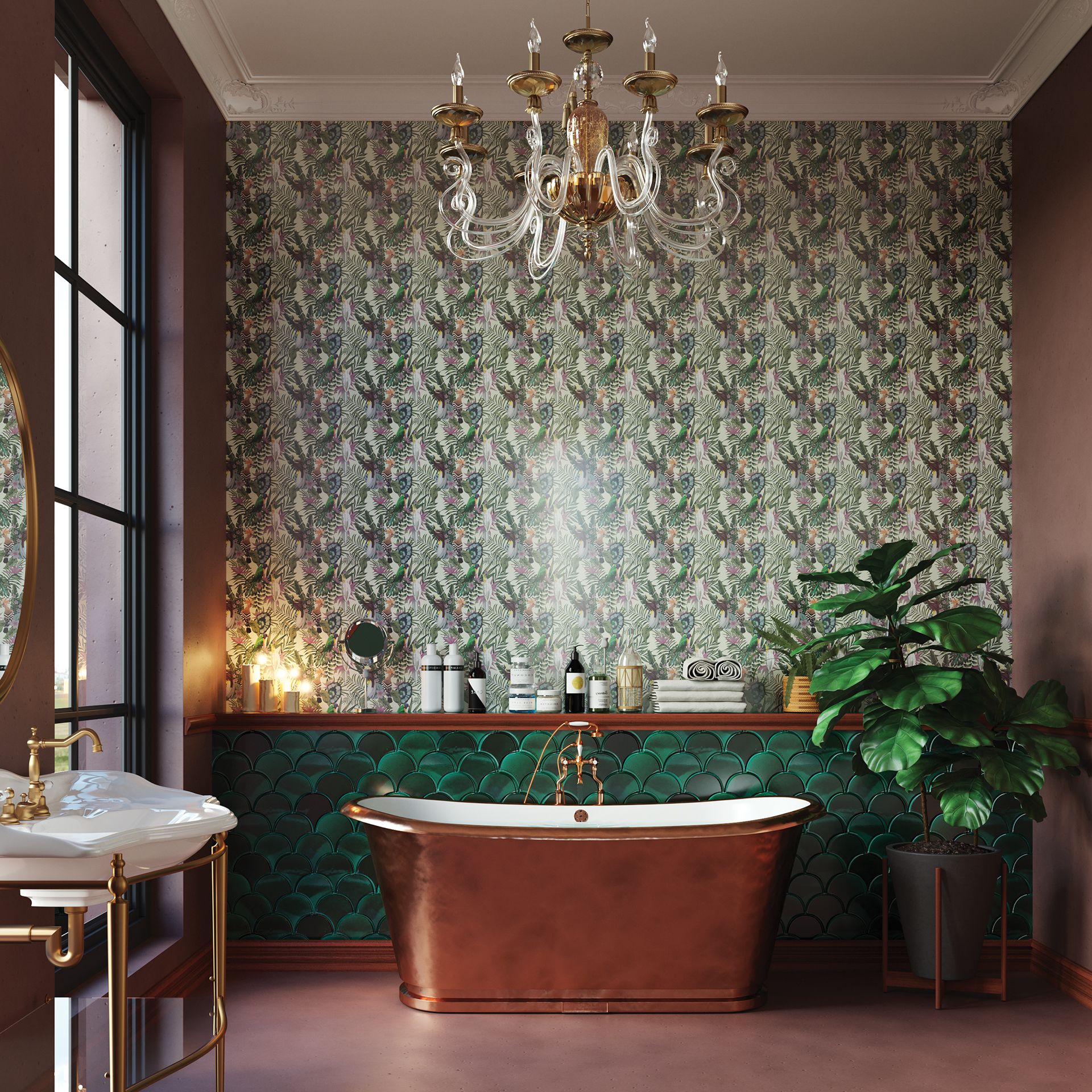 Bathroom tile ideas are a great way to bring both color and texture into your bathroom design. Combining a deep emerald shade reminiscent of traditional metro tiles with an on-trend scalloped design, these Fish Scale green tiles from Otto Tiles reflect the light from the copper bath, creating a dreamy backdrop for luxuriating. The tiles are complemented by its handmade Birds design. Inspired by the Amazon rainforest, the hardwearing ceramic tiles are the perfect, waterproof way to add a statement print to your traditional bathroom ideas list.
13. Add opulence to a traditional bathroom with a double console basin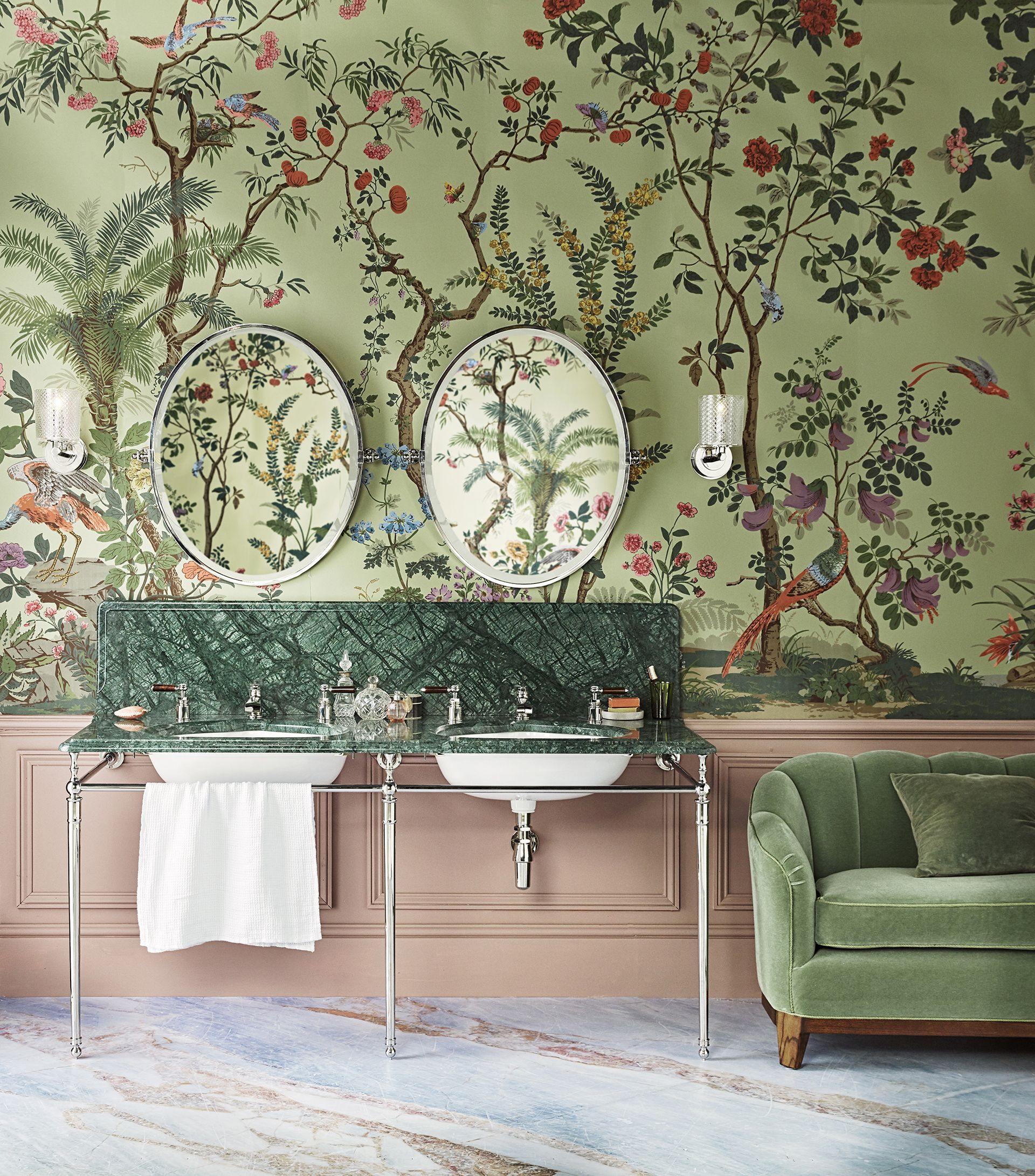 Symmetry in interior design is a neat trick you can use within your traditional bathroom ideas because it creates a balanced look that's practical, too. Here, symmetry and practicality combine within a twin basin, providing more than enough space for both you and your partner to get ready in the morning.
The exposed design of the washstand, here in a smart stainless steel finish with matching taps, lets the richly colored marble top do the talking, while a hanging rail provides useful towel storage, a beautiful example of bathroom vanity ideas.
Love this look? Find out more about the contemporary Chinoiserie trend in our dedicated feature.
14. Use natural pieces to add character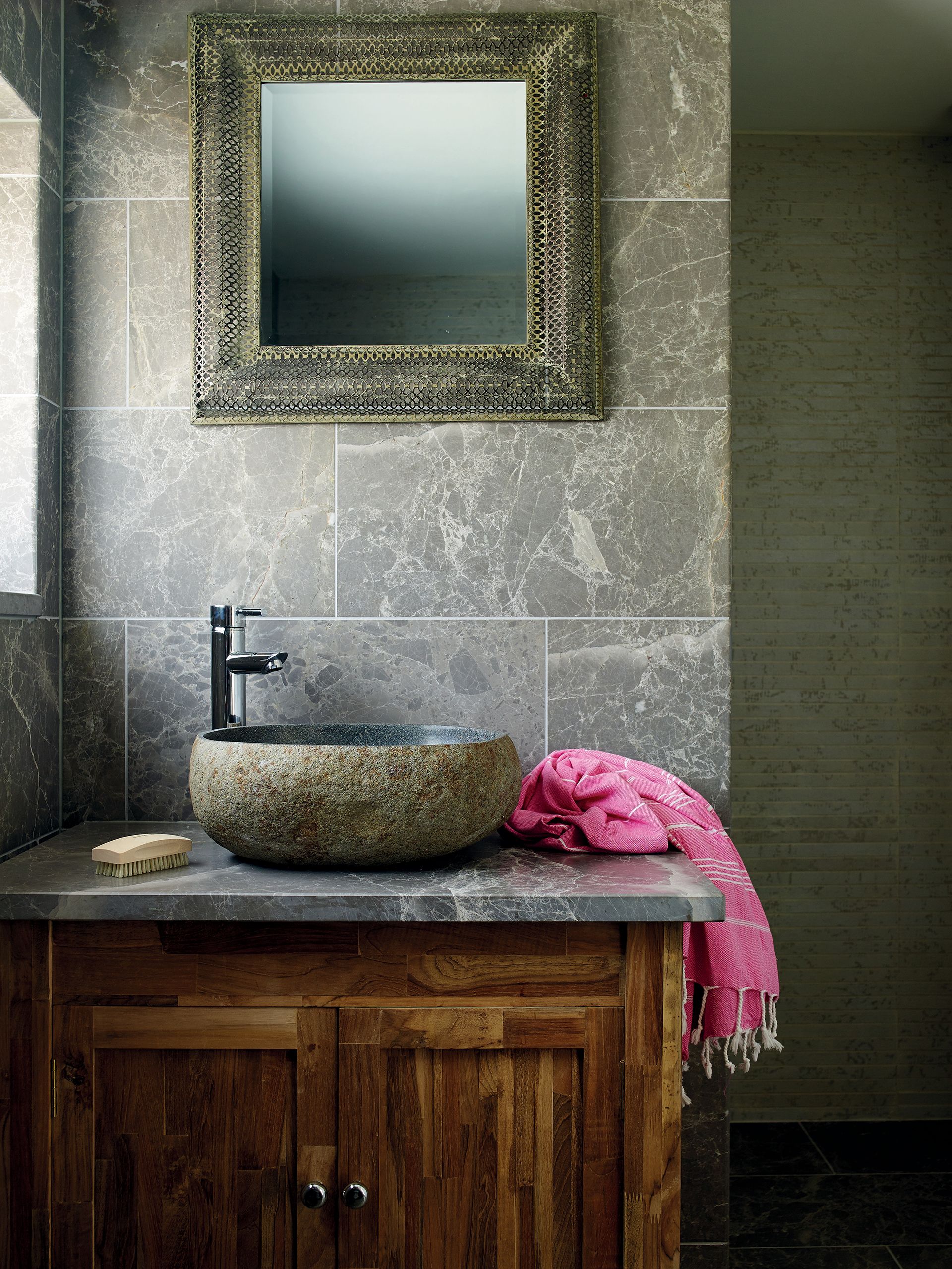 Evoke the serenity of the natural world by incorporating raw materials into your traditional bathroom ideas design scheme. Mandarin Stone 's Lavastone basin is created from volcanic boulders sourced from Indonesia, and each basin is unique in size, color and design. Pair it with the beautiful mink-gray shaded Fume Emperador honed limestone tiles to complete the natural look.
15. Look to freestanding furniture for the perfect storage solution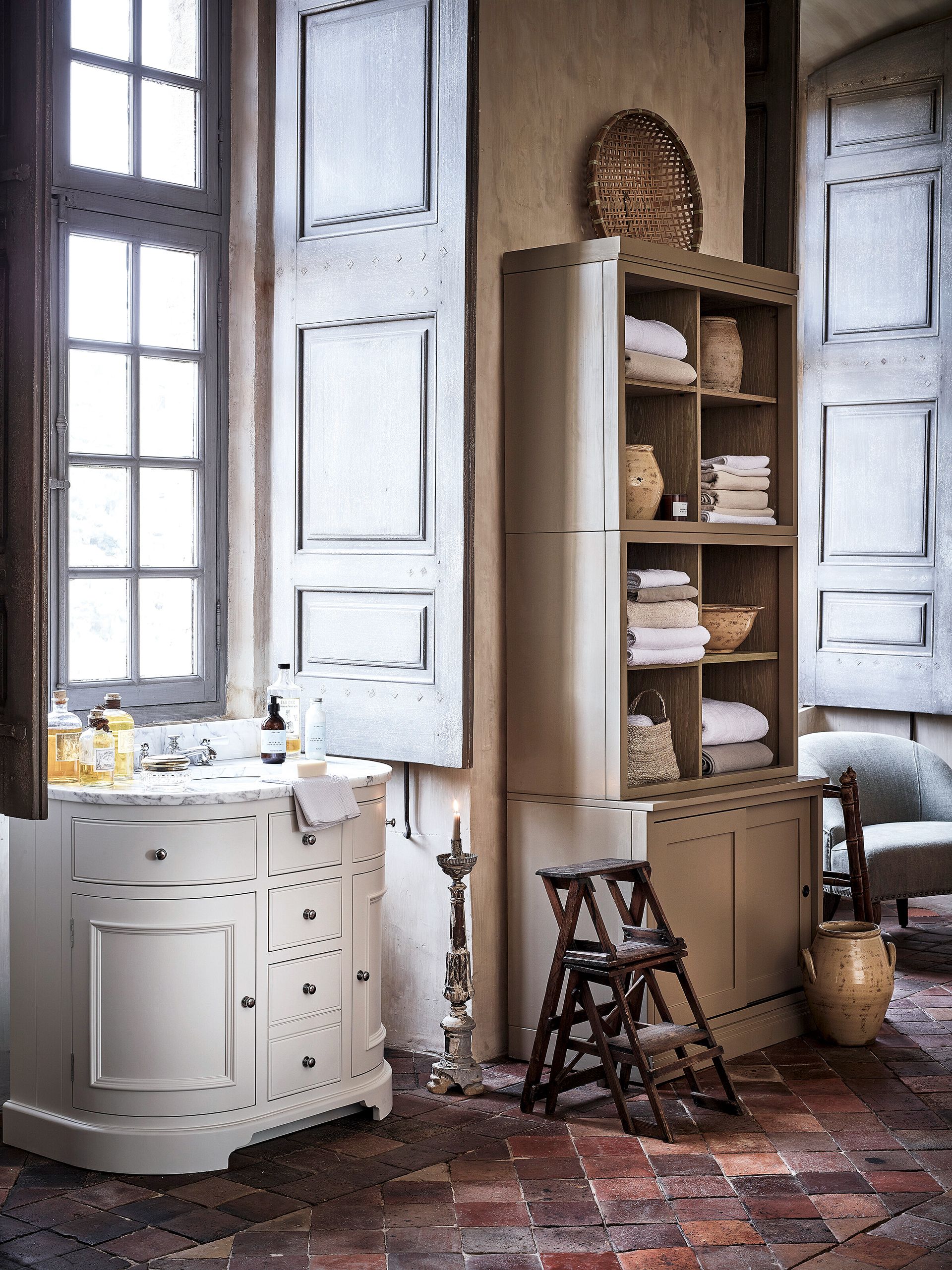 There are lots of bathroom storage ideas that can help you to keep your space tidy, however, it can be a challenge to incorporate these into traditional bathroom design. 'Investing in a single piece of freestanding furniture, like our Chawton dresser, or Shepton cabinet, can be the perfect solution for creating a little storage wherever you want. It looks the part in every corner of the house,' says Amber Greenman, home designer at Neptune.
16. Creates the illusion of space with statement wallpaper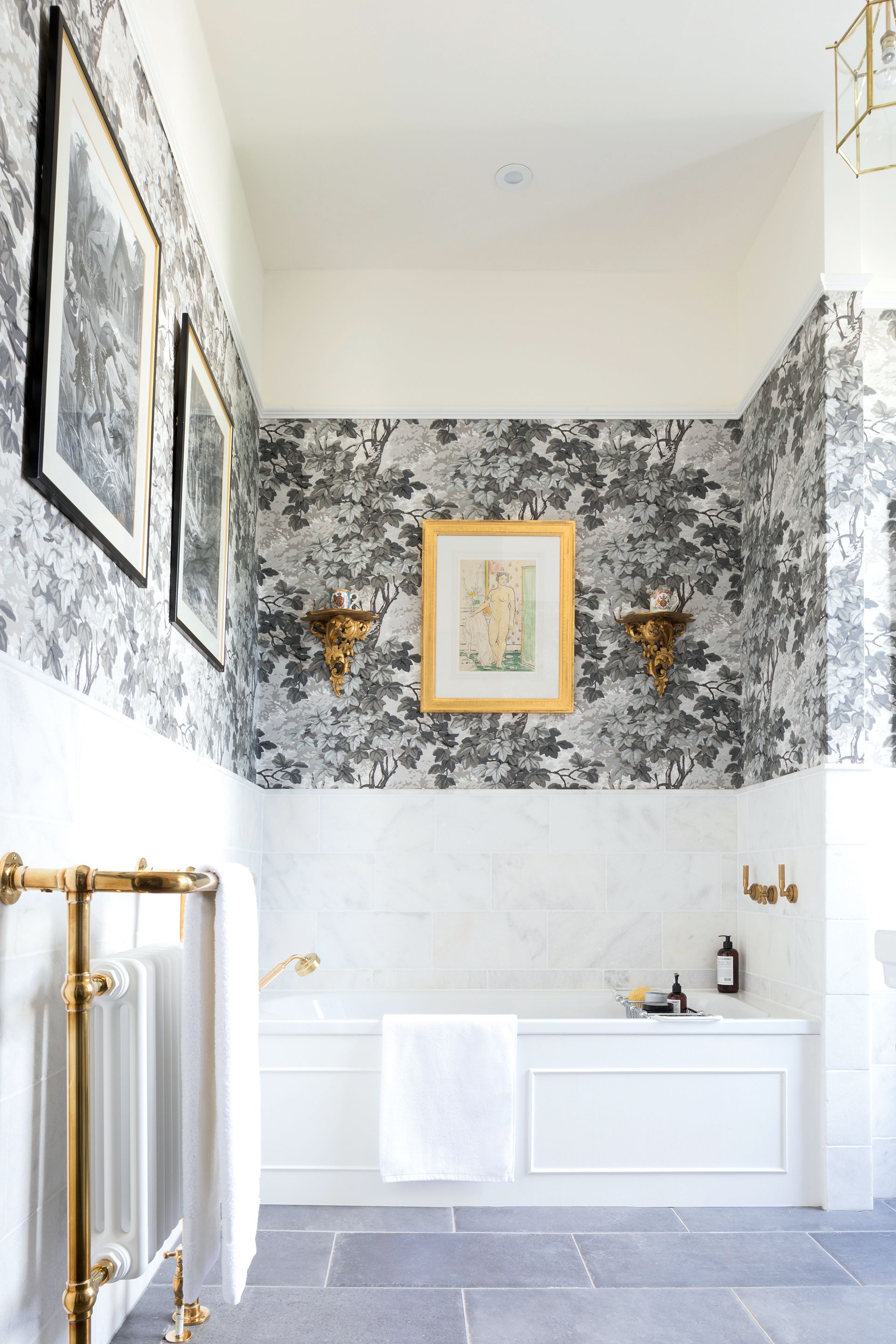 Grand traditional bathroom ideas can still work beautifully as part of small bathroom ideas. Accentuate the height of the room by pairing marble-effect tiles with a statement monochromatic wallpaper, like Zoffany's Richmond Park design which evokes the beauty of nature. Add to the luxe look with metallic accents such as C.P. Hart's bespoke heated towel rail and Samuel Heath Style Moderne Flow taps in Urban Brass which pop against the white.
17. Pick the right color for a traditional bathroom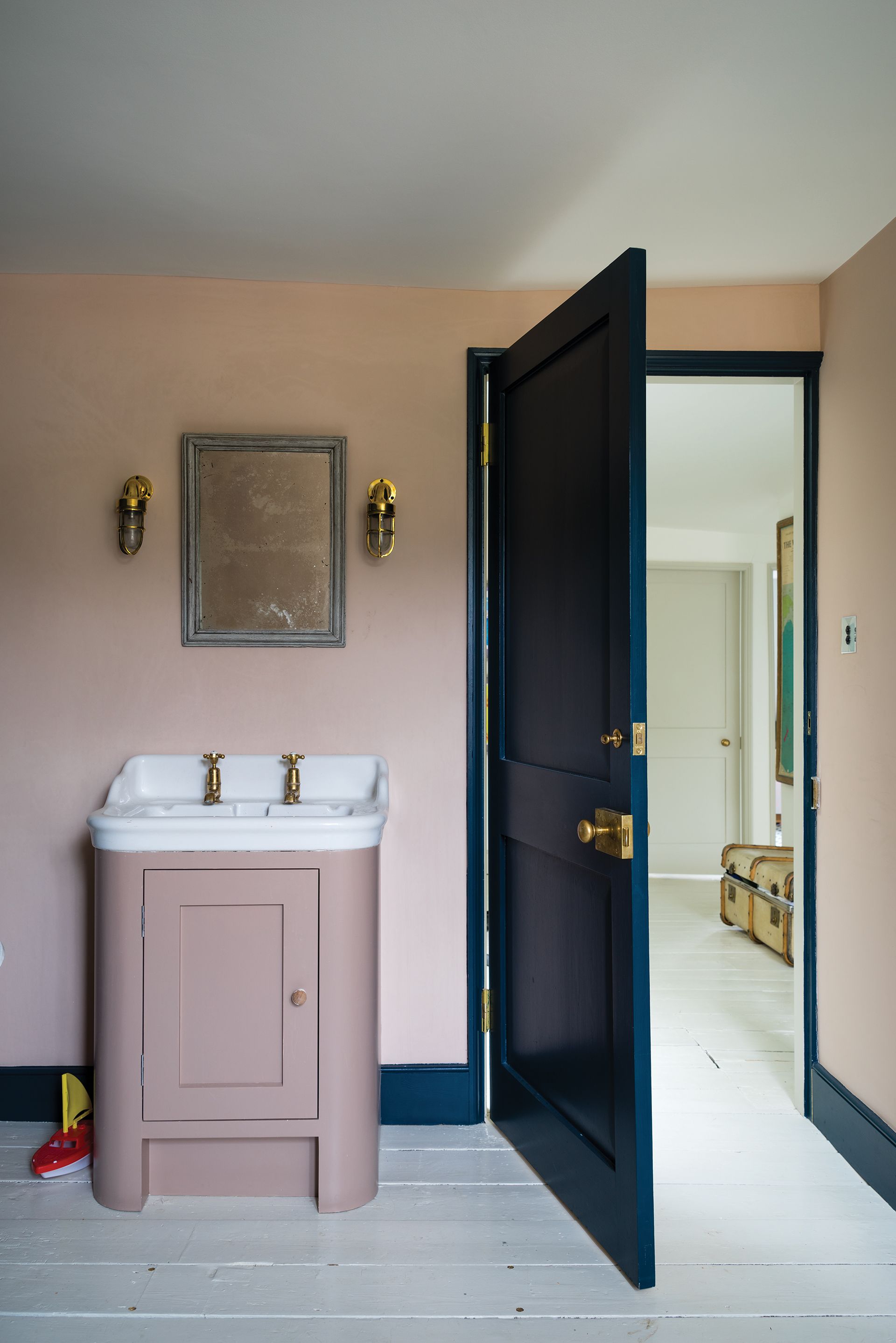 'If your traditional bathroom is large, then any color goes but by painting a light tone will enhance the luxury of space, so perhaps save the deeper shades for accents such as the bath panel or door.' says Farrow & Ball says Charlotte Cosby, head of creative at Farrow & Ball
'Dark colors work particularly well for a small traditional bathroom as it will make the room feel more intimate.'
18. Opt for blinds in a traditional bathroom for flexible lighting and privacy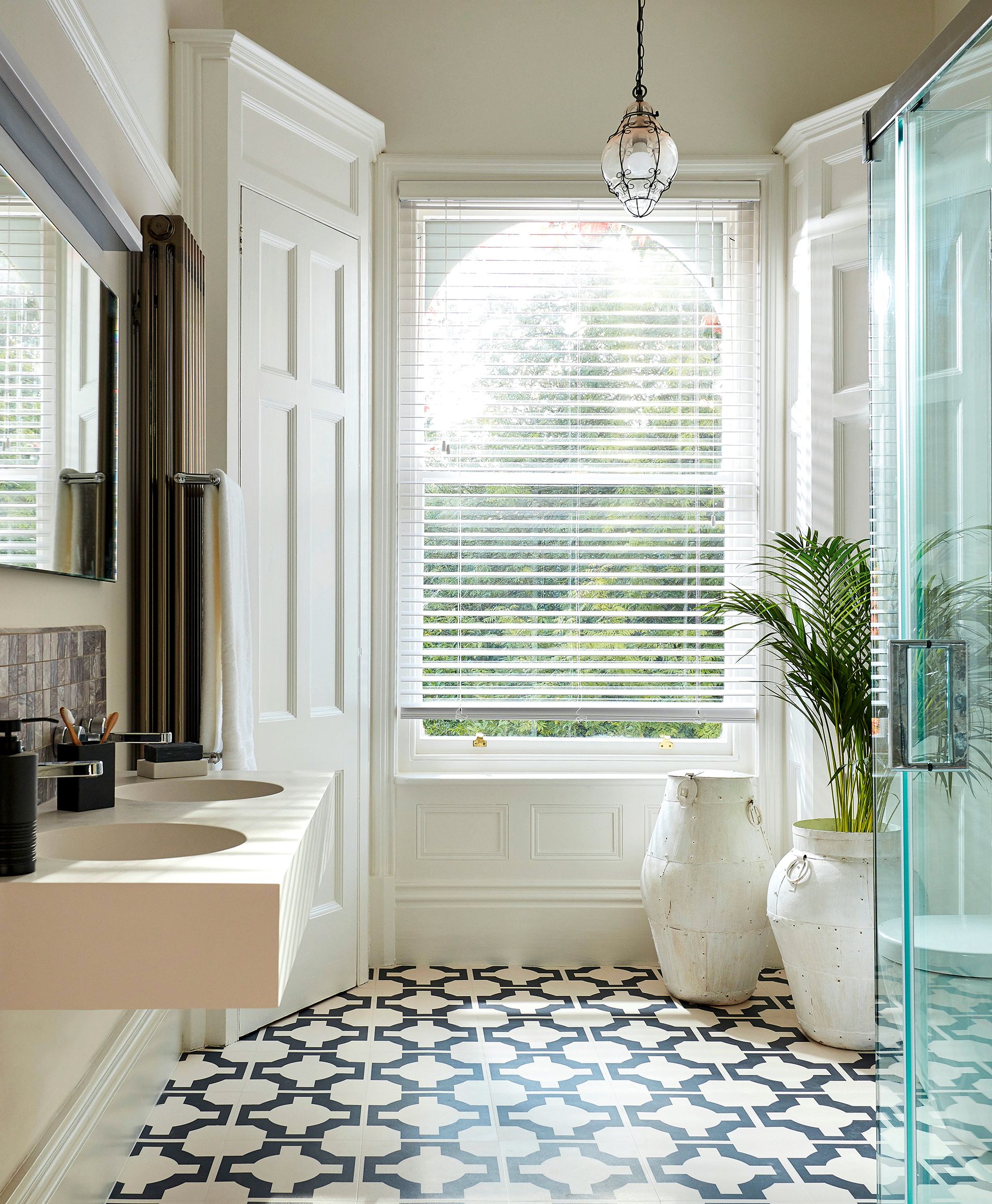 Privacy is essential in a bathroom, but it can be a struggle to find the best window dressing for the job. For a bathroom that has a low-level of splash risk and that is well ventilated, bathroom curtain ideas can bring a soft touch to your traditional bathroom ideas. However, for family bathrooms or for those that are looking for a more durable window dressing, shutters or blinds are a better option. With a flexible slatted design, Blinds2Go's Metropolitan Snow and Parchment wooden blind, is made from kiln-dried and treated solid basswood, making it waterproof and warp-resistant, so you can shut off from the world and relax.
19. Install a towel warmer for a touch of indulgence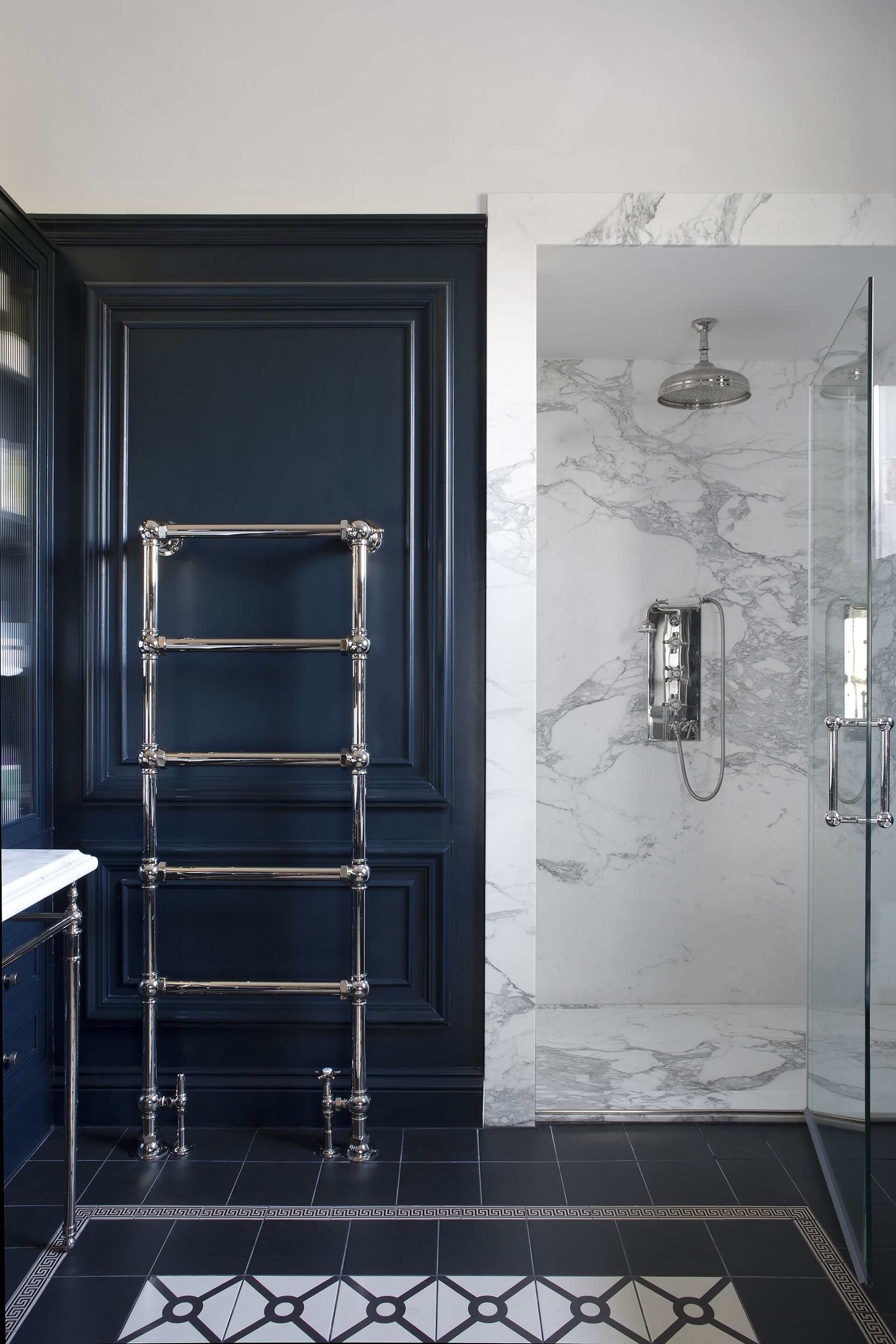 Nothing feels more luxurious than wrapping yourself in a warm, fluffy towel after a hot shower. A towel warmer makes this hotel-like indulgence a day-to-day reality, while also heating your traditional bathroom. Manufactured in high-quality brass and finished with an antique copper or nickel effect, Victorian-inspired design blends seamlessly into a period scheme.
20. Create a statement with a beautiful bath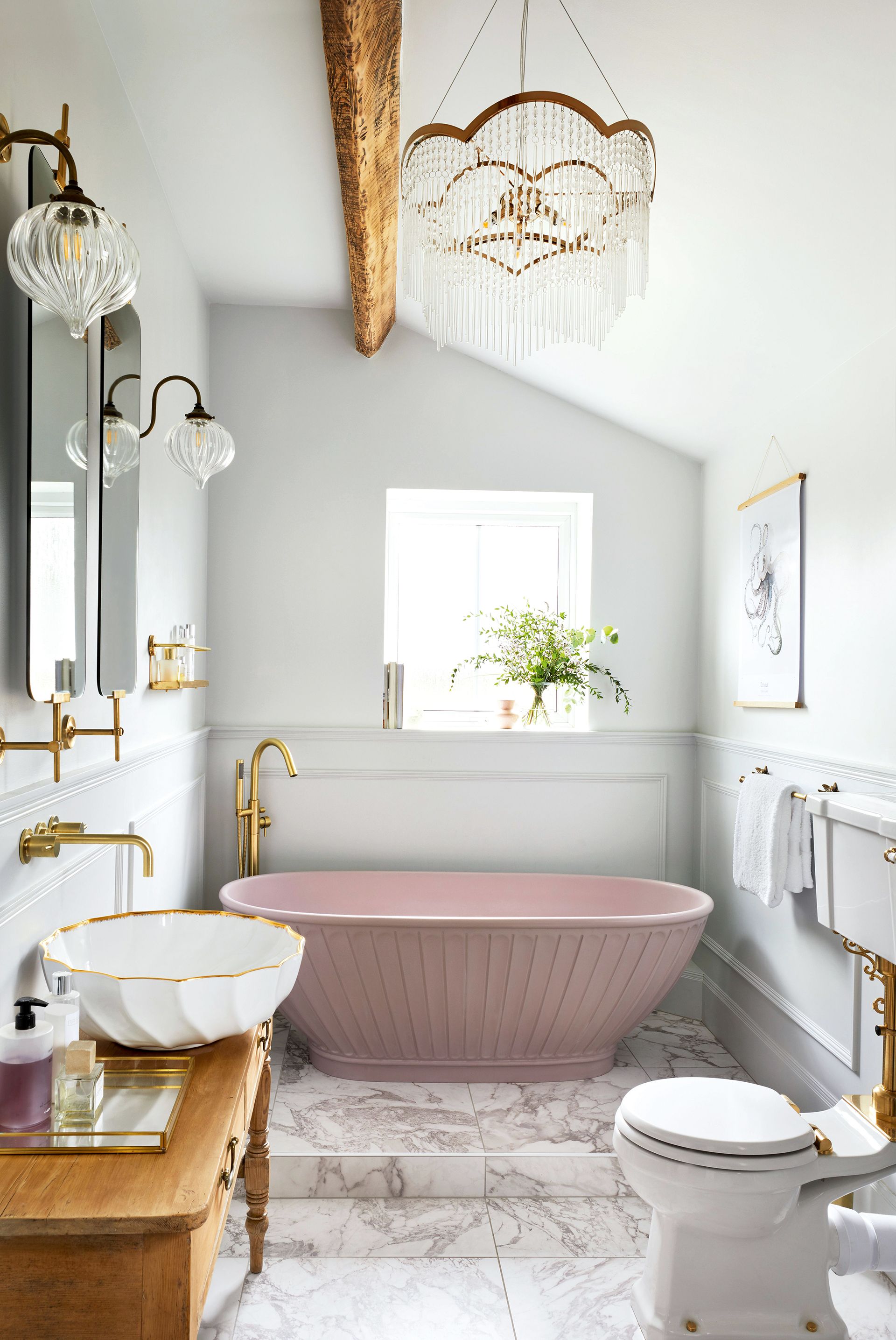 The bath is the focal point of your bathroom, so let it take center stage. Create an elevated platform to draw the eye, giving it a glamorous touch with a marble-effect surface. Then pick a bath with a stylish silhouette in an eye-catching shade – we love the Art Deco-inspired Casini bath in Satin Rose from BC Designs. Alternatively, opt for a traditional roll-top with a colored exterior – many companies offer bespoke painting services.
21. Opt for traditional elegance with a timeless bath design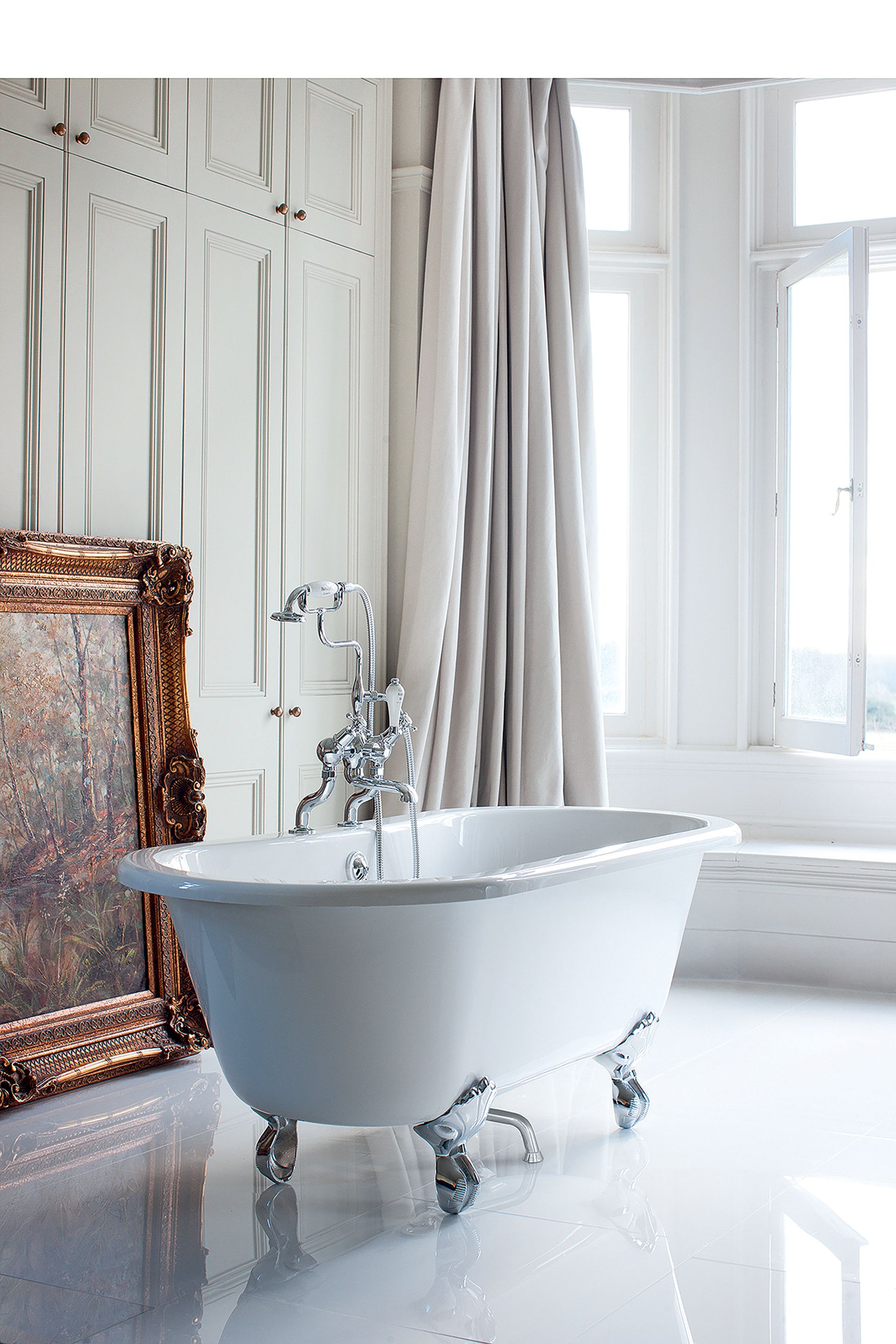 Considered a luxury in the late 19th century, the claw-foot bath was the epitome of bathing opulence. This Burlington Windsor acrylic roll-top bath with chrome claw feet from UK Bathrooms, features adjustable legs, meaning it's easy to level your bath on an uneven floor – ideal for period homes. Its double-ended design also makes it more flexible, allowing it to be sited in the middle of the room.
22. Embrace luxury with a copper bath in a traditional bathroom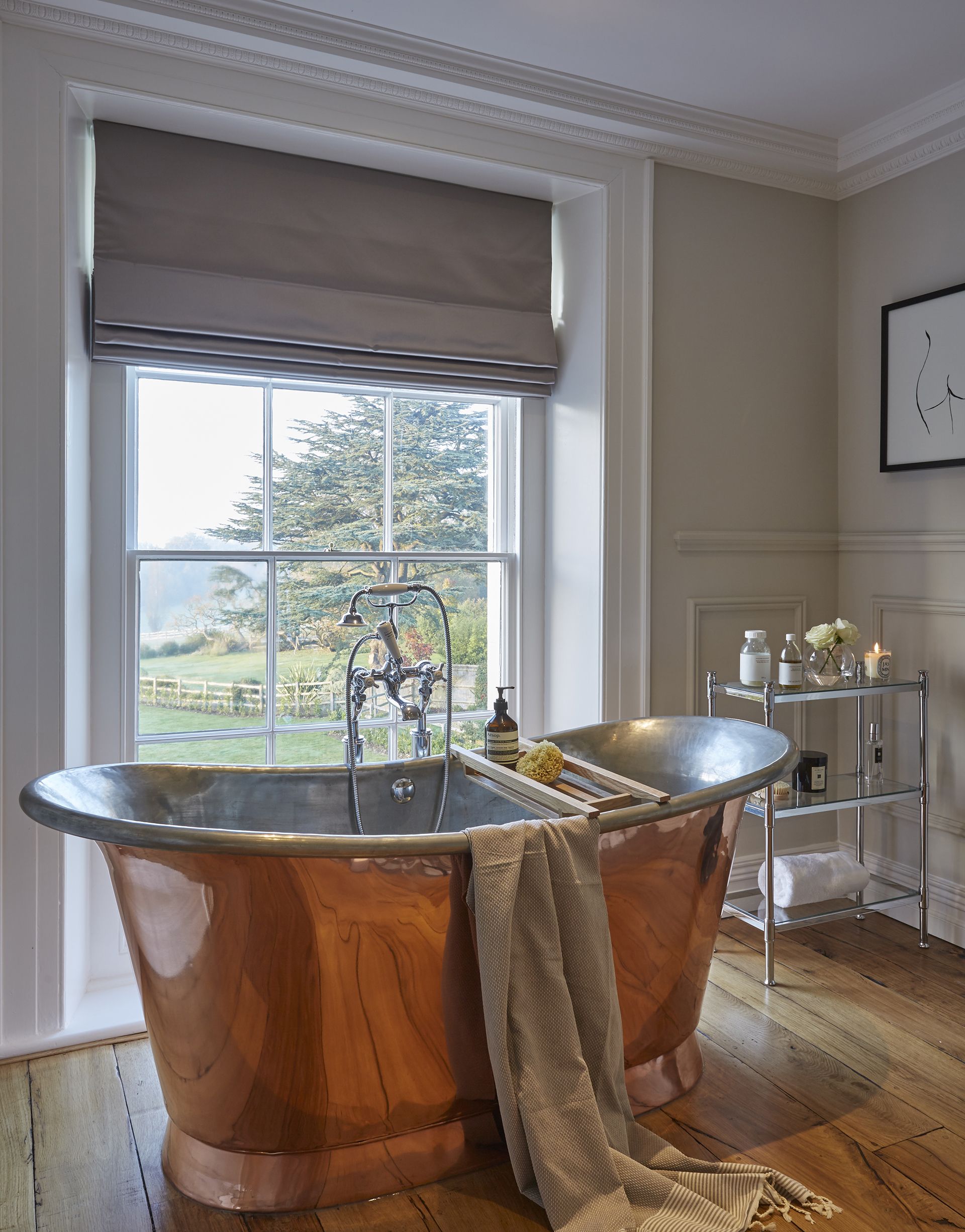 A copper bath is a stunning addition to a traditional bathroom. Its polished exterior ages gradually over time, transforming from a deep pinkish hue to a warming red-brown. Plus, copper's inherent properties means that it heats up faster and retains its warmth longer than enamel or acrylic tubs. The deep style of William Holland's bateau bath with artisan tin interior allows you to fully immerse yourself for the ultimate soak.
What is a traditional bathroom?
A traditional bathroom is one that tends to feature white ceramicware, a roll-top bath and copper or brass faucets rather than chrome. Walls can either be painted in soft colors, like cream, taupe and gray, or can equally feature deeper, moody shades like plums and emeralds. Natural materials whether marble tiles or a stone basin are also a favorite features, adding personality to the space.
What makes a timeless bathroom?
White sanitaryware is a great choice for a timeless traditional bathroom as it goes with any wall color, giving you the flexibility to refresh your interior as and when you want to. Light colored walls always look sophisticated and will help to create a bright and airy traditional bathroom, perfect for relaxing. Pair this with copper or brass faucets to add touch of timeless charm.
How do I update my beige bathroom?
The best way to update a beige bathroom is to add color and texture to the scheme. You don't necessarily have to go bold with your color palette – though a rich blue or a vibrant green would certainly create an eye-catching contrast to the previous beige – a crisp and clean white will breathe new life into your bathroom just as effectively as a brighter shade.
Can you mix modern and traditional bathroom?
Yes, you definitely can mix modern and traditional bathroom ideas. Combining elements of modern luxury can invigorate your traditional bathroom ideas to create a space that is brimming with character and life.
'Oftentimes when we think of traditional we think of something heavy and overly ornate. By utilizing a brighter color palette and these wallpaper murals we were able to invoke the traditional sense without weighing down the room. The final details of the lighting, cabinetry, and furniture were also very important to carry this through. The selections need to have a great element of detail and thoughtfulness to each piece that makes it feel as if they were collected overtime,' says Lacy Hughes of Julian Design.
Sign up to the Homes & Gardens newsletter
Decor Ideas. Project Inspiration. Expert Advice. Delivered to your inbox.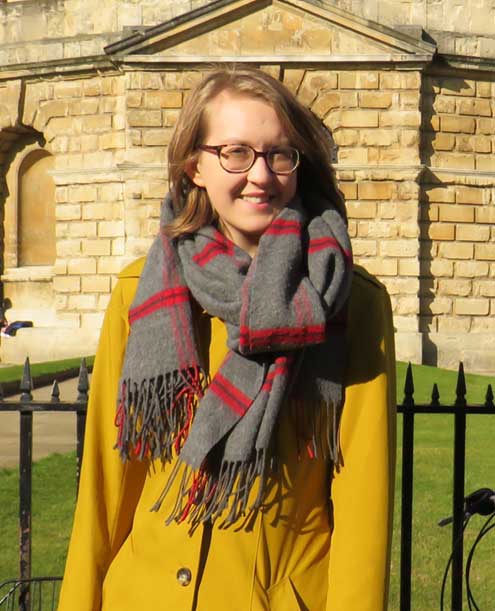 Content Editor and Sub-editor
Having graduated with a first class degree in English Literature, Holly started her career as a features writer and sub-editor at Period Living magazine, Homes & Gardens' sister title. Working on Period Living brought with it insight into the complexities of owning and caring for period homes, from interior decorating through to choosing the right windows and the challenges of extending. This has led to a passion for traditional interiors, particularly the country-look. Writing for the Homes & Gardens website as a content editor, alongside regular features for Period Living and Country Homes & Interiors magazines, has enabled her to broaden her writing to incorporate her interests in gardening, wildlife and nature.