Are light or dark bed sheets best for sleep? Experts reveal the best shade
If you struggle with getting to sleep, your bed sheet color could be to blame – here's everything you need to know about whether your bedding should be light or dark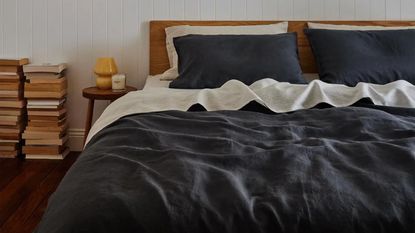 (Image credit: Bed Threads )
White bed sheets might be the most common color, but black or dark grey bedding is fast rising in popularity. This raises an obvious but crucial question: are light or dark bed sheets better for sleep? If you find yourself lying awake at night, or struggling to stay asleep for longer than a few hours, then changing the color of your bed sheets could help.
When it comes to style, whether you choose light or dark sheets depends on your preference. Light sheets work best with the Scandi aesthetic and can inject a clean, freshness into a bedroom. Dark bed sheets, on the other hand, are great for creating a coordinated look. They'll bring a classic timelessness to any scheme.
To confirm which is better for sleep, we've spoken to interior designers and sleep experts for their advice. If you decide to switch out your bed sheets, I've put together a few of tried and tested bedding sets, so you can get back to resting well.
Are light or dark bed sheets better for sleep?
There may be lots of pros and cons to both light and dark bed sheets, but the truth is: your choice of bed sheet color is down to your personal preference.
The experts' verdict
There may be lots of pros and cons to both light and dark bed sheets, but the truth is that the choice of bed sheet color is down to your personal preference.
As Artem Kropovinsky, interior designer and founder of Arsight, explains, 'Light sheets may reveal dirt and stains more easily but can make a room feel brighter and more spacious.' This makes white bed sheets 'easy to clean, as they can be bleached to remove any stains or discoloration. However, they will require more frequent washing to keep them looking their best.' adds Amelia Jerden, Sleep Product Review Specialist and Certified Sleep Science Coach at Sleepopolis.
Conversely, dark sheets are better at concealing dirt and stains but can make a room feel more enclosed.' says Artem. Amelia confirms this. 'One potential downside of dark bedding is that it can make a room feel smaller and more cramped, particularly if the room is already on the smaller side.'
If cleanliness is your top priority, light sheets may be a better option. But, if hiding dirt and stains is more important, and you prefer a deeper shade, then dark sheets may be more preferable.
Artem Kropovinsky is an interior designer and founder of Arsight, a NYC-based interior design studio that is specific in its truthful approach to connecting the imperfect with the sleek and innovative workflow. We work on residential and commercial spaces.
The best light color bed sheets
Amelia Jarden explains that 'light bed sheets have a timeless and classic look that can give your bedroom a clean and fresh feel. They are also versatile and can match any decor, making it easy to switch up your bedding without having to worry about clashing colors.'
These are the best light-colored bed sheets I've tested:
White bed sheets
Cozy Earth bamboo Sheet Set
Sizes: Twin, twin XL, full, queen, king, California king
Material: 100% bamboo viscose
OEKO-TEK certified: No
+ Great quality
+ Eco-friendly
- Expensive
These cozy earth bamboo sheets are white and bright, bringing freshness to your bedroom. Made from natural materials, they're kind to your skin. They may be expensive, but they're durable, easy to wash and are sure to last you for years.
Light grey bed sheets
Ettitude Signature Sateen Sheet Set
Sizes: Twin, twin XL, full, queen, king, California king
Material: Bamboo lyocell
OEKO-TEK certified: No
+ Great eco-credentials
+ Luxurious sateen finish
- Silky look isn't for everyone
This light grey bedding set from ettitude is my favorite. I reach for it most months as the color looks so premium, and the bamboo lyocell fabric feels so soft to the touch. With a silky finish, these luxe grey sheets are far from plain and boring.
Cream stripe bed sheets
Piglet in Bed Luna Stripe bed sheets
Sizes: Twin, twin XL, full, queen, king, California king
Material: 100% linen
OEKO-TEK certified: Yes
+ Breezy and breathable
+ Softens with every wash
- Expensive
Piglet in Bed's pinstripe linen sheets is a great way to add a little pattern to a plain, light-colored bed. I love this linen set in summer as it's lightweight and keeps me cool at night. I couldn't imagine having a darker linen color set in summer and it bringing the same breezy feel.
The best dark color bed sheets
As a lover of a clean, masculine and moody aesthetic, I prefer darker bed sheet colors. 'Dark-colored bedding, such as navy blue, deep gray, or black, can create a cozy and intimate atmosphere in the bedroom.' says Amelia. 'Dark bedding can help create a sense of depth and texture in the room, and can also make a bold statement in terms of design.'
These are the dark colored bedding sets I love:
Dark green bed sheets
Bed Threads Linen Sheet Set
Sizes: Full, Queen, King, California King
Material: 100% French flax linen
OEKO-TEK certified: Yes
+ Super soft
+ Beautiful selection of colors
- Advised not to tumble dry or iron
Linen bed sheets are usually only available in light, neutral colors, because of limits with natural dyeing processes. But Bed Threads hosts a range of deep, bright colors that'll match parts of your personality. This XXX is a great bed sheet color to add interest to your space.
Navy blue bed sheets
Beddable Navy blue Core Bedding Set
Sizes: Twin, Queen, King
Material: 100% long-staple cotton
OEKO-TEK certified: Yes
+ Soft to the touch
+ Washes well
- Needs ironing
Navy blue bed sheets are a no-brainer. Classic, clean, and timeless, they go with most bedroom schemes and add a bit of depth to an otherwise boring bedroom. Bright enough to not enclose the room, these Beddable bed sheets are a great dark-color bedding choice.
Dark grey bed sheets
Sijo AiryWeight Eucalyptus Sheet Set
Sizes: Twin, Twin XL, Full, Queen, King, California King
Material: 100% TENCEL™ Lyocell Eucalyptus
OEKO-TEK certified: Yes
+ Cool to the touch
+ Great price
- Prone to wrinkling
Contrary to the idea that dark bed sheets will absorb heat and keep you hot at night, the Sijo Home sheet set is made from eucalyptus fibers that make them cool to the touch and naturally moisture-wicking for sweat-free sleep. Plus, the charcoal color looks smart and elegant.
Sheet color FAQs
Are darker sheets hotter?
Darker sheets may sleep hotter than lighter colors. This is because dark colors are known to absorb and trap heat quicker. If your bedroom gets significant amounts of sunlight during the day, it's possible it will retain the heat and dissipate it later when you sleep. That being said, the bed sheet type and material will affect how hot you sleep more. If your dark bed sheets are made of a cooling fabric like bamboo, it's likely you'll sleep just fine without overheating. White sheets made of heavy, unbreathable polyester will make you overheat no matter how bright they are.
What color sheets make a room look bigger?
While bed sheet colors may have an effect on your sleep, they'll also impact your bedroom. Certain bed sheet colors will make a room look bigger. Experts suggest warm neutrals will optically expand a room. Beige, ecru, and blush will draw the eye in while not distracting from the rest of the room. Lighter colors will make things feel further away and ceilings higher, whereas darker colors will shorten a room and focus the attention to the bed.
---
Where different colors are better and worse for sleep, how they look in your space will also depend on your bedroom scheme. When choosing the color of your bedding, consider your wall colors. Pairing light sheets with white walls will create a cohesive look, and dark sheets with dark walls will add a dramatic effect.
Sign up to the Homes & Gardens newsletter
Decor Ideas. Project Inspiration. Expert Advice. Delivered to your inbox.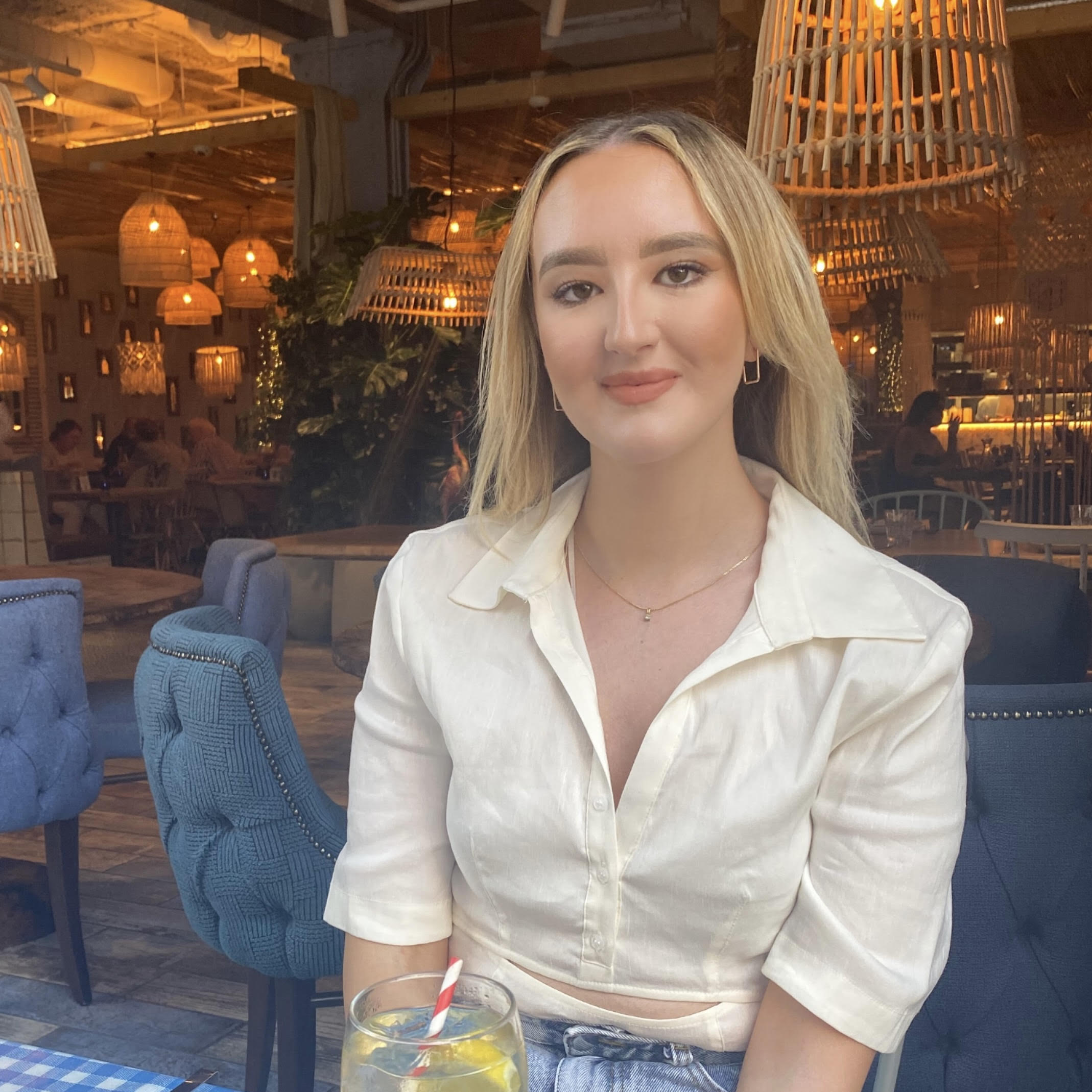 Louise is your eCommerce Editor and sleep specialist to help you wind down well. A connoisseur of the mattress world, Louise previously covered sleep and wellness (as well as the occasional organizational buy) at Real Homes, and has tried, tested, and reviewed some of the buys for your bedroom. With an MA in International Journalism and PR experience, Louise brings bags of bedding expertise and enjoys nothing more than helping readers find solutions and products that best suit their sleep needs.