6 best carpet colors for living rooms according to interior designers
These are the most stylish – and practical – carpet colors for the living room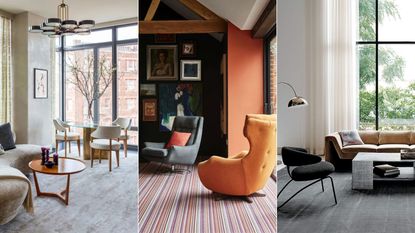 (Image credit: Mendelson Group / Eric Piasecki | Carpetright | CB2)
Carpets form a large part of living room decor and can play a big role in setting the overall tone of the room, so it's important to take time to consider the carpet options that are best for your space.
Since the living room is a primary room in the home and will likely be used every day, you will want to choose a practical carpet whilst still making sure it reflects your own interior taste.
While there are many different carpet ideas to choose from, settling on a color is arguably the biggest part of the decision-making process. We spoke to the carpet experts to get their take on what the best carpet colors are for the living room, to help inspire you with this investment decor piece.
What are the best carpet colors for the living room?
'The right floor covering is an investment, so the color choice should be enduring and not date too quickly,' advises Andy Guard, Creative Director at Roger Oates Design.
When beginning to think about which color is best for your living room carpet, Emma Mellor, Founder of Emma Mellor Handmade Rugs suggests: 'I always think it is best to start with the colors that you are naturally drawn to, that you enjoy living with. It's important that you choose a palette that you don't get bored with or because it is fashionable at that moment.'
'The color of your carpet will set the ambiance and feel of any living room,' continues Guard. 'Consider whether you want your flooring to be the focal point or quietly complement other elements such as furnishings or artwork. Collecting images, color swatches, and textile samples can help you to settle on a color scheme.'
1. Warm neutrals
Most definitely the most popular of carpets, decorating with neutrals such as beige is a great choice for the living room. 'Selecting a neutral color carpet for your living room is a great idea as it will allow you to be more adventurous with colors elsewhere,' suggests Alexandra Hindle, Marketing Manager at Cormar Carpets. 'Whether that is on your walls, your sofa, or styling accessories, a muted color carpet is a great foundation to begin your interior scheme.'
Lorna Haigh, Creative and Marketing Director at Alternative Flooring agrees that neutral carpets make a strong choice in beige living room ideas, explaining: 'For living room floors, consider incorporating neutral shades so that your more punchy interior design elements – such as art, furniture, or flowers – have something to pop against. Neutrals also provide a warm and cozy feel to a living room that creates a welcoming environment for friends and family.'
If you like the idea of having some bright color underfoot but want to ensure the carpet color remains practical for years to come, Guard recommends: 'Consider a neutral tone carpet and introduce dramatic color and pattern using living room rugs, which can make a real statement and can be changed more easily.'
'Large-scale feature rugs surrounded by pale tones and natural finishes can create dramatic focal points in any living room,' continues Guard.
Lorna Haigh is the creative director of the UK-based brand, Alternative Flooring, a company that has been producing beautiful carpets, rugs, and runners for over 25 years.
2. Greige
For an alternative spin on neutral-colored carpets, experts also suggest embracing the color trend for 'greige' instead. Similar to classic neutrals, greige is an understated color that simply combines beige and grey together, which can work well if your living room furniture is slightly more cool-toned.
'Over the last five or six years, a new carpet phenomenon has become popular: greige. This color of carpet will feature intertwined yarns of grey and beige colors. For the most part, beige, grey, and neutral colors are great for living rooms,' comments Sean O'Rourke National Director of Merchandising at Floor Coverings International.
3. Stripes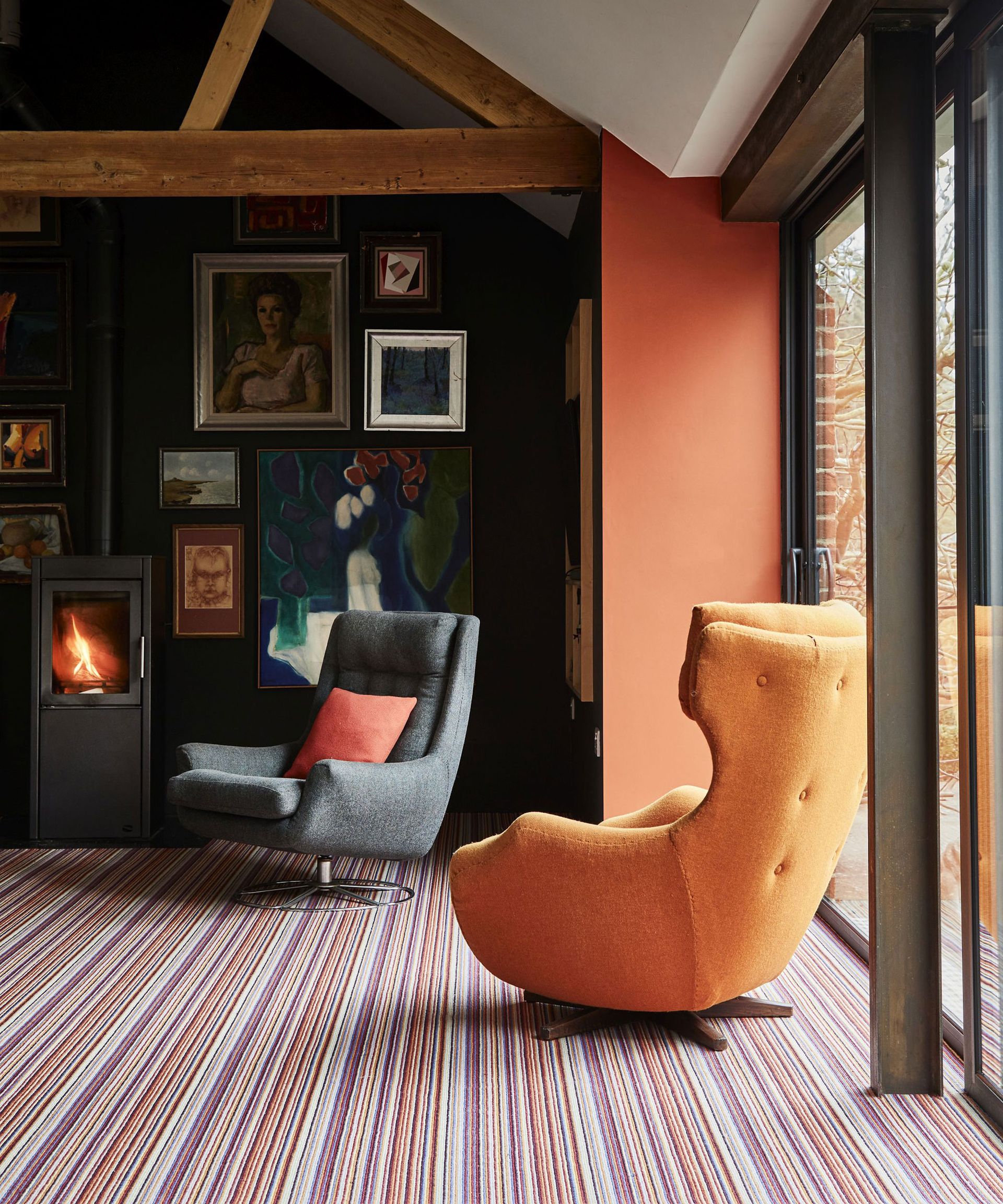 For an added point of interest to the living room carpet, opting for a striped carpet is another option. While this can of course choose bold-colored stripes, you can also opt for neutral colors, for a more subtle look, as Hindle explains:
'A striped carpet is another popular trend this year, allowing homeowners to inject personality, visual interest, and style into their homes. A neutral-colored striped carpet has timeless appeal and is impactful and interesting but still subtle enough to not dominate the space.'
Another way of opting for stripes but in an understated way, is pinstripes, as Guard explains: 'Fine pinstripes in subtle neutral shades will appear as a simpler expression of color for those seeking a quieter more restrained palette.'
For a more playful look, opt for brighter stripe colors, as Haigh suggests: 'A minimalist living room scheme can always benefit from a statement patterned carpet in brighter shades. This can be a great way to add personality and character to a living room, without cluttering surface and wall spaces.'
4. Terracotta
If you're looking for a carpet color that's brighter than neutrals yet still looks timeless and doesn't overpower the living room, Rudolph Diesel, interior designer and founder of Rudolph Diesel Interiors suggests opting for a terracotta shade.
'When picking an appropriate carpet for the living room, a warm terracotta usually does the trick. The sandy biscuit-like coloring channels exotic energy into your living room,' says Diesel.
When styling the rest of the living room around terracotta decor, Diesel advises: 'This type of carpet goes nicely with rustic wooden living room furniture, feeding into the overall homely atmosphere. Terracotta carpeting is typically rich in organic materials such as coir and therefore provides the perfect balance of color and texture.'
5. Charcoal
To complement a dark living room, opting for a charcoal-colored carpet is another expert-approved option. 'Charcoal is a very underrated carpeting option,' suggests Diesel. 'A lot of people automatically associate dark greys and blacks with misery but this isn't always the case.'
'If chosen carefully, an inky charcoal carpet can be very tasteful. It is a brilliant choice for anyone looking to add some drama to their living room and goes well with emerald green, ruby red, or other shades of grey.'
Diesel warns, however, to make sure to decorate with lighter, brighter colors elsewhere in the living room if opting for this dark-toned hue across the carpet: 'Whatever the case, a splash of color is essential when it comes to accentuating a charcoal carpet.'
Rudolph Diesel is the founder of Rudolph Diesel Interiors, a property marketing and design house based in West London. He has Public Relations qualifications and a BBA in marketing and branding. He is the principal interior designer for prestigious property development firms throughout London.
6. Multicolored
When choosing your carpet color, you don't have to settle on just one color. You may find this too restricting to the rest of your living room decor, and could instead benefit from opting for a blend of complementary colors across the carpet, as Mellor suggests:
'I always think that rugs with a neutral background and soft pops of color such as burnt oranges, persimmon, and soft greens are warm and inviting and create a space which is serene and yet interesting.'
Mellor continues to provide her advice for styling the room with a multicolored carpet, saying: 'It's important to have a rug with a number of colors as you can pick your favorites out and use them to accent the rest of the room with fabrics, cushions, throws, and ceramics. If you work the other way around and start with your fabric choice it is important to pick one of the colors from that palette and not necessarily match it but choose a tone which compliments it.'
'I get a lot of people who want to embrace color within their living spaces but are nervous about introducing strong rich colors and patterns to their rooms. I think the floor is the perfect place to inject color and pull an interesting and inviting living space together,' concludes Mellor.
What is the best carpet color for the living room?
There are lots of things to consider when deciding on the best color of carpet for the living room. Not least, practicality should play a key role in determining the color of your living room carpet, as O'Rourke explains:
'It is important to consider whether your living room is a high-traffic area or just an occasional area. I suggest sticking to darker tones for high-traffic areas or even venturing to use something multicolored. For concentrated high-traffic areas, I would recommend finding a patterned carpet that can help hide the wear and tear.'
It's also important to consider the rest of the decor style in the living room, as this can help inform your carpet color choice: 'The color of carpet you choose might be dependent on the color of the furniture you have or how much light is in the space. If your home features a lot of warm tones, you might want to stick with warm-colored carpets that have some hint of brown. If your home has a more modern look to it, it might be better to stick to cool colors and greys. Earthy tones like neutral beige, neutral gray, and greige are a safe bet with living room carpets,' says O'Rourke.
What carpet colors should be avoided in the living room?
While it's a personal choice to make, experts agree that it's best to steer clear of white carpets in the living room. Since it's a high-traffic room in the home, white is bound to get dirty easily, as Todd Saunders, CEO of Flooring Stores says: 'Although a white carpet can add a lovely brightness, I would avoid using this particular color in your living room. High-traffic spaces like living rooms make your carpet more prone to spills and stains, which are especially easy to see on white carpets.'
---
Choosing the color of your living room carpet is as important as choosing your living room paint color. It will be just as dominant in the space, so really think about the overall look you want to create, do you want to go soft and light or use your carpet to ground the room and go with something deeper. Of course, practicalities come into play too, so do consider the high traffic that living room flooring faces when making your choice too.
Sign up to the Homes & Gardens newsletter
Decor Ideas. Project Inspiration. Expert Advice. Delivered to your inbox.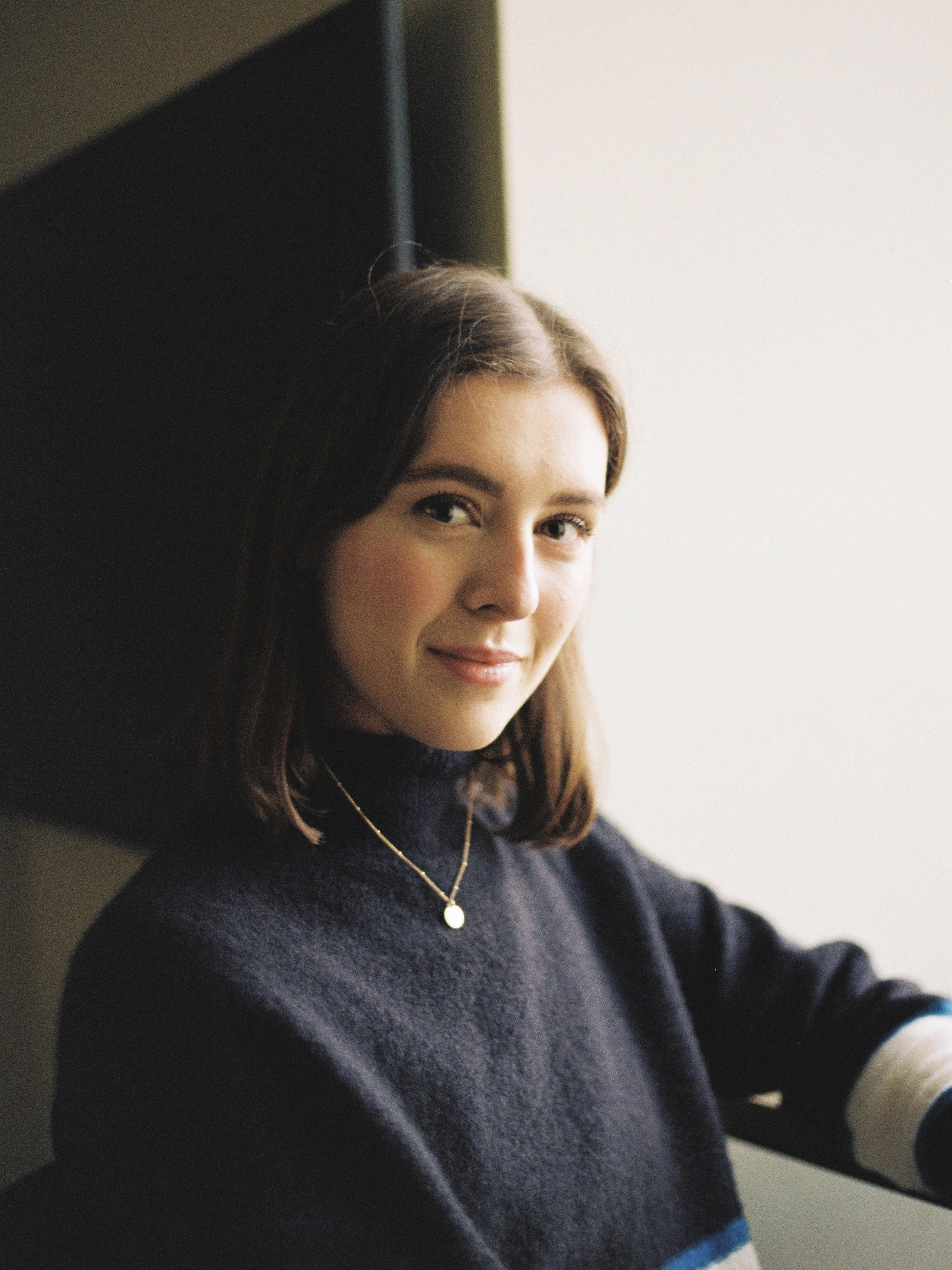 Emily Moorman is a News Writer at Homes & Gardens, working across a range of topics spanning interiors, celebrity and emerging trends. With a background in the fashion industry, Emily is well-versed in the world of design and trend cycles. Her undergraduate degree was in Fashion Communication and Promotion which she studied at Norwich University of The Arts, specialising in writing and digital communications.