How do I know what colors go together? Interior designers' talk color pairings
Discover what colors go together with these expert tips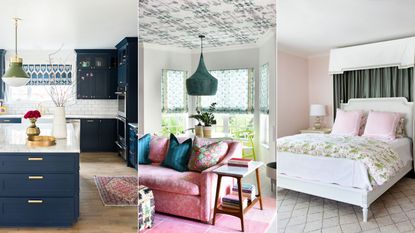 (Image credit: Dekay and Tate/KHaydenRafferty/Mary Patton Design/Molly Culver)
When you're starting out on your interior design journey, you might find yourself asking 'how do I know what colors go together?'. It might seem like this is something you either know innately or don't, but thankfully, there are lot of experts who are able to help.
The best way to find out what colors go together is to consult the color wheel. 'If you look at a color wheel you can see what colors are complementary to each other by noticing which ones are exactly opposite of one another, like blue and orange. This means they will contrast off each other instead of clashing,' says Amy Youngblood, Principal Designer of Amy Youngblood Interiors.' You can also use other color harmonies that are monochromatic, analogous, split complementary and so many others.' This will help you ensure that your room color ideas work harmoniously together to create a sophisticated and welcoming interior.
How do I know what colors go together?
If you're wondering where to start with choosing paint colors and want to know what colors go together, you'll be glad to know there's plenty of advice that will help.
'The perfect color combinations are ones that speak to the atmosphere you are trying to create in the space and play with tonal variety. If two colors share the same undertone but are in different color families, they will still get along well. Think of opposites attracting,' says Nina Grauer of Dekay & Tate.
Whether you are in search of the right colors to paint a room or want to create interest with paint tricks, these interior design tips will help you know what colors go together to create a harmonious and professional looking scheme.
'In terms of paint, we like to have one color per room, if not across multiple rooms for continuity, except in bathrooms and bedrooms. The accent wall has seen its day, so keep it simple within the room with wall color,' says Jennifer Walter, owner and principal designer of Folding Chair Design Co.
'As far as décor, we love to mix and match several colors inside a room that work together. Depending on the style of the room, this can be achieved by decorating with neutrals, mixing the likes of white, cream, browns, and maybe a richer bronze or deep green. If you're room is bolder, you might ground the space with a black and white rug, then mix jewel tones like burgundy with a mustardy yellow. The point is to have fun but use colors that contrast well or are in the same family.'
It is also important to remember that different paint finishes and different light levels will influence the appearance of paint colors so be sure to use testers before you commit to a certain shade.
How to choose a color palette
The best way to choose a color palette is to select a color that you really love and then use it as a starting point for your scheme. If you are stuck, learning how to make a moodboard can go a long way to helping you curate the perfect design for your space.
'I really get inspired by the seasons when I choose a color palette. Right now I'm feeling inspired by colors reminiscent of fall cocktails such as deep mulled red wine, barrel-aged golden whiskey sours, Asian pear martini green to name a few,' says Lance Thomas of Thomas Guy Interiors.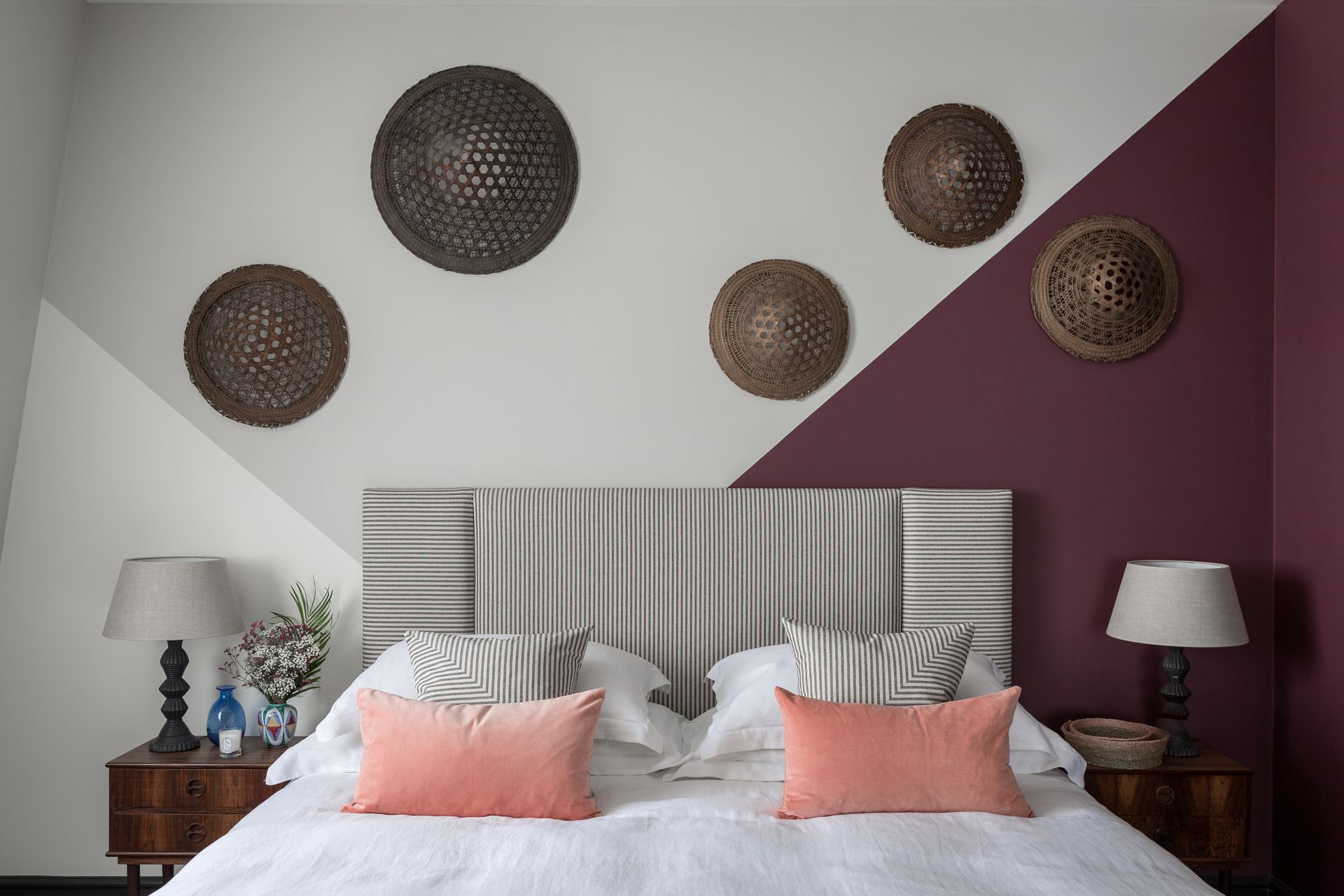 'We like to bring in color with tile backsplash ideas, trim, rugs, lighting ideas, furniture, wallpaper, paint, art, countertops, fabrics and upholsteries. Also draw on color psychology, after all the colors that you choose for your home is a way to communicate a message and feeling in a space. Knowing a room's color palette is crucial when creating the mood for a space, however, it also needs to be something that can fluctuate during the design process,' continues Lance.
What color goes with every color?
White and gray are both colors that go with every color, as is evidenced by these beautiful white room ideas and gray living room ideas.
'The color gray has stuck around throughout the years and plays a critical role in interior design. Especially paired with trending textures, such as wicker, caning, brass, and other earthy elements as it balances it out so nicely. It's my favorite color to use, especially in warm tones as it's such as staple neutral. I recommend it with other staple neutrals, such as black, white, and beige,' says Shoshanna Shapiro founder of Sho & Co. There are also plenty of accent colors for gray that will add character, color and texture to your interior design.
Don't be afraid to choose bold colors
'A fresh coat of paint on the wall or repainting your furniture offers a renewed look to any room. Don't be afraid to try cool colors, they create a tranquil mood in the space year-round. Show off your personality! Think about using bold color combinations and contrasting patterns to create one-of-a-kind looks, or try out the moody colors trend. Dark blues, purples, and grays can look great in a space –particularly when used to create dark bedrooms,' says Mel Bean of Mel Bean Interiors.
What are the 3 best colors that go together?
Of course, there are countless combinations of colors that go together, however, Nina Grauer says 'you can't go wrong with a pure white, earthy neutral, and a rich jewel tone when choosing three colors that go together.'
What are the most popular colours for interior design?
Off whites and creams are the most popular colors for interior design – be inspired by these ideas for decorating with white. 'They set a neutral backdrop for color in furniture and decor. Blue has been popular lately if you're wanting to add color to your walls as well as a soft green,' says Amy Youngblood, Principal Designer of Amy Youngblood Interiors.
How many colors should be in a room when decorating?
'There isn't a right or wrong answer when it comes to how many colors should be in a room when decorating, it's about how you balance them out. A lot of people will use the 60:30:10 rule where you use one color that makes up 60 percent of the color space, a second color that makes up 30 and a third that makes up 10 percent. If you're wanting to use more than just three colors, think about how you can balance the proportions out,' says Amy Youngblood, Principal Designer of Amy Youngblood Interiors.
Should the living room and kitchen be the same color?
Whether the living room and kitchen are the same color, depends on the way your space is laid out.
For open plan kitchen ideas, it is important that the living and kitchen spaces work in harmony. 'If the living room and kitchen are part of an open concept plan then it may be a good idea to keep the same color throughout for fluidity,' says Amy Youngblood, Principal Designer of Amy Youngblood Interiors.
If your living room is completely separate from the kitchen then there is no reason that they need to be in the same color palette or scheme. There are plenty of living room color schemes from which to choose along with inspiring kitchen color ideas.
Amy adds 'if they are separate from each other why not mix it up and add a fun color or wallpaper to the space! They don't necessarily have to match since they are two separate spaces as long as they coordinate.'
Content Editor and Sub-editor
Having graduated with a first class degree in English Literature, Holly started her career as a features writer and sub-editor at Period Living magazine, Homes & Gardens' sister title. Working on Period Living brought with it insight into the complexities of owning and caring for period homes, from interior decorating through to choosing the right windows and the challenges of extending. This has led to a passion for traditional interiors, particularly the country-look. Writing for the Homes & Gardens website as a content editor, alongside regular features for Period Living and Country Homes & Interiors magazines, has enabled her to broaden her writing to incorporate her interests in gardening, wildlife and nature.