Ikea home office ideas – 11 practical and stylish schemes
Create the perfect workspace with these flexible and affordable Ikea home office ideas, from clever storage systems to stylish desks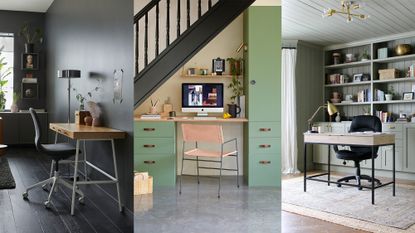 (Image credit: Ikea / Future / @simplifythechaos )
Sign up to the Homes & Gardens newsletter
Decor Ideas. Project Inspiration. Expert Advice. Delivered to your inbox.
Thank you for signing up to Homes & Gardens. You will receive a verification email shortly.
There was a problem. Please refresh the page and try again.
With more people working from home than ever before, Ikea home office ideas are becoming increasingly popular among those looking for functional, stylish, and affordable furniture solutions for 21st-century living.
Whether you have a dedicated room for working in or are looking to integrate a workstation into a multi-functional living space, Ikea has an array of flexible home office solutions from self-assembly modular shelving and cabinet systems that can be configured in endless layouts, to portable freestanding pieces.
Here we've rounded up a host of home office ideas featuring Ikea products and clever Ikea furniture hacks to help get you inspired, plus Ikea designers offer their tips and share their favorite Ikea room ideas.
Ikea home office ideas
There are many ways to integrate Ikea home office ideas into your office layout from ergonomic desks and chairs to office lighting.
When designing a new workroom home office storage is one of the most important things to consider. From open bookcases and closed cabinet systems to storage desks, filing cabinets, and desktop organizers, Ikea has storage solutions for every possible scenario. 'Well-organized storage can make permanent workspaces feel calm and ordered,' says Karen Haas, Ikea US business leader for Workspaces. 'Store things that are used often like papers and pens within arm's reach. Things used less often can be stored further away.'
However, many people do not have the luxury of a separate home office, and often workspaces are integrated into living rooms, dining rooms, or bedrooms, which calls for some clever thinking on maintaining a work-life balance.
'What is needed are workspace solutions that complement a broad range of furnishings and interiors, and ones that can conceal a work area when not in use,' says Karen Haas. 'For example, utilize closed storage for on/off solutions to allow work items to be hidden away when not needed. Also, use mobile furniture pieces that feature storage to support individual, partner or family shared workspaces.'
1. Choose the right desk
Having an ergonomic office desk and an adjustable chair is essential when it comes to home offices and Ikea has a wide range available, from traditional style desks with side drawers to sleek and contemporary Scandi style designs.
Sitting for long periods can impact health, so consider an adjustable sit or stand desk says as the TROTTEN design says Karen Haas, Ikea US business leader for Workspaces. 'Changing positions throughout the day is a game-changer. Alternating between sitting and standing increases circulation and reduces potentially harmful effects from sitting too long.'
'Position your screens at eye-level for healthy posture habits. The monitor should be tilted at 20-30 degrees, which is the optimal angle for the eyes as well as the neck and shoulders,' adds Karen Haas.
To help achieve this optimum working posture you could try adding Ikea's ELLOVEN monitor which 'helps place your monitor at the right height to relieve strain on your back and shoulders,' says Grant Robinson, interior design leader at IKEA UK and Ireland. 'It also has a handy drawer and space to store your keyboard to keep your workspace neat and tidy.'
2. Introduce built-in storage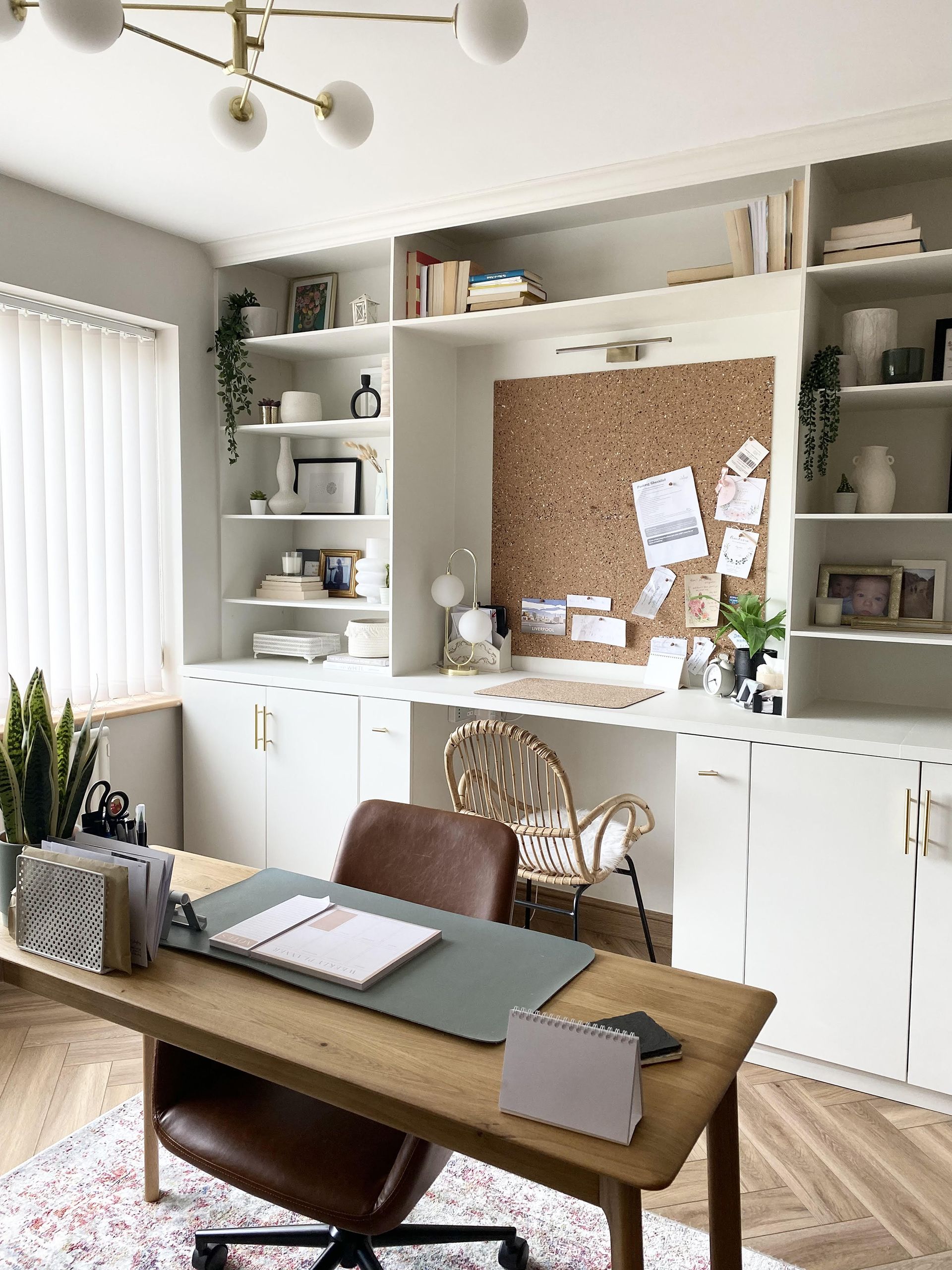 Built-in furniture fitted floor-to-ceiling is a wonderful way to maximize storage space in a home office while keeping it feeling neat and tidy. However, bespoke solutions can be costly. As part of its modular systems, Ikea offers a wide range of standard-sized units that can be arranged in infinite ways to fit around your architecture and create your perfect layout.
Here Instagrammer Kate Whyte of @reno_by_the_beach opted for a mix of open shelves and closed cabinets which gave ample storage for printers and files to be hidden while providing space for more visually pleasing items.
'When designing our office we wanted a functional workspace with decor that was aesthetically pleasing and which tied in with the neutral theme in our home. To keep within a modest budget we attempted to replicate a more expensive built-in look by using Ikea furniture. To achieve this we used Metod base cabinet frames, METOD base cabinet pull-outs, LAGKAPTEN table tops, and BILLY bookcases,' explains Kate.
'We completed the look with skirting boards and coving before priming with Zinsser bin and painting with Rustoleum steamed milk.'
3. Make the most of unused spaces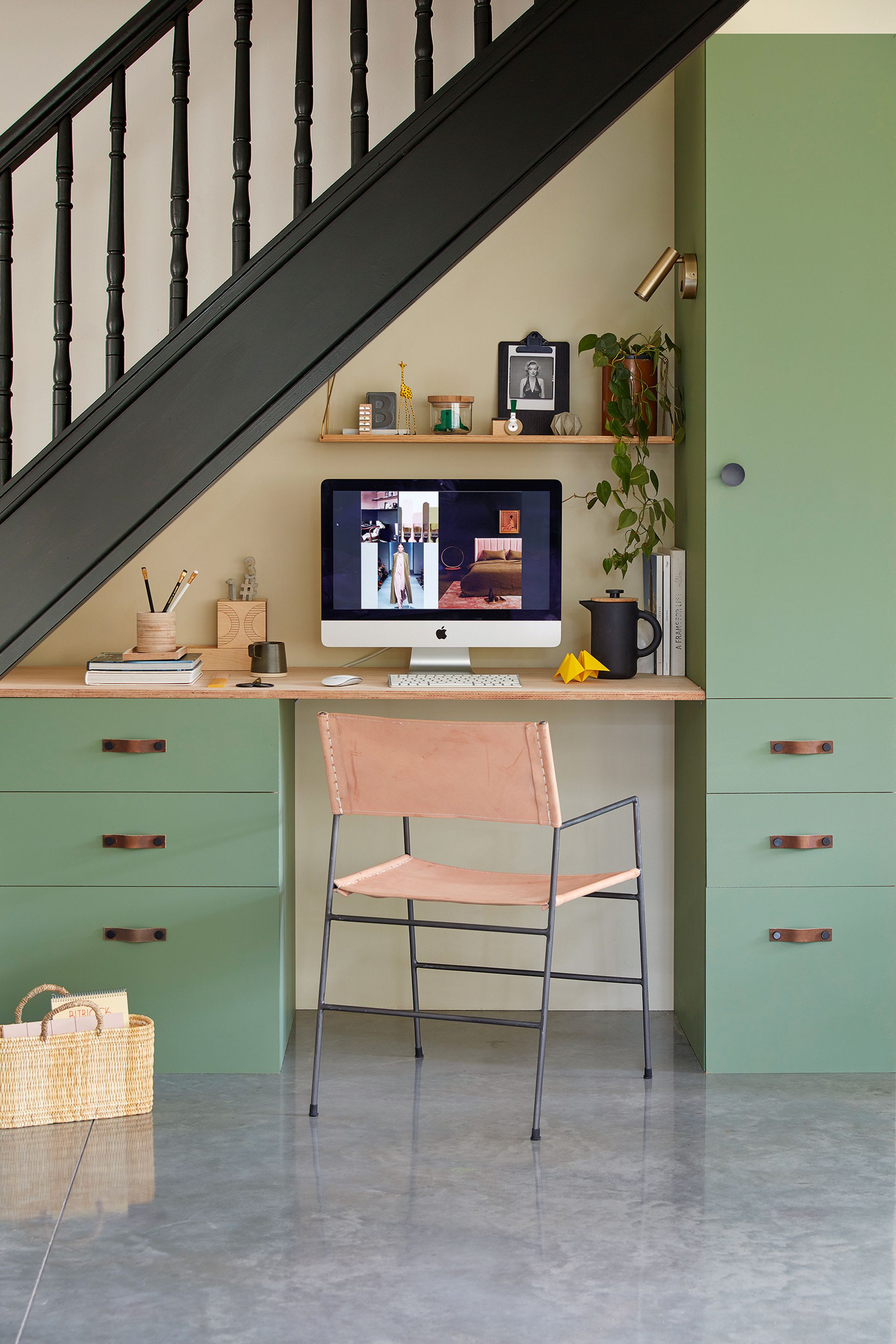 With the ability to be configured in all sorts of layouts, Ikea's modular cabinetry is great for creating practical workspaces in awkward spaces such as under stairs. Here its METOD cabinets with green doors and drawer fronts teamed with a simple wooden shelf have been used to integrate a compact workspace into the living space.
Whether you're after a traditional or modern look, Ikea offers an array of door styles to suit, alternatively, there are many companies that offer designer doors for Ikea cabinets for a unique look – try Reform or Semihandmade.
4. Create a cozy farmhouse look
With many companies offering bespoke doors for Ikea cabinet systems you really can create any look you like, whether you're after farmhouse decor ideas or a contemporary minimalist look. Sarah Weirich @simplifythechaos achieved a cozy farmhouse office with DIY shaker doors from Semihandmade fitted to Ikea Sektion cabinets, finished in sage green. Layered rugs, burnished light fittings, and rejuvenation hardware all contribute to the warmth of the space.
5. Create a workspace in the bedroom
For those that don't have a separate room for a home office, the bedroom often doubles as an office space. It can also be handy to integrate a desk into a teenager's room to provide a quiet place to study.
For a modern, crisp clean bedroom office idea, try integrating a desk into Ikea's multi-functional BOAXEL wall organization system. Unlike built-in storage systems, this open wall shelving can easily be changed if the function of the space should evolve, plus, it can also be used as a wardrobe system, too.
6. Opt for freestanding pieces
As well as fitted storage systems, Ikea offers a wide range of freestanding pieces which are particularly useful if your home office is used as a multi-functional space.
Opting for stand-alone office furniture such as a slim lightweight desk or storage units on casters such as the IDÅSEN file unit or the RÅSHULT trolley means they can easily be moved to free-up floor space for other functions – for example, you may want to make space for a fold-out guest bed or create floor space to do an online exercise class. Plus, they can easily be moved from room to room and from house to house.
7. Zone an office space
With open-plan living rooms the norm for many, it can be tricky to find space to integrate a quiet workstation where you can stay focused and free from distractions. Similarly, when creating a workspace in a living area it's important to have some kind of separation to prevent work from impending on family life. A freestanding shelving unit or Ikea room dividers such as the TROTTEN shelving unit or this IDÅSEN unit can be a quick and easy way to zone the workspace.
8. Customise Ikea office furniture
As well as being functional, it's important that home offices are stylish and inspiring places to be in order to help us stay motivated. To instant bring personality, why not elevate a simple storage unit with designer touches to create a statement piece? Here Ikea's Bestå sideboard has been fitted with Superfront's Geometric doors in Ashton Grey, brass Twine handles and slender high legs to create a high-end look at a fraction of the price.
9. Create a simple, relaxing space with just a few pieces
The great thing about Ikea home office ideas is that with some creative thinking just a few pieces are enough to can transform a space, as demonstrated in this Ikea hack by Instagrammer and content creator @Jyll_Mackie.
'I used Ikea ALEX drawers but added 1/4 inch MDF trim to the drawer faces to give them a shaker look and finished them in Benjamin Moore's Oil Cloth shade. I built everything in and added a chunky desktop made from inexpensive plywood,' she explains.
10. Don't forget lighting
It's essential to get office lighting right in a home office as it can really impact your eyesight, well-being and productivity. Karen Haas, IKEA US Business Leader for Workspaces advises layering different lighting throughout a home office.
'Task lighting is key. Use a focused task light to keep your work surface lit, but so is having plenty of general lighting throughout the room. Make work easier on your eyes by placing a diffused light behind your computer screen to reduce eyestrain. Mood lighting softens the contrast between general light and task lighting.'
She also suggests to, 'position your workspace so daylight enters from the side or front, rather than behind, to prevent glare on your computer screen.'
Adding in window blind ideas and curtain ideas is a good way to control the light levels and privacy in your home office and will help to block-out harsh midday sun.
11. Balance function with style
When thinking about desks for a living room consider discrete stylish designs that will fit seamlessly with your decor so that the space remains relaxing and pleasant space to be. 'The LILLÅSEN desk is a neat desk made of durable bamboo. It looks good from all angles so you can place it in the middle of the room if it suits you best, and it has three A4-sized drawers for storing papers and other smaller items,' says Grant Robinson, interior design leader at IKEA UK.
How do I setup a home office for a small living room?
To set up a home office in a small living room you need to limit furniture to essential pieces such as a desk, chair and a small storage unit. Try a lightweight easy-to-move desk with a portable filing cabinet or storage unit beneath where paperwork can easily be stowed away out of site at the end of the day.
Alternatively, try a desk with built-in drawers or make the most of living room alcoves by fitting it with a floating shelf desk to create an office nook. You could also try a slide-away hidden desk idea that slides away into a cabinet and is out of sight at the end of the day.
'Small office supplies can be stored in a desktop organizer or in a cart on wheels that is easy to bring to wherever you are working at the moment. This will provide more flexibility and make the clean-up quicker when turning "off" work,' says Karen Haas, IKEA US business leader for Workspace.
When floor space is at a premium it's important to make the most of wall space for storage. Fitting built-in cabinets with closed doors will provide concealed storage for printers, desk fans and larger office items, keeping the living space feeling calm and ordered. Open shelves are useful for keeping things or books you use regularly close at hand, but take care they don't leave your living space feeling cluttered – try adding in a series of small storage boxes to stow away small items.
Where should a desk be placed in a living room?
To achieve a good work-life balance be sure to position the desk facing away from the relaxation area and think about clever ways to separate it from the living space.
'Consider curtains to close off the work zone when it's time to rest,' says Karen Haas, IKEA US business leader for Workspaces. She also advises to, 'hide or put away work equipment during non-working hours to create a visual separation between work life and personal time. Consider curtains to close off the work zone when it's time to rest.'
Placing a desk in front of a window means you can make the most of the natural daylight plus having a pleasing view to look out on can help 'boost your creativity and emotional well-being,' adds Karen Haas.
Sign up to the Homes & Gardens newsletter
Decor Ideas. Project Inspiration. Expert Advice. Delivered to your inbox.
Pippa is Content Editor on Homes & Gardens online contributing to Period Living and Country Homes & Interiors print issues. A graduate of Art History and formerly Style Editor at Period Living, she is passionate about architecture, creating decorating content, interior styling and writing about craft and historic homes. She enjoys searching out beautiful images and the latest trends to share with the Homes & Gardens audience. A keen gardener, when she's not writing you'll find her growing flowers on her village allotment for styling projects.