Ikea room divider ideas – 9 clever ways to arrange your space
These Ikea room divider ideas are quick, easy and affordable ways to make the most of your space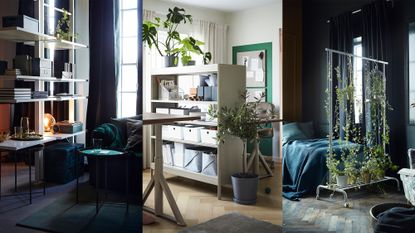 (Image credit: Ikea)
Ikea room divider ideas offer easy and flexible ways to get the most out of your space which is essential for 21st-century living.
The modern home is used for all sorts of things from relaxing and entertaining to working, exercising, and hobbies, not to mention everyday living, so it's important that the space is designed to fulfill all your family's needs, but if space is at a premium this can be tricky.
Whether it's with a strategically placed piece of furniture, a portable screen, or even a curtain, zoning your interior to create a room within a room is a brilliant way to maximize usable space in your home, plus can help create extra storage, too.
If you're looking to achieve a more flexible layout at home you're in the right place as we've gathered a host of affordable yet stylish room divider ideas from Ikea that offer quick, easy solutions for organizing space.
Ikea room divider ideas
Ikea room divider ideas are becoming increasingly popular as people begin to embrace broken-plan living as an alternative to open-plan living. With many more people now spending time at home, open-plan living spaces can be tricky to function in when many people are around. Instead, broken-plan living rooms make use of clever zoning techniques to create multi-functional spaces within larger rooms.
'Our 2021 Life At Home Report found that 28% of the people surveyed felt that having enough space at home had grown in importance over the previous 12 months,' says Becky Martin, interior design leader, Ikea UK and Ireland. 'Whilst adding more space can be tricky, making the most of the space you have is seen as another way to improve your life at home. Whether it's to give yourself space to do the hobbies and activities you love, spend time with friends and family, or just find a bit of privacy for some "me" time, using the space you have well can have a positive effect on how you feel about your home and your life.'
1. Divide a bedroom with a wardrobe
A walk-in closet is a sought-after addition to a bedroom, helping keep clutter out of your sleep space. Rather than go to the trouble of building a partition wall to create one, why not zone the space using a closet or shelving unit which will double as a bedroom storage idea?
Here @Johannainteriors used the self-assembly Ikea Pax wardrobe to separate a dressing area from her sleeping area making the space feel restful and organized.
2. Use open shelving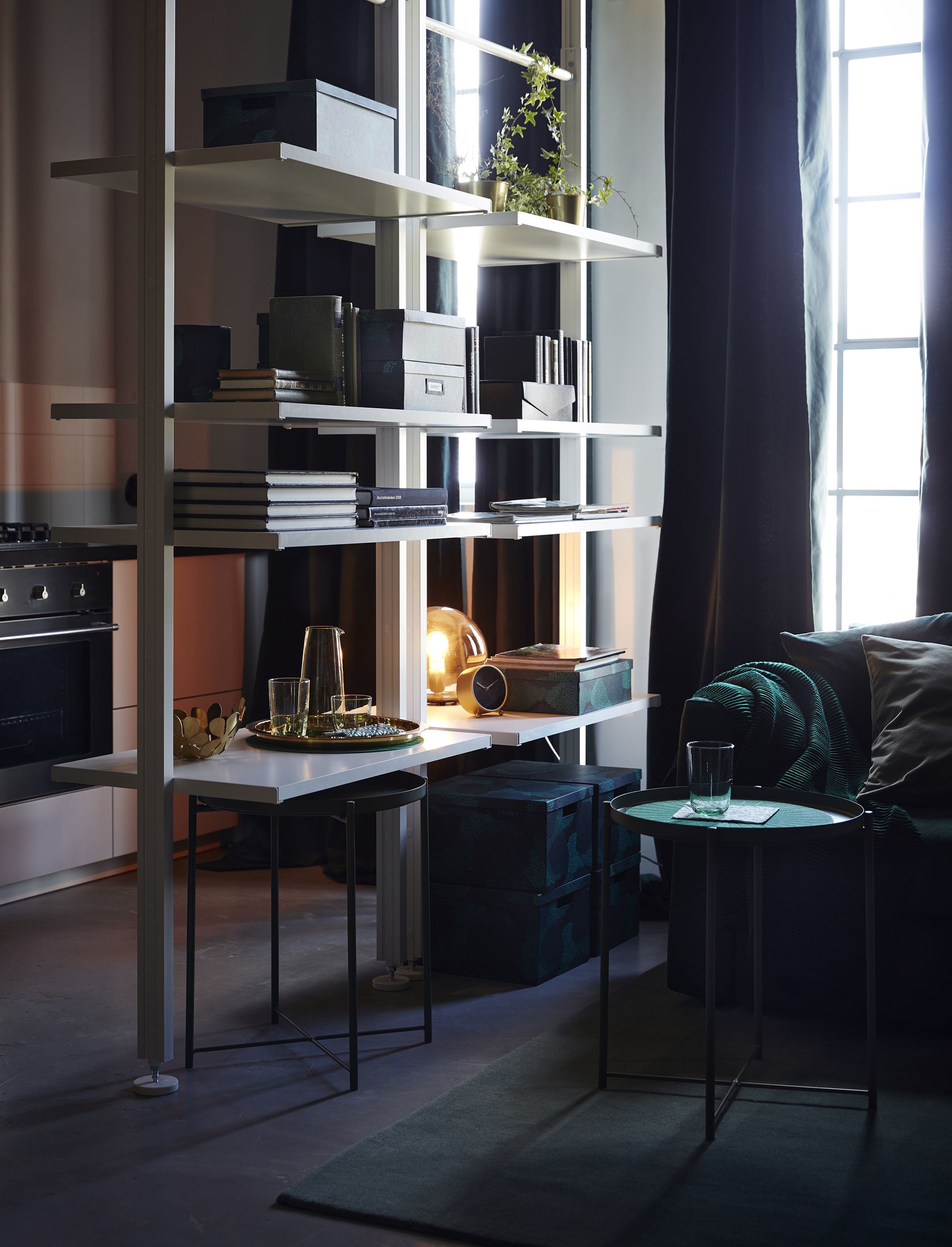 Using open living room shelving ideas to divide a space is a fabulous way to zone separate areas in an open-plan living room while also providing essential storage.
'Where space is at a premium, a divider that includes storage could be the best solution to help zone the room without closing it off completely, for example between a kitchen and a living room, or near a desk,' says Becky Martin, Interior design leader, IKEA UK and Ireland.
Here the customizable ELVARI shelving system helps the screen to give the cooking and relaxation areas their own identity whilst also providing space to store books and serveware.
3. Combine closed and open storage
Ikea's Kallax shelving system is a wonderful flexible furniture solution for dividing open-plan living spaces as it can be arranged in multiple ways, plus it gives the option to combine closed or open storage.
Depending on your storage needs, the modular units can be customized with either fitted doors, drawer inserts, or filled with baskets to create handy concealed storage, or they can be left open for displaying more decorative items.
Opting for closed storage is perfect if you're looking for a strong partition, while open will keep light and air flowing through the space and gives the option of decorating shelves. Often a combination of the two is a good way to achieve a feeling of separation between the two spaces without them feeling cut off from one another.
4. Create an office space
Many do not have the luxury of a separate room to use as a home office, so often the living room or bedroom doubles as a workspace. To maintain a work-life balance it's important to screen off an area in some way. 'Creating a little privacy for working or studying at home helps with focus and allows the opportunity to switch off from work when the evening arrives,' says Becky Martin, interior design leader, IKEA UK, and Ireland.
Open shelving is an easy way to zone an office in a living room corner while providing space for paperwork, files, and books. The self-assembly ISADEN shelf is lightweight so is easily moved and rests on feet which helps keep spaces feeling open and airy.
5. Divide a room with a curtain
'Using fabric or curtain ideas to divide open-plan spaces is a solution that's very quick and easy to change throughout the day,' says Becky Martin, interior design Leader, IKEA UK and Ireland.
Ikea's VIDGA curtain track system makes it possible to easily section off a space anywhere in the room, for example, you could add a simple curtain to zone a dressing area behind the bed. Curtain closet ideas together with portable clothes rails offer an affordable and flexible alternative to freestanding or built-in closets, which is handy if you are not in your forever home.
6. Create a living wall
'One of our favorite solutions to inspire our customers in-store is to use a portable clothes rack like RIGGA as a growing station and room divider in one. It's affordable and easy to move around the home. With some houseplants placed on the base shelf and a few hanging planters from the rail, you can create your very own indoor green wall,' suggests Becky Martin.
7. Separate workspace from relaxation space
With many more of us working from home, bedroom office ideas are becoming more and more popular. If you're having a bedroom layout with a desk it's important that your workspace does not encroach on relaxation space.
Having a curtain around a bed area is a quick and easy way to separate it from a desk area and create a cozy and relaxing bedroom space to unwind in the evening. A fabric curtain also gives the chance to add a pop of color and pattern to your space without needing to redecorate.
8. Choose a simple folding screen
Lightweight and portable, freestanding room divider ideas can be folded out to create a room within a room in seconds and can easily be moved throughout the day, plus they can be easily folded back and stored flat to open up a living space when not in use.
The lightweight VARHAUG doubles as a pin board 'so it's great for creating a cozy study nook,' says Becky Martin, interior design leader, IKEA UK and Ireland. 'Screens made from soft materials help dampen sound and are easy to move around and store, especially if they are on wheels like ELLOVEN.'
9. Let the light in
With its translucent panels, Ikea's RISÖR room divider creates a physical divide without blocking the light making it a great solution for a home office or craft room area where plenty of natural light is essential. The surface could also double as a creative mood board area or a place for decorating with art.
Can Kallax be used as a room divider
Ikea's Kallax unit is perfect for zoning a living space as it offers the option to combine open and closed storage plus can be configured in multiple ways depending on the size and shape of your room.
For a strong divide, and to maximize storage, fit the compartments with fitted doors, drawer units or storage baskets. Alternatively, keep the shelving unit open for a more open and airy feel.
'KALLAX comes in a variety of sizes and configurations to suit your particular needs. You can select from a wide variety of inserts for the KALLAX to stylishly hide items in storage in the cubes of the unit. The nice thing about KALLAX is that it creates a break in the room but isn't something permanent or too heavy,' says Paulann Bellino, IKEA US Business Leader for Media Storage.
How do you divide a large room without walls?
There are many ways to divide a room without going to the trouble of adding partition walls. Strategically placed open or closed shelving units are a great way to divide spaces while creating extra storage, for example, you could use Ikea's Pax wardrobe system to create a walk-in wardrobe space in a bedroom.
Portable screens that fold or are on casters are easy to move in and out of the space. In a bedroom, a moving clothes rail can be a great way to section off an office area whilst providing space for clothes, or, a simple curtain running from a ceiling track can instantly create a room within a room.
Alternatively, if you are starting on a layout from scratch, changing the floor level can divide spaces without the need for a physical divide which will make the space feel lighter.
Sign up to the Homes & Gardens newsletter
Decor Ideas. Project Inspiration. Expert Advice. Delivered to your inbox.
Pippa is Content Editor on Homes & Gardens online contributing to Period Living and Country Homes & Interiors print issues. A graduate of Art History and formerly Style Editor at Period Living, she is passionate about architecture, creating decorating content, interior styling and writing about craft and historic homes. She enjoys searching out beautiful images and the latest trends to share with the Homes & Gardens audience. A keen gardener, when she's not writing you'll find her growing flowers on her village allotment for styling projects.