How do I fill a large living room wall? 9 features interior designers love
Learn how to fill a large living room wall with these inspiring decor ideas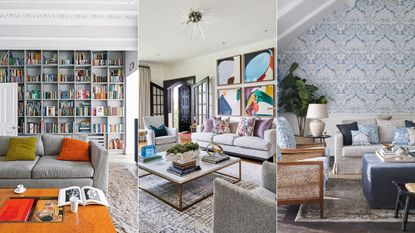 (Image credit: Future)
When faced with the challenge of trying to fill a large living room wall, there are almost too many options from which to choose.
From selecting beautiful artwork to adorn the space and sourcing the perfect mirror, to more significant projects such as installing shelving and paneling, interior designers have plenty of tricks and techniques up their sleeves to make a large living room wall feel well-curated. We have collated some of our favorite living room wall ideas to bring charm and character – and most importantly – to fill a large living room wall.
How do I fill a large living room wall?
One of the easiest ways to fill a large living room wall is with artwork – whether a single piece, a collection or in a gallery wall style. 'A commanding piece of statement art is ideal for filling a large wall, as it won't take up valuable floor space. Two to three pieces hung together is also effective,' advises Cynthia Masters, designer and founder of Panageries. You can then use the colors and textures in the piece (or pieces) to guide your interior design and color palettes, resulting in a beautifully harmonious space.
If artwork isn't for you, you don't have to leave your wall blank. You can also fill a large living room wall by installing bookshelves or paneling to add texture and character. Alternatively, consider being creative with a contrasting colors or paint tricks or by using a bold and busy wallpaper to make a feature of the wall.
There is lots more inspiration below for filling a large living room wall.
Working as an interiors journalist for some years, Holly Reaney has written over 100 articles for Homes & Gardens, including many pieces on interior design, including living room design. Here she shares expert advice on how to fill a large living room wall.
1. Fill a large living room wall with artwork
The most obvious choice to fill a large living room wall is artwork and there are lots of living room art ideas to inspire you – no matter your taste or style.
'If you have a large sofa with a blank wall behind it, then think about hanging a gorgeous, large landscape-format artwork as this can add height, depth and a focal point to the room. By hanging one solo piece in this way, you'll make a statement and the eye will automatically be drawn to it,' advises Helen Armon-Jones, founder, The Art Buyer.
'For more formal living room ideas or those with very high ceilings, hanging portrait-format works, ideally as a pair or even a triptych. Not only will this draw the eye up, but it'll also help to ground the space whilst adding that all-important balance and a sense of scale to the room.
'For smaller nooks and spaces, I love compact still-life studies covering anything from fruit to stoneware in subject. Soft, painterly florals and botanicals in colorful frames also work well here as they help to bring color into the room.'
2. Install a wall-to-wall bookshelf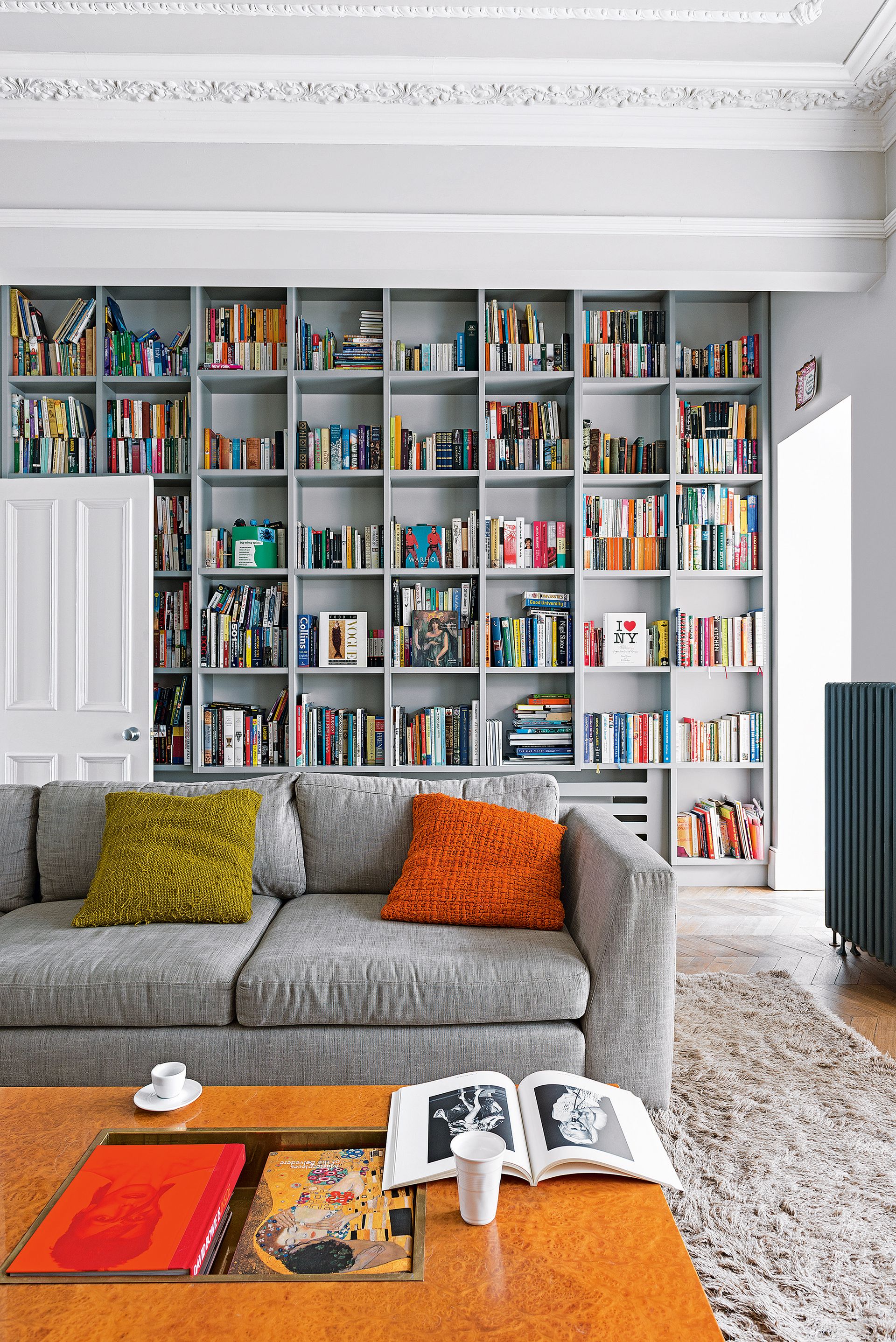 If you love literature, then a bookshelf is the perfect way to fill a large living room wall. There are plenty of bookshelf ideas for living rooms meaning you can find the perfect design to suit your space and living room layout. A floor-to-ceiling built-in bookshelf will create a feature wall effect that will add texture and color to your room – we love the geometric blocked look of this design – as well as helping you in organizing a living room.
However, choosing your bookshelf is only half of the battle. The second half is learning how to style a bookcase. Your focus here should be aesthetics. You don't want to turn your living room into a library or your local Barnes & Noble. Opt for books with covers and spines that complement your existing color scheme and arrange in a way that is pleasing to the eye rather than alphabetical. Face favorite cover designs outwards to create focal points in the shelves, while others can be stacked horizontally or vertically for different effects.
3. Decorate with a patterned wallpaper or paint
When it comes to designing a living room, it's worth noting that large walls don't necessarily need to be filled, they just need to not feel bare. A bare wall will result in a room feeling unfinished and unwelcoming. One way to overcome this problem is with living room wallpaper ideas.
'Wallpaper generally features flowers, a stripe or a damask style pattern, but there is so much more variety now. A big trend this year is bees, but we've also seen papers with flamingos, crystals, glitter and 3D effects, so there is more choice than ever. You can even have your favorite photograph turned into bespoke wallpaper these days,' says Stuart Yates, award-winning professional decorator.
'Don't be afraid to introduce wallpaper into your home. It can have a huge impact in any room. There's been a definite resurgence in our love for wallpaper over the last 10 years and I think it's a living room trend that will continue into the future.'
Alternatively, 'if you have any architectural elements in your living room, work with them for creating a living room feature wall. By adding color to wall recess and alcoves you can easily highlight them and bring them to focus,' adds Justyna Korczynska, senior designer at Crown.
4. Add depth with a mirror
Decorating with mirrors is always a good idea – whether you're looking to fill a wall in a living room, bedroom, bathroom or even kitchen. 'Living room mirrors are a great way to fill the space on the wall. As well as adding texture and dimension to the room, it can also make a small living room look bigger by reflecting light back into the space,' says Brittany Farinas, creative director, House of One.
The size and shape of the mirror depends on the space you have available. A triptych of three small mirrors on a narrow wall can create a subtle display, while an oversized mirror resting against a wall can look like a portal to another room.
Opt for an ornate carved or gilt frame for traditional living room ideas or one with a slimmer lines for a more modern setting.
6. Create a gallery wall
More informal and intimate than single pieces of artwork, gallery wall ideas are a great way to fill a large living room wall.
'If you want to create a gallery wall, then I'd always advise laying your frames out on the floor to create the layout. This will allow you to move pieces around until you find the layout that works best for you, and will avoid you creating many holes in the wall. Ultimately, the key is to create a relaxing room, allowing space and room to breathe around artworks and furniture,' advises Helen Armon-Jones.
7. Embrace the oversized
If you are new to the world of artwork then it can feel like a daunting prospect –especially if you're trying to fill a large living room wall. As a result, homeowners often try to 'play it safe' by going for smaller pieces. If you have a large expanse of wall, this small single frame will quickly become dwarfed and can even end up making the wall seem larger than if it was left bare.
'Fill the large empty space with an oversized piece of artwork like Brooke & Lou's Field of Flowers art or A Morning View art. This will draw attention to the artwork and not so much how large the wall space is. Complete the look with a console table underneath the artwork with coordinating décor pieces and a table lamp,' says Bria Hammel, CEO and Creative Director of Bria Hammel Interiors.
8. Use the space to display things you love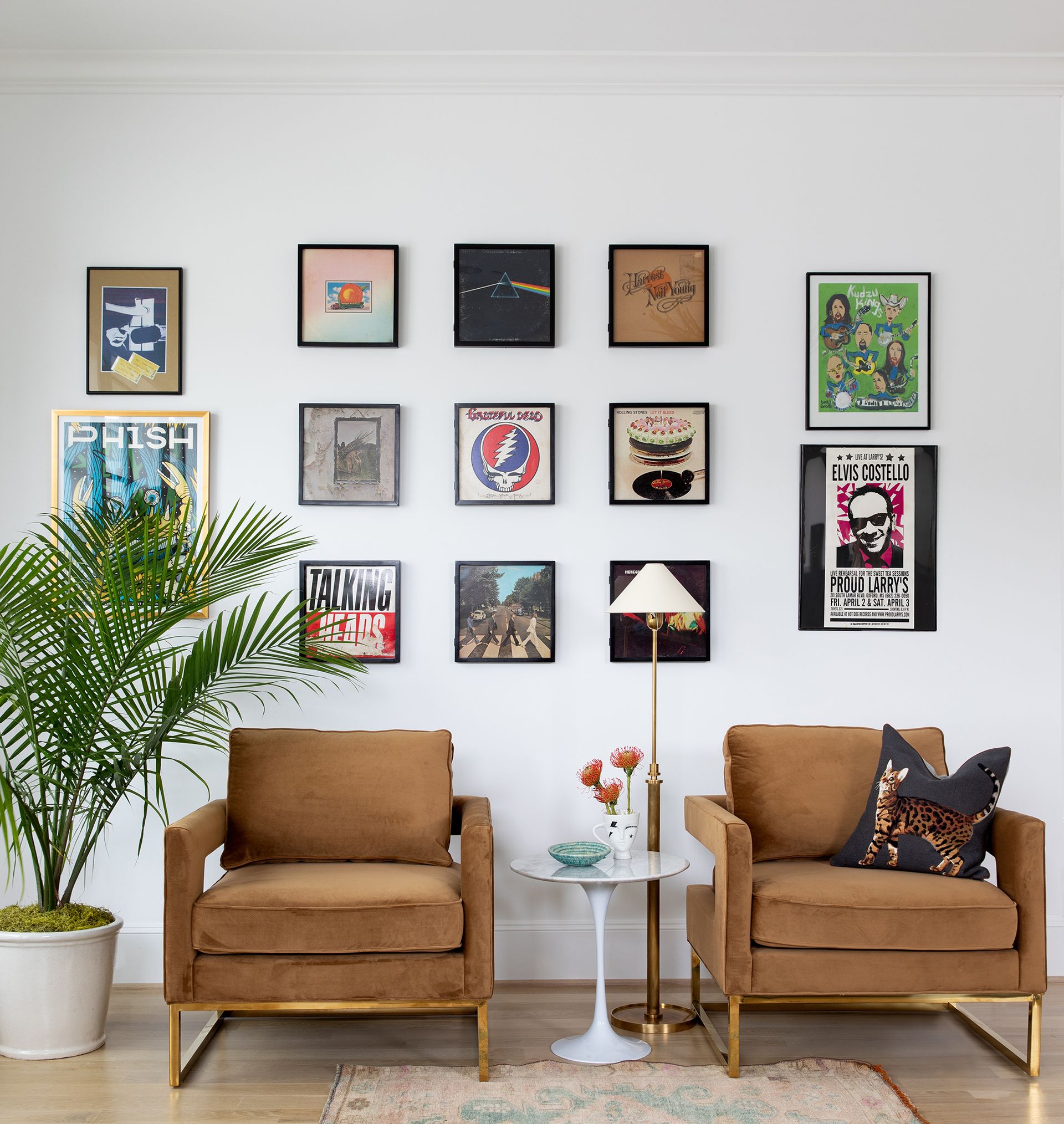 Your home should be a reflection of your personality and tastes, so why not use a bare living room wall to inject a little bit of you into the space? 'Try repurposing your hobbies into decor. In this living room, we took our clients' favorite records and turned them into beautiful wall art,' explains Mary Patton of Mary Patton Interior Design.
If you're not a music-buff, however, there are plenty of other options. If you love the outdoors, then why not dress the wall with framed maps of places you love; or if you are a keen florist arrange a selection of shadow boxes showcasing your favorite pressed blooms?
9. Fill a living room wall with paneling
If you have a lot of blank walls in your living room, then paneling is a great option. 'Panelling is a simple and effective way to add layers to a space. Often used to create the illusion of a bigger space, placing panelling against a feature wall elongates and accentuates the room,' says Justyna Korczynska.
There are lots of living room paneling ideas to inspire you. 'The highlights and shadows created by the panelling will add another level to your feature color creating a very bold statement wall.'
How do you fill a long living room wall?
You can fill a long living room wall by decorating with an oversized piece of artwork or mirror to add a focal point to the wall. Alternatively, you can opt for paneling to visually divide up the wall while also embracing a charming traditional feel.
What do you put on either side of a large painting?
Mirrors, wall lights and shelving can all be placed either side of a large painting to add texture and character to the space.
'If you have the available square footage, a pair of etageres alone or flanking a fabulous piece of art is another great option. Etageres tend to be slimmer than, say, a chest, and will therefore leave space for other key furnishings,' advises Cynthia Masters, designer and founder of Panageries.
However, you don't have to put anything on either side of a large painting at all. 'Don't be afraid of negative or empty space on a large wall. Hang the right piece or pieces and place your furniture appropriately so that the eye has a place to rest when looking at the room,' adds Sarah Brannon, designer and founder of Sarah Brannon Interiors.
Sign up to the Homes & Gardens newsletter
Decor Ideas. Project Inspiration. Expert Advice. Delivered to your inbox.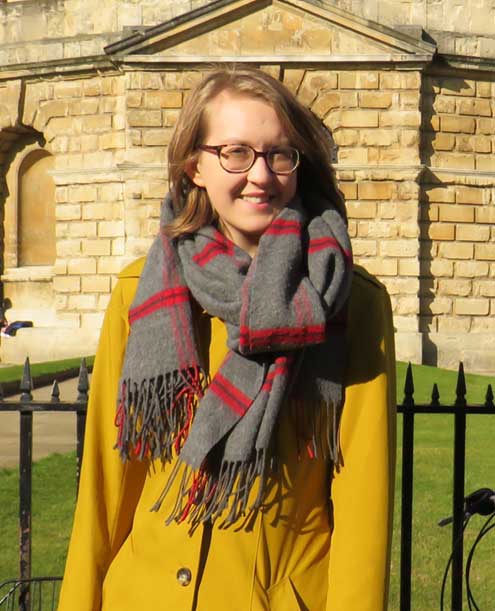 Content Editor and Sub-editor
Having graduated with a first class degree in English Literature, Holly started her career as a features writer and sub-editor at Period Living magazine, Homes & Gardens' sister title. Working on Period Living brought with it insight into the complexities of owning and caring for period homes, from interior decorating through to choosing the right windows and the challenges of extending. This has led to a passion for traditional interiors, particularly the country-look. Writing for the Homes & Gardens website as a content editor, alongside regular features for Period Living and Country Homes & Interiors magazines, has enabled her to broaden her writing to incorporate her interests in gardening, wildlife and nature.