Ikea laundry room ideas – 10 organized and stylish spaces
Create an efficient and attractive space for household chores with these Ikea laundry room ideas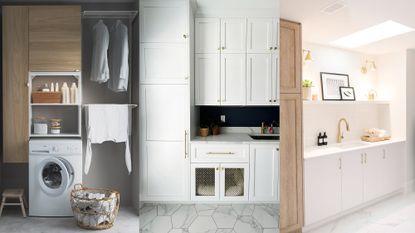 (Image credit: Ikea / Heidi Noelle Design / With Mable / Semihandmade)
Ikea laundry room ideas are perfect for those looking for flexible, stylish and affordable furniture solutions to this hardworking, practical space.
From modular cabinet systems to multi-functional freestanding furniture and clever small storage ideas, as well as sinks, worktops and wall-mounted rail systems, Ikea has a huge array of practical ways to achieve an organized space and make housework a breeze.
While the priority of a laundry room is to be functional – providing space for large appliances, cleaning items, and household chores such as ironing – there's no reason it shouldn't be stylish, too. To help get you started on your design, we've rounded up an array of inspiring Ikea room ideas for laundry spaces, as well as some creative Ikea hacks to get these practical spaces looking their best.
Ikea laundry room ideas
There are many ways to integrate Ikea laundry room ideas into your space, from sinks to laundry baskets, but perhaps what Ikea is best known for is its storage systems.
Laundry rooms and utility rooms are used to store all sorts of items, from tall items like ironing boards, hoovers, and brooms to household cleaning products, so it's important to have plenty of laundry cabinet ideas in different sizes. Ikea offers self-assembly, pre-made cupboards, and storage units in a variety of sizes that can be arranged in all sorts of ways depending on your layout. Perfect for Ikea kitchen ideas and small laundry rooms, the cabinet systems can be fitted with different internal solutions depending on what you need to store.
'The UTRSUSTA cleaning interior for the METOD system is perfect for keeping everything tidy and sorted, or choose a flexible system like BOAXEL that is adaptable and flexible, and includes accessories like a drying rack, baskets, and rails,' says Grant Robinson, Interior Design Leader at IKEA UK and Ireland.
Read on to discover more utility room organization ideas and inspiring laundry room makeovers.
1. Maximize storage
Storage is essential in a laundry room and closed cabinets are a great way to conceal those cleaning items nobody wants to see. Here tall Sektion cabinets from Ikea are combined with base cabinets and two-tier wall cabinets to make maximum use of the wall space and create a clean, uncluttered look. Interior designer Heidi Kliewer of Heidi Noelle Design elevated the cabinets with white shaker doors from Semihandmade and teamed them with dark navy walls, a marble-look worktop, and burnished handles to bring a touch of glamour.
In an ingenious creative hack, Heidi switched out the glass in a set of Semihandade glazed doors and replaced it with mesh to create a pet cage.
2. Factor in space for hanging clothes
When designing a laundry room it's a good idea to factor in space for clothes to air or drip dry, especially if you have lots of wool or cashmere garments that cannot go in the tumble dryer. Ikea's BOAXEL wall-mounted laundry system features clothes rails, drying rails, shelves, and mesh baskets which allows you to arrange the perfect laundry station for clothes and detergents.
3. Mix and match door styles
When it comes to fitted cabinetry there's no need to keep all door fronts the same, choosing different styles can help break up the look and provide texture and interest. Here blogger Mable Cheung of With Mable opted for Ikea SEKTION cabinets with a mix of white shaker doors and veneered wood CLJ Cove doors to create a modern country look.
4. Choose freestanding furniture
Freestanding furniture allows you to easily change the layout of a room, which can be handy if the function of your laundry room changes, or you need to accommodate new appliances. Open shelving units also allow you to access things easily and to instantly see what supplies you have. However, there are things that you don't want on show, so often a mix of closed cabinets and open is a practical solution.
Here Ikea's Enhet system of a wall cupboard and a frame unit provides countertop space for folding and plenty of storage beneath for ironed laundry, and detergents while the simple storage boxes are perfect for smalls.
'For a contemporary style, the ENHET kitchen system is easy to install. With no cover panels, it has a simple, modern look with both open and closed units. For a country or shaker style design you could use textiles under a worktop to hide appliances, baskets, or pet beds and bowls,' says Grant Robinson, Interior Design Leader at Ikea UK and Ireland.
5. Add a sink unit
When we asked kitchen and interior designers for their key laundry room pieces a sink was one of the must-haves. 'It's worth choosing the largest sink that the space allows and if there's a window, it should be positioned in front of it as it will often be used to wash clothing, shoes, or a dog! And having a view out is always nice!' says Allison Lynch, Senior Design Consultant at Roundhouse.
In this laundry-cum-mudroom by Gina Rachelle Design, an Ikea cabinet unit with a large Belfast sink provides space for washing clothes, boots, and watering the house plants while the floating LACK oak shelves provide additional storage and space to display artwork and personal touches. She upgraded the kea Sektion cabinet doors with grey shaker doors from Semihandmade.
'When creating a small mudroom, it always helps to think vertically! Take these cabinets and shelves all the way to the ceiling to capture the storage you need,' says Gina Rachelle.

6. Keep it simple
To keep this laundry-cum-mudroom feeling light and contemporary interior designer Jessica Moureau of Moureau Design Studio opted for Ikea SEKTION cabinetry arranged in an L-shape with white Supermatte beaded doors from Semihandmade and concrete worktops from Caesarstone. The washer and dryer are stacked to save space and a statement ceiling light helps bring personality and interest to the space.
7. Add a mudroom area
Today the laundry room and modern utility rooms have evolved from being just a space to do laundry to serving all sorts of functions, from providing extra pantry space to an area for arranging flowers, plus they often double as mudrooms.
To create the perfect mudroom area in a laundry room consider adding lots of closed storage for shoes and as well as a bench for putting on and taking off shoes. The space underneath can be filled with handy Ikea baskets.
In this space, interior designer Gina Rachelle chose Ikea cabinets with Supermatte grey shaker doors from Semihandmade which pair beautifully with the statement blue tiled floor.
8. Create a country-style laundry room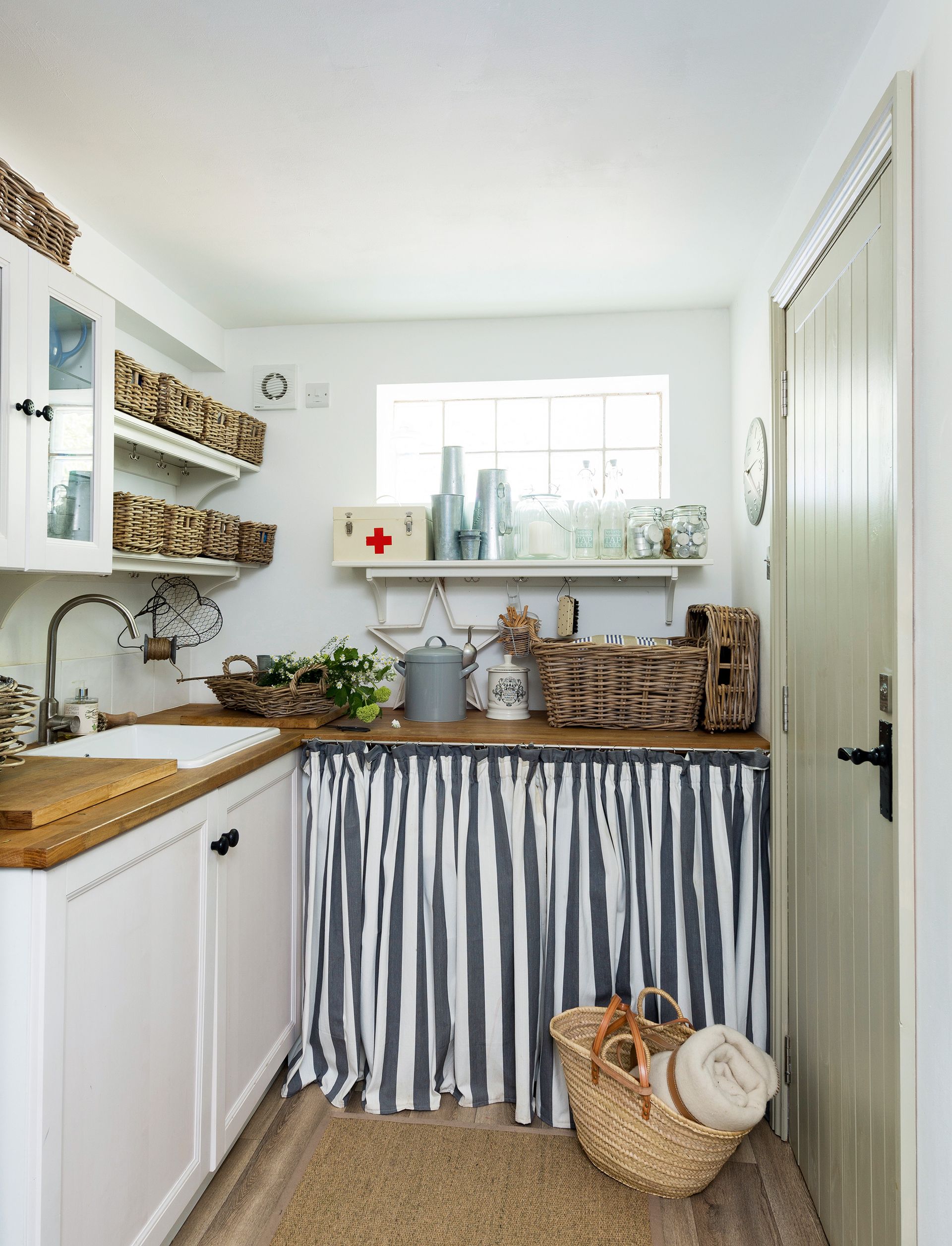 Open shelves lined with wicker woven baskets are a wonderful way to embrace country decor in the laundry room while keeping things organized. Ikea has a wide range to choose from including these BYHOLMA baskets. To keep the room feeling rustic and relaxed you could also introduce a fabric curtain to conceal your large appliances.
9. Add storage for small items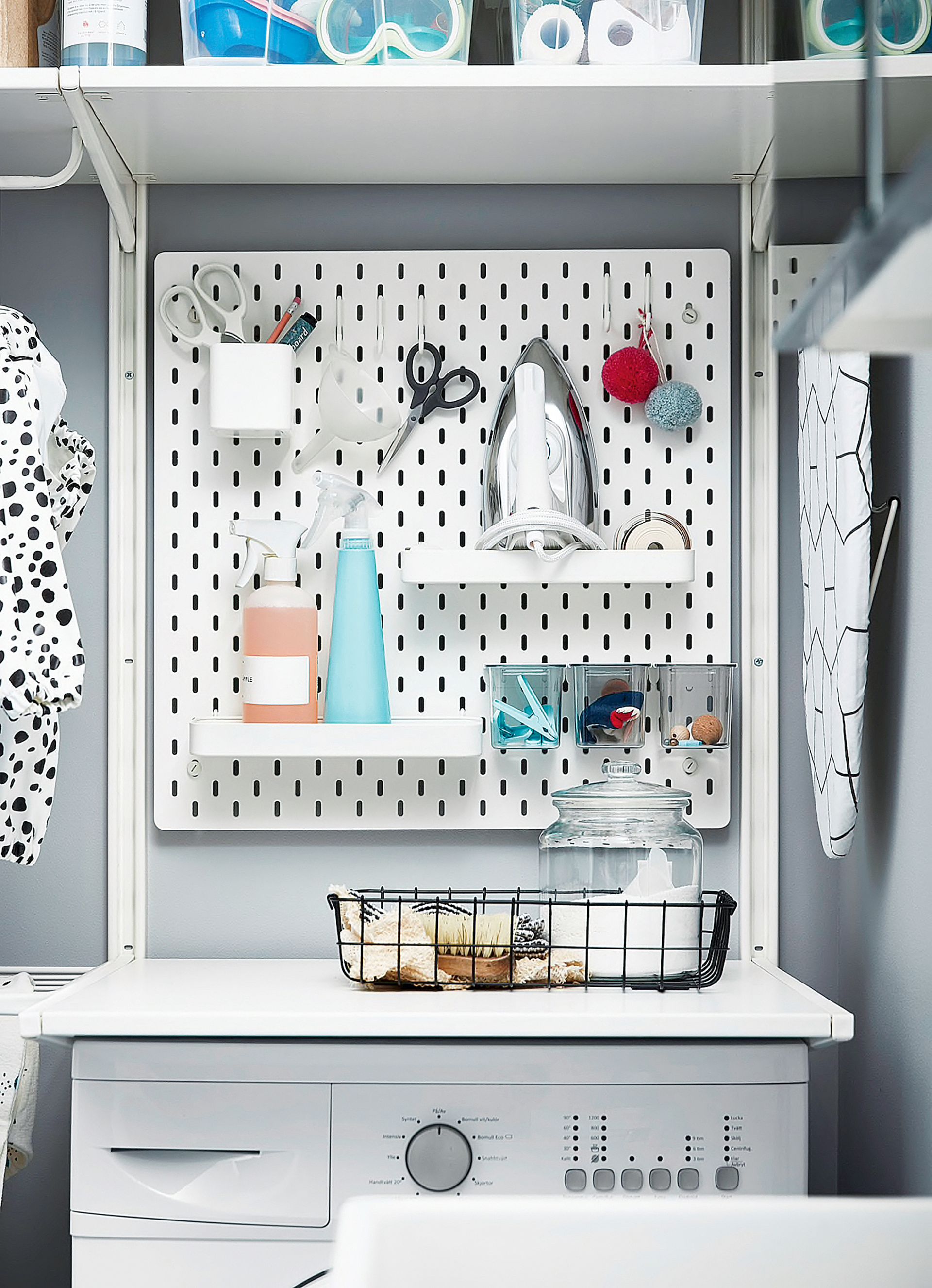 Ikea's SKÅDIS pegboard keeps surfaces clear of clutter and provides handy storage for small items like scissors, pegs, cedar moth balls, dryer balls, and sewing essentials for mending.
10. Don't be afraid to add color
Heidi Kliewer of Heidi Noelle Design maximized storage space in her laundry-cum-mudroom with plenty of wall-mounted Ikea SEKTION units and kept the space bright with Semihandmade's white shaker doors. The large amount of cabinetry meant there wasn't too much scope for artwork or personal touches, however, she cleverly squeezed in fun wall decor idea created from wallpapered panels.
How do you set up a small laundry room?
At a minimum, a laundry room will need a sink unit, a tall unit for storing items like ironing boards and mops and buckets, space to house a washer and dryer and a countertop area for folding. If you have a small laundry room keep base cabinetry limited to make sure there is enough floor space and think about making the most of the wall space for storage instead by fitting shelves or cabinets all the way to the ceiling.
'If space is at a premium think about stacking the washing machine and tumble dryer - it's an easy win in terms of gaining extra storage space and no less convenient,' says Louisa Eggleston, creative director of Humphrey Munson. 'I prefer to have the washer and dryer side by side so that you can install a countertop above it for a folding station,' says interior designer Jessica Hunter.
'Choosing a mix of closed and open storage is a great way to maximize storage space in a laundry room,' says Grant Robinson, Interior Design Leader at Ikea UK and Ireland. 'Rails and hooks create useful space for the items you use most. Open shelving can provide a focal point for a few things you love that are both functional and beautiful, like the VARIERA bamboo box with handle, RISATORP baskets or KORKEN jars filled with cleaning supplies and neatly labelled.'
Where is the best place to put a laundry room?
Where to locate a laundry room depends on what exactly you are looking to use it for. If you are planning to use it to help to take pressure off the kitchen by housing a pantry or for storing large kitchen appliances, then it is best located off the kitchen. or, if needs to double as space for a mudroom then it will need to have an outside door. However, if it is used solely for laundry it could make sense to locate it near the bathroom and bedrooms.
'Historically, utility rooms have often been located close to the kitchen to allow staff easy access to washing lines and for practical plumbing reasons, but there is no reason this should be the case now. In fact, if the utility is used predominantly for laundry, we often site it upstairs near the bedrooms and dressing rooms,' says Richard Moore, design director of Martin Moore.
Sign up to the Homes & Gardens newsletter
Decor Ideas. Project Inspiration. Expert Advice. Delivered to your inbox.
Pippa is Content Editor on Homes & Gardens online contributing to Period Living and Country Homes & Interiors print issues. A graduate of Art History and formerly Style Editor at Period Living, she is passionate about architecture, creating decorating content, interior styling and writing about craft and historic homes. She enjoys searching out beautiful images and the latest trends to share with the Homes & Gardens audience. A keen gardener, when she's not writing you'll find her growing flowers on her village allotment for styling projects.