Pastel kitchen ideas – 10 modern ways to use playful pastels to inspire a color refresh
Discover how to decorate a kitchen with these softer hues in a way that feels chic and timeless...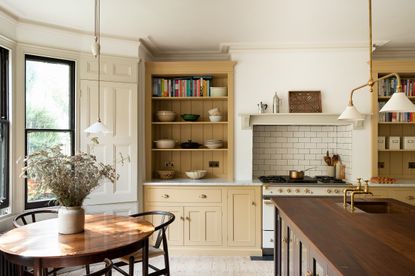 (Image credit: deVOL)
Sign up to the Homes & Gardens newsletter
Decor Ideas. Project Inspiration. Expert Advice. Delivered to your inbox.
Thank you for signing up to Homes & Gardens. You will receive a verification email shortly.
There was a problem. Please refresh the page and try again.
Choosing a kitchen color always comes with a slight risk. The 'on-trend' hue seems to be ever-changing – from fresh whites and classic greys to bold blues and deep forest greens. It can be difficult to choose a kitchen color that feels the right amount of trend-led at the time but also has longevity so you aren't redecorating your colorful kitchen every season.
That's why we love a pastel hue in a kitchen. Pick the right shade and they can be timeless. Soft, subtle, and in some cases barely there, colors that add just the right amount of character to a kitchen without the risk of it dating quickly. Or you can, of course, go deeper and bolder with your pastels – they aren't all pale and pretty. There's a pastel color scheme to suit any style – classic country, ultra-modern, rustic farmhouse – it's just about choosing the right shade and where to use it.
10 pastel kitchen ideas for every kitchen style
'Pastel colors have no black pigment in them, so they are light, playful, and friendly colors. It depends on the amount of white pigment added they can fall into being very soothing.' says Tash Bradley, color expert at Lick.
Different painted kitchen ideas, especially when using pastels, have particular benefits you may wish to exploit in your room design. Some can brighten and visually enlarge the room, while others make cleaning a less frequent necessity, for example.
Our curated collection of the best pastel kitchen ideas will inspire you to give your kitchen a bold new look.
1. Layer different pastel shades
Mint pastel green is such an on-trend color right now, we love the fresh, spring-like feel it adds to a space. But, as with any pale pastel, approach with caution as you want to keep this playful hue feeling sophisticated. One simple way to do that is to use it as an accent shade rather than taking it all over a space. Using it just on the woodwork – around window frames and on doors, ensures you get that pop of this deliciously retro hue without it becoming too dominant in the space.
And ground that lighter hue by bringing in colors of the same tone but in a darker shade, as can be seen in this green kitchen designed by K&H Design. The mint green looks fabulous with the fresh white walls and penny-tiled floor, and the slightly deeper teal used on the island and the rest of the cabinetry just balances the space.
'Designed for a Parisian family in Notting Hill, their home environment had to create a happy and bright mood to contrast the grey and dreary London days. We used Tabernacle by Little Greene on the timber glazing, it's the first color that greets you from the doorstep and connects straight to the garden beyond,' explains Amelia Brookes of K&H Design.
2. Ground a pink kitchen with deep red hues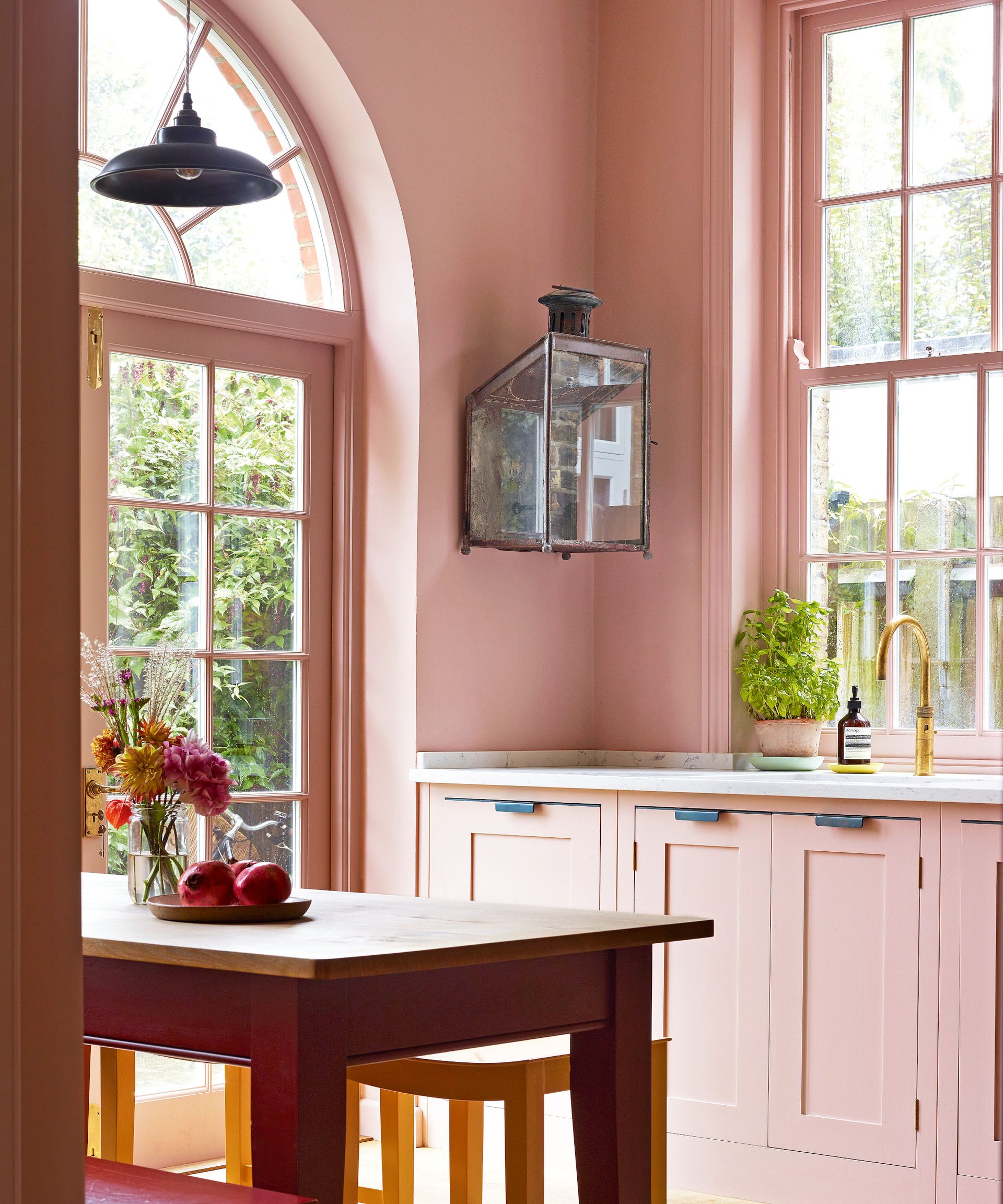 Pink and red were once a color scheme we saw little of, but with the rising color trend for analogous schemes, these two rosy hues are frequently being paired together. And it works, they are such similar hues but with potentially such different qualities. Plus, bringing a deep and dramatic red into a soft, pastel pink space stops the look from becoming too saccharine, it gives those palest of pink a more grown-up edge, a more on-trend edge.
'There is a lot of imagery floating around regarding pink kitchens, but nothing too sharp or bold, the gentle tones of Setting Plaster offer a perennially liveable option with its gentle, earthy notes on kitchen cabinetry,' suggests Patrick O'Donnell of Farrow & Ball. 'Bring in a bolder accent for a kitchen island or freestanding larder unit, such as the rich brick notes of Etruscan Red. Consider soft blues such as Light Blue, a classic shade that hovers from blue to green to grey depending on the light, and soften with the nuanced off-white of Slipper Satin on your walls, this will be a perfect scheme for a kitchen blessed with abundant light.'
3. Ditch the wall cabinets
While pastel shades have proven themselves timeless, committing to any slightly braver choice for your kitchen cabinet color can be daunting. And there is that risk that if you go with a more unique color, it can be tricky to bring in any other decor or colors because the focus is really going to be on that cabinet color.
Solution? And this applies especially if you want to go for a pastel hue in a smaller kitchen. Ditch your upper kitchen cabinets. Now, this is a trend in its own right, regardless of color but it makes even more sense when using brighter hues. There's not as much visual bulk and blocks of color if you just stick to base cabinets. There's an opportunity to add other colors and textures to the space. This minty green delight by deVOL demonstrates perfectly.
4. Pair pastels with natural textures
In their palest, most earthy tones pastel yellows can behave almost like a neutral – a one up from a deep cream. So if you want to dabble in the world of kitchen colors, but don't want anything too bold, yellow is a perfect option.
Plus you can quite easily tone down the brightness by pairing it with lots of natural textures and finishes. This goes for any pastel actually, mix them with woods, exposed bricks, stone, or any natural materials and they go from being these vibrant ice cream shades to soft, muted hues that would work perfectly in a more rustic kitchen.
5. Choose dusty pastels for a sophisticated feel
Pink kitchens are becoming almost as popular as neutral schemes, likely because it almost works like a neutral. But there's a key to decorating with pink, especially in such a frequently-used space. You need the color to be livable, you want to avoid that very 'girly', child-like look that often associates pink with nurseries. And to avoid that just ensure your pinks are more on the dusky side, still light and pretty but with a slight grey or brown undertone.
'The wonderful thing about pastel pink is that it is extremely forgiving. It's the perfect color in so many different settings because it's intrinsically warm but doesn't feel dated if you choose the right kind of pink. Ensure you select a shade that oozes sophistication, such as Farrow & Ball's Setting Plaster,' explains Irene Gunter, founder of Gunter & Co.
6. Ground pastel yellow with more dramatic shades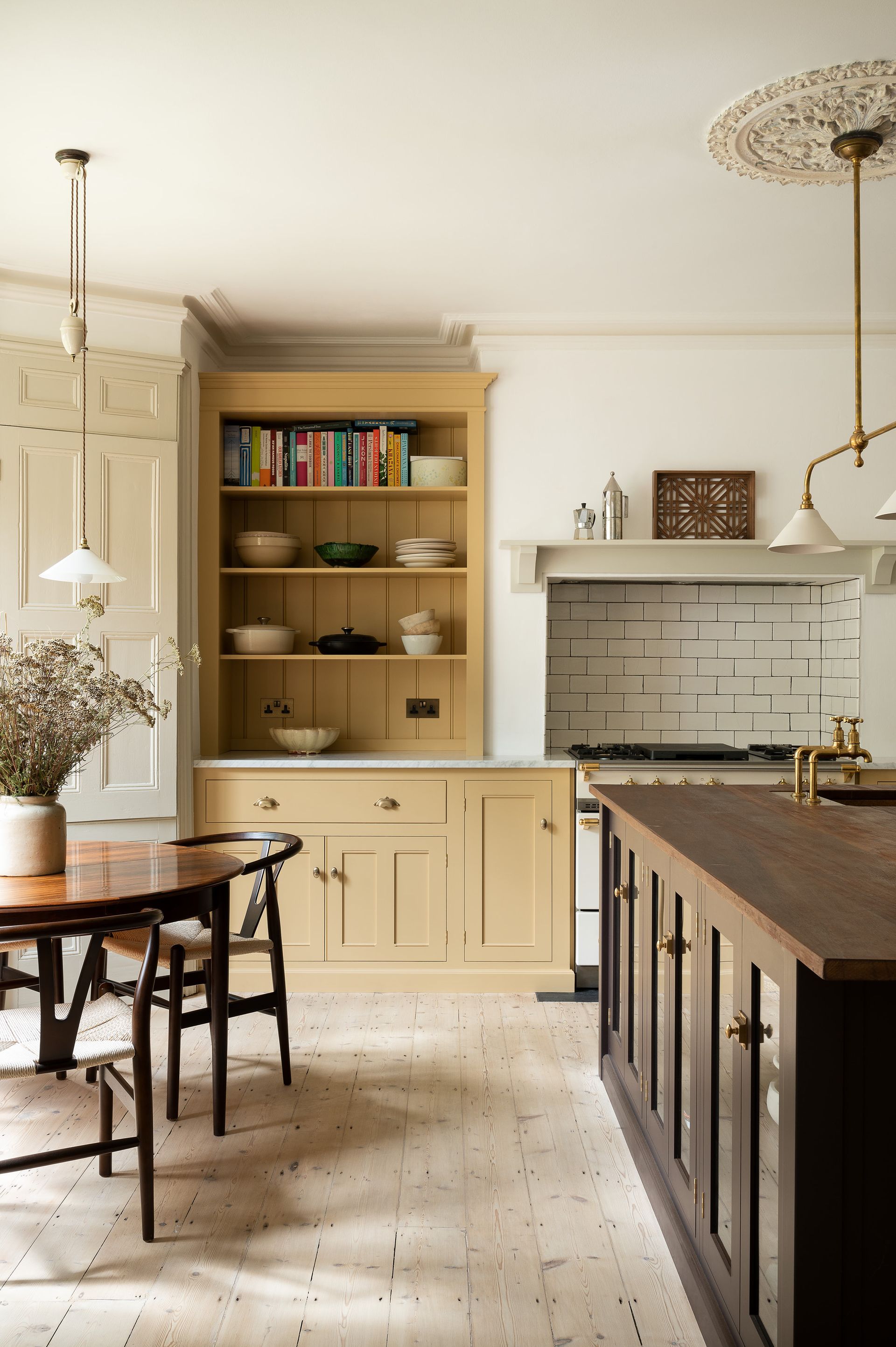 Pastel yellow and aubergine? Not a color combination we would think to put together but just look at how it works. As we have mentioned, in order for a pastel scheme to really work in a kitchen and not date too quickly, you need to pair these pale hues with darker colors. Yellow and purple may sound wild, but both in their more earthy shades complement each other's warmer undertones and create a color scheme that feels both unique and classic.
The small kitchen island is a really obvious place to ground a pastel kitchen, as it sits in the middle of the space, so you are always going to be catching the two colors together. However, if you don't have an island or looking for a more subtle approach than a two-toned kitchen, smaller accents like the hardware or decor can have the same effect.
'You need a grounding color that anchors whatever your choice of pastel. This darker color will stop it from feeling a bit basic and a bit too light. You need to go dark with something, and that could be as small as a dark antique fixture or dark hardware. Something that brings a bit of depth to the room – a picture frame or a rug would do it too,' suggests Tash Bradley of Lick.
7. Contrast muted tones with a bold countertop
Kitchen countertops are often seen as purely practical, a design decision that's never as exciting as choosing colors or cabinet styles. But countertops make up so much of a kitchen and are as much of a focus as the color – so have fun with them. Use your countertops as a way to bring in colors and patterns and textures. This works especially well in a pastel kitchen to contrast those lighter tones and make the space feel more on-trend.
'When opting for pastel tones we often suggest choosing bold or playful countertops to add contrast to the space,' advises Will Eaves, design coordinator at British Standard. 'In this case, Charlotte Cosby, creative director at Farrow & Ball, contrasts soft and warm tones of Farrow & Ball Setting Plaster Modern Eggshell, with the mottled jade terrazzo and resin counter worktop contrasts creating a dramatic yet welcoming space.'
8. Create a relaxing kitchen with a pale green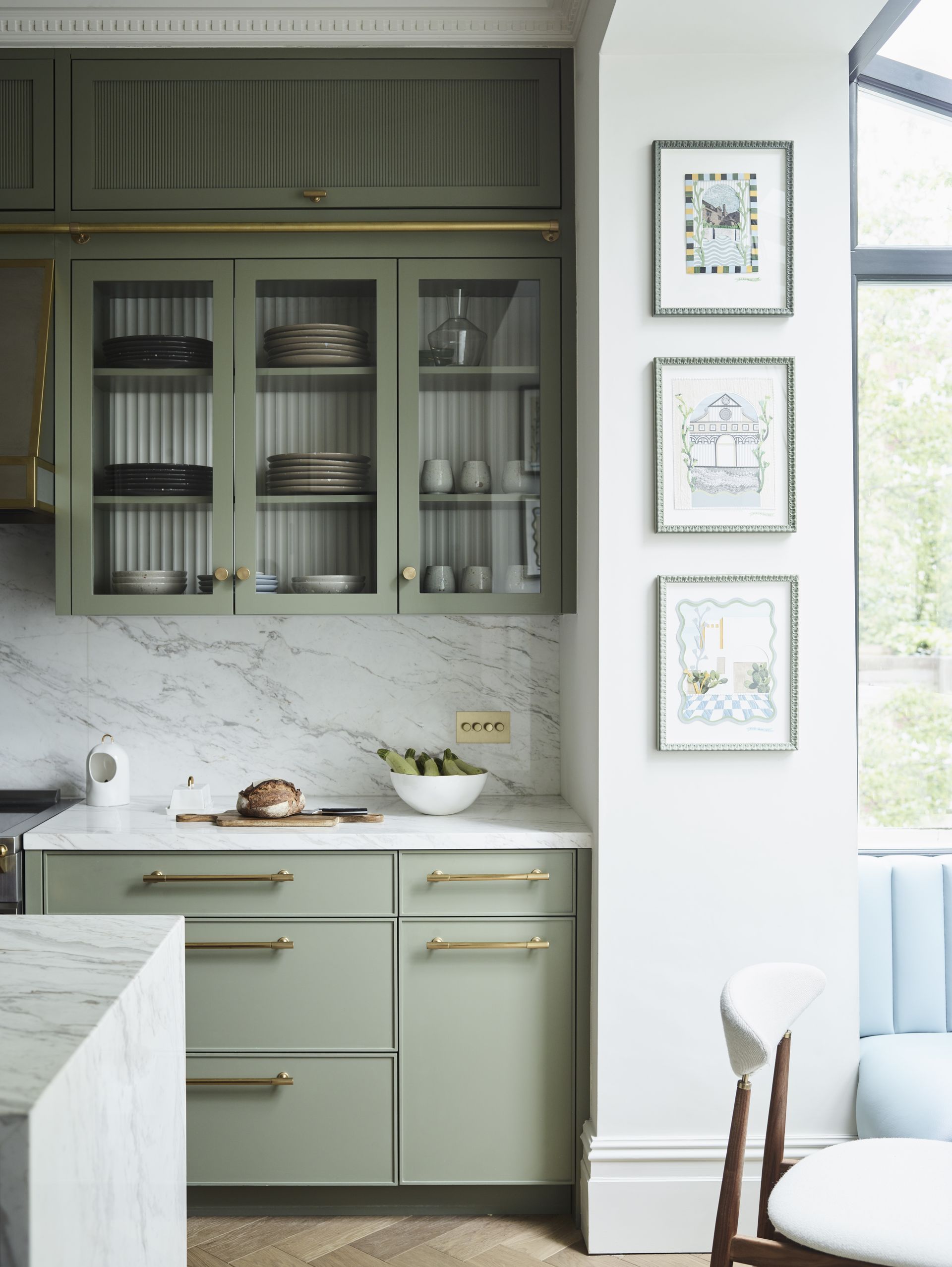 We all want our kitchens to feel more relaxing, but being the hub of the home that often wears a lot of different hats it can be tricky. Color can have such an impact on the tone of a room however, picking a color that encourages calm and serenity is the easiest way to try and create those zen-like vibes in your kitchen. Green is proven to be one such color, and pale greens even more so, as they are colors we see so often in nature our eyes really easily adjust to the shade.
'The client wanted a green kitchen, so there was a lot of back and forth about the exact shade of green it should be. Sometimes you can't be sure until it is painted on the cupboards and you see how the light falls on it,' explains Irene Gunter. 'This was certainly the case in this kitchen. The first color we chose didn't look quite right, so we went to Papers and Paints in Chelsea where they can create pretty much any color you want. We eventually settled on a color called Bay Leaf, which is a very calming and soothing green, not particularly punchy but still clearly a color. I may be biased, but I think it's the most beautiful green in the world!'
9. Mix pastel hues with white cabinetry
Pastel shades look lovely paired with white, as despite being paler colors, there's a really clear contrast there. White gives a pastel scheme a lift and can create a more modern, fresh feel, preventing a pastel kitchen from looking too sweet and twee.
'There has not been so much interest in pastel-hued kitchens since the 1950s, so they are certainly due a comeback. Softy, powdery, sugared-almond shades sit beautifully with white for a clean, romantic look but work equally well with black and bronze for a more contemporary take,' suggests Simon Temprell, Design Manager at Neptune. 'White or soft-grey cabinetry would be ideal against pastel-colored walls and add in brass hardware which works well with all pastels as it brings out the warm undertones. '
10. Be inspired by nature
Pastel blues are one of the easiest colors on the eye, we notice it more than white or grey, but we have to do little adjusting to taking in the color because it's a shade that is so present in nature. This ensures a really calming, relaxing feel to a kitchen.
'A soft palette was selected for the kitchen of this family home in keeping with the natural colors of the Jersey shoreline, which is visible from almost every room in the house. Pastel shades create a calming and restful aesthetic that is perfect for a family room, such as a kitchen diner, and look wonderful when paired with natural materials like a stone floor and wooden paneling,' explains Louise Wicksteed, creative director of Sims Hilditch.
Are pastels on trend for kitchens?
Pastel shades are classic colors and are always on trend in some form or another. The kitchen trend at the moment seems to be towards more muted, grown-up pastels, less retro. Think plaster pinks, sage greens, and muted pale blues. And you need that grounding color we have talked of too, a slightly darker shade that's going to slightly tone down the vibrancy of a pastel.
What colors go with pastels in a kitchen?
Pastels pair really well together in a kitchen, especially if you are after a really soft color scheme. Be sure to choose pastels that have the same undertones when you are bringing them together. And they can work well with darker shades too, just don't create too much contrast, avoid any really true blacks, and opt for softer deep tones like smokey greys and soft deep blues or darker browns or woods.
Sign up to the Homes & Gardens newsletter
Decor Ideas. Project Inspiration. Expert Advice. Delivered to your inbox.