What color goes with a white kitchen? 10 top picks from design experts
Find out what color goes with a white kitchen, from floor to tile and countertop – design experts share their tips for the best color combinations to go with white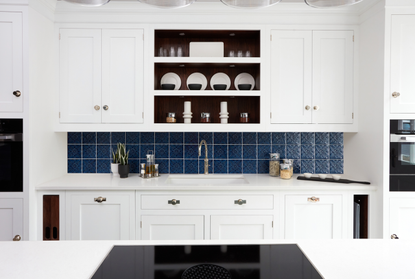 (Image credit: Craven Dunnill Jackfield)
If you're erring on the side of caution with ever-popular, timeless white for your new kitchen, you might be wondering what color goes with a white kitchen so that you can add in some warmth, character and individuality to your scheme.
White kitchen ideas can be the most versatile foundation for any remodel. Whether you choose an all-white scheme, with white cabinetry, countertop, backsplash and walls, or decide to major on white for key pieces but add in some other tones for variation and depth, white's ability to go with any other color is unparalleled.
When white can go with any color, choosing just what shade you want to team it with takes even more consideration. From bright accent shades to gently graduated tones of off-white, cream and grey, there's a world of color ideas to try. To help you narrow your choices and get things just right, we spoke to the experts.
What color goes with a white kitchen?
Decorating with white in a kitchen needn't mean floor-to-ceiling white; it simply needs a majority of the visual space to be white – typically, in the kitchen cabinet colors and walls.
'Adding color to a white is an opportunity to imprint even more depth and personality to the space, perhaps emphasizing architectural features, creating a focal point with kitchen island paint color ideas, or linking a key color with the decorating scheme in surrounding rooms,' says Lucy Searle, Global Editor in Chief, Homes & Gardens.
Below, we share expert recommendations for what color goes with a white kitchen, plus tips on how to introduce these hues into your scheme.
1. Contrast white cabinetry with navy to create depth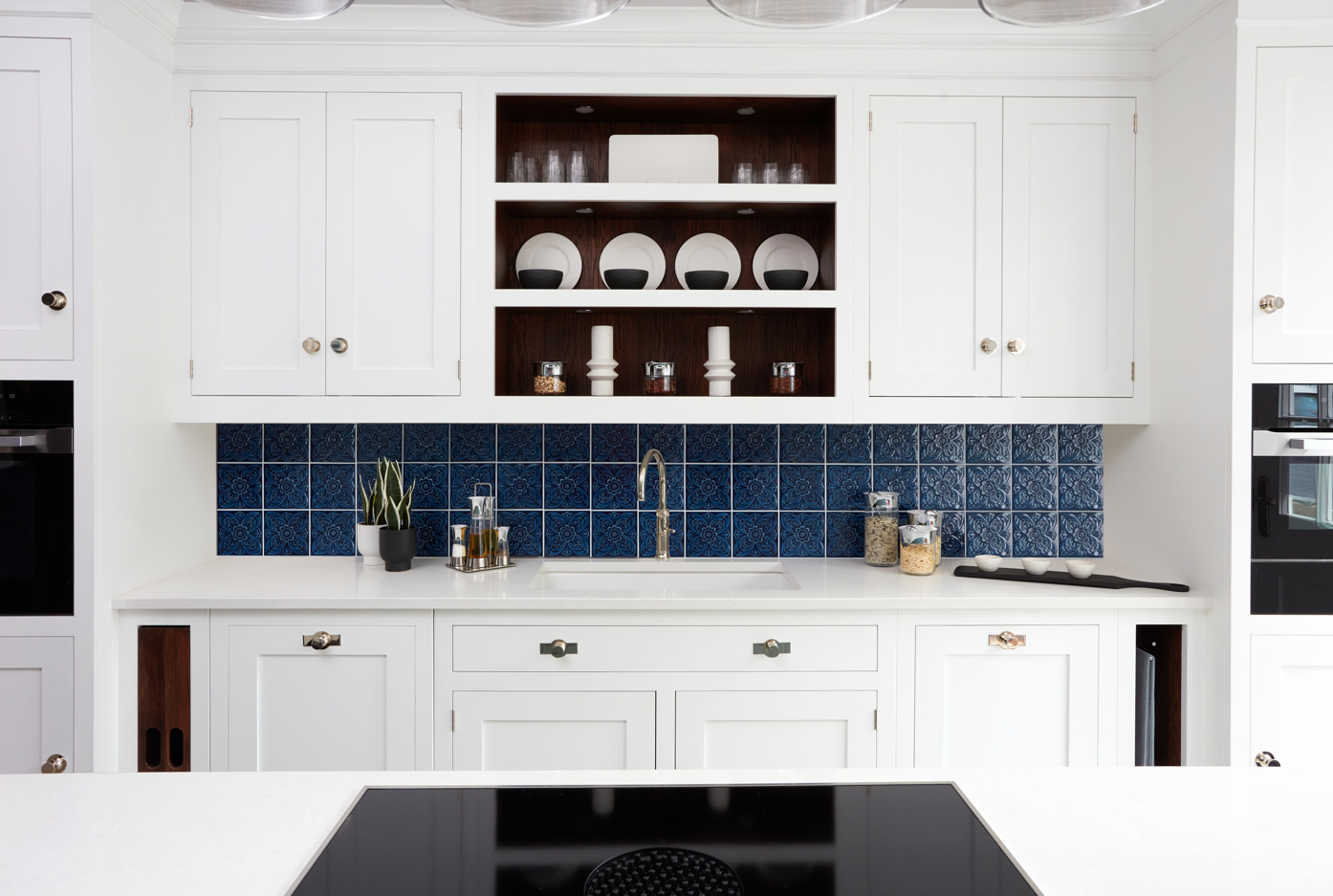 White room ideas can seem lacking in depth, as tone-on-tone white blurs boundaries and makes a scene appear more one dimensional – just think of the flattening effect of snow on a landscape, where the distance between features becomes indistinct.
A dark color such as navy adds definition to an all-white kitchen and enhances a sense of depth and scale, making the space appear larger and more interesting. Kitchen tile ideas work well for introducing darker tones, as the reflective surface still allows light to travel around the room. A textured finish adds another layer of interest.
'Victorian tiles are increasingly being used as decorative pieces of art in the kitchen. Choose a bright and bold color to make a statement, or choose neutral hues such as whites, beiges, and greys to create a calm and timeless feel in your white kitchen,' suggests Diana Hyde, Marketing Manager at Craven Dunnill Jackfield.
'In small kitchens, highly reflective gloss tiles are a great way to create a sense of space. As light beautifully reflects off the glaze finish, it creates a wonderful sense of openness, making the room appear wider.'
2. Introduce dark gray on the floor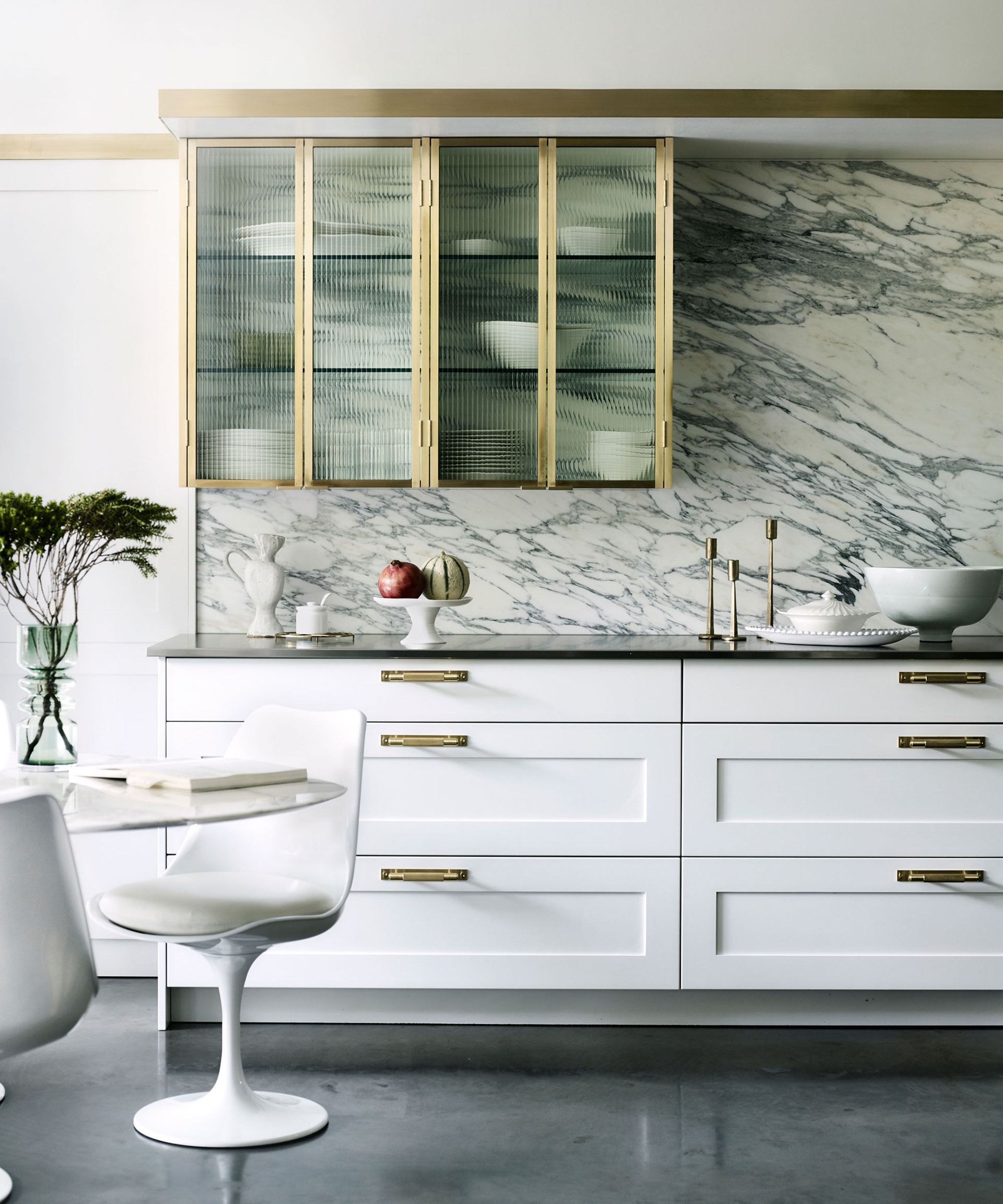 A deep charcoal gray works as a neutral and is a great option when considering what color goes with a white kitchen. For gray and white kitchen ideas, the darker tone works especially well in the lower half of a room, on base cabinets or the floor, as it's a naturally 'heavier' shade than white and will ground a predominately white scheme.
Consider textures that you can add as well as color to a white kitchen.
'I love adding texture with materials to kitchens that are primarily white,' says Jessica Nelson of Jessica Nelson Design. 'Incorporating tongue and groove on the walls, ceiling, or used as a backsplash adds a lot of fun depth to the space.'
3. Pair creamy white with red and green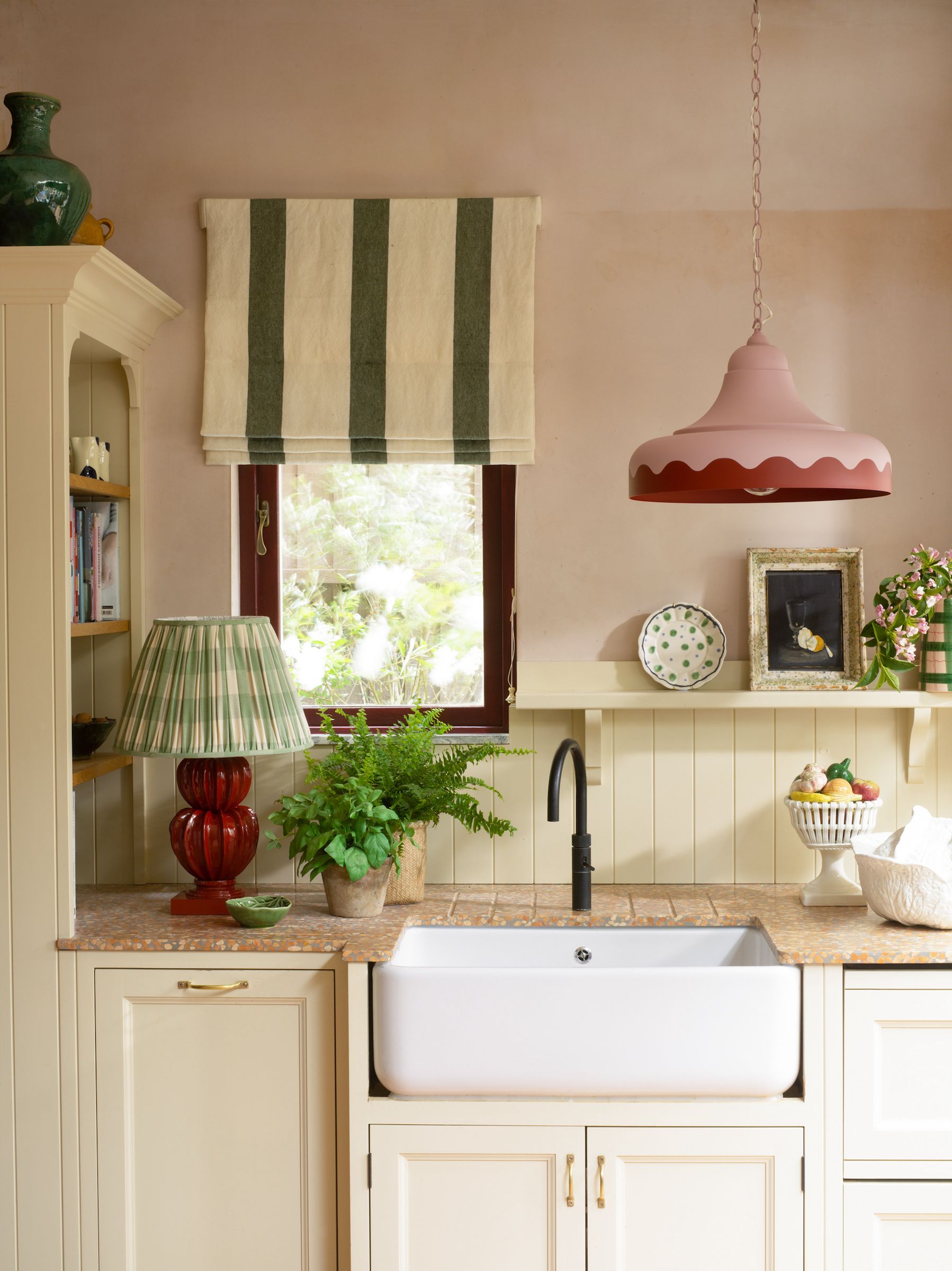 Warm, deep colors pair well with a creamy off-white kitchen – think plum, forest green, ochre and rich marigold orange.
'Shades like these have a yellow undertone that complements warm white, bringing a cozy look that looks particularly good in traditional white kitchen ideas,' says Jennifer Ebert, Deputy Editor at Homes & Gardens.
'For an even softer look, choose patterns such as stripes, checks and soft scallops, that use color in a playful way.' This scallop-edge pendant light is from David Hunt Lighting.
4. Pair a white kitchen with gold and brass tones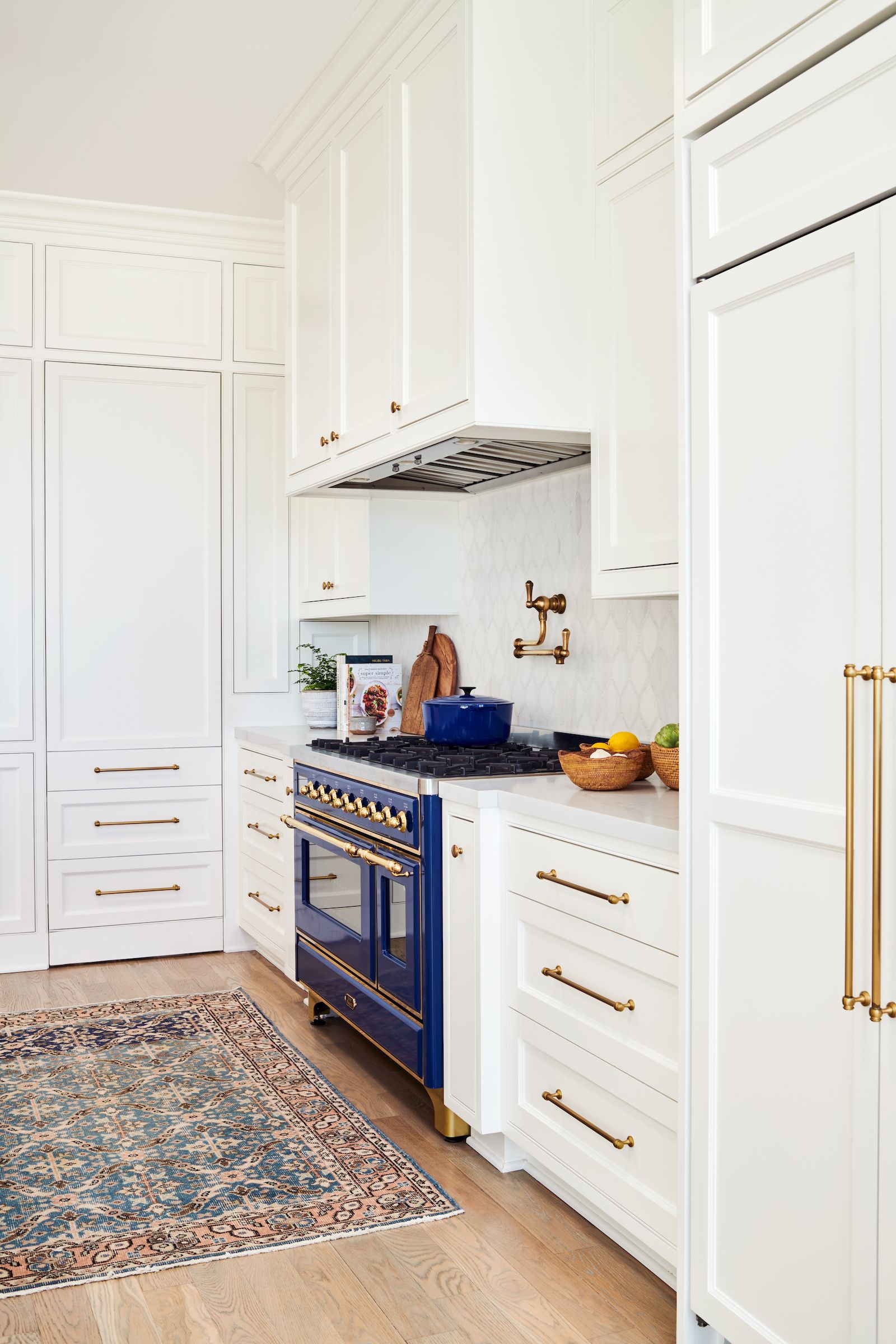 Richly colored metallics work incredibly well with a white kitchen, bringing warmth and a luxe look to what can could be a sterile scheme.
'Gleaming chrome and stainless steel are kitchen standards, but you may want to rethink your hardware when considering what color goes with a white kitchen. Brass, copper, gold and bronze knobs, pulls and faucets introduce rich color throughout a kitchen design and look stunning against a pearly white countertop or cabinet fronts,' says interiors stylist Sara Bird.
'The finishing touch in this all-white kitchen is the amazing range in midnight blue and brass, as well as the feature brass pulls and knobs,' says Mary Beth Christopher from MBC Interior Design in Manhattan Beach, California. 'It provides just the right contrast in this all-white kitchen.'
5. Add zest to white with orange and green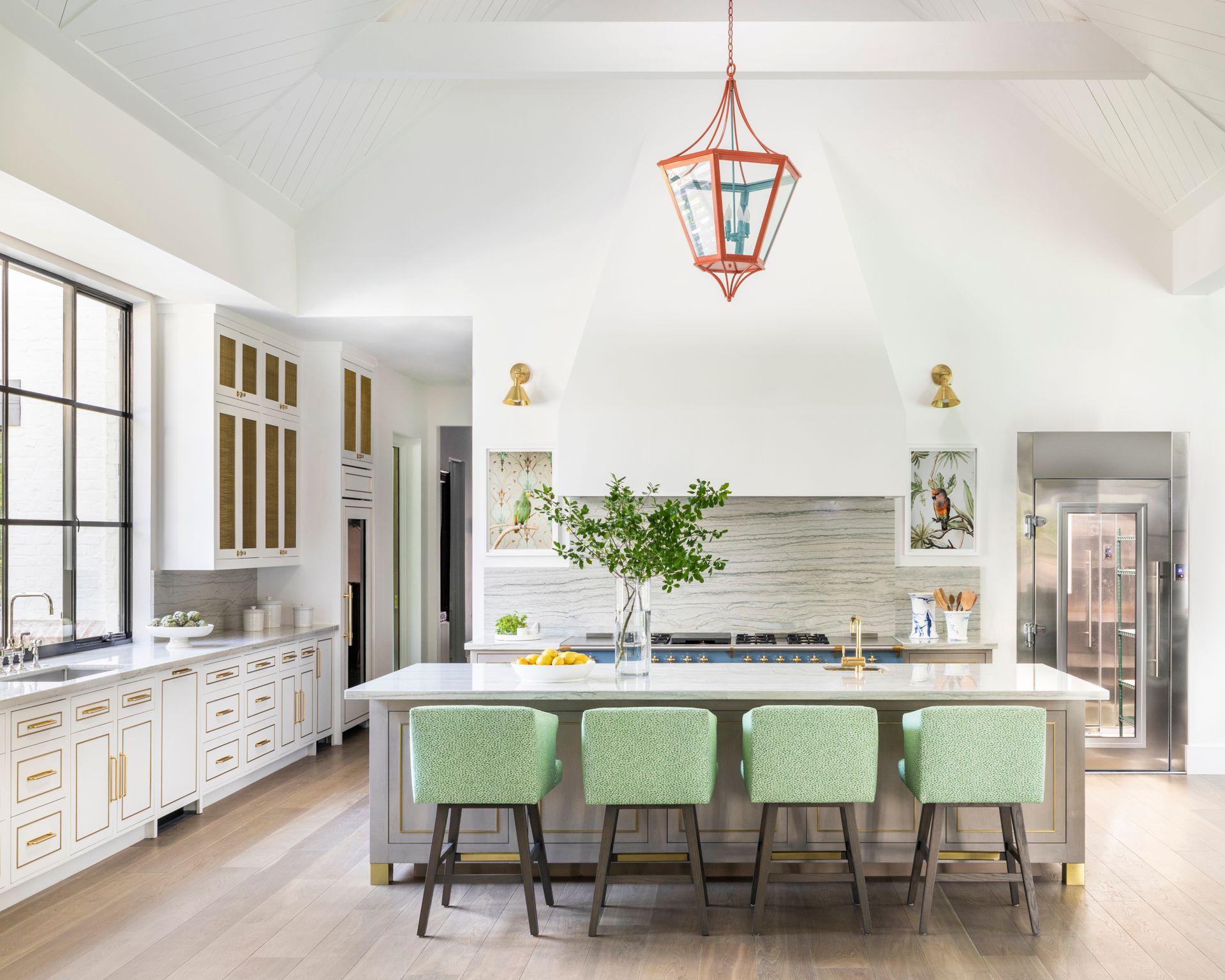 Pairing complementary or accent colors is a great way to liven up a scheme – use the color wheel to help you decide the ideal combo and choose what color goes best with a white kitchen.
When you're introducing strong or bright color to an all-white kitchen, a little goes a long way. Here, the orange pendant and green chairs sing out against the neutral cabinetry.
6. Complement white cabinets with wallpaper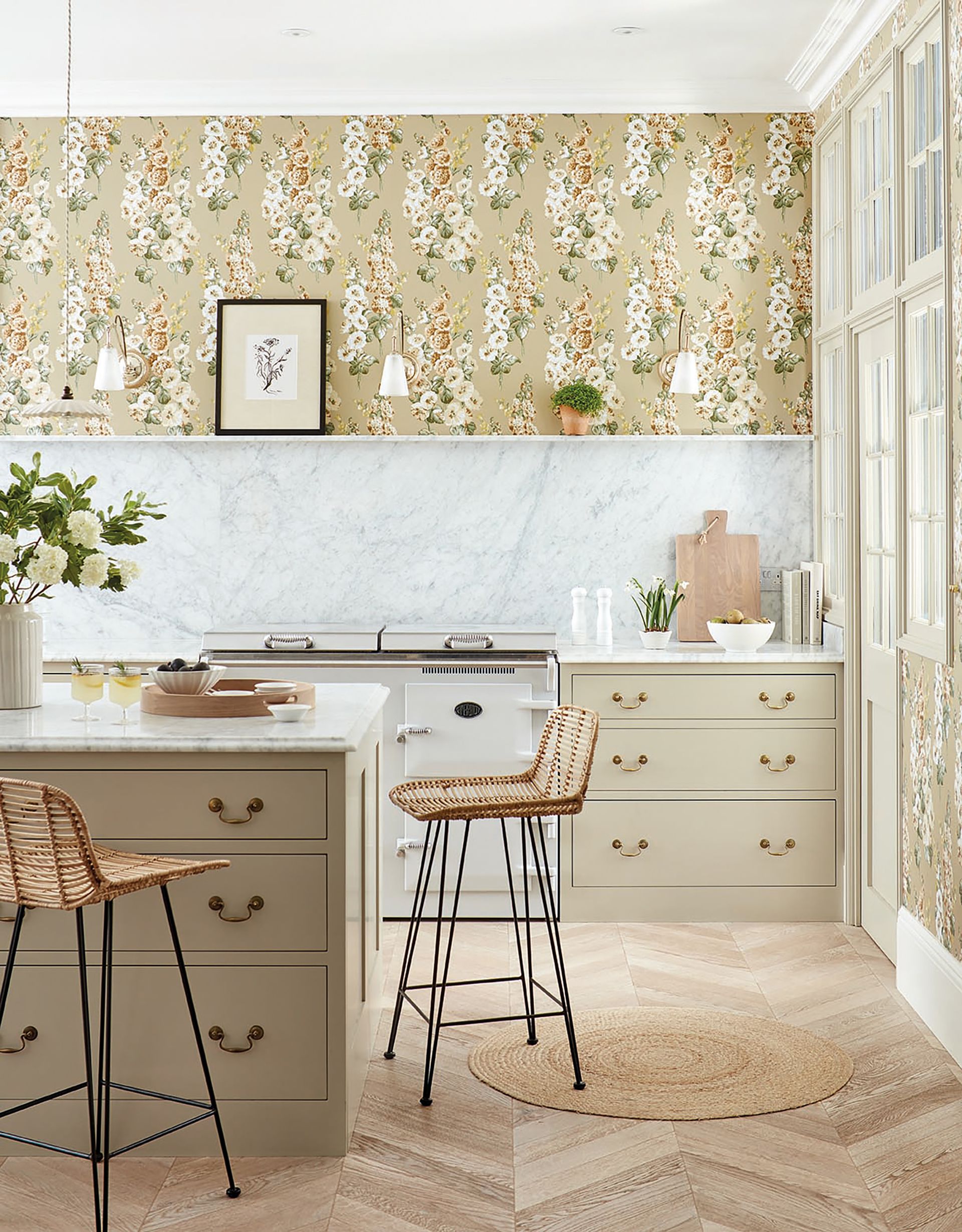 'Wallpaper can be a great addition to the kitchen as it adds texture, color and character to your space,' suggests Richard Petrie, Home Expert at Thomas Sanderson.
The color and pattern you choose for your kitchen wallpaper ideas will depend on your style – think bright geometrics for more modern kitchen ideas, or a design featuring earthy tones and florals for country kitchen ideas.
'Wallpaper works best in the kitchen when on a feature wall. Using lighter patterns like cooler shades of green will create a soft and serene space for cooking or darker hues can add a bold contemporary edge to your kitchen,' continues Richard.
7. Choose green with white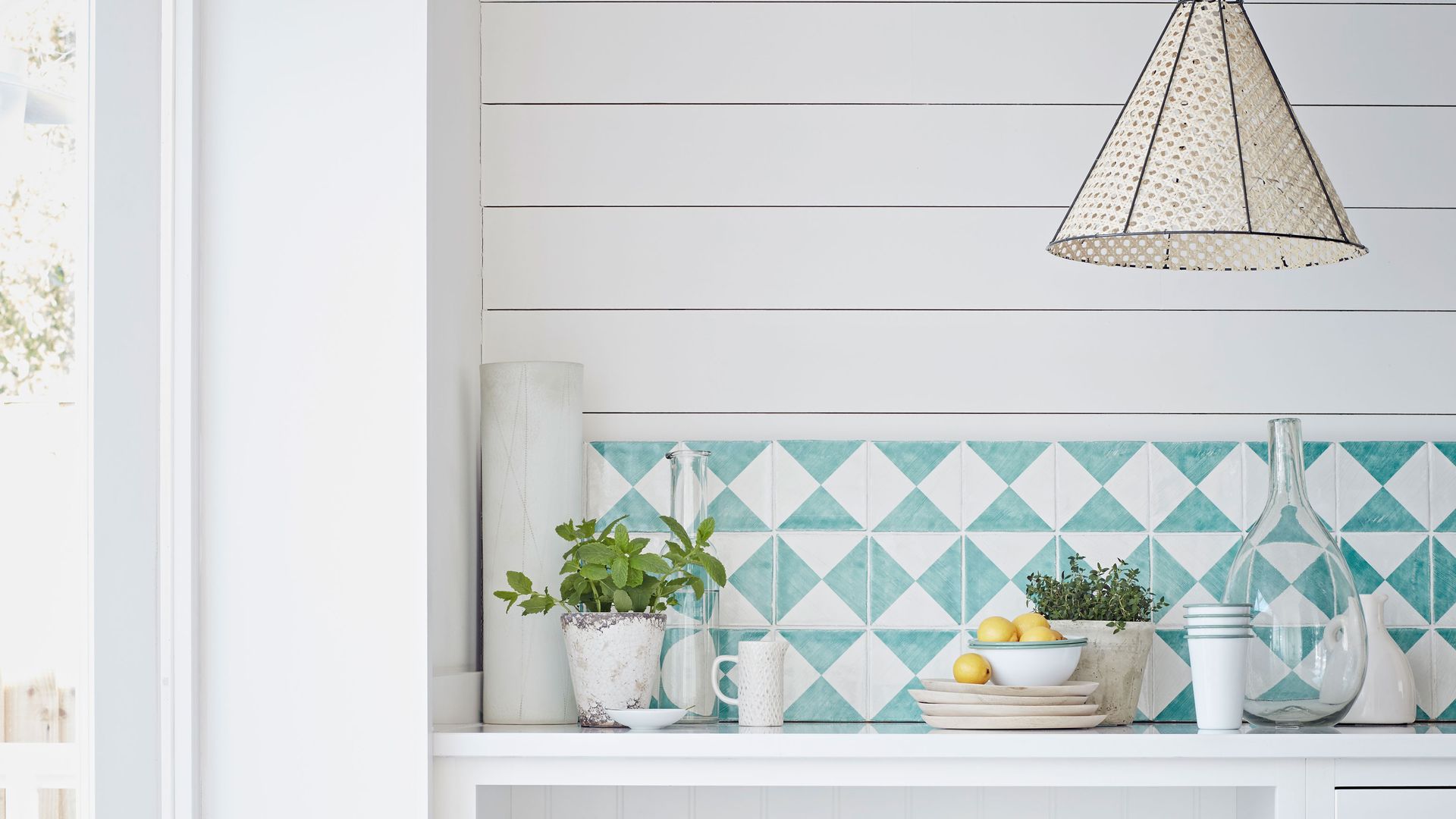 'Lots of colors go with white, from neutrals to brights – or you can go all-white for a really clean, sophisticated look,' says Rebecca Nokes, Head of Design & Brand Creative, John Lewis of Hungerford. 'This doesn't have to mean a clinical aesthetic as you can add warmth to an all-white scheme by adding different textures.
Green and white kitchen ideas are seeing a surge in popularity, as people combine these two serene shades for a considered decor scheme. 'Trend-wise, we're seeing lots of clients combining sage green and other muted greens which help adds interest to the overall look,' Rebecca says.
8. Team neutrals with white in the kitchen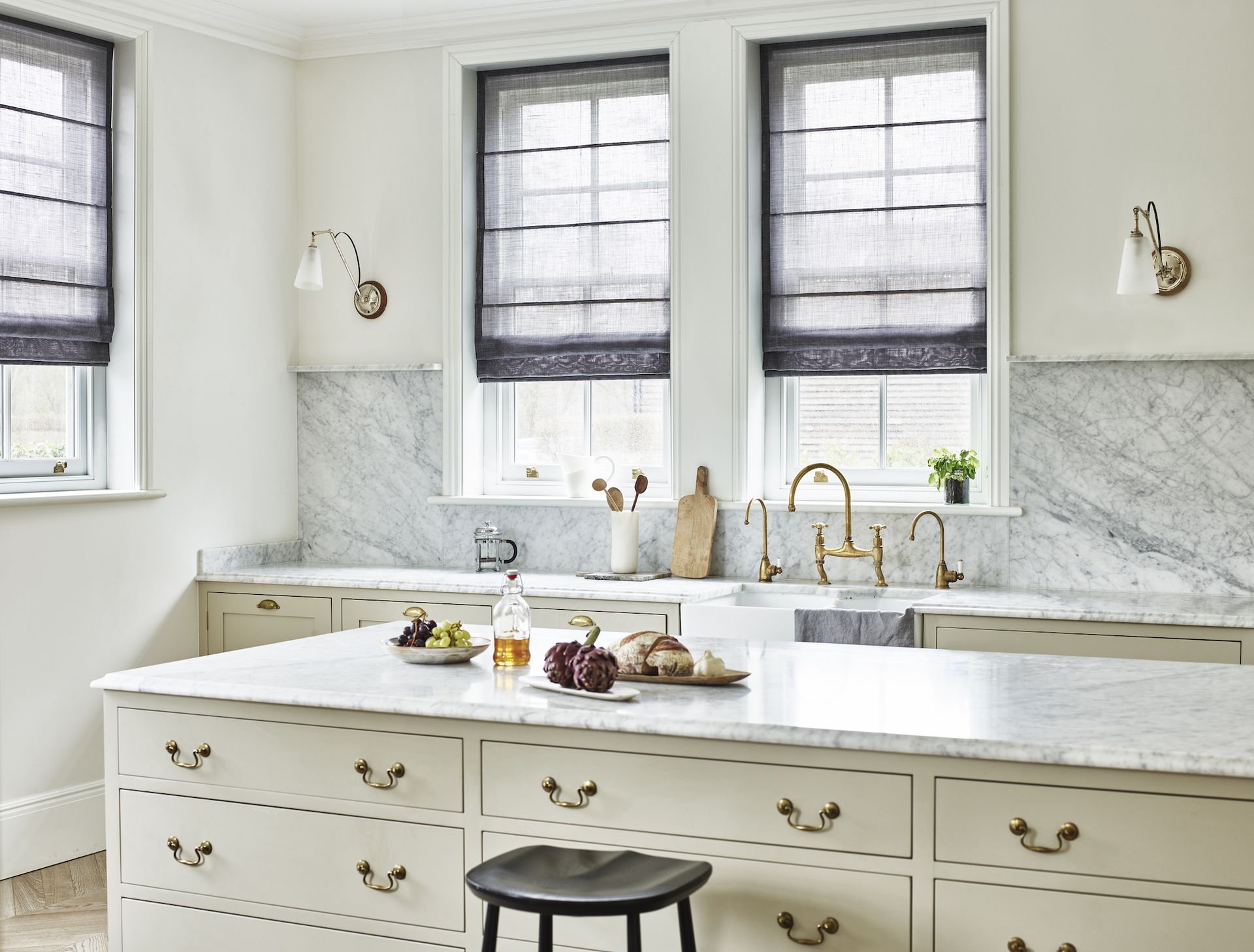 Pale and neutral tones add subtle depth to a white kitchen, especially in materials such as stone and marble, which have naturally occurring variations of tone and pattern.
'The layering of different minimalist shades of whites, creams and grays can look beautiful in a white kitchen. It's not just hard surfaces either; blinds and kitchen textiles add subtle interest to a scheme,' explains Lisa Slack, Head of Product at Thomas Sanderson.
'Not only will a neutral color scheme crisp up your kitchen, providing a sophisticated look, but lighter colors will make any space feel bigger than it actually is.' It's what makes pale neutrals a great choice for introducing color to small white kitchen ideas and decor schemes.
9. Put pink in a white kitchen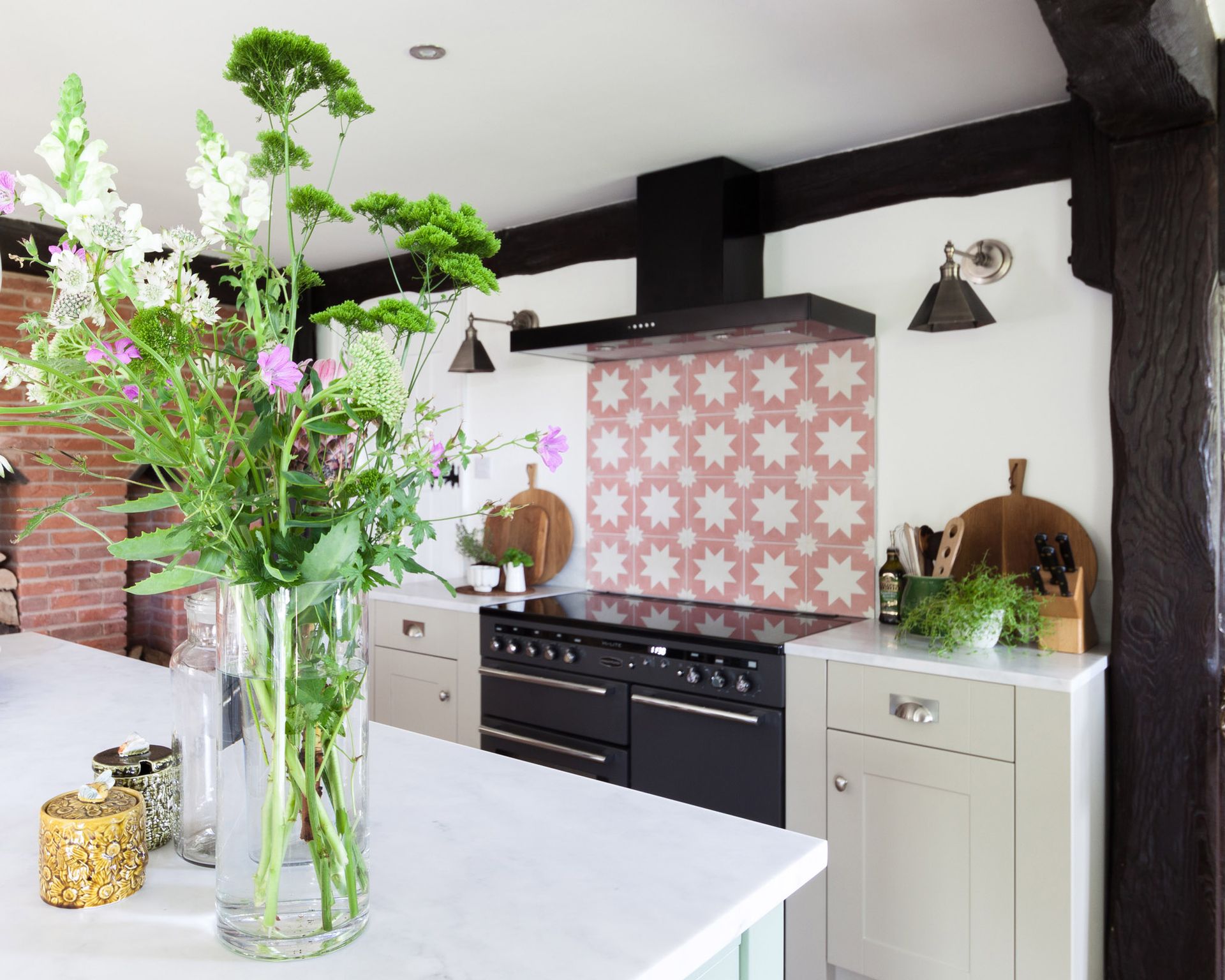 Pink and white is a classic color pairing, and works particularly well for white kitchen backsplash ideas. Here, the combination of pretty, patterned tiles, plain white cabinets and the black range cooker creates a striking combination that elevates a simple white scheme.
'Patterned tiles create a focal point in an otherwise white scheme,' offers Lee Thornley, founder of Bert & May. If you prefer a plain backsplash but still want impact, opt for a textured or faceted tile in a single shade.
10. Don't forget black with white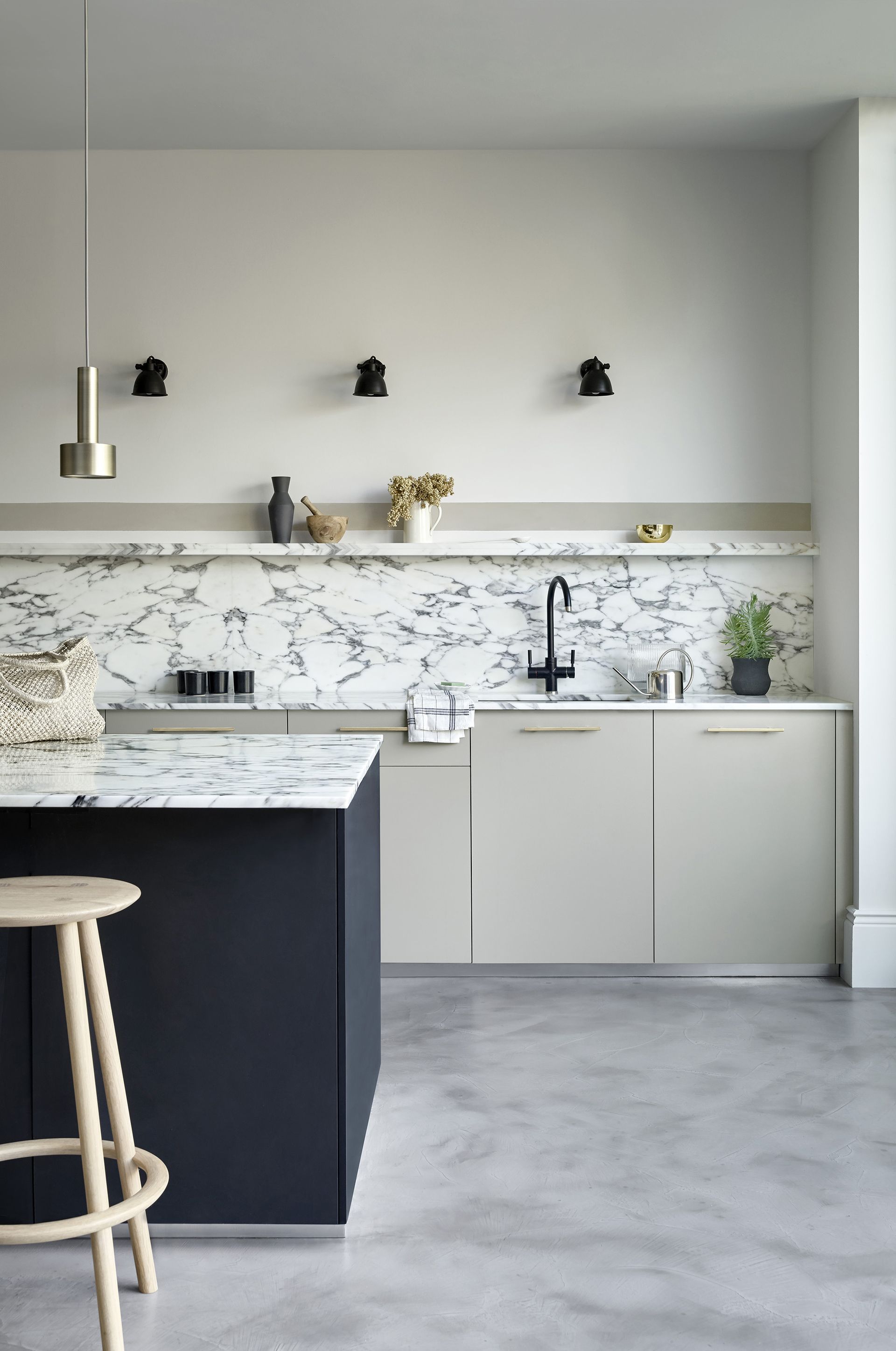 Black and white kitchen ideas are a color pairing that will never go out of fashion. 'It's a timeless combination that transcends trends, style and taste,' says stylist Sara Bird.
A monochrome scheme is also infinitely adaptable. 'You could have a black island, or black base cabinets with white walls and open shelves. Try black trim on white countertops, or black grout between white subway tiles,' suggests Sara.
For the simplest way to introduce black to a white kitchen, focus on details such as handles and kitchen lighting ideas using black pendants and shades.
How do you make a white kitchen interesting?
There are lots of ways to add interest to a kitchen – but in a white scheme, color is key. You could start by adding tones of white and other pale neutrals – off-whites and cream, pale gray and the faintest blue.
For a stronger look, introduce bolder and brighter accent shades that will punctuate the look. Bright orange, red, yellow and citrus shades would all work well.
Add depth to a white scheme with rich, dark shades of green, navy and gray.
The next level of interest is pattern, so you could choose printed textiles, woven rugs and patterned tiles to enliven an all-white scheme.
Finally, think about accessories and how you might use kitchen shelving ideas to create colorful displays in your all-white kitchen space.
How do I add warmth to an all-white kitchen?
Introducing natural materials is the easiest way to bring warmth, coziness and atmosphere to a kitchen scheme. So you could consider combining white walls and countertops with wood cabinet ideas or wood kitchen flooring.
Other kitchen flooring ideas to bring warmth to your space could include natural flooring, such as limestone or slate; tiled flooring ideas, to introduce color; or even kitchen rug ideas, which will bring literal softness and warmth, as well as texture and pattern.
Textiles and fabrics will bring immediate warmth to an all-white kitchen, whether that's a skirt beneath a sink, a tablecloth or kitchen curtain ideas.
'Curtains are a great place to introduce personality and warmth to a white kitchen – choose eye-catching, colorful prints that tell a story, adding a playful interest to the scheme,' says Jamie Watkins, Co-Founder of luxury fabric and wallpaper brand Divine Savages.
'For a rustic feel, stick with natural linens and light cottons. Or take inspiration from nature with botanical and floral prints, bringing a new world of color and beautiful texture to your kitchen.'
Sign up to the Homes & Gardens newsletter
Decor Ideas. Project Inspiration. Expert Advice. Delivered to your inbox.
Andrea has been immersed in the world of homes, interiors and lifestyle since her first job in journalism, on Ideal Home. She went from women's magazine Options to Frank. From there it was on to the launch of Red magazine, where she stayed for 10 years and became Assistant Editor. She then shifted into freelancing, and spent 14 years writing for everyone from The Telegraph to The Sunday Times, Livingetc, Stylist and Woman & Home. She was then offered the job as Editor on Country Homes & Interiors, and now combines that role with writing for sister title homesandgardens.com.