Will dark cabinets make a kitchen too dark? 5 designer tips on making moody shades work
Designers share how to keep your dark kitchen the right shade of moody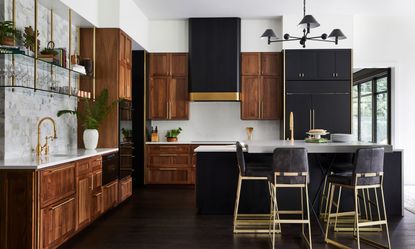 (Image credit: Cody Ulrich)
If there is one way to dramatically transform a kitchen, without knocking down any walls, it is swapping out the cabinetry. Whether you choose a new design altogether or lean towards painted kitchen cabinets, it will instantly change the look and feel of your space.
Color selection is important in every part of the home. Much of it depends on the ambiance you would like to create, but also on how you need the space to function. We needn't explain why keeping a kitchen's practicality at the forefront of your design decisions is essential when decorating, but if you are curious to know whether dark cabinets will make your kitchen appear too light-starved, we asked some designers for their opinions and tips on how to prevent this from happening.
Will dark kitchen cabinetry make a kitchen appear too dark?
With endless kitchen cabinet inspiration, it is no wonder that we want to explore fresh options and colorways – including those that might feel a little more dramatic and bold.
'The choice of cabinetry coloring should feel purposeful and should play into the overarching design directive of the home,' says Francis Nicdao, Principal & Chief Creative Officer of Pembrooke & Ives. When developing your kitchen design, see how dark cabinetry could in fact bring the perfect amount of drama and sophistication to the space. This is how to ensure yours stays the right side of moody:
As Principal and Chief Creative Officer at Pembrooke & Ives, Francis is responsible for the creative oversight of projects across the company as well as for running his own design and decorating team, working on residential and commercial projects across the country. Having worked at the company for over fourteen years, Francis has helped shape and grow the company into what it is today.
1. Keep the rest of your kitchen space light and bright
Kitchens that have lots of natural light flooding the room will be more sympathetic to dark cabinet colors. If this is not the case in your kitchen space, that is not to say that you must avoid dark colors altogether, by no means. Simply pay more attention to how you can include room-brightening elements elsewhere.
'The most important rule when using darker cabinetry is to keep everything else light and bright,' Rebecca Nokes, design director, John Lewis of Hungerford says. If you choose black kitchen cabinets or another very dark color, Nokes advises us to keep kitchen flooring lofty and to favor lighter tiles on kitchen backsplashes and worktops, for instance. And make sure your flooring, tilling, or backsplashes and worktops are a lighter color.'
Rebecca Nokes, Ddsign director at John Lewis of Hungerford graduated with a degree in Digital Print Design for Interiors from the Manchester School of Art, and then pursued a career in bespoke interior design.
She is now design director at John Lewis of Hungerford, which has recently celebrated its 50th Anniversary. Rebecca designs beautiful interiors throughout the home, as well as kitchens, for their clients, from London to Paris.
2. Strike the right balance with lighting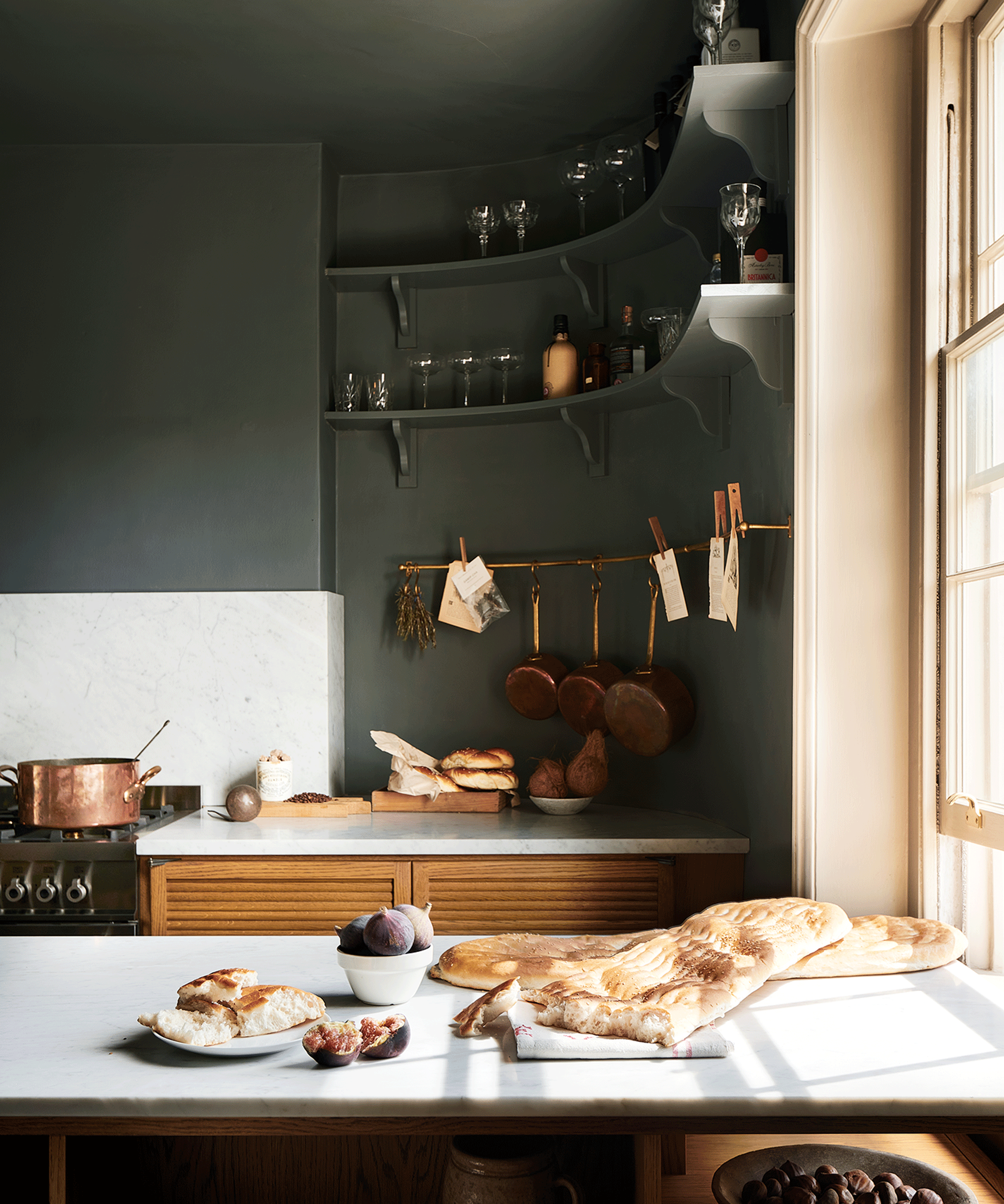 Nicdao further notes how balancing more dramatically hued cabinets with a mixture of thoughtful kitchen lighting is important.
'We try to have balance when designing a room - when we have dark cabinetry we like to balance this with a lot of natural night and architectural/task lighting.'
Pay particular attention to brightening up workspaces and/or corners that might be a little hidden and therefore, prone to looking 'dim'.
'Lighting is super important too,' adds Nokes. 'If you don't have an abundance of natural light in your space make sure you carefully choose multiple lighting sources such as wall lights by your hob and sink and a pendant over an island or dining table.'
Get this right and you will create a more polished feel in your space. Dark cabinetry 'rather creates a sophisticated moodiness to your home,' says Ami McKay, creator of PURE Design who notes how lighting can work wonders even on more dramatic design choices: 'Don't be scared of dark tones, there's nothing good lighting can't fix.'
Ami McKay founded PURE Design in 2000 on the belief that design is found in the art of giving. The work that she puts into each project reflects her personal life experiences and she believes they are at the heart of her business. Today, she is proud to be named one of Canada's Top Five Interior Designers.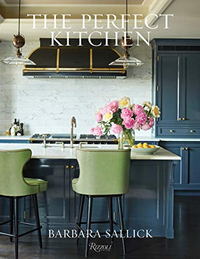 The Perfect Kitchen, Barbara Sallick | From $21.87 at Amazon
Learn more about the beautiful and inspirational kitchen design in this bestselling book by Barbara Sallick. Find practical advice as well as hundreds of images to inspire your own remodel
3. Consider the size of your space
The size of your kitchen space is important to consider as one that is on the cozier side will need a slightly different design approach compared to one that has ample square footage to play with.
'Dark kitchen cabinets can create a dramatic and stylish look, but they can also make a space feel darker if not balanced properly,' says Nash, a project director at Freemodel.
'In a larger kitchen with plenty of natural light, dark cabinets can work well. They can add a sense of sophistication and coziness without making the space feel overly dark. In a smaller kitchen, however, dark cabinets can be more challenging, as they may absorb a lot of light and make the area feel cramped,' adds Nash.
You will simply need to help the space work a little harder, introducing more natural light and focusing on other areas that can be brighter.
Danielle Nash has been in the project management industry for over 10 years and has worked for a variety of home staging and design firms. Daniel advises clients on where to invest in remodels, helping them create their forever homes.
4. Favor glass and reflective surfaces
All in the name of bringing balance and a cohesive feel to a kitchen with dark cabinetry, Nash shares how introducing contrast can help get the look right. 'The key to making dark kitchen cabinets work is creating contrast.'
Favoring glass-fronted kitchen cabinets and even introducing reflective finishes around your kitchen island, or in small appliances may lift the space in the right way.
'Pairing dark cabinets with light-colored countertops, backsplashes, and wall paint can help balance the darkness. Light-colored elements reflect light and prevent the space from feeling excessively dark,' continues Nash.
5. Adorn the space thoughtfully to lighten the finish
An elevated kitchen space will always feature thoughtful decor and this is even more essential when choosing dramatic kitchen cabinet finishes.
'Break up a scheme that risks being too monotonous or, heaven forbid, dreary. Beautiful, and well-organized, open kitchen shelving presents a fine opportunity to curate a space that is the right side of moody, and interesting.' explains Nash.
'Introducing open shelving or glass cabinet doors can break up the visual heaviness of dark cabinets. This allows you to display decorative items or dishes with lighter colors, adding contrast.' If displaying ornaments, ensure they can serve a specific purpose and avoid overcrowding at all costs.
FAQ
Are dark kitchen cabinets a good idea?
Dark kitchen cabinets can certainly bring character and drama to a space. It is all about the specific colors you choose and how you combine them with the rest of your kitchen's design details.
'It is essential to consider the kitchen's size, natural light, and use of contrasting elements to achieve a visually appealing kitchen design. Whether dark kitchen cabinets will make a space feel too dark depends on several factors,' says Nash. You want to make sure you have considered your space's unique lighting requirements, its size, and what else you can realistically edit to ensure it offsets the darker tones in an aesthetically sound way.
'In summary, it is important to consider your own personal style and preferences to obtain the overall aesthetic you want to achieve. If you love the look of dark cabinets and are willing to make other design choices to mitigate the darkness, then you can certainly make it work.' continues Nash.
Can I have black cabinets if my kitchen is already dark?
Asking yourself whether kitchen cabinets can be lighter or darker than walls is an important question but moreso, understanding how to work with your space's natural light levels is key: 'The amount of natural light in your kitchen plays a significant role. If your kitchen receives ample natural light through large windows or open doors, dark cabinets may not be as likely to make the space feel too dark. However, in a kitchen with limited natural light, dark cabinets can contribute to a dimmer atmosphere.'
As is your choice of tile and even flooring, it's all about how you bring balance. 'Light-colored flooring can also help to balance dark kitchen cabinets. A light floor can reflect light upwards and create a more open and airy feel.' notes Nash.
Are dark kitchen cabinets more difficult to clean?
How you go about cleaning kitchen cabinets will mostly depend on the material, rather than the color. One downside of choosing dark cabinetry in your kitchen may be that you will have to use your duster a little more often. But do not let this put you off.
'Personally, I would never shy away from dark cabinetry in any space,' says Allison Lind, Principal Designer and Owner of Allison Lind Interiors. 'Sure, darker finishes show dust more than lighter options - but the dust is there regardless of how visible it is, so consider the darker cabinetry more outspoken about it being time to clean. Any time your aim is warmth, richness or drama – dark cabinetry is the best option.'
---
When it comes to installing dark cabinets in your kitchen, it is definitely a look to explore. Your final design decisions will ultimately depend on your preferred aesthetic, and finding a good balance for your household. Get it right and you can set the tone for a space that is brimming with character.
Sign up to the Homes & Gardens newsletter
Decor Ideas. Project Inspiration. Expert Advice. Delivered to your inbox.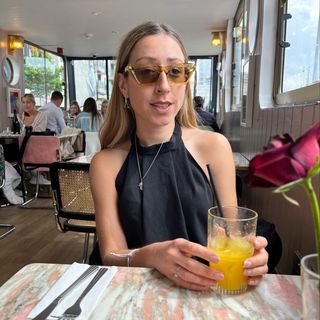 Camille is the former deputy editor of Real Homes where she covered a broad range of topics, including house tours, small space design, and gardens. She studied English language and Italian at the University of Manchester and during a year abroad studying linguistics and history of art in Bologna, Italy she started documenting her adventures and observations in a blog. Camille is always creating and spends her downtime painting, taking photos, traveling, and writing short stories.