The 7 secrets of luxury bathroom design – from the world's top interior designers
Get your sanctuary space just right with the lowdown from the experts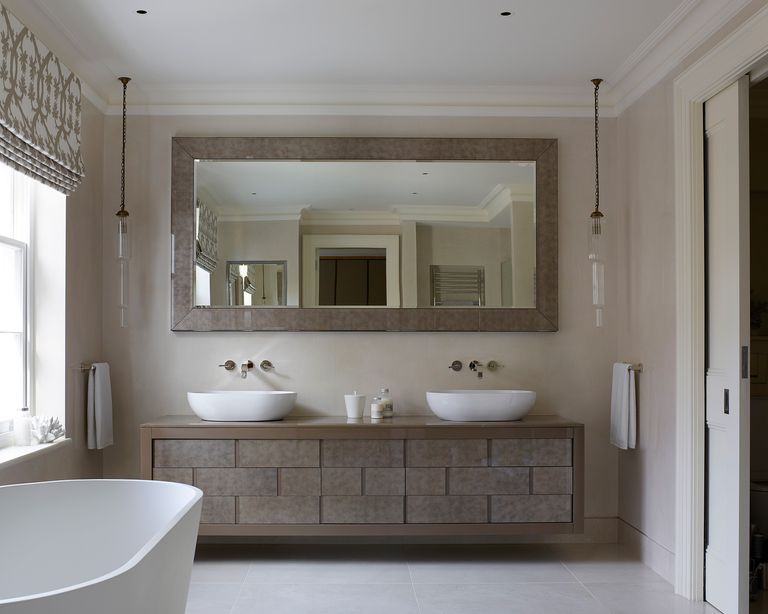 (Image credit: Richard Powers)
Creating bathroom luxury has never been higher up the agenda. Yes, bathrooms have to fulfill their functional role, but today's loveliest rooms don't stint on the decorative detail either and are rooms to retreat to and spend time enjoying.
Also important as we're all staying home more is making the bathroom easy to share as a couple or family, as well as spa-style features that will bring the luxe of weekends away in a hotel into our own homes.
Read on for expert tips from top designers on making your bathroom into a sanctuary for all its users – and see more bathroom ideas in our inspiring picture gallery. 
1. Go for flow
If your bathroom is ensuite, it should be designed as an extension of the bedroom, advises UK-based interior designer Emma Sims-Hilditch. The aim is a seamless flow between the two spaces, she explains.
The same wallpaper for the bedroom and the serene bathing space brings the two rooms together in this Sims Hilditch project. Walls can be protected with paneling in areas that might get splashed.
See more ensuite bathroom ideas in our inspiring picture gallery.
2. Use statement stone
British designer Kelly Hoppen is 'a firm believer that luxury can be found in simplicity and must be timeless'. That's the reason for her love of the neutral palette she's renowned for: the shades, she says, provide diversity and timeless appeal. Follow Kelly's lead with a neutral bathroom scheme using natural stone to make an impact as well as to create luxe.
3. Size up the shower
If there's sufficient space for a large shower enclosure, it will say luxurious bathroom loud and clear, says UK interior designer Irene Gunter.  For the shower itself, body jets for massage, and the tech that allows remote control and personalized programs are all worthwhile, she advises.
Other features you might want to incorporate? Double shower heads are a great idea for couples sharing, or follow the trend for an oversized ceiling shower rose, she says.  
See more shower room ideas to inspire your remodel in our picture gallery.
4. Put basins or bath center stage
Plan fittings so it's the basins or the bath that are in the main light of sight, says interior designer Kit Kemp, co-owner and Creative Director of Firmdale Hotels. As for the toilet, try to position that behind the door or on the least visible elevation, she advises, while putting it opposite the basin will also look considered.
5. Mix metals 
To give your bathroom a look that's less rigid, be inspired by this room by London-based designer Beata Heuman and mix metals. For this project she chose bronze handles, brass taps and a stainless-steel splashback. She opted for an oversized mirror that contributes to the relaxed effect, too.
6. Keep it calming
Many of us are craving interiors that will help us to feel more relaxed right now and this bathroom from Bunny Turner and Emma Pocock of Turner Pocock is a soothing sanctuary. The ingredients from the London-based interior designers? Carrara marble, raw brass and off-white.
7. Bathe with a view
Locating the tub to create a great view is a favorite strategy of top interior designers – but it doesn't have to be an exterior vista. Interior designer Leanne Ford used a reclaimed arched window to link her baby daughter Ever's bathroom and bedroom. 
Tempered glass makes the window safe, and a pretty curtain will be added later on when privacy is required.  
How can I make my bathroom look luxurious?
You can make your bathroom look luxurious by investing in:
1. A shapely bath that draws the eye.
2. Natural stone for tiles, floor and walls alike – or lookalike porcelain.
3. Good bathroom lighting is a must – opt for overhead lighting and wall lighting, controlled separately, with dimmable controls for one of them for when you really want to unwind.
4. Good hideaway storage is a must to keep the bathroom feeling luxurious – it needs to be kept neat.
5. A large mirror will not only be practical, it will also make a small bathroom feel more spacious.