Pantry doors with glass – everything you need to know about the new trend transforming our kitchens
There is a growing trend for glass pantry doors – here's how to get involved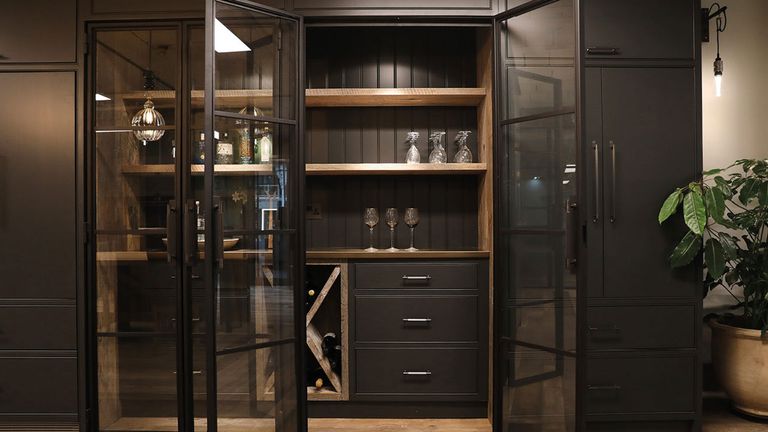 (Image credit: The Main Company)
By Megan Slack
Pantry doors with glass are the newest kitchen trend we're embracing. Gone are the days when a pantry is merely a storage space – instead, this season, they are 'a talking point in their own right,' according to Jane Stewart, design director at Mowlem & Co.
See: Pantry ideas – versatile storage that's equally suited to modern life
The allure of a pantry doors with glass is unsurprising – they can make what might usually be an enclosed, dark space into one that feels spacious and bright, plus the use of glazing makes for a chic statement in a cook's kitchen. Better still, it's a look that can be retro-fitted, simply by replacing the doors. The downside? You will need to keep the interior of your pantry neat...
Are you thinking of embracing this trend? Before you start planning, take advice from the experts at the top of the kitchen game.
1. Consider half-glazed pantry doors
'Even the most house-proud amongst us couldn't possibly keep a pantry with glass doors really neat all the time, so half-glazed doors are a really good option if you are worried about showcasing mess,' advises Homes & Gardens Editor-in-Chief Lucy Searle.
'Another option is to glaze the doors with frosted or decorative glass; this will allow light into the pantry and enhance the feeling of space from the kitchen, without its interior being fully visible.'
2. Invest in good storage
Pantry doors with glass come with the perk of everything being clearly visible. However, on the flip side, there is no place to hide messy packets, so you need to give storage solutions much more careful thought in glass-fronted pantries.
'Installing shelves according to the height of the room is a great way to maximize the storage space,' shares Peter Humphrey, the design director at Humphrey Mason.
See: 24 pantry organization ideas – clever ways to organize a pantry
His words are further emphasized by bespoke kitchen expert Tom Howley, who says, 'Effective storage is, of course, the primary function of the pantry, and this comes down to not only the internal working of the cabinet but also where to incorporate it into a kitchen design,' Tom began.
'Where possible, it's always useful to keep the pantry adjacent to your fridge, meaning that your food storage is all zoned in one area, and it looks neat. With a bespoke kitchen designer, you will be able to design floor-to-ceiling units that give maximum storage as well as being able to tailor the internal components to your storage needs.'
3. Invest in dimmable lighting for pantries with glass doors
Lighting is always a challenge in a pantry, thanks to the lack of windows. However, a glass door offers not only the opportunity to let more light into the pantry, but you can also utilize the pantry light to add to the kitchen ambiance.
'Pantry lighting requires careful consideration,' Peter explains. ''The choice of door can also impact lighting control; glazed doors benefit from dimmable lighting that will add atmosphere within the kitchen.'
See: Under stairs pantry ideas – dream larder cupboards to sit beneath a staircase
Furthermore, Tom suggests that the right lighting has the power to make the entire kitchen feel more spacious.
'Adding integrated mood lighting ensures your finest pieces are never forgotten,' he explains. 'It also provides an alternative ambient light source when you're enjoying a romantic dinner or cocktails with friends. Used in the right places, such as in corners or where there is a lot of closed cabinetry, glass-fronted cabinets can make your kitchen look even more spacious.'
4. Showcase your favorite kitchenware
Perhaps the most exciting part of a glass-fronted pantry is the freedom it offers to inject your personality into your kitchen through showcasing of your favorite chinaware.
See: Kitchen storage ideas – smart storage solutions and organization tips
'If you have a beautiful crystal, or you're proud of your dishware, why hide it away in the dark?' Tom questions.
'From mosaic floors and specialist lighting to cast-iron shelf brackets and marble slabs for cheese and butter, the creative opportunities are endless,' adds John Hetherington, chairman of Hetherington Newman.
Whether you opt for a Crittal doors or a wooden framing, be ahead of the curve with this stylish pantry update.
5. Consider the framing
The framing of a pantry door with glass is going to have much more impact on your kitchen than one without. 'Architectural metal-framed glass draws attention to the interior, creating a feature that's as valuable aesthetically as it is practical. These Crittall Window pantry doors are in Farrow & Ball's Down Pipe. Pantry by Mowlem & Co.