Breville Bambino vs Breville Bambino Plus – a barista settles the debate
When it comes to the Breville Bambino vs Breville Bambino Plus debate, there's no right answer. There's only the right espresso machine for you.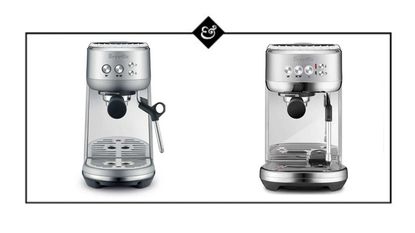 (Image credit: Future)
When you're making the choice between the Breville Bambino and Bambino Plus models, it often comes down to the numbers. For $150 more, is it really worth having an espresso machine which is a little bit bigger and which has an automated milk system?
After using both models, it depends. If you want automatic, at-home espresso, I'd opt for the Plus. It can froth the milk for you and has automatic temperature and texture settings for your coffee. If, however, you like to get a little hands on, you should go for the original Bambino, which will let you make your coffee exactly as you like it. The basic shots of espresso are identical on both machines, however, so if you don't drink milky coffees, I'd opt for the Bambino, because you don't need to spend any extra money.
Personally, I preferred the Bambino for my own use, because I don't need all the extras that the Bambino Plus offers. However, I've trained as a barista, so I find the original Bambino easy to use. For the average at-home coffee drinker, I would recommend the Bambino Plus. If you don't want any fuss, it's worth spending a little more money, especially if you can pick one up in the sales.
Head to head
I've fully tested the Bambino Plus and I've used the Bambino several times at one of my friends' places - I'm going to properly test the Bambino soon. Below, you can see my thoughts and the specs of the machines in a direct comparison.
On paper there's very little difference between the two machines. They're roughly the same size, with similar looking features, and their coffees taste the same.
The Bambino is obviously more of a manual experience whereas the Bambino Plus is more automatic. The Bambino Plus, unsurprisingly, is also slightly bigger than the Bambino, so that may be an issue if you have a small kitchen. On the other hand, that means that the Bambino has a larger water reservoir, so you can pull more shots before you have to refill it.
You'll see in the table below that the main difference is in milk frothing. It's worth noting that neither espresso machine has an integrated grinder, so it's worth looking at our guide to the best coffee grinders if you want to complete your coffee station.
A coffee station staple, the Bambino can do everything you need. It will pull the perfect espresso, dispense warm water, and froth milk. You don't have fully automated features, but it's easy to use.
For
Compact
Makes great coffee
360° milk wand
More affordable
Against
Wand takes practice
No automatic features
Mini and mighty, our barista explains why small kitchens need to say yes to the Breville Bambino Plus. It has premium features without the pricetag.
For
Compact
Makes really good coffee
Premium features
Easy to use
Against
No integrated grinder
Can't steam and pull espresso at the same time
Swipe to scroll horizontally
| Header Cell - Column 0 | Breville Bambino | Breville Bambino Plus |
| --- | --- | --- |
| Dimensions | 7.7 x 12.6 x 12.2 inches | 9.6 x 16.3 x 16.9 inches |
| Water resevoir | 47 fl oz | 64 fl oz |
| Materials | Stainless steel | Stainless steel |
| Milk frothing | Manual, 360 degree wand | Automatic presets for temperature and texture |
| Espresso | Single and double | Single and double |
| Customizable | Shot duration | Shot duration |
| Pre-infusion | Yes | Yes |
Espresso
The most important test is a basic shot of espresso. These machines are basically identical. That's because Breville shares it basic coffee set-up tech across its range of coffee machines. That means that even the bigger Barista Pro (which I adore) shares its incredible technology with the smaller, Bambino range. Both the Bambino and the Bambino Plus have Breville's signature ThermoJet heating systems, meaning they're warmed up and ready to go in just three seconds.
You can customize the length and strength of your shot on both machines and you can make use of slow pre-infusion feature. This means both the Bambino and the Bambino Plus can deliver identically smooth cups of coffee. That means that if you only drink espressos and Americanos, you won't notice that any of the 'plus' features are missing.
Milk frothing
Perhaps the biggest difference between the two espresso machines is in the milk frothing. The Bambino's wand has 360° rotation and a single hole in the steam wand. Full rotation means that you can achieve the perfect angle when frothing milk, meaning you're more likely to get smooth and silky results on dairy and non-dairy milks. The single hole just slows down how quickly and aggressively your milk is warmed. It's better for beginners, because it gives you more time to get consistent results.
The Bambino comes with no automation or pre-sets, so you will need to master coffee frothing yourself. This might sound arduous, but it's a really useful skill. If you drink non-dairy milks, I would recommend frothing milk by hand. These milks are more sensitive to temperature and the pre-sets can often burn, bubble, and do anything except froth your milk.
However, if you're a novice and don't fancy becoming a barista, the Bambino Plus is an excellent option. The steam wand doesn't have the same rotation as the Bambino, but it doesn't need it. The pre-sets will froth milk for you and you won't have to lift a finger. You can choose a from three different temperatures and textures, so you can make a range of coffee types. If you tend to make your coffees in an early morning daze, you'll find this really useful.
Appearance
Both of these are approachable espresso machines. Their simple, slick appearances make them appealing to a range of coffee drinkers. Side by side, there are only a few subtle differences between the Bambino and the Bambino Plus. The Bambino Plus has an automated milk frothing system, which means that the hot water button has been shifted from the side onto the front panel. It doesn't look more crowded, but it makes the Bambino Plus appear like it can do more with your coffee.
The Bambino is slightly narrower at the top and has a 47 fl oz reservoir compared to the Bambino Plus' 64 fl oz setup. This looks like more than it is. The extra 17 oz is enough for about four cups of coffee, depending on the coffee you're making. If you live in a household with lots of coffee drinkers, you'll appreciate a bigger water reservoir, but you wouldn't miss it if you didn't have one.
You can choose a range of colors for Breville's Bambino Plus. It's available in stainless steel, black truffle, sea salt, damson blue, oyster shell, royal champagne, red velvet cake, black stainless steel and smoked hickory. I'm aware that list sounds more like a restaurant menu and, honestly, the colors look delicious.
The Bambino on the other hand, is available in only stainless steel. It looks smart and this is the style I would choose anyway, but it's always nice to have the option to add a pop of color.
Extra features
Although the Bambino and the Bambino Plus have more in common than they do differences, there are a few other things to note. These come with a range of essential accessories, such as a tamper, portafilter, portafilter baskets, and a 16 oz steel milk jug. However, the Bambino Plus' tamper is metal rather than plastic, and while it doesn't really affect the coffee, it feels more premium. It also has a razor dosing tool, which is really useful if you want to make coffees with consistent flavors.
The drip trays are similar, but the Bambino Plus has a sensor underneath, measuring the temperature of your milk so that it doesn't burn. This is a useful feature, but it makes the drip tray feel less solid. Therefore, the Bambino, even though it's smaller, and less expensive, feels more robust.
How do they rate online?
For some people, the answer is no. The Bambino has 4.3 stars from 1.1k customers on Google Reviews, so you can see it's already a popular machine. If you've got the barista skills but not the space, this is the perfect option.
On the other hand, the Bambino Plus is one of the best espresso machines on the market. With 4.5 stars from 2.3k customers on Google Reviews, the Bambino Plus is more popular with more people.
What else is there on the market?
Of course, there are other machines on the market. Here's the competition from around a similar price point and functionality if you want something different.
Best multifunctional
Best value
TikTok made me test this and I don't regret it. This is excellent value and kitted out with useful and not superfluous accessories.
You can find out more in our Casabrews 5700 Pro review.
Best retro
Another internet hit, when I put it to the test I found that this espresso maker is a little too involved for most users, but its beautiful 70s profile looks incredible on any countertop.
There's more information in our full Gaggia Classic Pro review.
FAQs
What is the difference between the Breville Bambino and Bambino Plus?
The main difference is the automated steam wand. The Bambino Plus can froth milk without needing any help from you. It's also a little bigger, so it can hold more water in the reservoir.
Can you make latte art with the Bambino Plus?
The Bambino Plus froths milk really nicely. If you make milk with a latte texture, you won't have any problem making latte art.
Is Breville's Bambino Plus worth the money?
If you drink milky coffees and don't feel confident frothing your own milk, the Bambino Plus is worth spending more money on. It takes any potential problems out of your hands. However, if you don't take milk in your coffee, the extra features are close to redundant.
Should I buy the Breville Bambino Plus in the sale?
If it was the price that prevented you from taking the Bambino Plus plunge, Amazon Prime Day, Black Friday, and other sales events are excellent times to invest. You can normally pick up a Bambino Plus with a reduction. I've seen prices drop to below the RRP for Bambino. If it happens again, I'll be writing about it.
---
Final thoughts
Both of these have incredible reputations amongst baristas and home coffee enthusiasts. They're excellent quality, can handle a range of coffee types, and are made to love and last. The only downside of both machines is that they lack a grinder, but don't worry, Breville has an answer for that. Their AutoDose Coffee Grinder is available on Amazon and, if you don't like that, there are plenty of other excellent espresso machines on the market.
Choosing between the two is easy when you break it down. If you like milky coffees, using dairy milks, and you don't want a lot of hassle, buy the Bambino Plus. If you drink your coffees black, or plan on honing your frothing skills, buy the Bambino. You'll save money and won't feel like you've been cheated out of the features in the Bambino Plus.
How we test
I've tested both of these espresso machines myself. This means that I can give you a first-hand account of what both products are like to use. In particular, I look the Bambino Plus to our test kitchen where I made thorough notes on all aspects of the machine. From unboxing to washing up, I took note of every detail so that I know everything you need to. If you're interested in finding out more about how we test coffee makers, you can visit our dedicated page.