Preparing an entryway for hosting at Thanksgiving – 7 super host hacks
'Preparing your entry for hosting during Thanksgiving involves some thoughtful design decisions based on your space'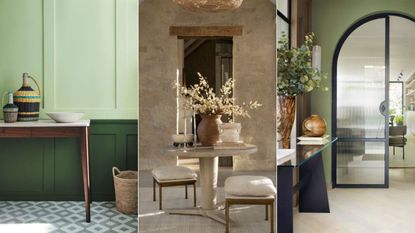 (Image credit: Little Greene / Studio McGee / Irene Gunter & Co)
When hosting at Thanksgiving, preparing the entryway is one of the most important jobs since it can buffer any stress at arrival and make your guests' whole stay –including any exits and entrances – more seamless.
You can ensure your entryway is prepared for this holiday by anticipating the needs of your guests, organizing your entryway to accommodate the excess items, and ensuring it is inviting and adorned with the Thanksgiving spirit
Below are the top seven expert-approved things to do to prepare your entryway for hosting at Thanksgiving.
Preparing an entryway for hosting at thanksgiving
Preparing your entryway is a key step for setting the right tone for your guests – think of it as the first impression when setting the stage for a warm and memorable gathering.
We've listed some top organizing and cleaning tips to make your entryway welcoming and leave a lasting impression.
1. Clean and organize the entryway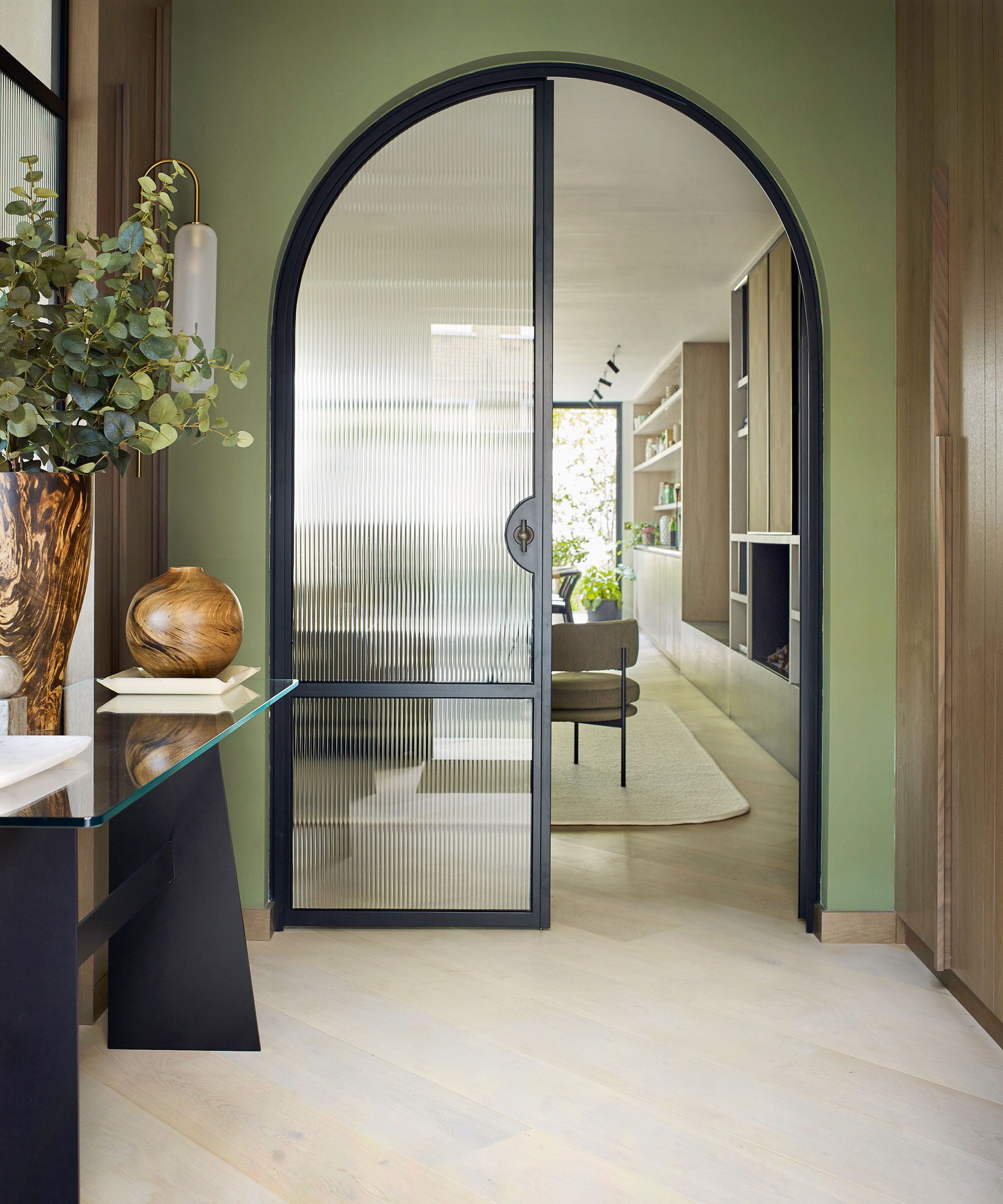 'Start with a thorough cleaning of the entryway,' recommends Yama Jason, interior designer and founder of House Customize. 'Organize the space to make it welcoming and spacious.
'Remove non-essentials and make sure there is enough room for guests' coats and shoes. A clean and organized space is more inviting and less stressful for both hosts and guests.'
Remove unnecessary personal items that may act as clutter and any other items that should never be stored in an entryway, such as fragile objects and shoes without proper storage. Ensure any items you might need are easy to find.
Liran Koren, co-founder of Luxury Property Care suggests, 'For smaller entryways, focus on optimizing the space by getting rid of unnecessary furniture and bulky items. Replace them with smaller, streamlined alternatives to avoid a cramped feel.'
2. Add seating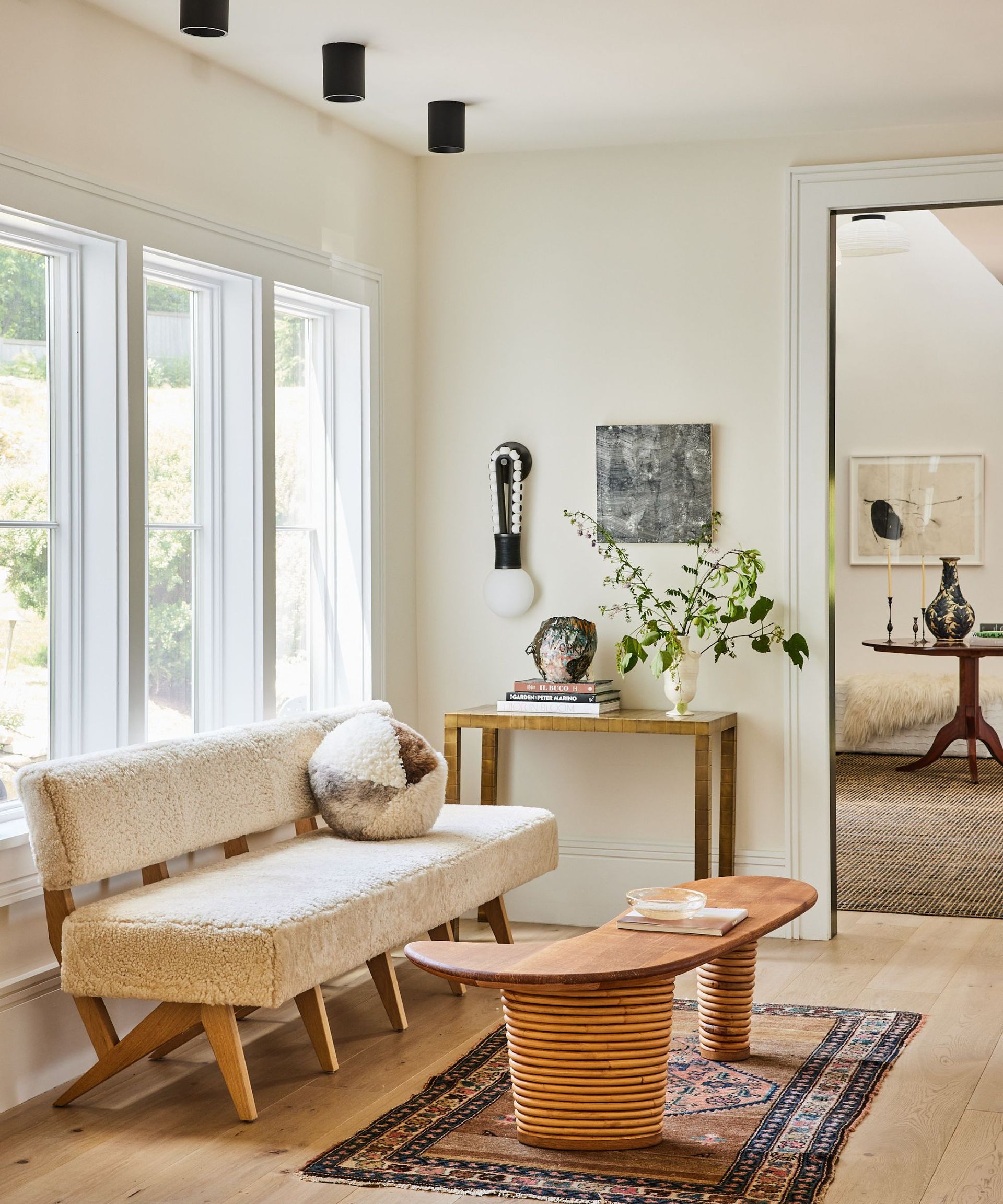 If you have enough space in your entryway, make sure there is a comfortable seating area close to the entrance so that anyone entering or leaving can have a convenient place to put on or remove their shoes. Seating such as an entryway bench is one of the things most organized people have in their entryway in conjunction with shoe storage.
This considerate touch can foster a smooth and structured transition into your home, which enhances the overall hospitality of your home and ensures that your Thanksgiving celebrations begin and end with ease and comfort.
3. Include storage options
Preempt the inevitable rush of shoes, scarves, coats, and more alongside the entrance of your guests by providing ample storage solutions. Establish a specific area for guests to hang their coats and provide them with plenty of room and hangers to store their outerwear.
This eliminates the potential for overcrowding, resulting in a space that looks well-organized instead of detracting from your beautiful entryway, contributing to an experience that is seamless and comfortable for hosting Thanksgiving.
'Preparing your entryway for hosting during Thanksgiving involves some thoughtful design decisions based on your space,' says Liran Koren. 'If you have plenty of room, consider adding hooks and coat racks for jackets, coats, and bags. Adding benches with built-in storage or a dual-purpose chest can also be functional and stylish, keeping things organized and looking good.'
Consider incorporating a bench or a console table with baskets underneath for storing shoes or accessories. This helps keep the area tidy and prevents clutter from accumulating.
You may also want to create a space for muddy shoes to be stored to prevent any dirt from being spread throughout your entryway, saving you from needing to clean when guests are visiting. A shoe rack, tray, or designated shoe storage area can keep the entryway tidy, such as this shoe storage rack, from Amazon.
4. Decorate the entrance
Part of preparing your entryway for hosting Thanksgiving is creating a festive atmosphere with Thanksgiving decor. This can be done subtly with minimalist Thanksgiving decor or with eye-catching displays that incorporate items such as wreaths made out of colorful leaves, berries, pinecones, and small pumpkins, rustic vases with fall flowers, decorative bowls or trays, and colorful candles.
Consider decorating front doors with door mats with seasonal motifs. For example, warm-toned door mats like rustic brown, deep burgundy, and rust with leafy or pumpkin prints.
'Simplicity is key in creating an inviting atmosphere. A single, well-placed lantern or a simple grapevine wreath can significantly enhance your Thanksgiving porch decor,' says Tadas Pukas, CEO and founder of Minimalistic Linen. 'These elements can be easily adapted for the winter season, ensuring longevity in your design choices.'
5. Consider ambient lighting
'Specialized lighting is essential to creating a warm and inviting atmosphere,' says Yama Jason. 'Consider floor or table lamps with soft, warm lighting. Adequate lighting will secure the entry area and create a cozy atmosphere.'
Add soft lighting with wall sconces, table lamps, or string lights to create a cozy atmosphere. Consider using flameless candles with Thanksgiving motifs.
6. Ensure a fragrant welcome
To ensure your entryway smells fragrant, utilize scented candles, diffusers or potpourri that encapsulate the spirit of fall, infusing the air of your entryway with a beautiful aroma to welcome guests. Use Thanksgiving-themed scents such as pumpkin spice, cinnamon, apple pie, and other spices.
Alternatively, you can create personalized scents and infuse them using some tricks people with nice-smelling entryways always do, such as creating a DIY room spray with essential oils or utilizing fragrant drawer liners.
This delightful aroma can last long after Thanksgiving, as it produces a sensory experience that elevates the whole mood and leaves a lasting effect on your guests.
7. Create a focal point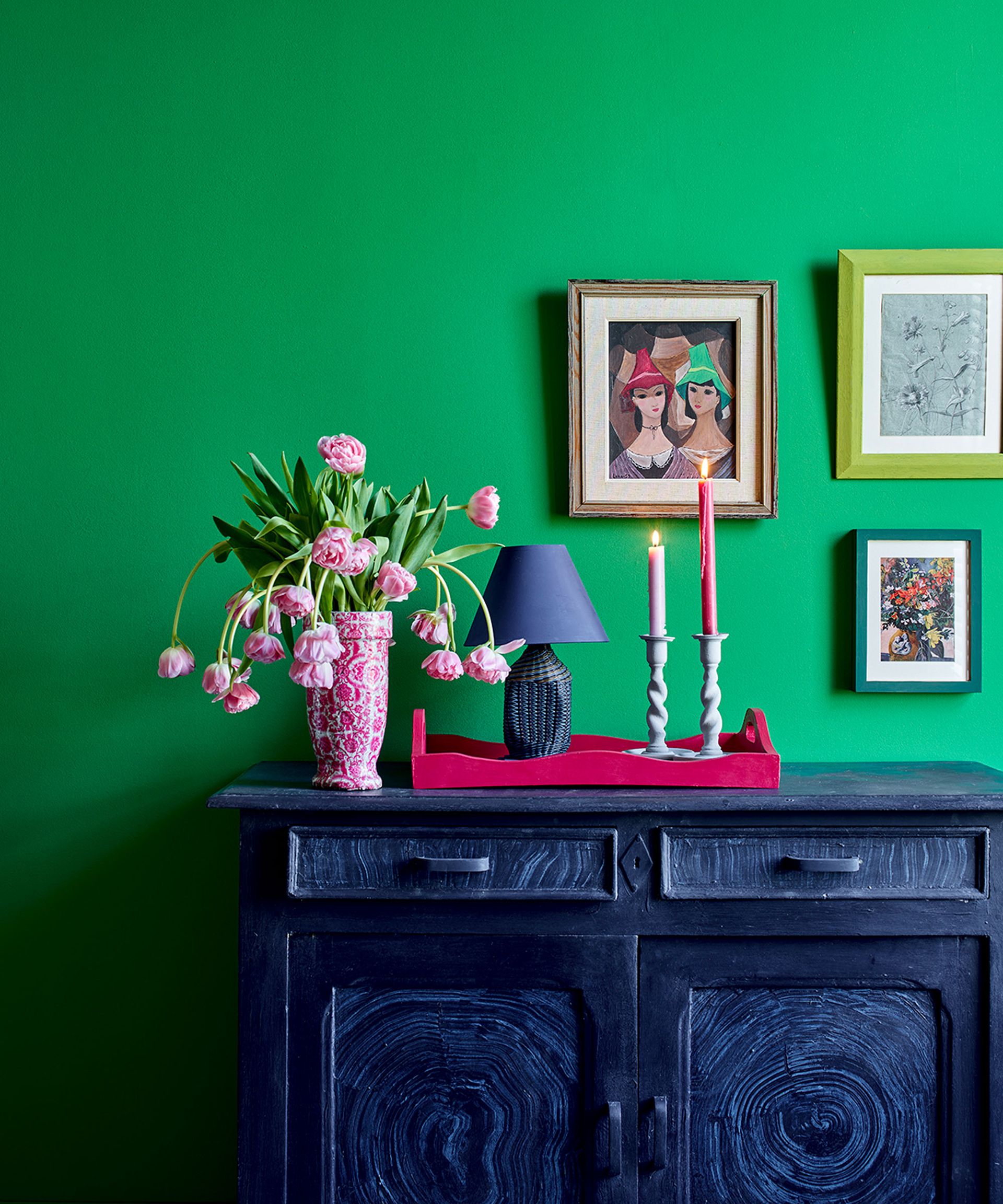 Consider placing a festive centerpiece or decoration on a console table or entryway furniture. This could be a fall-themed floral arrangement, a vase of seasonal branches, or a decorative bowl of pinecones or gourds.
You can arrange a display on a decorative tray to give it structure.
FAQs
What is a fun hosting trick for Thanksgiving?
'Construct in your foyer either a wall or a board on which guests can write down the things for which they are grateful.
'This engaging and reassuring display lends a sense of warmth and personalization to the Thanksgiving get-together, creating an atmosphere that is optimistic and grateful,' says Sol Kruk, owner of Property Inspection Pros. 'As guests enter your home, it creates an atmosphere that is welcoming and thankful while also encouraging them to dwell on gratitude.
---
One convenient hosting trick for your entryway is to create a guest information station. This can be a designated area for guests to find important information, such as a tray or decorative box with Wi-Fi passwords, a spare set of keys, schedules, or instructions for any house-specific features (like the alarm system or how to work the shower).
Sign up to the Homes & Gardens newsletter
Decor Ideas. Project Inspiration. Expert Advice. Delivered to your inbox.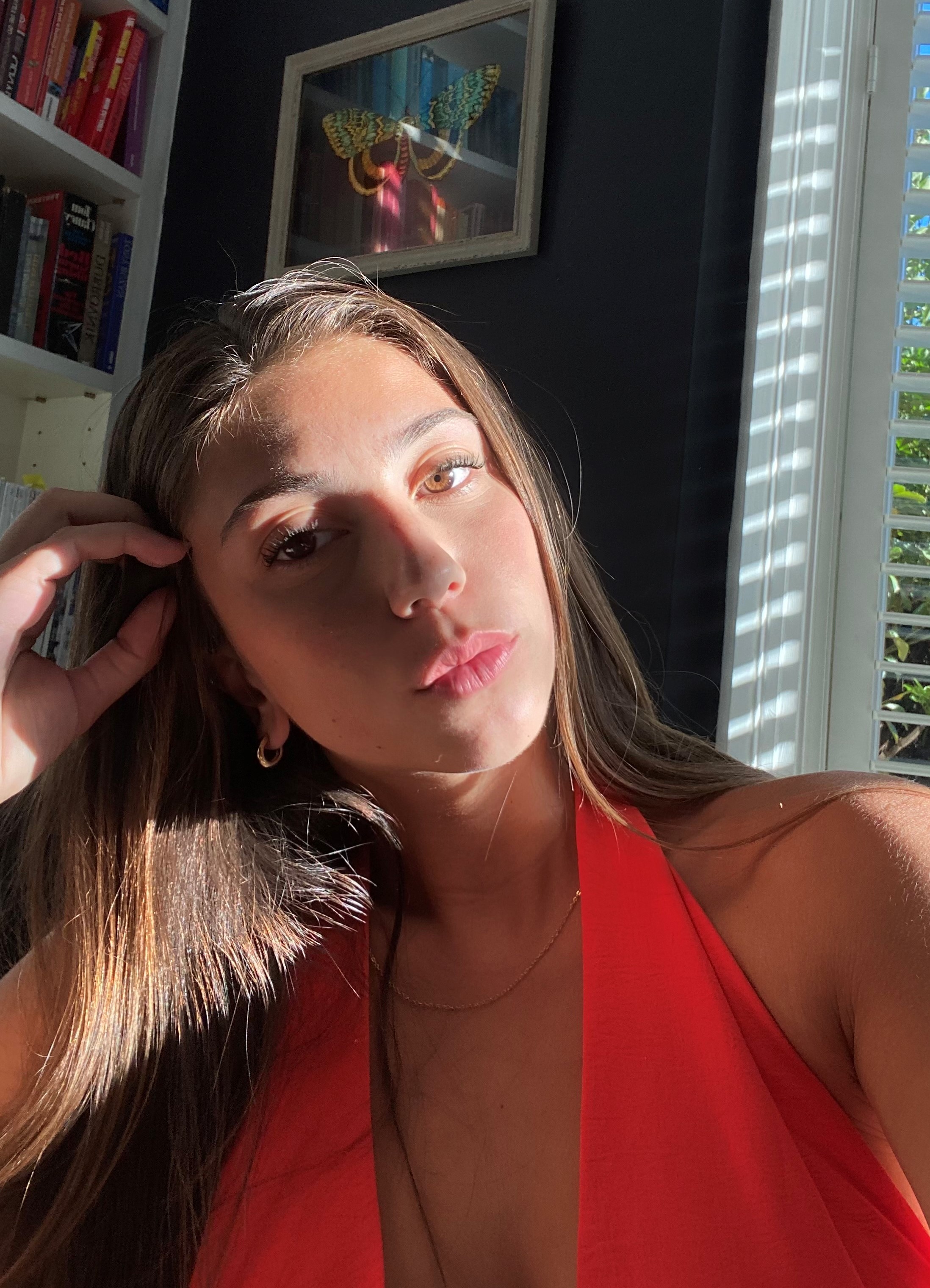 Lola Houlton is a news writer for Homes & Gardens. She has been writing content for Future PLC for the past five years, in particular Homes & Gardens, Real Homes and GardeningEtc. She writes on a broad range of subjects, including recipe articles, reviewing products, writing 'how to' and 'when to' articles. Lola now writes about everything from organization through to house plants. Lola is a graduate student, who completed her degree in Psychology at the University of Sussex. She has also spent some time working at the BBC.