Modern kitchen lighting ideas – ways to use spotlights, pendants, LEDs and more
These modern kitchen lighting ideas will set the mood for cooking and so much more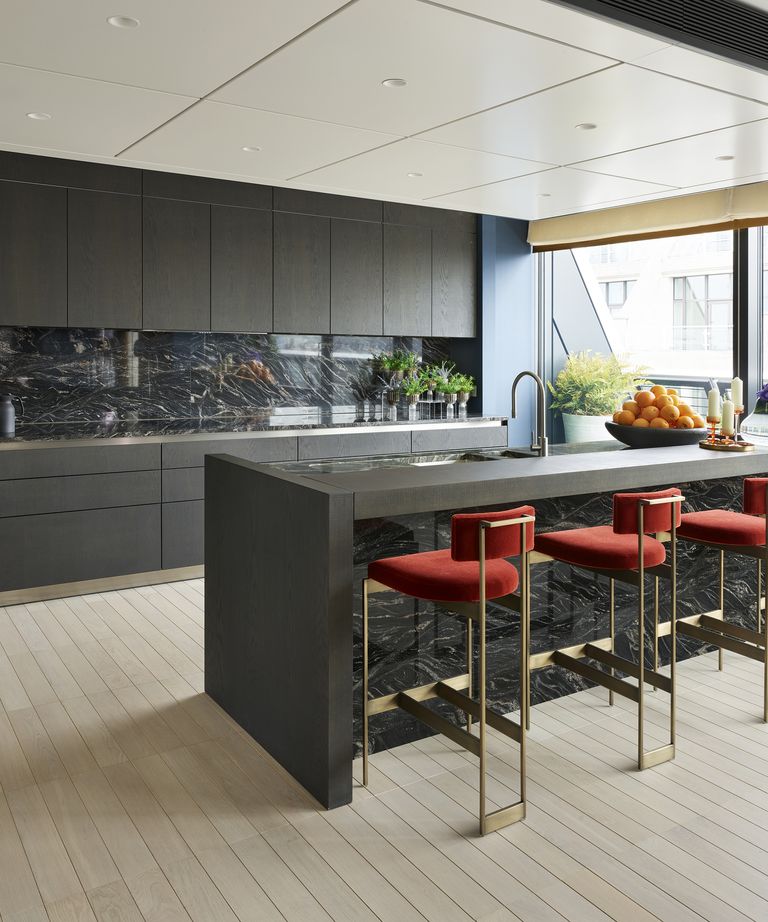 (Image credit: Future)
These smart modern kitchen lighting ideas will help you transform your kitchen.
A versatile, contemporary kitchen requires a layered and responsive lighting scheme that can keep up with changing demands as day turns to night.
Expansive glass doors and skylights in a spacious kitchen extension will flood the space with natural light, but you will still need shadow-free task lighting over prep areas as well as ambient light for social spaces as darkness falls.
These lighting ideas for modern kitchens combine all the key lighting types – general, task, ambient and decorative – creating depth, marking out different zones and helping to create a clear and safe passage through the space.
One or two switches won't be enough. Put your different kitchen lighting ideas on separate circuits and, if budget allows, opt for pre-programming on a system, such as Crestron or Lutron, putting a change to the mood at the press of a button.
'Increasingly, our clients are opting for self-adjusting lighting systems that activate in response to the amount of natural light available, ensuring the balance of lighting is always right,' says John Butler, designer at Elements Kitchen Design.
Finally, consider the warmth of the bulb. The cooler end of the spectrum gives brilliant task lighting, while warmer whites will make a seating area feel inviting.
Modern kitchen lighting ideas
These modern kitchen lighting ideas will cover all the aspects of contemporary lighting you need for your cook space.
1. Install an eye-catching modern lighting centerpiece
Lanserring has hit upon the most perfect kitchen island lighting with this fabulous fitting.
Designed to create ambient lighting, its main role in this room is to draw attention to the modern kitchen island and to give the kitchen a living room appeal, rather than to provide practical task lighting.
2. Make the best use of downlights
Dimmable ceiling downlights are a popular solution for general lighting in a modern kitchen, says Jamie Blake, creative director of Blakes London.
'Turn them right up when you want to clean the room, dim them right down when you want a softer mood.
'While it may help to start by drawing up a grid of downlights to create an even spread of light, remember that you may need to adjust it to accommodate things like steel joists, skylights, TV screens and so on. Nor do you want to put a downlight right next to a pendant or hard up against a wall cabinet.
'Use the grid merely as a starting point that you can modify to suit your space.'
3. Layer light
A complex room, such as a living-kitchen, will demand different light levels for a range of activities.
In the kitchen idea shown above, track lighting washes walls with soft light by evening and has more focused spots, pendants and task lighting where needed.
'There is nothing worse than a dimly lit work area,' says Melissa Klink, Head of Design at Harvey Jones. 'Make sure to position spotlights or pendants directly above key areas to ensure the light isn't blocked when you stand at the sink, hob or work top.'
4. Tackle task lighting
Task lighting can be discreet and hidden under wall cupboards or shelving, but you can also make a feature of it with designer kitchen wall lighting ideas that can be angled to direct brightness where it is needed.
5. Consider low light sources
LED strips provide a soft low light that is useful for backlighting backsplashes and shelving, but they can also be useful for directing traffic through the kitchen space.
It's human nature to gravitate towards light, so put a subtle glow beneath a counter with bar-style seating to encourage guests to pull up a seat.
6. Light the inside of cabinetry
The kitchen trend for glass-fronted cabinetry brings display back into the kitchen and an opportunity to create pockets of soft diffused light that can create a focal point and brighten darker corners of the room.
7. 'Wash' cabinetry with lighting
Use spots, track lighting and uplights to wash surfaces with soft reflective light.
'Never place downlights in a grid,' advises Sally Storey of John Cullen Lighting. 'Place them only where light is required as part of your lighting scheme. Use a low glare directional downlight to direct light to wash the front of your kitchen units – it will also light inside your cupboards when they are open.'
8. Ask an expert in modern kitchen lighting design
Wondering how to plan kitchen lighting?
Lighting design is a specialist field and a good designer will be able to balance a range of sources into a cohesive scheme to enhance your space.
In this contemporary kitchen, designer Sian Baxter has used almost entirely ceiling lighting, choosing different forms to provide task, general and ambient light. She didn't want two sets of pendant lights so used recessed ceiling lighting to cleverly mirror the shape of the island.
9. Create light reflections
The bulb is just one part of the story – the surfaces the light falls upon are just as influential. Pale colors and reflective surfaces will amplify the glow, while dark shades absorb light, dampening it, which can be advantageous when creating mood.
When designing a modern kitchen, consider pale countertops in a darker kitchen - especially in the prep zones – or at least opt for large, pale chopping boards.
10. Light beyond your modern kitchen
Skylights and walls of glass offer stunning natural light and a great view by day but they can turn into black holes at night.
Think about running strip LEDs in skylight recesses and consider good outdoor lighting ideas to create a light show in the garden beyond the glass.
11. Choose discreet modern kitchen lighting ideas
Spotlights aren't the only solution for directional light. The Exhaust light from Buster + Punch has a smart tubular design that is available in a choice of two colors for the powder-coated casing and four metallic options for the trim.
12. Use modern kitchen lighting to play with room proportions
A large room with a high ceiling will be crying out for a generous modern kitchen light fitting to fill that space.
The trend is for clusters of organic shapes made from mouth-blown glass, and for modern molecular lighting with multiple bulbs on multiple arms, shining their light in all directions. Install over an island or dining table to create a focal point.