Best espresso machine for beginners: De'Longhi's All In One Combination
The best espresso machine for beginners needs to be pared back and premium. We tested all the market leading models and the De'Longhi All In One was the best.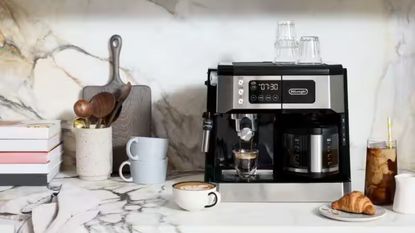 (Image credit: De'Longhi)
Sign up to the Homes & Gardens newsletter
Decor Ideas. Project Inspiration. Expert Advice. Delivered to your inbox.
Thank you for signing up to Homes & Gardens. You will receive a verification email shortly.
There was a problem. Please refresh the page and try again.
When you start making your own barista-style coffee at home, the first thing you'll want is the best espresso machine for beginners. It will help you perfect the basics of coffee, whilst levelling-up your morning cup of joe. Pair your espresso maker with freshly ground, quality coffee and you've got a winning formula.
Espresso machines are used by professional baristas and at-home coffee enthusiasts. For that reason, there's a range of different machines that you can buy, including some highly technical models. Most of us don't need dials, sensors, scales, and millions of beeping buttons. Most of us just want a really great coffee.
I took the market leading espresso machines to our test kitchen to find out which are the best buys around. I tested everything from Breville's premium machines to TikTok sensations like the Casabrews. There were lots of brilliant products (and some less than brilliant ones too), but there were only a few that I'd recommend for beginners.
My top pick is the De'Longhi All In One. As a semi-automatic espresso machine, you don't need to know your lattes from your lungos to use it. Simply load in your coffee, push a button, and you're caffeine fix will be ready to go
Best espresso machine for beginners
Best espresso machine for beginners
Best for beginners
Specifications
Type: Manual
Dimensions: 17.5" x 14" x 12.25" in.
Weight: 6.21 pounds
Descaling Notification: Yes
Interface: Touch
Reasons to buy
+
Great value
+
Easy to use
+
Combines multiple appliances
+
Compatible with pods
+
Brilliant milk frothing
De'Longhi' have a reputation for making top-quality coffee makers. The All In One is no exception: it's premium yet pared back. With a digital touchscreen, 'bold' setting for string coffee, spill-proof carafe, and pod compatibility, it's easily the most versatile machine that we have tested.
When our tester, Terri, made an espresso, she was impressed with how easy it was. All she had to do was fill a portafilter with coffee grounds, lock it into place, and press a button. Within seconds the All In One made a delicious espresso.
If you want a frothy coffee, the steam button can make latte and cappuccino milk for you. Lots of premium espresso machines have a steam wand. However, the steam wands on machines like the Casabrews and Breville Barista Pro which can take practice to fully master. Having an automatic milk frothing function can really help.
However, if you want to switch it up from espresso, this coffee maker also makes drip coffee. All you need to do is pour the coffee grounds into a basket and press a button. However complex your coffee is, the combination maker can handle it. That's why this is perfect for a beginner. It's moderately priced and won't take up much room on your countertops either.
Before you buy the All In One, Terri raised a few things that she would change down to 'personal quirks'. She would prefer a carafe made from stainless steel rather than glass and would like a quicker, less hands-on set up. It's also worth noting that this machine doesn't have an integrated grinder, so you'll need to buy a good grinder or buy ground coffee.
There's more detail in our full Delonghi All In One Review.
Alternative Options
The De'Longhi was my top choice for beginners, but it wasn't the only machine in the running. If the All In One is a bit too basic for you, I would recommend Breville's Bambino Plus. Compared to De'Longhi's, the Bambino also doesn't have an integrated grinder. However,, it has more varied settings for your espresso flavor, depth, and brew time. These precise controls extend to the milk, which has a range of presets as well as manual options. You'll need to know more about tamping and frothing milk, but it's not too much to handle. This slim, stainless steel machine is a great step for building your barista skills.
Espresso machines can be big and, if you're new to using them, you might not want to clear countertop space just yet. In this case, I'd recommend the Wacaco Picopresso. It's about the size of a can of cola and is really easy to use. You unscrew the base, fill the portafilter, tamp your grounds, and add hot water. Then, all you have to do is pump a lever and you'll make an impressive espresso. There are not buttons, plugs, or noisy boilers. It's almost too good to be true.
If the De'Longhi, Wacaco, and Breville machines sound like a little too much, there's always the option of an automatic coffee maker. The Philips 3200 is fully automatic and a reasonable size on your countertops. It can make five different beverages with excellent milk frothing too.
Head to Head
Best compact
This slim, stainless steel machine is the dream for any newcomer to espresso machines. It's compact and easy to use, producing top-quality espressos without the bulk or pricetag.
For
Compact and sleek
Easy to use
Range of settings
Great milk frothing
Against
Limited customisable features
No integrated grinder
Best Portable
Portable Wacaco Picopresso
Espresso machines are usually big, but the Picopresso is about the size of a can of soda. Mini but mighty, it made espressos to rival our much bigger, louder, and more expensive machines.
For
Portable
Really quiet
Easy to use
Great price
Against
Limited functions
You'll need a grinder
Best automatic
If you want the coffee without all the faff, this might be the best option for you. At the touch of a button you'll have a fresh cup of joe without having to handle any messy coffee grounds.
For
5 coffee options
Great milk frother
Adjustable sizes
Compact
Do I need an espresso machine for good coffee?
This is entirely down to personal preference. If you ask a barista, they'll say yes. Espresso machines and freshly ground coffee are the perfect combination for an aromatic cup. As you get to know your preferences, espresso machines offer more adjustable features. You can change the brew-time, pre-infuse your shot, and adjust the pressure and temperature too. It might sound technical if you're not used to it, but when you're a fully-fledged coffee connoisseur, you'll really appreciate it.
How we test
We consider espresso machines to be very serious business. We will only recommend the machines that we can personally vouch for, no money or gifts can convince us otherwise. Our team of experts are always on the look-out for the best coffee makers and espresso machines on the market.
When we've seen machines with great credentials, we take them to our dedicated test kitchen. Here, we make notes on the whole experience of using the espresso machine, from unboxing up to cleaning. We replicate the home environment, making notes on how they sit on the countertop, how loud they are, and how user-friendly the interface is. More importantly, we taste test. Starting with espressos, through all the machine's capabilities, we want to know what's special about every espresso machine. If there isn't anything worth shouting about, we won't.
You can find out more about how we test coffee makers on our dedicated page.
FAQs
What is a good, basic espresso machine?
My top picks are the De'Longhi All In One, which is semi-automatic; the Breville Barista Plus for a little more technicality; and the Wacaco Picopresso, which is a petite powerhouse. I chose these because they're all easy to use and they don't overcomplicate coffee. Importantly, they can make a good espresso too.
Are small espresso machines worth it?
Absolutely; a big machine doesn't mean you'll get better flavors. When machines are smaller, it's normally because they don't have features, like an integrated grinder or dual boiler. You can have these appliances on your countertop separately and you can choose the type of grinder you want and need, without having whatever comes with the machine.
How much should a good espresso machine cost?
Aside from the Picopresso (which is just over $100), I would expect to pay around $500 for a good, but basic espresso machine. If you want one which can do a little more, it might cost up to $1,000. Anything more than that could be a waste of money, so really interrogate the features.
Does an expensive espresso machine make a difference?
There are plenty of over-priced espresso machines on the market, so make sure to do your research and read reviews from people who have actually used them. Paying more for your espresso machine could give you an integrated grinder, more sophisticated brewing controls, a quad-hole steam wand, and faster heating and boiling time. All of these features will make a difference to your espresso, but only if that's what you're paying for.
Should I buy an espresso machine as my first coffee maker?
It depends on what you're looking for. Espresso machines allow you to get more technical with your coffee. The process is more involved, so some people find it more rewarding. If you're nervous about making your own coffee, an automatic coffee maker might be a better place to start.
---
Final Thoughts
The De'Longhi All In One Combination machine is a brilliant buy. You don't have to do much to make excellent espressos and quality drip coffee. However, there are lots of other brilliant options put head to head in our guide to the best espresso machines.
Sign up to the Homes & Gardens newsletter
Decor Ideas. Project Inspiration. Expert Advice. Delivered to your inbox.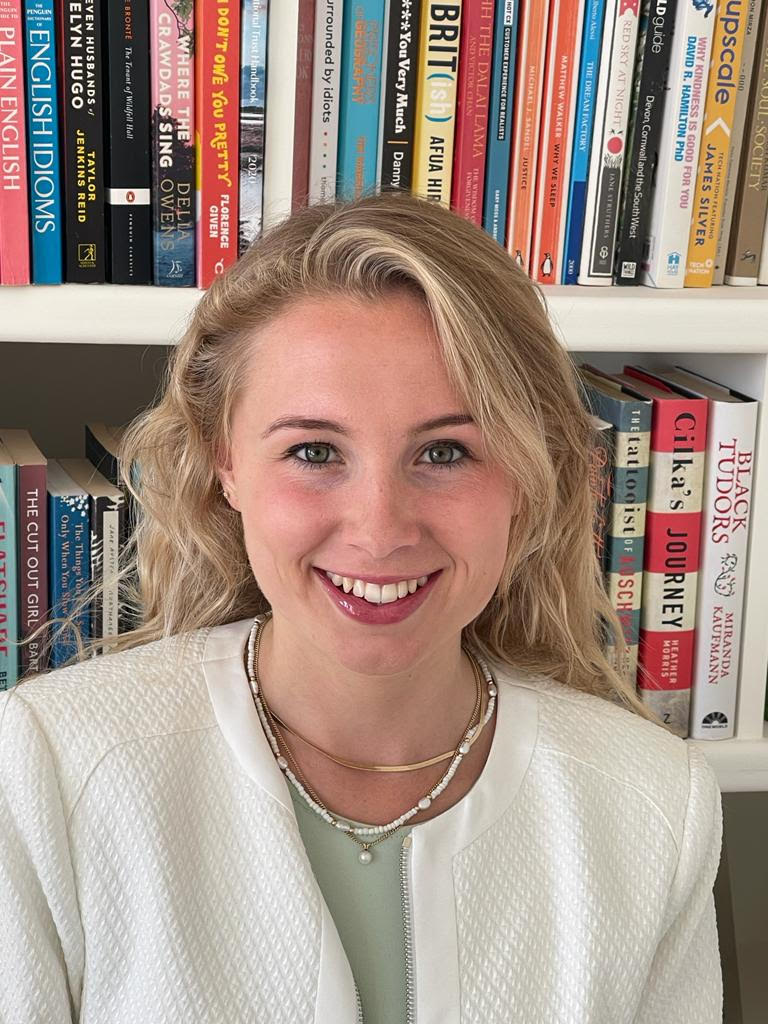 Laura is our eCommerce editor. Before Homes & Gardens she studied English at Oxford University. Alongside her studies, she qualified as a barista and trained as a master perfumer. This makes her our certified expert for all things coffee, candles, and fragrance. She has passed our five-step tests to become a certified Customer Advisor, making her our resident expert. Laura has worked for luxury retail brands, reinforcing the importance of quality and style over quantity and fads. She looks for products which have been designed with thoughtful finishes.