6 rules for buying a mattress topper
President's Day discounts are already here - follow these rules to avoid buyer's remorse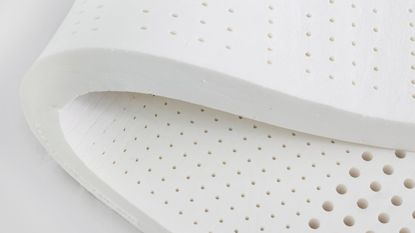 (Image credit: Getty)
Sign up to the Homes & Gardens newsletter
Decor Ideas. Project Inspiration. Expert Advice. Delivered to your inbox.
Thank you for signing up to Homes & Gardens. You will receive a verification email shortly.
There was a problem. Please refresh the page and try again.
A decent mattress topper can transform your sleep forever. They're just the thing for cooling down a mattress, extending the life of your current mattress, or transforming a bed that isn't working for you.
It's a smart time to shop, as Presidents' Day is fast approaching. The three-day federal holiday sees the year's biggest discounts on mattress toppers, saving your hundreds of dollars. However, if you don't know much about mattress toppers, it's easy to get cheated by cheap models that don't live up to the hype.
We've tested plenty of the best mattress toppers over the years and learned a lot about the potential pitfalls out there. Here's some simple rules to follow to make sure you know exactly what you're doing when the time domes.
Alex is our Head of eCommerce, and has several years' experience testing home and garden products and services for consumer magazines. A long-suffering side-sleeper, he's keen to find the very best toppers on the market.
1. Know your sleep style
In my various travels round the internet I've seen a lot of misinformation about sleep styles. I've seen some articles saying that sleep styles reveal hidden qualities of your personality; at the other end of the scale, there's writers claiming that sleep styles aren't real in the first place, just a marketing trick to get people to buy different types of bedding.
Both are wrong, but I'm most concerned about the second. Considering your sleep position is genuinely important, and it's simple physics. Side sleepers need a soft mattress topper, because the hard points of their shoulders, hips, knees and ankles are the main point of contact between their body and the bed. If there isn't enough give, then your joints are pushing into a hard material, which is uncomfortable.
On the other hand, if you sleep on your stomach, you need a firmer mattress. Front sleepers need a harder surface to sleep on, because otherwise their back will sag down through their stomach and become uncomfortable.
Back sleepers can manage with both, but they tend to like a midpoint between soft and firm, so the tops of their shoulders can sink in a little while the rest of their body is supported. This is also true if have a mixed sleep style where your start off on your side but roll over in the night.
Side sleepers
Saatva Graphite Mattress Topper
Our pick of the best mattress topper for pressure relief, the Saatva Graphite topper is great for side sleepers, letting your joints sink in softly while supporting the rest of your body.
Stomach sleepers
If you sleep on your front, this is our choice for the best firm mattress topper. It comes in multiple firmnesses, so you can find one that suits you exactly.
Back sleepers
Sleep Innovations Mattress Topper
Back sleepers find this topper a good compromise between soft and firm, offering support for the back as well as an indulgent sink-in feeling.
2. Learn your topper types
The material used in your topper makes a huge difference. You can tell at a glance if a topper will work for you by the material it's made from, as each type of topper has its own pros and cons.
Memory foam - memory foam is best for back and side sleepers. It offers great lumbar support, and the hard points of your joints can sink into the foam. However, if you get hot in the night, it might not work for you, as thick memory foam isn't very breathable
Latex - latex is best for front sleepers, as it tends to be much firmer than memory foam. Latex is usually cooler to sleep on than memory foam. It's also great if you have allergies, as organic latex topper don't use animal products, but these toppers command a hefty price tag.
Featherbeds - filled with down or down alternative, featherbeds are a good option if you love that sink-in feeling. However, they're not very supportive. High-quality down is expensive, and vegans and vegetarians should look elsewhere, as down is a by product of animal farming.
Best memory foam
This is the best mattress topper you can buy. It offers famous Tempur-Pedic memory foam support without the cost of buying a full mattress.
Best latex
With a perfect 100%, this our pick for the best latex mattress. It's made with certified organic latex, wool, and cotton, so it's a wise option if you've got sensitive skin.
Best down
Our pick for the best down mattress topper, this featherbed is the softest topper you can buy, and the down is responsibly-sourced.
3. Consider keeping cool
The most common complaint people have with their sleep set-up is that they get too hot in the night. Even in well-ventilated rooms with the AC running, some of us just overheat.
Believe it or not, your mattress can have a lot to do with this. Thick materials like memory foam are incredibly comfortable but they also tend to trap heat. As you sleep, you generate a lot of warmth. If it isn't conducted away from your body it will just warm up your mattress or topper. That will in turn make you hotter, which will then make the mattress hotter, trapping you in a feedback loop of heat that leads to you waking up in sweaty sheets.
A good mattress topper can stop this before it starts, adding a useful layer of ventilation and cooling between you and your mattress. Toppers are increasingly infused with copper or other conductive materials that keep you cool throughout the night.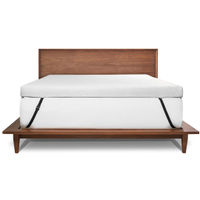 ViscoSoft Active Cooling Memory Foam Mattress Topper | was $469.95, now $349.95 at ViscoSoft
Our choice for the best topper for sleeping cool is this American-made topper from Viscosoft. Our tester Lauren found that its copper-infused memory foam conducts heat away from your body and is perfect for staying cool in summer.
4. Make sure your topper has straps
This seems really obvious, but make sure your topper has straps on the corners to secure it to your mattress. Some toppers don't have this feature.
Don't get me wrong, this can work (one of our favorite toppers, the Avocado Organic Latex, doesn't have straps) but it doesn't suit every mattress. The materials on some mattresses can be too slippery for some toppers and you can end up sliding around in the night. What's more, an extra benefit of straps is that they can stretch out the topper a little, making sure it fits your bed exactly.
5. Keep your partner in mind
Lots of us share our beds with our partners, and different sleep styles don't always align. Where you might like a softer bed, they might like a firmer bed; where you sleep a little hot, they might sleep a little cool. If you're already having the age-old argument about who's side is who's or who steals the duvet in the night, you don't want to add uncomfortable bedding to the mix.
The best policy here is to find a split mattress topper or get one that works for most people. Our #1 mattress topper, the Tempur-Adapt Topper, suits most sleep styles, so it's a good compromise. If you really want to make sure you'll both like the topper, our favourite mattress for couples is the Birch Plush Organic Mattress Topper.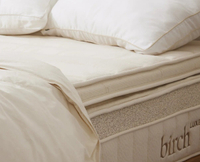 Birch Plush Organic Mattress Topper | was $325, now $260 at Birch
Our pick for the best mattress topper for couples, this latex mattress suits pretty much everyone. In her expert review, our mattress tester Camryn said that this topper is in the 'Goldilocks zone' - not too firm, not too soft. It's right on the line of both, so it's a good compromise.
There's more detail in Camryn's full review.
6. Be sure you need one
Toppers can be a great way to adjust a mattress, but they shouldn't be used in every situation. Toppers are smart if you're renting and the bed in the apartment isn't quite right, and that principle also applies for those in dorms. If you're stuck with a mattress and can't buy a new one even if you have the money, adding a topper can instantly improve your sleep.
Even if your mattress is perfectly fine, a topper can extend the life of your mattress by reducing wear and tear. A cooling topper like the Viscosoft mentioned above can also hugely improve a mattress that sleeps hot, adding a cool layer between you and your mattress that will stop you overheating in the night.
However, if you're trying to fix a lumpy mattress, it's time to replace the mattress itself rather than trying to plug the gap with a mattress topper. Sleeping on a misshapen mattress can have long-term impacts on your back, joints, and quality of sleep, so the safest bet here is to reinvest in a new mattress rather than spend a couple hundred dollars on a topper that won't even fix the problem.
Sign up to the Homes & Gardens newsletter
Decor Ideas. Project Inspiration. Expert Advice. Delivered to your inbox.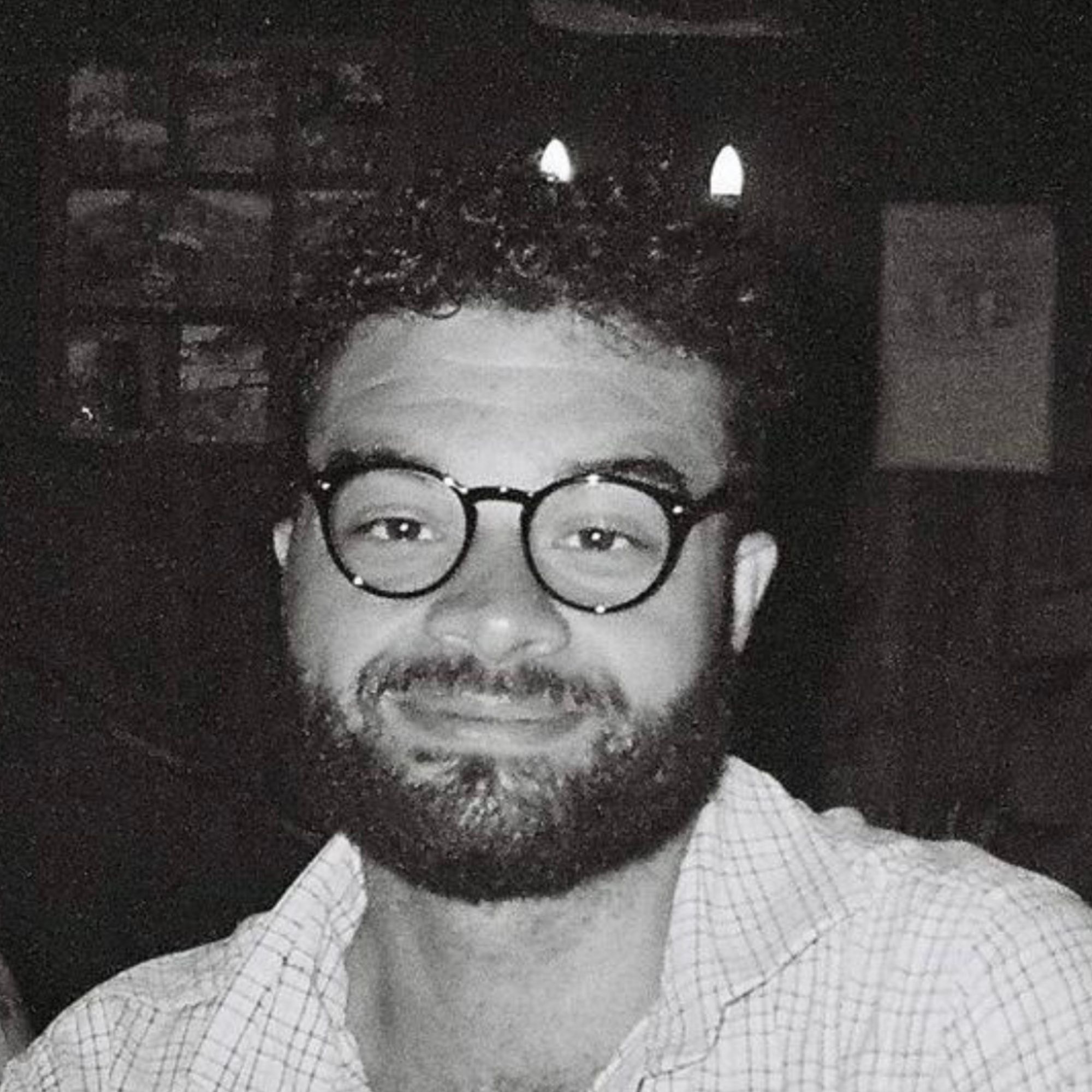 As Head of eCommerce, Alex makes sure our readers find the right information to help them make the best purchase. After graduating from Cambridge University, Alex got his start in reviewing at the iconic Good Housekeeping Institute, testing a wide range of household products and appliances. He then moved to BBC Gardeners' World Magazine, assessing gardening tools, machinery, and wildlife products. Helping people find true quality and genuine value is a real passion.