Does a living room need a rug? We settle the rug vs bare floor debate
Rug over carpet? Bare floors? No rug? Discover whether experts thing a living room needs a rug to make the right decision for you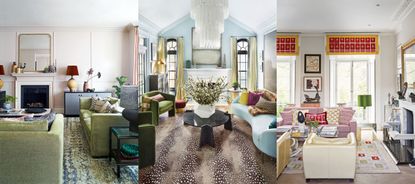 (Image credit: James Merrell | FLOR | Mary Wadsworth)
Are you wondering if your living room needs a rug? Maybe you're adding the final finishing touches to a new design, or are looking into ways to make the room feel more cozy – well, whatever your situation, we are here to help.
There is no denying that living room rugs can make for a wonderful addition to the space. Practical and beautiful, a rug can work just like a statement piece of art, bringing in beautiful color, pattern and shape into the room. They can also help protect your floor, zone a space and provide comforting texture underfoot.
However, rugs are, of course, not for everyone, and you may feel like a rug doesn't fit in with your living room ideas, or your room simply does not need one. We have spoken with designers and rug experts in the know and created a helpful guide filled with useful advice that can answer your questions.
Does a living room need a rug?
In this piece, we explore both the benefits of using a rug over your living room flooring, as well as key things to consider and analyze before making the decision on whether a rug is right for your space.
1. Yes, if you need to introduce pattern and color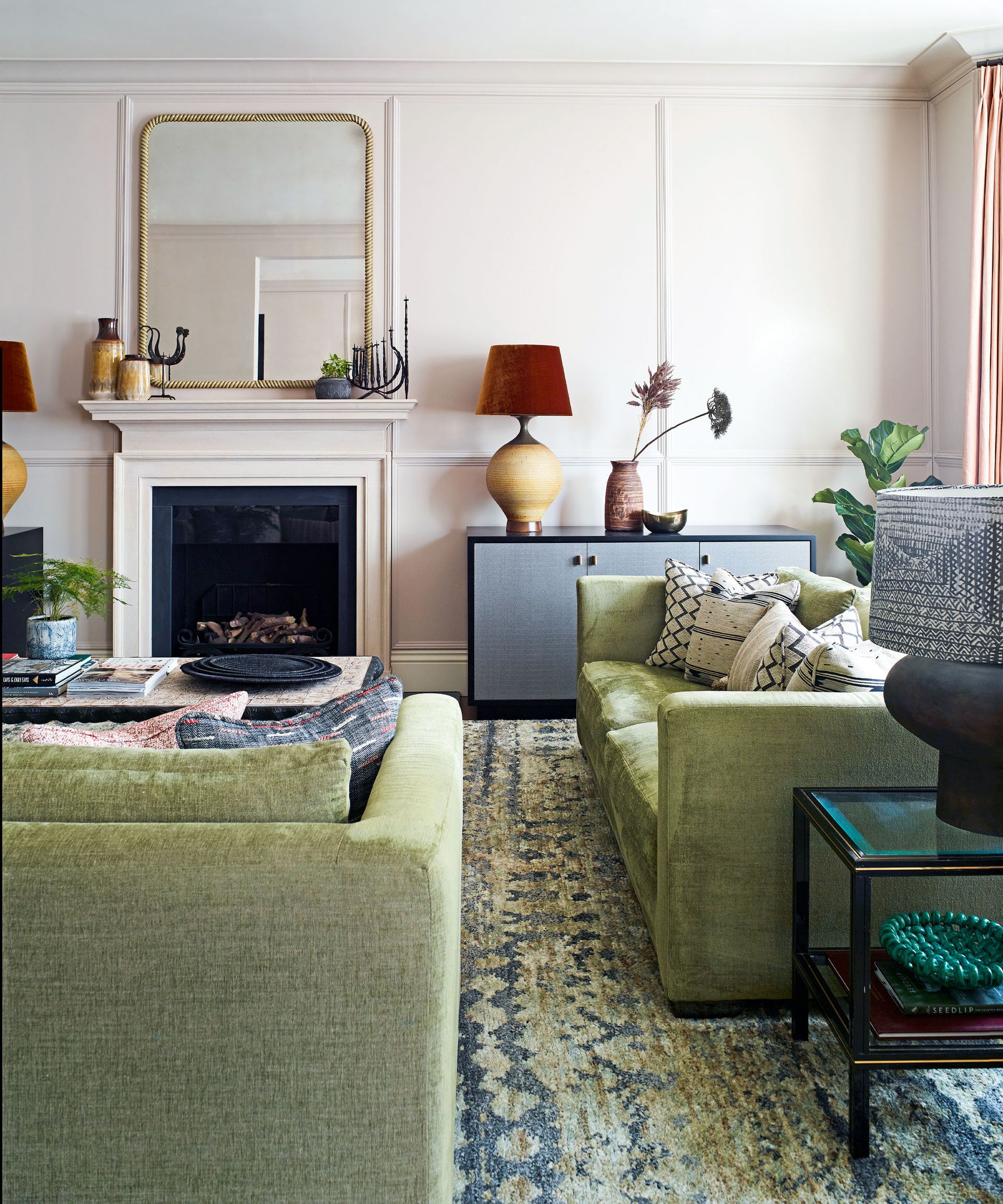 Many of us choose to include a rug when designing a living room, as it can uplift the space with artful design, eye-catching color, unique pattern and playful shapes.
Interior designer Kathy Kuo says, 'I always like to say that there are no hard and fast rules when it comes to interior design, however, I do think that most living room spaces really benefit from the addition of a rug. The right rug is going to enhance the rest of your design choices and complement your furniture and decorative accents.'
A rug can coordinate with your chosen living room color ideas, making for a colorful and cohesive look, as well as establish a unique element of contrast, working as a stylish accent piece.
If you need help choosing a rug, exploring the latest rug trends for the colors, styles, materials and shapes taking center stage in the world of interior design will be a good start.
2. Yes, if you need to zone the space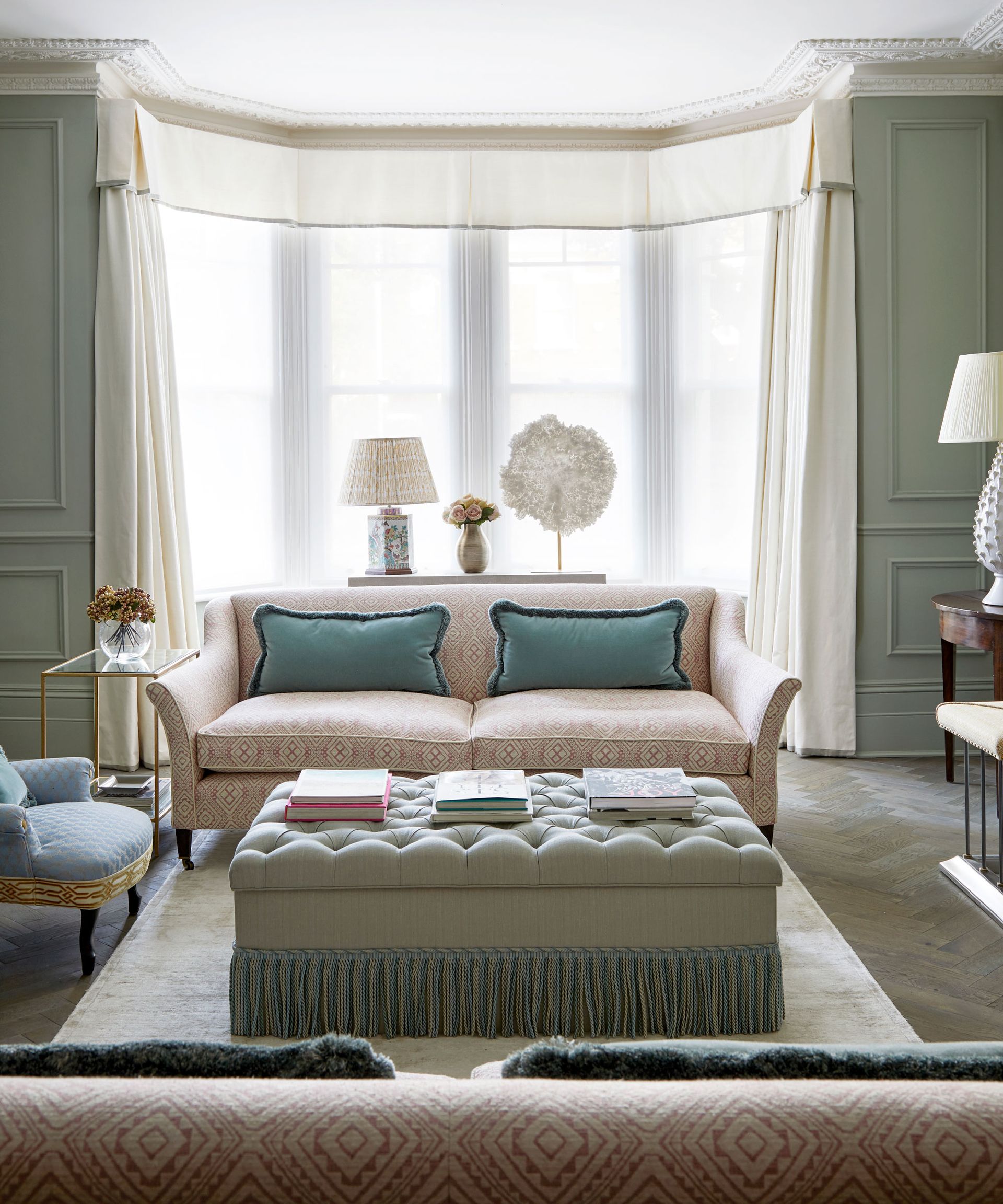 Rugs can not only adorn your floor with eye-catching color and pattern, they can be a useful tool when organizing your living room layout ideas; creating distinct zones in the space.
From helping to create a cozy seating nook in an open-plan living room, to multiple rugs being use in different sections of the space, a rug can transform how you view and use different sections of the room.
Alice Cheng, interior designer and principal of the Los Angeles-based studio, Shialice Spatial Design, says: 'If your room is large enough for more than one seating area, a rug is a great way to demarcate separate areas within the space. This is especially useful in defining open floor plans where your living room bleeds into your dining room or another area.'
3. Yes, if you want to make the space feel warm and cozy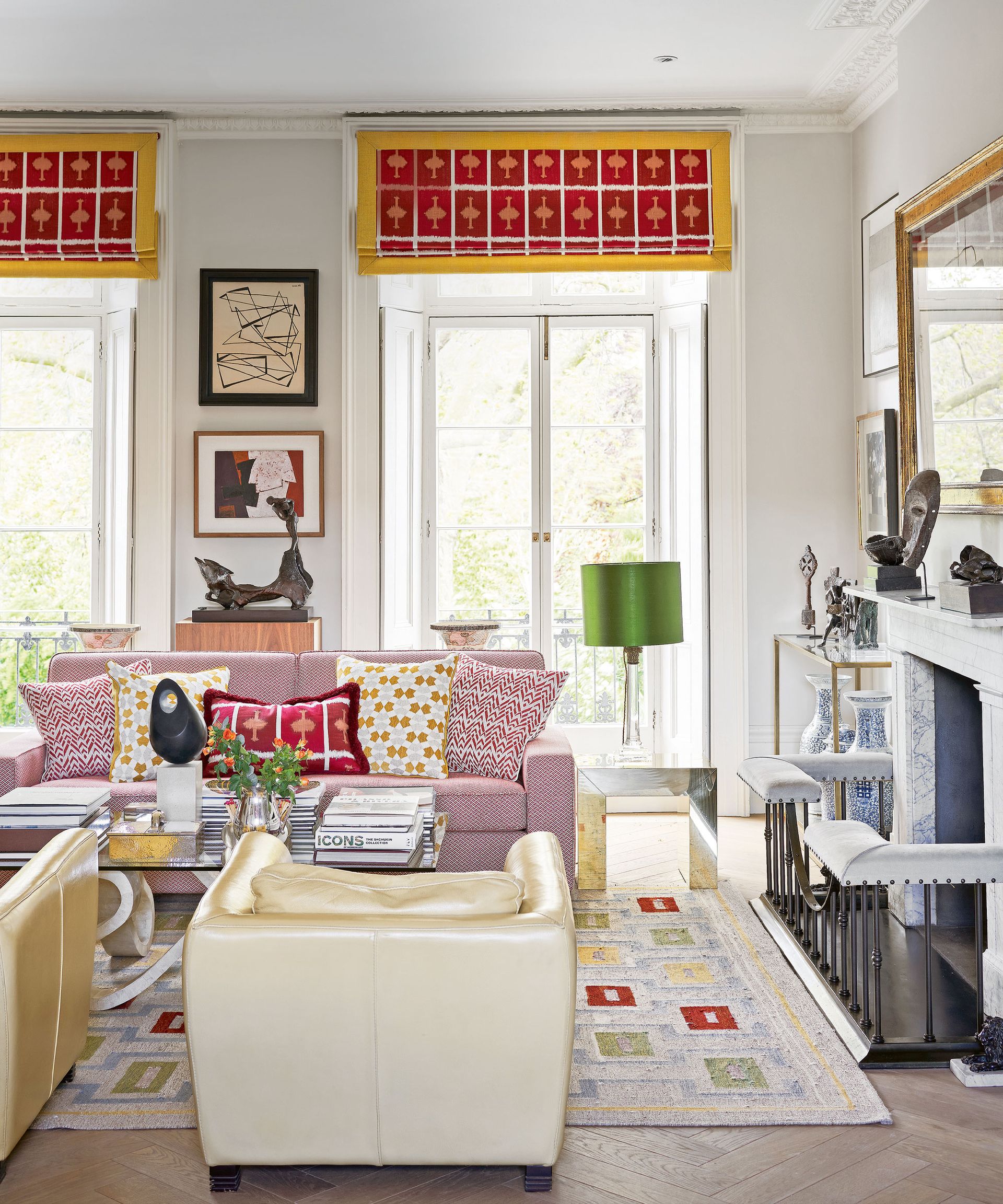 'One of the main advantages of using a rug in a living room is that it can add warmth and comfort to the space. Rugs are often made from natural fibers such as wool or cotton, which can help to insulate the room and keep it warm,' says Artem Kropovinsky, interior designer and founder of Arsight.
Great for covering wooden floors in a living room, or to help with insulation in an older, traditional living room, the feeling of a warming rug underfoot will only make your living room feel more comfortable, soft and inviting.
4. Yes, to establish a layer of inviting texture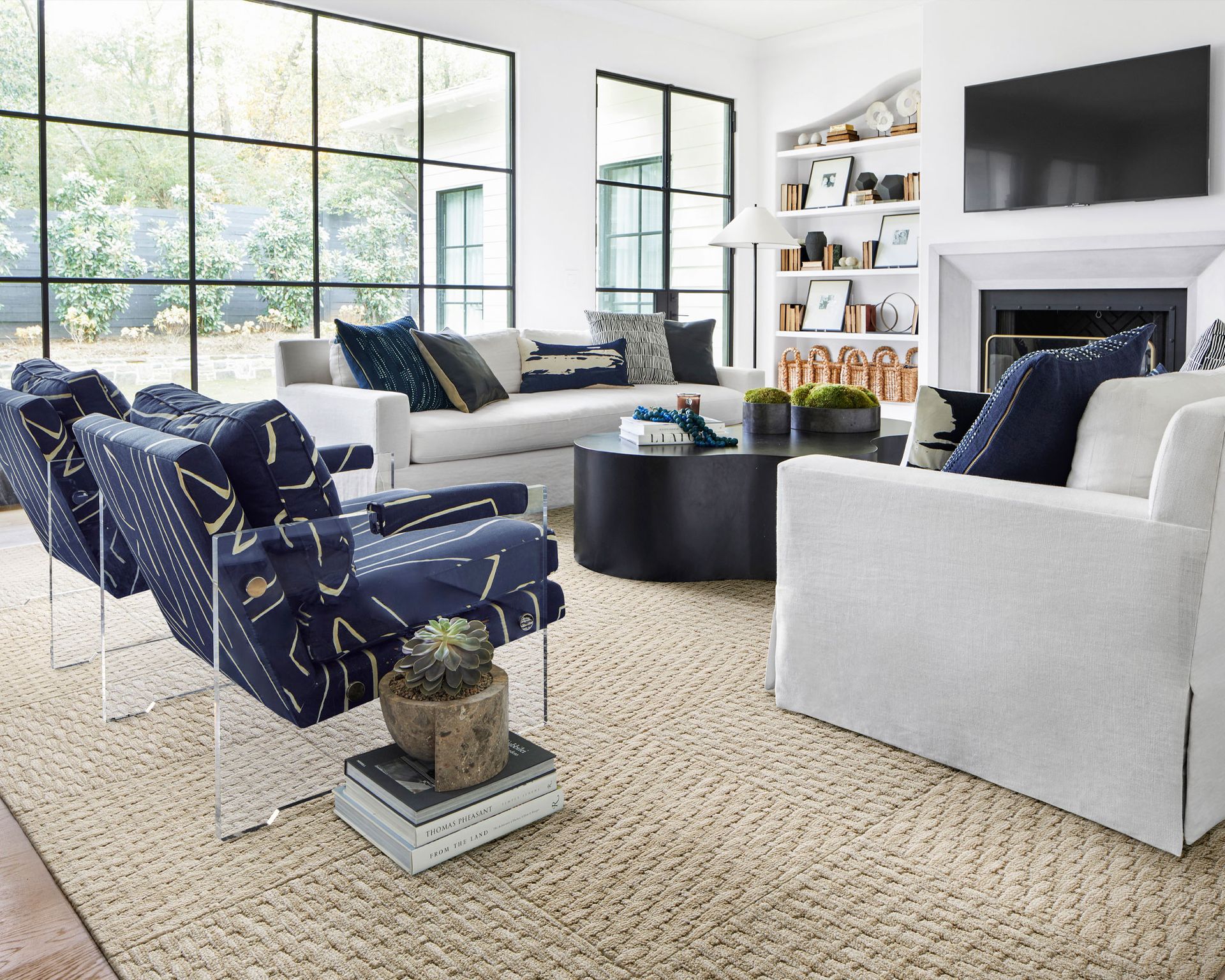 If you're a follower of the latest interior trends, you'll know that many of us are moving away from more minimalist living room ideas, and embracing bolder, eclectic designs rich in contrasting texture, pattern and color.
Alison Wilkinson, chief design director at Wilk Design Workshop shares her tips on how using multiple rugs in a living room can achieve a inviting look of layered texture.
'Layer a smaller, eclectic kilim or plush silk rug on top of a sisal or jute base rug. The variation of texture underfoot is amazing, and visually it makes the space feel ultra-luxe.
'If your room is awkwardly long or large, divide the seating arrangements with rugs underneath. Two smaller rugs feel much cozier than one humongous, larger custom piece. Frequently these are an exact match, but if they're complementary make sure the rugs have the same color scheme.'
5. Yes, but make sure you get the right rug size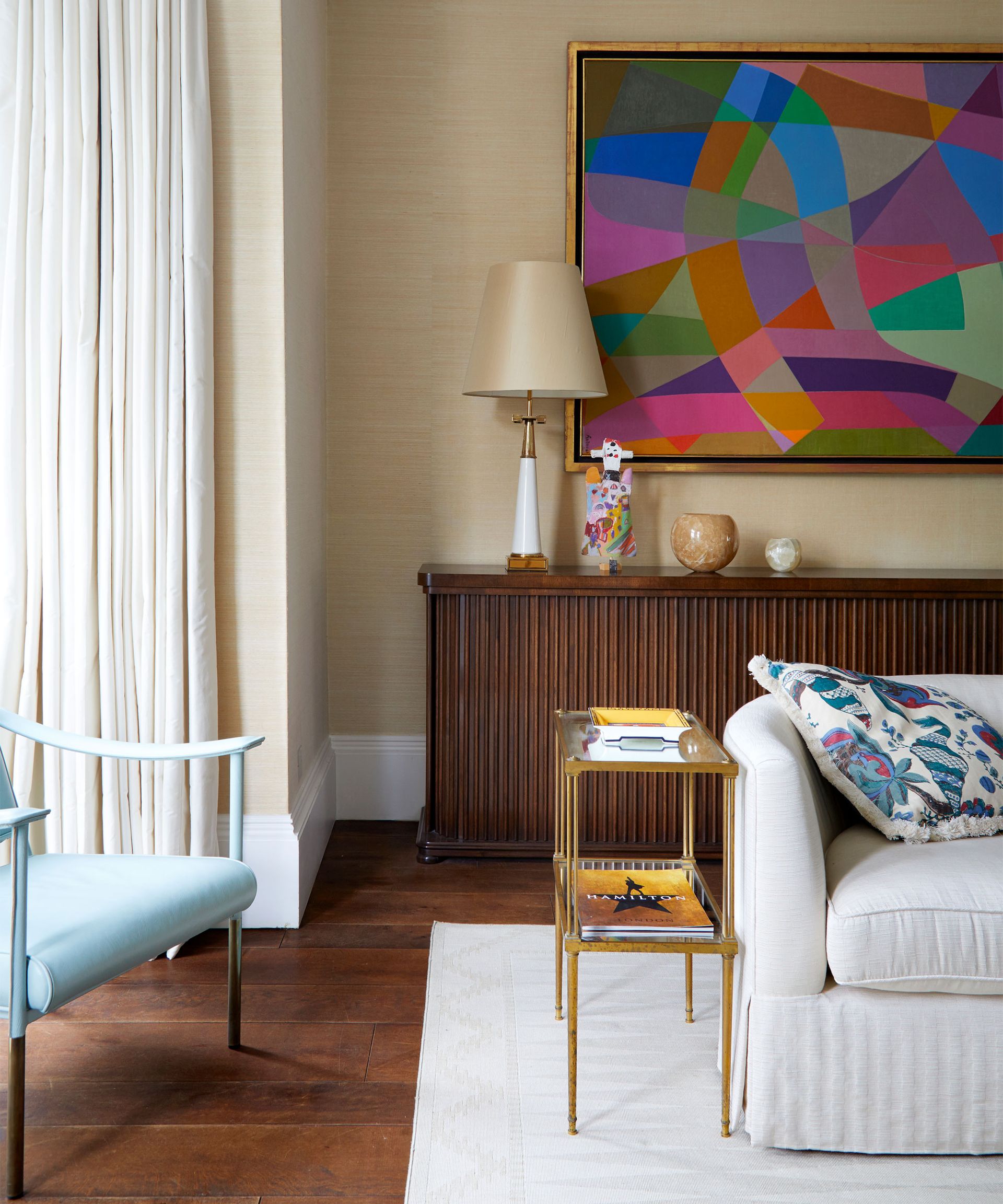 Alice Chiu, founder at Miss Alice Designs says, 'one of the most common mistakes people make is choosing a rug that is too small in the living space. For example, a small rug that fits just under a coffee table and nothing else looks like it is floating awkwardly in the middle of all the furniture.
We've covered area rug sizes for a living room before, but Alice has this advice: 'If a rug is too small or too large relative to the surrounding furniture and space, it throws off the balance and cohesiveness of a room. A properly sized rug should enhance the overall aesthetic and scale of the furniture. Either all your furniture should be sitting on the rug, or at a minimum, the front two legs of your sofa and chairs should be on the rug.'
Cyrus Loloi, principal of rug specialists, Loloi, shares her tips for when you are working out the right sized rug for your living room.
'In general, be sure you first define the dimensions of a room with a measuring tape. This step is very important. Outline the area where you want your rug, and consider the location of doors and how they will open. Be sure to also keep at least 18" of bare floor exposed by the rug's edges. This is a classic rule that works for almost all rooms.
'Remember, rugs can create an optical illusion, so make this work in your favor. Too small of a rug can make any space look disconnected. When in doubt, go for the bigger size. It will unify the furniture and make the room look bigger than it is.'
You may feel like a rug doesn't fit in your small living room however, playing around with different sizes and shapes can completely change the feel and size of the space.
6. Yes, if you want to protect the floor beneath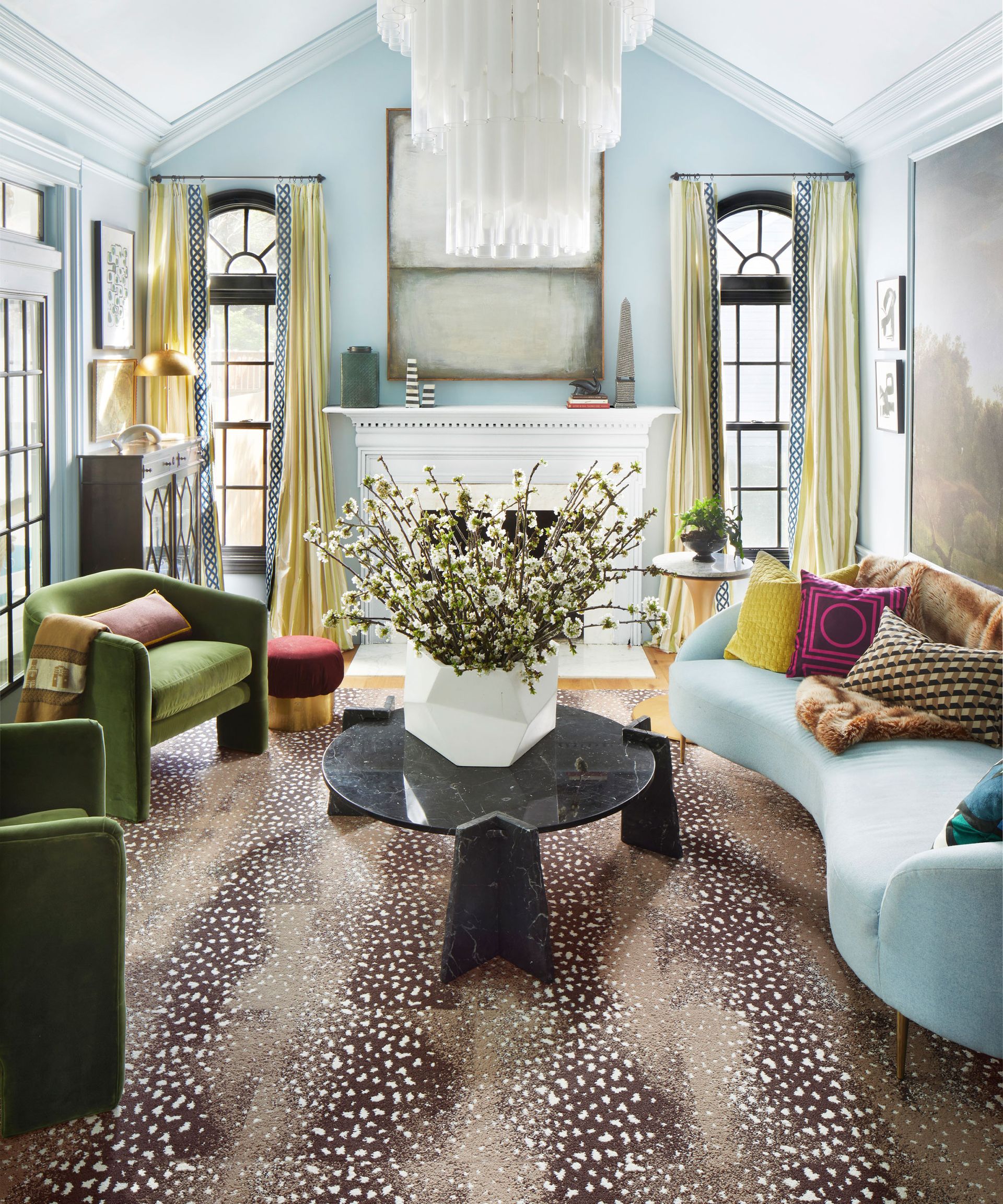 Whether you have wooden, laminate or carpeted floors, a rug can offer a level of protection over these surfaces; ideal for use in high traffic zones in your living room.
Katherine Cohen, product and trend expert at FLOR, explains, 'living rooms are the heart of the home, meant for entertaining, unwinding and everything in between. For a space that experiences so much interaction, it is important the room can withstand constant traffic, while also reflecting the homeowner's unique design preference. This leads us to the floor.
'Area rugs, like those from FLOR, are made up of individual carpet tiles, where each tile can be removed, washed or replaced if needed. They are intended to be used in high-traffic areas throughout the home and are made to withstand constant activity and spills.'
Alice Chiu, founder at Miss Alice Designs also advises, 'if your living room is a high-traffic area that gets a lot of use, then wool is the best material. Jute, sisal and cotton are also great but may not be as durable as wool. A wool rug comes with a higher price tag, but it's worth the investment if you want a rug to last for many decades.'
Follow our expert guide for more information on, how to clean a wool rug.
7. No, if you want to show off the floor or love minimalism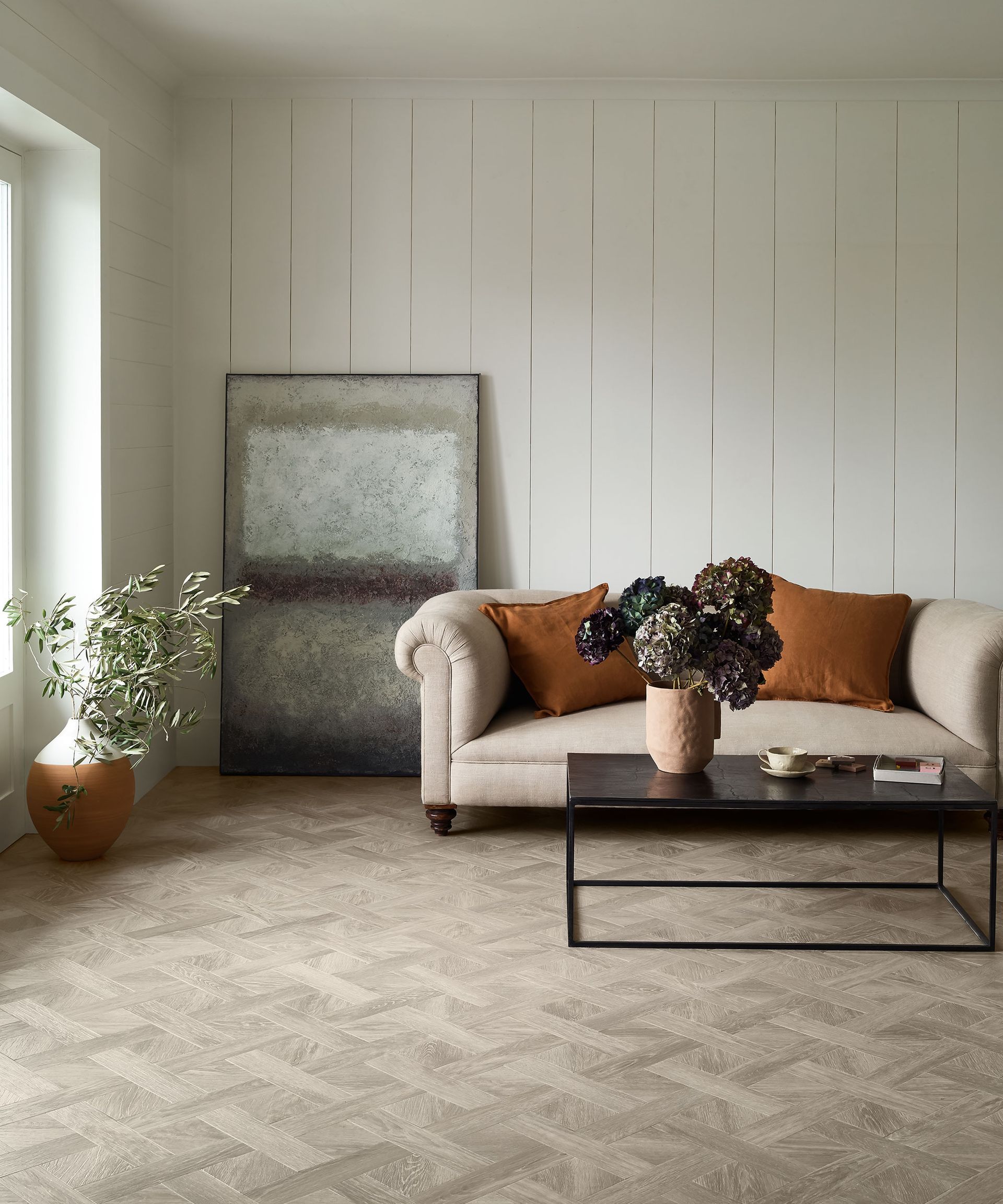 If you have read through this guide and are still happy without a rug in your living room, of course, that is absolutely fine!
How you style your home is, ultimately, completely down to you. Although popular for living rooms, a scheme can work just as well without a rug, it completely depends on the look you're going for and how you feel about the current flooring in your space.
Maybe you have just laid down a plush new carpet, or want to admire the beauty of your herringbone wood flooring, overall, a living room doesn't have to have a rug.
Do you need rug on carpet in a living room?
'If your living room has carpet, you can still add a rug by layering it over the carpet and making sure all your furniture is sitting on the rug, or at a minimum, the front two legs of your sofa and chairs are on the rug. Adding a rug over carpet with patterns that blend with your decor introduces color, texture, depth, and warmth to any living space,' says Alice Chiu.
However, interior designer Artem Kropovinsky advises, 'a rug can be used to add a pop of color or pattern to an otherwise neutral carpet, or it can be used to define a specific area within the room. However, if the carpet is already quite busy or patterned, it may be best to avoid adding an additional rug on top of it.'
Using a rug over carpet can also create an enhanced feeling of warming texture, establishing an inviting, layered effect that will make a room feel incredibly soft and cozy.
Should every room have a rug?
As we have explored, many rooms can greatly benefit from the addition of a rug. Whether its for looks, zoning, comfort or protection, they can have many uses throughout an interior space – but they are not a necessity.
There are always going to be certain areas of the home where rugs are more fitting, bedroom rugs ideas and rugs in the living room will work better and are more practical than a rug placed in a utility room or bathroom, for example.
However, with so many different materials, shapes and sizes to choose from, there are endless rug options out there to choose from, from hard-wearing runners for hallway flooring ideas, to statement, artistic designs for a living room.
Alice Chiu states, 'not every room needs a rug, but a beautiful rug can dress up and elevate the look and feel of a space. Rugs can help create a bold statement, delineate one room from another, add color, depth, texture, and warmth. A properly curated rug can absolutely transform a room and make a huge impact that truly ties a space together.'
Sign up to the Homes & Gardens newsletter
Decor Ideas. Project Inspiration. Expert Advice. Delivered to your inbox.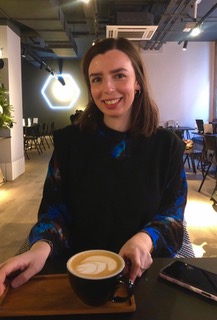 Zara joined Homes & Gardens in February 2022 as a Content Editor. After studying English Literature at University, she worked as an Ecommerce Website Editor, Content Writer and Buying Intern at multiple independent businesses within the luxury retail and lifestyle sectors. Her role at Homes & Gardens unites her love, experience and passion for the world of design and desire to create inspiring written content. She enjoys nothing more than discovering new trends, brands and products, whether that be in fashion, interior design or lifestyle.