What are the best alternatives to a gallery wall? Designers share 10 creative ways to decorate a blank space
Interior designers share their favorite ways to fill a blank wall without relying purely on framed prints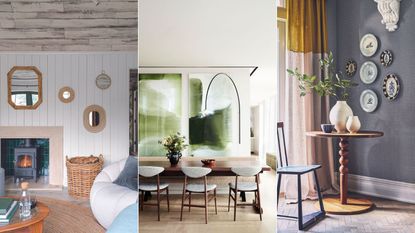 (Image credit: Future)
We won't go as far to say anything as drastic as the gallery wall is dead, it's a timeless approach to filling a blank wall that's going nowhere. But the gallery wall as it has been known (framed prints and photos in various grid-like layouts) is starting to become a bit... done? They have become the safe, easy option, the simplest way to decorate the walls of any room.
So now what we see in those who like to avoid safe and ease in the world of interiors, is the gallery wall morphing into something else. A gallery wall is no longer all about two-dimensional framed prints, set out in a way that's easy on the eye. You can add 3D elements to a gallery wall, mirrors, plates, and baskets. Or you could turn a shelving wall into a gallery wall with books, plants, and ceramics. Or go bold with wallpaper and give depth to your wall decor. Incorporate the rest of the room with your wall decor, and mix the furniture's silhouettes into whatever is going on on your walls.
Essentially, the gallery wall is no longer just about hanging prints, there are plenty more exciting things you can do with the blank space, and here designers tell us their favorite takes on the look...
Gallery wall alternatives
Read on to discover the best gallery wall alternatives to inspire you to fill any blank canvas, large or tiny, with exuberant life.
1. Group together a collection vintage finds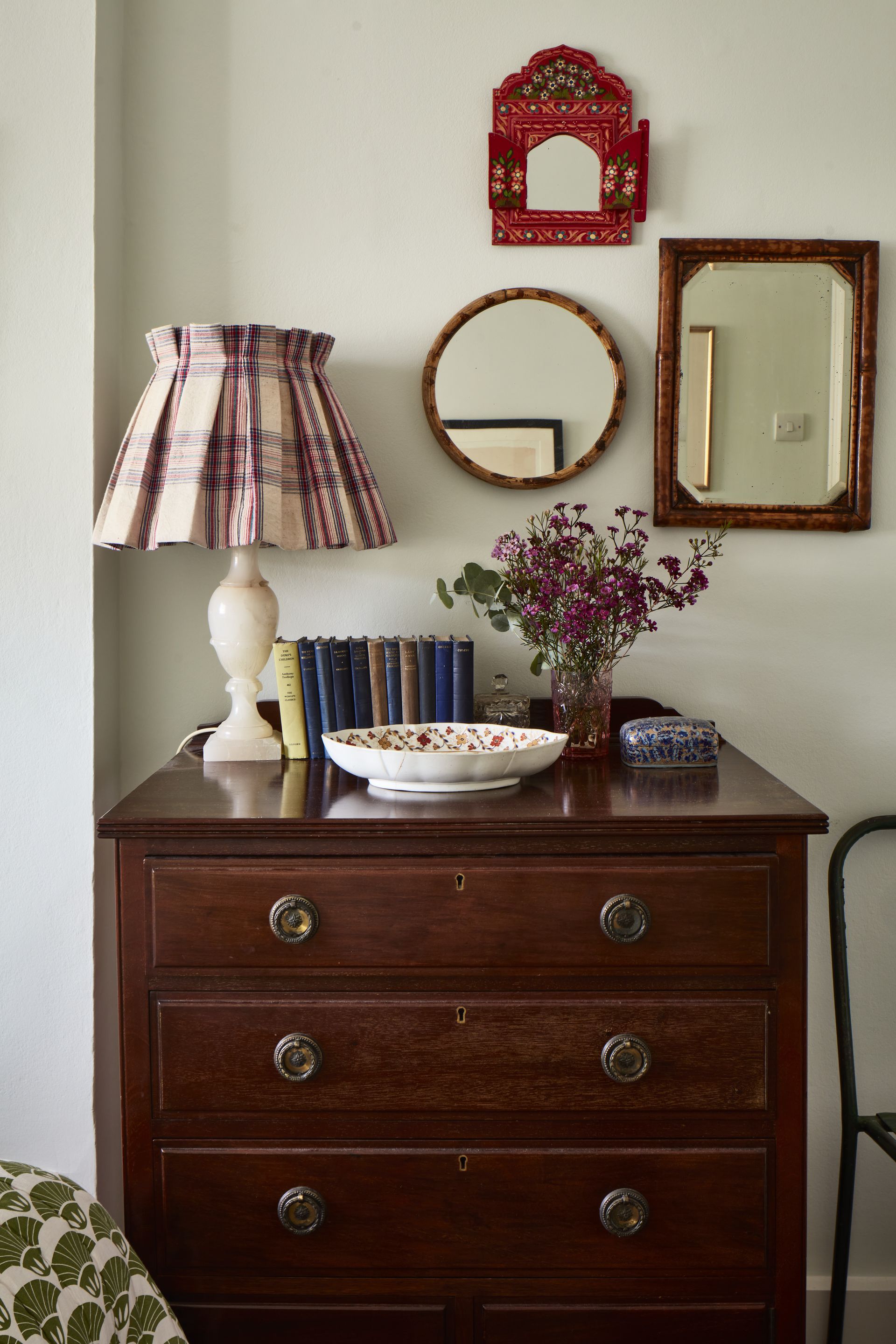 The most interesting gallery walls aren't 2D. Instead of being made up of framed prints, they are wall-mounted collections that add character to a room, something unexpected. We've seen examples that use hats, chopping boards, plates (more on this later), fans, lights, and all manner of curiosities.
A favorite is to decorate with mirrors. They add shape, texture, and light to a room and look wonderful when brought together on a gallery wall. Plus they have a function too, so make sense in a bathroom or a bedroom.
'This area is in a guest bedroom where the chest of drawers doubles up as a dressing table surface. This collection of hung mirrors is an alternative for art whilst also providing functional use for guests,' explains Liv Wallers, co-founder of Yellow London. 'We love wall hangings too and often hang large Suzanis or tapestries in our projects.'
Hunt in antique stores and online marketplaces for unique pieces, and try and look for different shapes, sizes, colors, and materials to create a gallery wall that has real depth.
2. Dot pairs of prints at random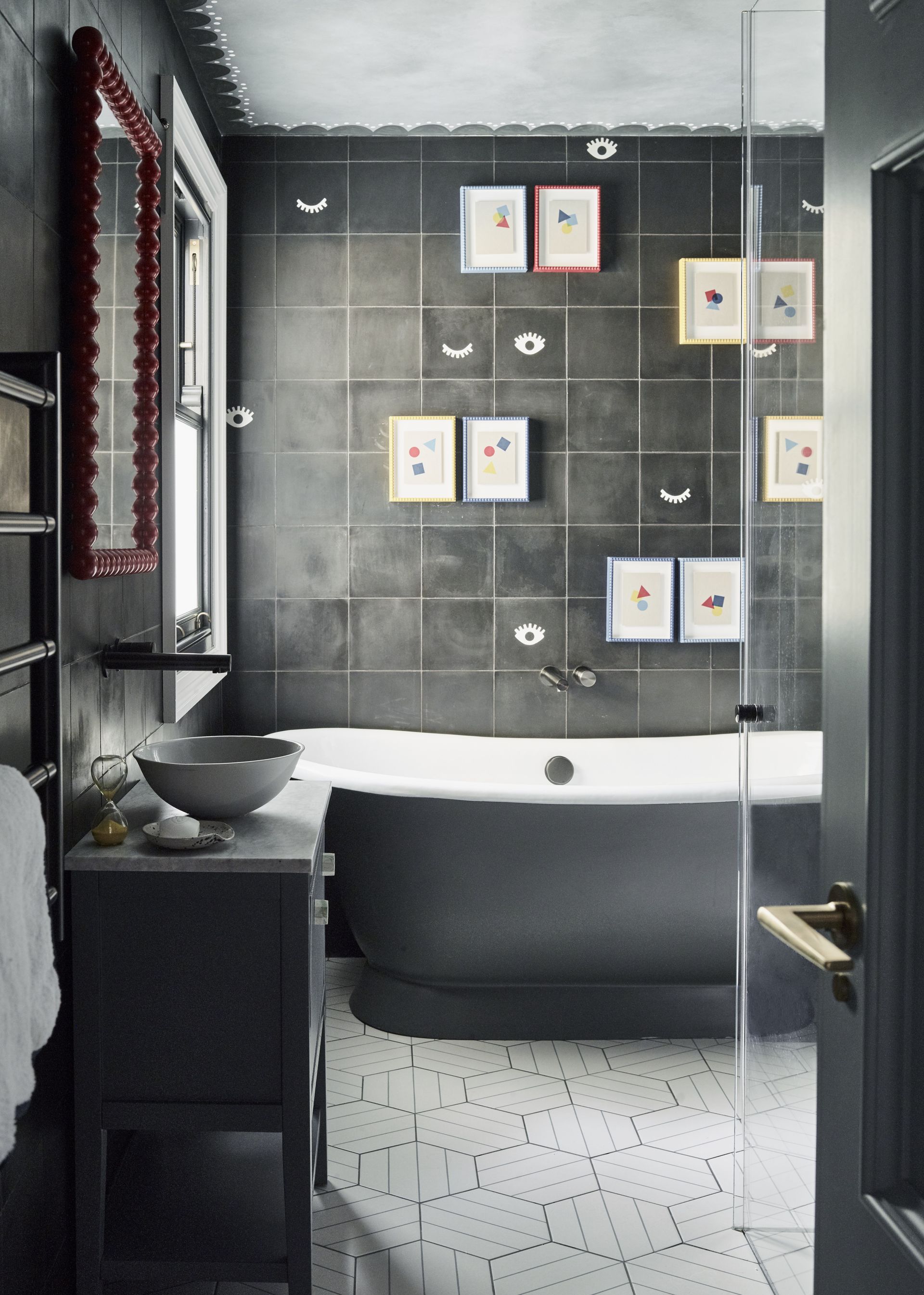 Going small with framed prints is not something we see all too often. We are always giving advice to go oversized with your prints, and comfortably fill the wall as there is nothing flattering about a tiny print floating in a sea of walls.
However, this bathroom wall designed by Irene Gunter has us questioning our past methods. We love the quirky look of these groups of two small prints dotted at random about the wall. We think the key to this approach is to have something going on in the background too, so the prints are adding to something rather than being the focus.
'This bathroom is located on the lower ground floor and receives very little natural daylight. To compensate, we added many delightful details to make the space as cheerful as possible,' explains Irene. 'Artist Tess Newall painted scalloped detailing on the ceiling to add a sense of playfulness, which is echoed in the mischievous bathroom wall tiles from Maison Bahya and the Alfred Newall mirror. While a bathroom is not typically a space for valuable artwork, it's an excellent place to make a design statement with more everyday pictures. The artwork in this bathroom was sourced from Etsy.'
3. Use plate racks to display your best crockery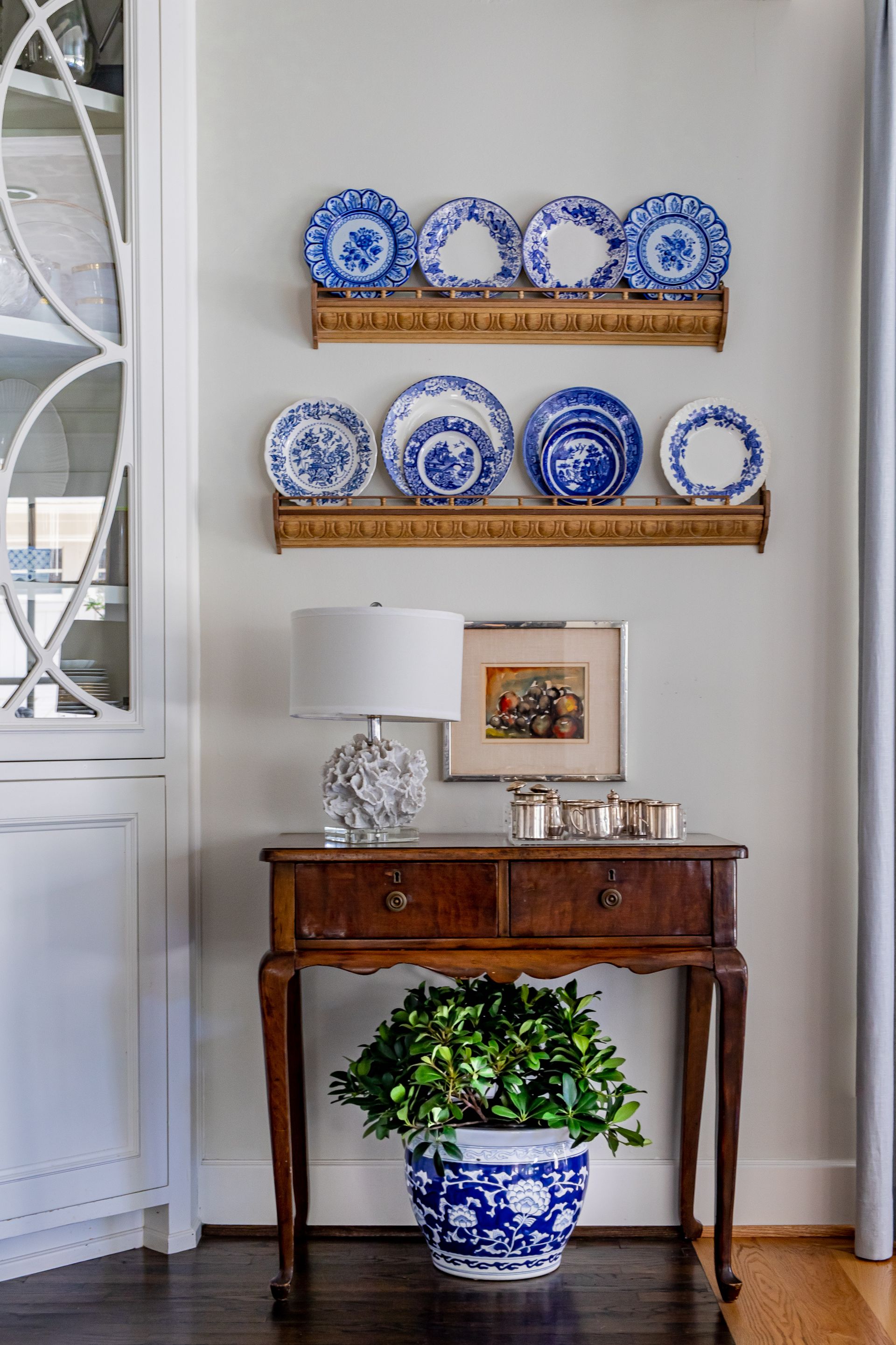 Plates as wall decor are often considered to be a bit fussy. But the look is making a big comeback in interior design trends and can be a lovely alternative to a gallery wall. Why hide all your nicest crockery away in the kitchen when you can get it out and turn it into gorgeous decor?
'Gallery walls can be used with any type of collection,' explains Sara Johson of Sara Johnson Interiors 'In this room, we used our client's collection of blue and white plates and leaned them on an antique plate rack. It's a useful and beautiful way to fill wall space and a unique alternative to art or family photos.'
And don't just reserve them for the dining room wall or kitchen wall, treat them like any other artwork and use them to add something unexpected to a bathroom too. We have seen some lovely examples of plates mounted above headboards too.
4. Or mount them directly on to the walls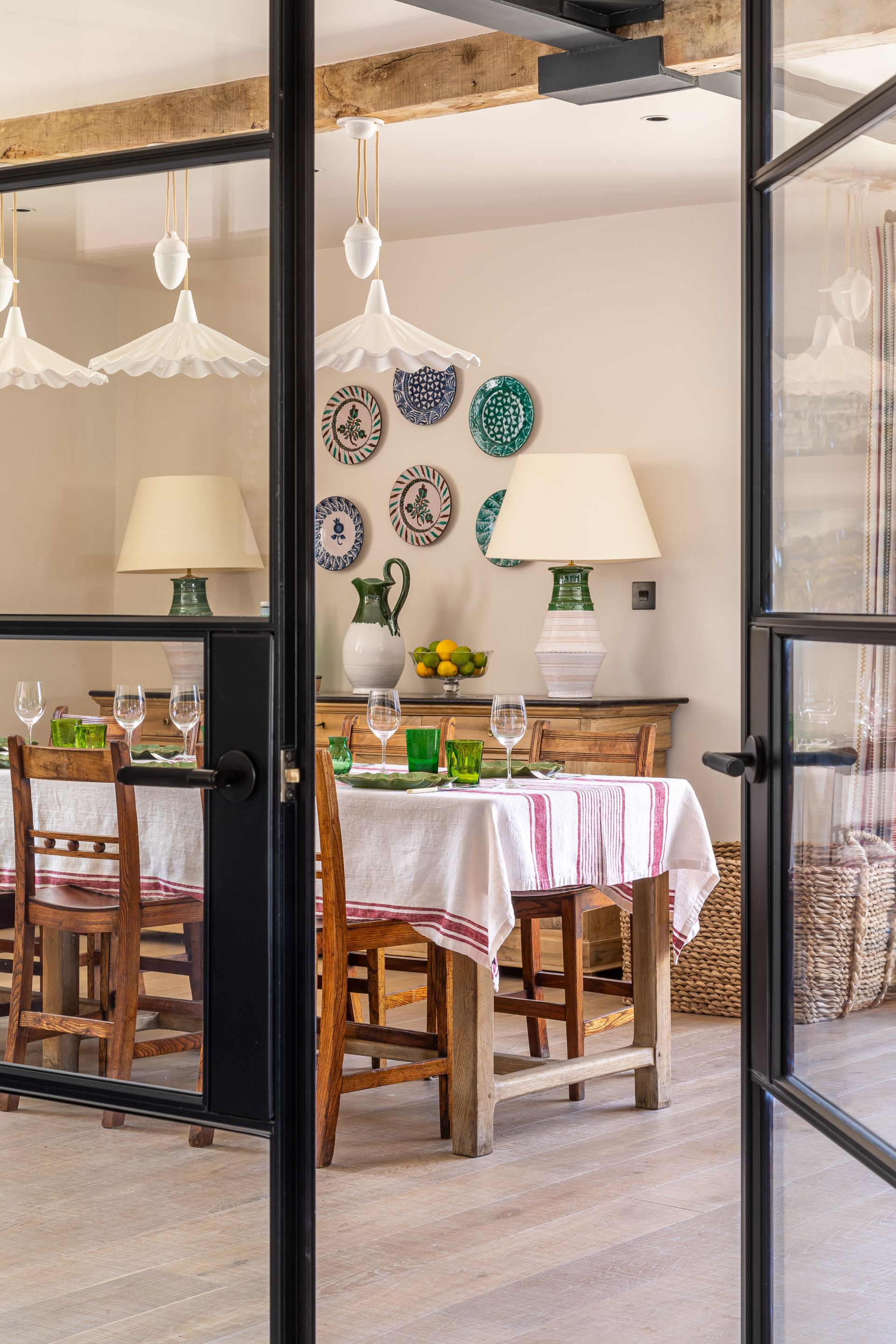 And for a look that's even closer to a traditional gallery wall, mount a collection of plates directly onto the wall as in this dining room designed by Samantha Todhunter.
'The plates were part of our client's vintage collection and we added to it from antique fairs, we put them to good use above the dresser, giving a fresher and 'site appropriate' look.' explains designer Samantha.
'Gallery and accent walls will always have a place, but it depends on the feel of the space, we often lean more towards over-scaling and drama with art but here, it was all about a fun, versatile and relaxed feel, something that fitted in with the tone of the original building. If you collect something it's worth putting it on show so you can get the most enjoyment out of it, and it helps to create a room that is interesting and layered.'
5. Design bespoke built ins for a minimalist approach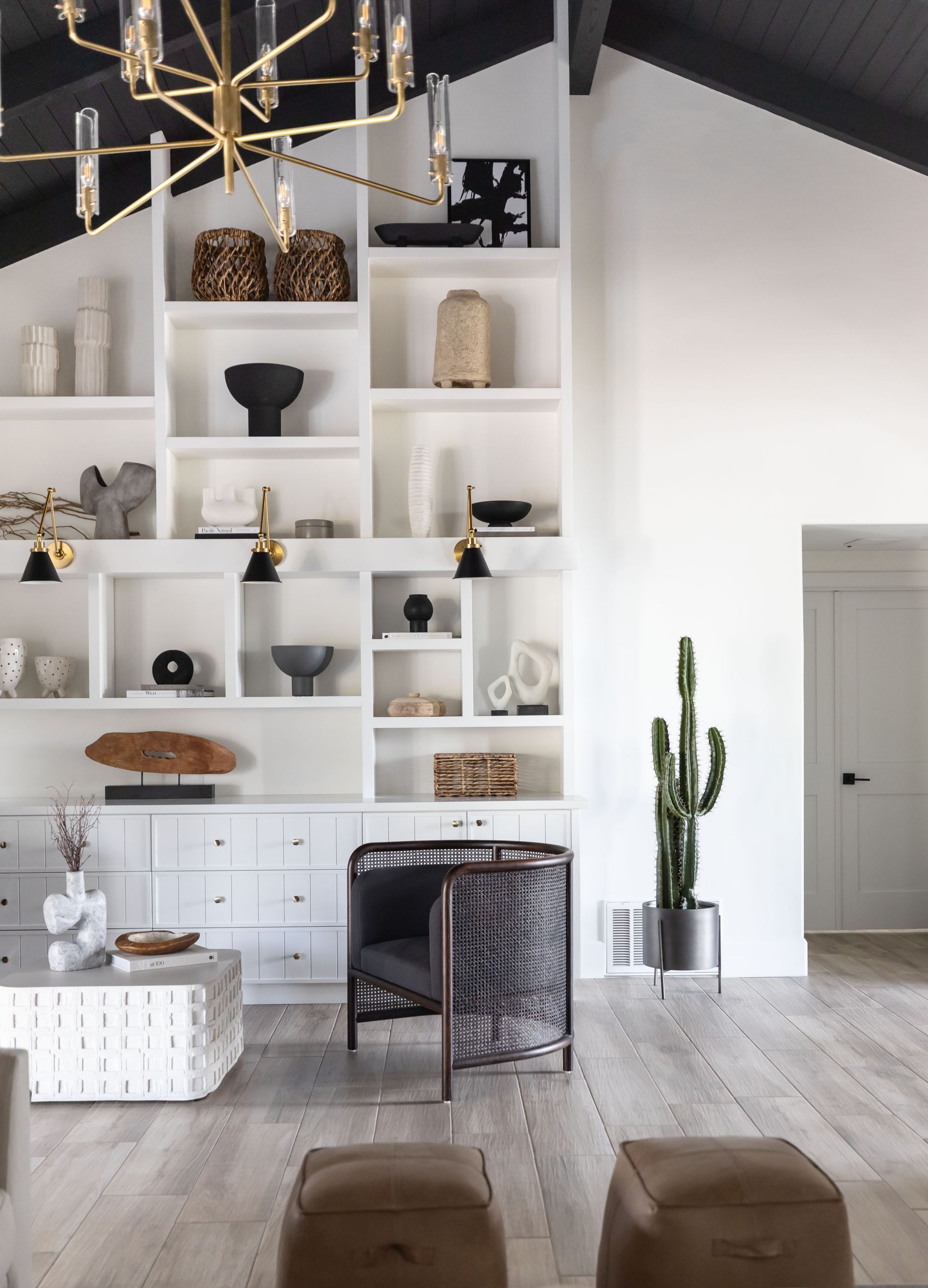 Built-in cubby shelving can be a perfect gallery wall alternative if you like a more minimalist vibe, and if you want to add in some extra storage too. For the best look, we'd say take the shelving floor-to-ceiling and paint to match the wall colors so it blends in visually with the rest of the room.
'This space is adjacent to the main living room and it was originally a bar area that didn't make much sense where it was located. Our client requested shelving that was beautifully styled and we jumped at the opportunity to maximize the ceiling height and take the shelves all the way up.' explains Lauren Lerner, principal designer and CEO of Living with Lolo.
You have more flexibility with living room shelving too, you can switch it out easily and totally change the look as your tastes and home decor trends change.
6. Add unexpected texture to your walls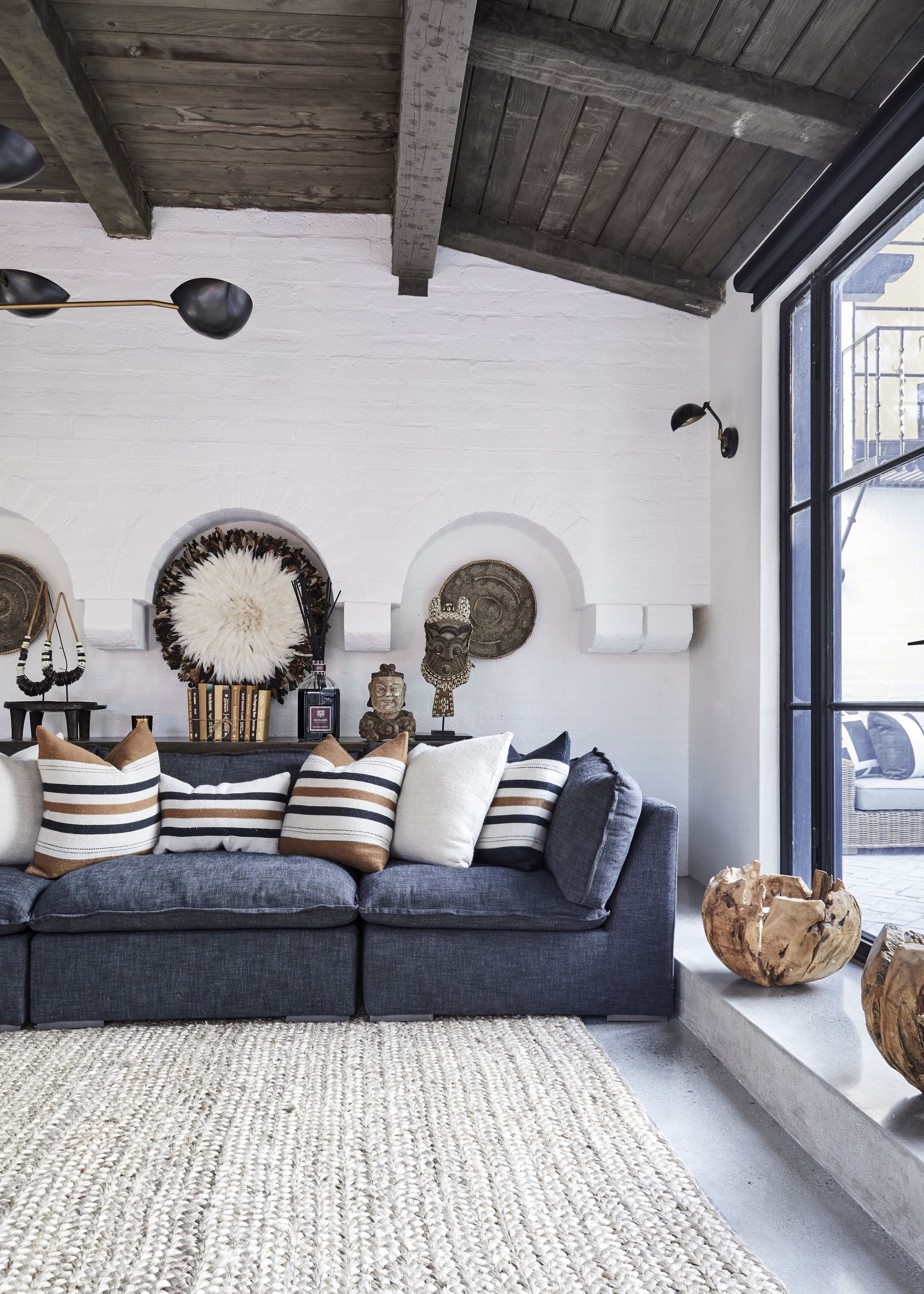 'In this garden room in a coastal house in Castellammare in Pacific Palisades, I tried to craft an interior that was both functional and filled with artisanal touches,' explains designer Julia Dempster. 'I embraced cultures from all around the world by incorporating elements and mementos into the design.'
'Vintage African baskets from Fragments Identity and Juju hats from St. Frank are all textural elements traditionally found in boho interiors that exude an ultra-chic feel. The existing brick wall was originally the façade and I wanted to echo the shape with the vintage elements by adding some warmth and texture rather than using conventional artwork.'
'My main advice on a gallery wall would be these five things: first, decide on a tone, either neutral or colorful, that way, the subject doesn't matter. Second, choose three matte colors only.'
7. Switch oversized prints for mirrors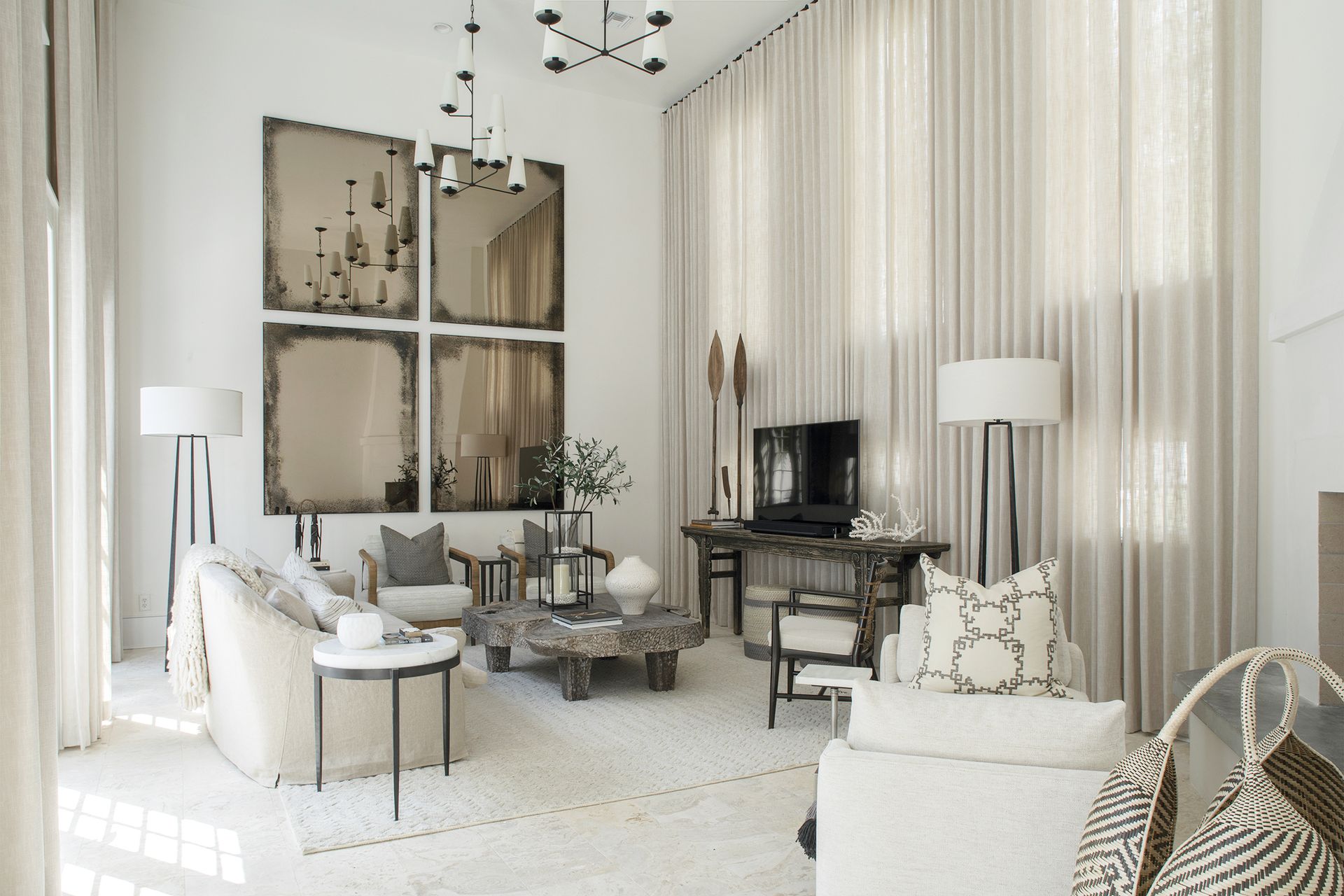 If you like the simple clean lines of a grid layout that a classic gallery wall can offer, be inspired by this idea and switch large prints for frameless mirrors. You have the benefit of bouncing more light into the space, and the room reflected will provide a similar effect as a print.
'We added antiqued bronze mirrors on the one wall we had to work with to add some warm reflection and depth to the space,' explains designer Brad Ramsey. 'In doing this, we chose to move the TV to the adjacent wall in front of the drapery. This allows the mirrors to be the focal point rather than a TV on the main wall,.'
'We also took advantage of the height of the room and did three chandeliers that hang down into the space almost like floating mobiles. The goal was to bring the volume of the space down so it didn't feel as cavernous. The bonus was the gorgeous reflection the chandeliers have in the mirrors and the way it makes the room feel so much larger.'
8. Go overboard on layers of prints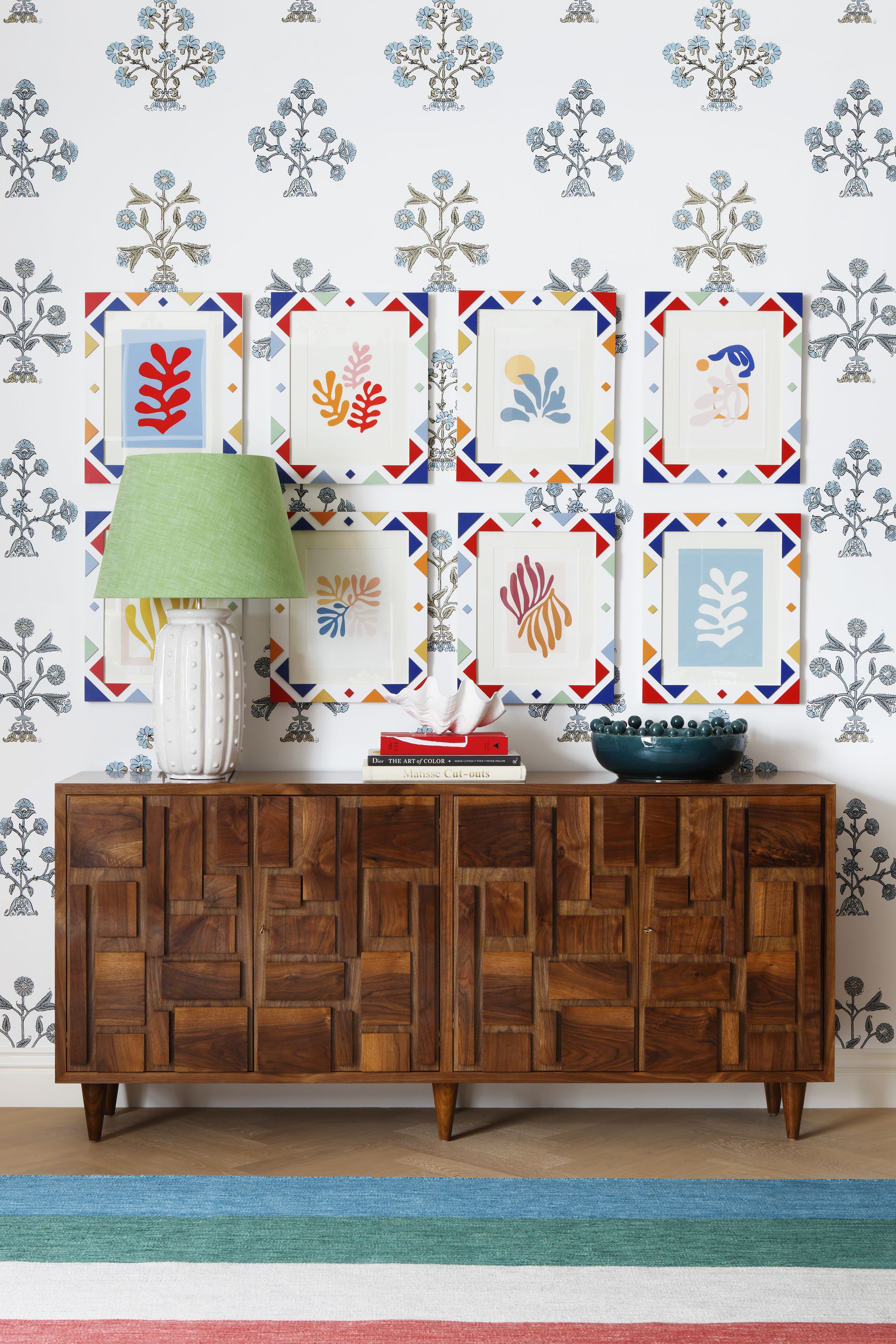 This lovely setup by Studio Peake proves that a gallery wall needn't sit against a solid background, but instead creates a real focal point by layering up patterns. Choose a wallpaper as the backdrop for a gallery wall, and have fun by contrasting the colors and patterns of the wallpaper with your choice of print and frame.
We love how here the traditional print and muted tones of the wallpaper clash wonderfully with the geometric, primary colors of the frames and contemporary prints. Perhaps surprisingly, this more maximalist approach creates a much softer look than the classic gallery wall as you take out those striking contrasting lines.
9. Create a display with depth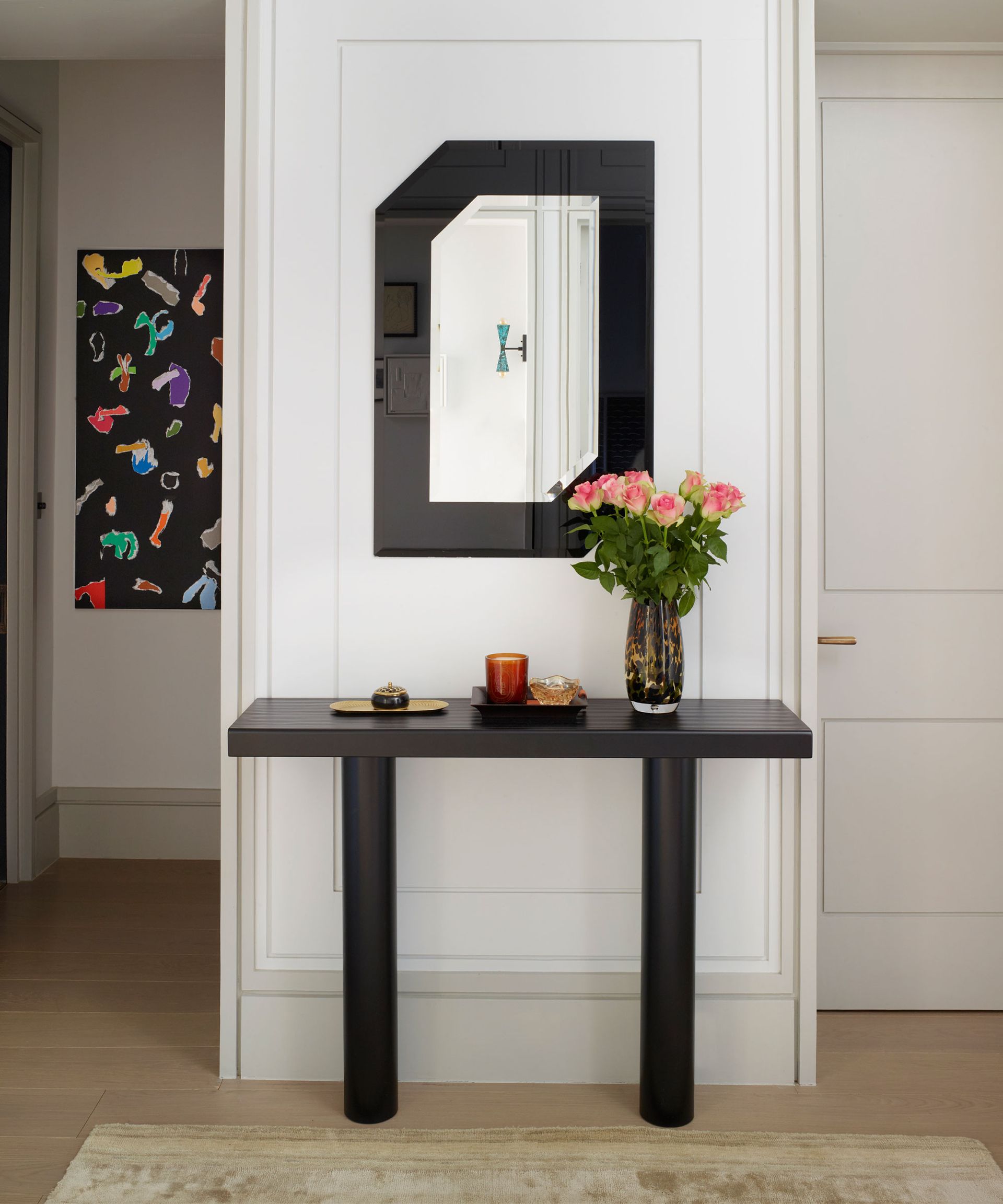 A well-curated display can add just as much, if not more, interest than a gallery wall and can make more sense in a smaller or awkward space. 'I love gallery walls, but I also love to mix it up. When I look at a blank wall, I see an opportunity! Sometimes for a great gallery wall, other times not,' says designer Lisa Sherry.
'Instead of a gallery wall go bold with a single dominant piece. This small narrow entryway does make an entrance. Rather than a gallery wall of art and photos, I opted for a single oversized graffiti-like canvas on one wall. The drop zone at the top of the hallway is outfitted with an open console, lamp, mirror, and a single piece of art.'
10. Use picture ledges to layer prints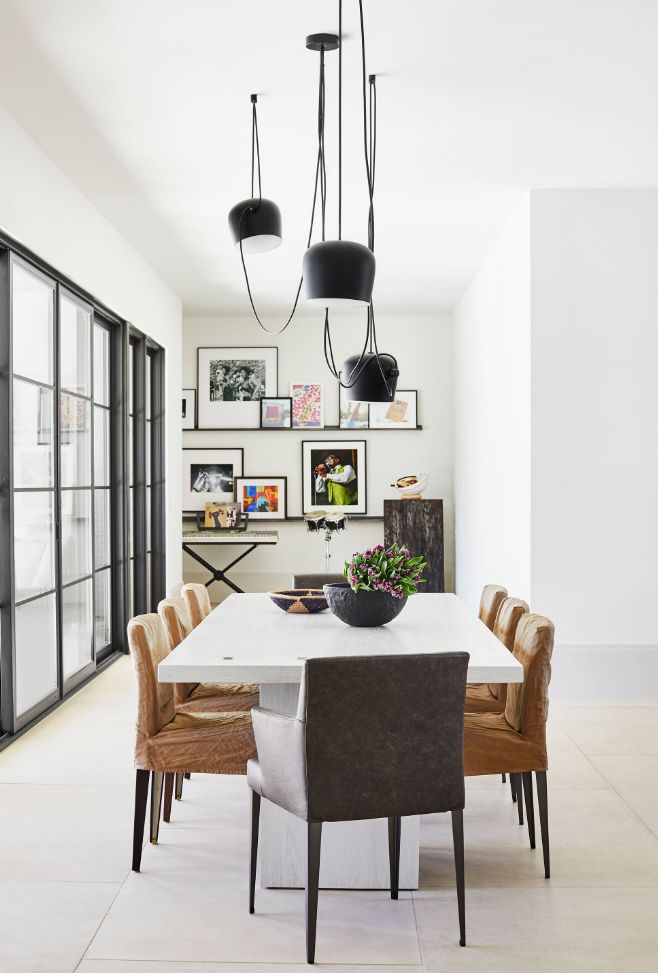 Using picture ledges to display prints offers far more flexibility than a gallery wall. You aren't limited by having to fit all the frames together, you can layer them up and switch them out easily and as often as you like.
'This gallery wall was near the dining area where the client liked to have musical instruments for guests to play during dinner parties. The gallery wall was made up of items that move the homeowner and that told a story about their family and who they are.
'Because the pieces were all different shapes, colors, and a rotating collection I felt we should have a Custom Steel Ledge made that allowed a flexible display of the collection. It's a very powerful wall that has a playful eccentric feel,' explains designer Chad Dorsey.
FAQs
Are gallery walls still on trend?
'Gallery walls are still on trend,' says Irene Gunter. 'Making your home feel like your own often involves adding your own personal touches, and what better way to do this than with a gallery wall? While the classic three-by-three arrangement is often visually pleasing due to its symmetry, there's always the option to switch things up and hang pictures in a more random manner. Don't be afraid to try something new and experiment with different configurations until you find one that feels just right.'
Sign up to the Homes & Gardens newsletter
Decor Ideas. Project Inspiration. Expert Advice. Delivered to your inbox.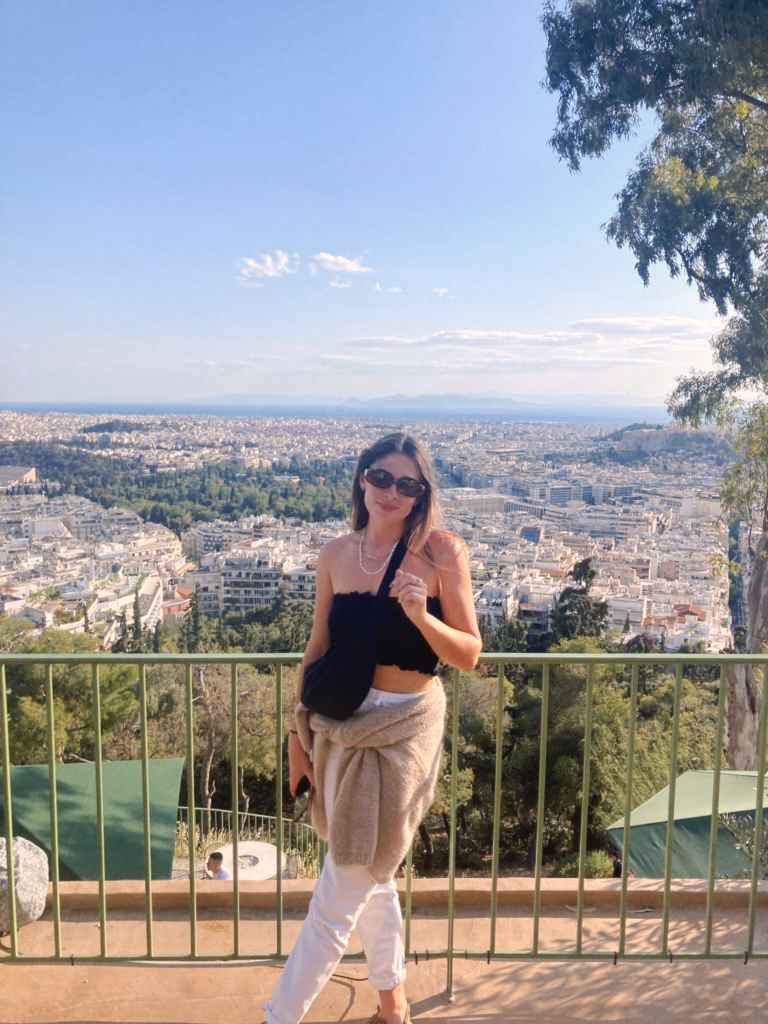 I am the Head of Interiors at Homes & Gardens. I started off in the world of journalism in fashion and luxury travel and then landed my first interiors role at Real Homes and have been in the world of interior design ever since. Prior to my role at H&G I was the digital editor at Livingetc, from which I took a sabbatical to travel in my self-converted van (not as glamorous as decorating a home, but very satisfying). A year later, and with lots of technical DIY lessons learnt I am back to writing and editing, sometimes even from the comfort of my home on wheels.