5 best gender neutral color schemes for the whole house: Spoiler alert – don't throw out the pink or blue paint just yet
Design experts pick the best gender neutral color schemes for the whole house and discuss if gender neutral is still a thing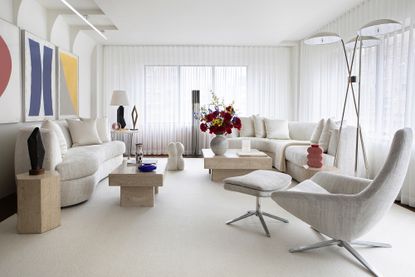 (Image credit: Andrew Suvalsky Designs)
Sign up to the Homes & Gardens newsletter
Decor Ideas. Project Inspiration. Expert Advice. Delivered to your inbox.
Thank you for signing up to Homes & Gardens. You will receive a verification email shortly.
There was a problem. Please refresh the page and try again.
For anyone considering the best gender neutral color schemes for the whole house, we'd first like to sound a note of caution. Don't get bogged down in the admittedly important area of gender neutrality at the expense of good interior design.
Be assured that if you think carefully about your room color ideas and and about planning your interior design, you will come up with a well balanced room scheme. And once you've learnt how to create balance in interior design, the resulting schemes should appeal to anyone who appreciates good design, regardless of gender. Ergo, by far the simplest way to arrive at a gender neutral color scheme is to create a design scheme so good that it's guaranteed to tick everyone's boxes.
To help on that score, we've asked the design experts for their advice on gender neutral color schemes for the whole house. Spoiler alert: don't throw out the pink and blue paint just yet.
What are the best gender neutral color schemes for the whole house?
We asked a range of interior design experts for their thoughts on gender neutral color schemes for the whole house.
Between them they've covered the areas of the house, such as bedrooms, where gender neutrality has traditionally been somewhat lacking, and areas where most homes have already got it covered – living rooms and kitchens, for example. They've shared their best gender neutral kitchen color ideas, living room ideas, bedroom ideas, kids bedroom ideas and gender-neutral nursery ideas. It's all useful advice for anyone looking to update their décor ideas.
That said, most of our designers feel that the debate has moved on and are instead urging us all to simply create designs and color schemes that appeal to personal preferences and personalities. Make them good designs and others will surely appreciate them too.
1. Choose shades of white for kitchens
There's one color that crops up over and over again in our designers' favorites for kitchens and that's white, or softer shades of white to be precise. White kitchen ideas are easy to live with. White is the perfect blank canvas for colorful cabinetry, and warm wood flooring (as in the beautiful kitchen from Gary McBournie, above), or striking tiles, and is a color with enduring and universal appeal for kitchens. White is a true neutral shade that could also be considered as part of a gender neutral color scheme.
Virginia-based interior designer Anne Hulcher Tollett, director of Hanover Avenue says: ' Call us boring, but we say a white kitchen is timeless and appeals to everyone. And believe it or not, so many whites are a color in their own right. Farrow & Ball's Strong White is a hue that never disappoints! It stands the test of time, it's not too stark, and can evolve with any colorful walls, furniture or accessories. It's a blank canvas but it has character.'
It's a view shared by Amy Knerr, owner and principal designer at Of Place Studio, who says: 'I don't think you can ever go wrong with a soft white. I think it's versatile and timeless, and for me, it creates a sense of calm in a space. I love incorporating rich wood tones in my designs, so it's a really nice clean palette to build off of. You can layer in other furniture pieces in the house for a bold, saturated color moment - like accent chairs or a sofa.'
Elizabeth Metcalfe, founder of Elizabeth Metcalfe Design, adds: 'Typically, we wouldn't opt for pure whites, and instead look to a wide range of neutrals that allow us to bring in notes of colors which add interest, balance, and harmony. Farrow & Ball's paint is always our 'go to' . While Blackened, Ammonite, and Cornforth White have a cool undertone, Stirabout, White Tie and Pointing are decidedly warmer. If you're looking for a soft pink undertone, Elephant's Breath, Skimming Stone and Dimity are beautiful choices.'
2. Try gender neutral green in a living room
The ultimate color of nature, green color schemes are enjoying something of a moment. If you're decorating with green in a living room, we'd recommend walls painted in softer shades of pale green, or even those muddier shades edging towards pale browns. By choosing such a natural shade you're far more likely to create a gender-neutral scheme with wide appeal.
Designer Anne Hulcher Tollett says: 'For green living rooms, Vert de Terre by Farrow & Ball is a secret weapon. It is the most versatile soft neutral green and it works with any fabric color scheme! Best, it barely shows dirt or wear and tear, so it's a fabulous color for mudrooms, kitchens, and children's playrooms. We have used it for years in living rooms across the country for all people of all ages, it will work well anywhere!'
It's not just about getting the color choice right, but the depth of color comes into play in gender neutral color schemes too. Elizabeth Metcalfe argues that both light or dark neutral shades work well for gender neutral living room schemes. 'In our designs, neutrals range from light and airy, to dark and moody,' she says. 'Depending on the 'feel' of the room, a light neutral works well in a more contemporary setting for a clean, tailored look. Deeper neutrals can feel more traditional but are increasingly being used with modern and vintage pieces to give a room depth and meaning. Deep neutrals are complex colors that are essentially desaturated. A good example would be Farrow & Ball's quietly chic Charleston Gray with taupe undertones, or Lamp Room Gray , an atmospheric gray with a hint of green.'
3. Choose pink and blue for kids' bedrooms – yes really, both can be gender neutral
One area where we've traditionally seen mainly gender-specific room schemes is that of children's, tweens' and teens' bedrooms.
Turn the clock back 10 or even just 5 years and youngsters who were lucky enough to have a designed room of their own would more than likely have a pastel (usually pink) scheme for girls, or a bright blue, dark gray, or bold red scheme for boys.
Thankfully, we're beginning to shake off that kind of colour scheme predetermination and designers are now far more likely to suggest gender-neutral colour schemes. They're also preferring to design children's rooms to last and grow with the child, as in the beautiful child's room above, by Sims Hilditch, where the wallcovering and classic, neutral linens give the scheme staying power. We've definitely not seen the back of pinks and blues for children's rooms, just they're likely to be more subtle and sophisticated shades as the design experts below explain.
Designer Elizabeth Metcalfe agrees that longevity and gender neutrality are important in children's room schemes. 'We never design around a theme or what would be considered a juvenile color,' she says. 'Generally, neutral colors that are cleaner feel more child friendly. Farrow & Ball's Borrowed Light is a lovely sky blue that is gender neutral, as well as Pointing, which is a perfect backdrop for almost any color.'
Anne Hulcher Tollett adds, 'We think it's a myth that pink is for girls and blue is for boys! Some of our most charming little girls' rooms are blue, and Benjamin Moore's Icing on the Cake is the most cheerful and inviting blue for a bedroom. It plays well with any other color – peach, green, yellow, pink, neutrals – give this fabulous blue a try in any room!'
And as for pinks, well it's not hard to find gender-neutral shades to appeal to everyone, Anne Hulcher Tollett adds. 'One of our favorite pinks is Setting Plaster by Farrow & Ball. It's a most interesting hue because it works in any application, and it makes anyone in its glow look fabulous! We have used this pink in both restaurants and children's bedrooms, and it never disappoints.'
Designer Tancred Vilucchi, who argued, above, that color schemes shouldn't be seen in terms of gender, adds: 'At Maison Vilucchi, we do not see pink as "feminine" at all but as a perfect color that can be interpreted in such different ways. While using pink at the right tone, it is a very warm and welcoming color that can suits any room. Properly combined with other colors or as a primary color, pink can turn an atmosphere to either joyful and vibrant or refined and elegant to timeless and luxurious.'
4. Opt for beige, warm whites or grays in adults' bedrooms
If you're decorating your own bedroom, I doubt that gender neutrality even crosses your mind. Why would it? You'll be looking for bedroom color ideas that you love and that work well with existing furnishings or new accessories. If you share the bedroom with a partner there may be an element of negotiation when it comes to color choices but, again, I expect this will relate to personal preferences rather than gender stereotyping.
With that in mind, our advice, and that of the designers we spoke to, is to choose colors you like and create a cohesive and relaxing design scheme, a calm sanctuary for a restful night's sleep. Do that and you can't go far wrong.
Here are the designer's thoughts on the best schemes for adults' bedrooms, and guess what, they just happen to be gender neutral too. Happy days – and happy nights.
Elizabeth Metcalfe says, 'Some of our favorite neutral colors for an adult's bedroom would be School House White, for a lighter feel, Cromarty for its calmness, and Joa's White for its timeless sophistication, all Farrow & Ball.'
Anne Hulcher Tollett's suggestion moves into slightly darker shade, she says: 'A wonderful warm, comforting color for bedrooms is Dove Tale by Farrow & Ball. It is like Vermeer's perfectly primed canvas because it makes anything put on it look fantastic. It plays with bold colors and neutrals equally well, and it appeals to anyone of any age. Best, it has enough warm red mixed into the formula; at night, with a candle glowing, it makes everyone look fabulous. Buy a gallon and fall in love!'
5. Make space for some new baby nursery ideas
Choosing a gender neutral scheme has long been a consideration for excited parents-to-be, who either don't know the baby's gender, or prefer to decorate the new nursery in a non gender specific way.
Yellow was traditionally the neutral option for nurseries and baby clothes and equipment, but now there are many more exciting options to add to the nursery color schemes mix. Soft grays, leafy greens, warm (but pale) earthy shades, or off-whites would all make a great nursery backdrop. How about wallpapers, too? We're seeing patterned wallcoverings in more nurseries, as a smaller room is a great opportunity to indulge in a luxury wallpaper without it costing the earth.
Make good holistic design the focus, not gender or even gender neutrality – here's how
The designers we spoke to are convinced, that for every room in the home, we should shift our focus to good, long-lasting design with color schemes that will then have universal appeal. Elizabeth Metcalfe says: 'Pink has crossed over from being solely associated with femininity to a color that has a wide appeal across genders and ages for its ease and versatility as a grounding neutral or distinct accent.'
And on the subject of pink room ideas, she adds: 'Pinks have the advantage that they work easily with other colors. They pair beautifully with greens, browns, taupes, and grays. They can read very sophisticated, like Farrow & Ball's Peignoir or playful like Rangwali. Dimity and Setting Plaster make wonderful neutrals with a pink undertone that can be a great starting point in building a home's foundational color scheme.'
Designer Amy Knerr adds to the gender- isn't-a-consideration-for-color-schemes debate: 'I don't really think of gender or if a color is traditionally seen as more feminine or masculine when selecting paint,' she says, 'but rather focus more on how the color makes you feel. The richness of a darker color like a charcoal or even a deep brown that might classically be seen as a more masculine color, can make a space feel cozy and inviting and provide a beautiful depth for the rest of the room. A light blue can actually feel quite feminine and whimsical. Depending on the shade of pink, it can really be a neutral color in a space.'
Chad Falkenberg, co-principal of Falken Reynolds agrees, and explains how other materials and accessories all play their part on how a color works as part of a whole room scheme: 'Color alone has no gender bias, even pink,' he says. 'But combined with other elements color can help lean in a certain direction, or juxtapose against it. We are currently designing a stone vanity for powder room – the form is very strong and almost brutalist, but the material is a powdery pink onyx, which is very light and fresh. So overall the space will feel relatively neutral.'
Are gender neutral color schemes still a thing?
So in this ever more enlightened day and age, do we even need to consider gender neutral color schemes? For Lisette Fernandez-Hilson, co-founder of Together Home design studio, the answer if a very definite no. 'If Harry Styles has taught us anything,' says Lisette, 'it's that there's no such thing as gender neutral color schemes anymore. Thank goodness. What a relief to feel like we can design for a vibe, a room, a person and not try to adhere to a stereotype.'
Similarly, Tancred Vilucchi, founder of Maison Vilucchi says, 'In interior design, I don't believe that color schemes shall be related to gender anymore. There is no such thing as best colors to be attributed to any gender or room but colors shall correspond to our inner being as human and reflects who we are, what we love, or what we want to become. Colors influence emotions and feelings, and are powerful tools that affect our mind and energy.'
And that's the point isn't it? Any color scheme can work for any room or any person, and, providing we're not stuck in the old stereotypes of automatically assigning pink for girls and blue for boys, our choices can be free, and gender neutral.
Sign up to the Homes & Gardens newsletter
Decor Ideas. Project Inspiration. Expert Advice. Delivered to your inbox.
Karen is the houses editor for homesandgardens.com and homes editor for the brand's sister titles, Period Living and Country Homes & Interiors, and an experienced writer on interiors and gardens. She loves visiting historic houses for Period Living and writing about rural properties for Country Homes & Interiors, and working with photographers to capture all shapes and sizes of properties. Karen began her career as a sub editor at Hi-Fi News and Record Review magazine. Her move to women's magazines came soon after, in the shape of Living magazine, which covered cookery, fashion, beauty, homes and gardening. From Living Karen moved to Ideal Home magazine, where as deputy chief sub, then chief sub, she started to really take an interest in properties, architecture, interior design and gardening.