Should your living room and kitchen style match? Designers weigh in on whether cohesive or contrasting is best
These are the two most used rooms in our homes, how they work together matters...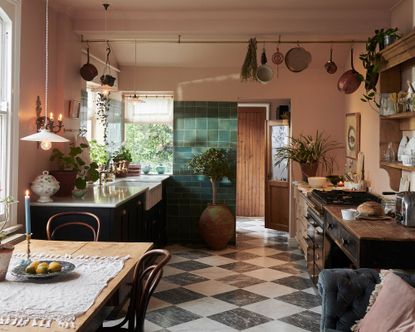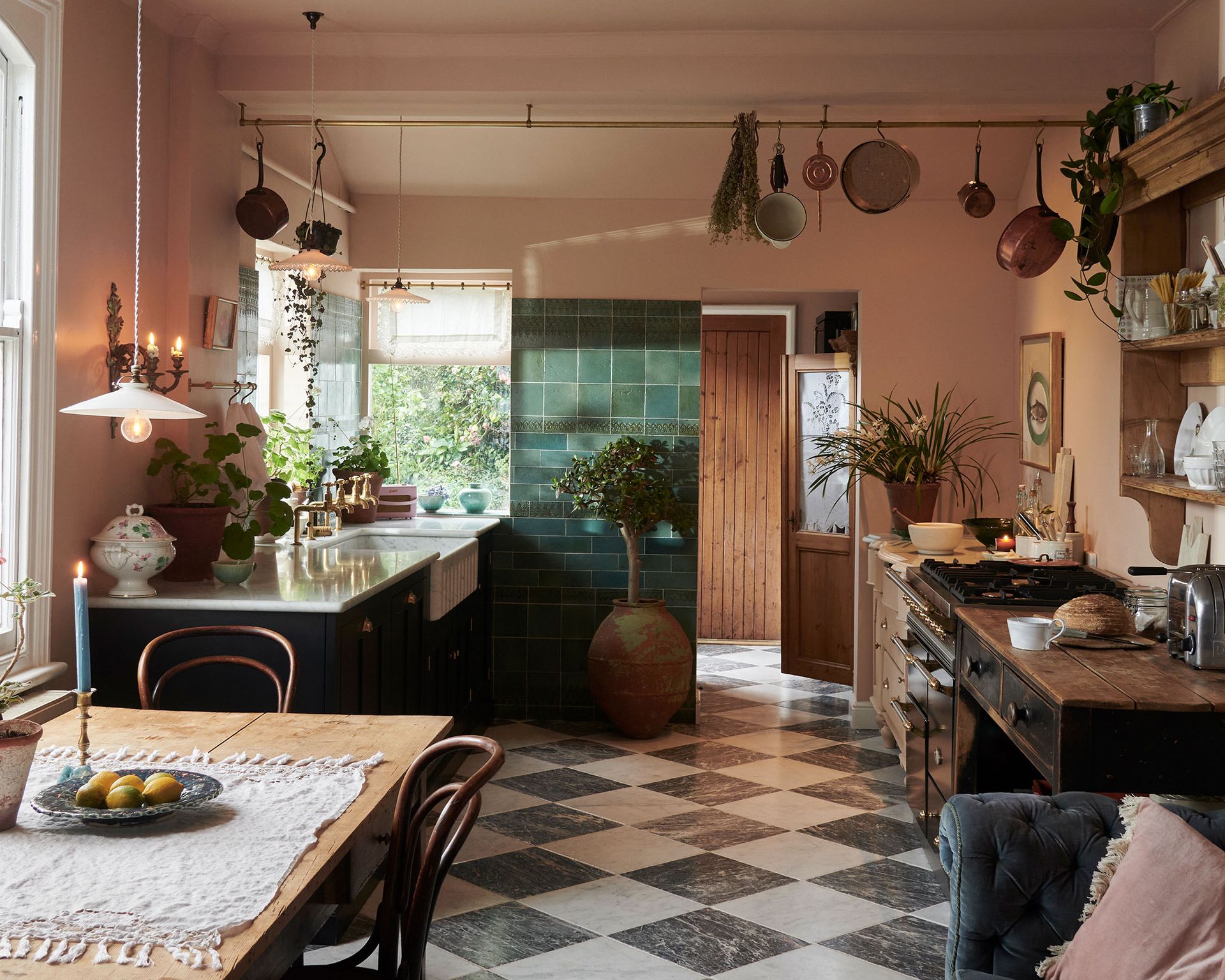 (Image credit: deVOL)
Sign up to the Homes & Gardens newsletter
Decor Ideas. Project Inspiration. Expert Advice. Delivered to your inbox.
Thank you for signing up to Homes & Gardens. You will receive a verification email shortly.
There was a problem. Please refresh the page and try again.
We have covered living room styles and kitchen styles, in a copious amount of time. What colors you should use, what layouts work best, and what styles are on trend, but something we think can be just as important to consider, is how the rooms in your home work together. Should they be cohesive and reflect the same style throughout? Or should you use your rooms as an opportunity to add interest by experimenting with different styles and room color ideas?
Two rooms that are up for debate as to whether they should match or not are the living room and the kitchen. These are the two most used rooms in your home, should they feel decidedly different when you move from one to the other? Or should they follow the same style? We asked designers what they think...
Should your living room and kitchen match?
Let us preface this by saying, there are very few hard rules in interior design. What works for you and your space, might not work for someone else. So when deciding on whether you should match your kitchen to your living room, consider your own personal style, and layout of your rooms (or room) and how you use the space. For example, if your living room and kitchen in fact sit in one open-plan area, matching them seems like the obvious choice. However, if they sit separately there's more opportunity to play with different styles.
One 'rule' we will say to follow, is that you always want your home to feel cohesive. That needn't mean totally matchy-matchy but there should be some feel of natural flow between the spaces. As Chelsey Cox and Rachel Rector, co-founders of Chinotto House explain 'We approach design with a holistic point of view, meaning we consider the house as a whole and develop robust color and material palettes that can be used throughout the entire home in countless variations. So, while they don't need to be matching, we want each space within the whole to feel connected and cohesive.'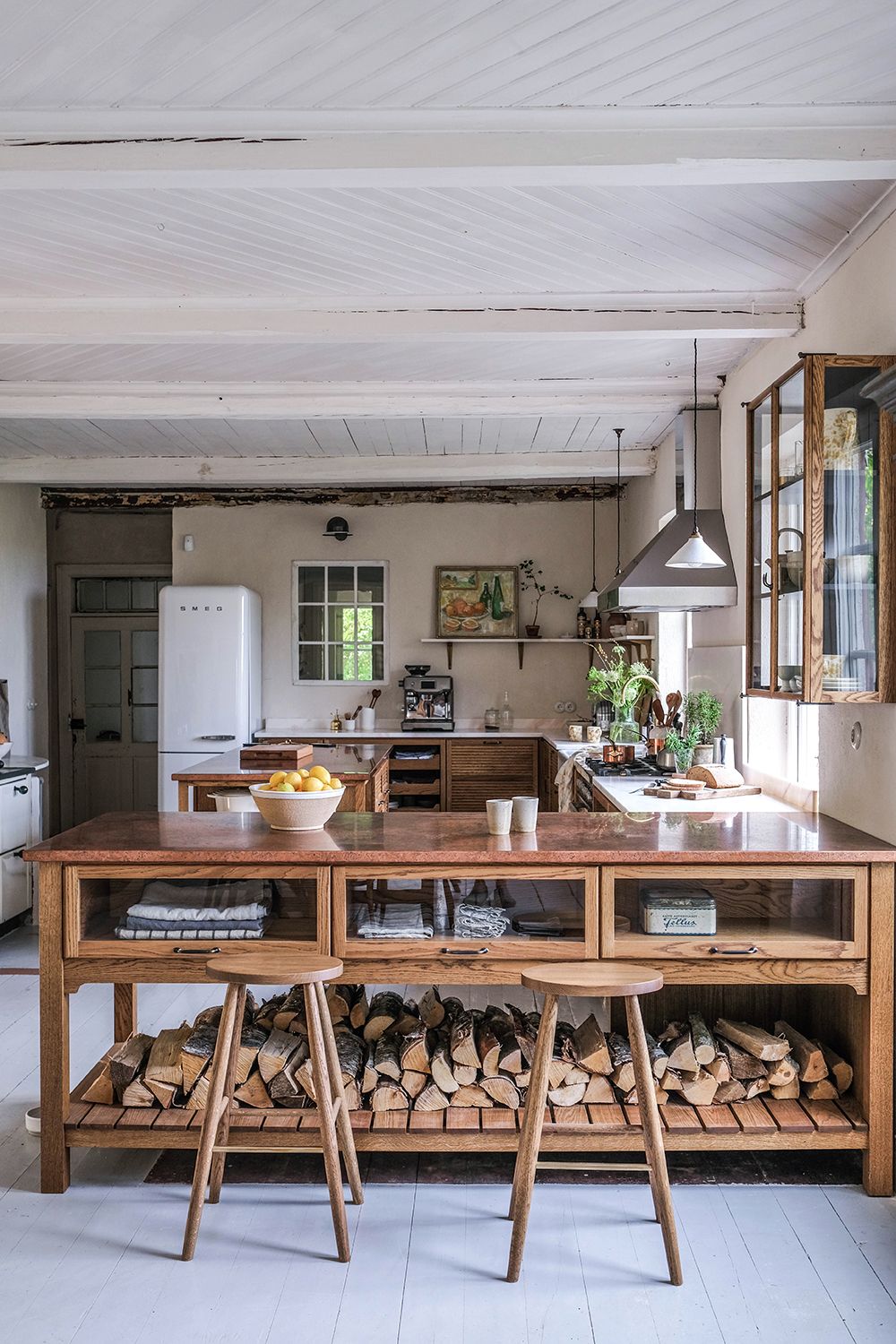 Designer Nathan Kingsbury agrees that: 'The kitchen and living areas are so often directly or closely spatially connected these days and deciding whether they should match or not really depends on your personal preferences, design style, and the overall aesthetic you want to achieve in your home. As with so many aspects of design, there are no hard or fast rules here. It's really dependent on the property, how the spaces relate to one another, and what you're trying to achieve aesthetically.'
'Matching the kitchen and living room can create a sense of coherence and flow, throughout both spaces. This can make your home feel more connected and harmonious, create design consistency, and works particularly well in open-concept spaces where the spaces are visually connected,' he adds.
How can you create a cohesive scheme between these spaces?
Okay, so the overall consensus is that yes, your kitchen and your living room style should match, even if only subtly as it's important that the rooms in your home feel connected. So what are some easy ways to ensure these rooms work cohesively, even if there are walls to separate them?
1. The color scheme
Easiest way to link these two spaces? Paint them the same color. Or at least ensure your living room color scheme has touches of whatever is going on with your kitchen color scheme. For example, you could match your kitchen cabinet color to your living room wall color or draw on the color of your couch as inspiration for the color of your walls in the kitchen.
This color coordination means you can then differ the styles slightly elsewhere in the room whilst always having that clear link. Designer Megan Evans agrees that these rooms work best when they do reflect each other styles. 'I am a firm believer that the whole house should flow together. The kitchen is the hub of the home, and is usually where people end up during a party anyways! Extending the color palette from kitchen to living room helps everything feel more cohesive,' she advises.
'Even in cases where the kitchen is not part of an open concept plan, maintaining some level of cohesiveness still remains important' adds Jennifer Davis. 'The kitchen's colors should flow into the living room, ensuring a smooth transition throughout the home. While the design doesn't need to be identical, incorporating connections like pulling in an accent color or repeating a pattern can establish a sense of harmony and continuity in the overall design.'
See how in this kitchen, the accent coral color is a really obvious pick to bring into the living room. Even just in a statement print or an area rug – you'll notice the link.
2. The flooring
We are all for running the same flooring through the whole of a home's layout, it creates an instant connection between all the rooms and feels far sleeker than creating divisions between hard flooring and carpet.
This approach perhaps wouldn't be the best option if you are opting for tile, but if you intend to go for wood (or some variation on wood) for your kitchen flooring take the same flooring into the living room. You instantly create a seamless flow between the two rooms, and even if they do differ in aesthetics, that clear connection will still be apparent.
You can soften the living room flooring to make it feel more... living room-like by throwing down a large area rug. And in fact that gives you another opportunity to create parallels between the two spaces, you could choose the same style rug in a smaller or runner design for the kitchen rug. Choose a jute design, they look lovely in a living room but are hardy enough for kitchens.
3. The cabinetry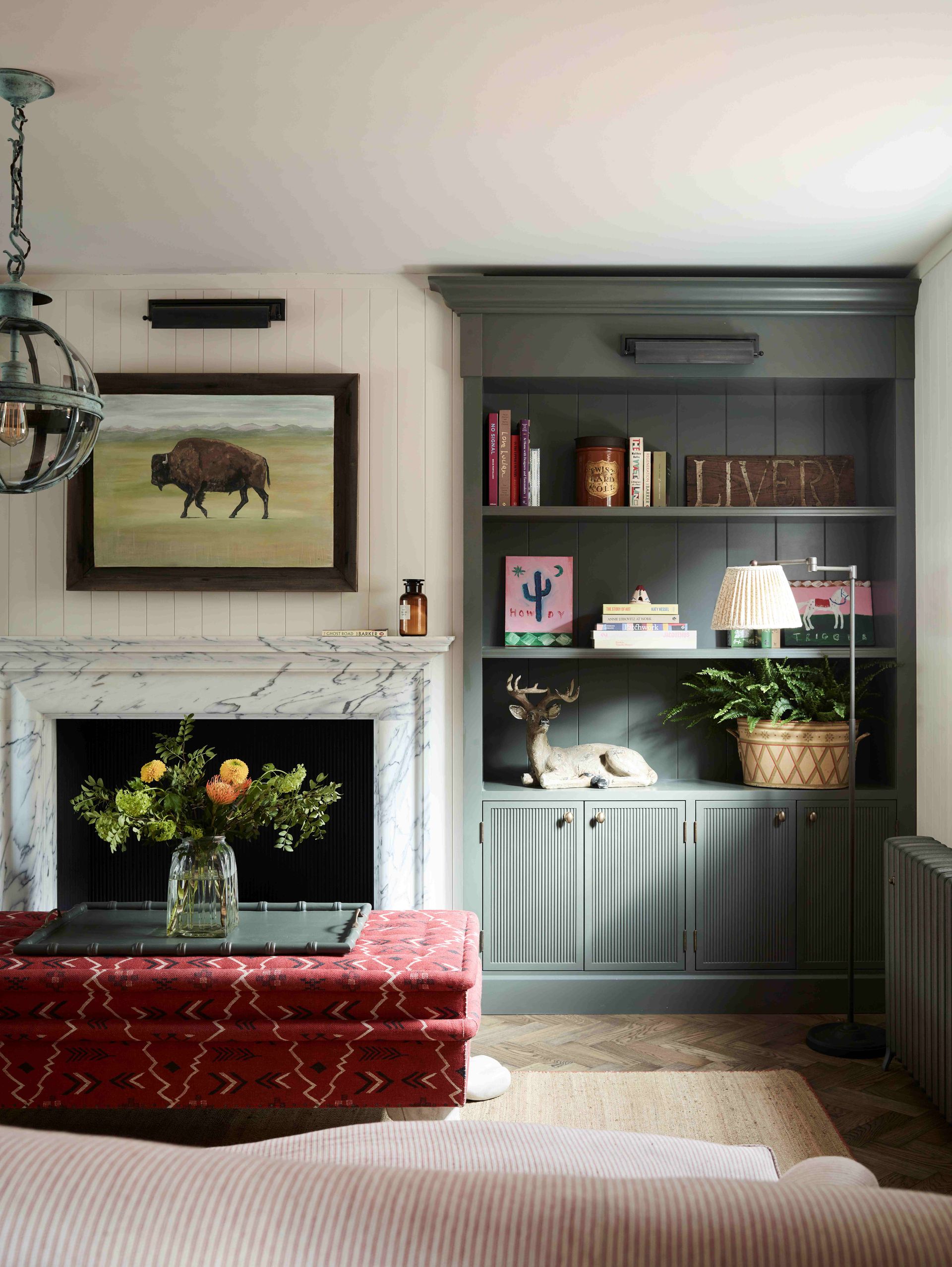 Cabinetry can be a lovely way to connect these two spaces in a more subtle way. Built-in living room storage, like the setup seen here, that is in the same style as your kitchen cabinetry will instantly create a link between the two spaces. You could choose to really highlight the matching cabinets by painting them the same shade, or if you have something that stands out about your cabinets – like fluting for example – you'll still see the clear connection so could go with different colors in each room.
4. The personal style
Want a surefire way to ensure your living room and kitchen match? Decorate them both in a way that reflects your personal style. Don't be too trend-led and fill both spaces with colors, patterns, styles, and decor that you love. Naturally, this will give all the rooms in your home the same... feeling, because they all feel like you.
In the living room, this shouldn't be too tricky as there are already so many opportunities to create displays and vignettes, but in a kitchen, which can be such a practical space it can be slightly trickier. Kitchen wall decor can be a way to show off your personal style and create links between the two spaces. Choose artwork from the same designer or match the frames from room to room. And use kitchen shelving to display some of your nicest crockery, you could even bring some crockery from the kitchen onto your living room shelving too – plate displays have shed their stuffy skin and are now very on-trend.
Are there instances where your kitchen and living room style shouldn't match?
Let's just look at the flip side for a second. Should a living room ever feel decidedly different from a kitchen? Designer Caroline Riddell says that: 'Kitchens should absolutely not match the living room, the two rooms should have their own individual identity.'
And Nathan Kingsbury makes a good point that if the two rooms are further away from one another, there's less of a need for them to feel cohesive. 'In larger homes where the spaces are separated and clearly defined, I think it's really important to have a complementary design scheme throughout, with a cohesive collection of styles and finishes, but they do not need to match exactly. This will create visual interest as you move through your home, and allow the mood and feel of each space to change as you interact with them.'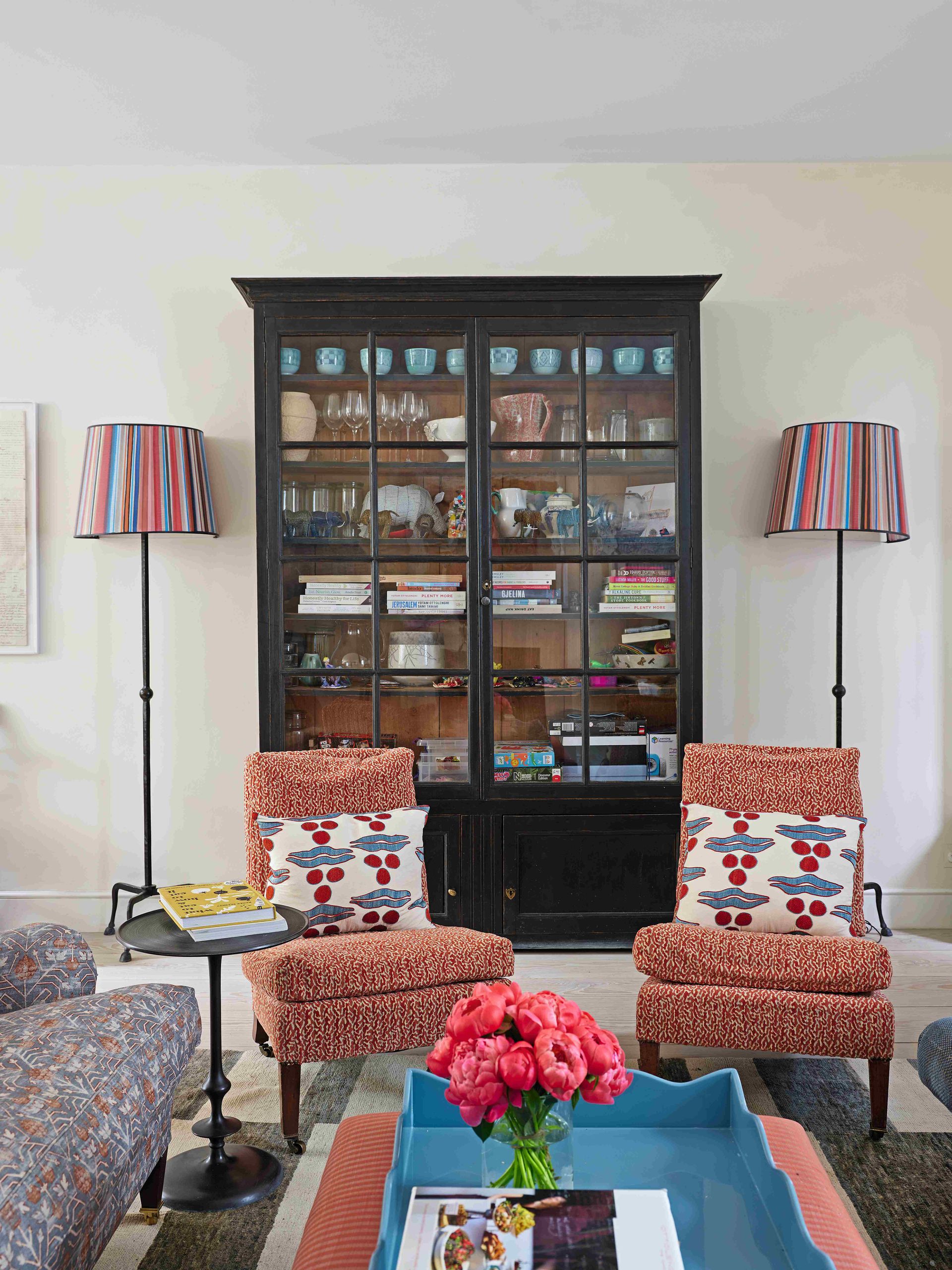 And although it's a big interior design trend to make your kitchen feel like a living room, sometimes this isn't a practical option. And depending on how you use your kitchen and your home, maybe you want these two spaces to feel different – the kitchen is a functional place for cooking, and the living room a softer space for relaxing.
'Functionality plays a key role here too as the kitchen and living room have different purposes. The kitchen should prioritize functionality for cooking and eating, whilst the living room might focus more on comfort and relaxation,' explains Nathan Kingsbury. 'If the kitchen is in a more minimal style for instance, softening the living room area is a great way to create some level of differentiation in the smaller design details – this can easily be done with color, texture, and materials, but so often with lighting too.'
'It's important to consider the function of each space when beginning your design. The kitchen is often the heart of the home and needs to be practical and functional for cooking and entertaining. On the other hand, the living room is typically a more relaxed and comfortable space where you can unwind and spend time with family and friends. Therefore, the style of each area should reflect its function and purpose,' agrees Al Bruce, founder of Olive & Barr.
Sign up to the Homes & Gardens newsletter
Decor Ideas. Project Inspiration. Expert Advice. Delivered to your inbox.