How to buy a sleeper sofa that's perfect for you
Fit in extra overnight guests easily. This is what you need to know about selecting a sleeper sofa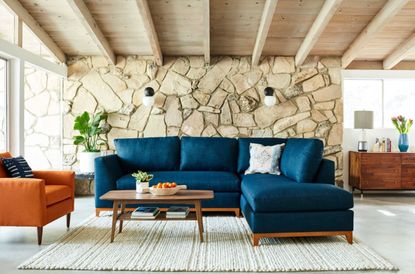 (Image credit: Apt2B)
If you have more overnight guests than guest rooms in which to accommodate them, or you live in a studio apartment, a sleeper sofa is the answer. A hidden mattress lets you transform seating into a bed easily turning a living room into a comfortable sleeping space.
The best sleeper sofa will complement your room in its style and finish, fit the room's dimensions, and prove comfortable as seating. But it's also vital that it's designed to allow a good night's sleep.
Here, we've put together the details you need to make the right choice in terms of sofa shape, the mattress, how the sleeper sofa operates and more.
How to buy a sleeper sofa
A sleeper sofa worth the name has to fit the bill both as a sofa and as a bed. In other words, it shouldn't be a let-down as part of a living room, providing a place to sit and watch TV, read, and so on, nor should it feel like a compromise as a bed: the best mattress will allow a good night's sleep.
Also vital is that the process of swapping from one function to another is easy. Setting up the bed at night and putting it away again in the morning should be easy.
There are a number of factors you'll need to consider to get the right model of sleeper sofa for your room from size to mattress type and all you need to know is below.
Sleeper sofa design
A sleeper sofa is designed with a built-in mattress and frame with legs, which means guests – or you – won't be sleeping on the floor, but in the raised position of a conventional bed. The equipment is all hidden inside the sofa, so a sleeper sofa won't look any different from any other sofa, preserving the lines of the room in which it's located.
A mechanism allows the mattress to be pulled out of a sleeper sofa. Spending more should get you a better mechanism that makes putting the bed up stress-free. For even easier opening, there are designs with power, so you can use a remote to convert your sleeper sofa to a bed and in double-quick time.
Sleeper sofa shapes
You can choose between conventional sofa shapes and sectionals when you're buying a sleeper sofa. In the case of the latter, check whether the mattress is in the chaise section or the other part of the sofa as this will influence the size of the bed it creates.
The space available in the room, in general, is, of course, a primary consideration when buying a sofa. Make sure its proportions don't impede circulation through the space, and follow the principles of sofa scaling to ensure your piece of furniture has the correct proportions for the room. However, there are further considerations when it comes to a sleeper sofa.
Think about the area needed not only to put the bed up but also the space around it that will be required to make it and for the sleeper or sleepers to access it without difficulty. Depending on the room's dimensions other furniture might need to be moved temporarily, but these should be light pieces that can be temporarily placed in a corner or elsewhere.
Sleeper sofa sizes
Focus on the mattress size when considering a sleeper sofa's function as a bed. 'When it comes to choosing a mattress size, there are several factors you should keep in mind,' says Jin Chon, the co-founder of Coop Home Goods (opens in new tab). 'One of the most important things to consider is the size of your room and the amount of space you have available.'
Sleeper sofas offer a variety of mattress sizes. Some replicate standard mattress dimensions, given below, or you may need to compare the slightly different mattress dimensions of a particular sleeper sofa to a standard mattress size to assess it.
Twin 38 x 75 inches
Full 54 x 75 inches
Queen 60 x 80 inches
King 76 x 80 inches
Whether one or two people will sleep on the sleeper sofa is important. 'If you're sharing a bed with another person, it's important to select a mattress size that offers enough width for both of you to sleep comfortably,' says Jin Chon. 'As a general rule, each sleeper should have around 30 inches of space to move around in.'
Bear in mind that if a sleeper sofa is just used for one night at a time, then allowing this much space isn't as crucial. However, if it's used for extended periods, following this guideline will create comfort.
Thinking smaller? 'For single sleepers who want more room than a twin-size mattress provides, a full-size mattress can be a good choice,' says Jin. 'However, it may not provide enough space for two people to sleep comfortably and isn't usually recommended for couples.' In this case, sizing up to a queen or bigger would be preferable for two due to the restricted width per person of a full.
'Ultimately, the right mattress size for you will depend on your individual preferences and requirements,' says Jin. 'By considering factors like room size, budget, and sleeping habits, you can choose a mattress that offers the comfort and support you need for a restful night's sleep.'
Sleeper sofa mattress types
Shop for a sleeper sofa and you'll find that you can exercise your preference for mattress type in a way that didn't used to be the case. You can opt for the traditional innerspring mattress, or choose the firmer feel of latex, for example.
Fans of memory foam for their beds can pick a sleeper sofa with a mattress in the same material, or go for a gel version that can be preferable if you find memory foam too warm.
Sleeper sofa materials
It is essential to focus on the materials from which a sleeper sofa is made in addition to considering its features for sleeping if your purchase is to last and create a comfortable seat.
First of all, look for a solid hardwood frame, which should prove durable. Consider seat cushions, too. You may prefer the support and durability of high-density foam, or the combination of foam plus feathers or foam plus fiber for a little more give. In higher-end sleeper sofas, you can also find down and feathers combined with other materials. If you go for the latter, be prepared for regular cushion fluffing duties.
Pick upholstery that suits your lifestyle for a sleeper sofa that lasts and stays looking its best. Look for fabric with a high thread counts to stand up to heavy wear and to keep stains at bay in a home with kids and companion animals.
Are all sleeper sofas the same size?
Sleeper sofas come in a wide range of sizes from the compact to the generous, including sectionals. To get the right sleeper sofa for your room, though, you'll actually need to focus on more than one set of dimensions.
First of all, it's important that the sleeper sofa fits the room in which it's going to be located, so think width and depth as well as height. Secondly, pay attention to its dimensions with the bed set up bearing in mind additionally that access for making the bed and getting in and out of it are a must.
Thirdly, think mattress size to be sure that it will fit the required number of people and with sufficient space per person depending on whether it's simply used for one night at a time or longer periods when providing more room to sleep will definitely be preferable.
How thick should a sleeper sofa mattress be?
Sleeper sofa mattresses are thinner than regular mattresses because they have to fold up for storage inside the sofa, and typically start at around 4.5 inches in depth. Deeper mattress are available, though, so shop around to boost comfort.
If a sleeper sofa mattress doesn't feel sufficiently supportive, consider adding a mattress topper which can make it feel more luxurious. Designs made from memory, foam, latex, feather and down, or fiber can add the depth that can make all the difference in getting a good night's shut-eye.
Sarah is a freelance journalist and editor. Previously executive editor of Ideal Home, she's specialized in interiors, property and gardens for over 20 years, and covers interior design, house design, gardens, and cleaning and organizing a home for H&G. She's written for websites, including Houzz, Channel 4's flagship website, 4Homes, and Future's T3; national newspapers, including The Guardian; and magazines including Future's Country Homes & Interiors, Homebuilding & Renovating, Period Living, and Style at Home, as well as House Beautiful, Good Homes, Grand Designs, Homes & Antiques, LandLove and The English Home among others. It's no big surprise that she likes to put what she writes about into practice, and is a serial house renovator.