7 ways to make your living room look bigger – and brighter
Learn our top tricks on how to brighten your living room this summer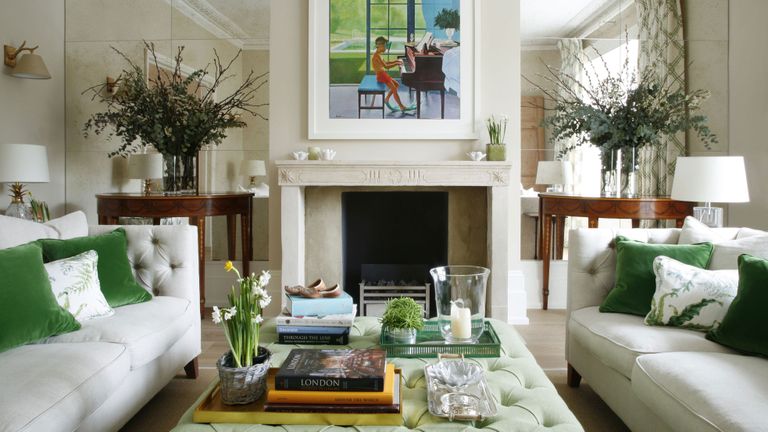 (Image credit: VSP Interiors)
Is your living room lacking light? Feeling a little oppressive? We've come up with 7 sure fire ways to make your living room look bigger, lighter and brighter – and we don't mean by going minimalist and painting everything white – though that will work. There are other options that include white ceilings, light wood flooring and not having fussy window treatments. 
Read our guide on living room ideas below to find out more. 
1. Use color wisely
Creating a lighter and brighter living room doesn't mean you can't have color. A dark shade on your walls will create the opposite feel, but if you choose a light warming shade like coral for example it will lift the space. 
Use white on your woodwork and skirtings and if you have shutters all the better – if not, and you can cope without drapes, then let the light pour in. Instead of investing in dark wood furniture, opt for painted pieces instead and rustic wood suits this look really well. 
See: Small living room decor ideas – clever ways to plan and decorate a small space

2. Opt for beautiful textures
You don't want to create a sterile scheme with all the pale shades – which we know create instant light, so instead, keep it cozy with sumptuous textures. Sheepskin rugs, beautiful grained wood pieces, limed floorboards, velvet cushions and oh-so-soft tan leather armchairs. All of which will warm up a scheme instantly. 
See: Small living room ideas for apartments – enhance the feeling of space in a studio
3. Embrace magic of mirrors
We 100% believe in the power of mirrors because they can transform a space and visually double its size – if you get it right. VSP Interiors show you how fabulous they can look in this living room. This pair of mirrored alcoves immediately bounces the light from the windows and reflects everything back. It's the sure fire way to add light and brightness, but go large with your mirrors – there's no room for small and dainty here.
See: Long living room ideas – essential design rules for making a narrow space seem wider
4. Layer your lighting
Yes, this living room is stunning and has oodles of natural light – so one option is to have your ceiling altered to match – but of course, if you don't have a living room like this, you can learn to layer your lighting instead. And even though this room has natural light, you can still see the ceiling light and floor lights, varying the heights of your lighting is key and even on the gloomiest days it will lift the space – invest in a few table lamps too.
See: Living room lighting ideas – beautiful ways to light your living space
5. Keep your furniture refined 
Visually heavy furniture will drain the light from your living room, and so will chunky pieces. Think 'light' with tapered legs and thin frames sections, glass is also worth considering. 
'To achieve a light and spacious feel within a living room it is best to incorporate refined furniture pieces in lighter toned natural finishes such as soft timber veneers, artisan silver leaf or polished marble,' explains Louise Bradley, Founder of Louise Bradley Design Studio. 
'When selecting a piece, be mindful to consider the scale and avoid oversized options which can sometimes make a room feel darker.'
6. Go for neutral pieces as a starting point 
The sofa is going to be the largest piece of furniture in your living room, so it pays to get the color and size right. 
'A neutral sofa can help lighten the space, however it's worth remembering that neutral doesn't have to mean selecting a plain design. Opting for styles with beautiful details, such as curves, buttons or fluting, will add character to a small space without overpowering your scheme, advises Suzy McMahon, Buying Director at Sofology. 
'Additionally, cushions and throws in bolder shades and patterns can keep the look from feeling too pared back. Alternatively, an accent chair is a great way to add a pop of colour and will effortlessly lift a darker space.'  
7. Choose light and airy drapes
What you use on your windows is really important, dark heavy drapes will block the light and create a moodier feel in your living room – fine for creating an autumnal feel, but not conducive to a light and bright scheme. 
See: Small living room lighting ideas – enhance a compact space with a well-lit plan
Follow Jonathan Adler's lead – you can still use pattern and color, simply choose pale shades and a subtle design. These drapes enhance the living room perfectly and the design is reflected in the huge chequered rug – something else to consider as it helps to draw the eye to another light aspect in the room.