Are hybrid mattresses good for back pain? Advice from the experts
Hybrid mattresses are an increasingly popular type of bedding, but are they good for back pain? I spoke to an expert for advice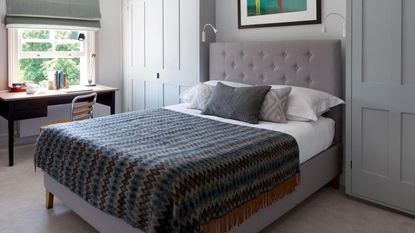 (Image credit: Future)
Sign up to the Homes & Gardens newsletter
Decor Ideas. Project Inspiration. Expert Advice. Delivered to your inbox.
Thank you for signing up to Homes & Gardens. You will receive a verification email shortly.
There was a problem. Please refresh the page and try again.
There's a lot of choice when you're buying a bed. It was confusing enough when there were just innerspring, latex, and memory foam beds, but the recent arrival of hybrid mattresses just complicates matters further.
However, a hybrid mattress can be a good choice. These beds combine different layers of foam, gel, and springs in order to get comfort and firmness just right.
But with so many people suffering from back pain, it's smart to wonder if a hybrid mattress is really the one for you. Not all hybrid mattresses are the same, so I spoke to a medical mattress expert.
Below, I go into all the detail to explore wither a a hybrid mattress is really one of the best mattresses back pain. I'll weigh up the pros and cons, and how to find the best bed for you.
What is a hybrid mattress?
'Hybrid' refers to a mix of two different mattress types - innerspring and memory foam. Innerspring mattresses sleep cool, but their springs can press uncomfortably on your joints. Memory foam mattresses contour to your body, which can be great for back pain, but they can be far too hot.
The idea with hybrids, therefore, is the best of both worlds. The springs keep you cool and supported, while a layer of memory foam cradles your joints and your back to alleviate or even prevent back pain.
Why is a hybrid mattress good for back pain?
Whether you have little niggles in the back when you wake up or a diagnosed back condition, a bad mattress can make your discomfort worse. When we sleep our spine is at the mercy of our sleeping position and our mattress.
Most hybrid mattresses, however, have a core of supportive metal coils. These are layered below the foam and help with comfort on the spine. 'This section can help maintain proper spinal alignment during sleep. This is particularly important for those with back pain as poor alignment can exacerbate discomfort,' says Dr. Chester Wu, a sleep medicine physician at Rise Science.
Not only does this basic set up alleviate back pain, but some hybrids are loaded with tech that's specifically designed to help your spine. For example, our favorite ever mattress, the Saatva Classic, has a lumbar zone of firm support foam across the small of your back. This stops your lower back sinking into the mattress and causing an imbalance as you sleep, which can cause back pain.
Even small features can make a difference with hybrid mattresses. Dr Wu points out that 'hybrid mattresses often have better edge support compared to all-foam mattresses'. Edge support, if you aren't aware, is just a term for how supportive your bed is at the edges. Good edge support is well worth having, because it means you're less likely to fall out of bed. More relevant to back pain, however, is that if you have a bad back, getting in and out of bed could be tricky. Having a stable edge to your mattress down to the springs, will make all the difference.
Dr. Chester Wu is a psychiatrist and sleep specialist and board certified in both Psychiatry and Sleep Medicine. He currently provides care at his private practice in Houston, where he provides evaluations, medication management, and therapy for psychiatric and sleep medicine conditions.
Can a hybrid mattress cause back pain?
There are some circumstances where a hybrid mattress can make back pain worse. It's not because you mattress is a hybrid, but because some beds simply aren't suited to some sleepers.
For example, if a mattress is too soft, it can allow your hips to sink in too far, causing the spine to curve, potentially leading to or worsening back pain. On the other hand, a mattress that's too firm can put pressure on the shoulders and hips, leading to discomfort and misalignment.
What's more, if materials used in the mattress are of poor quality, they may not hold up well over time. Sagging or indentations in the mattress can lead to inadequate support and exacerbate back pain.
The key thing to remember is that everybody is different, and what works well for one person might not work for another. Personal factors like body weight, sleep position, and the specific type and location of back pain can all influence how comfortable and supportive a mattress feels.
For example, if you're bigger than the average person, a plus-size mattress like the Big Fig could be for you. If you know you're a side sleeper, an ultra-soft bed like the Leesa would be a better match, and if you know you need a firmer surface, PlushBeds' extra firm topper could be just the thing to correct your mattress.
How to choose a mattress to help with back pain
If you suffer from back pain and you're not sure where to start, there are a few things to bear in mind.
A hybrid mattress which has medium firmness levels is usually the best option for someone with a bad back, as it gives you stability but also comfort. However, Dr Wu cautions that the ideal firmness level can depend on your weight and preferred sleep position. 'Generally, side sleepers need a softer mattress to cushion the shoulders and hips, back sleepers need a medium to firm mattress to support the natural curvature of the spine, and stomach sleepers need a firmer mattress to prevent the hips from sinking in too much'.
It's also crucial to buy as cool a mattress as you can. Back pain is bad enough, but one likes to wake up in the middle of the night feeling hot and sweaty. Dr Wu adds that 'pain can make sleep more fragile, so you want to make sure you're supporting healthy sleep in every other way you can. Staying cool while you sleep is a key way to do this'.
Finally, simply do you research by reading full reviews. Of course, I'm biased and would recommend you read the host of mattress reviews at Homes and Gardens, but even scrolling through online reviews from other users, both on the mattress maker's website but also on retailers like Mattress Firm, where mattress makers don't control the reviews or comment section.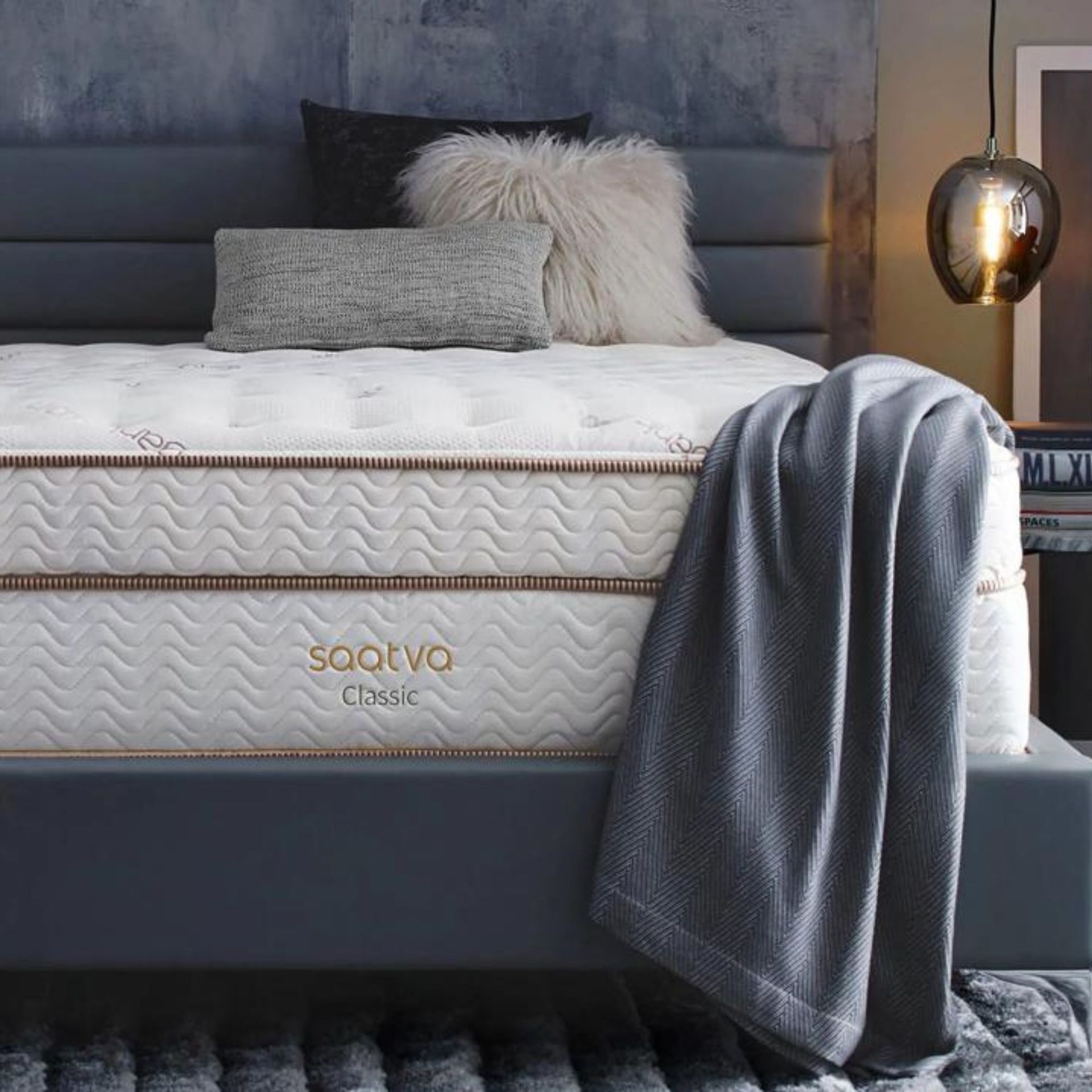 Best mattress overall
The Saatva classic mattress is our number one mattress. On test, we loved its balance of comfort and support. It's a hybrid mattress that will suit pretty everyone, and the most comfortable bed we've tested.
More details in our Saatva Classic mattress review
Best hybrid mattress
Aside from the Saatva, Tempur-Pedic's ProAdapt in Medium Firm is as good as a hybrid gets. It sleeps incredibly cool and offers excellent motion isolation. Our tester described sleeping on this as feeling completely weightless, and the only drawback is the price.
More details in our full Tempur-Pedic ProAdapt review.
Best value hybrid mattress
Hybrid mattresses can get pretty pricey, but this Dreamcloud mattress is much cheaper than most. It's also a very comfortable bed in its own right, so it makes for great value.
Find out more in our Dreamcloud luxury hybrid mattress review
FAQ
How can you prevent back pain while sleeping?
Sleeping on your side is said to be the best position for anyone who may have a bad back. In fact, research shows that 23 per cent of people who sleep on their back or stomach will have more back or neck pain, even if they have the right mattress. Sleeping on your side helps to keep your spine aligned while sleeping on your back or stomach could put pressure on your spine over time.
Can a mattress topper help with back pain?
Yes, a mattress topper can help with back pain. While you can't buy hybrid mattress topper, as they're too shallow for springs, mattress toppers come in memory foam and organic latex. They can make a too-soft bed firmer and a too-firm bed softer, and while it won't help back pain, they can make a bed cooler, too.
---
Of course, a hybrid mattress simply may not be for you. However, there are plenty of different mattress types out there, so a classic memory foam, latex, or traditional innerspring mattress could be a better match.
Sign up to the Homes & Gardens newsletter
Decor Ideas. Project Inspiration. Expert Advice. Delivered to your inbox.
Sarah is a freelance journalist - she covers a variety of subjects, including sleep, health and fitness, beauty and travel. As a journalist, she has written thousands of profile pieces - interviewing CEOs, real-life case studies and celebrities. Sarah can normally be found trying out the latest fitness class, on a plane to an exotic destination or getting an early night - and of course, writing about them.