How to brighten up a windowless bathroom – 9 ways to keep yours from the dark side
Don't get left in the dark – these are the best ways to brighten up a windowless bathroom, according to the experts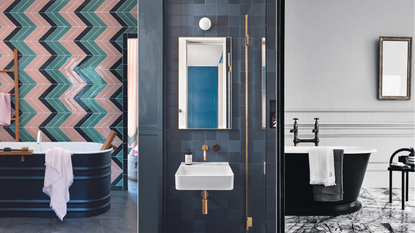 (Image credit: Future)
Windowless bathrooms do have a tendency to feel cramped and dark, it's true, but you'll be happy to hear there are plenty of ways to brighten things up. Get it right, and you can take your space from 'box-like' to 'spa-like' in no time at all.
The best windowless bathroom ideas combine function and feel-good factor – think bright, airy and enjoyable to spend time in. Natural light undoubtedly makes things easier, so if your windowless bathroom isn't blessed with it, you will have to work that little bit harder.
It may feel like an effort, but don't throw the towel in just yet, we've done the hard work for you. With the help of the experts, we've compiled a list of easy ways to brighten things up, from bathroom colors and decor ideas, as well as a few savvy design tricks.
How to brighten up a windowless bathroom
Whether you're dealing with a dull master bathroom, a light-stricken small bathroom or a shadowy shower room, we've got solutions to suit them all.
1. Get the light right
Planning bathroom lighting can make or break a design, even more so when you're lacking natural light. If your bathroom layout allows, you could consider installing a sun tunnel or skylight, but it is costly – a layered lighting scheme is an affordable alternative, and when done properly, is just as effective at brightening a space.
'Think about the types of bathroom lighting you want to include', advises Jennifer Ebert, digital editor, Homes & Gardens. 'Central ceiling lights that illuminate the entire room are a must from a practical point of view. Use them in combination with accent bathroom lighting ideas; wall sconces either side of a mirror, recessed shower spotlights or low-level floor washers are great for brightening up dark corners and creating a sense of ambience.'
Don't forget about bulbs either. In windowless bathrooms, it's important you choose ones that emanate a soft, natural light – anything too artificial will enhance that 'box-like' feel.
Jen is the Editor (Digital) of Homes & Gardens. Before starting this position, she had completed various interior design courses at KLC Design School, as well as working across Ideal Home, LivingEtc, 25 Beautiful Homes and Country Homes & Interiors as an interiors writer.
2. Make use of mirrors
Never underestimate the power of decorating with mirrors. Any light you do have in your windowless bathroom will be amplified twice over with the addition of even just one, and it can make a small bathroom look bigger, too.
3. Go for glossy finishes
Despite bathroom trends leaning more towards matte finishes right now, you're better off going glossy if your priority is to brighten a windowless bathroom. From high-gloss cabinetry and glass doors to shiny shower fittings, the more reflective surfaces you can incorporate into your bathroom design the better.
Take this into account when picking tiles, too. 'Glamorous and reflective bathroom tile ideas – think marble, glass, mirror and metallic finishes – instantly scream luxury, creating wow factor in any bathroom. They also have the added advantage of brightening the space by bouncing light around the room', says James Lentaigne, creative director at Drummonds.
4. Pick the perfect paint tone
Your choice of bathroom color can play a big part in brightening up a windowless bathroom. While there are no strict guidelines, most experts do recommend opting for lighter shades, but be careful on tones.
'Stay away from harsh whites as they can make the room feel clinical and cold. Soft whites, neutral grays, and pared-back pastels tend to create a much warmer effect', says Lisa Cooper, head of product at Thomas Sanderson.
Whatever your color preference, be sure to test a few different shades on the wall before you commit; you'd be amazed at how different they can look in a bathroom with no natural light!
5. Don't shy away from color and pattern
Despite what we've said above, windowless bathrooms can actually look great with color and pattern on all four walls. Remember, they naturally feature reflective surfaces (a glossy bath and sink for example, as well as taps and mirrors) so you can get away with going bold if that's what you prefer style-wise.
'An interesting tile layout pattern on the walls or floor can make for a stylish distraction, but if you fancy a bit more choice, try a bathroom wallpaper, instead.
'Pick a subtle, repeating pattern on white to provide a visual pop to the space. With any luck, your guests will be so enamored by the print, they won't notice the lack of a window!', says Amanda Wiss, founder of NYC-based home staging company, Urban Staging.
6. Introduce greenery for a fresh feel
You may not be able to see the great outdoors, but you can still enjoy its uplifting feel with the addition of a few bathroom-friendly plants. As well as looking lovely, they have the added benefits absorbing moisture and cleaning the air, making for a much fresher-feeling space.
Bear in mind that lack of light will have a bearing on the type you choose – not every plant will thrive in a windowless bathroom.
'If artificial plants aren't your thing, I'd recommend opting for plants that thrive in low-light conditions. Peace lilies, snake plants, and ZZ plants are great – they not only bring that much-needed greenery but also bloom occasionally, adding a surprising touch of color', says Juan Palacio, CEO of BloomsyBox.
7. Swap out cabinets for slim-line storage
Bulky bathroom cabinets can make a windowless bathroom feel even more closed-in, so you're best off swapping them in favor of slimline, wall-hung units, or if you can get away with it, bathroom shelf ideas. Open designs, like these from Wayfair, not only add a sense of airiness but also allow you to display colorful towels, decorative pieces, and plants, all of which contribute to a lighter, brighter feel.
8. Keep clutter at bay
Keeping on top of clutter is essential if you want to keep a windowless bathroom feeling light and bright. It's not the most straightforward of rooms to declutter – bathrooms are expected to hold an awful lot of stuff, from towels and toiletries to medicines and makeup (you'll need a decluttering checklist). But there are a few bathroom organization ideas you can implement easily enough, which should help you to keep on top of tidiness.
'While you might want to have a few stylish bathroom storage ideas on display, you're best off keeping countertops as clear as possible, especially if you're organizing a small bathroom. Implement bathroom organizers, such as drawer dividers, shallow trays, and stackable bins, like these from Target, to keep things ordered behind closed doors', says Millie Hurst, Solved section editor at Homes & Gardens.
Millie Hurst is Section Editor at Homes & Gardens, overseeing the Solved section, which provides readers with practical advice for their homes. Millie has written about and tried out countless cleaning and DIY hacks in the six years since she became a journalist, and has worked in both London and New York.
9. Add interest to walls with artwork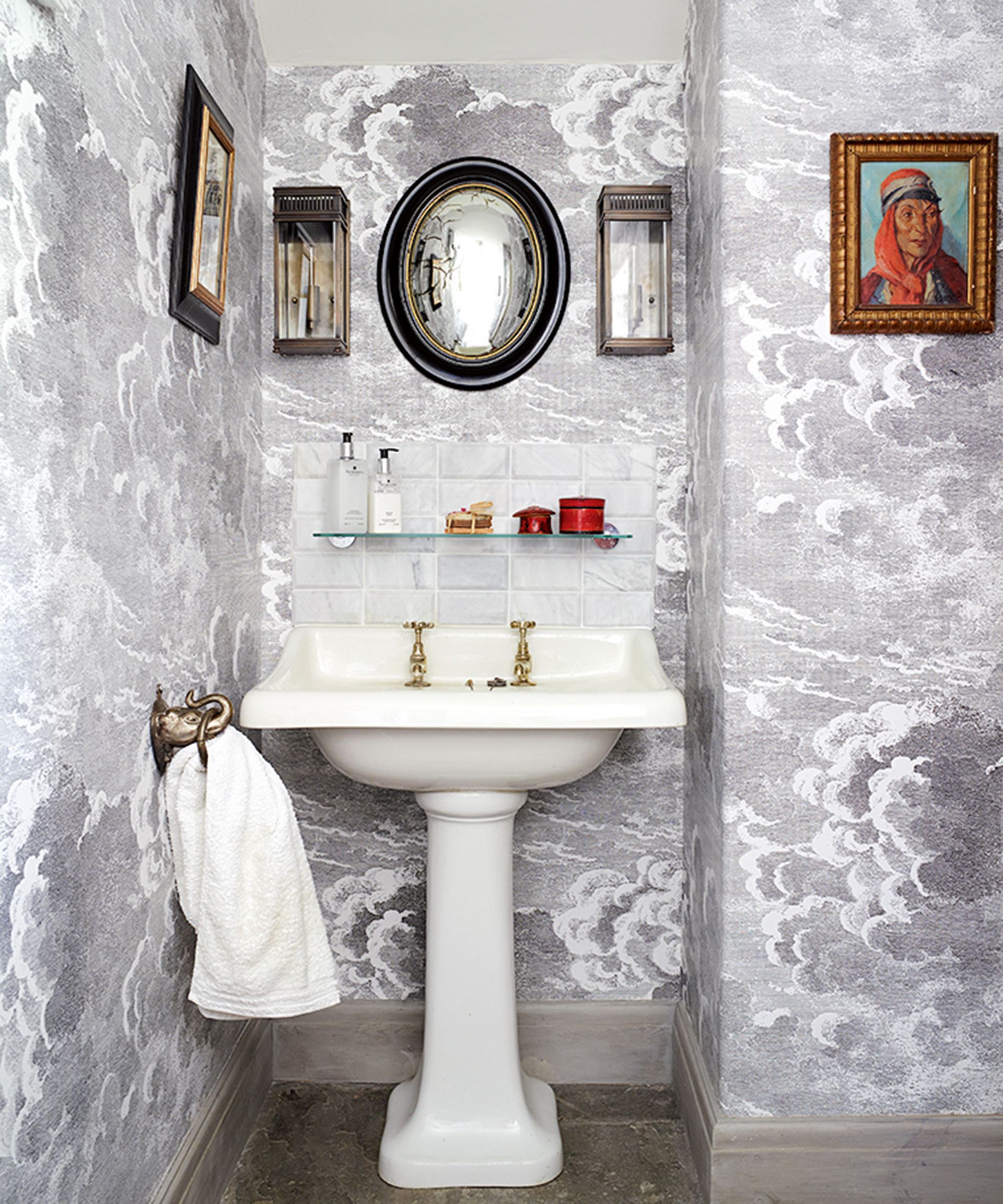 If there are no windows, you've likely got a fair bit of wall space to play with. Tiles are the obvious bathroom wall idea, but if you want to brighten things up a little, consider incorporating a few bathroom art ideas. Not only does it introduce personality, but it gives you something to look at while relaxing in the tub!
'For windowless bathrooms, we'd advise choosing pieces that are light in color. Bonus points if you can find artwork and accessories that feel like they are bringing the outdoors inside, such as beaches, sunsets or plants. Make sure you choose light-colored frames as well', advises James Dobyne, CEO of North-Florida-based Custom Fit Baths.
FAQs
How can I brighten my bathroom without natural sunlight?
Most experts recommend using a light color scheme to brighten up a room without natural sunlight – soft whites, light grays and pale pastels are popular choices. However, there's something to be said for embracing color and pattern, too. Using jazzy patterned tiles and decorative wallpaper add interest, which can detract from the lack of natural light and, as long as you've layered your bathroom lighting, it shouldn't make the space feel dark or cramped.
Glossy finishes and reflective surfaces, including mirrors, can help to bounce light around the room, so try and incorporate these where possible. Maintain a tidy space so as to avoid a cluttered feel, and introduce bright and cheery accents in the form of decor, artwork and bathroom friendly house plants (choose low-light tolerant variations).
---
There's no doubt about it, windowless bathrooms do require a little more attention than those blessed with natural light. Rather than attempt it yourself, employ our designer tips for decorating a windowless bathroom and you – and your bathroom – will feel a lot brighter as a result.
Sign up to the Homes & Gardens newsletter
Decor Ideas. Project Inspiration. Expert Advice. Delivered to your inbox.
For 10 years, Tara King worked as a Content Editor in the magazine industry, before leaving to become freelance, covering interior design, wellbeing, craft and homemaking. As well as writing for Ideal Home, Style at Home, Country Homes & Interiors, Tara's keen eye for styling combined with a passion for creating a happy – and functional – family home has led to a series of organization and cleaning features for H&G.