6 ways to fake square footage in a kitchen
Feeling the squeeze in your kitchen? Maximize the space with these cheats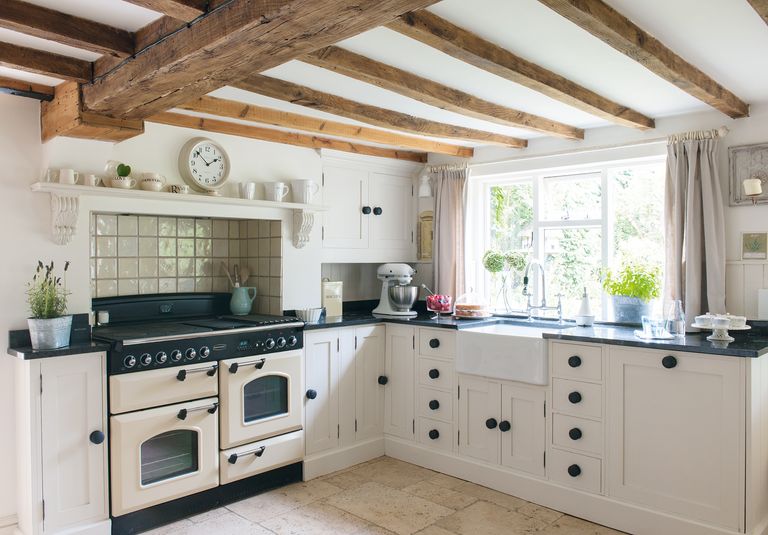 (Image credit: Future)
Living in the home of your dreams – but with a compromised kitchen that feels small, dark and cramped? 
While you decide whether to renovate or remodel, there are many design tricks you can use to create the illusion of space in your kitchen, whatever its size – from slimline units, removing wall cabinets and embracing reflection. Even decluttering can help – the minimalist approach works well in small spaces – and simple hacks such as removing handles and using push/pull catches is another trick you can use.
However, let's narrow it down for you: these are the best ways to fake square footage in a kitchen, according to the experts.
See: Kitchen ideas – decor and decorating ideas for all kitchens  
1. Widen the room with wall shelves not cabinetry
Replacing the solid bulk of kitchen wall cabinets – which fill up valuable visual space visually and can block light – is a dramatic way to fake square footage in a kitchen. 
The downsides to open shelving are that, of course, you have less storage and that you need to keep them spick and span. That said, you can see what's what at a quick glance and use the shapes and textures of your pieces to enhance the overall look of your kitchen. 
2. Stretch floor space with light-colored, large format floor tiles
Size does matter and we've long been fans of lovely big floor tiles in a single color. They are spot on to use in kitchen, as Isabel Fernandez, Director at Quorn Stone explains below:
'A smaller kitchen requires careful thought and consideration to give the illusion of a larger space. Contrary to belief we often find a larger tile can work well at achieving this. A smaller tile results in lots of grout joints which can enclose the space and detract the eye from the tile. We often suggest a 900mm x 600mm tile as it is a versatile size that works well in both smaller and larger areas. 
Alternatively wood effect porcelain is becoming increasingly popular in tighter spaces due their long and narrow format – if you choose a complementary grout color it makes the grout less noticeable which again helps to open the space out.'
See: Small kitchen ideas – turn your compact kitchen into a smart, organized space
3. Elevate the ceiling with two tone walls
Having light colors above waist/shoulder height and dark colors below is a good way to add interest to a kitchen without compromising how big it feels. This kitchen by Melinda Kelson O'Connor Architecture & Interiors is a good example of this – the tiles complement the color of the cabinetry – creating continuity – while the white of the wall cabinetry and upper tiles reflect light and make the space feel larger. 
4. Create visual continuity with to-the-ceiling cabinetry
When you can't go wide, go up and make the most of every available inch you can – it's often worth employing a joiner to do something as specialized as this as they will be able to create storage that fits to perfection. 
Make symmetry your friend too, as it will keep the eye busy and away from the fact that the kitchen is on the smaller side. Opt for gold elements that carry on through the scheme – from the taps to handles and accessories. 
5. Conjure up space-enhancing reflections with mirrored backsplashes
A mirrored backsplash is a classic interior design trick for making a space seem larger and brighter, as Melissa Kink, Creative Director at Harvey Jones explains: 
'Mirrored backsplashes are a great choice that allows light to travel further within the room. Any use of mirrored surfaces will add energy to an area, helping the kitchen feel more open.'
Using one continuous piece rather than a tile design will help the mirror to be more effective at its job to double your space visually. We like this antiqued look finish as it's got more character than plain glass, it also adds interest and diffuses the light nicely. Plus it doesn't take as much cleaning as regular mirrored glass.
6. Choose white cabinetry to fake square footage
Simple but very effective, white will always be the top color of choice to make a space appear bigger and brighter. 
'Despite bolder colors becoming more popular in the kitchen over the last few years, white has never gone out of style. It reflects the light, and adds endless possibilities for personalisation, so think about adding different textures and colors through the countertop material, backsplashes and other accessories to add warmth and interest to the scheme,' says Melissa Klink, Creative Director at Harvey Jones.
See: White kitchen ideas – for a stylish scheme that will stand the test of time
The beauty of white is that it works whether your scheme is sleek and modern or classic and characterful. It looks clean too and works as a blank canvas for the rest of the space. This means you can use accent shades to pep up the scheme if you wish, or keep in uber minimalist if bright shades aren't your thing.