Large window curtain ideas – 11 elegant ways to style dramatic drapery
Large window curtain ideas can make a big impact, or can help soften a room's standout feature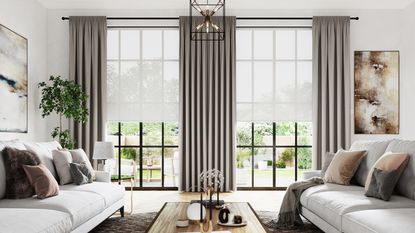 (Image credit: Swift Direct Blinds)
Large window curtain ideas have a big responsibility, both for the design of your room and how comfortable you feel in it.
When your panes are larger than life, your window treatment ideas need to scale up too. That means the fabric choice for your curtains will become an even bigger presence in your room, and the amount of light you have to either combat or harness is greater too.
If you want to make a feature of them, it's a great excuse to go bold with color and pattern – alternatively, it's possible to get large curtains to blend effortlessly into your scheme as well.
Large window curtain ideas
From double height drapes to fabulously floral framing, we've found some large window curtain ideas to inspire your home furnishings, and gathered some tips from the experts too.
1. Go bespoke
'For more bespoke options, try a made-to-measure service,' say Jenna Choate and Mariana Ugarte, Co-Founders of Interior Fox. 'This will give the freedom to select your own fabric and have the curtains made to size, which is especially helpful when working with unusually shaped windows.'
In this room by Alice Lane Interior Design, the double height curtain ideas were put together with fabric imported to Utah from the UK, which was then hand-painted by artist Tyler Huntzinger. Getting bespoke curtains can, however, be a simpler process.
'Shopping custom-made is much easier than most think, with online retailers offering a simple and straightforward service that allows you to put in your measurements and fabric of choice, which is then delivered straight to your door in a matter of weeks,' say Choate and Ugarte.
2. Let the light in
Big windows are a blessing, bringing with them bountiful natural light. If you want to make the most of this in a space, dress them with fabrics that are both lighter in weight and color. In this living room by interior designer Amanda Evans, a window that stretches the length of one wall is dressed with one long white curtain, light enough to allow a refreshing glow of daylight into the room. This also a great idea for bay window curtain ideas, to make the most of light coming into the home from all angles, at any time of day.
3. Choose florals to echo a garden view
'A large window overlooking a beautiful garden or view benefits from being framed by curtains with a patterned material reminiscent of the great outdoors,' says Louise Wicksteed, Design Director at Sims Hilditch. 'A delicate floral design which well reflects the colours seen from the window can work particularly well.'
In this example, fabric by Linwood is used to create a whimsical floral frame to the garden beyond – an approach that would work well for window seat ideas too. 'Make the most of your large window and choose a gorgeous floral that will forever celebrate the beauty of summer,' says Ella Richard, Head of Design at Linwood.
4. Embrace cottagecore with a valance
The cottagecore trend is still riding high and, as a result, we are continuing to see a renewed appreciation for window valance ideas. 'Not for all, but for added drama consider a relaxed valance,' says Richard. Adding a historical, countryside-ready finish to the tops of curtains, a valance or pelmet is a great way to turn your curtains into a standout feature, as well as cover up the inner workings of less aesthetically pleasing curtain tracks.
5. Layer a blind under your curtains
One of the downsides of large windows is their role as an escape route for heat in your home. To ensure you're doing your best to keep your room warm – and thus more environmentally friendly – combine curtains with window blind ideas. 'By layering both blinds and curtains on one window, you are adding an additional layer of thermal protection, this will reduce heat loss and help to lower your energy bills this winter,' says Kate Duckworth, Senior Digital Marketing Manager at Swift Direct Blinds.
6. Ensure any doors are easily accessible
If you have a large set of floor-to-ceiling windows, there's a good chance that at least one panel of these functions as a door. One important thing to consider with French doors curtain ideas is ensuring that your door is easily accessible, and that your curtains don't have a distinct habit of getting in the way. Curtains that are lightweight and easy to move are key, while this example shows how using tiebacks or holdbacks are a great way to tuck them away neatly on a high traffic day.
7. The fuller, the better
Big windows are a great stage for statement curtains – and if you want to make the most of a favorite fabric, cram as much of it in as possible, as evident in the full curtains used here in a room by Sims Hilditch. 'Curtains should be as full as possible and should gently puddle on the floor,' says Richard. If you're wondering how to measure for curtains to achieve a luxurious look like this, remember to add an inch (or up to 12 for a seriously lavish look) onto your height measurement to allow that puddle to form.
8. Simple, modern curtains for simple, modern windows
An important principle of modern design is allowing natural light to really do its thing. As a result, floor-to-ceiling windows, and entire walls dedicated to glass and garden views are increasingly favored architectural features. For such window styles, keep your curtains as minimal as the framing. In this example, the living room curtain ideas consist of light, color-blocked linen, the striped pattern mirroring the distinct geometry of the windows.
9. Layer up on sheer curtains
If the lighting difference between having your curtains opened and closed is just a little too stark, give yourself a grey area. Layering sheer curtains – or a sheer curtain underneath a heavier one – is a hugely popular trend, allowing a third option of a little bit of shade and privacy without shutting out the world altogether. It works wonders in this dining room by designer Claudia Afshar, creating a dreamy ambience for a lunchtime party.
10. Go blackout for bedrooms
While you may want to celebrate natural light in your living room, there is one part of the room where it isn't always so welcome. Bedroom curtain ideas need to be able to shut out that early morning sunrise that can disturb you an hour or two earlier than you hoped – and with big windows, that problem is even more pressing. Therefore more solid curtains like these heavy linen drapes in a bedroom designed by Beth Webb, or even blackout curtains are necessary to ensure you sleep soundly.
11. Tie in colors from the rest of the room
Big windows need big curtains, and when they are closed, they can have a big impact on the design scheme of your room. While this is an opportunity for a substantial design feature, you may not want them to play too much of a lead role – in that case, tie in your fabric choice with colors across the rest of the room. In this study, the grey curtains are the same shade as the grey leather office chair, and blend in wonderfully with the cool blue and black aesthetic elsewhere.
What can I use to cover a big window?
Curtains are great for covering larger windows, and also offer a lot of flexibility in terms of design and aesthetic. Bespoke is the best way to go if you have windows that are an unusual size or shape, and are especially good for exceptionally tall or even double height windows. Combining curtains with blinds underneath is a good way to create a versatile look, as well as one that helps prevent too much heat loss.
How do you dress extra wide windows?
Extra wide windows are becoming increasingly popular with the trend for glass bifolding doors that stretch the length of a wall. Covering them, however, will take a little more thought than with normal windows. A beautifully sleek way to do it is with a single curtain that runs the whole length on a rod – this will, however, need to be custom-made to fit your space perfectly. If you have a large bay window, consider using four curtains rather than two for a classic aesthetic that allows for more versatility in terms of which sections you cover.
Sign up to the Homes & Gardens newsletter
Decor Ideas. Project Inspiration. Expert Advice. Delivered to your inbox.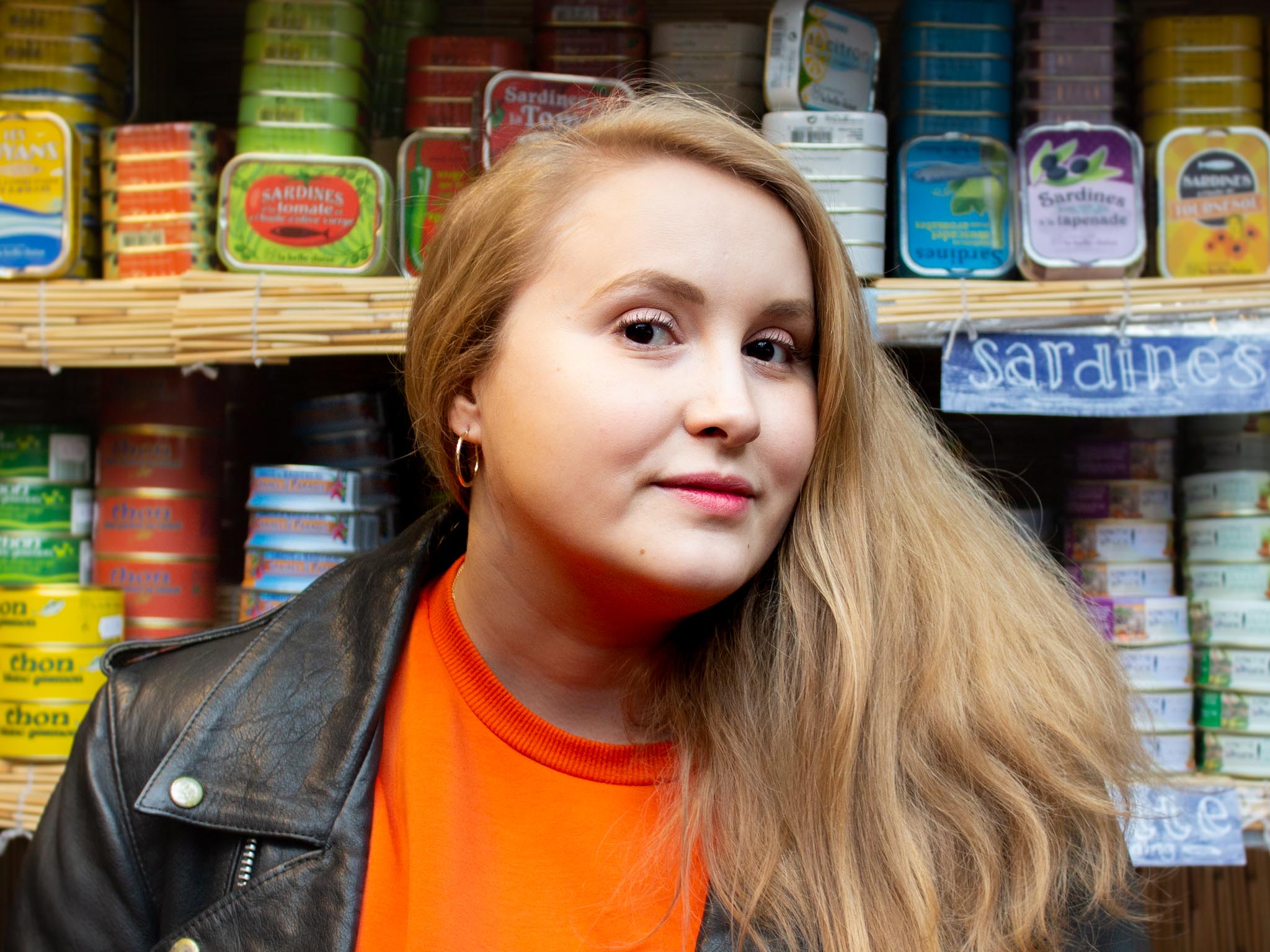 Ailis started out at British GQ, where a month of work experience turned into 18 months of working on all sorts of projects, writing about everything from motorsport to interiors, and helping to put together the GQ Food & Drink Awards. She then spent three years at the London Evening Standard, covering restaurants and bars. After a period of freelancing, writing about food, drink and homes for publications including Conde Nast Traveller, Luxury London and Departures, she started at Homes & Gardens as a Digital Writer, allowing her to fully indulge her love of good interior design. She is now a fully fledged food PR but still writes for Homes & Gardens as a contributing editor.