Are kitchen islands going out of style? 5 reasons that prove they are in fact a timeless and practical addition
Kitchen islands have taken a bit of a back burner recently, but does this mean they are no longer a key addition to your design?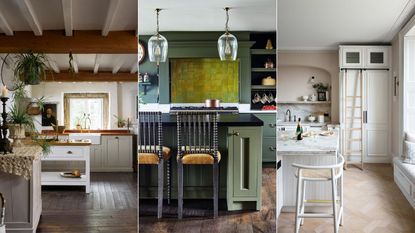 (Image credit: deVOL/Future)
Kitchen islands used to be a must-have, no kitchen that could fit one in would ever go without. However, in recent years as kitchen trends have shifted towards creating softer, less kitcheny kitchens, the island seems to be less at the forefront of kitchen design. Are they falling out of style? Or are they still a classic and very practical addition?
Designing a kitchen island, as with any home project, takes care and precision. From finding the right kitchen island shape to where to position yours, it can seem like a burden that you could do without. But could you, or rather, should you forget about an island altogether?
We asked designers for their opinions and despite them offering many, brilliant ways to make a kitchen without an island work, they all noted that an island will always be an asset to a kitchen. And if you are in doubt, here are 5 reasons that the kitchen island will always reign supreme.
Surprising benefits of kitchen islands
There is a reason that those without an island are so prompt to find the next best thing, perhaps at a slightly less elevated cost. One of the defining benefits of kitchen islands, as mentioned, is the simple fact that it offers an additional surface area; primed just as well for preparing cookie dough as it is for taking an impromptu work call, or brushing up on our times table.
However, the true purpose of kitchen islands goes above and beyond the obvious. And, although we might like to think we could manage without one, they have the ability to bring so much delight to a household.
If you have got room for a kitchen island, or do not think you do, but are still on the fence about whether to weave one into your design plans or not, let the experts offer some reassurance. Here are some of the priceless benefits of kitchen islands.
1. They make a house a home
'Yes, we need them, and they are useful,' exclaims Joey Conicella, President of SOCO Interiors. 'Islands are often the hub of the home – kids doing homework, working from home and a casual meal spot.' Proving how just about everyone in the household, not to mention guests, will take joy in gathering around and using this specific kitchen space.
'If you like to cook or bake, they offer an ideal work surface for food prep. If you like to entertain, a kitchen island is the perfect place to put out your cheese board and congregate.'
Joey Conicella is President of Soco Interiors, a high-end, residential interior design firm based in Winter Park, FL. Joey's career has spanned over two decades, working both in the interior magazine publishing space as well as the design firm side of the industry. Joey pulls inspiration from his favorite places to spend downtime including the coasts of California to the eclectic and electric pulse of Miami. Joey is based in beautiful Maitland, Florida.
2. An island can kindly carve out distinct areas
Some prefer kitchen island seating, but forgoing seats around an island may see you unveiling another exciting benefit of kitchen islands. Gillian Gillies of Gillian Gillies Interiors, thinks it is best to keep them a little more pared back to defining different zones in your home far easier.
'I personally prefer kitchen islands without seating and without a sink – unless it's a small gorgeous bar sink,' says Gillies.
'They are really useful and sometimes necessary when you have a large space and you want it to provide delineation between the working space and the rest of the home. But I do like to keep them free and clear of people and/or any used and dirty dishes. For me an island is the perfect prep spot and it does keep the cook connected with the rest of the house.'
Since moving to Canada and opening her studio in 2004, Gillian Gillies Interiors has grown to become an award-winning and sought-after interior design firm. Gillian understands the power of creating a home for her clients and she knows that the right home with the correct design selections can greatly improve her client's quality and outlook on life. She believes in frictionless living, and talks at length with her clients to get to know them and to understand their specific needs, wishes, and desires. Life can come with baggage and Gillian wants to ensure there's a space for everything whilst also lightening the load we can all carry.
3. Large spaces need them to create the coveted kitchen triangle
Some spaces will benefit from an island more than others. But if a large and spacious kitchen is without an island, it could be much to its detrminent. 'Not every kitchen is well-suited for an island,' notes Conicella. 'Galley and U-shaped kitchens are notoriously challenging for islands. There's just not enough space!
'Larger, L-shaped kitchens or kitchens that allow for cabinets along one wall are better suited for islands. This sort of layout helps create the highly coveted "kitchen triangle" - stove, sink, refrigerator – and allow for easy flow and function.
4. Kitchen island variations have a place in every home
Though not always the case in the world of interior design, when it comes to kitchen island alternatives for space-starved small kitchens, or awkwardly-shaped designs, you can in fact have your cake and eat it too.
Conicella shares how an island on wheels might accommodate smaller kitchen layouts. 'If your kitchen doesn't allow for an island but you would benefit from the extra space, you could consider a rolling island. They come in a variety of styles to coordinate with your design. If you have an open plan, a dining table can easily function as a workspace and place to entertain. A peninsula is another good option if you don't have the space for a "standalone" island and you still get all the benefits.'
Bianca Ecklund, Designer + Creative Director, Bianca Ecklund Design also notes that big, or small, islands cas a critical part of a home. 'Islands are here for good!! They serve a huge role in the kitchen and lifestyle.
'In smaller kitchens we sometimes recommend a peninsula if the space permits. This is in place of an island but can serve similar purposes such as a space for entertaining and food prep surfaces.'
Bianca Ecklund is the creator and principal designer behind Bianca Ecklund Design. Bianca oversees every project with a hands-on approach from concept to completion to ensure her clients feel comfortable through the entire process and are thrilled with the results. Bianca enjoys a wide range of interior and architectural styles. She believes "custom design is not a one size fits all".
5. Kitchen islands are forever evolving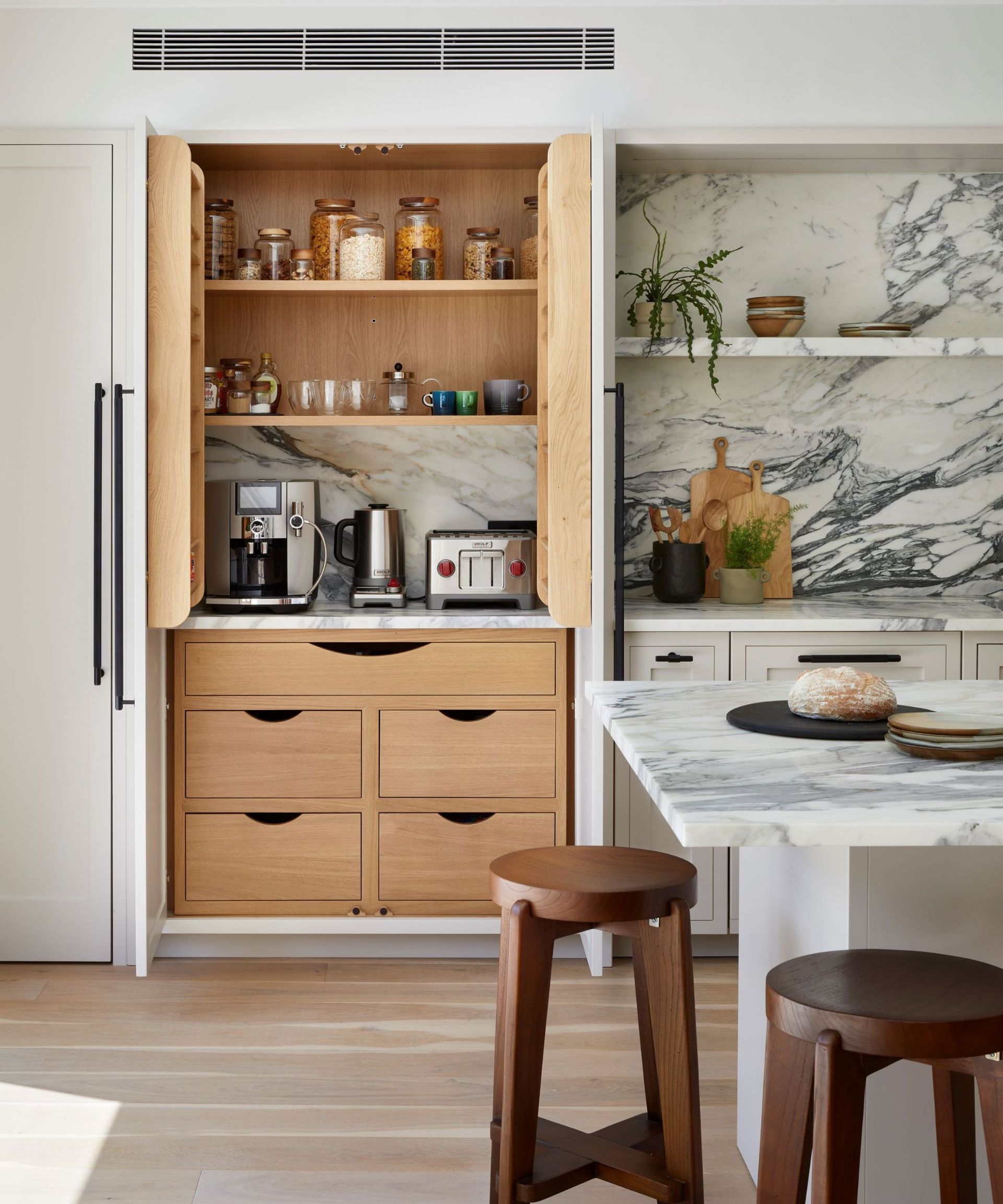 New kitchen trends surface all throughout the year, and since islands are an intrinsic part of a modern kitchen design, you can expect to find fresh takes to reignite your home decor and interior design scheme regularly.
'Homeowners are leaning toward larger sinks and a kitchen island is a great place for them. Kitchen islands might evolve in the future, but we won't outgrow them,' says Conicella.
The height, style, and color of kitchen islands, is often left open to interpretation by different designs to suit up with new lifestyle trends and behaviors. Founder of Amy Youngblood Interiors, Amy Youngblood says: 'I don't see the kitchen island going out of style any time soon. One trend to stay as well is all countertop height islands versus bar height areas as they are more open for prepping, cooking, serving and of course gathering with friends and family.'
Amy Youngblood creates beautiful interiors that envelop your personal taste and lifestyle, through great trust and collaboration. Amy and her design team strive to exceed expectations as you engage their services to improve and enhance your commercial or residential space. Their clients make them who they are. Allowing them into their lives results in beautifully transformed spaces using high end, technical design tools, a proven creative process, and project management; but most importantly, great vision, communication, and service.
FAQ
What size kitchen island will be most beneficial?
A kitchen island must work with your space proportionally as Youngblood tells us: 'Obviously, the larger your kitchen the larger the island can be, unless you go with two islands usually reserved for extremely large kitchens and entertaining. The best kitchen shape is usually a large rectangle that is not too skinny.
'That way the kitchen can even be divided into an island side with counter stools along with an adjacent sitting or casual dining area. If you don't have a large kitchen but a galley one, try to fit in a shallow counter on one side with stools for sitting with guests or family,' recommends Youngblood.
Ecklund's firm prefers an island with more design gusto so it seems: 'We love a large island, it is equally important to us to have ample walking space around the island. We aim for a minimum of 42" of walking space between the perimeter cabinets and the island itself, however, our preferred space is 48"-52". The best kitchen layout to accommodate an island is L shape or U shape. These floorplans give additional storage that an I shape (one-sided) cannot offer. It also provides plenty of space to achieve the Appliance Triangle for a balanced and functional kitchen.'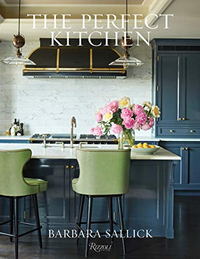 The Perfect Kitchen, Barbara Sallick | From $21.87 at Amazon
Learn more about the beautiful and inspirational kitchen design in this bestselling book by Barbara Sallick. Find practical advice as well as hundreds of images to inspire your own remodel
When should you not get a kitchen island?
Though we have covered the benefits of kitchen islands and alternatives that can relate to most homes and, more specifically, kitchen styles, only you will know whether it can work for you and household members in the space.
On making this decision, closely monitor how you interact within the kitchen, especially around meal times, for a more realistic vision of how it will look and feel when your island is installed. If it seems like it might create more work to keep or elevate the flow in your cooking space, you may need to forgo an island and find clever kitchen storage and additional surface space, elsewhere. An organized pantry is often the answer, and failing this, something much smaller on wheels.
'However, not all homes have the space for an island and it's best not to force one into the room as it's not a necessity,' adds Gillies. 'Extra counter space can be provided using a mobile island on wheels. Something in a different finish and color to the rest of the kitchen can look really good.'
---
Put simply, kitchen islands are here to stay, and in theory, there is a place for some form of island in kitchens small, large, wide, and narrow in every home so that every home can enjoy all the benefits.
Sign up to the Homes & Gardens newsletter
Decor Ideas. Project Inspiration. Expert Advice. Delivered to your inbox.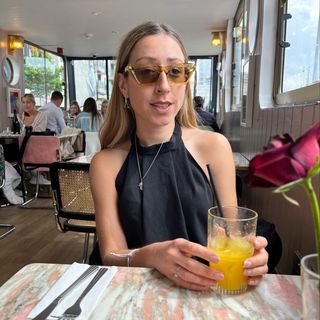 Camille is the former deputy editor of Real Homes where she covered a broad range of topics, including house tours, small space design, and gardens. She studied English language and Italian at the University of Manchester and during a year abroad studying linguistics and history of art in Bologna, Italy she started documenting her adventures and observations in a blog. Camille is always creating and spends her downtime painting, taking photos, traveling, and writing short stories.