Bedroom divider ideas – 9 stylish ideas to split your sleep space
Effective zoning using bedroom dividers is the key to creating a private or multi-functional space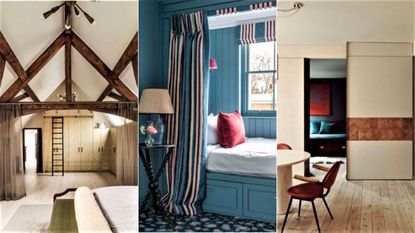 (Image credit: Future / Barlow & Barlow / Michael Sinclair)
Sign up to the Homes & Gardens newsletter
Decor Ideas. Project Inspiration. Expert Advice. Delivered to your inbox.
Thank you for signing up to Homes & Gardens. You will receive a verification email shortly.
There was a problem. Please refresh the page and try again.
Dividing a bedroom can make it more versatile, with bedroom dividers useful for creating personal space in shared spaces, for carving out a cozy nook in a guest space, or separating a work space from one dedicated to sleep. They can even be used to create a layout that allows for a dressing room or bathroom to be hidden behind the dividing wall.
Whatever its size, a bedroom can be divided in a number of ways, with solid walls, soft drapes or simple screens.
Below, we look at a stylishly simple but effective bedroom ideas that use room dividers to great effect.
Bedroom divider ideas
Most of the bedroom divider ideas below can be adapted for shared bedrooms, though we have mostly focussed on adult-only spaces.
1. Create a false wall behind a headboard
We end and begin our day in the bedroom, this vital space in our homes is part sanctuary, part storage, part dressing room, part retreat, so dividing up the room so that it can provide us with everything we need can be complicated.
The challenge of having a large room can make a bedroom layout disjointed, interior designer Irene Gunter, of Gunter & Co, explains, 'Having a large bedroom may seem like a dream come true, but sometimes it can be challenging to create a cozy and intimate space.
'One solution is to use a bespoke headboard to divide up your bedroom. For instance, you could place the headboard in the middle of the room and use the space behind it to create a dressing room, a bedroom office, or even a small seating area. I recommend a headboard that's a standard height of 4ft or taller.'
Bespoke cabinetry offers a built-in solution, allowing you to create as much space and storage as you need or can fit into the space. The headboard in front of the bespoke cabinetry can be decorated to match the rest of the room and the bed, to deliver a seamless, elegant, and entirely practical design.
Interior Designer
Interior Designer
Irene Gunter
Irene studied Art History before training at the prestigious Inchbald School of Interior Design. As Creative Director of Gunter & Co, Irene oversees the design for every project alongside her team of designers who manage the day-to-day implementation. Inspiration for each project comes from a myriad of sources: from historical architectural details to contemporary building materials or vintage furniture to contemporary sculptures. She centers her designs around the tension between organic forms and regular repetition to create spaces that catch the eye, are thought provoking and packed with interesting talking points.
2. Use architecture to divide a bedroom
Adding architectural details into a large bedroom is an ingenious and subdued way to create simple division between different zones.
'Architectural touches like archways or corbels can provide a subtle distinction between a seating area and sleeping area without closing off a space,' says Hypen & Co designer Elizabeth McNabb.
These architectural details can be as highly decorative or as elegantly simple as is fitting for the rest of the house design. Additions such as archways or corbels offer a look that is more in keeping with the rest of the building and can therefore feel like a seamless extension rather than anything more clunky.
3. Choose decorative glass
Selecting internal glazing as a bedroom divider offers the brilliant benefit of ensuring that natural light can flow between the spaces.
This creates a visually lighter and brighter space and offers softer division between ensuites or bedroom storage areas without shutting these zones out completely. The choice you make when choosing glass will affect the overall look.
'If you decide to use glass and metal materials like Crittall, they can lend a more industrial feel to a space,' says Irene Gunter of Gunter & Co.
Irene adds, 'we used a Crittall glazed screen to divide a bathroom and bedroom, which was perfect because it allowed light to flow through while still providing separation between the two spaces.'
If you are looking for a less industrial look, consider glass with wood surround or frameless glass.
4. Use furnishings to divide a bedroom
Furniture and rugs are a simple but failsafe way to introduce division in a larger or smaller bedroom. Creating a small seating area using a sofa and chairs, a small side table, or a full seating layout with chaise longue, side chairs and table, quickly denotes the area is separate and designed for relaxing or reading.
'Privacy is the first thing one should consider when it comes to bedroom layout. A bed should ideally be placed where someone outside the room cannot peep in and see the person in bed.
'Larger pieces like closets and beds should be placed on more spacious walls that can accommodate the expansive pieces,' says Elisabeth Rogoff, Principal at Champalimaud Design. She adds, 'Always measure a room before buying furniture for it. No exceptions. Scale every item out and sketch a plan, there is no other way to ensure a proper fit.'
5. Divide a bedroom with drapes
If you are trying to carve out a space for a separate dressing area, drapes can offer flexibility, and you can simply pull the drapes back to open up the space when you want to.
'Using bedroom curtains to divide the space will look informal, particularly if they are sheer, as in the space above. I would advise not matching them to your window treatments, but choosing a subtly different finish or variation in the colorway or you will risk the room looking overly-formal,' says Jen Ebert, Digital Editor, Homes & Gardens.
A traditional decorative screen can also be utilized to create a divided area in the bedroom, this can also be removed, and neatly put away when not needed.
Jen is the Deputy Editor (Digital) of Homes & Gardens online. Before starting this position, she had completed various interior design courses at KLC Design School, as well as working across Ideal Home, LivingEtc, 25 Beautiful Homes and Country Homes & Interiors as an interiors writer.
6. Use sliding doors to divide a bedroom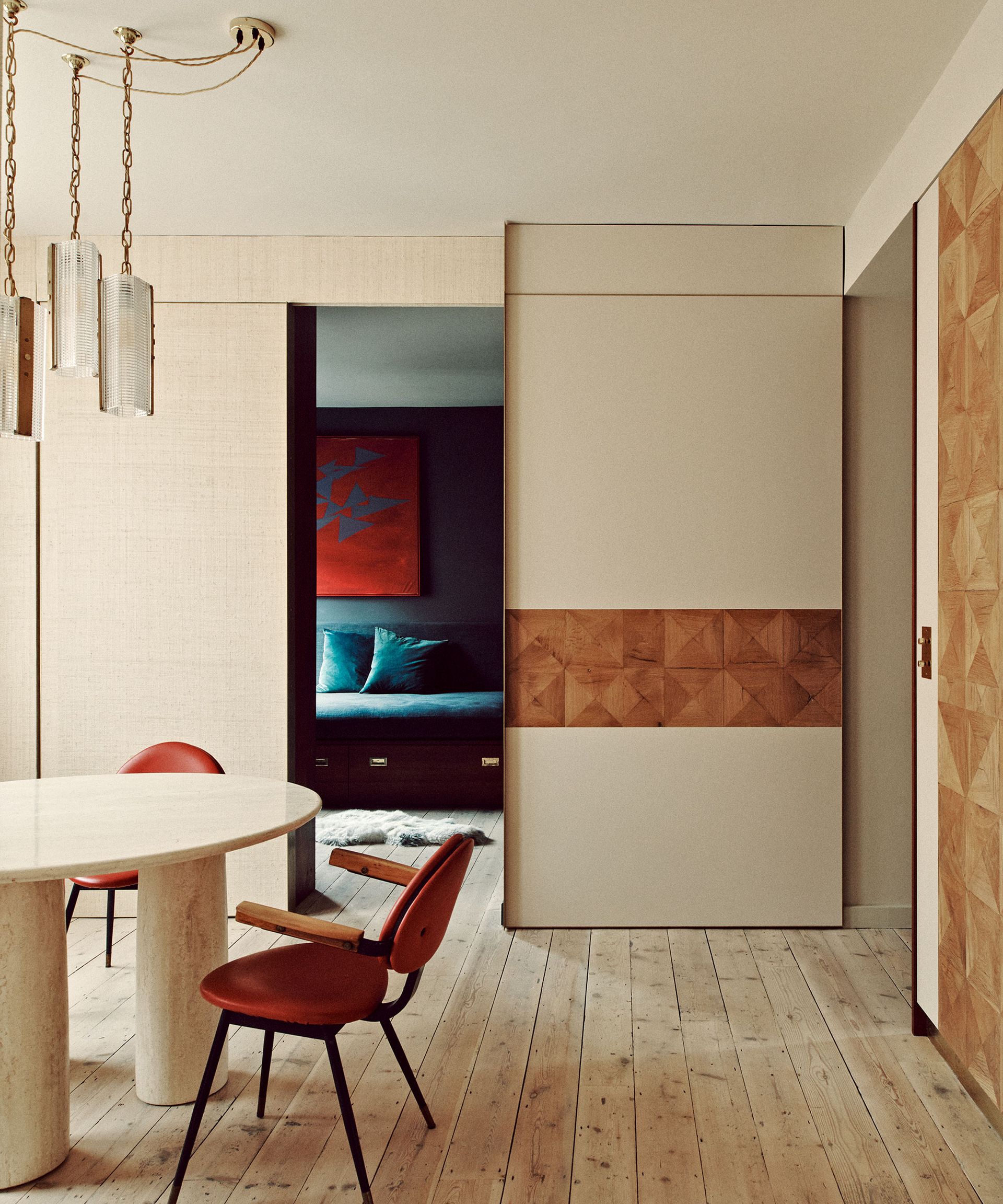 For a more established solution to open plan living, you may wish to consider inserting panels or sliding doors between your sleep space and the rest of your bedroom.
More space-efficient than hinged doors, sliding doors or panels can be hidden within walls when pulled open, perfect if you are looking for small apartment living room ideas that enhance space.
Sliding doors can also create a useful temporary division, which can be useful if you need to screen off a dressing area or bathroom for privacy or if your partner and you have different waking and bedtime routines.
7. Divide a bedroom with open shelving
Modular shelving options offer a variety of stylish choices to break up and divide a bedroom, whatever its size, from a small bedroom to a much larger space.
'Depending on how you chose to decorate your shelving you can create as much of a barrier as you need, with anything from books to indoor plants. Or, for a lighter touch, add a few discreet and minimal objects, sculptures, ceramics or colored glass that catches the light,' says Jo Bailey, Deputy Editor, Homes & Gardens.
Jo Bailey is Deputy Editor of Homes & Gardens, overseeing all features for the print edition. Before joining Future PLC, she worked as an interior stylist for over ten years, specializing in commercial photo shoots for luxury clients such as; Design Centre Chelsea Harbour, Christopher Farr Cloth and Heal's. She has worked with Homes & Gardens for over a decade, having styled and produced editorial shoots and events over the years.
8. Create a screened niche bed
'Nook beds are having a moment,' says Lucy Searle, Editor in Chief, Homes & Gardens. 'Designers are using them to create cozy sleep spaces particularly in rooms where the layout is compromised or small, and the offer the perfect solution for transforming what might otherwise be an awkward layout or correcting the proportions of an awkward-shaped room.
'I think they're particularly effective when both lighting and storage inside the nook is specified, and they're much more useful when there are drawers beneath the bed, which can be used for anything from out-of-season clothes to extra bedding.'
Lucy Searle has written about interiors, property and gardens for over 30 years, starting within the interiors departments of women's magazines before switching to interiors-only titles in the mid-1990s. In 2018, Lucy took on the role of Global Editor in Chief for Realhomes.com, taking the site from a small magazine add-on to a global success. She was asked to repeat that success at Homes & Gardens, where she has also taken on the editorship of the magazine, which is the UK's oldest interiors magazine at 103 years old. Lucy is a serial renovator and also owns rental properties in the UK and Europe, so brings first-hand knowledge to the subjects she oversees.
9. Divide a bedroom from the office
Post-pandemic, bedroom office ideas have been more sought after. It's not always an ideal solution and often the desk and bed are far too close. Ideally, they shouldn't even be in view of each other.
In a long, narrow bedroom, dividing off the sleep space with a heavy drape can be all that's needed to create separation. This will give you a quick solution that can be reversed quickly with very little effort.
FAQs
What are the best ways to use dividers in the bedroom?
The creative power of dividing up your bedroom to create a range of zones, cannot be underestimated. A simple addition of a seating area will naturally introduce a relaxing corner in your bedroom, add a table for a more formal space. A pair of curtains or a decorative screen will also provide clear and distinct zones away from the sleeping area, but is informal enough to be removed by simply opening the curtains or removing the screen.
If you are looking for a more permanent zoning structure, then bespoke cabinetry, sliding panel doors or glass doors will offer this solution. Providing independent areas in the bedroom to have a dressing room, ensuite, work area or storage, ensuring that you are absolutely taking advantage of the space to suit your varied and practical needs for a modern lifestyle.
---
Whatever decision you consider satisfactory for your space and style, always measure carefully, and enjoy the process of design discovery, playing with the ideas to uncover the chicest scheme for your home.
Sign up to the Homes & Gardens newsletter
Decor Ideas. Project Inspiration. Expert Advice. Delivered to your inbox.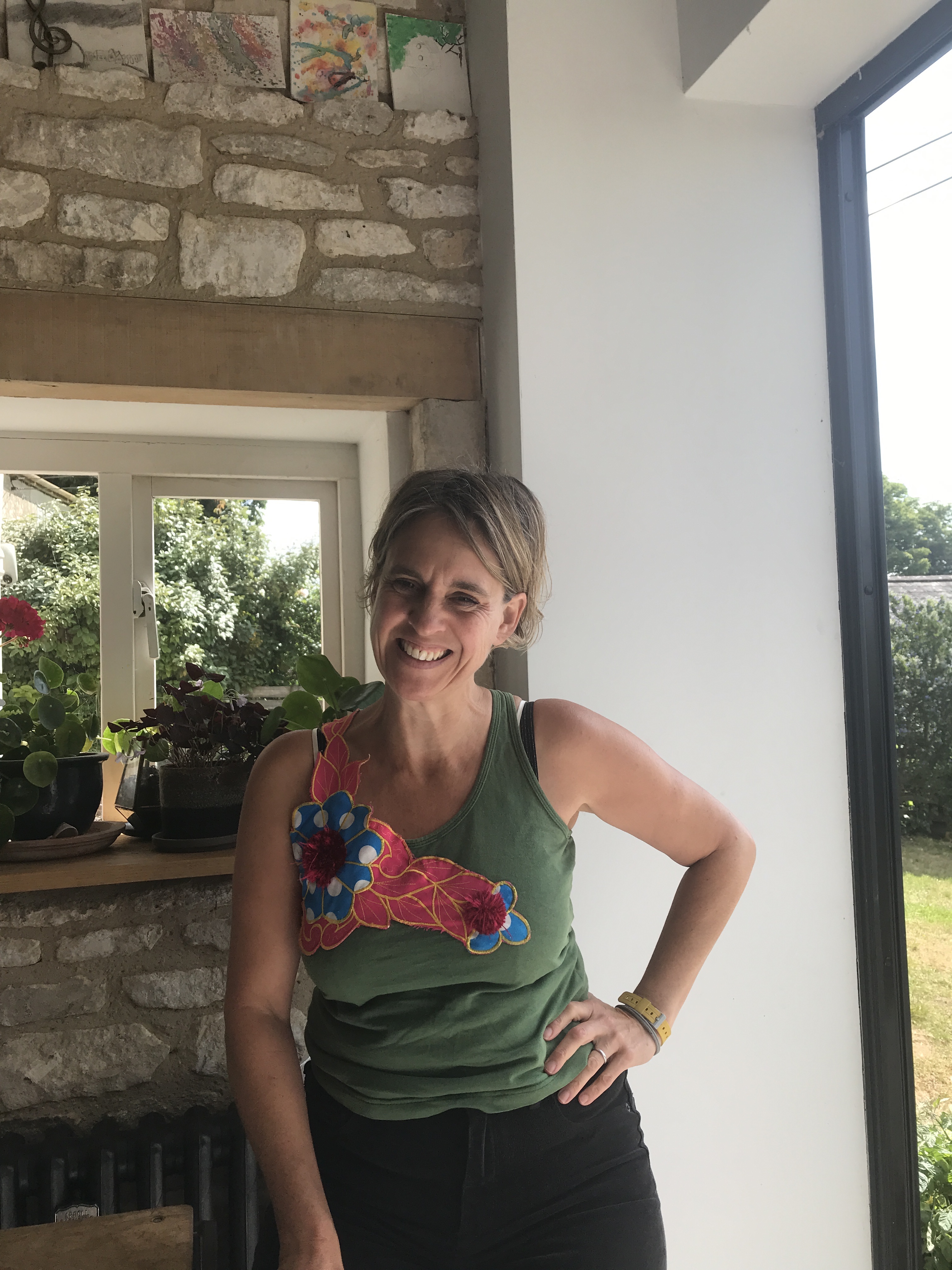 Hannah Newton is a lifestyle, interiors, travel and design journalist and editor who has been writing for the past two decades, she has written for national newspapers including The Times, The Telegraph, The Guardian and The Observer as well as interiors titles Elle Decoration and Architectural Digest in the UK and across Europe, South Africa and Australia.