Bedroom ideas for couples – 13 ways to marry function with style
Create comfortable spaces full of personality with these bedroom ideas for couples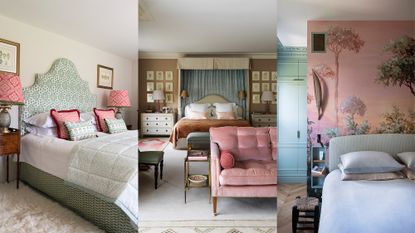 (Image credit: Charlotte Gaisford / Salvesen Graham / K&H Design)
Bedroom ideas for couples can be tricky to get right. Balancing the needs of two people who often have different routines is a challenge, but to achieve a space that also suits both tastes in terms of style, too, can be even more tricky.
In terms of functionality there's plenty to think about when it comes to bedroom ideas, from layout and storage, to the all important bedroom lighting. Aesthetically the space needs to appeal to both parties and, like any bedroom, also needs to feel cozy and inviting.
Whether you're embarking on a new main bedroom design from scratch or want to create an intimate and cozy romantic bedroom, these bedroom ideas for couples and handy expert tips will help you inspired.
Pippa has written hundred of articles on decorating and interiors, many of which focus on bedroom design. She spends her days searching for inspiring decorating ideas to share with H&G readers as well as handy tips to help with their design projects. Here she shares advice on what to think about when designing bedrooms for couples
Bedroom ideas for couples
When thinking about bedroom ideas for couples practicality is a priority. Before you embark on a design take time to examine each others routines and assess how you use the space. It's also a good idea to do an inventory of items you need to store, too.
'It is important to think of both person's needs, remembering that they are individuals first and foremost. Bedroom storage is key so think about what type of storage they need, for example more shelves and drawer space over hanging space,' says Sam Hood co-founder and chief creative officer of Amara. 'Creating a space that you both will feel comfortable in is so important; introduce pieces that you both love and remember to compromise if needed.'
While they should always be practical, as private spaces, bedrooms are rooms where we can be free to express ourselves, so be sure to fill it with things you love advises interior designer Linda Boronkay.
'The bedroom is the perfect location for more intimate family photos framed on the walls and artworks that are meaningful. It's a nice way to remind ourselves of happy memories before we go to sleep or first thing in the morning.'
'I like when the bedroom of a couple reflects the individuals' personalities, for example if the overall aesthetic of the bedroom is harmonious I like to add mis matching lamps or mismatching bedsides that clearly differentiates your side from your partners. This is a quirky detail, but adds levity, character and fun to your room,' adds Linda Boronkay.
1. Choose a neutral color
When it comes to bedroom color ideas for couples' rooms it can be difficult to settle on one shade, so often it's best to play it safe with the wall color and to introduce personality through furniture and artwork instead. Decorating with neutrals like grey, white or warm tones like beige will mean the room has enduring appeal, but also also makes a versatile backdrop for layering a variety of different accent colors through artwork, homewares and accessories.
'I love grey in the bedroom – either a really watery tone for a bright and clean look, or a deep slate or charcoal for more drama. Really anything goes with either – a shocking pink, a touch of metallic, a deep mustard – you need to choose the atmosphere that you want to create, and decide whether that means you want to use deep and dramatic tones, or light and reflective ones,' says Crown's senior designer Justyna Korczynska.
'Dark grey bedroom ideas work wonderfully with white woodwork and bedlinen, - for the ultimate smart bedroom. But it also looks fantastic with areas of a sharp tone like leaf green or burnt orange.'
2. Create a practical layout
When designing a bedroom for couples it's important to create a layout that works for both parties. In his space by K&H Design an en-suite and walk in wardrobe were connected to the room with a separate door lading off te closet out of the room.
'One of you might be up at dawn for work every day and the other may not rise until 8:00am, so it's important to understand each others routines and design around this,' says Katie Glaister, founder of K&H Design.
'This happened in our Notting Hill project. After meticulous space planning, we created a separate door for him to exit the bedroom. Now, after his power shower in the ensuite, he leaves through his dressing room, which is adjacent to the bedroom, through a pocket door leading onto the hallway. Leaving the wife undisturbed in the bedroom until the kid's awake.'
3. Layer the light sources
When it comes to bedroom lighting it's important to think about a layered scheme of task, ambient and accent lighting so the space is both functional and relaxing.
'To achieve a relaxing ambience for both day and night, think table lamps, wall lights and dimmable switches,' says Katie Glaister.
If you are starting a bedroom design from scratch, think about lighting from the outset so that the space can be wired accordingly. Having a panel by each side of the bed where lights can be switched off and on independently will offer ultimate control. It's also worth adding in small LED reading lights on either side of the bed, as pictured in this space by K&H Design, so that partners can read without disrupting each other.
4. Add curtain to a four poster bed for an intimate feel
When designing a bedroom for couples bedroom furniture should be carefully considered explains Simon Temprell, interior design manager at Neptune. 'The key to creating a warm, enticing, romantic bedroom scheme for a couple is to consider the size of the room and the scale of the furniture you are using. If a bedroom is over-crowded with furniture and accessories it can become slightly claustrophobic which is not the feeling you want when you go to bed.'
If a room is large and has too little furniture then you will feel slightly 'lost' in the space, 'a four-poster bed needs space to breathe so high ceilings and spaciousness are a big advantage. To make the space more intimate, 'add curtains to the bed frame to create a cozy 'room within a room,' suggests Simon Temprell.
5. Pair warm colors with luxurious textures
If you're looking to create a cozy bedroom, 'choose a warm color palette,' says Simon Temprell. 'Red is particularly effective in bedrooms, especially if tempered down to a rosehip or paprika shade.'
He also suggests introducing velvet decor ideas to bring warmth to the space. Here a sumptuous velvet headboard makes a romantic and luxurious focal point and is perfect for sitting up against on lazy weekend.
'For the ultimate in fall/winter coziness consider using velvet curtains as a way to cocoon yourself from the outside world. Let curtains pool on the floor and use interlining for a luxurious, draft-reducing barrier during colder months,' adds Simon Temprell.
6. Introduce built-in storage
A walk-in closet will provide the ultimate bedroom storage for couples, but if that isn't an option then having built-in closets is often the most economical use of space as they can be built around the architecture of your room and fitted with internal solutions to house exactly what each party needs to store.
'When designing the perfect wardrobe there are lots of organisation options to choose from such as fixed rails and pull out drawers. User friendly wardrobe accessories such as a pull-out tie rack, swivel hook and a pulldown hanging rail create easy access and a neat wardrobe,' says Philipp Nagel, Director at Neatsmith.
'A top shelf can be included which is a great space for sports bags that can otherwise clutter the floor, double hanging rails are great for smaller coats/jackets and allow you to fit in twice as many items.'
7. Use alcoves to create separate closet space
Bespoke joinery is a wonderful way to maximise storage in a small bedroom. Here Emma Sims Hildtich has made the most of the alcoves in this room by fitting two built-in closets.
'Two bespoke wardrobes are a must have for a couple's bedroom. A space for each individual with dedicated sections to keep shoes, belts and accessories helps to keep the room uncluttered and organised, as well as adding a pleasing symmetry to the design,' says Louise Wicksteed, design director of Sims Hiltich.
The crittall screen that separates the en-suite from the bedroom helps flood the space with light while the fire helps turn the space into a cozy and relaxing sanctuary.
8. Zone the space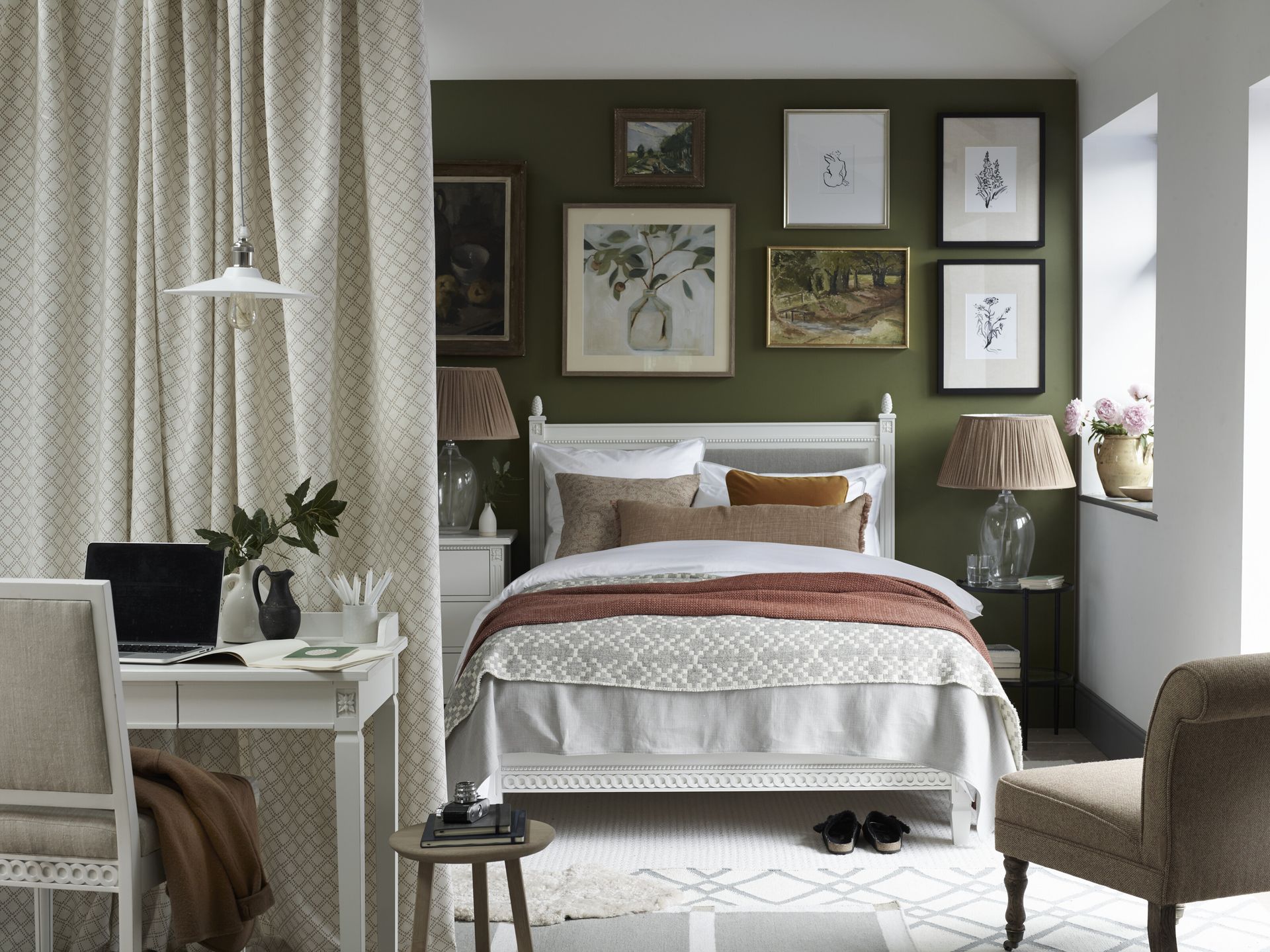 With many of us now working from home, some couples without a separate room for a home office are opting for bedroom office ideas, adding desks into their bedroom layout to create workspace. While often a necessity, this arrangement can make separating work from home life tricky. In this stylish space by Neptune a simple curtain helps zone the bedroom into two separate areas.
9. Add a shelf to display artwork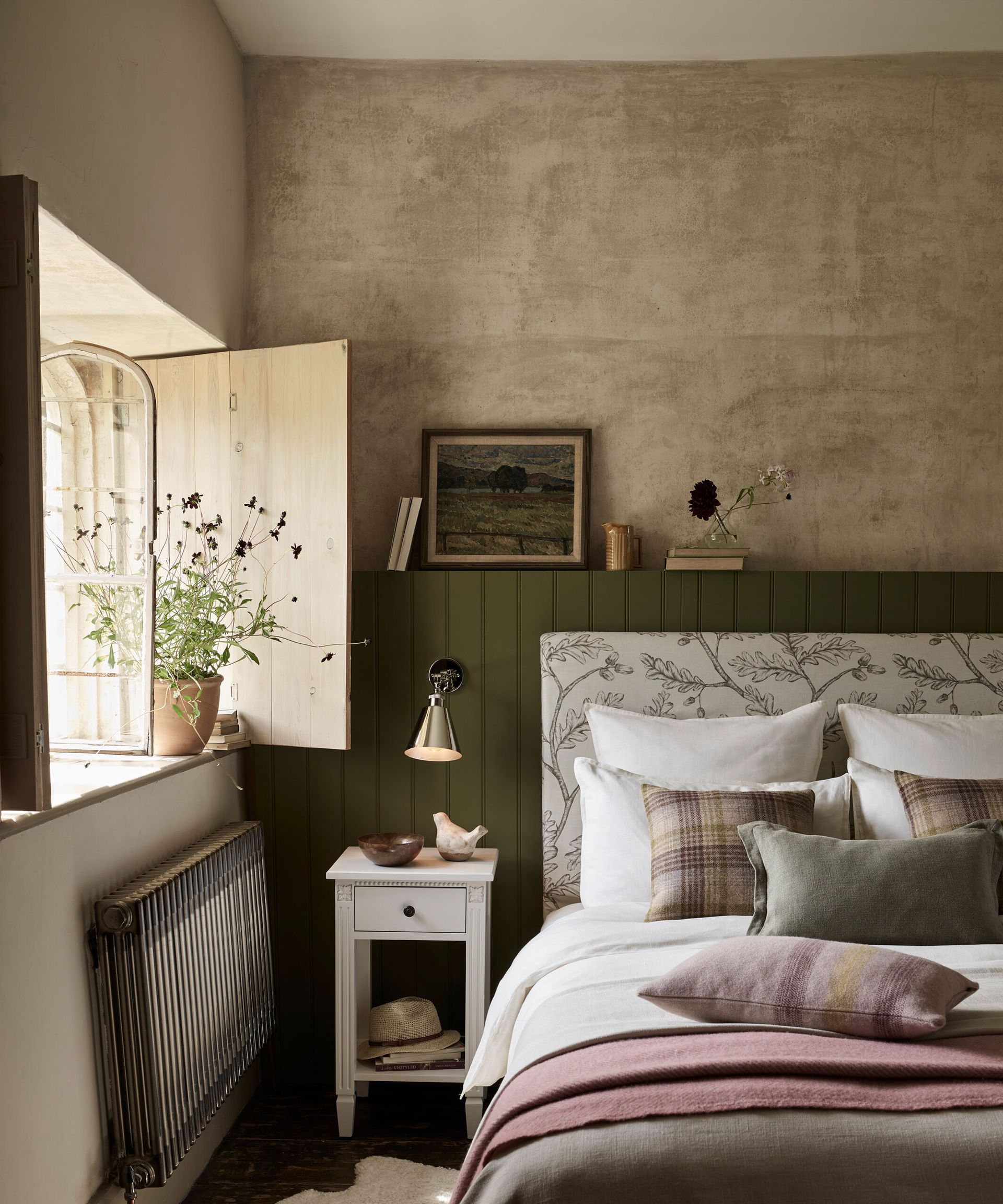 Decorating with art can be a very personal thing and often it can be hard for couple to agree on one statement piece. If this sounds familiar then consider leaning artworks rather than hanging them. Resting bedroom art ideas on a shelf means the display can easily be refreshed as and when tastes change and will also give the space a relaxed feel.
10. Don't be afraid to layer pattern
Pattern can be tricky to get right when decorating, especially if the two people involved have differing opinions – here fabric designer Charlotte Gaisford shares her tips for success. 'Obviously I love pattern. To make it work for both parties in a couple and as relaxing as possible, I tend to stick to a maximum of three colors agreed on by both and layer pattern within these, adding the main pattern behind the sleeper – on the headboards, lamps, valances etc.'
'If I choose a highly patterned curtain, I counter this with plainer walls and accessories in calmer patterns. You want to walk into a room and have a 'WOW' factor of some kind but not be overwhelmed with it every time you wake up in the morning,' adds Charlotte Gaisford.
11. Introduce seating
As well as being a place to sleep, the bedroom can make a great room to escape and relax, especially if you have a busy household. If space allows, try adding in a seating area where you can retreat from the chaos, as has been done here in this beautiful scheme by Linda Boronkay.
'If you have room, a chaise or a small sofa is always handy for those times when you fancy a daytime nap without disturbing the carefully made bed. A TV and stereo, hidden away somewhere, offer the option for entertainment or music. You might even consider a small refrigerator for the storage of sparkling wine or champagne,' adds Simon Temprell, interior design manager of Neptune.
12. Display personal items
As private spaces bedrooms are wonderful rooms to display personal items with meaning, be it a family heirloom passed down the generations or a memento from a special holiday. In this master bedroom, Natascha Dartnall framed the music sheets from her wedding, which she had printed on cotton and hung behind the bed.
'Combining new with old to create a sense of character and history, the bedside tables are antique, the bed is from Loaf, the lights are from Visual Comfort, and the bedside marble lamp is from Soho Home,' says Natascha Dartnall, founder and director of ND Studios.
13. Choose multi-functional pieces of furniture
When designing a bedroom for two people storage is a top priority, so it's worth thinking cleverly about how to maximise the potential of every piece of furniture. In this project by Salvesen Graham the large chests of drawers on each side of the bed provide lots of storage but also double as bedside tables.
As well as addressing practical considerations, the designers have brought a luxurious and intimate feel to the space with an elegant bed canopy, silk wall coverings and a statement pink velvet sofa.
How can I make my bedroom intimate?
To make a bedroom feel more intimate consider decorating in rich warm colors – paint is one of the quickest ways to change the mood of a space. To make large rooms feel more intimate and cozy opt for a darker tone as this will help bring the walls in, while a lighter tone will make the space feel fresh and uplifting.
'Don't be afraid of deep, dark colors. These can create a lovely, cocooned effect in a bedroom which is very pleasant,' says Emma Sims Hilditch.
Alternatively, decorating with earthy, natural colors can also help create an intimate feel suggests Ruth Mottershead, creative director at Little Greene.
'Bedrooms are such a personal space that they are the perfect room for following your heart and choosing colors that make you happy and relaxed. Comforting natural tones are perfect for bringing warmth to bedrooms and can be used in an all-over scheme to create a cocooning feel.'
Chrissie Rucker, founder of The White Company also highlights the importance of bedding when creating a cozy and intimate space.
'Your bed is a key focal point in our room so always try to dress it beautifully with a great bedspread, cushions and a throw across the bottom of the bed. I change the throw and cushions depending on the time of year, white faux fur in winter and a lighter weight more pashmina style throw in the summer. Textured layers always look fantastic on a bed.'
Pippa is Content Editor on Homes & Gardens online contributing to Period Living and Country Homes & Interiors print issues. A graduate of Art History and formerly Style Editor at Period Living, she is passionate about architecture, creating decorating content, interior styling and writing about craft and historic homes. She enjoys searching out beautiful images and the latest trends to share with the Homes & Gardens audience. A keen gardener, when she's not writing you'll find her growing flowers on her village allotment for styling projects.