'It can look spectacular' – interior designer Kit Kemp shows us 6 ways to ensure you don't overlook a nook
From seating to storage, mirrors and more, Kit Kemp takes us through a collection of creative design ideas for the smallest of spaces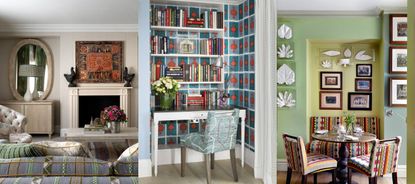 (Image credit: Kit Kemp,)
From awkward alcoves to cozy corners, are you making the most out of the nooks in your home?
Never underestimate the potential of a beautiful nook and alcove ideas. These tiny spaces can make for the most beautiful of design features, all you need is a little creativity and an understanding of how this small space can beautifully enhance your room with both style and functionality.
'Small areas are fun to style because they allow you to create extra space. It's those little in-between spots that can – if you're clever – work harder and become places you want to stay in,' says Kit Kemp.
Renowned British interior designer and founder of the hotel chain, Firmdale Hotels, Kit Kemp has been creating and designing beautiful interior spaces for over 3 decades.
Kit Kemp's 6 innovative ideas for styling a nook
Whether you want to create a cozy reading nook, or make use of your under-stairs space, unleash the potential of your home's architectural features and be inspired by this clever collection of nook ideas.
1. Use a nook to transform a transitional hallway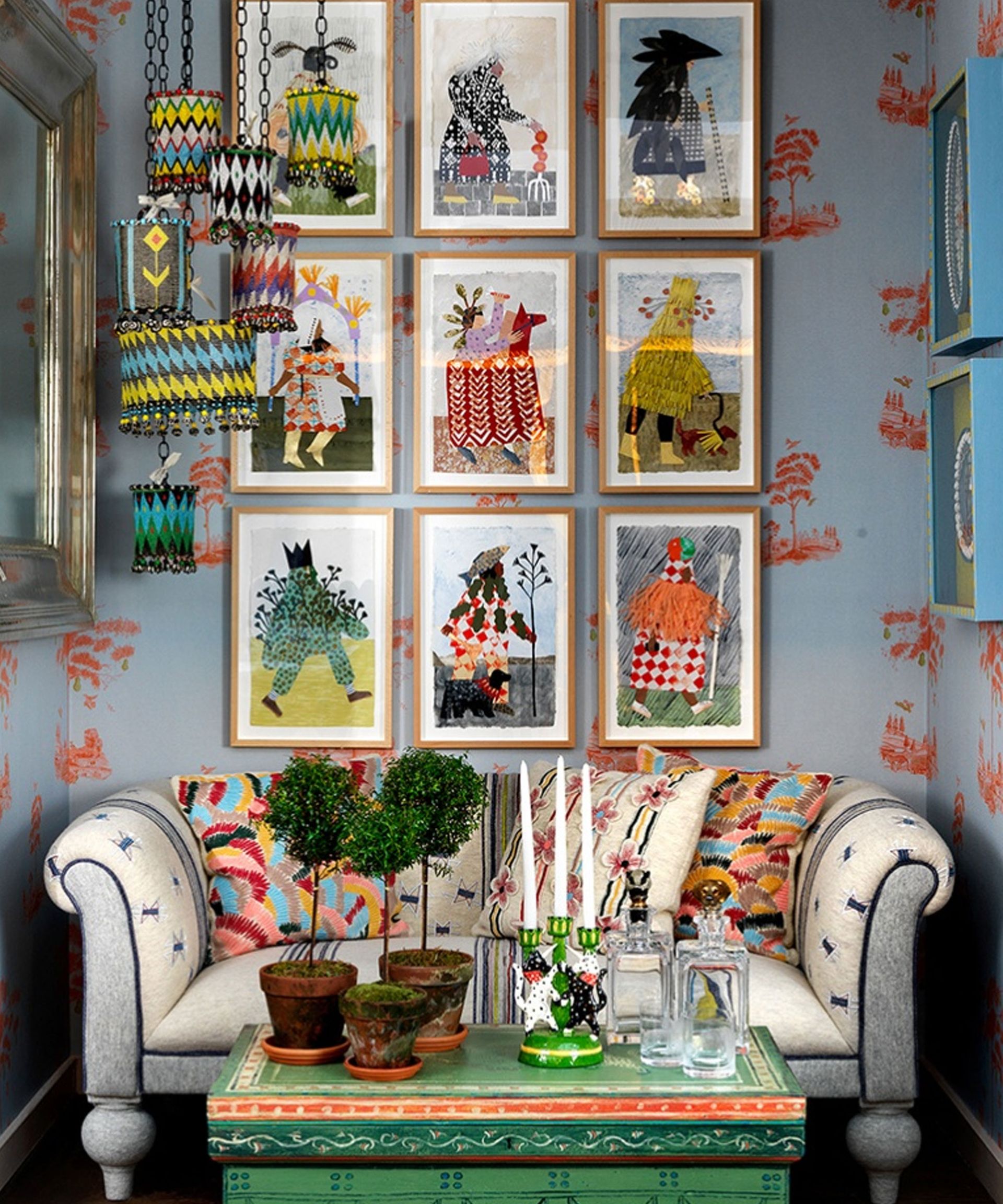 'Hallways are a great opportunity to create a nook; if you can put a piano in – even just an upright one – you can turn it into a music room.
Instead of just being a space to walk through, it becomes somewhere to stop. If your stairwell is large enough, our studio likes to add books going up the side. It can look spectacular,' says Kit.
Seating is also another great option to consider for nooks in small hallways and large entryways alike, from a sleek bench to an armchair or cozy loveseat, these seat spaces will create a relaxing and practical area to pause and sit – whether you're coming in or going out!
2. Celebrate the nooks in an odd-shaped room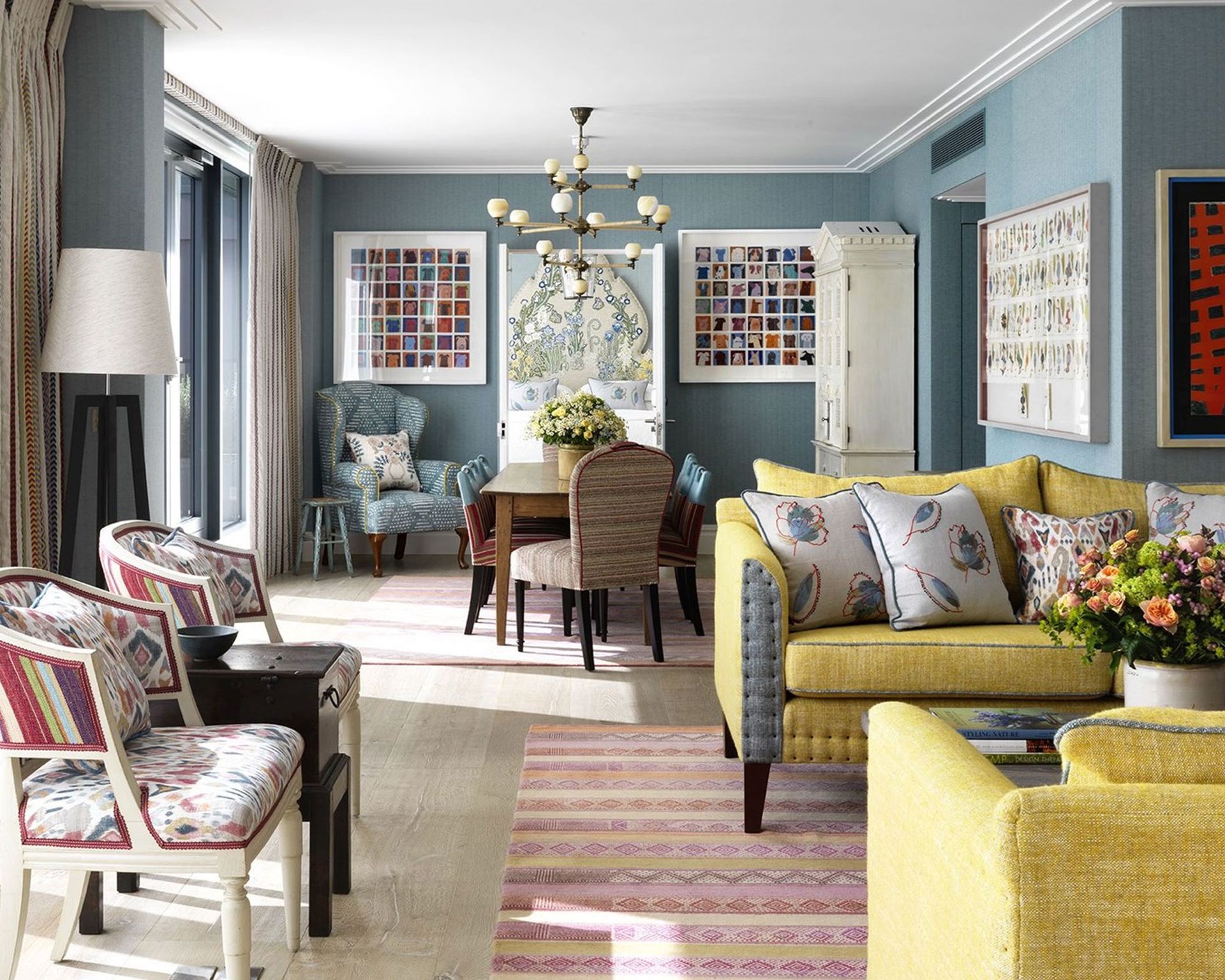 'Creating nooks can happen in bigger rooms, too. If, for example, you've got an odd-shaped room with an alcove corner or a walk-in closet with a bit of space and you can put the smallest writing desk in it, it suddenly becomes a study. It's a clever way of maximizing the space,' advises Kit.
An odd-shaped room is also much easier to zone, as natural zones have already been established through the room's shape. As shown in this design by Kit, the smaller end of the room acts as a separate dining room, with the rest of the space being used as a living room, creating a sociable, open-plan entertaining space that still retains subtle areas of separation.
3. Maximize on storage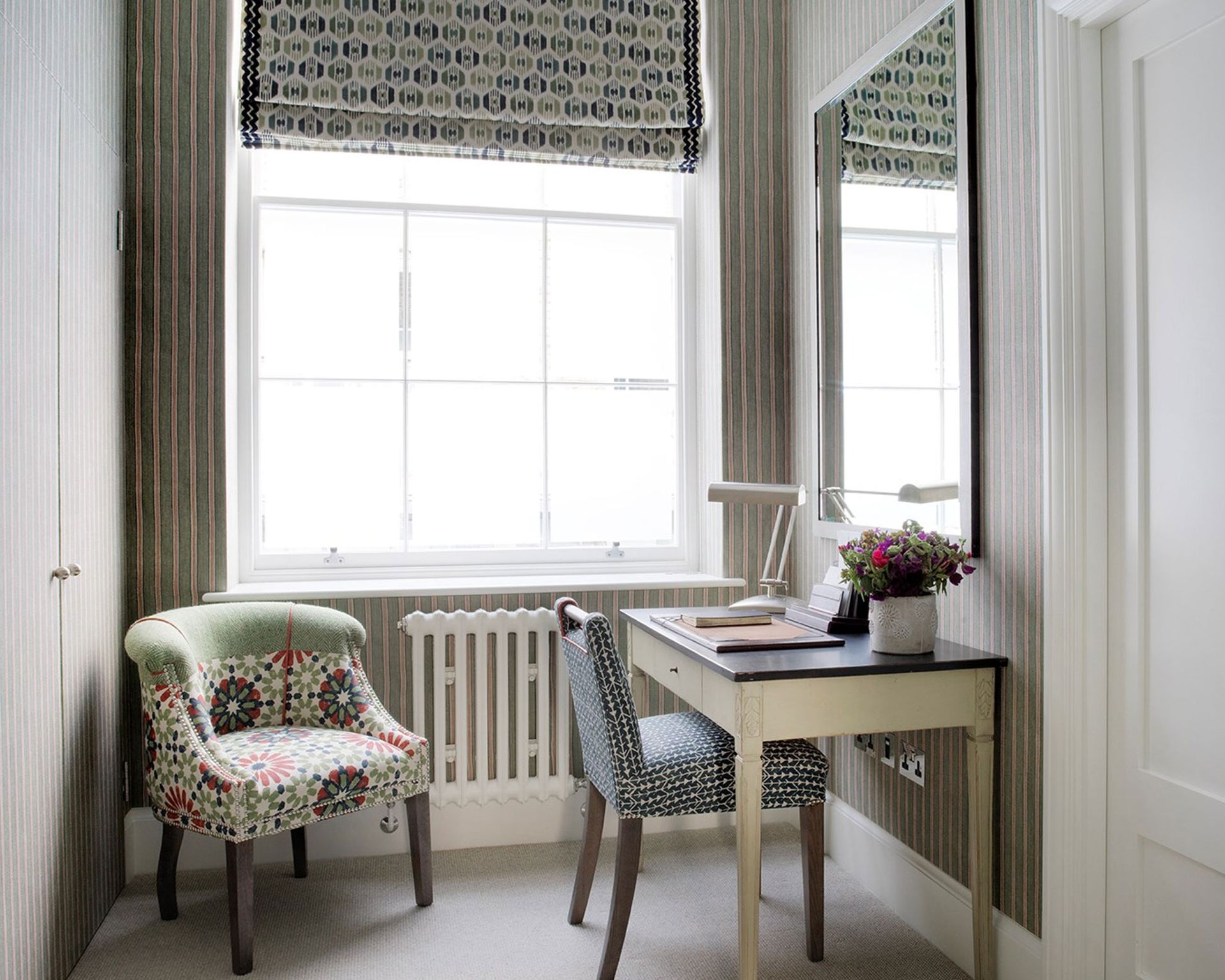 'People use small guest rooms and box rooms to shove their junk in, which I understand, but a good tip is to maximize on storage, such as having a whole wall of cupboards to store things in, then use the rest of the room for another purpose.
We like to put fabric on the front of jib doors, which open with just a clicker, so it doesn't even look like a cupboard, just a statement wall.'
This small spare room, designed by Kit, is a great example of guest room office ideas. The small desk fits snuggly into the area beside the window, with the large mirror helping to increase a feeling of light and space. Finished with sophisticated striped wallpaper, the closet doors have also been decorated with a complementary striped print, helping to create a clean and cohesive look.
We explore further storage ideas in our dedicated feature, how do I maximize storage in my box bedroom?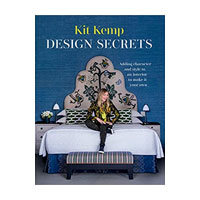 Design Secrets by Kit Kemp | $21.49 at Amazon
A masterclass in the do's and don'ts of interior design, in this book, Kit welcomes you into her colorful world and reveals how to create interiors which capture the imagination.
4. Enhance a nook with color and character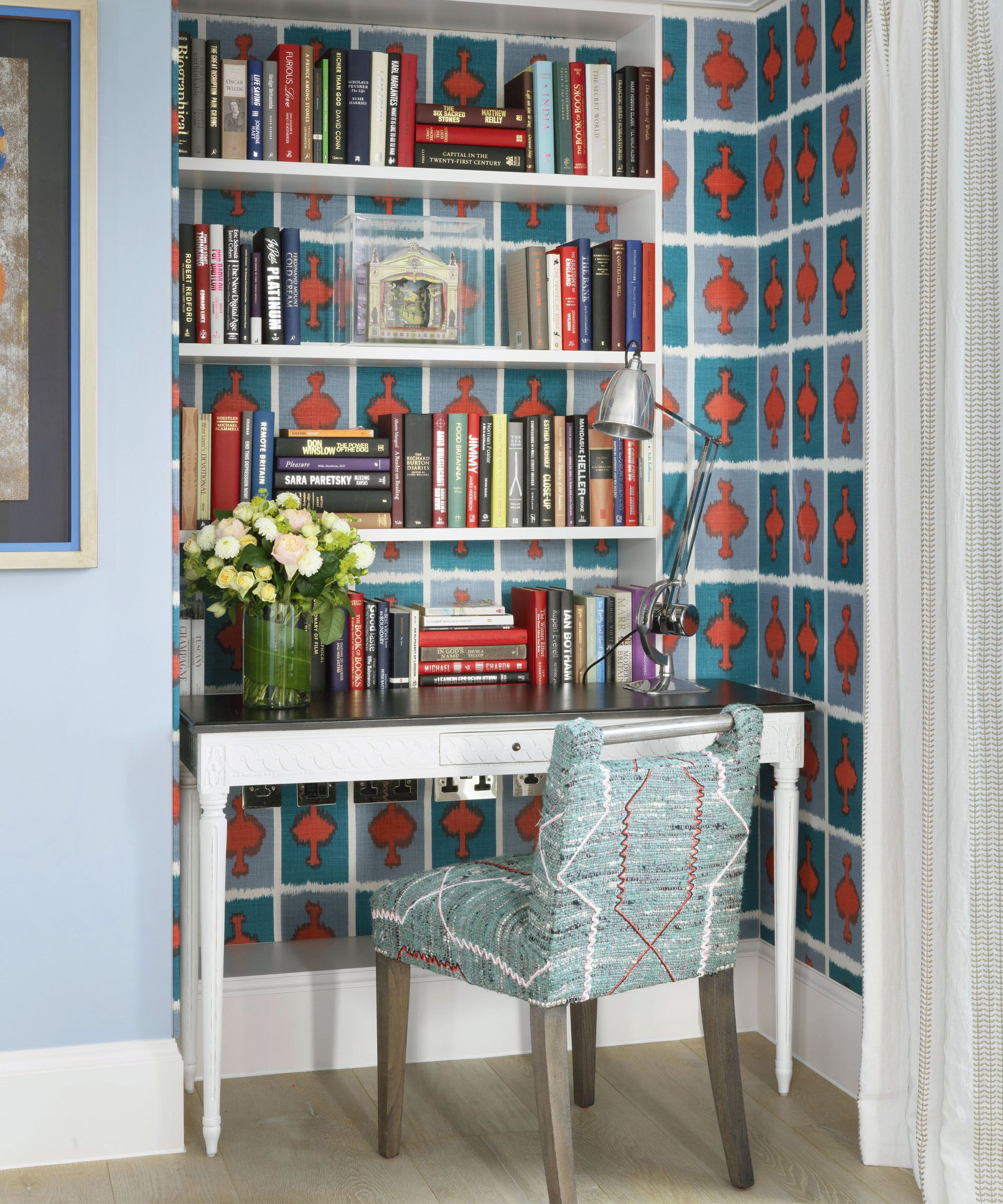 Renowned for her use of color and pattern, Kit shares how smaller spaces are usually some of the best places to embrace bolder, more colorful design ideas in the home.
'You can be really adventurous in a smaller space – it makes more of a statement. Color is a great way of breaking up space and so is introducing a patterned wallpaper such as on the back of a bookcase. If you then style it with some books and a few ornaments, it becomes a very decorative corner of the room.'
This recessed space has been transformed into a colorful study area through vibrant wallpaper ideas and clever furniture placement. Featuring Kit's Ozone wallpaper in coral and teal from her Christopher Farr collection, the bookshelf adds a further layer of texture, color, and depth, with the upholstered blue chair perfectly complementing both the patterned wallpaper and soft blue paint on the walls.
5. Use mirrors to create a point of interest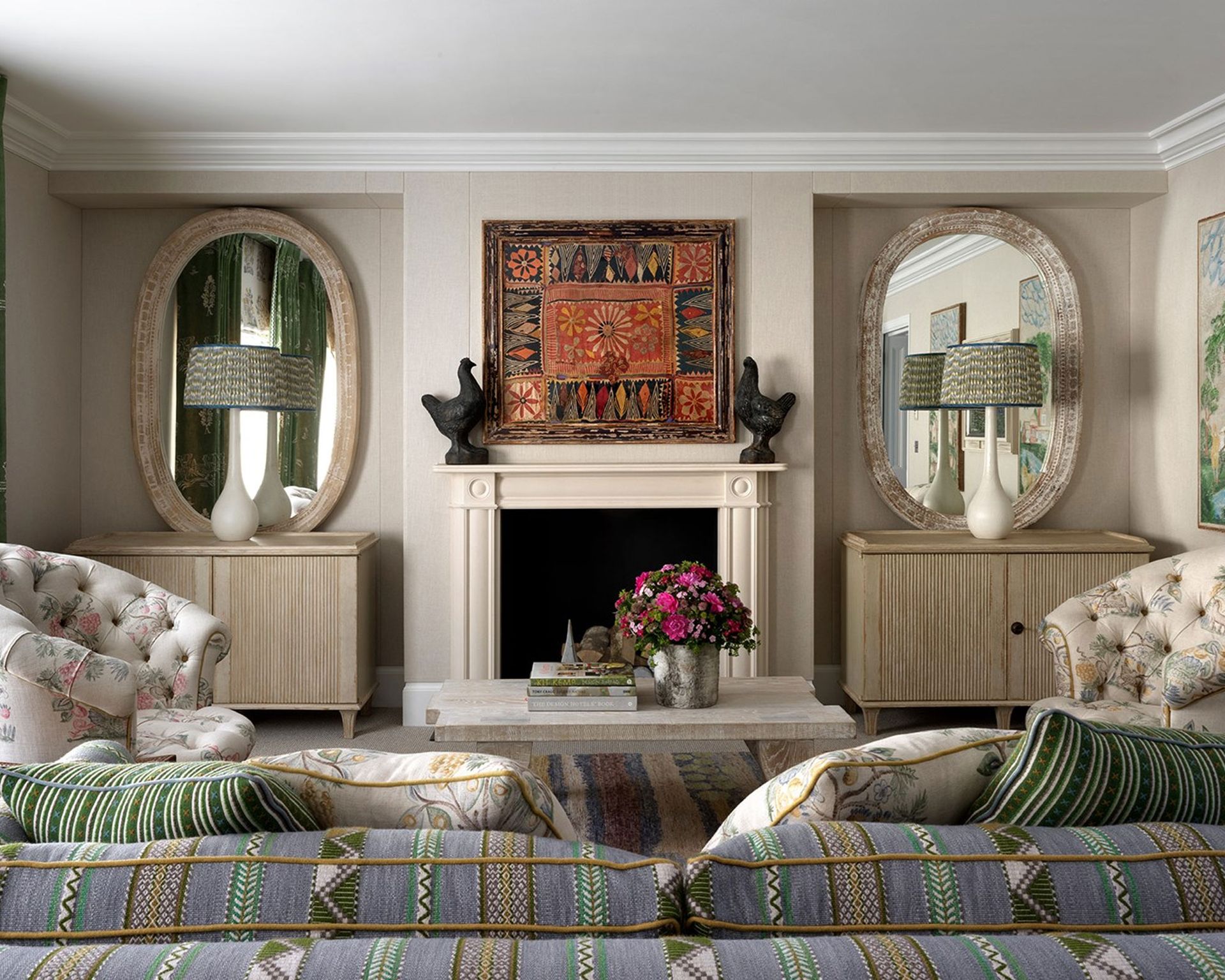 'Mirrors are an excellent way of creating a point of interest in a nook – but go large. We always overscale our mirrors; if they can also reflect the color from another wall or a painting, then that is a bonus,' says Kit.
Mirrors not only enhance a room with decoration, bringing in beautiful shapes and materials, but decorating with mirrors also helps to increase the feeling of light and space in a room, so they can be used as a simple way to both styles a nook and help a small space feel bigger.
Shop some of our favorite mirror picks below.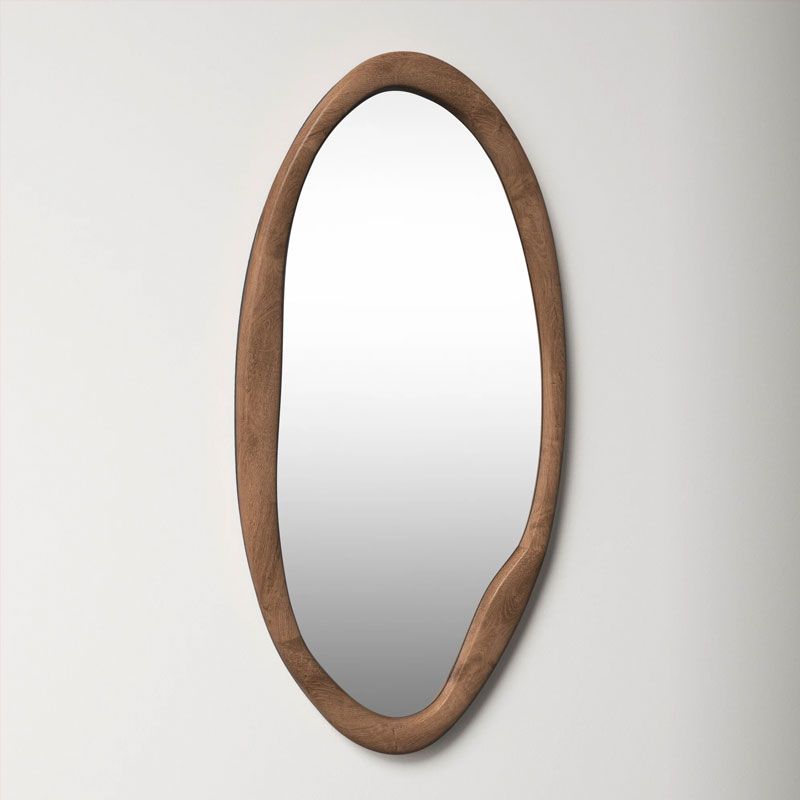 This sleek wall-mounted mirror from Wayfair features an asymmetrical oval design and is finished with a warming, dark wood frame.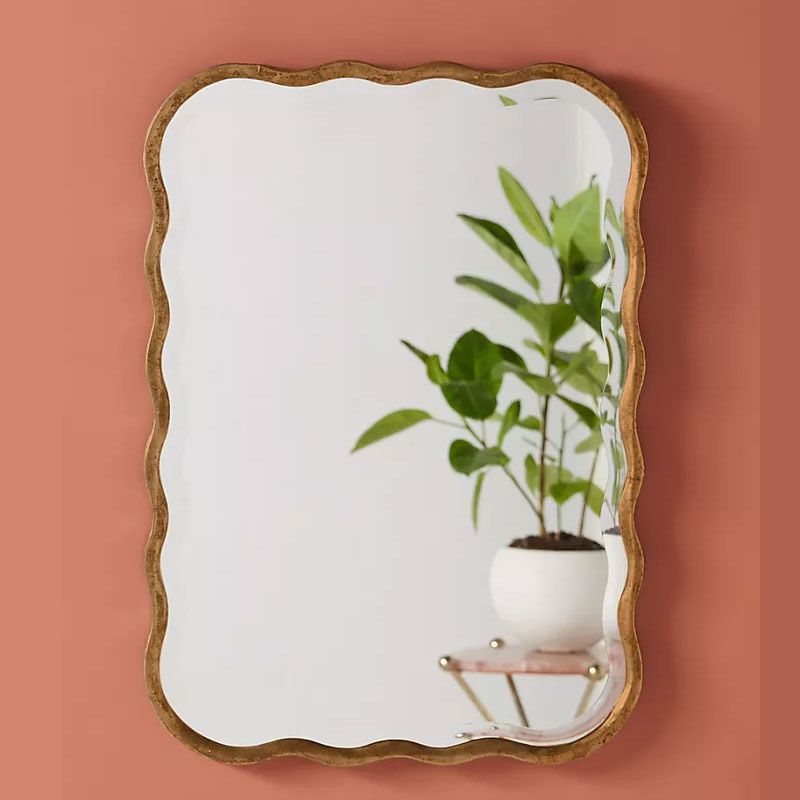 Available in a small rectangle size (pictured) or larger floor size, we love the playful, scalloped edge of the Coquille Mirror by Anthropologie, with the undulating lines bringing a modern, whimsical touch to a room.
6. Or, get creative with artwork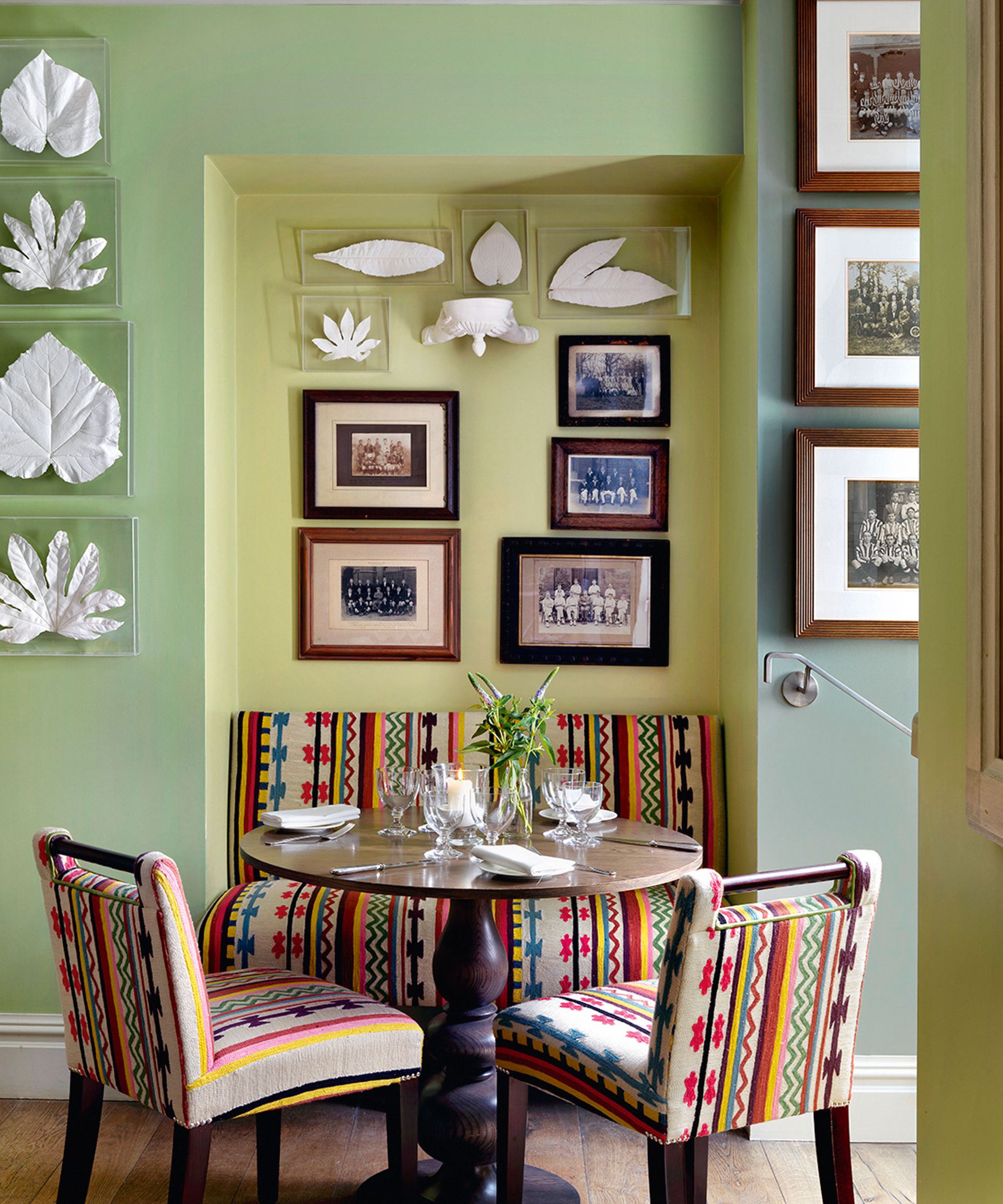 Something as simple as hanging a framed painting or picture on a wall can elevate a nook area with eye-catching visual interest.
Kit advises, 'people tend to have boring frames for their pictures – but I like to celebrate the frame, as well as what's inside. We box frame almost anything, from a pair of shoes to a bunch of keys. You put them on a contrasting background, and they look great – like a piece of artwork, but often something incredibly meaningful.'
We love how this narrow niche is at the center of this creative dining area design. Helping to establish an almost room-within-a-room effect, the nook has been beautifully styled with a small gallery wall, and further enhanced with cozy banquette seating, creating an inspiring design that makes a stylish point of this home's architecture.
FAQs
How do you make a comfy nook?
From simply positioning a lounge chair or small sofa into the space, to creating bespoke bench seating, there are many ways you can make a comfy nook.
Of course, comfort is not all about seating, dress a nook space with an abundance of tactile texture, from rugs (also a great decorating tool to help zone the space) to having plenty of pillows and throws, and style the space with furniture, lighting and accessories that make you feel comfortable and relaxed.
---
From creating a separate zone for dining and reading, to bringing in beautiful decoration through mirrors and artwork, no matter the size and style of your space, the clever styling of a small nook can make all the difference in your overall interior design.
Sign up to the Homes & Gardens newsletter
Decor Ideas. Project Inspiration. Expert Advice. Delivered to your inbox.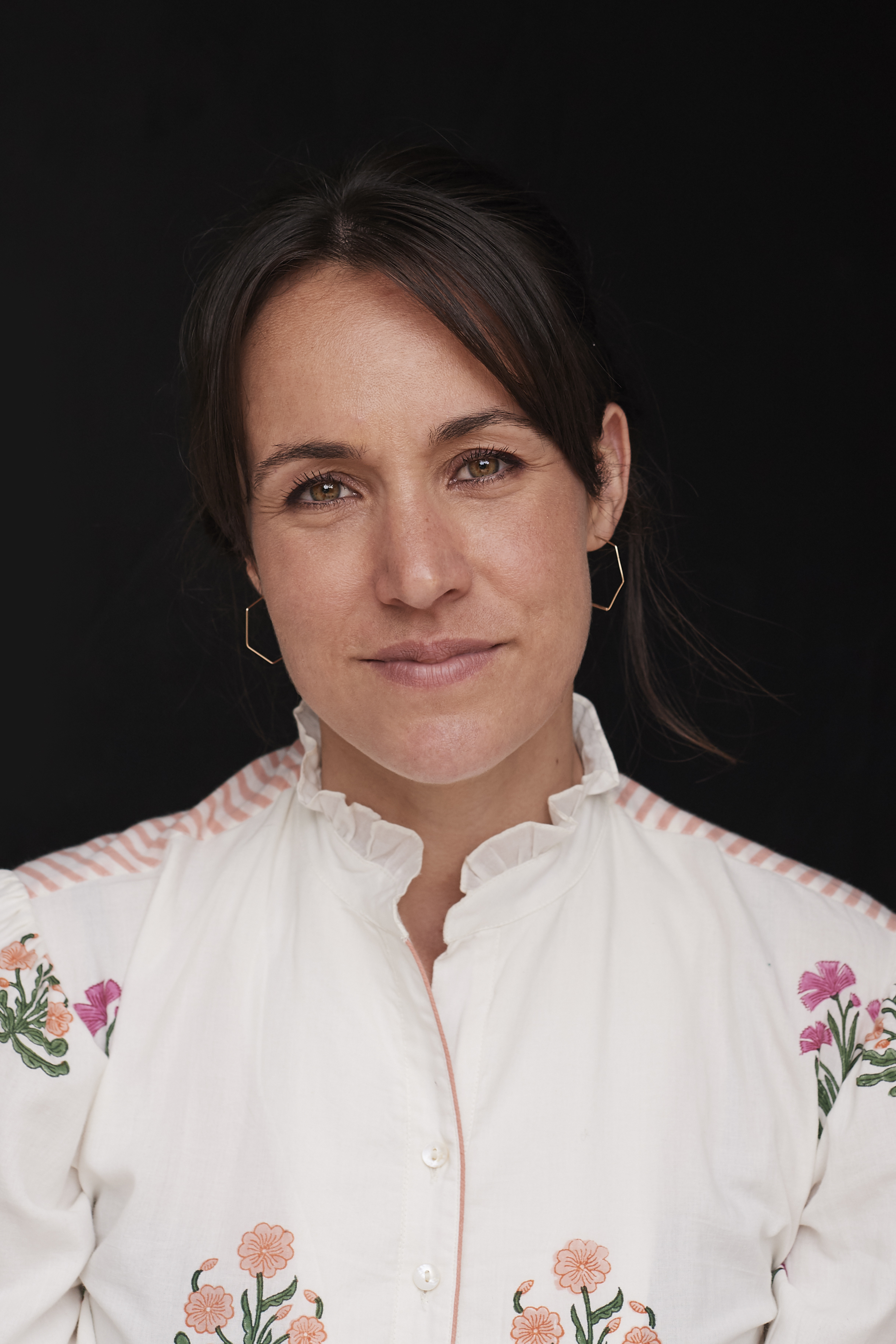 Jessica Salter is an interiors writer who interviews the leading interior designers and tastemakers each month in Homes and Gardens about their inspiring, yet practical ways to instill a slice of high-end design nous in our own homes and lives.
Jessica has had the luxury of snooping around some of the most stylish houses in the world, such as Pearl Lowe's Cotswolds manor house, designer Matilda Goad's London house and the interior design studio and husband and wife duo Buchanan Studio. She delights in asking the biggest names in the world of interiors, from Nina Campbell to Sophie Ashby, the really practical questions that we all want answers to – such as where to source that perfect living rug, kitchen cupboard handle, or paint finish – and loves finding out the design hacks that we can all achieve, especially on a budget.
After studying English Literature, Jessica started her career in journalism as a news reporter at the Daily Telegraph, before moving into the paper's Saturday Magazine as a commissioning editor of lifestyle and food features, interviewing cultural influencers from authors and actors to politicians and inspirational figures, reporting on key trends across the sectors of health, fitness and wellbeing.