Should curtains be lighter or darker than walls? We talk to the experts
Are you trying to find the perfect curtain color for your scheme? We assess whether curtains should be lighter or darker than your walls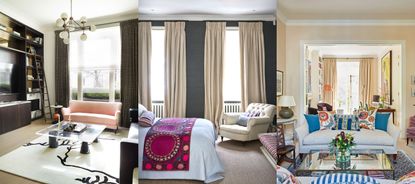 (Image credit: Rachael Smith Photography Ltd | James Merrell)
Sign up to the Homes & Gardens newsletter
Decor Ideas. Project Inspiration. Expert Advice. Delivered to your inbox.
Thank you for signing up to Homes & Gardens. You will receive a verification email shortly.
There was a problem. Please refresh the page and try again.
To help you make the right decision for the curtains in your home, we explore, with a collection of helpful advice from the experts, whether should curtains be lighter or darker than walls.
Choosing the right curtain ideas in a space can often be a tricky business, as there are so many things to consider; length, color, thickness and pattern to name just a few – the options really are endless!
So, are there any set rules on whether your curtains should be lighter or darker than the walls? Ultimately, experts agree that your curtains can be whatever color you want them to be, it completely depends on the style, mood and function of the room you're decorating. Similarly toned curtains to your wall color are considered to often work best, however, there are a few key features to explore before you commit to a curtain color, so let us help you make the right choice.
Should curtains be lighter or darker than walls?
Caroline Inchyra from Inchyra says, 'there are no hard and fast rules at all on color and tone of curtains against walls. I am very much lead by the particular room: what is it being used for, what time of day is it mainly used, how light is the room?'
Below, we present some beautiful curtain inspiration and top tips for how you can choose curtain colors for any room – whatever the color of your walls.
Caroline Inchyra is founder of Inchyra, based in the quiet foothills of the Scottish Highlands, which specializes in creating unique fabric designs and accessories that are both beautiful and sustainable.
1. Lighter: for a spacious and airy feel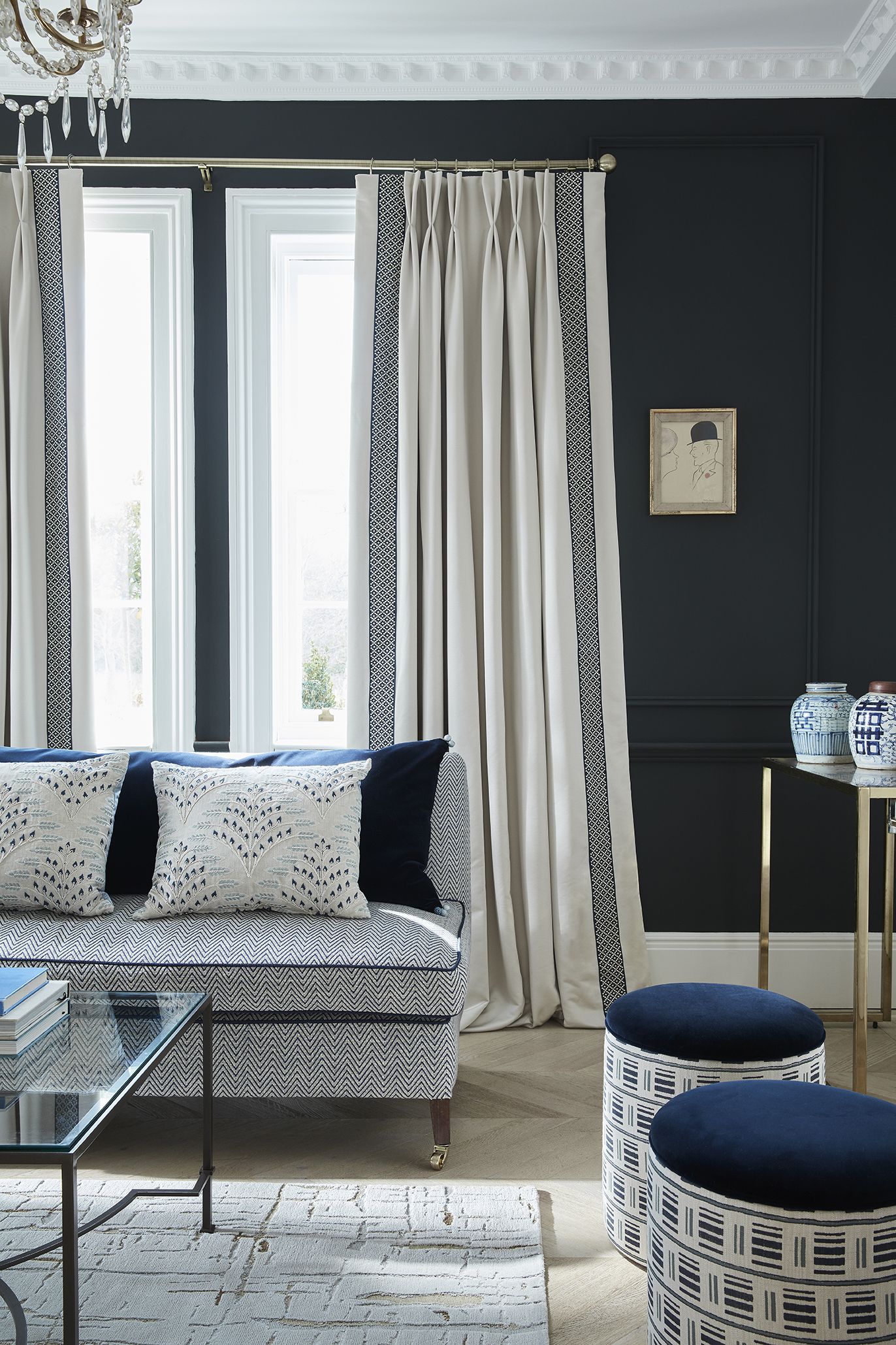 Opting for a curtain color that is lighter than the color of your walls can help to open and uplift a space.
Of course, this can depend on your chosen paint ideas for the wall, but a lighter color can be a great option for windows in small rooms that lack a lot of natural light, or for walls painted in a dark shade.
'Light walls and light curtains are more summery and have a Mediterranean feel, however, light against dark can also be more bold, striking and contrasting.' says Mike Fisher, Studio Indigo's founder and creative director.
In this blue living room with fabrics from James Hare, a brilliant, modern example of coastal living room ideas, the white and blue patterned curtains create a stylish contrast with the deep blue painted walls and give the space a fresh and crisp feel.
Mike Fisher is founder of Studio Indigo, a multidisciplinary design practice that features a collective of dynamic architects and interior designers. Fisher has 25 years experience designing and building residential properties all over the world.
2. Darker: for a cozy and cocooning effect
'In a dining room, you may well want to go dark on walls and curtains to enhance the feeling at night. For a bedroom, I would tend to use either dark walls or dark curtains, too,' says Caroline Inchyra.
Choosing curtains that are darker than the color of your walls can be a good option for more relaxed and cozy spaces, such as for bedroom curtain ideas and living room curtain ideas, plus, they can look incredibly sophisticated and often work well for more modern curtain ideas.
If you are embracing darker paint ideas in a room, choosing a curtain color that is a shade darker than your walls can also help to create an immersive and more dramatic look.
Mike Fisher from Studio Indigo also supports this and says, 'dark curtains and dark walls can be somber and dark, but they can also create a cozy and more autumnal atmosphere.'
With many of us embracing white room ideas and white painted walls in our homes, unless you choose white curtains – ideal for a tranquil, Scandinavian feel, then you're curtains are most likely always going to be darker – but no matter the color you choose, both light and dark will always work with white!
3. Match with your wall color for a cohesive look
Saffron Hare, creative director from James Hare shares, 'curtains are a major decorative flourish of any interior and a big investment too. Whether the choice is bold, beautiful and colorful, or sleekly plain with braid and trim edges, curtains can be the defining and integral design element of an interior especially if the windows are large.
Depending on the scheme, toning the curtains to the wall color can be very effective and calming, a good option for a bedroom and in paler tones makes for a very contemporary living room.'
Probably the easiest and most popular option for curtains in the home, coordinating your curtains with the color of your walls, whether it's an exact match or one shade lighter or darker, can make for a truly harmonious and united design.
Creative Director at the family-run, British fabric manufacturers, James Hare, who have been producing fabrics since 1865, Saffron Hare has lead the creative team at the business for over 20 years.
4. Use your curtains to establish an elegant contrast
Never underestimate the influence curtains can have on a design scheme, as Emma Clarke, director at Warner House says, 'curtains can bring color, warmth, drama and joy to a room. More than just a finishing touch, they can be the focal point, providing your scheme with charm and texture.'
If you're looking to create an element of color contrast in your space, curtains can be used as a brilliant decorating tool, as well as a practical window treatment. A contrast between light curtains and dark walls, or vice-versa, can create a truly stylish effect, enhancing a room with eye-catching visual interest.
As shown above, the purple patterned curtains bring in a beautiful accent color and create a point of difference in the blue and white living room, creating a space that is rich in texture, color and depth.
Explore the color wheel for further guidance on how to choose the right color combinations in interior design.
Emma Clarke is a director at Warner House, a family-run British business that have been producing fabrics and silks for the last two centuries. The White House and the Royal Family have been named as some of Warner House's most notable clients.
5. Take into consideration the other colors in the room
This may sounds obvious, but when it comes to choosing the right curtain colors, thinking about the other colors present in the room, on top of your wall color, will help to create a more balanced, and harmonious scheme.
For example, matching your curtains to the main accent color used in a room, created through upholstery, furniture, accessories and other soft furnishings, can help to establish a stylish and more united design, no matter if your walls are painted light or dark.
Your relationship with color and the palette chosen for your room color ideas can ultimately help with your curtain decision when choosing to go lighter or darker than your wall color.
6. Assess the mood you're trying to create
Mike Fisher from Studio Indigo says, 'with curtains, there really are no rules. Curtains can be dark or light, however, windows are often one of the focal points of a room and the choice of color and fabric for a room can dramatically affect the mood and feel of a space. So the question is, what mood do you want to achieve?'
As we have explored, choosing light or dark curtains compared to the color of your walls completely depends on the rest of your color scheme, the space in which you are decorating and the overall atmosphere you want to create.
A movie room or dining room curtain ideas may benefit from darker curtains to create a more cozy and intimate feel, whereas for bathroom curtain ideas or in a home office, you may choose lighter curtains to create a bright and open atmosphere.
How do you choose curtains?
Natasha Painter from Curtains 2go says, 'when it comes to choosing curtains for your home, the first thing to think about is why you need them. From delicate sheers and voiles to luxurious velvets and elegant linens, the possibilities are endless.
To help narrow down the options, think about the function of the curtains. Are they to add privacy for an overlooked space, light blocking for a bedroom or simply to add some color and pattern to your room?
You should also consider the mood and decoration of the room, for example, thicker linens and velvets suit more traditional spaces and voiles often look better in a contemporary, minimalist setting.'
Explore our curtain mistakes to avoid further insight.
Which color is best for curtains?
Interior Designer, Sarah Montgomery, says, 'the choice for drapery fabric depends on the design and style of the room. If you want to focus on the pieces in the room or the outside view, you might do a fabric close to the wall color in order for the drapery to blend in. If you need a strong design element in the space, you can use a contrasting color or pattern.
After you consider the functionality and style of the window coverings, you can determine what the space needs to complete the design.'
For some further information, explore our analysis on curtain color mistakes.
Sarah Montgomery is a Chicago based interior designer, who specializes in working in historic homes in Chicago and beyond. Montgomery prides herself on designing spaces that pay respect to a home's history, whilst still celebrating beautiful styles of the present.
Is it better to have plain or patterned curtains?
Choosing between plain or patterned curtains comes down to your own personal style and the effect you want the curtains to have in a space.
If you're looking for a way to bring in color, character and visual interest to a room, then patterned curtains can be a great option. They can be both calm and subtle, think country curtains ideas, and impactful and bold – embracing the same pattern on your curtains as your wallpaper ideas can make for a stand-out space. Patterned curtains can also act as the main foundation for a color palette in a room, pick out certain shades and use these across your furniture, upholstery and accessories for a stylish and coordinated look.
Plain curtains can often be easier to work with and can seamlessly blend into a room, but as we have explored in this piece, it can all depend on the color you choose and the overall effect you want to create.
Sign up to the Homes & Gardens newsletter
Decor Ideas. Project Inspiration. Expert Advice. Delivered to your inbox.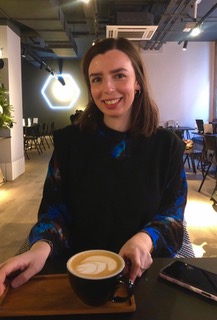 Zara joined Homes & Gardens in February 2022 as a Content Editor. After studying English Literature at University, she worked as an Ecommerce Website Editor, Content Writer and Buying Intern at multiple independent businesses within the luxury retail and lifestyle sectors. Her role at Homes & Gardens unites her love, experience and passion for the world of design and desire to create inspiring written content. She enjoys nothing more than discovering new trends, brands and products, whether that be in fashion, interior design or lifestyle.