Are kitchen islands outdated? Kitchen experts reveal how these perfectly practical designs will never be passé
Are kitchen islands still one of the most desired features for a kitchen? Experts reveal their popularity remains strong – but their designs are ever-evolving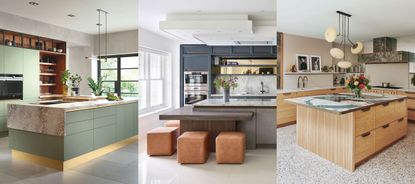 (Image credit: Life Kitchens | Davonport | Ledbury Studio)
Providing extra storage, counter space, and creating an inviting hub in which individuals can gather, sit and socialize, there is, of course, a lot to love about a kitchen island.
But have kitchen island ideas waned in popularity over the years? There is no denying their versatility and ability to transform the look and feel of a kitchen with beautiful shapes and materials, but not all spaces benefit from an island, and for some kitchen layout, sometimes there is simply no room for one.
Are kitchen islands a thing of the past?
Interior designer, Lauren Sullivan of Well x Design says, 'I don't see kitchen islands becoming outdated anytime soon – they're far too functional to become obsolete. While the waterfall edge kitchen island trend may be on its way out, there are still so many custom options to explore in terms of materiality, texture, and size. I think we'll continue to see kitchen islands that look more like beautiful, custom pieces of furniture and less like giant rectangular boxes.'
Our group of interior designers and kitchen experts are in agreement that kitchen islands are far from outdated – but they should not always be viewed as a necessity when designing a kitchen.
To help you make the right design decision for your space, and come to a conclusion on whether your kitchen would benefit from an island, we present a collection of expert advice and design ideas from the designers in the know.
Lauren Sullivan became a designer after finding herself stuck in her old career. Now, she helps her clients curate beautiful homes across the US with a focus on wellness.
1. Assess the size of your kitchen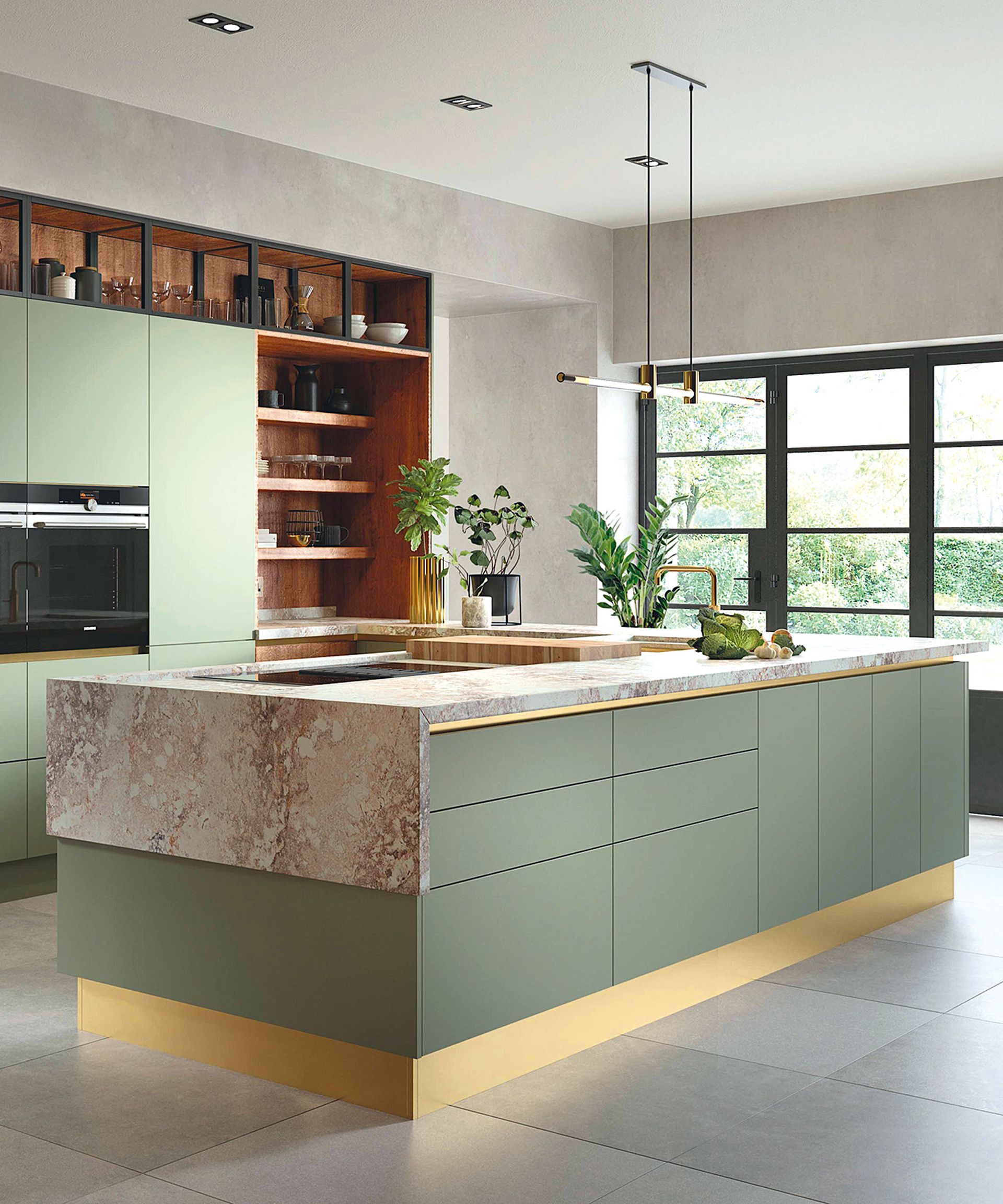 'Consider whether your kitchen is big enough to accommodate an island. If you have a small kitchen, such as a galley kitchen for example, adding an island will not enhance the space, it will instead make the room feel cramped and difficult to navigate,' says Brani Hadzhi, head designer at Multiliving by Scavolini.
'On the other hand, if you have a larger kitchen, a kitchen island can be a great addition. It can provide extra kitchen storage, counter space, and a place to gather with family and friends while you cook.
'To determine if you have space for an island, start by factoring in clearance space. As a general rule, allow for approximately 900mm on all sides. This enables safe movement around the island and for drawers, cabinets, and appliances to open comfortably clear of obstruction. And don't forget that a reduced-depth, smaller island is always an option.'
Along with Peter Hadzhi, Brani founded Multiliving in 2003, a London-based showroom that showcases Scavolini, one of Italy's leading kitchen brands, as well as a whole host of other Italian designer furniture brands.
2. Use your island to establish an eye-catching design statement
Of course, and island can uplift a kitchen with enhanced storage and surface space, but it can also establish a magnificent design statement; bringing in a more decorative design element into this busy hub of the home.
From a stand-out use of kitchen surface materials, from marble to wood, to creating a stylish note of colorful contrast for kitchen color ideas, an island can be both a practical and beautiful addition to a kitchen.
Richard Davonport, managing director at Davonport Kitchens says, 'Materials have greatly evolved in kitchen design over the last 20 years. Larger, man-made quartz materials are being used to reduce joins, along with interesting exotic stones; helping to make kitchen islands into an eye-catching focal point and a design statement in the kitchen.'
As much as kitchen islands can improve the usability and function of a kitchen, they can also do wonders for the overall aesthetic and look of the space, too.
With a Distinction in Furniture Design and Cabinet Making, and knowledge from his father Aubrey Davonport, an honorary member of the British Woodcarvers Association, Richard went on to set up his own workshops and later, the Davonport brand, who specialize in creating bespoke kitchen furniture.
3. Choose an unconventional shape
The very latest kitchen trends have seen a move away from standard, square and rectangular island shapes, to those that embody more curvaceous, free-flowing and organic silhouettes; helping to improve the overall sense of rhythm and flow in the space.
Richard Davonport also adds, 'there has been a strong demand lately for rounded kitchen islands, especially for kitchens for entertaining. The ergonomic benefits of curves can infuse your kitchen with a softer, more relaxed feel, providing a more conducive way to entertain friends and family.'
Along with cocooning curves, we have also seen a rise in more unconventional island shapes; from striking, asymmetrical structures split into zones, to sociable two-tiered kitchen islands; with these unique kitchen island shapes allowing for the island design to work in harmony with the overall style and function of each individual kitchen.
4. Incorporate plenty of seating
'In the last five years more and more table seating has been designed within the kitchen island, with banquette and booth seating the most popular,' says Richard Davonport.
Many of us opt to incorporate a kitchen island into our kitchen to create a more informal, relaxed seating and dining area, and if space allows, enhancing your island with seating can transform this functional workspace into a more sociable setting where friends and family can gather with ease – after all, the kitchen is the heart of the home.
There are so many creative kitchen island seating ideas to explore – gone are the days of simply using bar and counter stools. As shown on the large kitchen island above, the mix of counter chairs and low leather stools offer a mix of both supportive and relaxed seating, and both work to cleverly separate and zone each side of the two-tiered island design.
5. Opt for a beautiful, bespoke design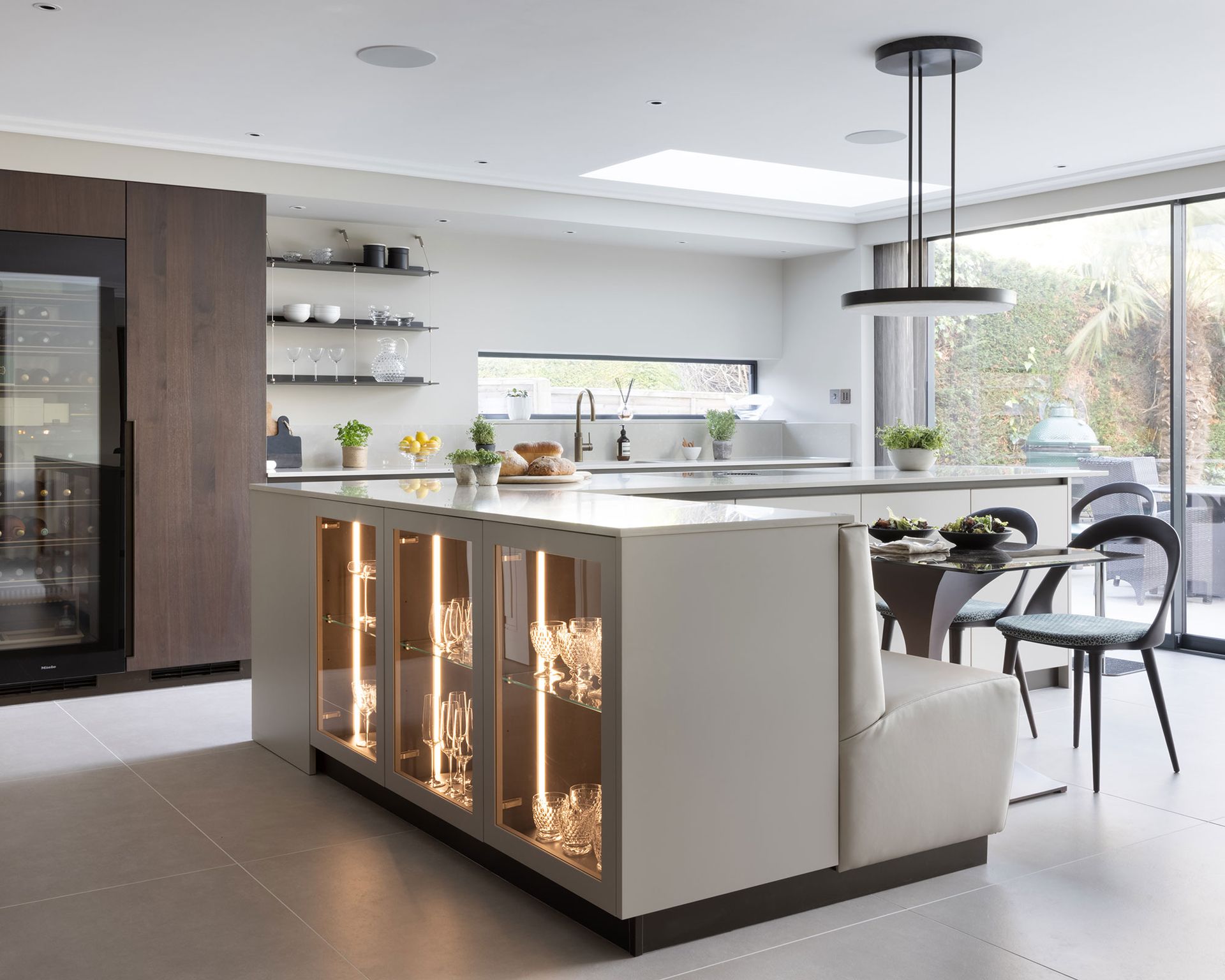 'Kitchen islands have been a popular feature in kitchens for many years, but they have certainly evolved and changed over time. In the past, kitchen islands were typically used as a functional area for preparing food and storing kitchen equipment. However, today's kitchen islands have taken on a whole new meaning and serve many different functions, including dining, entertaining, and even working from home,' says Brani Hadzhi from Multiliving by Scavolini.
'No longer just a supplementary work surface, today's kitchen islands are much larger because they also serve as a dining area, a home office, or a sociable spot. Additionally, they are often equipped with built-in appliances, including sinks, hobs, and ovens.'
From integrated appliances to built in shelves, display units and seating areas, a bespoke kitchen island can perfectly meet with the needs and demands of your kitchen space and lifestyle.
As Richard Davenport comments, 'choosing to have a bespoke kitchen means that your kitchen island isn't confined to conventional shapes or sizes, and instead, it can be designed in a way that fits what you need it to do, while looking the way you'd like it to.'
6. Consider a dining table, instead
If one of the main reasons you're thinking of including a kitchen island in your space is to create an area for entertaining and have extra seating, then a dining table could be a better option, as interior designer, Irene Gunter explains.
'If the kitchen is more of a social space, an island may not be necessary and can even hinder the flow of the room. For example, we designed this kitchen above without an island because the house doesn't have a separate dining room. The client wanted family dinners, so it made sense to place a dining table in the kitchen. By making a dining table a place where everything happens, you create a hub that people are naturally drawn to.'
Irene Gunter founded London-based interior design firm, Gunter & Co, in 2014, with previous experience working at a whole host of London's top interior design studios, and has completed projects everywhere from the English countryside to the Côte d'Azur.
FAQs
Is a kitchen island a waste of space?
If your kitchen is on the smaller side, then an island can take up valuable space, making it harder to move around the room and to use your kitchen in the best way possible.
If you're keen on including an island in a smaller space however, opt for a slim, more compact design, or for a flexible, portable design that can be easily moved aside.
If you're looking for additional storage and surface space, as well as an area to sit and relax, then an island can be a brilliant assent to a kitchen, and far from a waste of space.
In a larger or open-plan kitchen, an island can also help to break up and zone the space, creating a more welcoming and engaging environment for all to enjoy.
---
Interior designer, Ashley Macuga of Collected Interiors concludes, 'I don't think that kitchen islands are outdated, but I think they are evolving to meet the needs of the gathering that naturally happens in kitchens.
Larger islands with more furniture add richness and charm to a space that can be a little cold with lots of square, harsh corners. My favorite designs are oval islands; they can emulate the shape of a sociable dining room table – and make circulating around the island and kitchen happen with more ease.'
Ashley Macuga is principal designer at Collected Interiors, a San Carlos-based interior design firm. Ashley's New Orleans heritage deeply influences her design point of view and practice.
Zara joined Homes & Gardens in February 2022 as a Content Editor. After studying English Literature at University, she worked as an Ecommerce Website Editor, Content Writer and Buying Intern at multiple independent businesses within the luxury retail and lifestyle sectors. Her role at Homes & Gardens unites her love, experience and passion for the world of design and desire to create inspiring written content. She enjoys nothing more than discovering new trends, brands and products, whether that be in fashion, interior design or lifestyle.