Where to hang stockings without a mantel – 6 spots home stylists think are better
No fireplace? No problem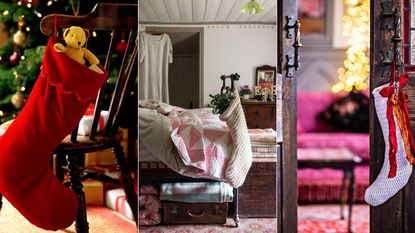 (Image credit: Future / Jody Stewart / Alice Roberton / photograph Tamsyn Morgans)
Hanging a stocking on a mantel is the second most exciting part of Christmas (the most exciting being emptying it the next morning, obviously). But where to hang yours if you don't have a mantelpiece?
Or, perhaps you have a fireplace but don't want your Christmas mantel decor disturbed? Either way, it leaves you with something of a dilemma.
Interior stylists to the rescue. The solution, they suggest, is to assimilate stockings into other elements of your Christmas decor. That way, they'll look perfectly natural and can even become a focal point in their own right, way before Christmas Eve.
Here, some of our favorite home stylists offer their tips for hanging stockings without a mantelpiece so you can still enjoy this festive Christmas tradition.
Where to hang stockings without a mantel
'Whether made by an artisan or passed down through the generations, a beautiful handmade stocking can be a wonderful addition to your Christmas decor and there's no need to limit them to the mantelpiece,' says Pippa Blenkinsop, Homes & Gardens' interiors writer and stylist.
'They look beautiful hung as wall art or along the stairs, alternatively why not pop one on the corner of a guest bed or maybe bring a festive touch to the back of a powder room door?'
These six places you can hang your Christmas stockings without a mantel are our pick of the best.
1. Hang stockings on bed frames
The idea of hanging stockings on the end of a bed frame is just as old as hanging them on a mantelpiece, making it the perfect alternative if you are a stickler for tradition. What's more, they are the perfect cozy Christmas bedroom decor idea that will make waking up that much more special.
'Each member of my family has chosen their own stocking and, as a result, their style is very typical of the decor of their bedrooms,' says Jo Bailey, deputy editor of Homes & Gardens and stylist. 'It's a small detail, but it makes hanging them pleasingly pretty.'
2. Use stockings for wall decor
One of the wonderful things about Christmas stockings is that they are as beautiful as Christmas wall decors as they are functional. The result is that your stockings can be hung on walls as if they were an ornament, or even used to simply spruce up your Christmas entryway decor.
'If you have nowhere obvious to hang stockings then a peg rail wall shelf would be a great investment for year-round use but especially at Christmas,' suggests Simon Temprell, interior design manager at Neptune.
You can hang stockings without nails using commercial hangers such as Command Hooks (available on Amazon). It makes it easy to remove the hooks after Christmas with no damage to your wall paint.
3. Adding stockings to stair rails
Your entryway is the perfect spot to hang stockings if you don't have a mantel. An entryway staircase already offers a multitude of opportunities for Christmas decorating, with space for Christmas garlands on handrails, string lights on stair railings, and stockings. They can, we think, be added to take your Christmas stair decor ideas to another level.
'Stockings can be hung in many places around the home, it doesn't always have to be the traditional mantel or bedstead. If you have a banister rail, try hanging stockings along that, and complete the look with some greenery twisted around the handrail,' Simon Temprell continues.
4. Use door handles to display stockings
Perhaps a slightly less practical location, hanging Christmas stockings on the handle of a door that isn't used very often (or even just on the back of the door itself) adds a wonderfully festive touch to your entry points.
'Hanging stockings on doors is a great alternative to wreaths for Christmas door decor,' says Lucy Searle, Editor in Chief of Homes & Gardens. 'I think they look pretty enough to go up with the rest of your decorations in early December, too.'
5. Hang family stockings around the dinner table
Christmas table gift ideas are a great way to make dinner start with a swing, but what about breakfast? One of the finest finishing touches to setting a Christmas table for friends and family is to adorn the dining chairs with a stocking for every diner. Hanging family stockings can act as a beautiful and thoughtful place card alternative to save a spot for each guest.
'You could even hang mini ones on the backs of dining chairs and pop little treats inside for dinner guests as an alternative to a table gift,' stylist Pippa Blenkinsop adds.
6. Hang Christmas stockings in windows
Christmas window decor ideas need reinvention in your home? You can swap old ones out for stockings.
'Windowsills can be useful surfaces for a weighted stocking hook, and the stockings could be supplemented with wrapped gifts and decorations across the sill,' offers Simon Temprell.
What is the tradition of hanging stockings?
The tradition of hanging stockings derives from children hanging a small bag on their bed frame or fireplace in the hopes it would be filled with toys or sweets by Saint Nicholas on Christmas Eve. Stockings were often originally spare socks, just large enough for a few treats.
Nowadays, larger stockings are used, still resembling a sock in reference to its origins, although large sacks resembling Santa Claus' toy bag are sometimes used too for larger items and gifts.
Chiana has been at Homes & Gardens for six months, having started her journey in interior journalism as part of the graduate program. She spends most of her time producing content for the Solved section of the website, helping readers get the most out of their homes through clever decluttering, cleaning, and tidying tips – many of which she tests and reviews herself in her home in Lancaster to ensure they will consistently deliver for her readers and dabbles in the latest design trends. She also has a first-class degree in Literature from Lancaster University.