Paul Simon's home in Connecticut is on the market – take a tour of this elegant property
Paul Simon's home is listed at $11.9 million- $2 million less than the folk singer had initially wanted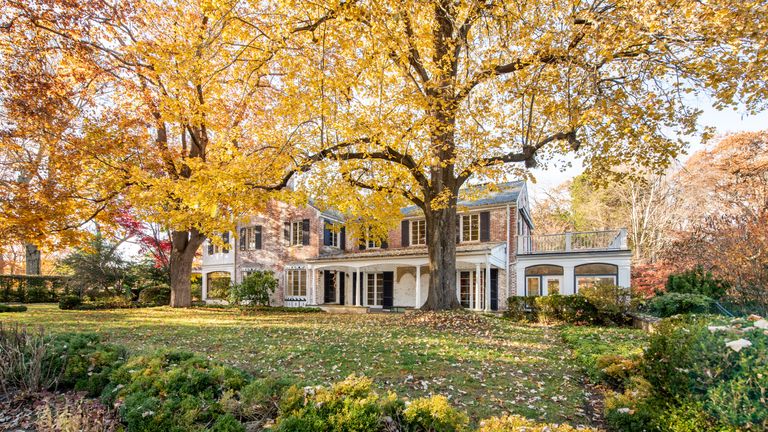 (Image credit: Dot Record Media)
By Megan Slack
The singer of My Little Town is selling his opulent home in the little town of New Canaan- and we can't work out why he would ever want to leave. 
The white-washed brick home is a Georgian-style haven in the verdant kingdom of Fairfield County- a patch of tranquility only one hour from the hustle of Manhattan. This 32-acre estate also includes a 2400 sq ft guest cottage and private woodlands, meadows, a pond, and a terraced swimming pool.  
Behind the affluent black door of Paul Simon's 1930s property is a library with sweeping views across the courtyard and scenic woodland. Though, there is still plenty of space to enjoy a novel beyond the serenity of the library. Nestled around these three floors are six bedrooms, seven bathrooms, and three powder rooms.
The house also includes an artist's studio, which Paul Simon once labeled his 'peaceful space'.
In the wooden-kissed kitchen, the breakfast bar stands tall as a vibrant statement- illuminated by arty light fittings and sweeping bay windows, which are a staple of the house. You can also warm up following a trail around the leafy utopia of New Canaan or after a chilly day working in the Big Apple alongside one of the three fireplaces.
Leslie Razook of William Pitt Sotheby's International Realty is selling Mr. Simon's former home for almost $12 million. However, this is a bargain price comopared to the $16.5 million the singer paid in 2002. The current price tag is also $2 million less than the original asking price last year when it was available for almost $14 million. 
Stretching over 8,525-square feet, you can pick up a magnificent property in the southwestern corner of The Constitution State. 
 Where does Paul Simon live now?
While it looks like the iconic singer has already moved all his furniture out of this property, he is yet to share where he is next homeward bound…