Vanessa Gates, wallpaper and fabric designer at Barneby Gates, on life in the country
Vanessa Barneby talks Hampshire hang-outs, village life and good walking boots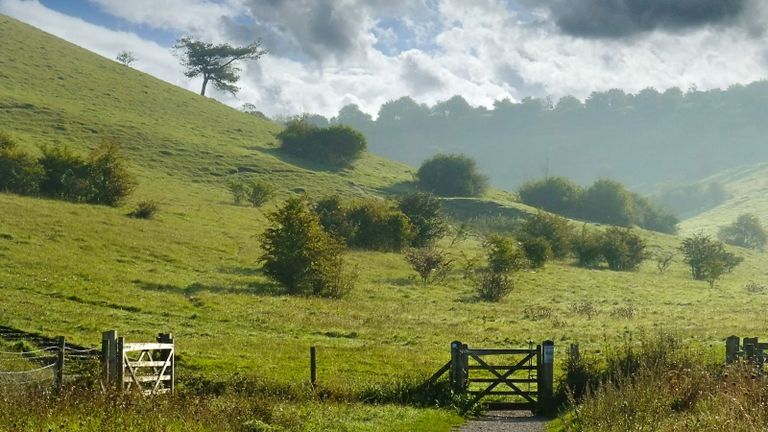 (Image credit: XXX)
Vanessa Barneby is one half of Barneby Gates, the wallpaper and fabric business she started with her best friend, artist Alice Gates, after more than a decade as a stylist and editor.
The pair grew up together in a small village in the Hampshire countryside, where Vanessa returned to in 2010 with her husband Tim and children Lily and Gabriel.
Barneby Gates' designs, which are created in their studio in Wiltshire and printed in England, have graced the walls of everyone from celebrities to royalty – Prince Charles has a Barneby Gates design in Dumfries House.
They have collaborated with fashion stylists and designers, including Nick Knight and Tabitha Webb. The latest joint venture is coming this spring with the florist and stylist Willow Crossley.
See: How to create a floral table display with Willow Crossley
Our house is located...
... right on the edge of 
a tiny village, overlooking fields, just outside 
Alresford in Hampshire. I love this time of year especially with the fresh greenness popping up and the new buds on all the trees. Every detail feels so enjoyable – it even makes the 7.30am school run something to look forward to.
My signature style for rural life...
... is nice jeans. I like Rag & Bone, a warm jumper and a practical pair of boots. I'm currently wearing a Scottish brand called The House of Bruar, which are excellent for walking through the fields in.
See: Best Wellington boots – the best wellies for muddy walks
When I first moved here from London...
... I put all 
my smart clothes at the back of my wardrobe and thought I'd never wear them again; now I find myself really dressing up for dinner. It feels like a treat. 

My favorite local shop is called The Hambledon in Winchester, which is like a mini department store in a lovely old townhouse. They have a great Belgium brand called Bellerose, which makes beautiful denim, shirts and skirts, and they also sell Nordic brands like Ganni and Stine Goya.
It's social here...
We go out to pubs – my favorite 
is the Three Horseshoes in Bighton – or have people over for dinner when we can. Local friends include the shoe designer Charlotte Olympia, the fashion designer Tabitha Webb and the artist Faye Toogood.
There's an amazing cafe...
... that has just opened called The Yard, which I can run to from my house across the fields. They have cakes and ice cream to die for and their own coffee blend; my regular order is a flat white with oat milk.
We're spoiled for choice for...
...lovely walks around here. One great one in Winchester is on the edge 
of the city, near the cathedral, and up St Catherine's Hill. You reach the top and look down over the city and it's so beautiful.
I love going to antique markets...
... to find treasures and there is a great auction house in Winchester called Andrew Smith & Son. There's also a brilliant shop called The Long Barn in Alresford that not only grows its own lavender, but stocks vintage furniture from Sharon Bradley at Old Albion in Bridport.
On instagram I follow...
... all those brilliant people who can throw together colour and pattern and make it look wonderful: @Cutterbrooksshop – because it's the most glorious little treasure trove and I love Amanda's chic country style, @Collagerie – a fabulous curation of fashion and homeware by ex-Voguers Lucinda Chambers and Serena Hood.
Community is strong in small villages...
We have a shop called Candover Valley Store that was an absolute lifeline last year. It is run by volunteers and they started doing deliveries for families that were ill and elderly people. It provided a huge amount of solidarity.
Words: Jessica Salter