This inspiring Cornish home combines New England style with a chic interior that mixes old and new
Jess Alken-Theasby built a new family home on her granny's plot with a nod to both coastal and timeworn, eclectic style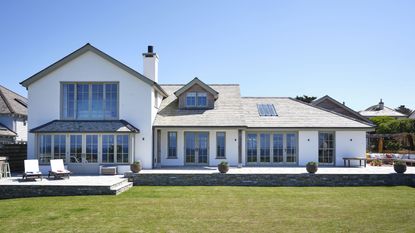 (Image credit: Dan Duchars)
An amazing opportunity allowed Jess Alken-Theasby and her husband Ash, who runs bespoke home construction company Alkenby, to move into their forever home by the sea. 'We were on the fence about buying an old property or creating something new,' says Jess, 'Then the bungalow that had been my granny's came back on the market and it felt like it was meant to be.'
With experience of building and renovating their own homes before they met – Ash had already built his dream property, while Jess's beautiful house was sold to boutique hotel group The Pig – the couple were at the right point to create a unique home.
'Knowing the plot already really helped with the design process. On paper there was lots of potential but understanding the setting meant we could plan for everyday living and the local climate,' explains Jess.
'For example, traditional sash windows meant the views would take a back seat internally so that the house felt cosier, especially in the winter months. Then we could open onto the terrace and garden for the summer. We also have sheltered spaces outside to shield from the cool sea breeze.'
The house, in Cornwall, south-west England, is an airy and breathtaking new build with a nod to Cape Cod house style, yet packed to the rafters with original details and reclaimed finds.
'We worked with local architect Harrison Sutton who understood that we were building a family home, not a show home. It was really important that the house had soul and a lived-in feel,' says Jess.
'When I was on site and walking around the unfinished, echoing building, I was worried it was going to look and feel like a village hall, so I had to remind myself that it's the finishing touches and details that make a house cohesive and considered.'
Living room
The interior styling was very important to Jess. After meeting founder of The Pig and now friend Judy Hutson, her style influence is evident to see. 'Judy is amazing,' says Jess. 'How she mixes old and new and makes something feel lived-in yet sophisticated is incredible. That and my need to make things "just so" means my home is a balance of real-world living, authentically sourced materials and carefully considered design features.'
And Jess has created a space packed with modern Cape Cod living room ideas, using some strong shades to bring a cozy feel. Color is brought to a neutral sofa in the living room with an array of cushions.
Kitchen
White kitchen ideas abound – creating a wonderful contrast with the moodier shades used in the living room. The bespoke space features an impressive vaulted ceiling. The white palette and cladding is a nod to coastal style, while the brick backsplash and wooden floor and bar stools add a cozy feel.
Jess reused the old red bricks from her granny's original bungalow.
A classic butler sink and multiple drawers and cupboards are practical and stylish.
Seating area
A super snuggly sofa is positioned in a corner of the kitchen. Colorful cushions make it comfortable and cozy and pick up on shades used in one of Jess's favorite paintings.
Dining area
Jess has made the open-plan house feel cozy and inviting. Gone are the wide empty thoroughfares, and by using differing levels, paint shades, sliding doorways, textures and lighting, she and Ash have created a very hospitable and easily adaptable scheme.
The house also works extremely well in accommodating all the family, with different spaces that can open out to one another. A room now used as a play area can be screened off or opened out onto a lookout living area, while the dining table placement acts as a bridge between kitchen and living settings.
Lookout area
The enviable lookout offers enticing sea views all day.
Utility
The space features a bold dark shade that injects dramatic impact while basket shelving provides plenty of storage
Main bedroom
For anyone looking for white bedroom ideas with a ton of character, Jess' bring plenty of inspiration to the table. In the master bedroom, large windows make the most of the majestic views across the bay.
The cladding is a humble backdrop for Jess's father's vintage Tigger Newling surfboard.
Guest bedroom
A muted palette creates a calm feel.
Boys' bedroom
Looking for bedroom ideas for boys? This one has used space cleverly – from the built-in window seat with storage beneath to the loft bed idea. The little lights in the loft bed are perfect for young children, too.
Nursery
A teepee makes an excellent indoor den for the boys to play in.
Main bathroom
White-washed rough cladding, painted first and then fitted into place, is used throughout the house, particularly upstairs. The cladding gives the loft bathroom an intimate feel while a solid piece of marble adds a touch of luxury.
Outdoor living area
This is one of the lovelier outdoor living room ideas we've seen in the UK. Purpose-built seating offers a sheltered sun spot, while the rug creates comfort and adds color.
'The house is designed to grow with us,' says Jess. 'We've filled the rooms with new and old family treasures, and we've sourced and installed timeworn materials. It already feels our own story is beginning to evolve here.
Design: Alkenby
Text: Sara Bird
Photographs: Dan Duchars
Interiors have always been Vivienne's passion – from bold and bright to Scandi white. After studying at Leeds University, she worked at the Financial Times, before moving to Radio Times. She did an interior design course and then worked for Homes & Gardens, Country Living and House Beautiful. Vivienne's always enjoyed reader homes and loves to spot a house she knows is perfect for a magazine (she has even knocked on the doors of houses with curb appeal!), so she became a houses editor, commissioning reader homes, writing features and styling and art directing photo shoots. She worked on Country Homes & Interiors for 15 years, before returning to Homes & Gardens as houses editor four years ago.