18 Thanksgiving decor ideas – for a cozy and charming seasonal space
From stunning tablescapes to wreaths, candles and pumpkins, make your celebration extra special this year with our favorite Thanksgiving decor ideas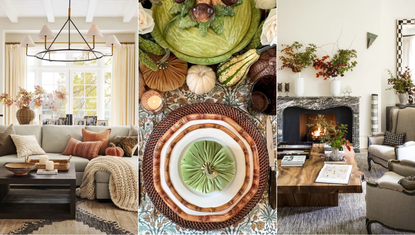 (Image credit: Pottery Barn | Katherine Young | Paul Raeside )
Embracing beautiful Thanksgiving decor ideas will only help to make your home look and feel more cozy, characterful and unique for the seasonal celebration.
Whether you're planning an intimate gathering and need help with finding Thanksgiving table decor ideas, or are hosting a large Thanksgiving party, the right decor will help to set the scene for the occasion.
From autumnal tricks to keep your guests feeling cozy, to spectacular decorative statements to dazzle and entertain, our inspiring Thanksgiving decoration ideas can make your fall gathering feel extra special.
Explore our favorite Thanksgiving decoration ideas for a stand-out seasonal space
From Thanksgiving wreaths that can adorn doors, windows and walls, to beautiful tableware and Thanksgiving table settings used to create a magnificent tablescape, our design ideas can help to sprinkle the holiday spirit throughout your entire home, from the front door to the fireplace.
1. Lay a beautiful table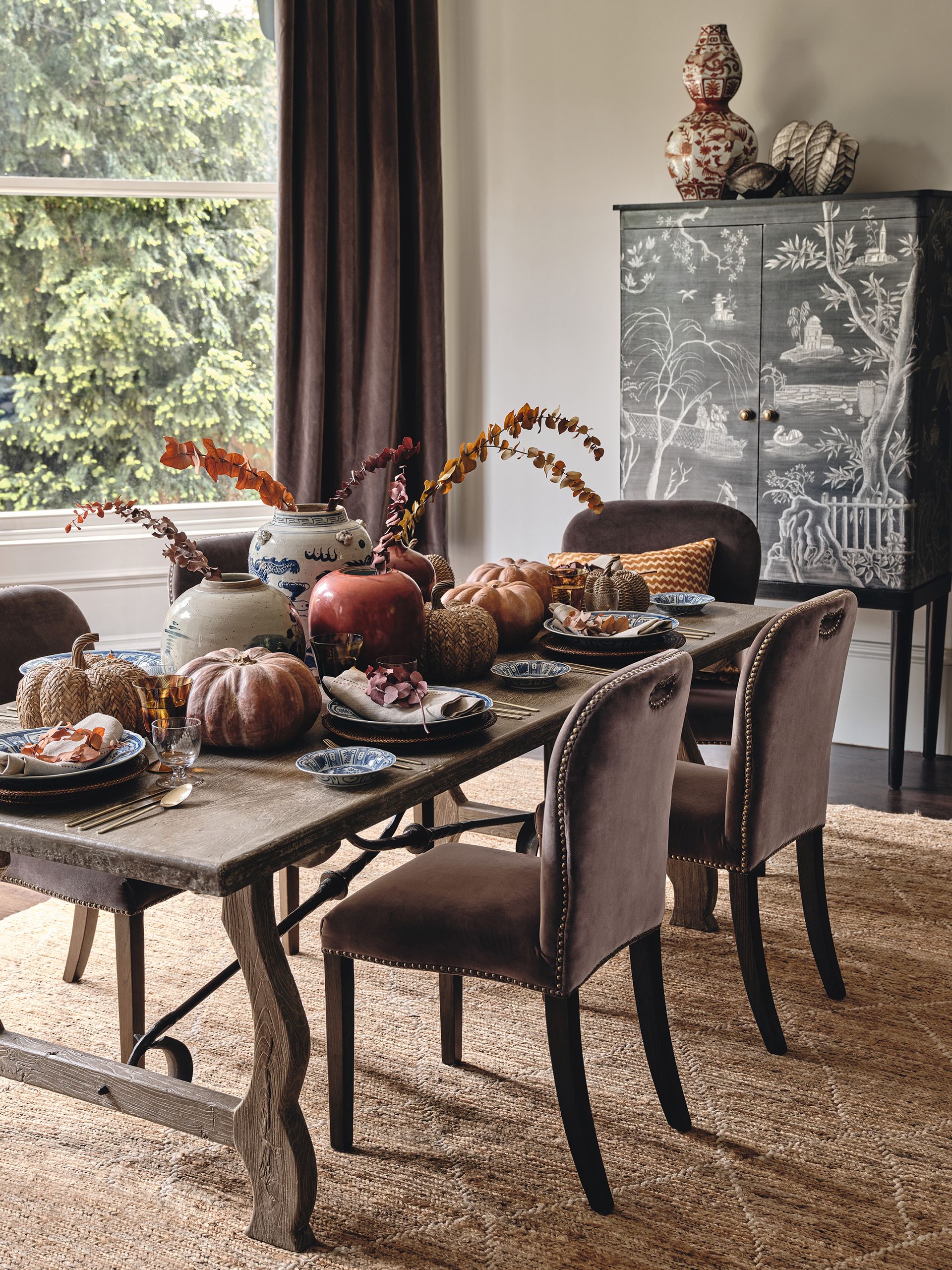 Feasting is at the heart of Thanksgiving, and a beautifully decorated table will only help to make your Thanksgiving meal feel even more special.
For a thanksgiving centerpiece that is beautifully seasonal and easy to create, arrange a selection of pumpkins in different sizes and colors along the center of the table and decorate with vases filled with autumnal foliage, as demonstrated here by OKA.
These may have to be moved off the table to make way for the all-important turkey and to prevent them from getting in the way of conversation, but that's no problem, as they will make a beautiful display on a sideboard or window.
2. Enrich your outside space with seasonal flourishes
Give guests a warm and seasonal welcome with a beautifully decorated door and porch.
From hand-crafted Thanksgiving wreaths, made from cut fall flowers and foliage from your yard and garden, to beautiful faux foliage designs, as shown above with Balsam Hill's Autumn Abundance Foliage, these natural accents can add beautiful color and texture to your outside space – don't forget to decorate with plenty of pretty pumpkins, too!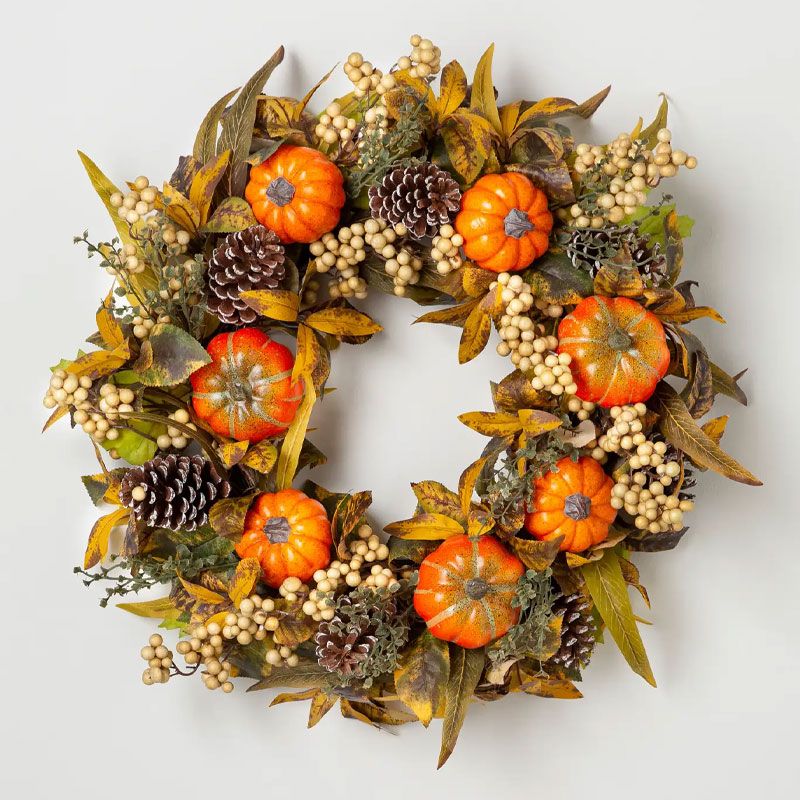 Autumn Abundance Foliage Wreath
Bring the splendor of the season into your home with warm earth tones and natural accents. Faux fall leaves, pumpkins, sprigs of berries, and pinecones provide effortless autumnal beauty on this autumnal wreath.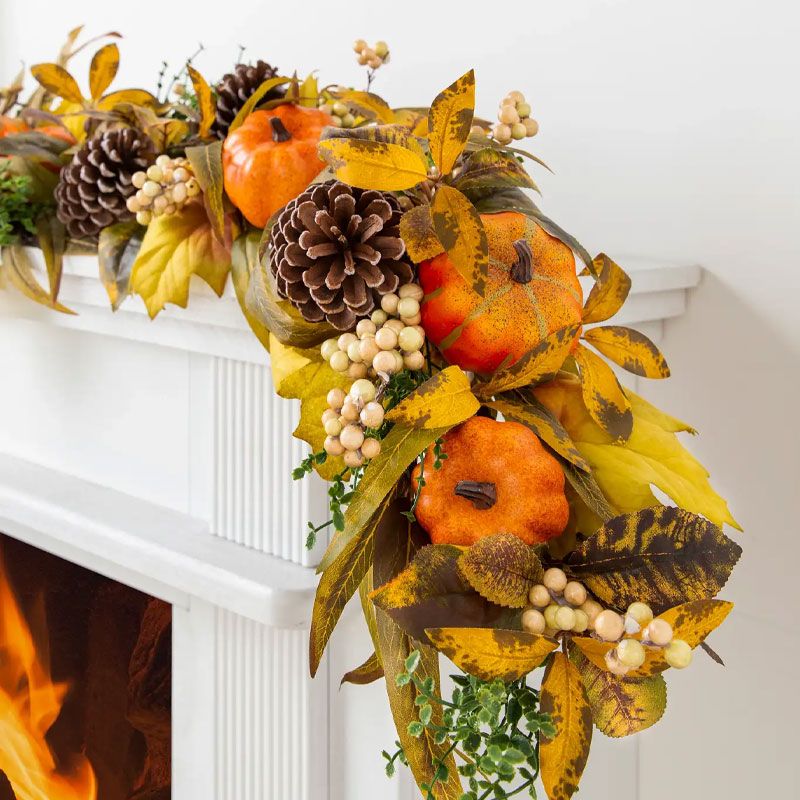 Autumn Abundance Foliage Garland
Perfect for dressing a mantel, stairs or even for decorating your front door, this beautiful autumnal garland from Balsam Hill perfectly captures the colors of fall.
3. Make a statement with your mantel decor
If you're looking for thanksgiving craft ideas, why not create a show-stopping mantelpiece garland? A cascading design full of fall color is guaranteed to wow dinner guests, and will bring uplifting color during gray days.
To create a similar design to above, first forage for foliage and then layer the individual stems into a long thin vessel filled with florist's foam. For best results choose an array of different types of foliage and stem sizes to create a whimsical look.
'If a traditional red and gold theme resonates, wintery red hydrangea adds both opulence and warmth, and pairs perfectly with burnt beech, and fresh pine which can be sourced locally or foraged in the garden. To complete a perfect garland, use a mixture of everlasting fillers, such as Pampas grass and pinecones, amongst the fresh foliage that will dry gorgeously by the fire to be enjoyed throughout the Christmas season,' notes luxury florist Ronny Colbie.
4. Create a seasonal table setting
Take inspiration from the colors and textures of fall to create a beautiful Thanksgiving table setting for guests. There's no need to go all out, just placing fruit and pine cones and twinkling tea lights along the middle is enough to bring the table to life.
On the Thanksgiving table above designs by Sarah Kostoris, founder of homeware brand Sarah K, jute placemats bring a rustic feel while copper tumblers bring a lovely warming glow in the candlelight. She says, 'we love making our tablescaping as natural as possible, and using pine cone decorations and beautiful fall-colored leaves is a great way to bring the beauty of the outdoors, indoors. Scatter them along the middle of the table and add candles of different heights to create a warm glow.
5. Decorate with plenty of pumpkins
Undoubtedly the most popular Thanksgiving decoration of them all you, you can never go wrong with decorating with pumpkins.
From real pumpkins and impressive faux pumpkin designs, to pumpkin-themed tableware – Pottery Barn's Thanksgiving collection has an impressive selection, this seasonal squash is guaranteed to had homey, harvest-inspired character to your Thanksgiving scheme.
Perfect for adding cozy character to you outside space, ideal for placing beside a front door or porch, or for adding seasonal decoration to your dining table or mantel, the more pumpkins (and pumpkin pie) you have in your home for Thanksgiving, we think, the better.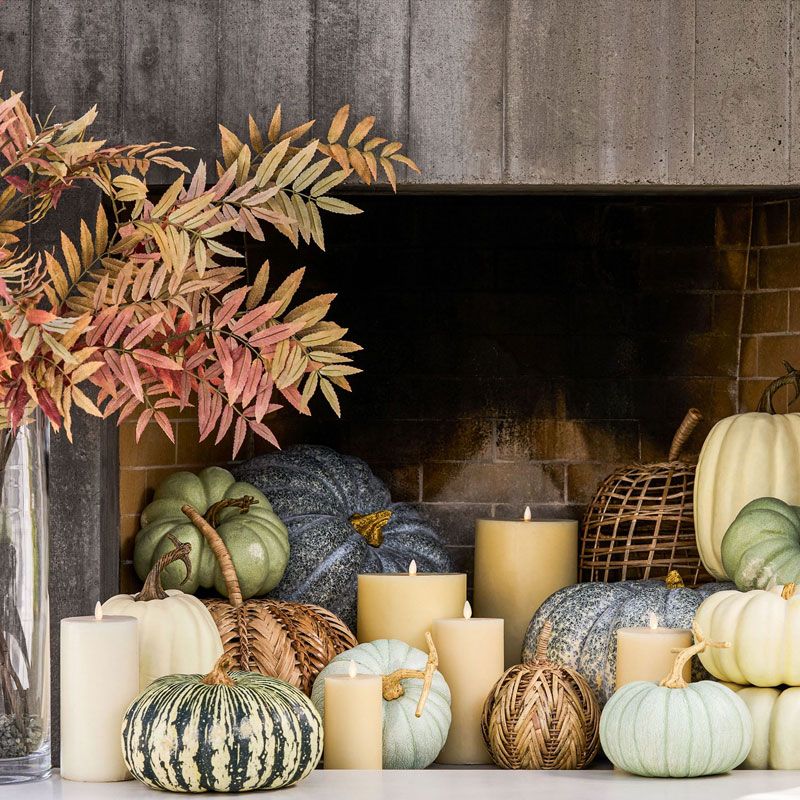 Showcase fall's bounty with these hand-painted pumpkins and gourds, available in a variety of organic shapes and seasonal colors, they can be placed all over the home (both inside and out) to celebrate the changing seasons.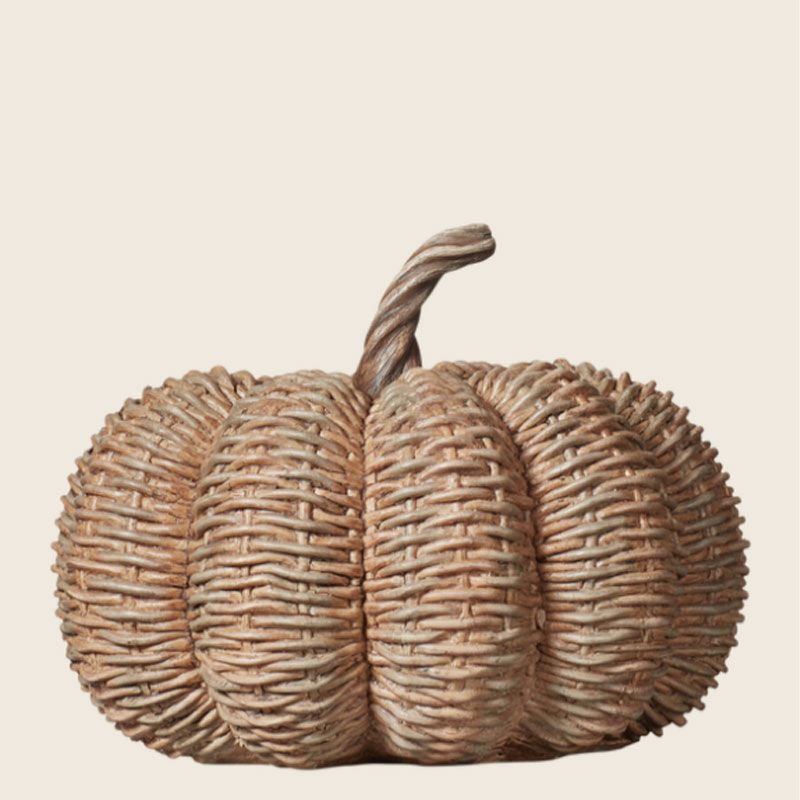 Pepo Basket Weave Decorative Pumpkin - Natural
We love the simple, natural look of this basket weave pumpkin decoration from OKA, and how it creates a wonderful, textured look.
6. Create a rustic farmhouse feel
For a subtle yet seasonal look that is also sustainable, try decorating with dried flowers and seasonal fruit that can also be eaten and enjoyed.
Vases of dried flowers can also be used to style sideboards, mantlepieces and dotted along the table as a rustic centerpiece.
7. Embrace a maximalist look
Why not go all out with your layering and create a fabulous tablescape full of color and texture?
Featuring lovely brown and sage tones, this delicately patterned Turning Leaves tablecloth from Katherine Young sets a beautiful Thanksgiving scene, and is layered here with her chocolate rattan charger and bamboo plates. A beautiful velvet pumpkin makes the perfect finishing touch or table gift.
8. Or, keep your scheme simple and minimal
For a pared-back, relaxed look, embrace decorations in more calming, subtle color palettes – think plenty of pastel pumpkins and elegant flower arrangements.
We love the look of this fireplace, decorated with a collection of more minimalist pumpkins from West Elm and dried flowers, with the candles adding the perfect dose of coziness and warmth.
9. Place your dinner table at the heart of the fun
'Thanksgiving for us is three days of meals altogether with our grown children and their babies, plus various guests, on Bray's Island in South Carolina,' says interior designer Beth Webb. Feasting is arguably the most important part of the holiday, meaning that the dinner table should be where you concentrate your decor efforts.
To enhance your Thanksgiving table, take inspiration from nature and look to harvest fruit, vegetables, or foraged items from your local woodland. Alternatively, keep it contemporary with unique colorways or a pared-back Scandinavian style.
'Adding your own style to your table setting is always important,' says Jessica Hanley, founder of Piglet In Bed, who designed this tablescape in collaboration with Olive & Co. 'It's an opportunity to showcase some new pieces you might have discovered recently, and helps create a vibrant atmosphere with pops of color.'
10. Wow your guests with statement entrance decor
The floral flourishes shouldn't stop at the wreath on your door – if you're going to be hosting lots of guests this year, consider greeting them on arrival with a statement piece of celebratory decor in your entrance hall.
This stunning staircase display features seasonal flowers wound between the balustrades, with pops of warming autumnal color courtesy of berries, chrysanthemums, and roses, with foliage provided by on-trend eucalyptus.
11. Rethink your Halloween pumpkins for an autumnal look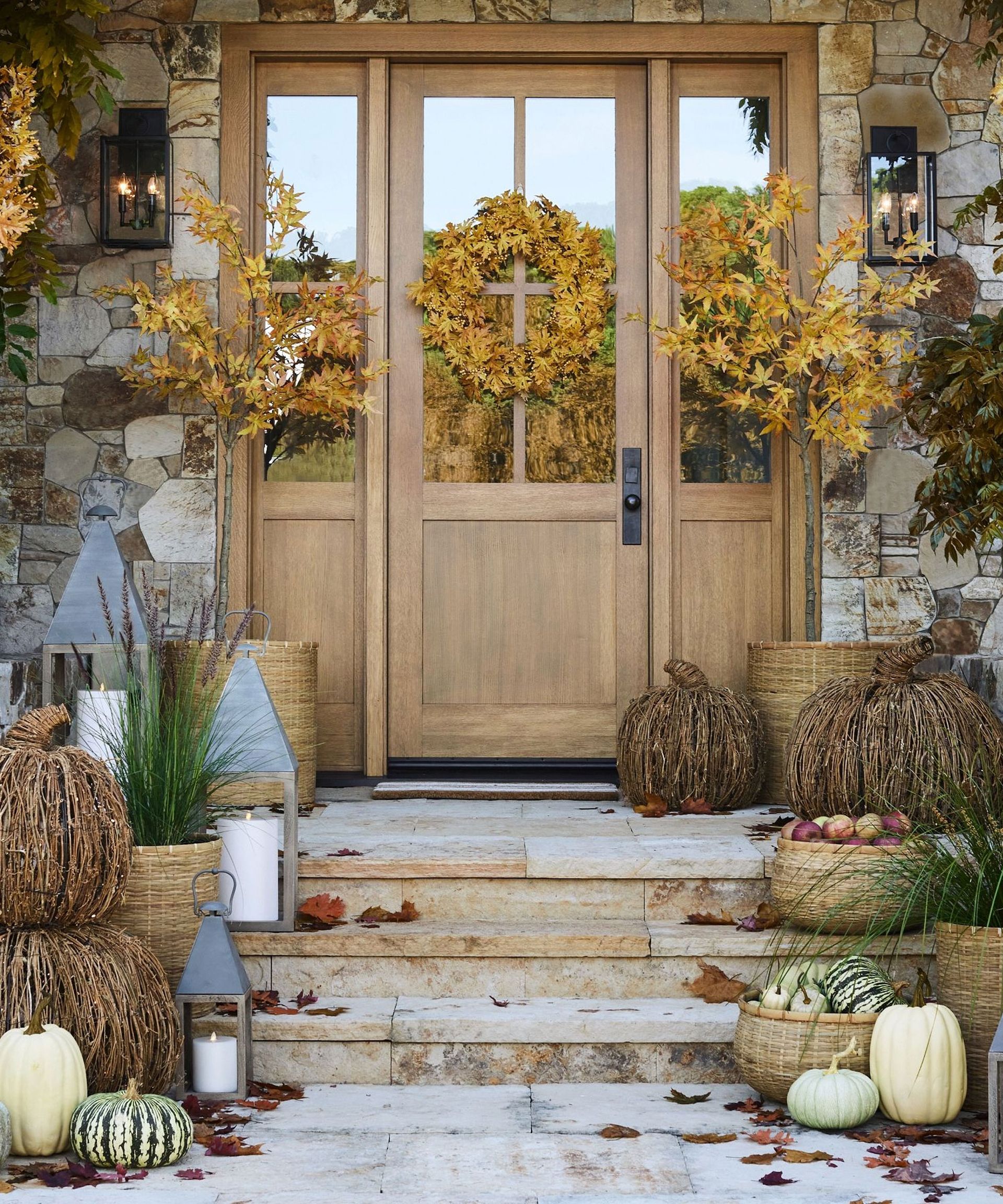 'It wouldn't be fall without a pumpkin, but there are more possibilities than the typical orange ones,' says Carmel Donohue, founder of Poppy Belle Florals. Pumpkins may have been central to your Halloween decor, but their time is not over. Think about how to make a pumpkin planter as a centerpiece to your Thanksgiving table, or consider styling your front porch or steps with stylish faux designs.
12. Kick off a soiree at the cocktail station
Offering your diners a welcome drink on arrival is the first step in being a consummate host. But for times when you're busy in the kitchen, keep your guests entertained and with a full glass in hand by creating a drinks station or small home bar.
Cover a console table with a colored tablecloth for understated grandeur, and set the scene by framing artwork – here, made from wallpaper panels – with generous limbs of greenery.
'I love to set up a Bloody Mary 'station' for Thanksgiving,' says home decor designer Joanna Buchanan. 'The drinks are just the right color and there are so many festive and colorful add-ins that guests can select from. Of course, be sure to add a fun selection of cocktail picks so people can mark their glasses.'
13. Shake your tail feathers with bird-themed decor
While excitement brews for the turkey's arrival at the dinner table, whet your guest's appetite by dotting feathered friends around your decor.
Birds make for a beautiful theme for fall decor ideas, too, and we can't get enough of the fun, feathered designs that feature in John Derian's Thanksgiving collaboration with Target, shop a few of our favorites designs below.
4pc Stoneware Fall Turkey Salad Plate Set
Add a colorful and charming touch to your Thanksgiving table with these eye-catching Stoneware Fall Turkey Salad Plates. Each plate features a different turkey design.

Turkey Fall Melamine Serving Tray
This versatile Turkey Tray can be used on your Thanksgiving table, in the kitchen or placed on a coffee table in a living room. The design features a painted-look illustration with a turkey, owl, apple and flowers.

16" Round Pillow Fall Turkey
Add a fun seasonal accent to your living room or bedroom with this playful turkey cushion. Complete the look with this Mushroom pillow.
14. Warm up by a festive fireplace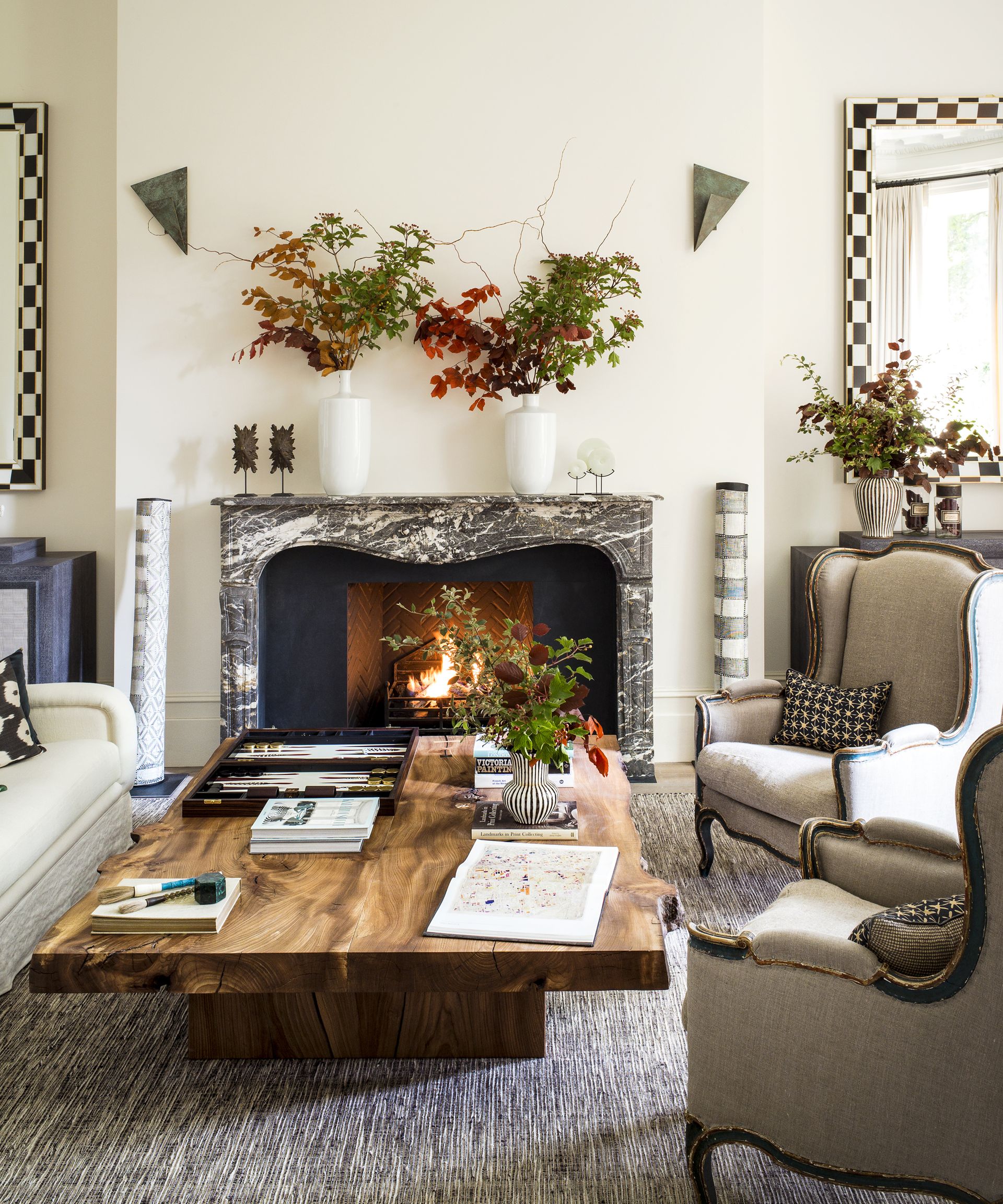 After all that dinner, you're going to need a spot for a light snooze. There is simply no better spot to recline in the colder months than in front of the fireplace, so make sure this feels like an even more special part of the home with festive fall mantel ideas.
Here, the fire's warmth is complemented by an array of fall foliage in deep, autumnal colors. Dressing and accessorizing the space around the fireplace can be key to making the best of it. A large fireplace, offset by a symmetrical arrangement of chairs, is a tried-and-tested classic and makes an inviting setting to sit in front of.
15. Create an immersive atmosphere with scented decor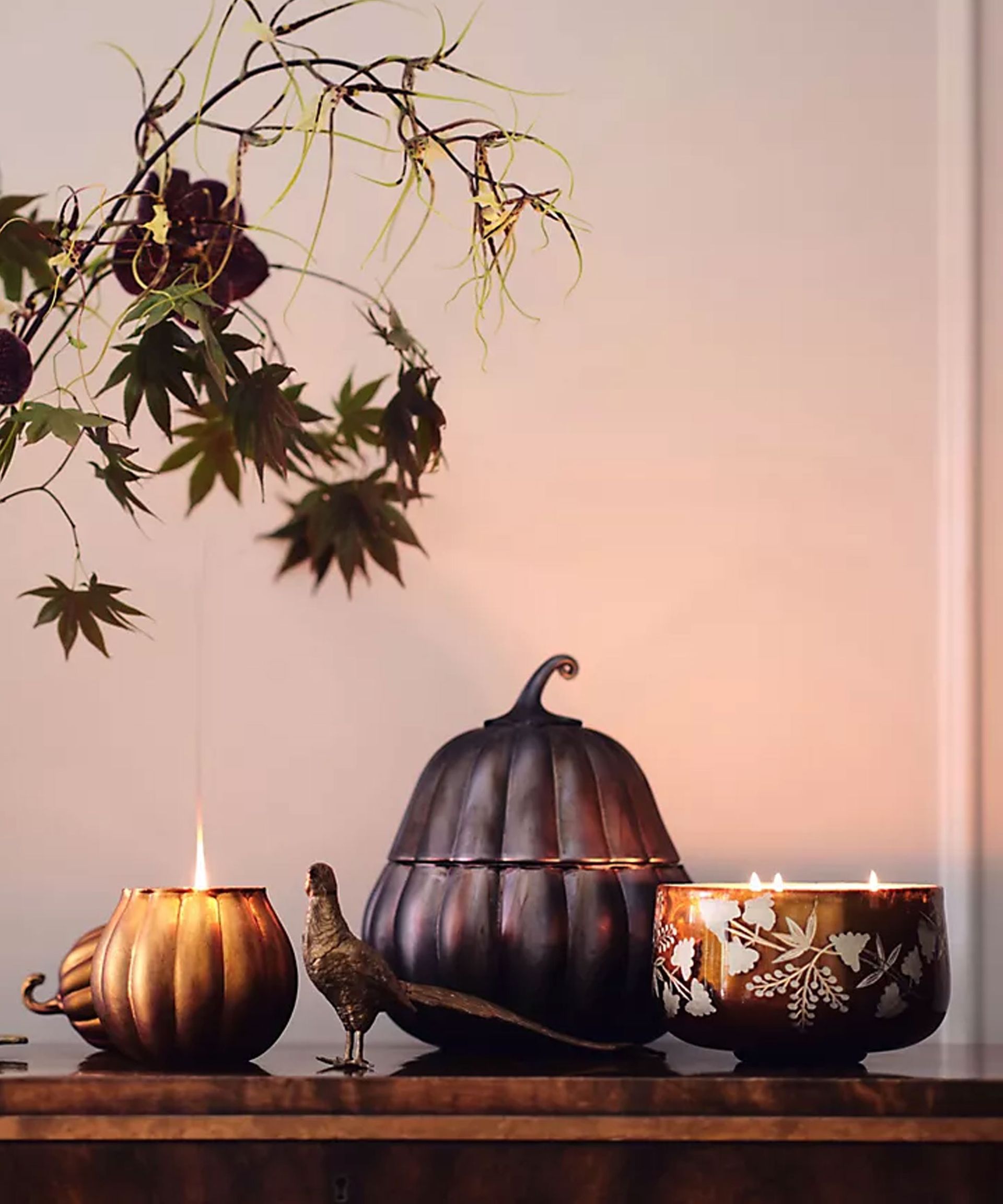 'Fill your room with warming autumnal scents like pumpkin and cinnamon spice for the complete autumn experience,' says Jessica Hanley, founder of Piglet In Bed. 'You can light candles in your desired scent as well as use natural diffusers for a subtle scent that isn't too overpowering.'
Thanksgiving is certainly the time to get out your best reed diffusers or fill bowls with scented pine cone decorations and dried orange peel, but it might be that all that cooking helps to do the job for you. 'If artificial scents aren't your thing, you can create your scents naturally by baking a seasonal cake, cooking some nuts, or even mulling some wine,' says Hanley. 'Get in the kitchen and make your favorite autumnal dish.'