7 ways to add color to a bedroom that does not involve paint – to wake up happier in your sleep space
Interior designers share their tips for creating bedrooms brimming with personality without picking up a paintbrush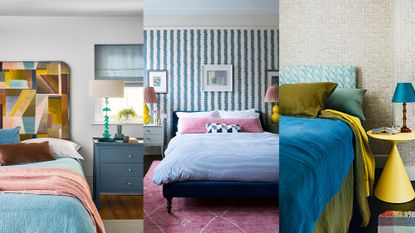 (Image credit: Future / Mary Wadsworth)
Painting your bedroom walls is guaranteed to transform the look and feel of the space, but settling on one color can be tricky, plus sometimes having all four walls painted one color can feel too overpowering in a restful space.
If you prefer a soothing neutral sleep space, or are cautious with color and would want to introduce it in more subtle ways then that's perfectly fine, as there are plenty of opportunities to add color to a bedroom that doesn't involve paint.
Whether you're working on a bedroom redesign or have inherited a neutral bedroom in need of a quick burst of energy, we've rounded up seven key ways to brighten a bedroom that doesn't involve paint with help from some of our favorite interior experts.
How to add color to a bedroom that doesn't involve paint
You don't need paint to achieve a bedroom full of life and color, there are plenty of alternative bedroom color ideas to choose from, from beautiful wallpapers to bold furniture, lighting and accessories, but how do you decide what's right for your space? Ultimately how you introduce color and what shades you choose will depend on the look and feel you're going for.
Do you want a head-turning colorful bedroom bursting with bold hues, or a relaxing bedroom with subtle pops of color to bring depth? For schemes with impact, bedroom wallpaper ideas are an obvious choice. 'Wallpaper is the best and easiest way to add color to a bedroom,' explains interior designer Lindsay Salazar.
If you're concerned that wallpapering the entire room may be overpowering, then introducing colorful or patterned fabrics over armchairs, bedroom curtains or headboards is another great way to create a bold focal point in a bedroom without having to commit to a pattern across four walls.
Alternatively, if you're not confident with color then opt for a neutral bedroom and 'introduce accent colors in smaller areas to brighten up a room,' suggests Clara Ewart, head of design at Kitesgrove. 'Whether it is a trim on a headboard or cushion, a window frame, a favorite piece of painted furniture, or a colorful picture frame, these small pops of color lift a space and you can introduce more as your confidence grows.'
1. Add color with fabrics and upholstery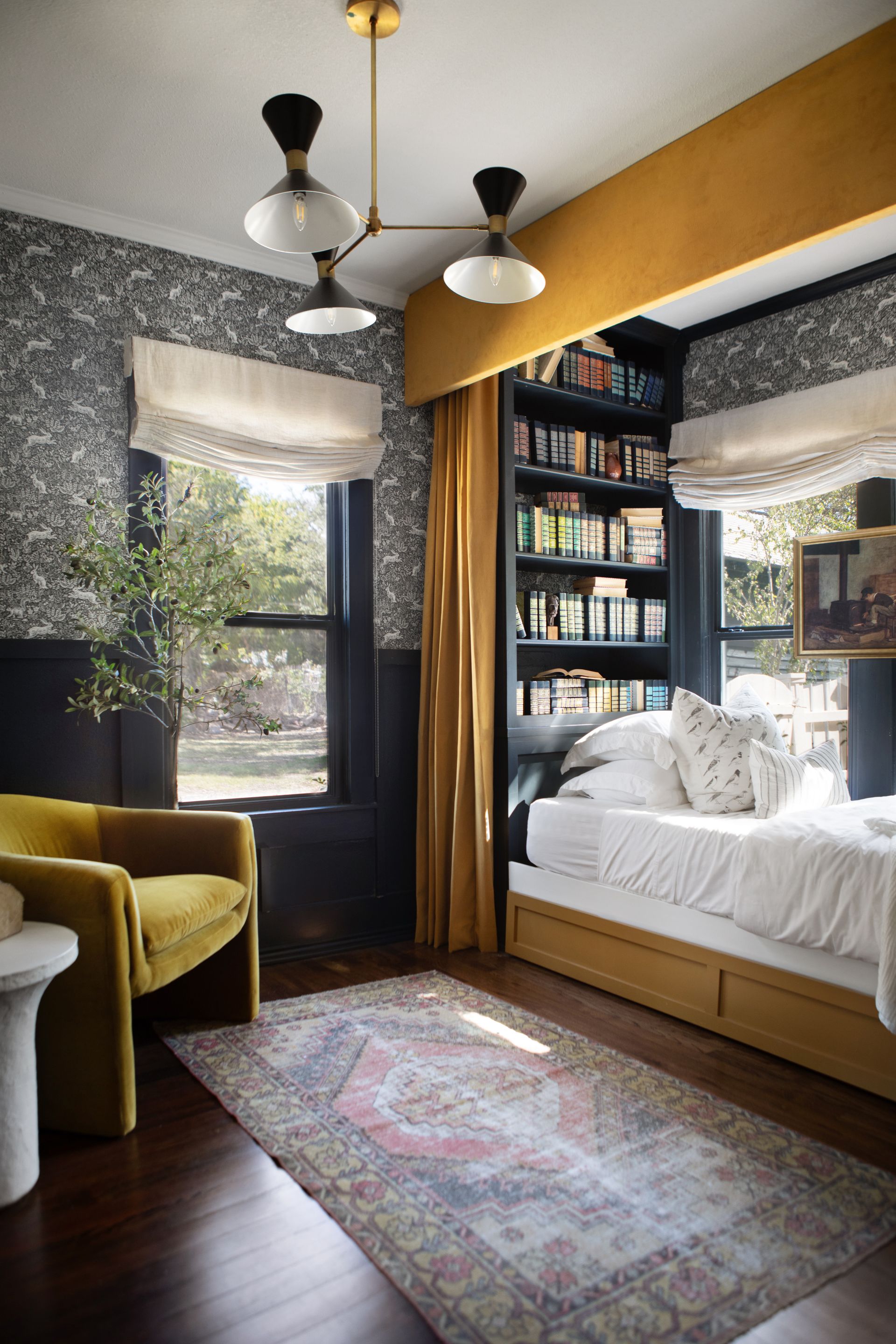 'Window treatments and furniture items both large and small are a great way to incorporate color,' explains Ginger Curtis, owner and principal designer at Urbanology Designs. 'Here, we wanted to create something that had both mood and high contrast – a look that was storied and interesting. The mix of the dark bunny wallpaper with the bright pop of mustard yellow bedroom curtain gives us just that.'
'I would say don't be afraid to embrace bold or vibrant colors. A marigold pillow, a deep rust velvet chair, or a splash of color in your rug will all be of value and interest to your space. I love bringing anything that is textural and handmade making the connection between artistry and something that beckons you to not only look but feel.'
Since founding Urbanology Designs in 2015 award-winning interior designer Ginger Curtis has transformed countless residential and commercial properties across the US. A master of curating the modern luxury look, Ginger prides herself in creating beautiful spaces that are both practical and soul-nurturing. Here she shares her advice on adding color to a bedroom.
2. Decorate with art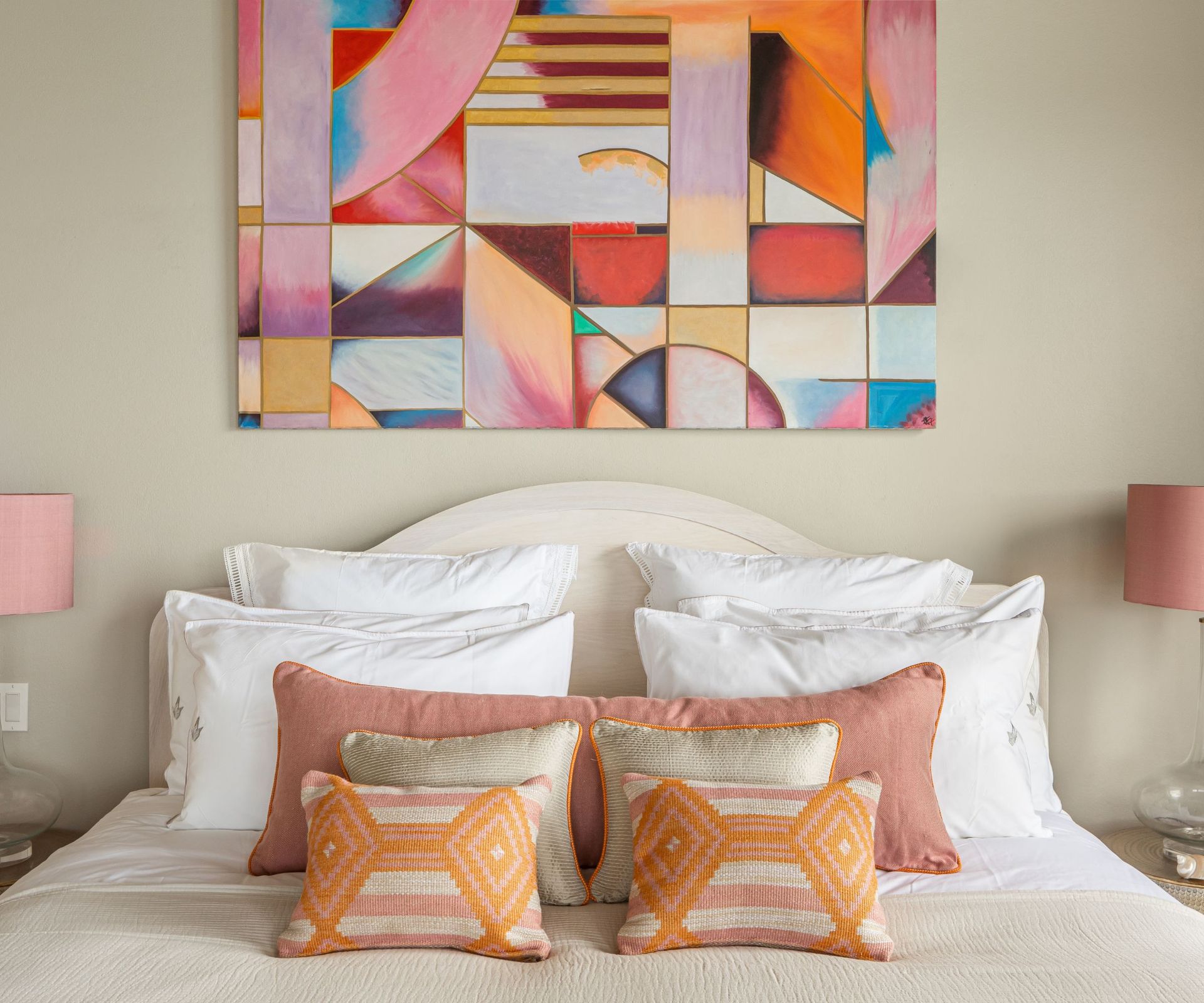 'Colorful artwork is a brilliant way to add bold, surprising shades of color to a room. Artwork can often be the starting point for a scheme, setting the color palette and atmosphere without taking the room over,' suggests Clara Ewart, head of design at Kitesgrove. As well as being a source of inspiration, decorating with art can be a great way to unify colors within a scheme.
3. Try a statement upholstered headboard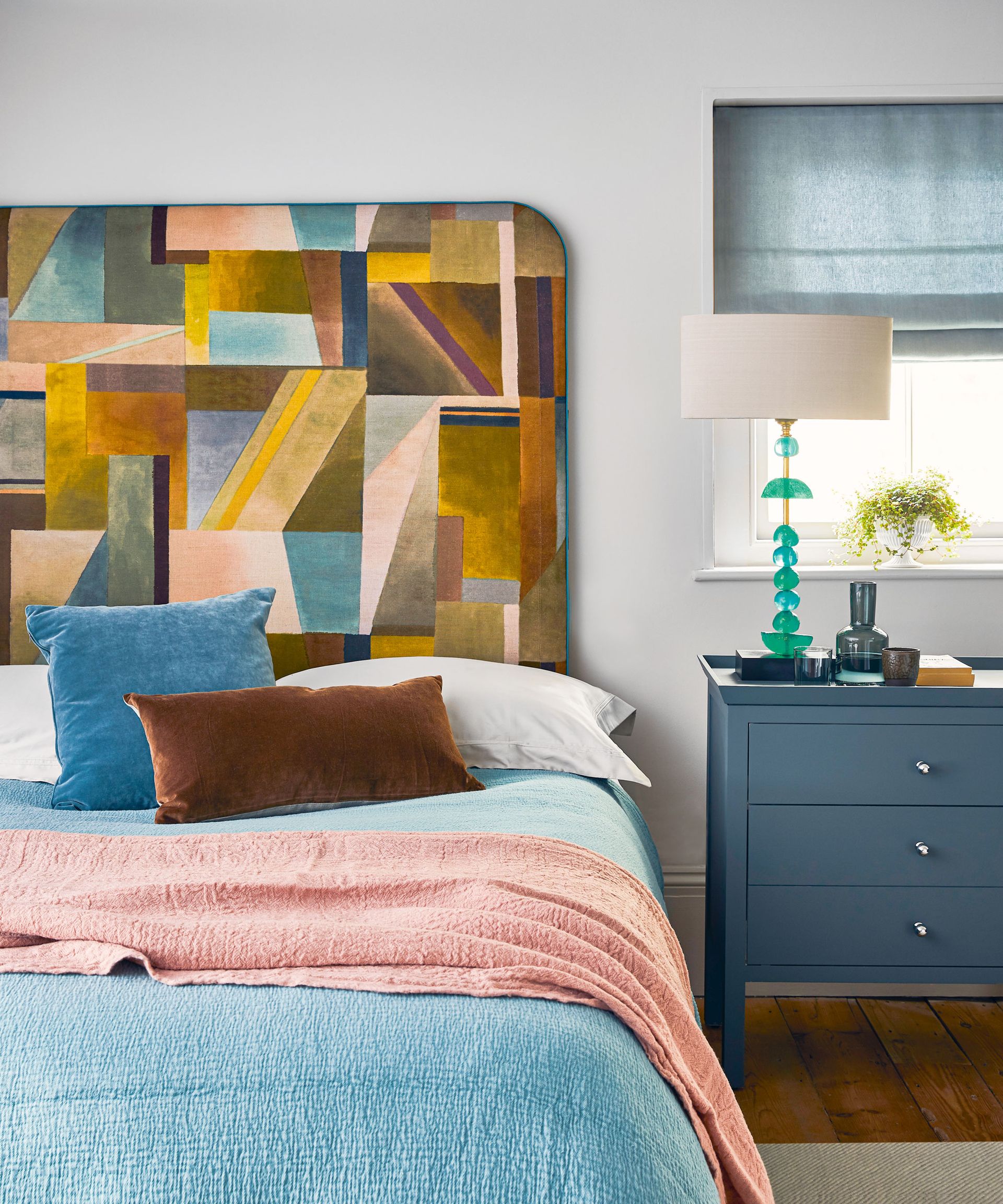 If you love color but are cautious of using it wall to wall then a headboard covered in a vibrant fabric makes a fabulous focal point in a bedroom without overpowering the space. From subtle small-scale designs to bold geometrics, there are endless options to choose from, so you're guaranteed to find something to reflect your personal taste. Designs with multiple colors like this Alphonse Ochre print from Designers Guild offer plenty of scope for introducing homewares in coordinating shades.
4. Decorate with wallpaper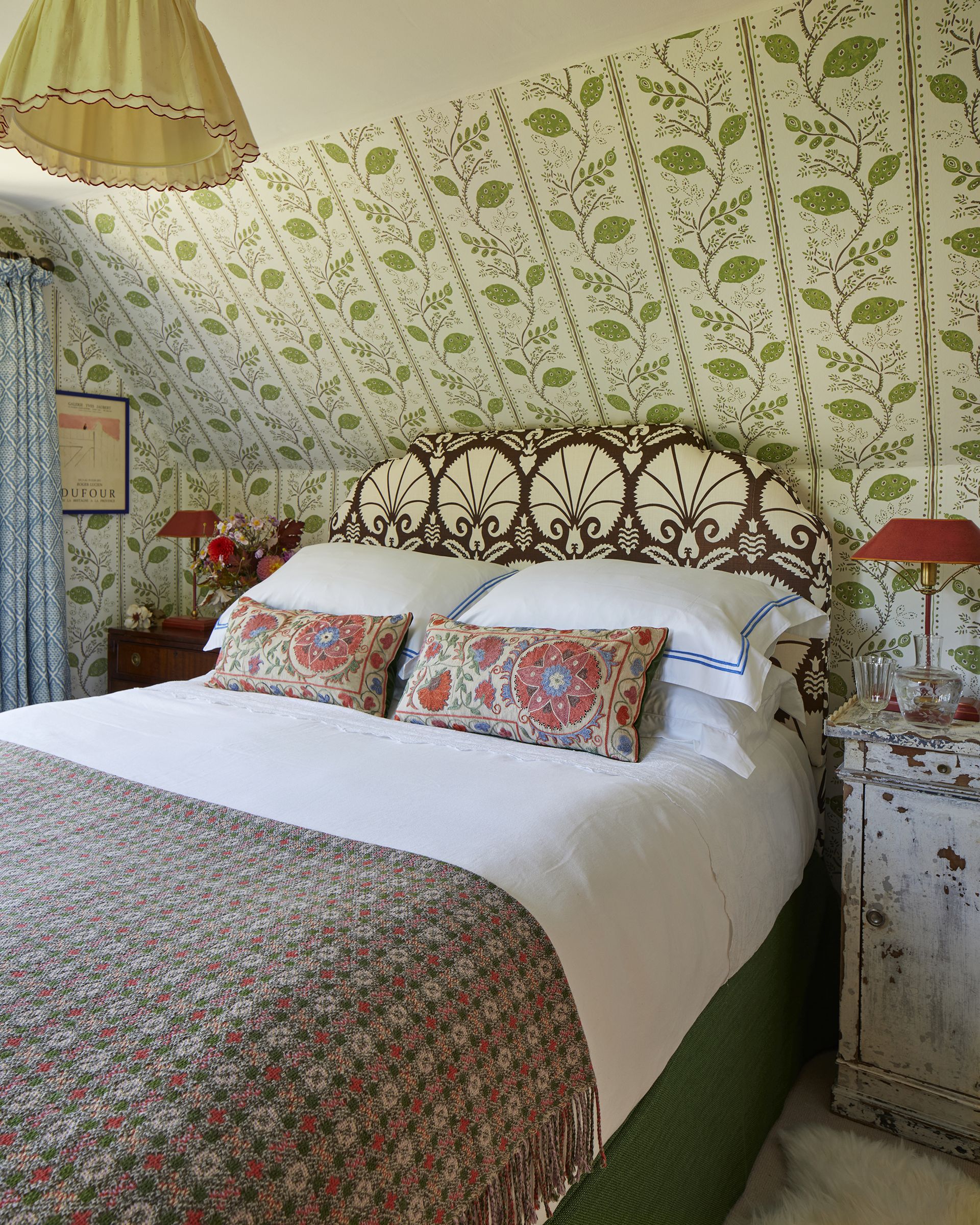 Wallpapers with colorful patterns set on neutral backgrounds are a good option for adding subtle interest to your walls without using paint. Committing to a wallpaper design on all four walls is a big commitment, so it's important it's something you love and can live with, alternatively, try them in a guest bedroom.
When decorating with patterns, 'scale needs to be balanced when put together otherwise the room can look too busy and all 'melt' into one without any definition,' says interior designer Sarah Vanrenen.
'When I am decorating I pull together a palette of colors and patterns in the fabrics and use them like a painting palette. I can see what colors all work together, sometimes colors that I might not have immediately thought of, and then the scale of pattern can be worked out to put larger scales and smaller scales and geometrics with florals for example.'

5. Choose colorful bedding and accessories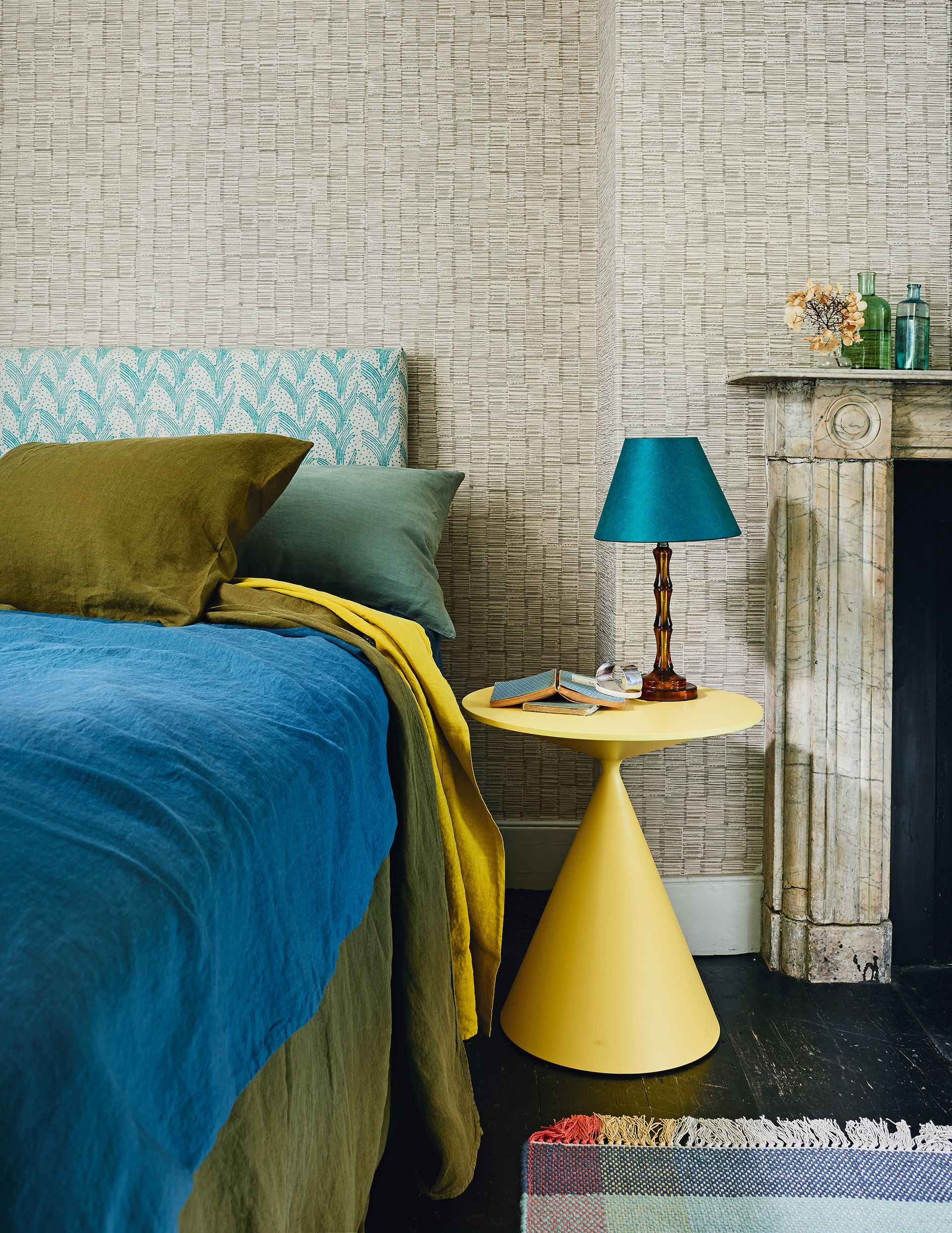 An easy way to add color to a bedroom is to opt for bright and bold accessories. 'Depending on how many colors you want to add, start with a new duvet cover, cushions, or rug and then build up your room,' suggests Sam Hood co-founder and chief creative officer at Amara. 'If you're the type of person who likes to change up their decor on a regular basis, these smaller items are easy to replace. For those who like to stick to their scheme for a while, invest in brightly colored furniture and statement lighting.'
'The key to designing a bedroom is both layering and texture, using these two elements together creates warmth and a soothing environment,' adds Caroline Brackett of Caroline Brackett Studio of Design. 'Textiles of various weights and hands will add visual interest, even if all monotone. Highly designed draperies and tailored bed coverings are both essential in the traditional bedroom.'
6. Style your books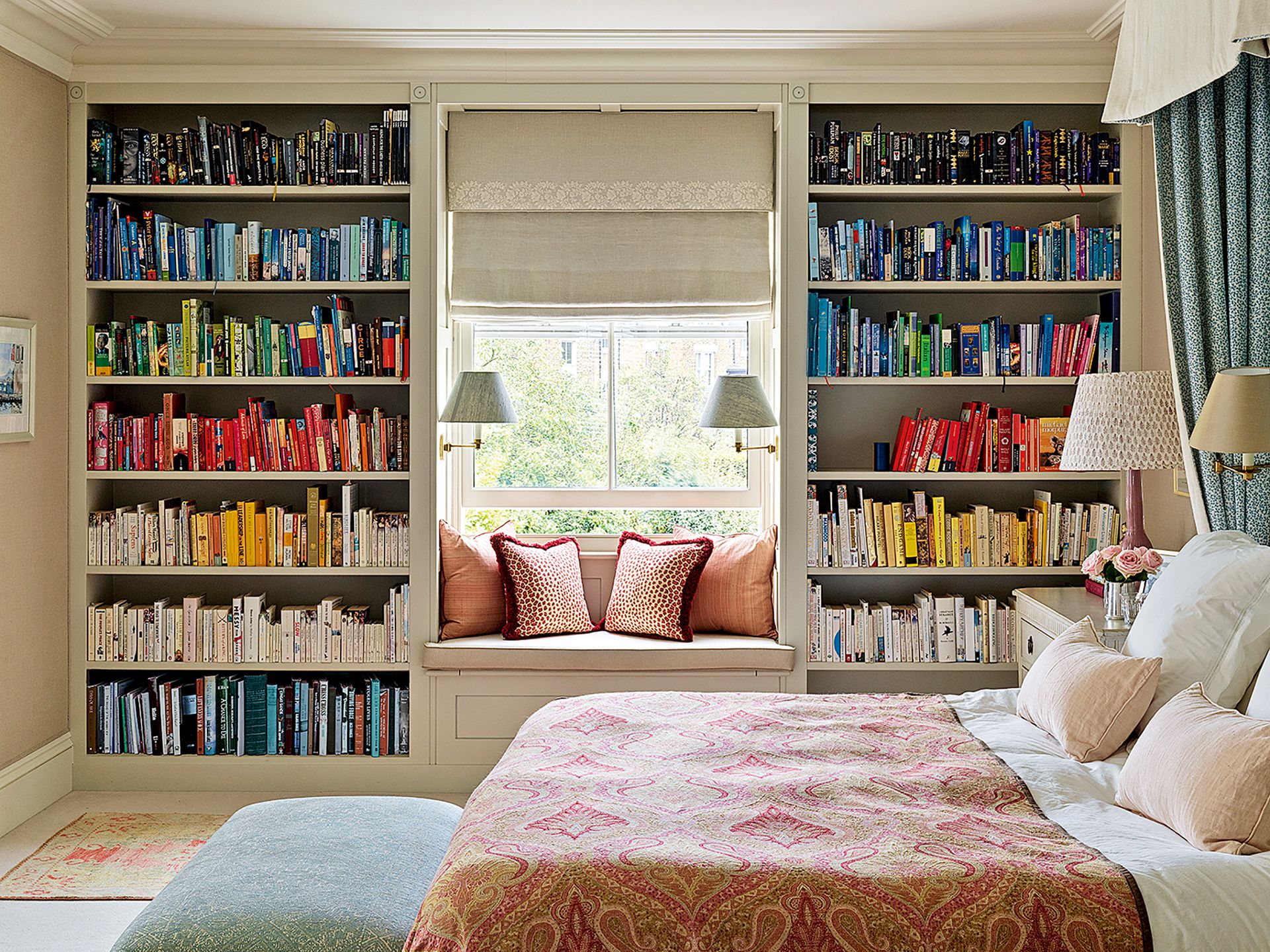 It may not be the first thing you think of when redesigning a room but decorating with books can be a wonderful styling device for adding color to a bedroom as demonstrated in this scheme by Salvesen Graham.
'We love to use clients' objects to create playfully decorative elements around their homes. Books are a brilliant way to add interest and whether color-coordinating them or using a more natural organization method they always manage to add a wide variety of tones to a space. Arrange your books upright and also in piles with objects on top to create a layered look.
7. Create a feature of your floor with a beautiful rug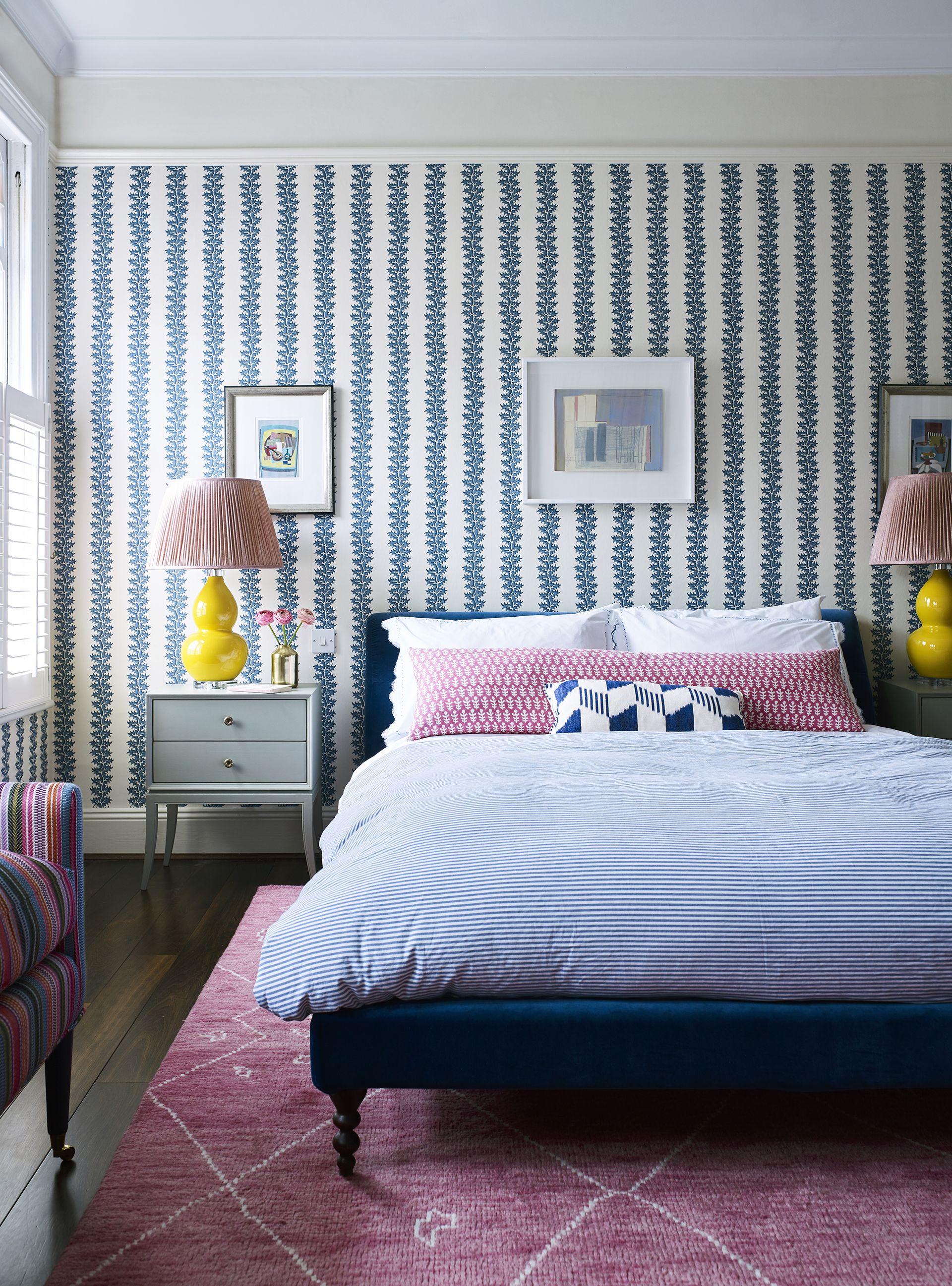 Not only do rugs bring softness and warmth to bedrooms, but they're also a great way to make a design statement, plus, if you're nervous, rugs are a good option for introducing color as they can be easily changed, unlike wallpaper or curtains.
'Introducing a colorful rug can be a useful way of adding more color to a bedroom and because it isn't at eye-level, you can afford to make a strong statement,' explains Nani Marquina, designer and founder of nanimarquina rugs. This means the space will be free of bold distractions when you're laid back in better trying to sleep, helping create a feeling of calm. 'It's also a great way to unite a scheme by highlighting colors in soft furnishings, for example, and it adds a softness, which is a must in a bedroom,' adds Nani Marquina.
How can I add color to my room without painting?
There are many ways to add color to a room without picking up a paintbrush from beautiful wallpapers and bold bedroom rug ideas to simply updating throws and cushions. How you choose to add color will depend on how much of an impact you want to make.
'We feel that the way to make a room stand out is to have one unexpected item that gives a pop of interest. That can be done by adding a focal wall (or ceiling) of wallpaper. Wallpaper can instantly transform a space and make you feel happier in it,' says Erin Coren, co-founder and principal designer at Curated Nest interiors.
Using colorful fabrics over curtains and upholstery is another wonderful way to bring personality to a space without painting. There are endless designs to choose from plus they will help bring texture and softness into the space – two design elements that are essential in any cozy bedroom.
Alternatively, if you're looking for a subtle approach to decorating with color then keep the room neutral and introduce color sparingly over accessories and furniture. 'Our clients are often drawn to calmer palettes but like to introduce a shot of color; we often achieve a serene but characterful space by keeping the walls and majority of the furniture relatively neutral, then introducing one statement piece of furniture in a bright and confident hue. It breaks the space up and brings so much character, but is very easy to live with,' explains Clara Ewart, head of design at Kitesgrove.
Sign up to the Homes & Gardens newsletter
Decor Ideas. Project Inspiration. Expert Advice. Delivered to your inbox.
Pippa is Content Editor on Homes & Gardens online contributing to Period Living and Country Homes & Interiors print issues. A graduate of Art History and formerly Style Editor at Period Living, she is passionate about architecture, creating decorating content, interior styling and writing about craft and historic homes. She enjoys searching out beautiful images and the latest trends to share with the Homes & Gardens audience. A keen gardener, when she's not writing you'll find her growing flowers on her village allotment for styling projects.