6 entryway paint colors going out of style for 2024 – and the shades to use instead
Interior designers reveal the entryway paint colors to avoid next year – and here's what we should choose instead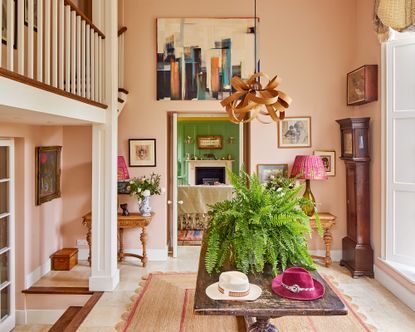 (Image credit: David Parmiter)
Sign up to the Homes & Gardens newsletter
Decor Ideas. Project Inspiration. Expert Advice. Delivered to your inbox.
Thank you for signing up to Homes & Gardens. You will receive a verification email shortly.
There was a problem. Please refresh the page and try again.
Anyone looking for new entryway ideas take note: we've been asking interior design experts for their predictions for 2024's entryway trends and, specifically, on the entryway paint colors going out of style for 2024, and which colors to use instead.
The entryway may be a small space but it's important to get the décor – and paint color – right. It's the first room visitors see, so not only does it set the tone for the rest of the house, but it can also help to create a warm welcome and a good first impression. If you're planning a new look for the entryway, make sure you're ahead of the game with the latest paint trend advice before deciding on your entryway color ideas.
Although some paint colors are falling out of favor for entryways, there are still plenty of beautiful alternatives. And once you've worked through your room color ideas it's simple and quick to paint the walls and transform the space into an entryway to be proud of.
Which entryway paint colors are going out of style in 2024?
We have to admit to being a little surprised by some of the shades interior designers suggested when we asked them about entryway paint colors going out of style in 2024.
They singled out light blue, light beige, red, teal, and light gray, as the entryway shades on their way out, along with deep saturated greens and sunflower yellows, all of which have been popular go-to hues. We've got quite used to these paint colors, even grown fond of them, but perhaps that's exactly why it's time for an entryway refresh.
Discover the reasons behind our experts' predictions below, and read their suggestions for how to choose paint colors to replace outdated shades.
1. Don't choose light blue paint for entryways – try warmer shades instead
Light blue is one paint color we expect to see less of for entryways in 2024, as designers predict we'll be seeking out warm color schemes instead. It stands to reason that warmer paint shades will give a more welcoming and cozy first impression for an entrance than light blue so we're happy to back the experts on this one.
'Light blue tones in hallways can read too cool unless you are very careful with the hue selection,' says interior designer Katharine Pooley, who recommends a shift to the warmer shades of the color wheel for entryways. 'I recently used a beautiful paint color, reminiscent of Farrow & Balls Setting Plaster in my home in the country, its gentle blush warmth is a striking backdrop for antique pieces, timber furniture and gilt detailing,' she adds.
2. Swap out light beige – choose stronger peach, salmon or caramel shades
Light beige paint is everywhere, a harmless neutral that fades into the background and is often seen as a safe choice for all areas of the home, including entryways. However, our color experts agree that entryways call for a little more impact than this pale neutral shade, even if that just means upping the ante on accessories and furnishings.
'Light beige, which lacks depth, is out of trend,' says Dubai-based interior designer Marina Braginskaya. 'Let's use caramel colors instead. I also see salmon and peach shades as emerging colors and being amazing alternatives to the usual beige paints,'
Interior designer Naomi Astley Clarke, who's based in London, thinks neutral tones are here to stay, but qualifies her prediction by suggesting that accent finishes, accessories and furnishings should be where our focus lies for entryway home décor ideas. 'Neutral tones, which never go out of favor, will be very much in the fore in 2024,' says Astley Clarke. 'This palette will be broken up with bold patterns on furnishings and artworks. The perfect hue for a hallway, neutral tones allow other finishes and textures to shine, whilst bringing a beautifully timeless feel to a space.'
3. Red entryways are going out of style – try the more subtle terracotta
Always a tricky color to get right, red is a particularly challenging paint choice for entryways, and we're not surprised to learn that interiors experts have it marked as one of the entryway paint colors going out of style for 2024.
Santa Monica-based designer Esther Lundstrom explains why red may have had its day: 'As people seek more timeless and sophisticated options, bright entryway colors are becoming less popular. While bright colors can create a vibrant and lively atmosphere, they can also feel visually busy. Neutrals and muted tones, on the other hand, offer a more timeless appeal.'
However, if you're still set on red hallway ideas, there are other ways to introduce the bold shade to your entryway rather than painting all the walls red. Try introducing it as an accent color with a rug or a piece of furniture or bold artwork.
Interior designer Marina Braginskaya suggests terracotta as a strong alternative to red for entryways: 'These soft brown-orange shades are eye-catching and looking really fashionable right now. They can be combined with different types of wood and with green or gray elements, resulting in a bright yet sophisticated atmosphere.'
4. Turn away from teal and deep saturated greens – natural, light greens and sage will be so 2024
Teal is another paint color we won't be seeing so much of in 2024, according to Marina Braginskaya. 'Bold entryway paint colors go out of fashion faster than neutral ones,' she says, 'and one of these former favorites that I would suggest to avoid in 2024 is a bright teal color. This cool and vibrant shade between blue and green can be really eye-catching yet it can also be tiring and we've seen a lot of it in recent years.'
Softer, lighter shades of green or darker sage green are the colors we're expecting to step into teal's shoes for entryways, and California-based interior designer Kriste Michelini agrees: 'The trend is moving away from deep saturated greens, and nature-inspired colors like Farrow & Ball Lichen are taking their place,' she says.
It's time to give these more natural paint colors serious consideration in your green hallway ideas. They provide a good background for artwork or statement furniture in an entrance and bring a grounded air of calm as you enter a home.
5. Light gray has had it's day – time for a change with merlot, mushroom or amber shades
Light gray paint is undeniably smart and livable and has enjoyed immense popularity over the past five years or so, but experts believe its time is up and we should be looking to other shades when thinking about what looks good in an entryway.
Kriste Michelini offers an explanation for the changing trend, and an alternative: 'One of the reasons we're shifting away from certain shades might be their lack of vibrancy and liveliness. Instead, people are now seeking colors that exude a sense of joy, fun, and creative expression, particularly in the form of lively pastels and warm, retro-inspired brights. For instance, gray tones, which can be perceived as too sterile, are giving way to warmer grays with mushroom undertones, exemplified by shades like Pashmina from Benjamin Moore.'
Interior designer Ruchi A Mohan adds: 'Gray had become neutral and people are moving away from the lighter grays as the neutral colorway. I see an emerging trend toward a deep amber/merlot colorway for a statement entry with a graphic floor tile as an accent. It's a color that can warm up the entry and create an unexpected welcome.'
6. Switch from intense yellows – try paler tones instead
You might think bold sunny yellows would create the perfect entryway welcome but, as with many of the bolder paint shades, design experts are steering us away from deep yellows for entryways in 2024.
Homes & Gardens' global editor-in-chief, Lucy Searle explains why: 'Intense yellow shades can be overpowering in an entryway, particularly if the space is south facing,' she says. 'In their place, we're already seeing a rise in the popularity of natural straw and rattan shades, more forgiving tones of yellow that are also much more livable.'
Designer Kriste Michelini agrees that our yellow hallway ideas will be leaning towards the softer shades, and says: 'Instead of opting for deeper sunflower yellows, the preference is shifting towards the use of the palest of yellows, such as Benjamin Moore's Soleil.'
FAQs
What are the easiest ways to update an entryway?
The suggestions above are all about updating your space by changing the paint colors but when you're considering what looks good in an entryway there are other easy, quick fixes for an outdated space, from refreshing the artwork, to updating a rug or table lamp. All will introduce a pop of new color to the space to help keep it on trend.
Interior designer Ruchi A Mohan says, 'The entryway typically has a few pieces of furniture, so changing the mirror or the console is the easiest way to update without replacing everything. Also changing the flowers and accessories always creates a new updated entry.'
Designer Kriste Michelini agrees that not everything need change at once, 'Updating an entryway color scheme without a complete overhaul can involve embracing fresh, vibrant hues, injecting a renewed sense of joy and creativity into the space while leaving other elements intact.'
Esther Lundstrom suggests 'repainting or incorporating complementary colored items to easily update the look'. And advises adding wall art or mirrors 'to enhance the sense of space and invite more natural light.'
What are the investment choices for entryways for 2024?
While updating an entryway with a new paint color can be relatively cheap, what are the options for designing an entryway if you want to invest a little more in the space?
Wallpapers are the go-to upgrade for British designer Naomi Astley Clarke, who says: 'We love hand-painted wall coverings – whether bespoke pieces by Freddie Wimsett or De Gournay, nothing quite beats a decorated wall. 2024 will see walls with sharp, beautiful, and uplifting designs, especially in the hallway.'
But with higher costs at stake, how do you ensure you're making a sensible choice? Again, Astley Clarke has some great advice, 'I recommend choosing finishes that are as lasting and timeless as possible, and that suit the architecture of the building. That way they will always be suited to the home they belong in even if fashions come and go. Face the fact that the room will age and that your tastes and needs may change over the course of two decades, so make choices that allow for some level of flexibility. For example, paint color is easy to change, tiles less so. So perhaps choose quality tiles or hard finishes that are more neutral and that will work with many colors – then the wall colors can be more dramatic and easily change over time. Swapping over cabinet knobs and handles is also an easy upgrade to make.'
Sign up to the Homes & Gardens newsletter
Decor Ideas. Project Inspiration. Expert Advice. Delivered to your inbox.
Karen is the houses editor for homesandgardens.com and homes editor for the brand's sister titles, Period Living and Country Homes & Interiors, and an experienced writer on interiors and gardens. She loves visiting historic houses for Period Living and writing about rural properties for Country Homes & Interiors, and working with photographers to capture all shapes and sizes of properties. Karen began her career as a sub editor at Hi-Fi News and Record Review magazine. Her move to women's magazines came soon after, in the shape of Living magazine, which covered cookery, fashion, beauty, homes and gardening. From Living Karen moved to Ideal Home magazine, where as deputy chief sub, then chief sub, she started to really take an interest in properties, architecture, interior design and gardening.