11 spring color ideas for bedrooms – to make your home look lighter, brighter, and bigger
Welcome in the warmer, lighter days ahead with bold bursts of fresh and vibrant color that inspire and delight in the bedroom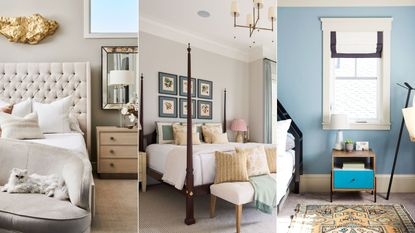 (Image credit: Alice Lane Interior Design / Nicole Gerulat Photography / Tim D Coy Photography / Margaret Ash Design & Home / Liz Daly / KJM Interiors)
As we slowly leave behind the chilly days, and hibernation of winter, it is the perfect time to focus on spring color ideas for bedrooms, and how you can give this restful space a joyful refresh for the season.
Color is key when it comes to curating beautiful spring decor ideas. Now is the optimum time to reflect these seasonal changes through palettes of pastel, harmonious and bright colors and inspiration from the natural world, with a bedroom color scheme filled with uplifting shades.
Here, color curators and experts reveal how to approach choosing room color ideas for this joyous time of year, from using the color wheel to creating strong color combinations, accent shades, and neutrals.
Best spring colors for bedrooms
A quick look at your spring porch and spring door decor will help you curate a subtle palette of fresh, bountiful spring hues that would work in any bedroom layout, no matter the size.
Don't forget about summer decor ideas, as many of your chosen spring colors for bedrooms can go on to work in harmony with these, too.
1. Evoke serenity and stillness with taupe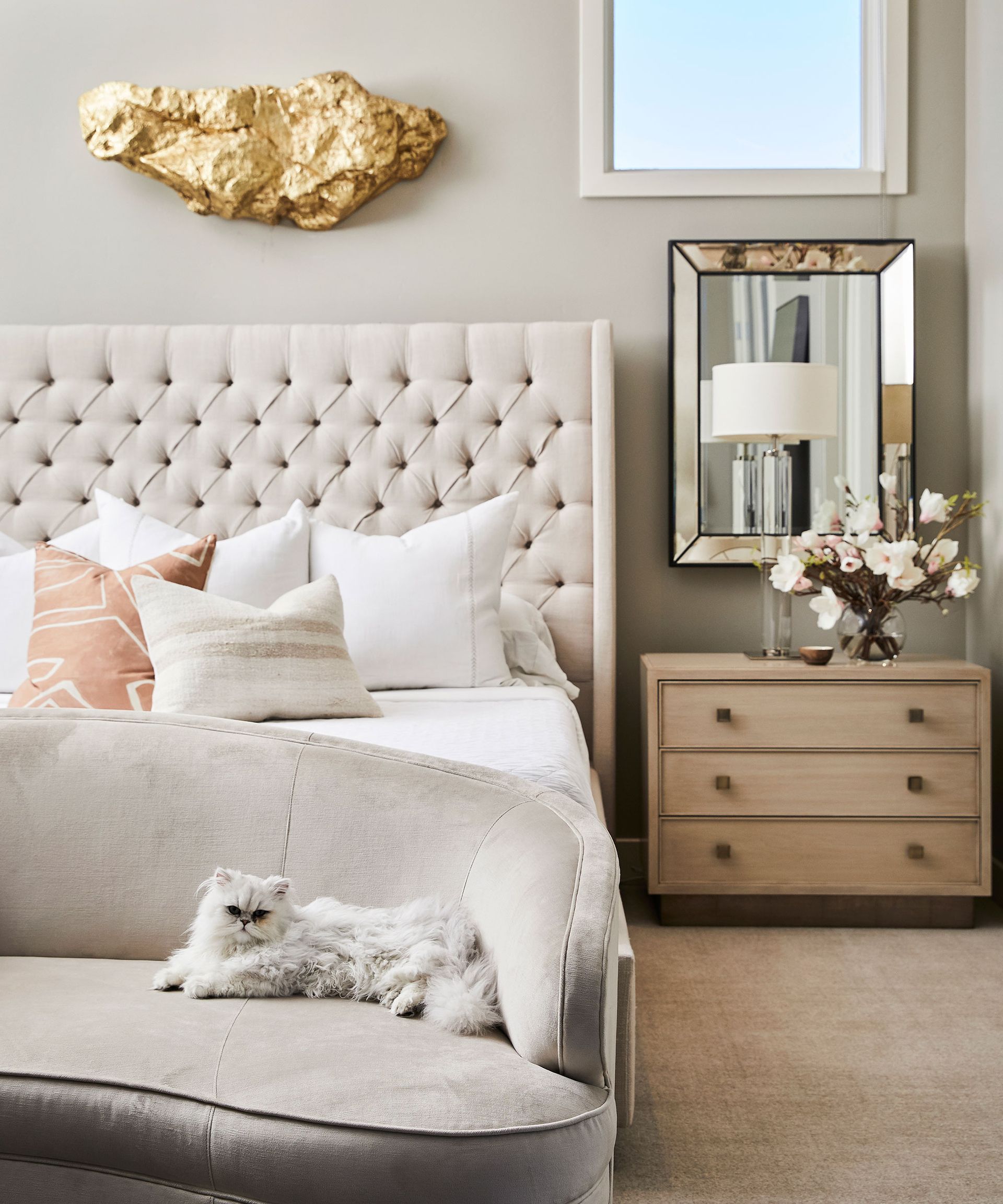 Sophisticated in their simplicity, decorating with neutrals in the bedroom is a stalwart in the world of interiors.
'The beauty of a neutral scheme is that it provides a wonderful scaffold upon which to hang accents of color, says Jessica Bennett of Alice Lane Interiors. She recommends grounding subtler shades with deeper, richer natural timber, or coral soft furnishings to create a balance. 'Neutrals offer an elegant, timeless way to make a bedroom feel lighter and brighter,' she adds.
Even if your room isn't predominantly beige, you can still use this palette as an accent. 'For a calm and restful bedroom scheme, introduce colors with a neutral undertone and tie these together so that everything blends together and nothing glares,' adds Nicky Mudie, founder, and director of Violet & George.
Jessica Bennett is the owner and principal designer of Utah-based Alice Lane Interiors. Know for quality and timeless interiors, Jessica has spent time in the US and abroad designing for high-end commercial and residential properties. Jessica specialized in luxury and has a particular penchant for curated color schemes.
2. Lift the mood – and expand a space – with fiery orange and red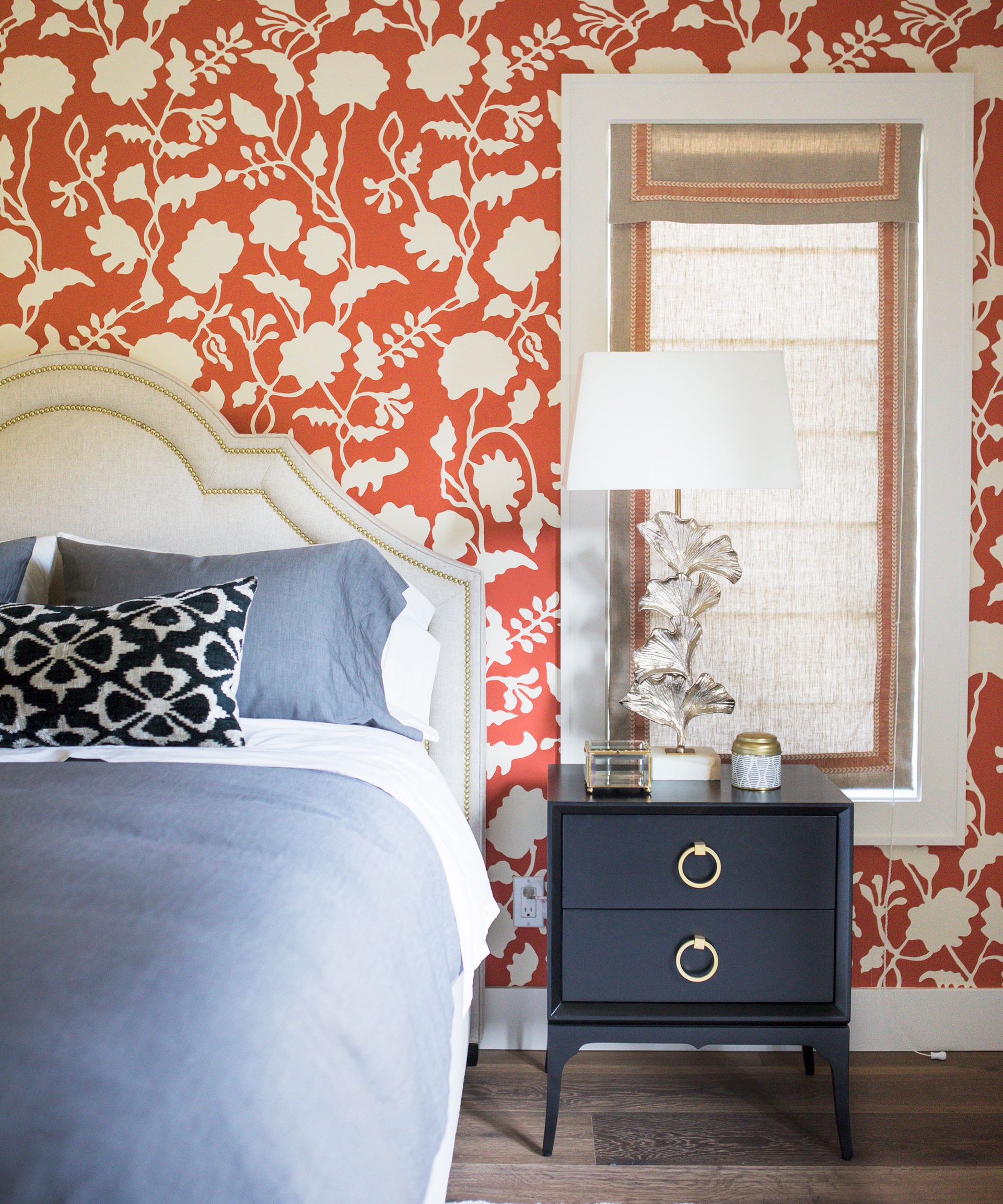 Tasteful and versatile, the new burnt oranges and fiery reds gracing interiors are rich and radiant, and we should be taking notice.
'Orange is perhaps not a color people think about when designing a restful bedroom scheme – which is a shame as it can really stand out from, but also complement, a more neutral background as we have here with this calming blue palette,' says Mary Jo Fiorella of Fiorella Design, who took inspiration from the color wheel when choosing the complementary color palette in this modern bedroom.
Decorating with orange is surprisingly easy. As well as using it on the four walls of a bedroom, another option is to take the wall color up across the fifth wall – the ceiling – to make the room feel more open and expansive
3. Keep calm with pale grey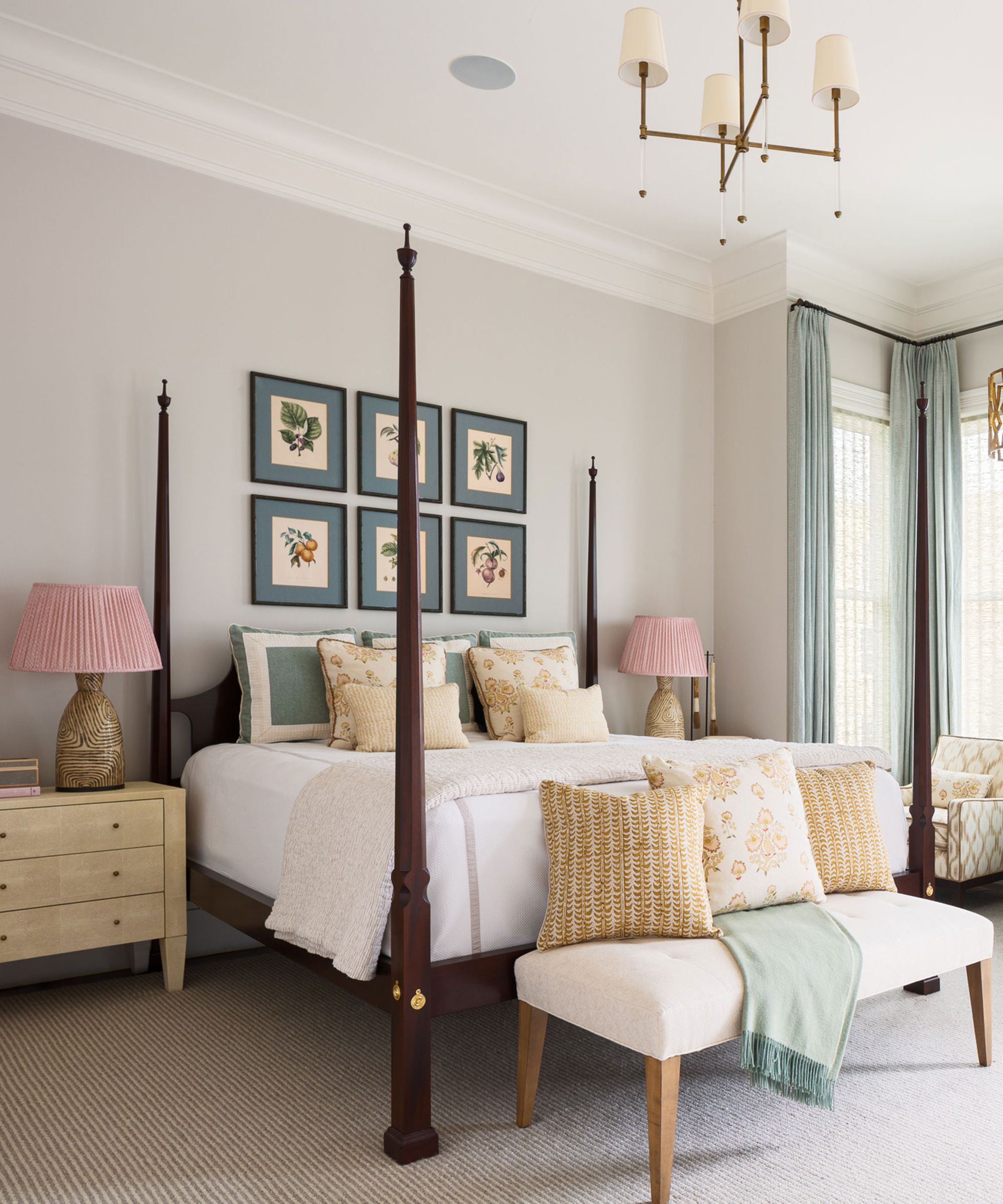 Of all the neutrals, grey is the most controversial, with the all-over grey color scheme being described as an unfashionable trend by experts. However, done right, grey can bring instant gravitas to a bedroom, even in the spring.
Grey tones can make a lovely palette for a bedroom as they can visually expand the space, while also exuding a sense of calm, believes Margaret Ash of Margaret Ash Design, as the designer demonstrated in the above room.
Charu Gandhi, founder and director of Elicyon agrees: 'Grey shouldn't be considered boring or cold; there are ways to make it feel warm and a focal point, either in wallcoverings or within fabrics and finishings. While in previous years cool greys alongside silver and high gloss tones were fashionable, we are using deeper, darker greys or even near-blacks in some of our bedrooms. These richer tones envelop you as you enter the room and add coziness without making a bedroom feel smaller.'
4. Bring in blue – a fresh spring color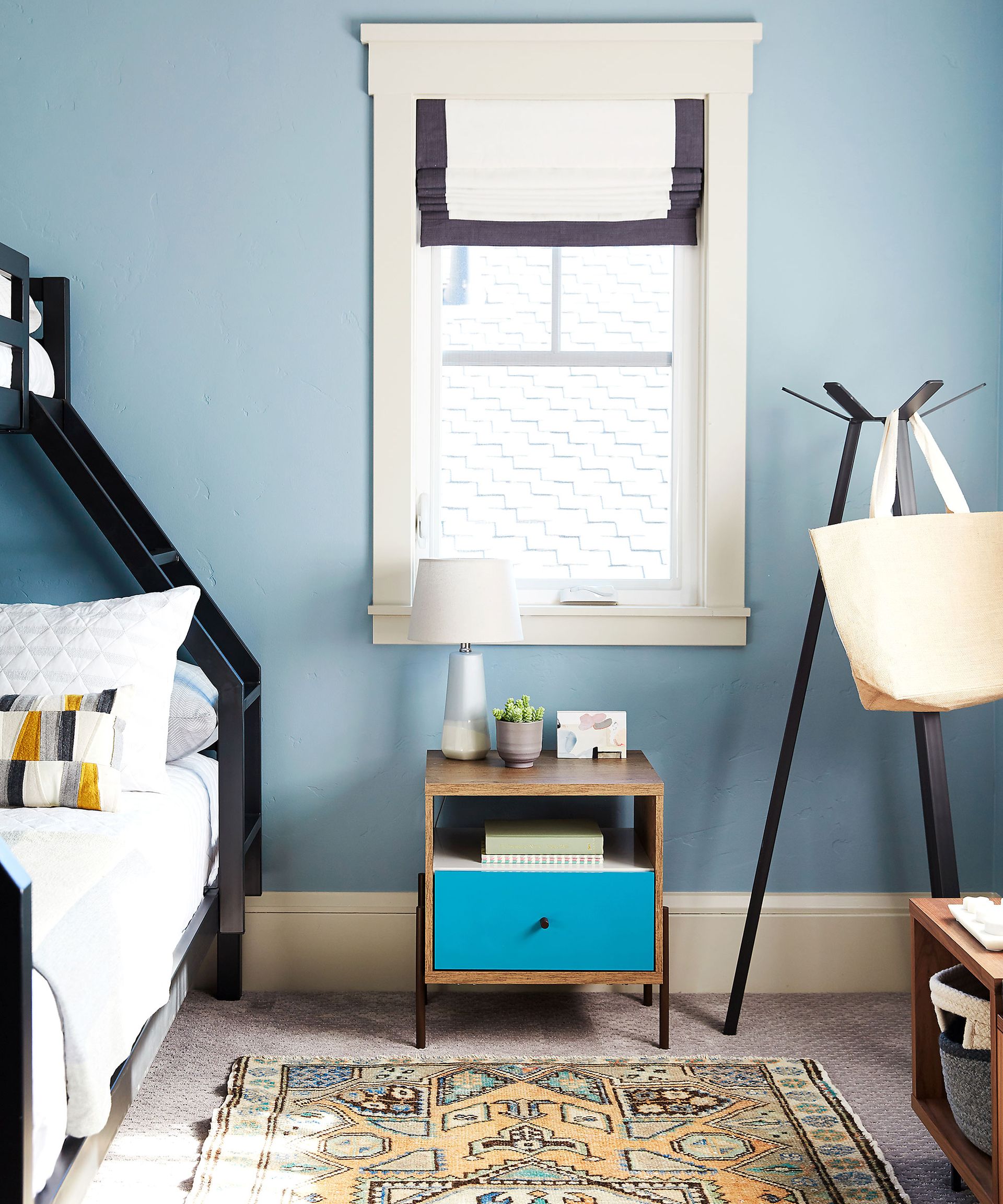 Blue bedroom ideas are wonderful for spring, not just because they evoke fresh, blue skies, but also for their power to make a small bedroom feel bigger and brighter.
Kathryn MacDonald of KJM Interiors, who designed this space, recommends using pale blue in the most restful space in your home. 'Joyful sky blues are perfect for using in spaces you spend lots of time in, she adds. 'To get the best out of a blue like this, pair it with neutrals, or other variations of blue, to give it a chance to sing – and shine.'
'Sky blue shades can add such joy to a space with their inherent freshness but just be careful they don't appear too chilly as the natural light will have a big impact on their perception,' says Patrick O'Donnell, international brand ambassador, of Farrow & Ball. 'It's a wonderful shade for coastal living where it will respond to the light you get near the water.'
5. Let nature inspire you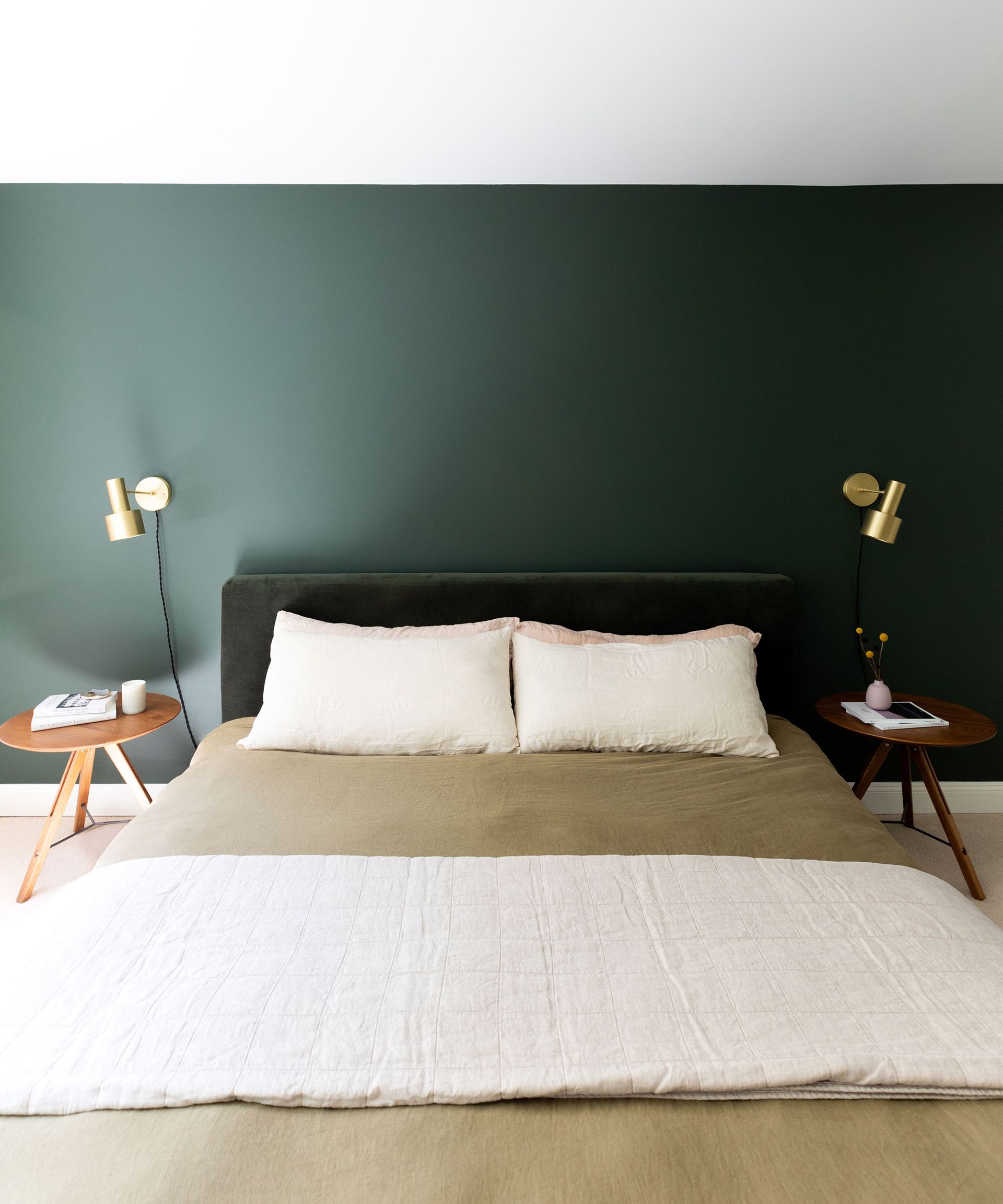 Uplifting and tranquil, this nature-inspired shade of green has its herbal origins to thank for its soothing properties, making it the perfect choice for a restful room scheme come spring.
Designed by Cathy Hong of the boutique interior design firm Cathy Hong Interiors, this minimalist bedroom has the power to not only expand but widen the room thanks to the horizontal color scheming.
'Bedrooms are designed to be relaxing, so choosing the right spring colors for walls and textiles can be the key to the peaceful transition from awake to asleep,' says Cathy. 'If you're looking to create a calm and inviting home, green is definitely a great place to start. It provides a sense of the outdoors.'
6. Create an uplifting and joyful space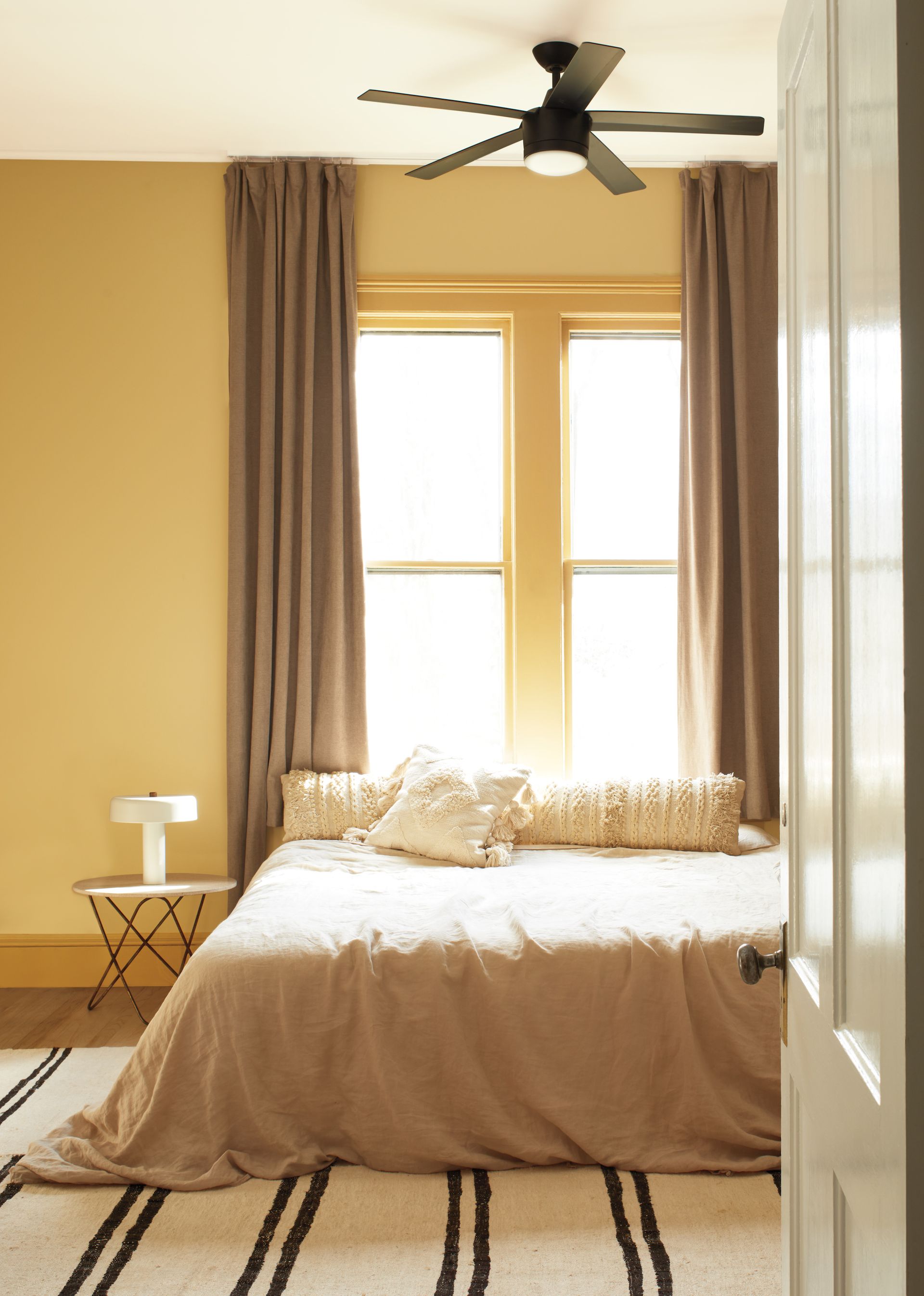 'Yellow is bright, optimistic and will uplift any room in your home so it's understandable many of us opt for yellow when looking to bring sunny cheerfulness and positivity into the bedroom for spring,' says Helen Shaw, marketing director at Benjamin Moore.
'Picking the right shade is key and will depend on the feeling you're trying to create as well as the positioning of the room. For north-facing bedrooms, you can get away with a darker shade which will offer a soothing warmth creating a sense of coziness. Whereas a south-facing bedroom could benefit from a more pastel shade which, in the natural light of the morning, will appear more muted and almost neutral.
For those who do not want to paint all four walls, instead try painting a particular area to create a focal point and centerpiece, from which the rest of your scheme can work around.'
7. Go for a paler green in a small space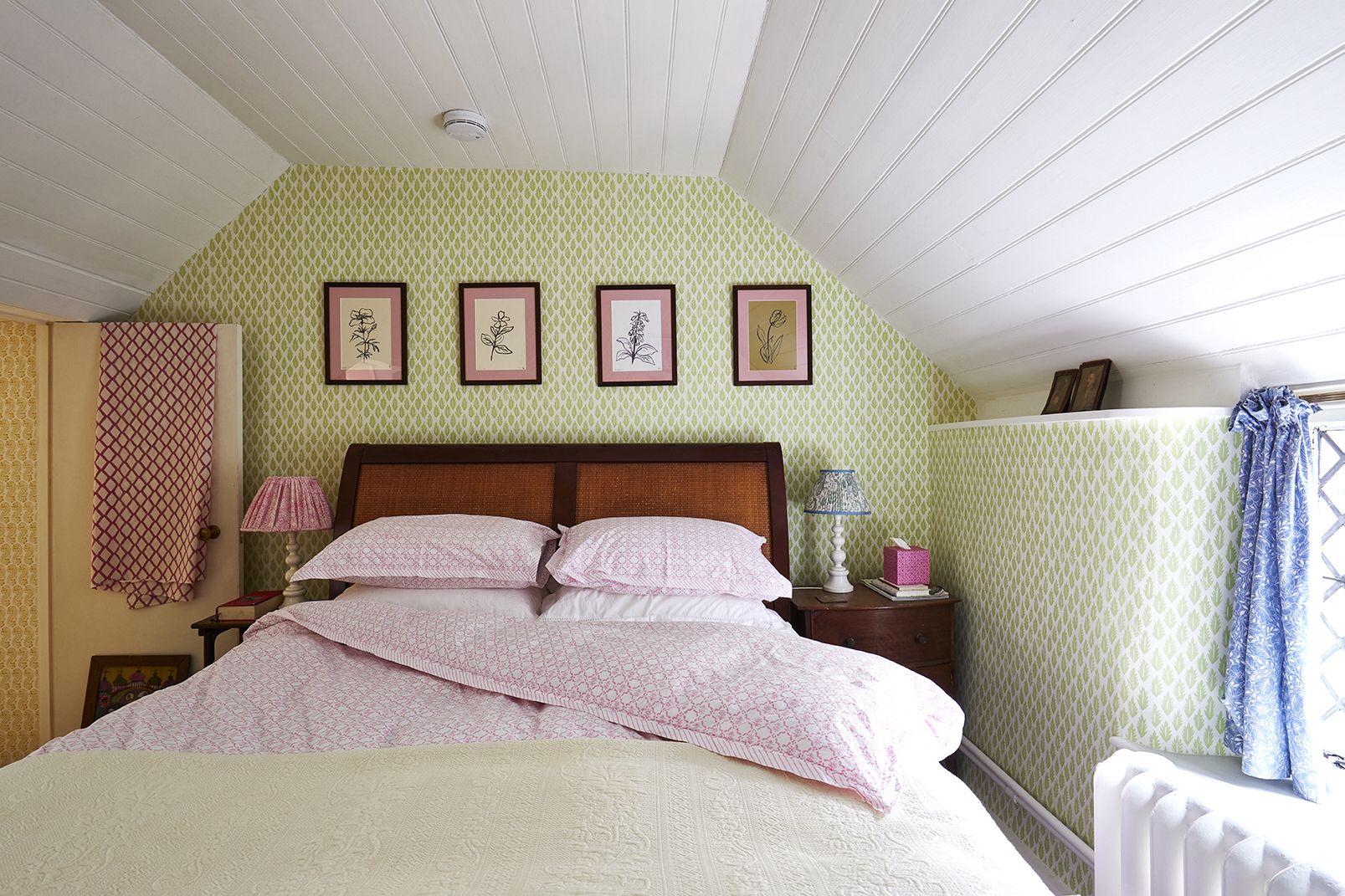 'It's no surprise that I love to decorate with green as it is so closely associated with nature, it's a color that easily brings the outdoors in,' says Molly Mahon, block printer and textile designer at Molly Mahon whose designs are sold through Schumacher. 'Green can be anything from crisp and zingy to darker, more muted shades, but all greens stimulate my senses with idyllic visions of lush grass, rolling hills, leafy trees, and the warmer seasons.'
'The color palette of this bedroom takes inspiration from the colors of springtime – fresh, brand-new green leaves and the most delicate pink blossoms slowly yet abundantly emerging from the fruit trees. Green and pink are complementary colors, sitting opposite each other on the color wheel, so using the colors in tandem is a great way to lift a room scheme, adding a soft contrast. '
'To me, this combination feels very welcoming and calming, perfect for a guest bedroom. Another of my favorite color combinations is blue and pink, so I couldn't resist adding the blue curtains and lampshade for a little pop of contrasting color.'
8. Perfect a pastel pink palette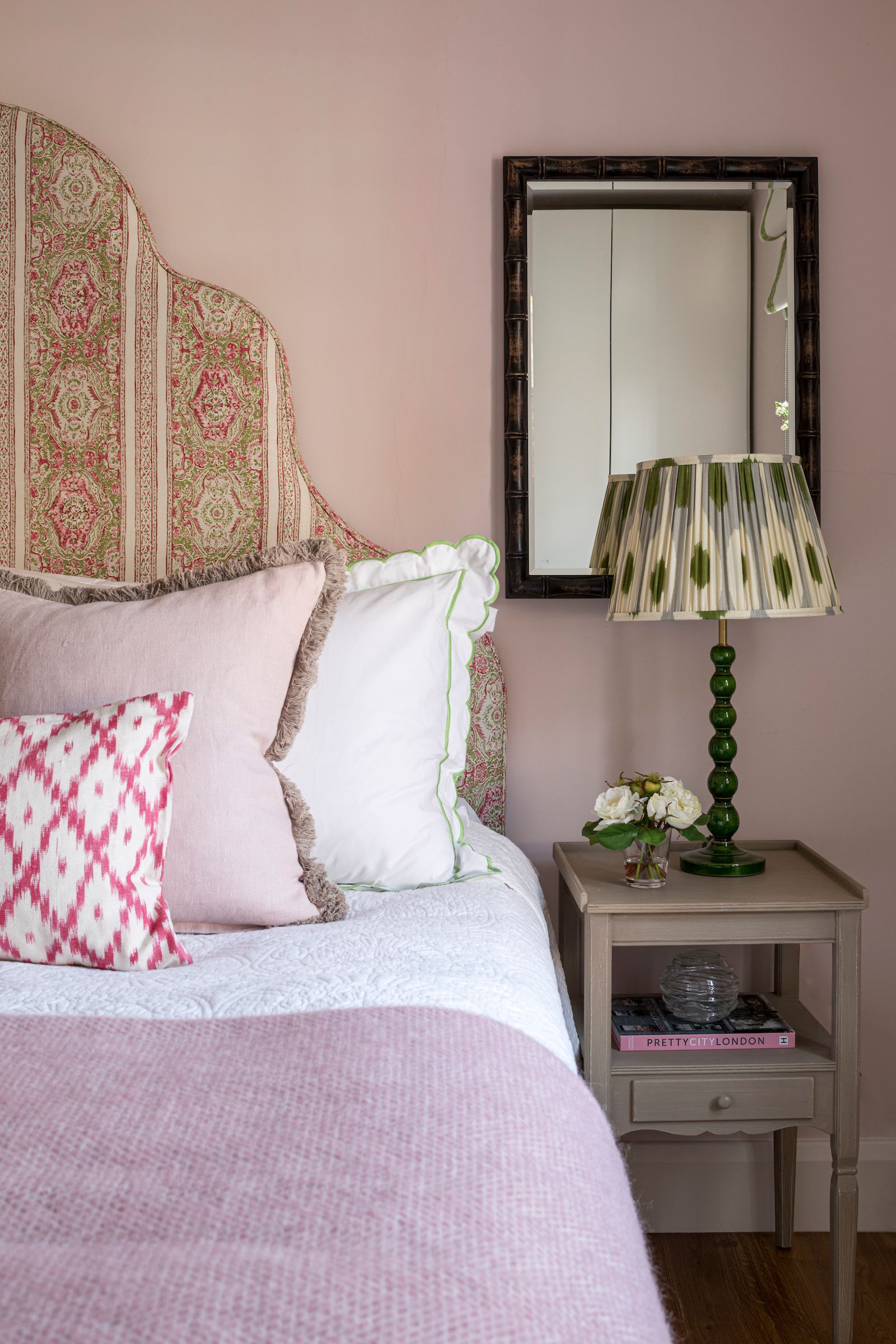 'Pastel shades like blush are ideal for transitional months as they bring in fun pops of color and help to energize the room,' says Emma Deterding, founder and creative director, of Kelling Designs. 'Choose colors and patterns that complement your existing decor, especially if you have a statement upholstered headboard in a patterned fabric as this will keep the overall look cohesive. If, however, you are feeling bold and more daring, then choosing contrasting colors and clashing prints will allow you to release your inner maximalist – after all, bold colors and patterns can be just as restful as neutral, minimalist designs.'
'When it comes to making your bedroom feel bigger and brighter for the spring season, there are many things you can do to help refresh and brighten the space. If you're not looking to fully redecorate, then changing out smaller accessories is the quickest way to breathe life into the space. Simply changing out the bed pillows and blankets on your bed for those in brighter colors and lighter fabrics such as linens and cotton will help rejuvenate the bedroom and bring a lightness with it that still maintains a cozy feel.'
9. Introduce multiple colors in subtle shades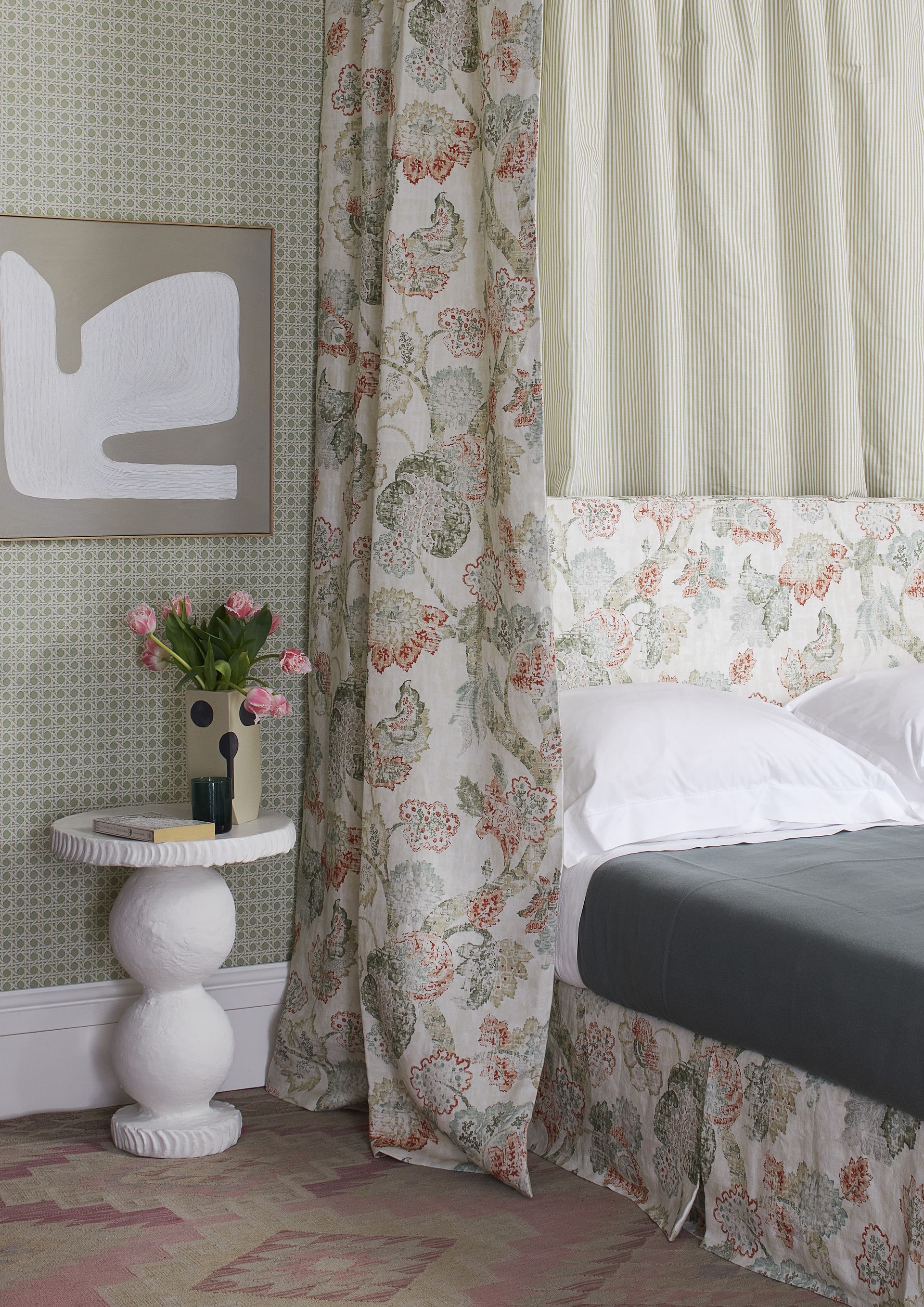 Spring color doesn't necessarily mean you have to opt for bright shades, consider muted shades if that's your preferred color palette, and use them across patterns instead of plains.
'Floral prints have a timeless spring-like feel, bringing the colorful beauty of the garden into our homes and the Lucia print shown here as upholstery around the bed evokes a trailing trellis feel, drawing the eye upwards, which not only makes the room feel elongated but ensures that when you wake, you are surrounded by the splendor of nature,' says Richard Madeaux, founder of Madeaux.
10. Add drama with purple and lilac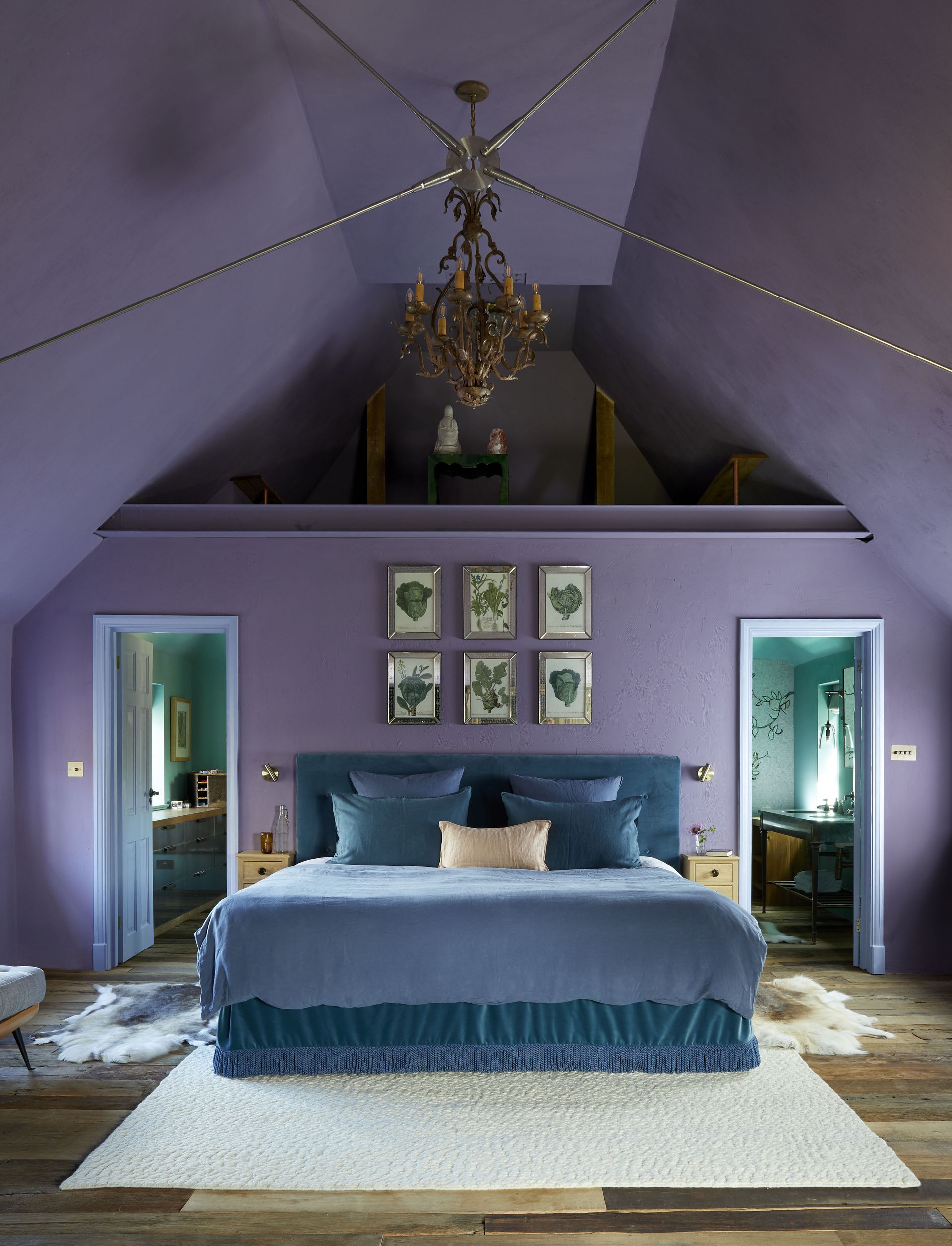 'Purple and lilac are fantastic colors to bring into the home; often seen in nature, it's fresh and uplifting, bringing a sense of vibrancy and life to interiors. Due to its link with the natural world, it works well in bedrooms,' says Francesca Wezel, founder of Francesca's Paints.
'It has an extremely inviting, friendly energy and is great for creating a relaxed feel within a home. Associated with open-mindedness and sociability, it also has a slight feminine edge to it, which again reinforces the feeling of comfortability and care.
For a contemporary edge, team it with teal – in this bedroom, you can see how well it works with the lilac, and both have the same tone so they complement each other. The ensuite door frames painted in a pale lilac add a charming contrast and they highlight the green interiors.'
11. Pair blue with green – an unusual but brave combination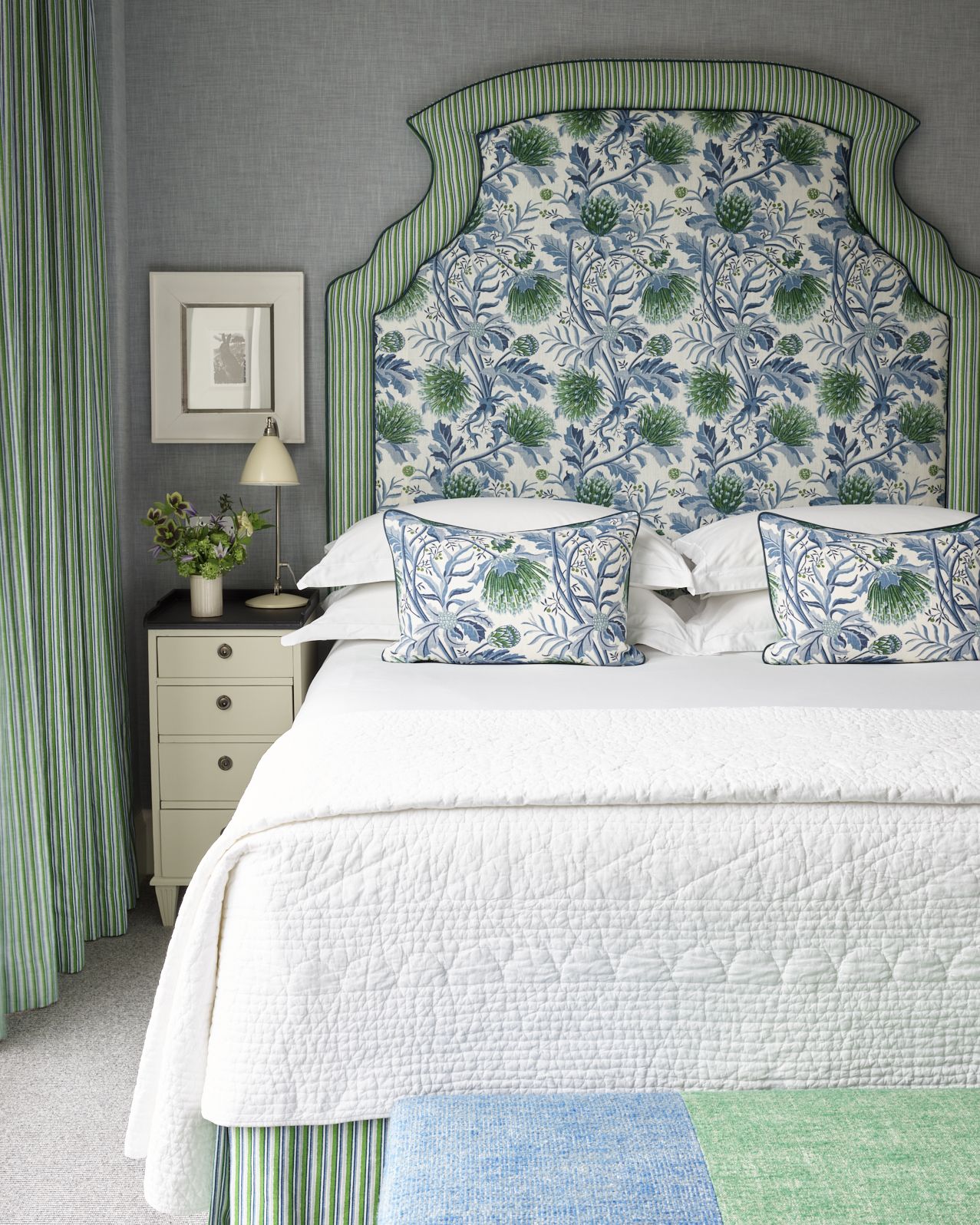 Interior designers and decorators will often say they don't follow rules when it comes to decorating but something that is helpful to bear in mind is that colors never need to match, they just need to work together. 'I love unusual color pairings,' says Kit Kemp, creative director of Firmdale Hotels and Kit Kemp Design Studio who specializes in color and fabric. 'My favorite combination at the moment is green and blue,' she adds. 'If in doubt, always look at nature and, in particular, plants and flowers.'
'Green is the color of life, hope, energy, and nature, so we often use it to bring freshness to a room, as well as to make it feel bigger,' adds Kit. 'These sharp accents of bright green and cobalt blue are what make you remember this room despite it actually being predominately grey. There is no doubt this scheme is happy and uplifting, and white bedding helps to balance the greens and blues to the same effect with the result being a bright and airy scheme which feels like spring.'
'Using a more unusual color pairing in a room will alter the atmosphere in the space, explains interior decorator Nicola Harding, founder of Nicola Harding & Co. 'The greater the degree of contrast there is, the more drama there is in the room and when there is less contrast, the space is calmer.'
Sign up to the Homes & Gardens newsletter
Decor Ideas. Project Inspiration. Expert Advice. Delivered to your inbox.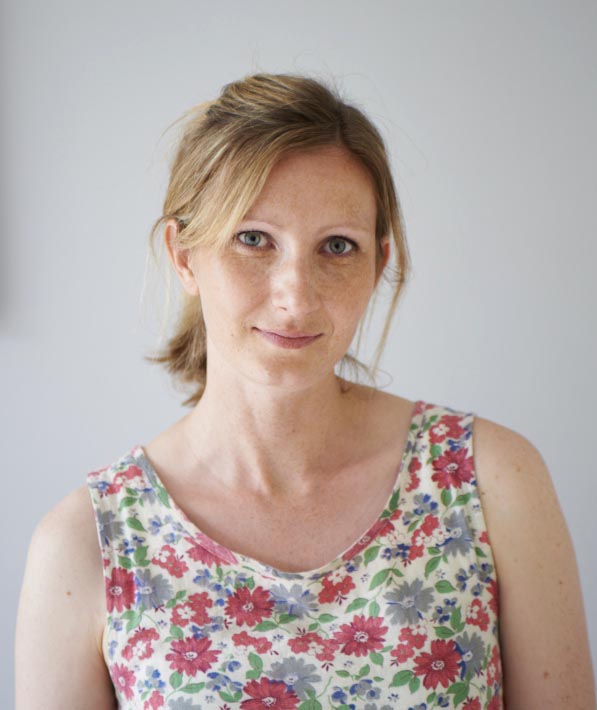 Sophie has been an interior stylist and journalist for over 20 years and has worked for many of the main interior magazines during that time, both in-house and as a freelancer. On the side, as well as being the News Editor for indie magazine, 91, she trained to be a florist in 2019 and launched The Prettiest Posy where she curates beautiful flowers for modern weddings and events. For H&G, she writes features about interior design – and is known for having an eye for a beautiful room.