6 window treatment trends that interior designers swear by for a quick and easy update
From enduring, classic prints to more modern colorways, we've rounded up the latest window treatment trends favored by designers – to help you dress your windows style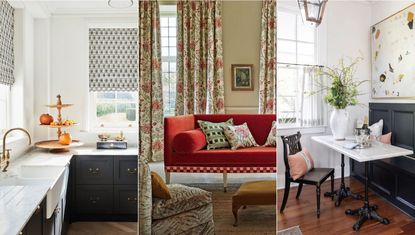 (Image credit: James Hare | Megan Evans Interiors)
Our collection of the latest window treatment trends favored by designers can provide valuable designer insight to help you make the perfect design decision for your windows.
The right window treatments can have a huge impact on the look and feel of a room, and choosing the best design for your space can often be a complex process. From style to material, pattern to color, as well as the different types of windows to dress, there are always many factors to consider.
From elegant café curtain ideas to traditional prints that embrace classic toile de jouy patterns, these are the window treatment trends that interior designers are loving right now.
6 window treatment trends to try right now
Whether you're looking for refreshing modern curtain ideas to uplift an existing scheme, or are moving into a new home and are in need of a collection of new designs, these are the window treatment trends that the interior designers are using.
1. Colorful curtains and blinds
Dopamine decor has been a huge design trend this year, highlighting how many of us are embracing more playful and bright color trends in our homes. Colorful window treatments are perfect for adding a touch of vibrancy and visual interest into a room without overwhelming the space.
Emma Clarke, director at Warner House says, 'Colorful curtains can bring wonderful personality, drama, and joy to a room. More than just a finishing touch, they can become the central focal point in the space, enhancing a scheme with charm, texture and eye-catching character'
Interior designer, Naomi Astley Clark also adds, 'Colorful curtains and blinds are a great way to add character to any room. To create a cohesive and elegant interior, consider matching your curtains or blinds to another element of the room, whether it is a headboard, an armchair or bedding.'
We love the use of color and contrasting pattern in this living room designed by Gray Walker Interiors, with the bright orange cabinetry working well to unite the different patterns across the curtains, seating, and furniture together as one.
London-based interior designer, Naomi Astley Clarke, has worked in the interior design industry for over 20 years and has a client base of movie stars, producers, music moguls, professionals, and entrepreneurs. She creates uplifting and exciting renovations and refurbishments of both residential and commercial properties.
2. Café curtains
'I love using a café curtain in my design schemes,' says interior designer, Megan Evans. 'They are so charming, and work perfectly in places where you want a little privacy, but still want to let the natural light in. I find that these types of curtains work best with lightweight fabrics like cotton or linen.'
Café curtains are ideal for using for bathroom curtains and kitchen curtains, bringing in an elegant touch of tactile texture and privacy, but still allowing for lots of natural light to flood into the room.
Whether you choose to embrace a sheer fabric, as Megan Evans has used in this cozy dining nook, or opt for a thicker material or more colorful design, café curtains can also create a wonderfully nostalgic, retro feel, paying homage to a vintage bistro look and traditional French cafés.
After working in fashion merchandising in New York, Megan moved to the West Coast to study interior design at the Fashion Institute of Design and Merchandising (FIDM) in Los Angeles. With 10 years of experience in the luxury home furnishing market, she opened her own design business in 2019.
3. Enhancing window treatments with passementerie
'Borders and braids have the ability to introduce new patterns and contrasting colors along the leading edge of curtain panels, while tassel, bullion or beaded fringes can soften the panel's edges, adding a sense of refinement and infusing a new color palette,' says Marisa Gutmacher, executive design director at Samuel & Sons.
Often associated with more traditional curtain ideas, passementerie is back in a big way when it comes to contemporary curtain design. Not only can beautiful tassels, trims and borders help to elegantly elevate curtains to look more expensive, these stylish finishing touches can add wonderfully unique and luxurious design detail to a space.
Interior Designer Megan Evans also agrees and says, 'Adding a tassel trim to plain drapery panels adds a bit of whimsy while dressing up the space. It's like jewelry for your windows!'
Marisa Gutmacher leads the design team at Samuel & Sons Design Studio, renowned for their innovative trimming designs and has designed dozens of distinguished collections for Samuel & Sons over the past decade. Marisa is a dual degree graduate of the Rhode Island School of Design.
4. Roman blinds
An ever-so-popular option for window treatments in homes of all styles, you can never go wrong with the elegant simplicity, and practicality, of a Roman blind for window blind ideas.
'Roman shades work in virtually every space. Look for a natural fiber, like cotton or linen, with a synthetic blend which will help it keep its shape. Adding a tape trim is the perfect finishing touch. We incorporate woven shades into almost every project we work on. They are great to layer under drapery, but are also attractive enough to stand on their own,' says Megan Evans.
Ideal for using for bathroom windows or kitchen windows, blinds are also a great option for smaller windows and for using in combination with curtains to create a more cozy and layered look; great for bedroom living room spaces.
5. Classic patterns and prints
Anela Biscevic, owner of window treatment retailer, Indigo & Luxe, says, 'Classic floral prints have definitely become more popular over the last few years, such as pastoral toile and French country designs on long draperies and pleated window treatment styles. Traditional chinoiserie designs are also picking up but with customers embracing more unusual color combinations as opposed to 'safe' neutrals; establishing a stylish mix of the old and new.'
Victoria Walker, trends expert at Hillarys also supports this and says, 'Patterns like toile de jouy, delicate florals, or French stripes in classic color combinations like blue and white or red and white are currently immensely popular on window dressings.'
When decorating with stripes, or with other enduring patterns and prints for window treatments, it can create a timeless look that can grow with adapting interior design trends with ease.
6. Linen curtains
'Linen is my fabric of choice for curtains because it's utterly timeless, and can add elegance and warmth to any room. It's a breathable natural material that regulates temperature so it's a great choice all year round – and is durable, easy to clean and biodegradable, making it an eco-friendly option. It also comes in so many different textures, thicknesses and colors, making it a very versatile material,' says interior designer, Soledad Alzaga.
San Francisco-based Interior designer Soledad Alzaga has worked on designs projects in San Francisco, Sonoma, Atherton, New York, Martha's Vineyard, Los Angeles, Mexico and Argentina.
FAQs
Should you put curtains over blinds?
While it is not a necessity to put curtains over blinds, the combination can create a more textured, layered look, adding wonderful depth and elegance to a room.
Layering your window treatments is also a classic trick interior designers use to make windows look bigger. For example, hanging a blind across your window and curtains from a curtain rod installed nearer to the top of the ceiling will help to create a more elongated visual effect around the window.
Using curtains and blinds together is also a great opportunity to mix colors and patterns. A patterned blind can be beautifully enhanced with coordinating curtains in a complementary or contrasting color, helping to create a more luxurious and eye-catching visual effect around your windows.
---
Of course, practically, windows will always require to be framed and covered, but our collection of the latest window treatment trends show just how playful, creative, and stylish you can be with your chosen window treatment designs.
Finding the perfect balance between style and functionality is always key when exploring window treatment trends and choosing the right designs for your space.
Sign up to the Homes & Gardens newsletter
Decor Ideas. Project Inspiration. Expert Advice. Delivered to your inbox.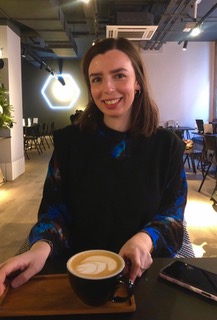 Zara joined Homes & Gardens in February 2022 as a Content Editor. After studying English Literature at University, she worked as an Ecommerce Website Editor, Content Writer and Buying Intern at multiple independent businesses within the luxury retail and lifestyle sectors. Her role at Homes & Gardens unites her love, experience and passion for the world of design and desire to create inspiring written content. She enjoys nothing more than discovering new trends, brands and products, whether that be in fashion, interior design or lifestyle.