Kitchen window curtain ideas – 10 looks rich in texture and style
Our collection of kitchen window curtain ideas prove that drapes can work wonderfully in the kitchen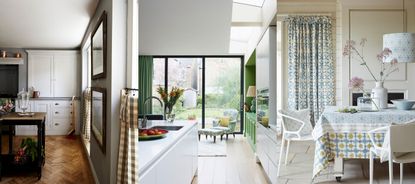 (Image credit: Future | Jessica Buckley | Vanessa Arbuthnott)
Many of us steer away from kitchen window curtain ideas in favor of more practical options such as blinds and shutters. However, there are many ways you can integrate kitchen curtain ideas into your space – let us show you how, for windows in particular.
A kitchen can easily feel cold, sterile and purely practical, but kitchen window ideas such as curtains have the ability to add much needed color, pattern and personality through inviting texture.
When planning your kitchen decor, of course you want this busy workspace and heart of the home to be functional and practical, but those final, elegant touches, such as window treatments, can help to bring your whole scheme together.
Design director at Villa Nova, Hayley McAfee, states, 'curtains allow you to introduce pattern and color into a space – you can make a statement or use them to soften a room.'
Kitchen curtain ideas
From brights to neutrals, to long and short designs, we have curated a collection of kitchen window curtain ideas to provide you with some beautiful inspiration for your kitchen scheme.
1. Make an impact with a colorful design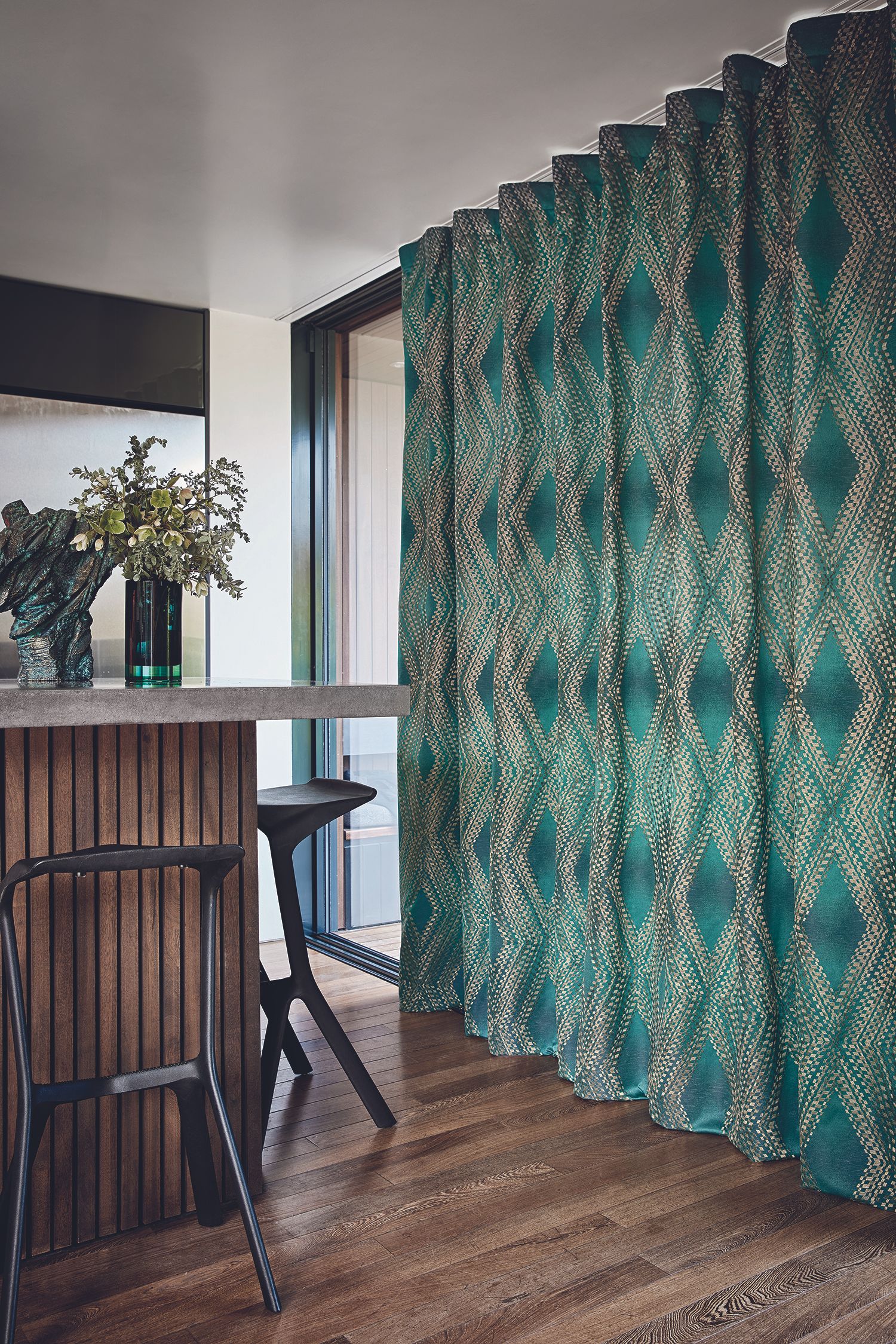 Whether you want to enhance a color scheme in a room, or simply create a bold feature out of your kitchen window, colorful curtain ideas can make a real impact.
In this modern kitchen, the beautiful green curtain from Romo creates a colorful statement in the room - especially when it is fully drawn, capturing the gaze with bright color and busy pattern, just like a work of art.
Creating a stylish contrast with the darker, neutral color palette in the rest of the room, this kitchen window curtain acts as the main focal point in the space, and uplifts the room with color, pattern and texture.
2. Keep things elegant and simple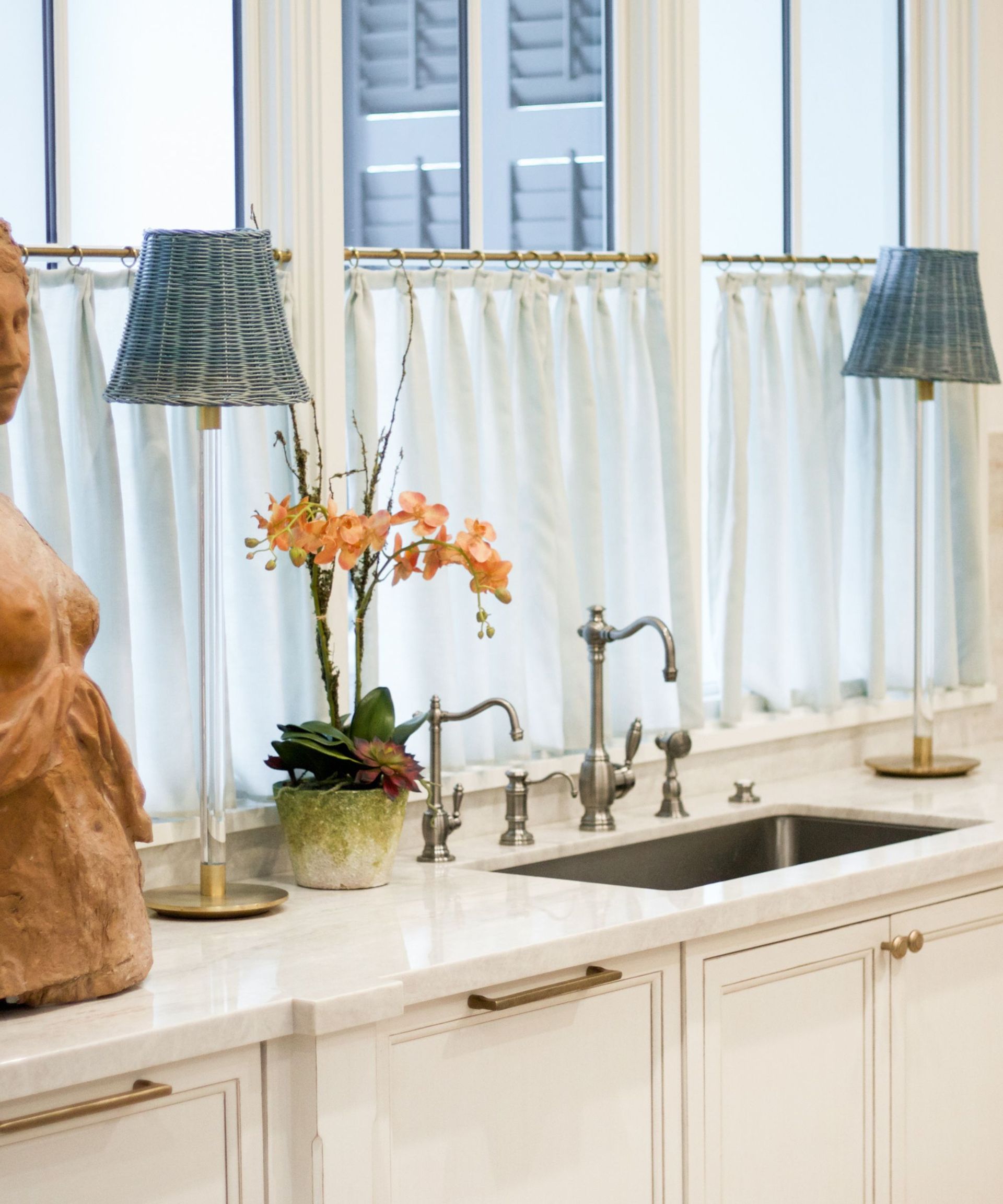 Designed to cover the lower half of the window, half curtains, also referred to as French 'café curtains' can create an elegant and chic look for your kitchen window curtain ideas.
The simple white sheers, used across all three windows in this kitchen, let the light in as well as provide privacy, working with the two table lamps with woven blue shades from Maison Maison, to create a cozy zone of texture and warmth.
This kitchen is a beautiful example of how curtains and simple touches of texture can transform the look and feel of a functional space.
3. Create physical and visual warmth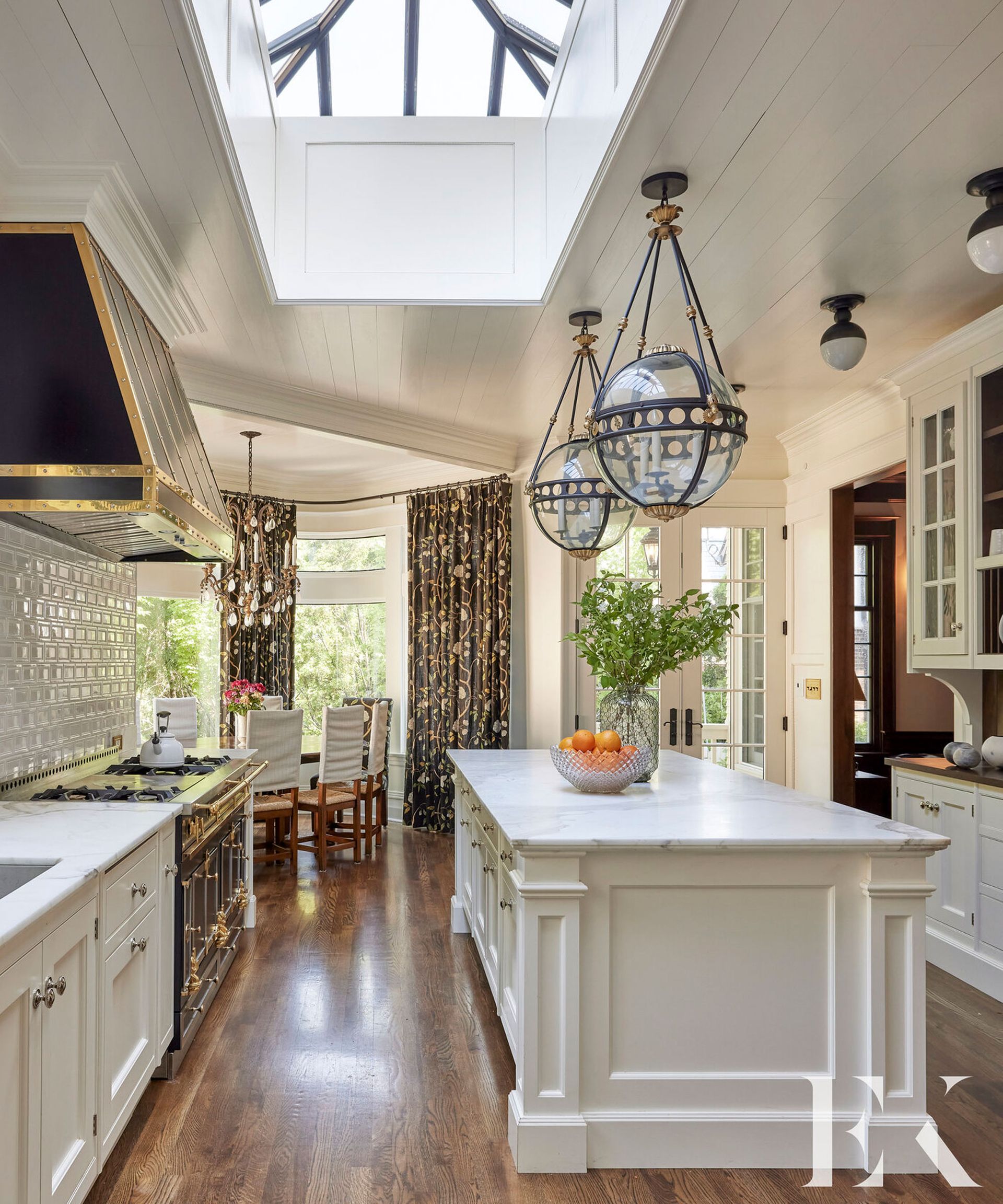 As we have discussed without the correct finishing touches, a kitchen can easily feel uninviting and cold.
Of course, you cannot go wrong with a classic white kitchen, but if you are looking for ways to add elements of color and texture, curtains can be a great decorating tool.
As shown in this beautiful open-plan kitchen-diner by Elizabeth Krueger Design, the dark, patterned curtains not only help to zone the separate dining space, but add physical and visual warmth to the large room. The curtains work with the dark wooden floor and wooden dining chairs to add inviting elements of coziness and contrast to the space, a beautiful example of kitchen bay window ideas.
4. Coordinate with your kitchen color ideas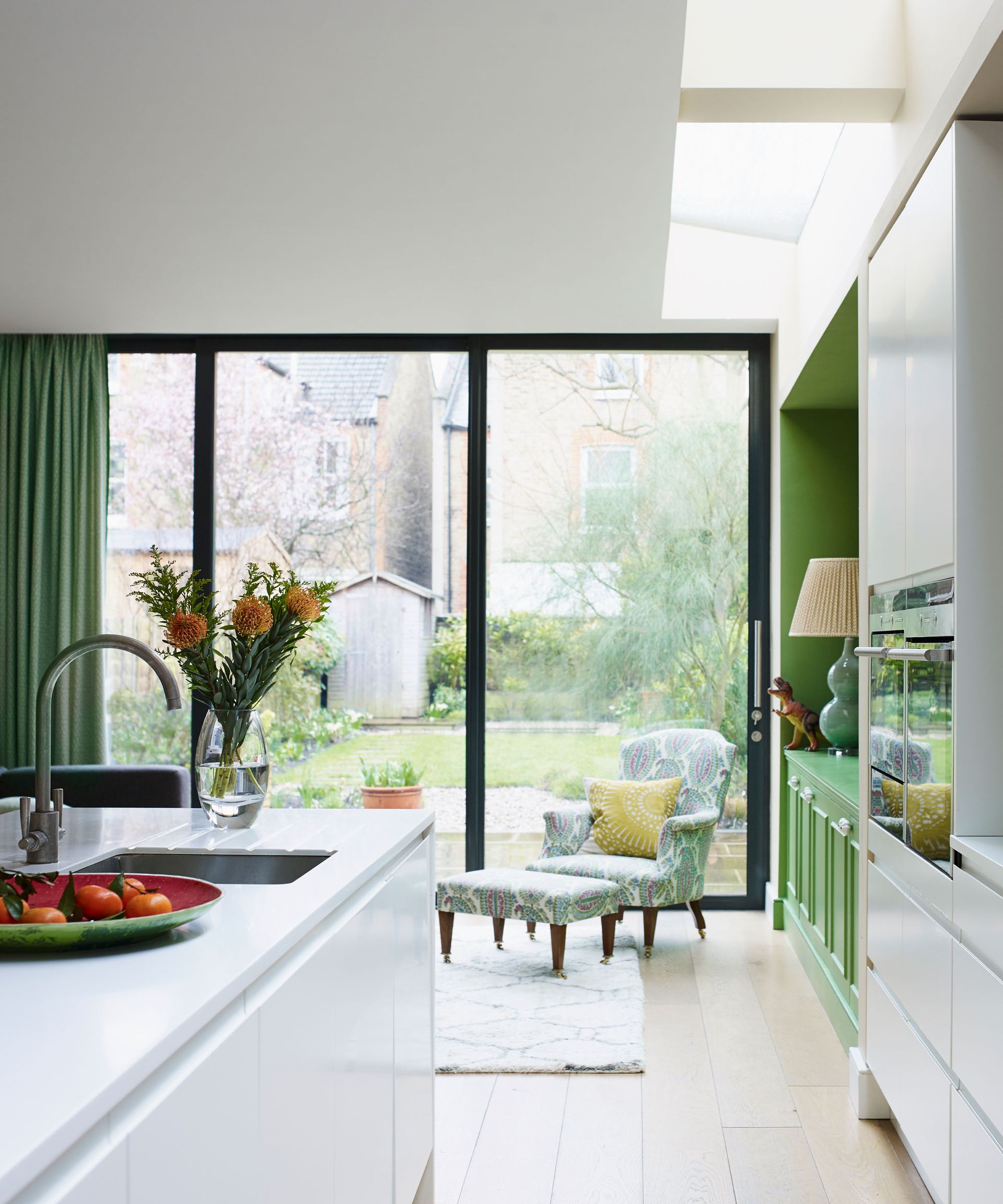 Matching your curtains with your kitchen color ideas can establish a colorful and coordinated look in your kitchen.
As shown in this elegant, modern kitchen by Jessica Buckley, the bright green curtains have been color matched to coordinate with the painted green alcove and cabinet, and green patterned armchair.
The use of green not only adds a vibrant accent color to the space, but works with the view into the beautiful green garden from the larger windows to create a calming, indoor-outdoor effect.
5. Use curtains and blinds in combination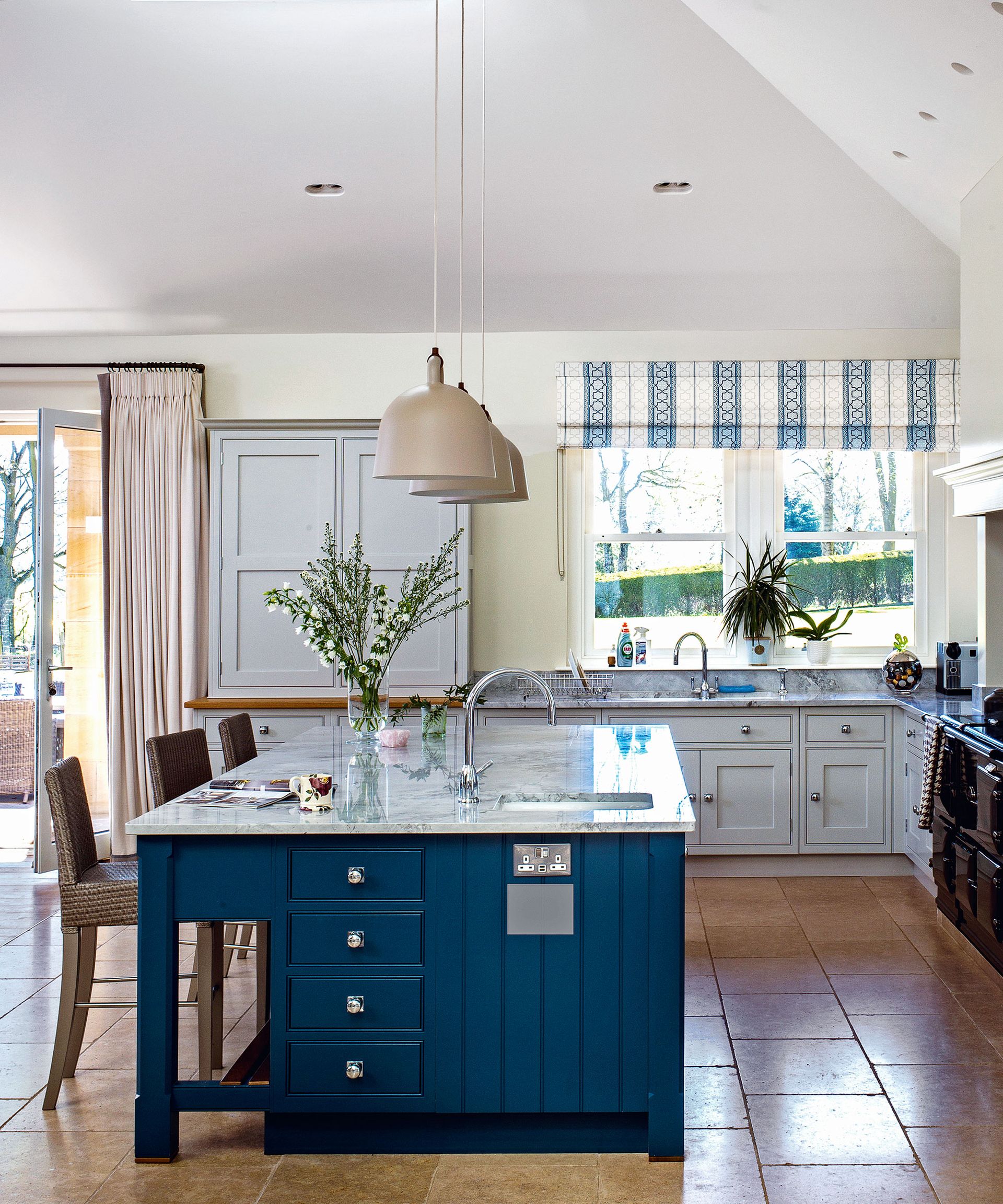 Natasha Painter, of Curtains2go states, 'if you mix and match both blinds and curtains at your windows, you can combine colors, patterns and functionality. For instance, choose a delicate light filtering Roman or roller blind for privacy that still allows light to flood the room, and combine with a heavier curtain for the evenings.'
As shown in this traditional kitchen, the blue patterned window blind works with the blue kitchen island to add contemporary color to the space, with the long cream curtains adding warmth and privacy to the windows on the doors that lead outside.
A mixture of window treatments often works best in a space with different sized windows in various locations in a room. With many of us having doors to our gardens and outdoor spaces in our kitchens, or larger, floor to ceiling windows, curtains are the perfect window treatment for these window types, as they can easily block out the light and keep in the heat, as well as make the space more cozy and inviting.
6. Create a stylish element of contrast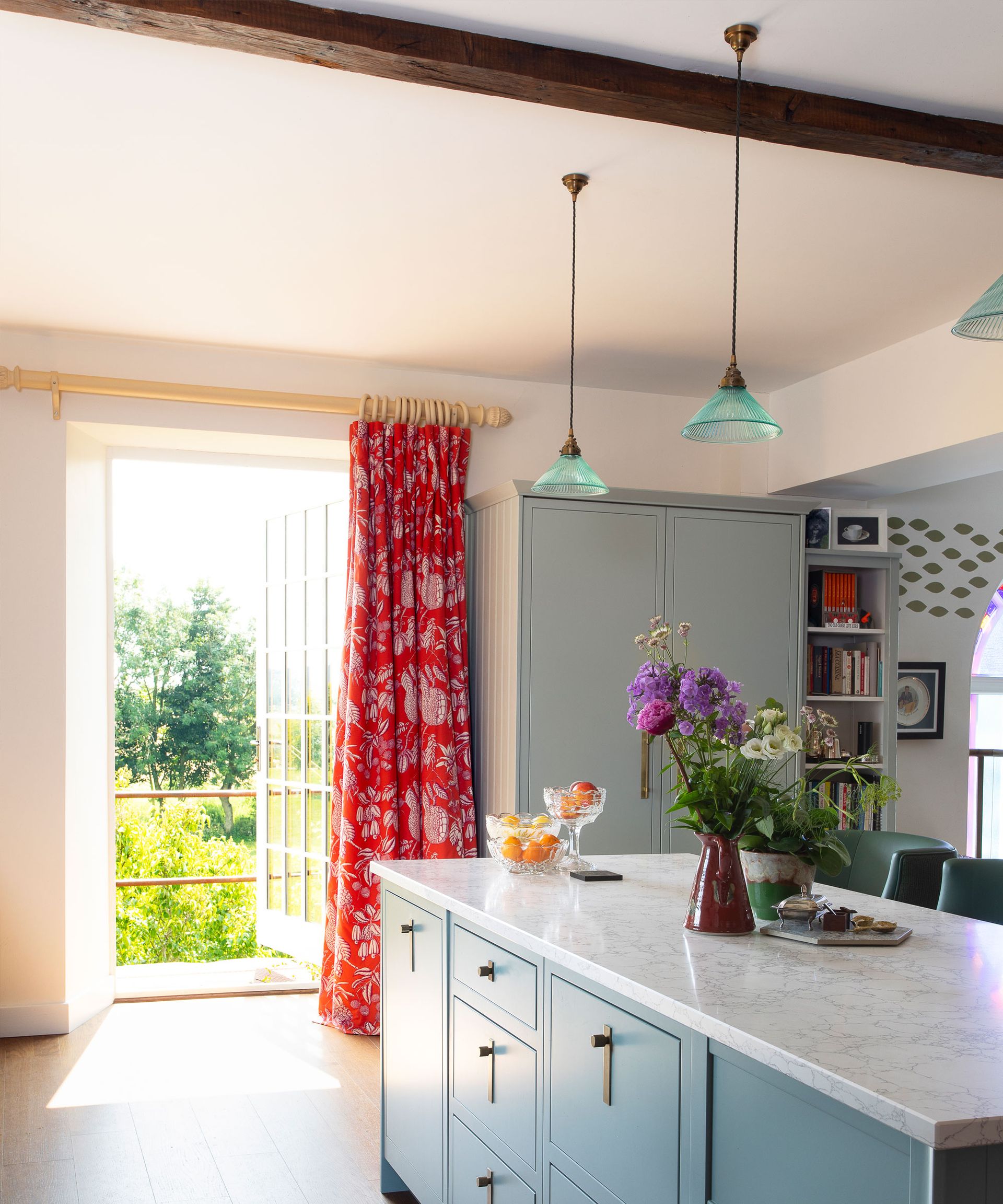 Uniting contrasting colors together for an interior design can make for dynamic color pairings and a stylish scheme - for further insight on what colors work well together, explore our guide on how to use a color wheel for interior design.
In this kitchen, the bold, red patterned kitchen window curtain creates an eye-catching contrast with the soft blue painted kitchen cabinets, white painted walls and sleek, white marble countertop.
This bright use of color draws the eye to the patterned print, and establishes an eye-catching feature in the kitchen space. With so many beautiful patterns and prints to choose from, a bold curtain can act as a wonderful focal point in a kitchen, and celebrates the variety and artistry of beautiful print design.
7. Use your curtains to help zone a space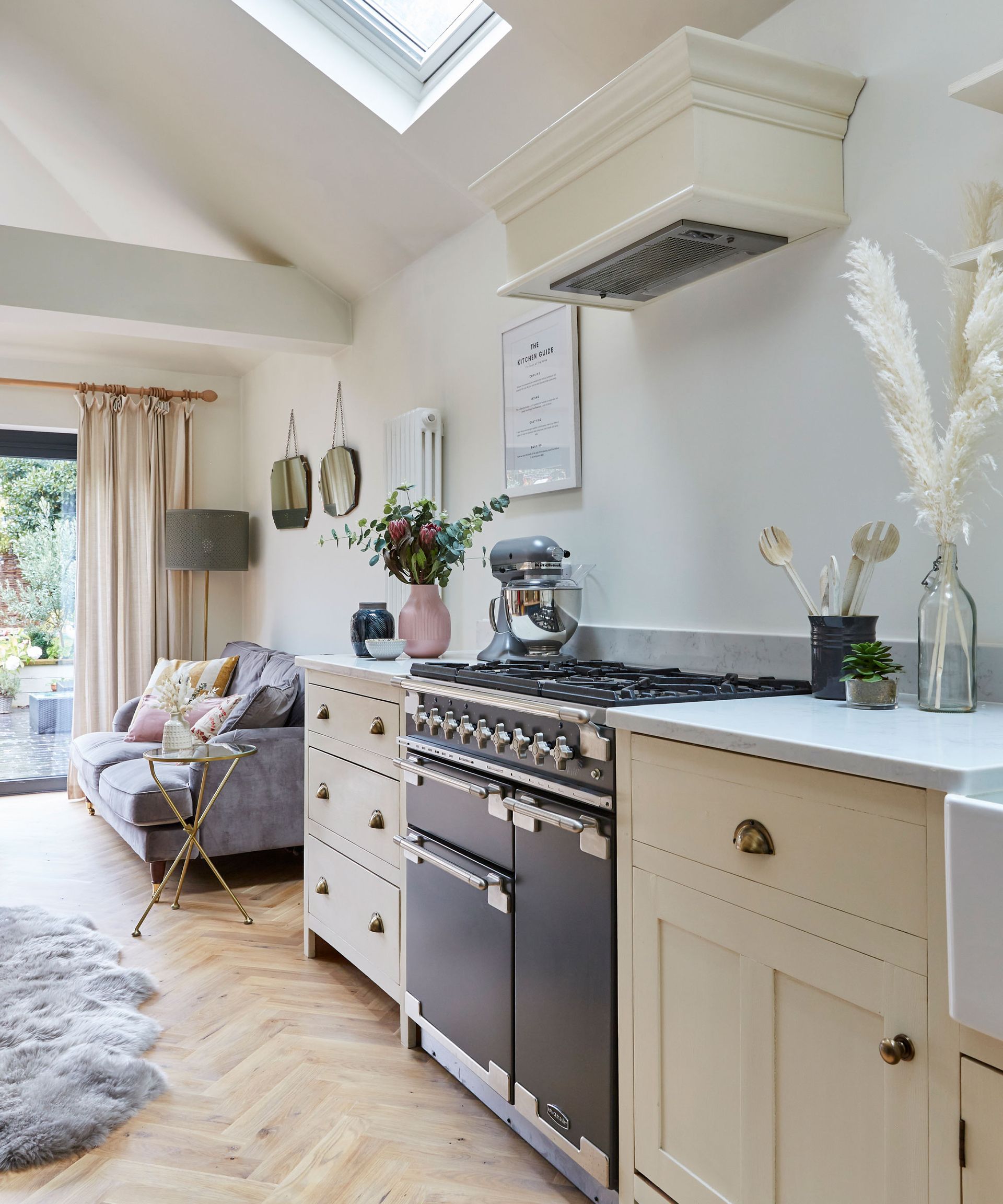 Curtains are a great tool for zoning a space – especially for room divider ideas.
In this space, the cream window curtains work with the inviting gray sofa, table lamp and cushions to create a cozy corner within the open-plan kitchen.
Simple but highly effective, the curtains add warming texture to enhance this seating space, making it feel more inviting and relaxed.
With the overall space sharing a neutral, calming color palette, the room feels united but cleverly zoned.
8. Create a cohesive look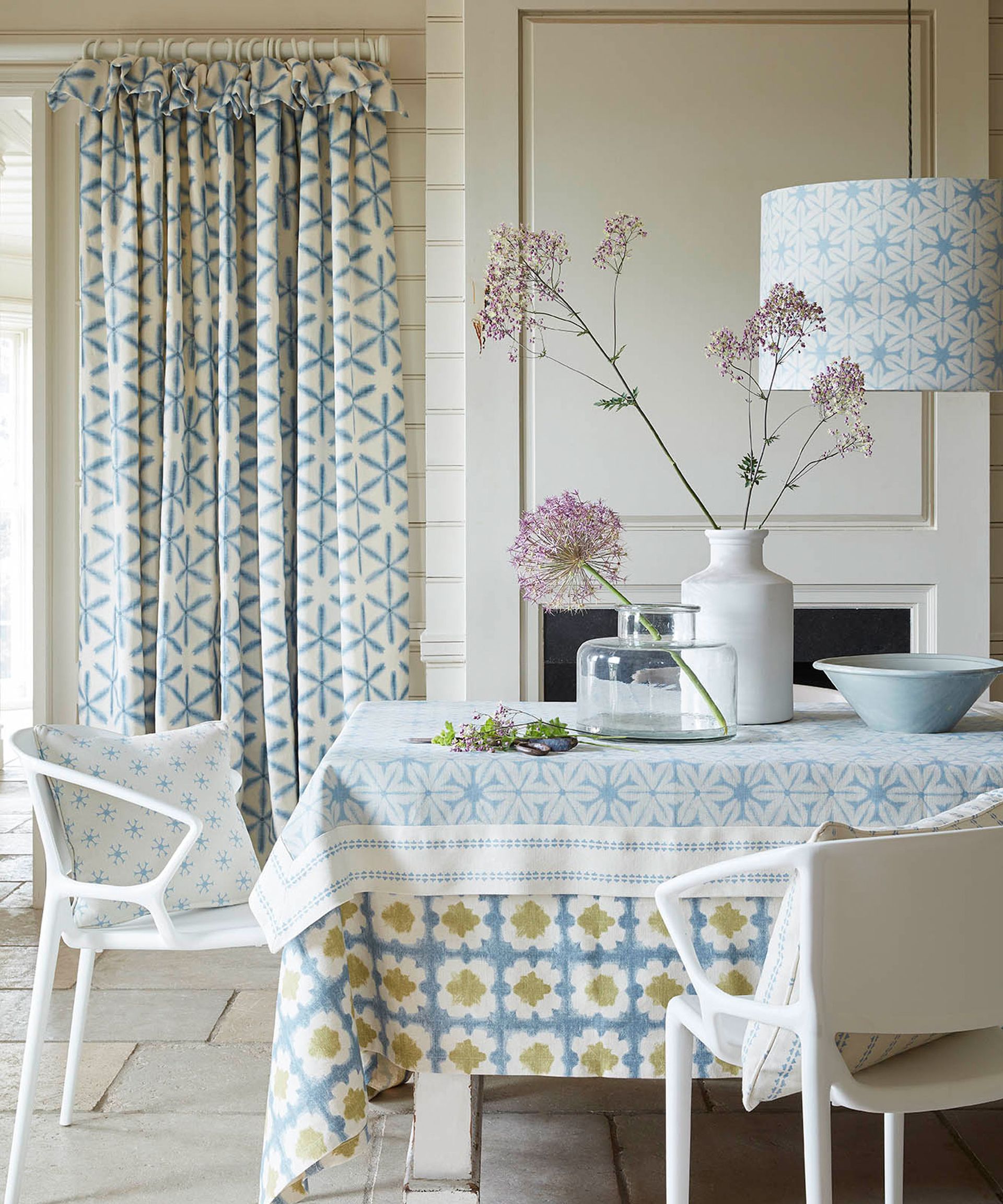 As we have explored, a printed curtain can bring beautiful character, vibrancy and charm into a room, so if you've found a print or collection you absolutely love, why not use it across your kitchen space to create an uplifting and cohesive look.
This white kitchen-diner has been dressed in an elegant collection of modern printed fabrics from the Artisan collection by Vanessa Arbuthnott. Inspired by the eighth century Japanese art of Shibori, the simple patterns of unique geometric forms in calming blue, white and green palettes, create a kitchen space rich with texture, shape and color.
A great tip to create a cohesive look is to match your kitchen curtains with a tablecloth, a simple and elegant way to create a united, patterned scheme.
9. Embrace neutrals for a calming effect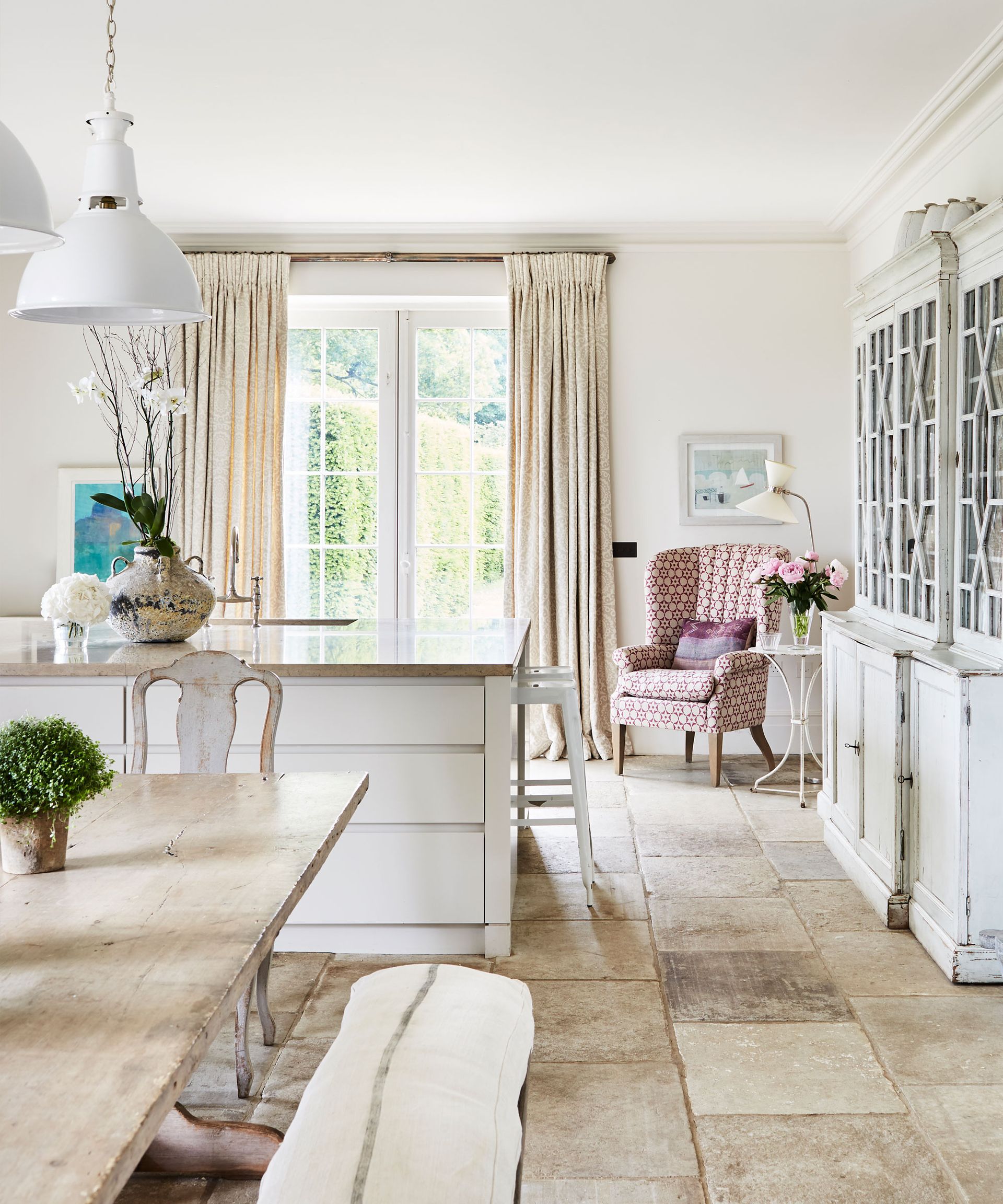 You can't go wrong with neutral kitchen ideas, and neutral curtains will be able to stand the test of time with changing styles over time, as designer Hayley McAfee states, 'semi plain fabrics in a classic linen color will never date, and will allow for many updates to the rest of the room.'
In this inviting country kitchen, the cream pleated curtains perfectly complement the white design and warming, natural tones of the traditional stone floor and wooden dining table.
A kitchen design that celebrates an organic, earthy color palette, the design may be simple and neutral, but it is a space bursting with texture, warmth and timeless character.
10. Choose a timeless print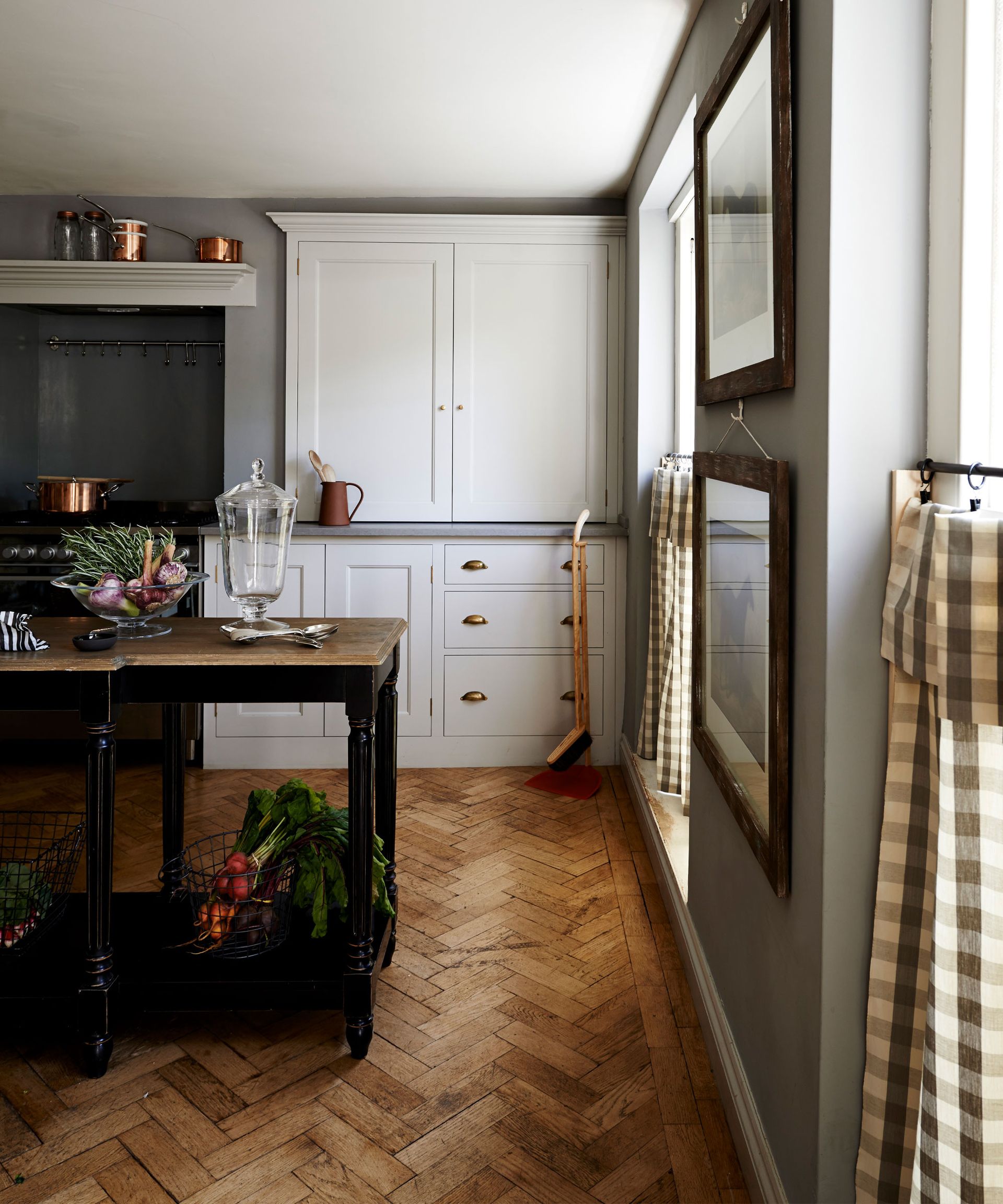 Checkerboard and gingham is one of the latest popular trends that people are going wild for across interior design and fashion.
Although a current trend, decorating with gingham is utterly timeless in style, and can create a cozy, classic look whilst still feeling modern and fresh.
Similar to decorating with stripes, a gingham print can add a simple and sophisticated pattern to a space, and is a cozy and inviting option for kitchen window curtain ideas.
Can you put curtains on kitchen windows?
Yes, you can absolutely put curtains on kitchen windows. Of course, there are some windows in areas of a kitchen, such as above a countertop or sink, that may benefit from more practical designs like a blind, but curtains can be an effective and stylish way to bring inviting texture, color and pattern into a kitchen space.
What curtains look good in the kitchen?
There are no set rules on what curtains look good in a kitchen, this completely depends on taste.
Natasha Painter of Curtains2go states, 'when it comes to choosing curtains for your home the first thing to think about is why you need them. From delicate sheers and voiles to luxurious velvets and elegant linens, the possibilities are endless. To help narrow down the options, think about the function of the curtains. Are they to add privacy for an over looked space, light blocking, or simply to add some color and pattern to your room. You should also consider the mood and decoration of the room, for example thicker linens and velvets suit more traditional spaces and voiles often look better in a contemporary, minimalist setting.'
If you have a white kitchen, colorful, patterned curtains can be a great way to inject character and create an eye-catching design statement, however more neutral, simple designs can adapt to changing styles over time, so it all depends on how you want the overall space to look and feel.
Hayley McAfee, design director at Villa Nova also says, 'for curtains, it's always a good idea to order samples and try them out in the space. Place them in the desired room to see if they sit with the existing décor. You can also see how they work with the daylight in the room. If you are starting a whole new room scheme a mood board is a really exciting and useful idea, this enables you to play around with different textures and colors to create your look.'
Sign up to the Homes & Gardens newsletter
Decor Ideas. Project Inspiration. Expert Advice. Delivered to your inbox.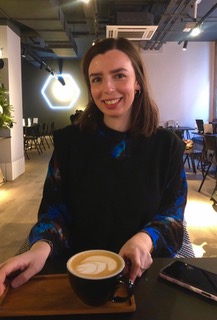 Zara joined Homes & Gardens in February 2022 as a Content Editor. After studying English Literature at University, she worked as an Ecommerce Website Editor, Content Writer and Buying Intern at multiple independent businesses within the luxury retail and lifestyle sectors. Her role at Homes & Gardens unites her love, experience and passion for the world of design and desire to create inspiring written content. She enjoys nothing more than discovering new trends, brands and products, whether that be in fashion, interior design or lifestyle.