Small kitchen paint colors – 10 shades for tiny spaces
These small kitchen paint colors will unleash your creativity – and enhance your room

(Image credit: Future)
You might think that choosing small kitchen paint colors is all about playing it safe: too many clashing brights and the space can feel chaotic and cluttered, while all-over white might make a small kitchen feel cold and unwelcoming.
All rooms need to reflect your style and personality, and that's no less important in small kitchens. Neutrals are a good place to start and an off-white, sand or buttermilk color scheme will bounce light around and make a compact space feel larger. But take time to work out your color preferences: are you a maximalist with a love of deep jewel shades and rich paint hues or someone who craves a lighter, brighter working kitchen?
Look at the layout of your kitchen, too; if the space merges into a living or socializing zone you might want to include a degree of color continuation to create visual flow.
Small kitchens don't mean you have to play it safe with kitchen color ideas; some of the best designs harness bold shades and dramatic hues to great effect. Using too many colors all at once can make a small kitchen feel muddled, so, in teeny footprints, sticking to a few hues can help create a calm environment. Try a block color scheme and paint kitchen cabinets and walls painted in the same wrap-around shade – a neat trick that will make a small kitchen look bigger. Clever, eh?
Small kitchen paint colors – ideas for every taste
Whether it's a floor-to-ceiling, deep charcoal paint, a mix of easy-on-the-eye pastels or a light and bright neutral, small kitchen paint colors should be all about expressing personality.
As Helen Parker, creative director at deVOL says about designing a small kitchen: 'Color is a completely personal choice and any decision should be primarily based around the atmosphere you want to create, rather than trying to make a small room look big. If you want moody and atmospheric, then go dark or bold, if you want it to look clean and minimal then go for light, pale colors.'
1. Move to the dark side
While your knee-jerk reaction might be to paint everything top-to-toe in white, small kitchen paint colors pack a punch when they're in dark jewelled hues, rich ebony and earthy brown. The result is characterful, warm and cocooning.
In fact, a darker palette comes to life in a small space while strong color in a grand, spacious layout, is in danger of getting lost. This is your chance to play around with today's trend for dark colors – a look we can't see going anywhere soon.
'If you have a small, dark room, why not embrace it, and play to its strengths,' explains Helen Shaw, director at Benjamin Moore. 'Incorporating a rich, bold paint color is a fool-proof way to create instant character – taking a small space from drab to stylish. Dark colors cleverly absorb the light of a space, making the division between walls appear blurred – this adds depth and dimension to a room, so the space appears larger, rather than more cramped as some may fear.'
2. Offset cool colors with warm metallics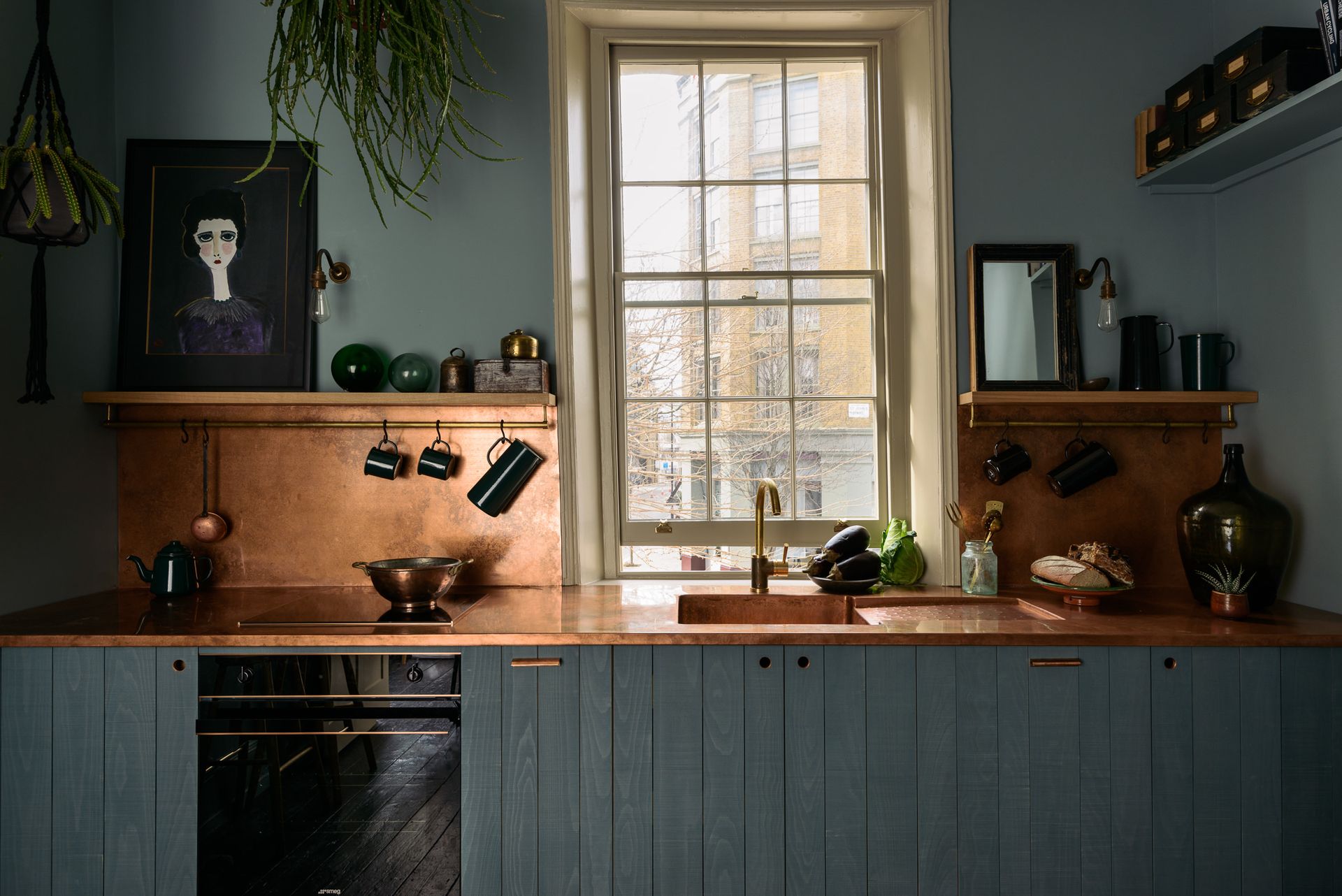 Small kitchen paint colors, chosen well, can make your space glamorous, charming and cozy. Dark cabinets will create mood and drama that is hard to achieve in a large space. If you are considering anything from grey kitchen ideas to black kitchen ideas – as well as blue – offset the deep paintwork with flashes of warm metallics on the countertops, handles and accessories.
'A small kitchen filled with dramatic colors, textures and eclectic accessories can become big in personality, which can also visually give a sense of a large space,' says Helen Parker, creative director of deVOL Kitchens. 'Small means intimate, it means cozy and glamorous and petite – these all conjure up something quite special.'
If you do pick a dark paint color, ensure your small kitchen lighting ideas are efficient and fit for purpose.
3. Pick a sunny yellow paint color for a small kitchen
Bold citrus yellows can overhaul a small kitchen and transform it into the sunniest spot in the house. Choose yellow room ideas to suit your architecture and style, from vibrant, canary yellow and daffodil to rich gold and ochre and warm honey and butterscotch tones.
Yellow is the perfect paint color for small kitchens that are designed around base cabinets – with open shelving above – as this powerful hue will draw the eye down and keep the layout grounded. Otherwise, paint a run of tall cabinets in your favorite yellow shade, and, if you're feeling brave, go all-out on matching yellow walls, too. Your yellow kitchen will be a happy one whatever the weather outside.
'Yellow reflects light in such a way that will make a smaller room look bigger,' says Dominic Myland owner of Mylands. 'It is a welcoming, joyful and vibrant choice and ideal for small kitchens, particularly if there isn't much light. Rich yellows like our vivid Haymarket No.47 are known to make you feel calm and happy, and pair well with dark shades and white accents.'
4. Color drench walls and cabinets
Small kitchen paint colors used over cabinets and walls are a match made in decorating heaven. Using the same color for painted kitchens, walls, skirting boards, window frames – even the ceiling – will transform a small space from a dull, uninspiring room to a modern, on-trend space, oozing with confidence and personality – as in the green kitchen above. Color-drenched small kitchens will also appear larger, as all-over color will help create the illusion of lengthening walls and surfaces, rather than being broken up by contrasting woodwork.
'Color drenching, especially when using darker, brave colors, works best in small spaces, like a small kitchen,' says Justyna Korcyznska, senior designer at Crown Paints. 'By enveloping a small space in a paint color, the focus shifts from noticing the size of that space to just appreciation of the shades that surround us. Bold, saturated jewel greens and teals work very well for color drenching. Not only does this create a contemporary, monochromatic look, it's also an easy way to create the illusion of bigger walls, making the room as a whole feel more spacious.'
5. Try warmer whites
Paler shades are often the go-to paint colors for small kitchens as they can help to create an open and airy vibe, says Aaron Markwell, color stylist at COAT Paints Home.
However, advises the stylist, using pure whites or cooler off-white shades can often make the space look dingy rather than spacious. Try softer neutrals, such as cream kitchen ideas, instead of white kitchen ideas such as oatmeal, taupe, pale green-greys and warm whites and use a soft sheen paint which is durable and lets light bounce around the space.
'We tend to work with warmer ivories, so that the kitchen, in any light, has a sense of warmth rather than sterility,' says interior designer Becca Casey of Connecticut-based Becca Interiors. 'Colors such as Benjamin Moore's White Dove or Classic Gray both have a subdued gray hue which in turn adds character to any space. Farrow & Ball's Wimborne White is a fantastic color for ceilings, especially if you are whitewashing beams, and Slipper Satin is a lovely, buttery color which makes any space feel like a warm hug.'
'Lighter colors make the space feel larger," adds Erin Davis, lead designer for Mosaik Design & Remodeling in Portland, Oregon. 'The trick is to paint the ceiling the same color as walls so when the eye travels effortlessly, your space will expand visually. If you can carry the same color to the adjoining space, the effect is even better.'
6. Nod to nature with green
Going green is a huge small kitchen paint color story this year, and the entire green palette – from pale sage and mint to dark emerald and teal – works incredibly well for small spaces. Green is naturally associated with nature, and is the perfect shade for bringing the outside in. The result is a calm, relaxing kitchen space with an inviting, fresh feel.
'Green is a great small kitchen paint color as it brings a sense of the outdoors in – helping to keep compact spaces feeling fresh, open and vibrant,' adds Francesca Wezel, founder of Francesca's Paints. 'Green is also known to be a soothing, relaxing color which is perfect if you don't want to overwhelm small spaces with overpowering tones and shades.'
7. Zone a small kitchen with paint colors
While a single paint shade works well to unify a small kitchen, using two or three different colors is a clever design trick for zoning various functions. It can be as simple as painting wall cabinets in one color and base units in another or painting a multifunctional small kitchen island in a contrasting shade. Alternatively, paint an appliance bank in a block color with storage in another. Go wild with bright hues or zone more subtly with shades from the same palette.
'Choosing two or three paint colors for a small kitchen helps section off different areas, giving the appearance of more space,' says Anna Hill, brand director of Fenwick & Tilbrook. 'Keep the upper walls a light neutral and introduce color on the lower half to avoid the room feeling top heavy.'
Avoid more than three colors in one space though, warns Patrick O'Donnell, Farrow & Ball's Ambassador. He adds: 'Any more than that can feel distracting in a room that generally has lots of adornment with utensils and crockery already on show.'
8. Consider a calming blue
Just as green has hit the decorating headlines lately, so blue kitchen ideas remain a popular – from classic, dark navy to turquoise and everything in between.
'Blue is the best color for making a space feel bigger,' says color and paint expert, Annie Sloan. 'It's recessive, which means it draws the eye outwards, blurs horizon lines and gives a sense of never-ending space. It's also a calming, meditative color which encourages us to breathe in and out, creating a psychological and spiritual sense of spaces as well as the physical illusion.'
9. Plump for pastels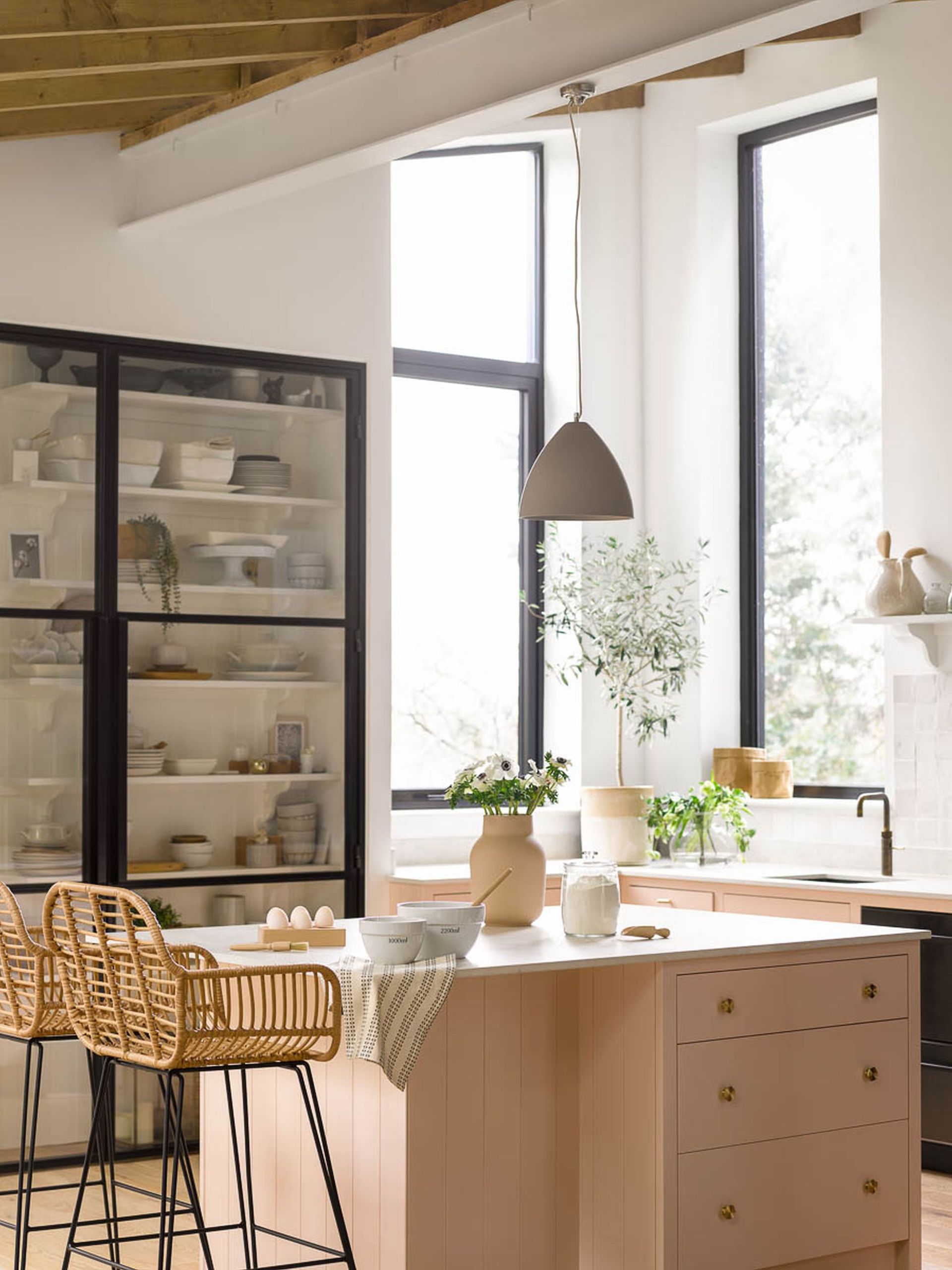 Sky blue, lavender and blush pink are no longer reserved for the bedroom and today's pastels are a super modern way to reboot the 21st century kitchen.
'Bite-sized kitchens sometimes lack a bit of character, especially if most of the effort in their design and decoration is focussed on practicality,' says Marianne Shillingford, creative director at Dulux. 'The good news though is that small spaces love a bit of color and if you are prepared to be brave press the big color button and have some fun.'
Pastels might just be the perfect way to do this in a small kitchen especially when balanced with abstract art and touches of strong color and shape.
'Using pastels doesn't have to be sweet and pretty,' adds Justyna Korcyznska, senior designer at Crown Paints. 'Shades of the palest pink, sherbet lemon or watery mint green can look new and modern if combined with tones of grey and hard materials like concrete and metal to give it a more industrial feel.'
Areas of pale pastels in the kitchen will reflect the available light around the room, making it seem bigger, adding shine and bringing a space to life.
10. Include a bold accent
Orange or red kitchen ideas aren't for everyone, but for an individual look, introduce a bold primary shade on a single piece of kitchen kit, say a freestanding larder or island unit. Two-tone kitchens are very 'now' and the pop of color against a pale or dark neutral will inject masses of personality for very little effort. Try painting the inside of a cupboard or hidden shelves with a bright pink or jade green – an unexpected jolt of bright color behind a door is one of our favorite ways to make small kitchens look very, very special.
'For a fresh update, why not introduce a bright tangerine or deep red on an kitchen island or pantry?' suggests Charlotte Campbell kitchen designer at Harvey Jones.
What paint colors make a small kitchen look bigger?
To make a small kitchen look bigger than it actually is, be clever with color. Pale shades will naturally reflect light, make walls recede and increase the sense of space.
Using whites and neutrals on every part of the kitchen – walls, countertops, cabinets and ceilings – will create a cohesive space, blurring edges and boundaries. Try different shades of white or the same neutral to add interest and stop the kitchen from feeling too cold and clinical. If all-white isn't your thing, light greens, yellows, blues and grays are all great choices to make a small kitchen look bigger.
What paint color finish is best for a small kitchen?
Semi-sheen or satin paint finishes will help bounce light around a small kitchen, much more than a matte finish will. It will also be easier to wipe clean these paint finishes, keeping your color fresh and long-lasting. Matching your paint finish to reflective surfaces like glass tiles, shiny floors and stainless steel appliances will do the same.
Sign up to the Homes & Gardens newsletter
Decor Ideas. Project Inspiration. Expert Advice. Delivered to your inbox.
Lara has worked in the ever-changing world of interiors and lifestyle journalism for many years. She cut her teeth in a busy newsroom of a kitchen and bathroom business title where she gained vast product knowledge and industry contacts that would prove invaluable. She now freelances for a variety of magazines, newspapers and online blogs and relishes the changing landscape of the interiors world