Dried flower arrangements: 6 gorgeous ways with dried flowers
Join the petal preservation society with stunning dried flower arrangements for your forever home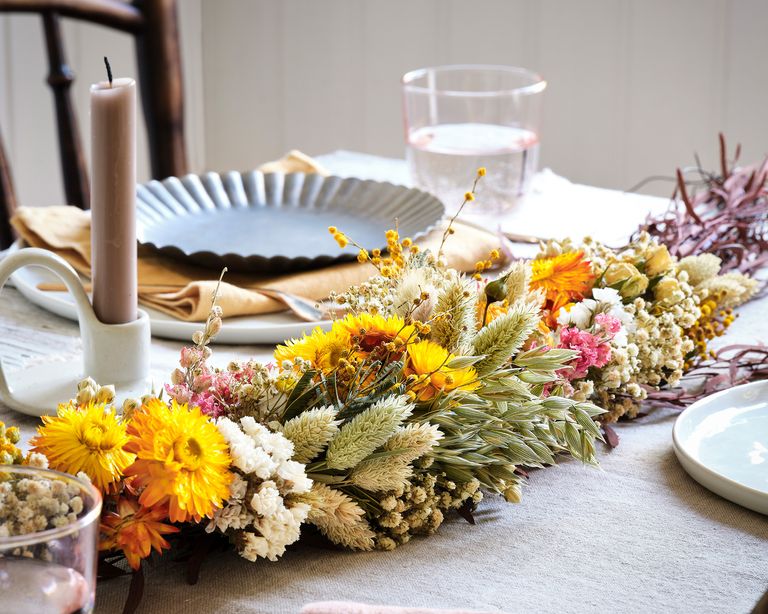 (Image credit: Future / Dan Duchars)
Dried flowers are a lovely addition to a home and, unlike fresh flowers, which have a relatively short shelf life and aren't always the best option for every day, they are everlasting. 
Dried flower arrangements were last a big trend back in the 1980s, although for some of us they have remained constant decorations in our homes. Thankfully, though, 2021 is the year the new dried flower bouquet trend is taking over our homes again – and it is stylish and beautiful.
Below we have curated our favorite ways to display dried flowers in your home. 
1. Fill a jam jar
Jam jars, produce pots and even charity shop glass oddments make low-key but lovely holders for hand-tied posies. 
We used daisies, bunny tails, eucalyptus, flax, gypsophila, oats, broom and phalaris for variety and texture. 
Gradually add stems of flowers to one hand, starting with longer stems for the middle. Add two or three of the same stem at a time, twisting the posy to maintain equal flowers and create  a rounded feel. 
Tie off with some florist wire and snip the ends so the posy fits perfectly into the jar.
2. Create a pretty table centerpiece
One up from fresh flowers, this garland can be used to dress tables time and again. 
We used rose buds, mimosa, flax, matricaria, daisies, helichrysum, broom, delphiniums, poppy heads, phalaris, bunny tails, eucalyptus, gypsophila,  oat stems and statice. 
Cut all the flowers to a length of 10cm and fix together groups of the same flower with florist wire. Take a length of garland and wire in some eucaplytus stems. Starting at one end, push a group of flowers into the garland and secure in place with florist wire. Gradually build up with flowers, mixing up for fullness. 
Finish with three groups of flowers pushed in the opposite way to hide the wiring.
3. Hang up a wreath
Make a beautiful keepsake wreath to dress plain walls. 
Begin with a ready-made grapevine wreath. Arrange the stems and flowers in separate groups – we used mimosa, eucalyptus, oats, bunny tails, delphinium, gypsophila and helichrysum. 
Start laying the first group of flowers along the front of the wreath at the base, with stems facing down. Secure in place with covered florist wire. Repeat with the next group of flowers, making sure the heads cover the wire. Continue until the centre is reached then repeat the other way. 
Finish and cover the last stems with helichrysum flower heads.
4. Gift a perfect posy
A pretty and lasting gift idea with a decorative ribbon finish. 
Separate the stems into groups – we used oats, bunny tails, delphinium, gypsophilia, grasses, daisies, statice, rosebuds and helichrysum. 
Start with the flatter stems in one hand, keep these longer and to the rear of the arrangement, then add in neater stems in slightly shorter lengths, keeping the stems straight and pointing down. 
Gradually fill in with rounded flowers, covering the stems. Secure with florist wire, keeping the stems long but trim to neaten. Wrap the stems with ribbon and finish with a bow.
5. Neaten up with napkin ring
Pretty-up place settings with a ring of delicate sprigs. 
We used mimosa, daisies, bunny tails and gypsophila. Take a length of covered florist wire and wind in a circle a few times to make the ring base, then wind the wire over on itself around the ring to support the structure. 
Pinch together a small group of flowers, snipping off long stems. 
Place along the edge of the wire then wrap and secure them in place with more covered wire. Snip off the ends of the wire for a neat finish.
6. Display a decorative dome
This smart way of showing dried flowers keeps them looking perfect. 
Measure the chosen flowers against the size of the dome – we used poppy heads, bunny tails, daisies and mimosa – leaving a few centimetres gap between the flower heads and the glass. 
Shape a piece of dry oasis to fit in the base. Cover the sides by winding around raffia and stick to the dome base with double-sided tape. Taking the tallest flowers first, push into the oasis starting at the centre. 
Add the flowers and grasses in a gradually shorter style around them. Cover the remainder of the oasis block with shorter stems of mimosa flowers and foliage.
How to dry flowers? The best way to collect, dry and keep dried flowers
You can buy dried flowers but there's something even more special about collecting the ingredients for your display from your own garden. Pick flowers and foliage on a dry day, after any morning dew has disappeared. 
There are two methods of drying – air drying or by microwaving. To air dry, remove excess foliage, tie stems hanging downwards on a coat-hanger, then place in an airy enclosed cupboard away from the light. Leave for up to three weeks to completely dry out. 
The microwave method is suitable for smaller flowerheads. Take a one-use microwave dish and place few centimetres of silica gel inside. Place the blooms on top then heat in the microwave just above the defrost temperature in blasts of one minute for up to 5 minutes, checking frequently. 
Once the flowers are dry, remove the dish, cover and leave for a day. 
Remove any gel from the flowers with a brush and coat with clear acrylic spray to prevent yellowing. Keep flowers at their best by placing away from direct light.