How much does an outdoor kitchen add to home value? You'll be surprised
How much does an outdoor kitchen add to home value? You'll definitely want this backyard improvement after finding out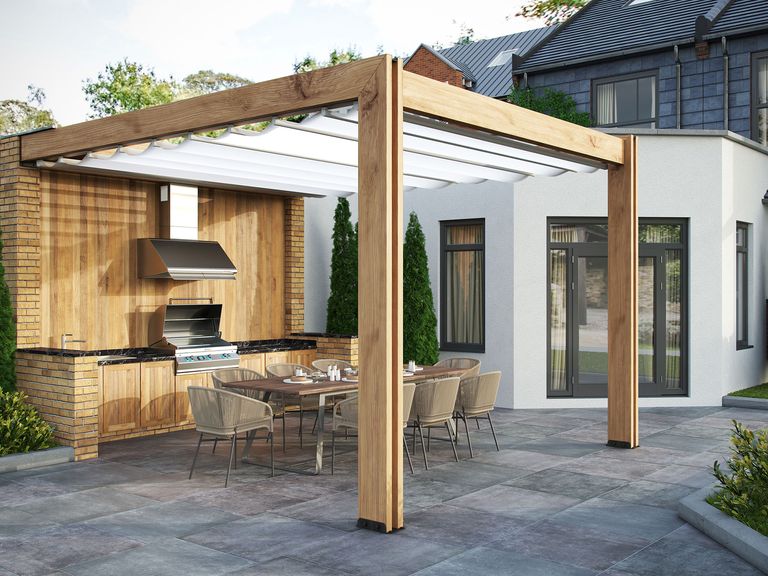 (Image credit: The London Tile Co.)
If you're wondering 'how much does an outdoor kitchen add to home value?', there's some pretty good news. This outdoor feature makes a welcome return when the time comes to sell, with the trend for outdoor kitchens rising every year. We're talking about outdoor kitchens. Outdoor kitchen ideas are everywhere now that for most of us, going out for meal more often than not means eating in our backyards.
Outdoor kitchens vary a great deal, from simple bbq areas to fully and luxuriously equipped outdoor cooking and dining areas that don't require you to go inside at all. It's the latter kind that will fetch you the biggest returns when the time comes to sell your home.
How much does an outdoor kitchen add to home value?
According to the most recent Agent Insight Survey by Homelight, over half of real estate agents in Pacific and South Central regions say that a full outdoor kitchen will add value to a home. And the returns percentages are impressive, in case you were still worried about how much an outdoor kitchen costs.
Homelight say that 'An estimated $14,000 outdoor kitchen project can recoup about 71% at resale. A more expansive project, such as installing a 20×20 foot flagstone patio with a modular kitchen unit, all-weather deck chairs, and a cedar pergola, costs about $57,000 but recoups about 55% of that at resale—almost 7% more than in 2018.'
These figures make an outdoor kitchen a worthwhile investment, even if you go for top-of-the-range materials and facilities, which isn't always the case with other outdoor features, famously swimming pools that don't necessarily add value even if they're luxurious. Although you are unlikely to make a profit from an outdoor kitchen, it is better at recouping some of its value than most other backyard features.
Pizza ovens, Argentine grills, natural stone backsplash, and even dishwashers all appear to be desirable features that buyers will pay more for – crucially, more than they will cost you to install.
Some of these are purely functional features that make trips back to the house unnecessary. Others are all about creating a high-end look and feel to the outdoor kitchen. Of course, you'll need to learn how to plan an outdoor kitchen first, then – choose the enticing extras.
You'll also need to consider the climate where you live; while an outdoor kitchen will add value in nearly any region, you'll get the best returns when selling if you live in a warm climate where the kitchen will have more regular use. if you live in an area with long, cold winters, you may be better off installing an outdoor fireplace or fire pit instead.
Anna Cottrell is Consumer Editor across Future Plc Home titles. She has a background in academic research and is the author of London Writing of the 1930s. She writes about interior design, property, and gardening.