10 ways designers fake square footage in a small bedroom
Maximize space in your bedroom with our top tips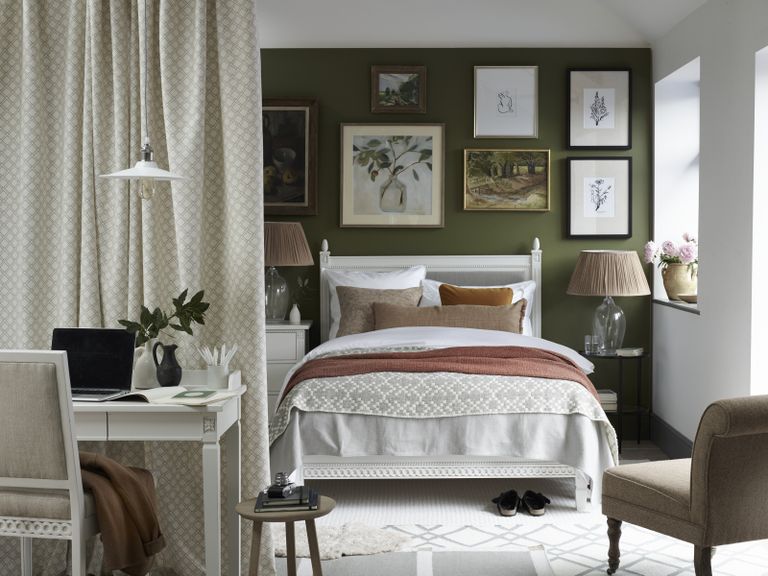 (Image credit: Neptune)
If your sleep space is smaller than you would like, these clever ways to fake square footage are for you. Indeed, there are several interior design tricks you can employ to make your sanctuary feel more spacious than it actually is – all you need is a little creativity and to make a few key adjustments.
Below, we've gathered the top 10 tricks interior designers use – you can find more creative small bedroom ideas in our dedicated guide.
1. Use vertical space
Firstly, how cozy does this bedroom look? Despite the size of this space, it still comfortably fits a bed, small sofa and armchair – and the built-in bookcase. It works because the fabulous interior design team at Kitesgrove has used the vertical space to deal with the small-space-lack-of-storage issue and made the room feel larger as a result.
The walls are your ally when floor space is next to nothing, so go on up – this also draws the eye upwards – and tricking us into seeing a space as bigger than it is with nifty design tricks is what we're after in small bedrooms.
See: Bedroom ideas – designs and inspiration for beautiful bedrooms
2. Choose a bed with tapered legs
If you can see right beneath pieces of furniture then your bedroom will automatically feel more spacious. If your room has high ceilings, a bed on tall legs will feel more in proportion; in a room with a lower ceiling, a low-slung bed will feel more appropriate.
Either way, this does mean you can't store items underneath your bed, so you will need to work bedroom storage hard to compensate. The rule applies for bedside tables and dressing table – even occasional chairs – a leggy design will work in exactly the same space-enhancing way.
See: Small bedroom storage ideas – for a practical, smart and versatile scheme
3. Pick low-slung furniture to fake a higher ceiling
A bed that's lower than the standard height coupled with a shorter bedside table will allow for more wall space – this will help to make your bedroom feel larger. It's about playing with scale and keeping the main pieces of furniture lower in height and subtle – look out for pieces that aren't specifically bedside tables for this, such as a stool or handcrafted side table.
Room by Clarke & Clarke Interiors.
4. Create a nook bed to fake square footage
One way to fake square footage in a bedroom – small or otherwise – is to divide the sleeping area off and create a nook bed. These might make walls advance but they also create an incredibly neat-looking, space-efficient room, since storage above and around the bed can be hidden within the nook, creating a calmer, less cluttered room outside of it. Plus, they're wonderfully comfortable to sleep in.
5. Opt for ditsy prints instead of large-scale designs
Bold designs, be they wallpaper or fabrics, will fill a space (visually), so choose small and intricate designs instead. You can still experiment with scale, but opt for pared back prints and choose designs that complement each other in terms of their colors; that way whether you pick a paisley, stripe or a simple two–tone design they will have something in common, which in turn creates a calmer, more spacious-feeling bedroom.
Design by Penny Morrison.
6. Paint walls in a barely there color
We asked Patrick O'Donnell, Brand Ambassador at Farrow & Ball for his advice on dealing with a bedroom that's on the small side:
'I would keep your color scheme light and airy and try to avoid too many contrasts by using one color for all surfaces – even the ceiling and built-in wardrobes. This is where soft, light colors work best so choose a soft nuanced white or delicate pastel shade.'
This is where a shade like Cabbage White (above) comes in; it's a more subtle shade than a bright white but will have the same space creating effect. It has a hint of blue and will 'cool' down a room that gets a lot of sun, too.
7. Pick a tall headboard
When space is tight, you don't want to fill it with a large chunky headboard that fills the room – as lovely as they are, it's not the right fit in this situation. Instead, opt for a visually lightweight design that has an elegant profile.
Here, a tall headboard that leads the eye upwards helps create the impression of a taller space, while its light color is a positive contrast to the darker shade used on the walls.
8. Boost square footage – and light – with mirrors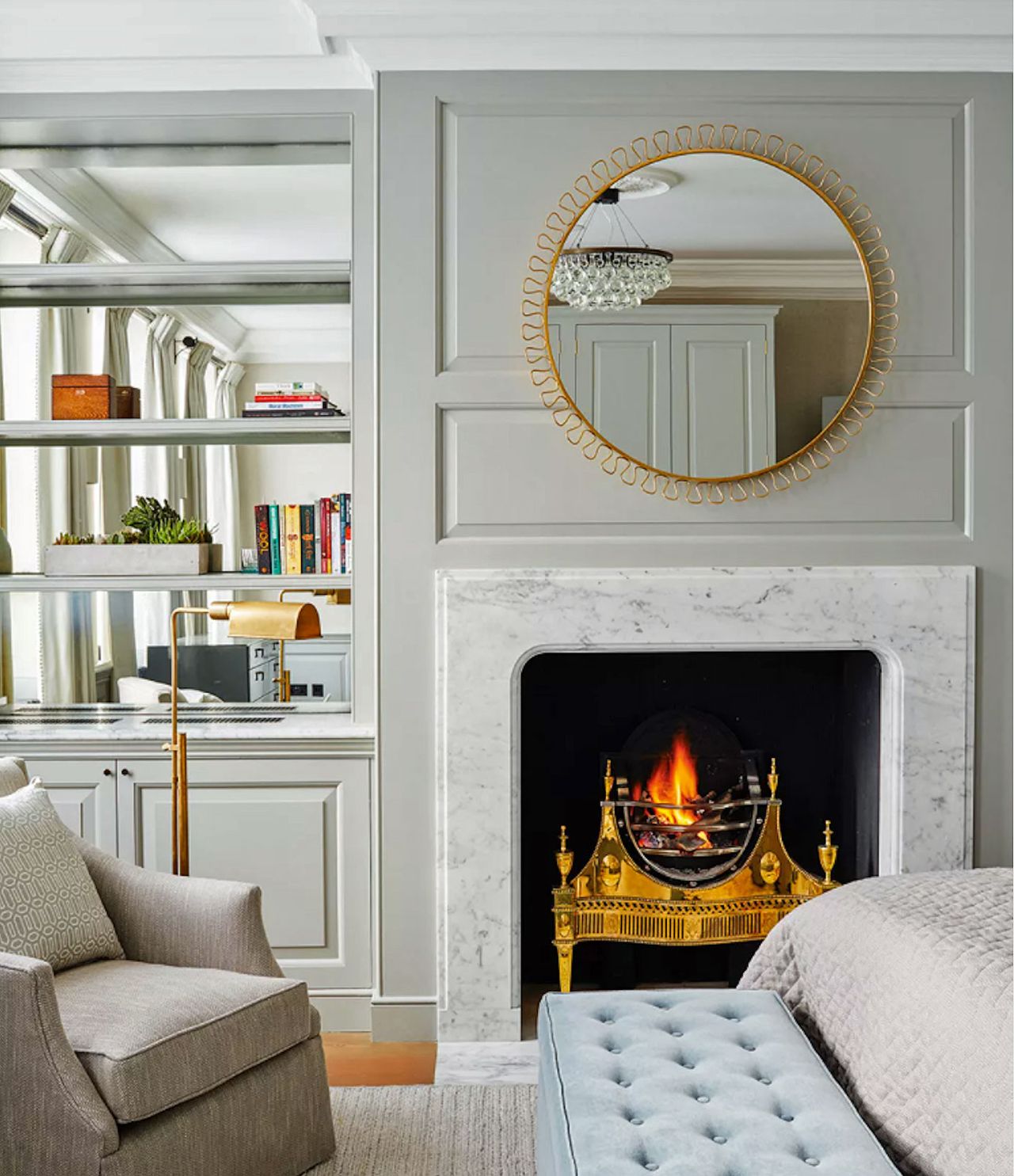 Mirror, mirror – often forgotten but oh-so-useful, the humble mirror can really transform a space. If you hang it near a window it will bounce the light around and reflect beautifully, it's an interior design trick that's definitely worth doing.
We love the doubled effect of the mirror in the alcoves and on the chimney breast of this bedroom.
9. Swap space-enhancing table lamps for wall lights
(Image credit: Industville/image by House Nine Design)
We're big fans of wall lights – they are stylish and space-saving. If your bedroom is small you might have to compromise on the width of your bedside table, which means any space you can get back is a bonus. The answer is to install wall lights on each side of the bed.
'Utilizing wall lights next to your bed is a bold style statement that offers a new element to your bedroom décor while saving you from the clunky lamps that take up valuable space on the bedside table,' comments Marketa Rypacek, Managing Director at Industville.
'The number one consideration for lighting any space, no matter what the size, scale or budget has to be a dimmer switch. Dimmer switches are a quick and cost-effective way of offering multiple lighting levels in a space, allowing the homeowner to set the tone and change the atmosphere of a room instantly.'
10. Create a faux wall with a curtain
With most rooms in the house having to work a little harder as more of us are working from home, the peaceful haven of our bedrooms has had to adapt slightly. In this instance there are some clever ways to make it work whilst still making it feel spacious. Splitting the room by having a curtain hung three-quarters or halfway across the room ensures you have that work life balance both mentally and visually.
See: How to arrange a small bedroom – make the most of even your tiniest spaces
Keep the scheme predominantly light and airy so it doesn't feel 'closed in', this bedroom by Neptune feels spacious with the green feature wall and the desk area, this due to the rest of the walls, drapes, furniture and rugs being white and neutral.