Preparing a guest room for Thanksgiving –8 superhost steps to get ahead now
These steps can ensure your guest room is perfectly prepared for any guests over Thanksgiving, accommodating their needs and preferences with some festive flair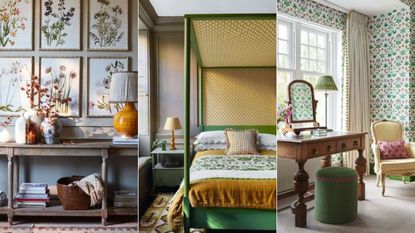 (Image credit: OKA / Future / Boz Gagovski)
If you are hosting over Thanksgiving, preparing a guest bedroom for a long or short stay means your guest enjoy a comfortable stay and ensures a seamless visit. The best way to do this is by preempting your guest's needs and preferences so you are able to create a space that is personalized to them.
By designing a space to accommodate your guests, providing amenities, and adding Thanksgiving themes, you can prepare an inviting space that can earn you a super-host reputation.
Below, our experts have explained the top eight ways to prepare a guest room for Thanksgiving hosting.
Preparing a guest room for Thanksgiving
The best way to prepare a guest room for Thanksgiving is to make sure everything is clean and organized and creating a cozy and inviting atmosphere to make your guests feel settled and comfotable.
1. Clean and declutter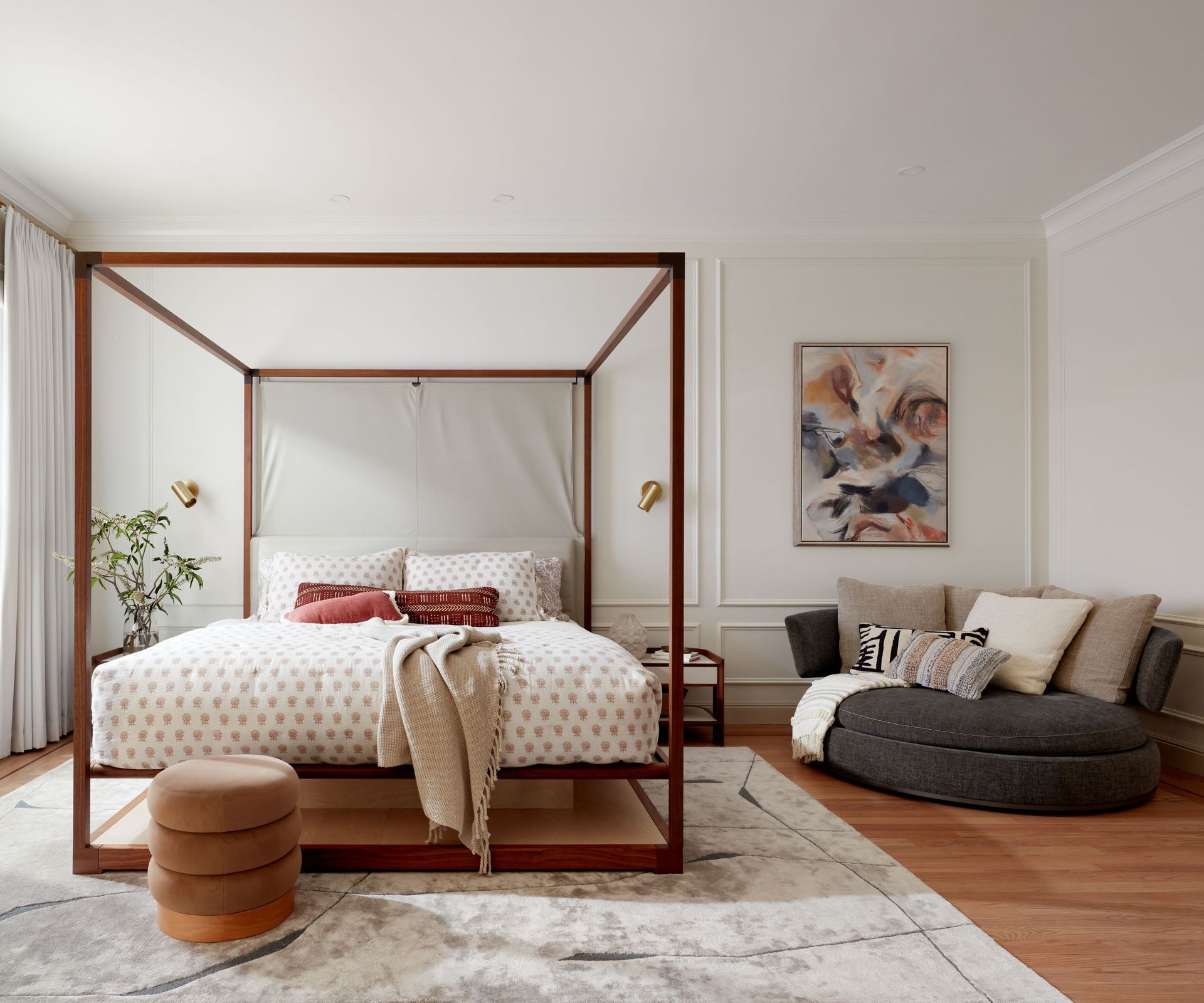 'Dust, vacuum and clean all surfaces in your guest room. Remove any clutter or personal items to make room for guests' belongings,' advises Yama Jason, interior designer and founder of House Customize. 'A clean and tidy room contributes to a fresh and pleasant space, making guests feel more welcome and relaxed.'
This includes dusting all surfaces, vacuuming or mopping the floors, and changing the bed linens. You can check out our guide for the dirtiest place in a bedroom to ensure you've cleaned all the most important places.
Be sure to also clean any shared or guest bathroom that your visitors will be using. And clear out space in storage options to make room for your guest's items.
2. Provide amenities and functional elements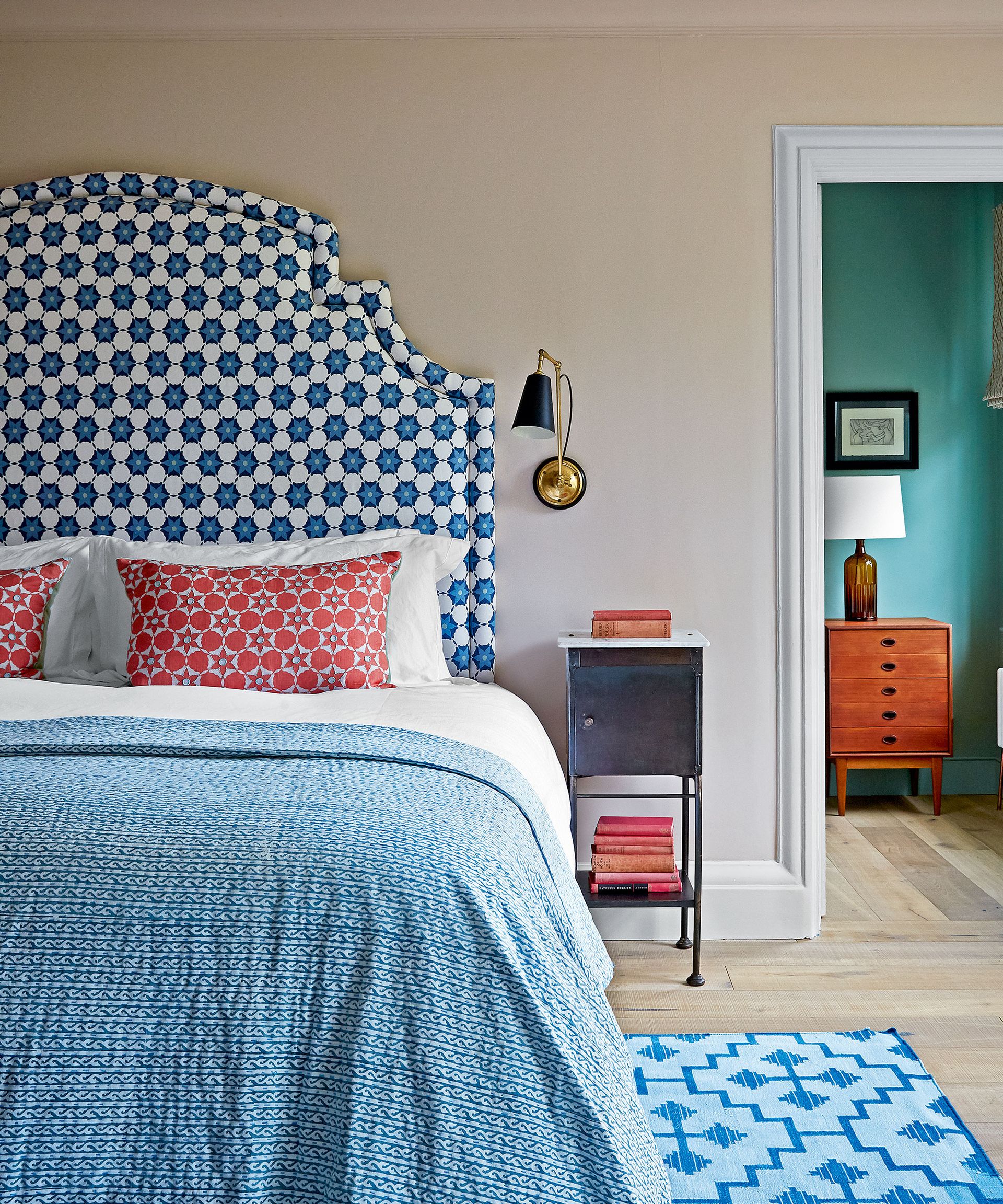 A considerate addition to any guest room is providing the amenities they may need. By predicting your guest's habits, you can stock the room with essentials.
Include items like a toothbrush, lotion, a comb, and perhaps a robe or slippers to add a spa-like feel. These can be displayed in a basket or arranged on a tray for a touch of luxury.
Equip the bedside table with a lamp, alarm clock, tissues, a sleep mask, earplugs, and possibly some reading material.
Create a charging station where your guests can easily charge their electronic devices. This can include a power strip, such as this charging port power strip, from Amazon, or an extension cord with multiple outlets. To keep these neat, you can use a charging station organizer, such as this one, from Amazon.
3. Clear enough storage space
If your guests will be staying for multiple days, be sure to provide them with enough space to store their personal belongings. To do this clear out enough space in a closet or dresser for them to use, and check there are enough hangers for their clothes.
You can also add some temporary storage options such as decorative baskets to ensure they have a space to temporarily keep their items. This should also be done when getting your bathroom ready for Thanksgiving guests.
Adding a luggage rack or a designated space for suitcases to keep them off the floor is another nice touch.
4. Add a touch of Thanksgiving decor
To add a festive touch, you can decorate the guest room with some Thanksgiving-themed decor such as flameless or scented candles with fall motifs, a small pumpkin or gourd centerpiece, fall foliage, and some fall-colored throw pillows.
However, try not to not go overboard with the decorations or decorate every surface as this could make the room feel cluttered and overwhelming, ultimately becoming inconvenient.
5. Bring out the comfortable bedding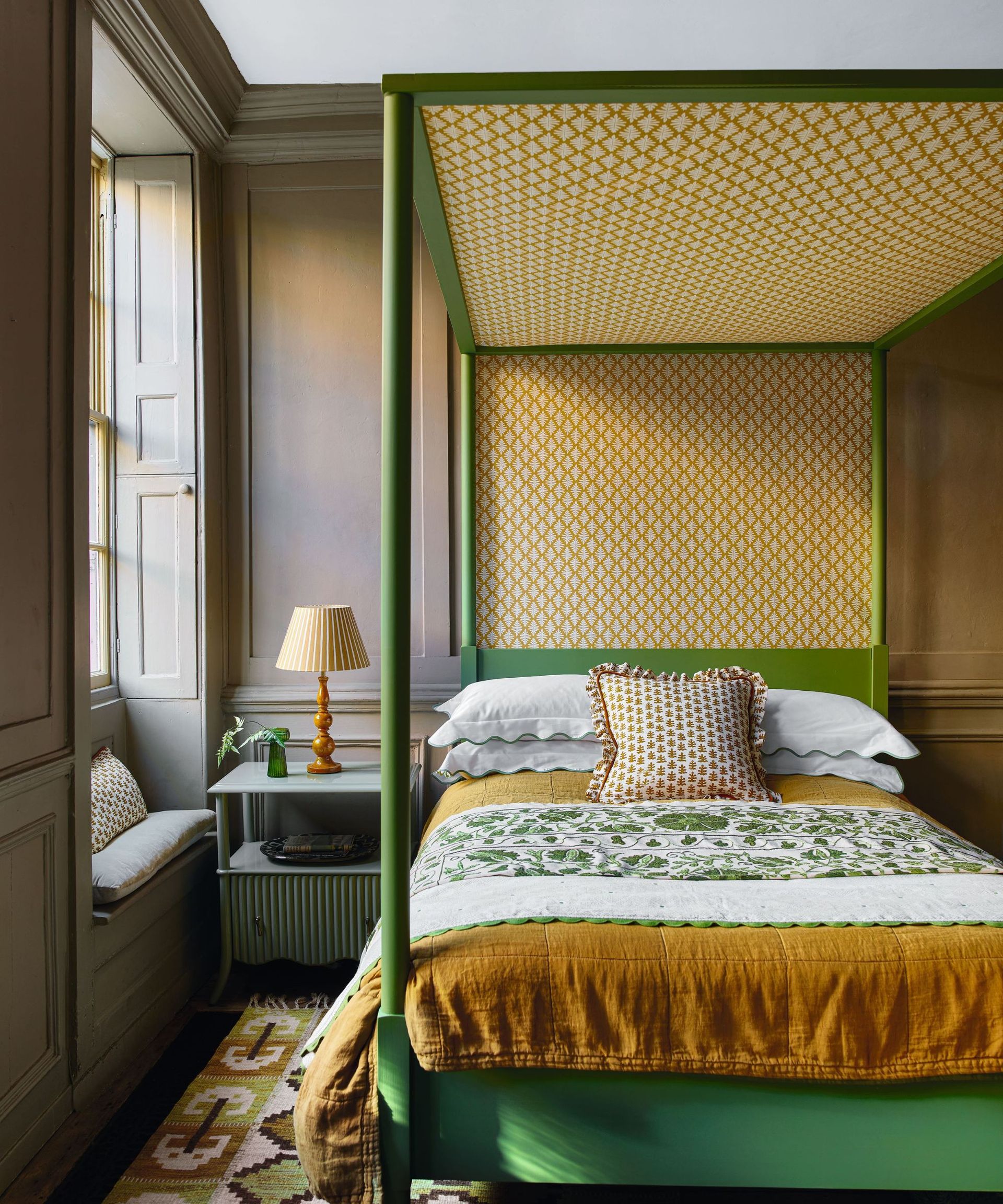 'The bed is the centerpiece of any guest room,' says Tadas Pukas, CEO and Founder of Minimalistic Linen. 'Opt for a soft mattress topped with high-quality linens, ensuring a variety of pillows and warm blankets to accommodate different preferences.
'This attention to bedding not only enhances comfort but also shows your guests that their rest is a priority.'
Wash the bedding, including sheets, pillowcases, and blankets, before your guests arrive. Consider providing extra blankets or pillows for added comfort.
'Ensure bedding is seasonally appropriate and comfortable, it is key to ensuring your guests get a good night's sleep,' says Yama Jason. 'Use fresh, clean sheets and consider adding extra blankets or lounge blankets for colder nights.'
Remember comfort is key, and showing that you have paid extra attention to their bedding preferences will likely be appreciated by your guests. Offer a variety of pillows to accommodate different sleeping preferences - firm, soft, etc. You could also consider adding a mattress topper for extra comfort to your mattress.
6. Set up a vantiy station
Ensuring your guest room has a vanity station during Thanksgiving is crucial for providing a comfortable and welcoming environment, giving guests a convenient and private space to get ready and store items such as makeup and hair products.
Having a dedicated space for grooming can enhance your guest's overall stay, and ensure they feel prepared for Thanksgiving festivities.
7. Add fragrance
Making a guest bedroom smell nice is easily one of the best ways to make it feel inviting, and by using fragrances that are synonymous with Thanksgiving, you can also make it a delightfully festive space.
There are a number of ways you can do this including with scented candles, diffusers, homemade room spray, or a number of hidden tricks to make it nice-smelling.
'Infuse a subtle Thanksgiving essence into your guest room by placing scented liners in dresser drawers,' recommends Ritika Asrani, owner of St Maarten Real Estate. 'Opt for liners with notes of cedar, apple, or nutmeg.
'This not only adds a delightful fragrance to clothing but also creates a sensorial journey that complements the season's spirit.'
8. Temperature control
Ensure that the guest room is well-ventilated and adequately heated or cooled depending on the weather, so that your guests can adjust the temperature to their liking.
'Temperature control is crucial for guest comfort. Provide options like extra blankets, a space heater, or a fan.' recommends Tadas Pukas.
FAQs
What personal touches can you add to a guest room?
'For a personal touch, add elements that make the room feel welcoming. This could be a small arrangement of holiday-themed flowers, local art, or a personal note with your contact information, WiFi password, and a warm welcome message,' recommends Tadas Pukas, founder of Minimalistic Linen.
'Focusing on these aspects, you can create a guest room that is not only comfortable and functional but also warmly inviting, making your Thanksgiving guests feel truly at home.'
You can also create a customizable pillow menu by offering an array of pillows with varying levels of firmness and materials. Include options such as memory foam, down, and even aromatherapy-infused pillows.
This touch can ensure your guests enjoy a personalized and comfortable night's sleep.

---
It's important to communicate with your guests before their arrival to ensure you can accommodate for any needs they may have, ensuring they have an enjoyable stay and you can sort everything before their visit so you can relax and enjoy when they arrive.
Sign up to the Homes & Gardens newsletter
Decor Ideas. Project Inspiration. Expert Advice. Delivered to your inbox.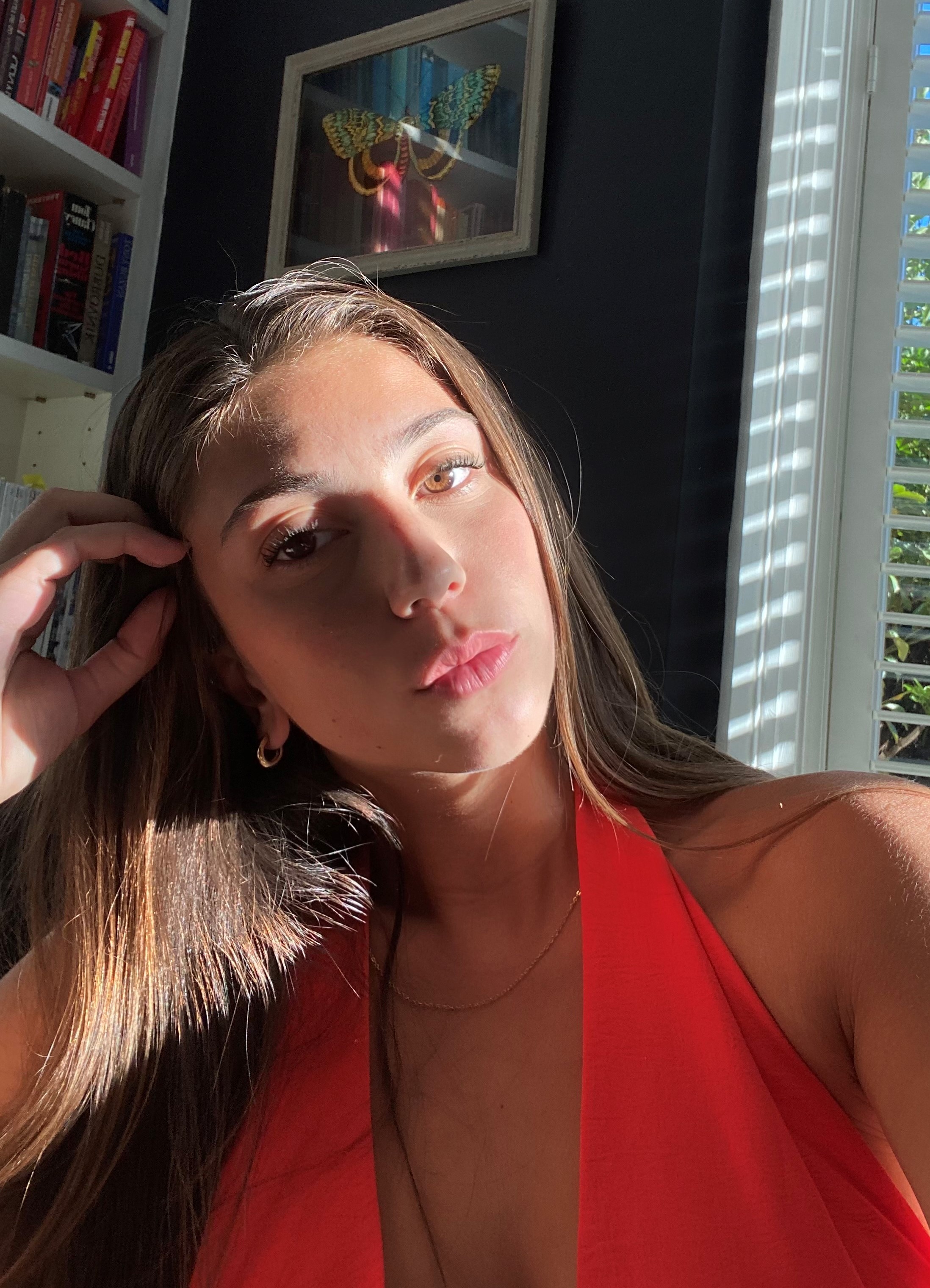 Lola Houlton is a news writer for Homes & Gardens. She has been writing content for Future PLC for the past five years, in particular Homes & Gardens, Real Homes and GardeningEtc. She writes on a broad range of subjects, including recipe articles, reviewing products, writing 'how to' and 'when to' articles. Lola now writes about everything from organization through to house plants. Lola is a graduate student, who completed her degree in Psychology at the University of Sussex. She has also spent some time working at the BBC.