Fall bedding trends – 6 stylish ways to enhance your space this fall
Refresh your home for the fall months with these designer fall bedding trends that will make you want to stay in bed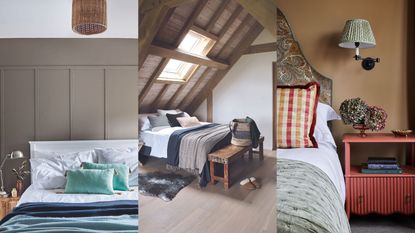 (Image credit: Future)
With summer almost over, it is the time of year to dig out the winter comforters and cozy up for the colder months. With these fall bedding trends, you can create the perfect autumnal sanctuary.
When it comes to bedroom ideas, implementing fall decor ideas may not be top of your ideas list, however, these timeless fall bedroom trends are almost guaranteed to form the perfect space for relaxation and rejuvenation after a long summer.
From nostalgic patterns to lush layering, top designers and bedding experts have shared their advice for using these fall bedding trends in your home to make your bedroom cozy.
Chiana has written over 70 articles for Homes & Gardens, many of which focus on home and garden care. She spends her days talking to experienced designers and experts about the latest trends and design ideas which she shares with H&G's readers so they can style their homes to perfection.
As we approach fall, Chiana is turning her attention to seasonal topics due to her love of the season and its warm tones and cozy interiors.
Fall bedding trends
'As the nights draw in and the temperature drops in the Autumn months it's important to create a sanctuary in which to retreat at the end of a long day,' says Deborah Fiddy, managing director and founder of leading bedding specialists, Gingerlily. 'Bedrooms are wonderfully personal spaces in which to really indulge in our own individual sense of style. For me it's not purely about the aesthetic of the space, it's about how it makes me feel.
Here, experts have talked about six of their favorite trends this fall for you to emulate in your own home.
1. Traditional patterns
When contemplating when to start decorating for fall, adding nostalgic patterns to the space is a great place to start according to designers. 'This autumn we're seeing a return to vintage florals, so use pattern to create intrigue, and provide a soft nod to the more care-free bygone eras,' suggests Georgia Metcalfe, founder of French Bedroom.
Using nostalgic patterns such as gingham and florals in non-kitsch ways helps in cozy bedroom ideas as it allows the mind to relax, as Rhiannon Johns, trained interior designer, and brand manager at Piglet in Bed explains. 'Traditionally a pattern we associate with purely summer months, gingham looks like it is here to stay this Fall/Winter season. A gingham print in darker tones such as olive green and burgundy offers a wonderful opportunity to create a cozy bedroom scheme that feels very provincial in England.
'There is undoubtedly a trend for nostalgia in interiors that we'll continue to see this fall, offering people a chance to mentally escape to simpler times.'
2. Tasteful clashes
While clashing prints and colors hardly seem relaxing, introducing the right mix could help formulate cocooning, cozy room ideas.
'Clashing prints and patterns have been major in fashion the last few seasons, with Y2K-inspired looks being hard to avoid. I think we'll see this influence begin to show itself in interiors as a kind of sophisticated evolution of the cottagecore trend: less vintage, more playful transitional style,' explains Rhiannon. 'Bright and rich wall colors such as French Blue and Ochre paired with contrasting colors and clashing bedlinen and other upholstery have been slowly creeping into the forefront of bedroom schemes for the last year – replacing the darker green and blue wall-paneling days of 2020.'
3. Nature inspired palettes
In a season marked by changing leaves and drops in temperature, it is perhaps unsurprising that colors inspired by nature are making their way into our bedrooms. 'Bedrooms are such personal spaces, that are perfect for following your heart and embracing an interior that speaks to you,' begins Ruth Mottershead, creative director at Little Greene. 'Create a calming, cozy, and cocooning nature-inspired sanctuary with a palette of soothing, tones such as midnight sky 'Dock Blue', restful 'Three Farm Green', and botanical leaf print wallpaper 'Beech Nut', for the final touch, combine with natural wood finishes, rattan and trailing house plants for an inviting serene feel.'
'For an inviting fall bedroom, opt for a neutral color palette of tan, oatmeal, chestnut, and green, combined with natural textures of wood, linen, and cotton,' continues Georgia.
'This fall we are seeing people embrace both natural hues of sand and sage green as well as pretty patterns in classic blue and white and deep, warm coral hues that add personality and joy to a space,' Deborah adds, emphasizing the turn towards more delicate schemes.
4. Bright, bold tones
Alongside these neutral bedroom ideas, a more typical fall color palette of darker and bolder shades is helping to tone our bedrooms down and create a moody atmosphere in the darker months. 'Dark and neutral tones and layers with textures come into play this season for the bedroom – all shades of beige, deep olive green for that pop of color, and textured whites are in for fall,' says Caitlin O'Keeffe, merchandise field manager at Serena & Lily.
Adam Black, the co-founder of Button & Sprung, concurs. 'This fall, we're likely to see an increased desire to create bedrooms that make us feel comfortable and relaxed but with a unique and personal twist. This individual injection of character is likely to come through color, but not in the muted, darker tones we're used to seeing in this colder season, but rather a more cheerful and bright approach.
'Color has made it back into the spotlight throughout all areas of the home and this fall it's set to make a real statement in the bedroom, and bold combinations will be encouraged. We love a strong combination of pink and green, but we have also found an increased love for more ruby red tones.
'Whilst previously, fall color trends may have leaned towards an overall dark approach, this year we're seeing deeper shades complemented with pops of brighter color – for example, a velvet cerise-colored headboard and linens teamed with accents of bright yellow and hints of a softer pink.'
5. Creating a cozy space
One of the most common bedding mistakes is using the wrong materials for your bedding, but it can be hard to know what bedding material is best. With the temperature dropping, choosing the right comforter for your bed will help emphasize the cozy atmosphere and create a bed you don't want to get out of.
'A cozy duvet to crawl into on a dark winter's night is a must, says Tielle Love Luxury co-founder, Robert Lancaster-Gaye. 'One of those bedroom essentials you wonder how people ever lived without. Feather and down are best for warmth, comfort, and breathability; the duvet's softness or weightiness depends on the finish and fill. Natural down is soft and lightweight, whereas feathers provide bulk and weight. Some luxury microfibre duvets also have a lovely natural duvet look and feel and are a great option for guest rooms and children's bedrooms.'
6. Layering textures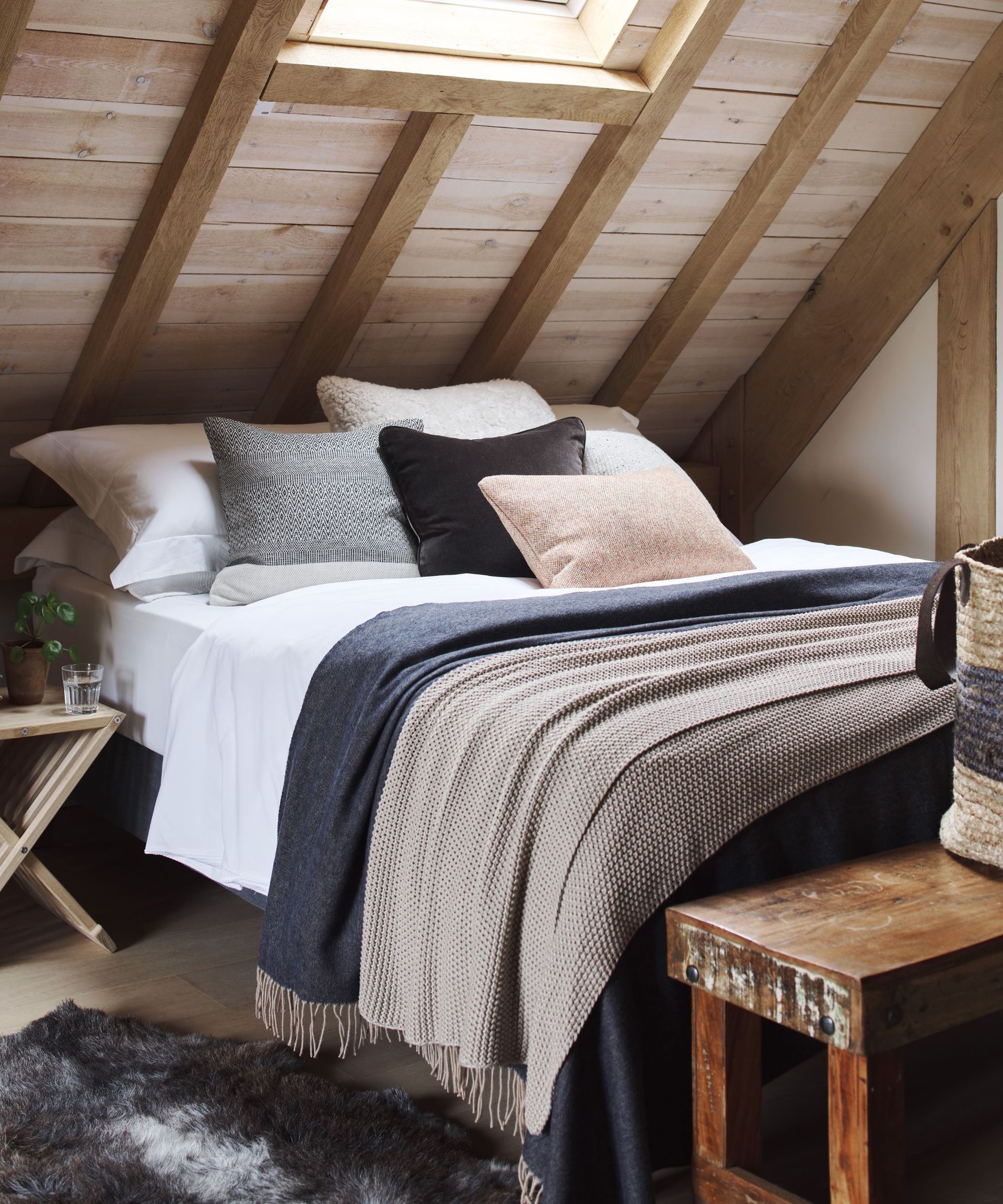 'Autumnal styling is all about cozying up,' stresses Georgia. 'Faux fur, velvets, and linens in tones of taupe juxtaposed with berry hues and shades of muted green will perfectly bring the outside in.'
Fall is the best time of year to begin dressing, layering and styling a bed using the best luxury bedding.
'This fall as the evenings get darker and colder, we'll be focusing on layering our bedrooms to perfection – both with color and texture. Fall calls for a cozy bedroom that welcomes you at the end of the day, and for us, that means layers of different fabrications,' continues Jo James, co-founder & creative director of Bedfolk.
'We'll start with a 100% cotton sheet woven in a sateen blend, which has a naturally warm hand feel, and then add layers of Linen via duvet covers and pillowcases (typically associated with summer, but actually perfect year-round as it's naturally temperature regulating). We will then add even more layers of squishy warmth via a quilt, and some quilted square pillowcases, creating a cloud of warm comfort to climb into at the end of the day. The differences in the fabric can make such a difference to how your bed feels, and mixing different types of natural materials (like cotton and linen) can create such a lovely sleep experience.
'Layering also means mixing and matching colors – at Bedfolk we like to mix different shades across the bed rather than sticking with one color for everything. This adds warmth and depth (and our mellow, natural colors are designed to work together). This winter, we will be layering up with shades of rust and rose– a new favorite combination.'
'I love to create a sanctuary where I'm surrounded by textures, patterns, and colors that I love,' continues Deborah. 'Creating a warm, welcoming indulgent space by layering different textures and patterns together. I'll be layering the delicate and whimsical patterns of 'Tangleweed' and 'Rattan' from our silk bedding collaboration with Madeaux in pretty pinks these designs offer a sense of warmth and escapism, and a gentle reference to nature, perfect for creating a relaxing and restful ambiance, top with an abundance of silk cushions and a luxurious eiderdown or silk blanket for a cozy, comforting and decadent feel.'
Consider investing in the best linen sheets to elevate your layering and create a luxurious feel.
How can I decorate my bedroom in the fall?
One of the easiest ways to decorate your bedroom for fall is with autumnal decorations and a fall color palette. Incorporate rich oranges, reds, beiges, and browns into your bedroom. If you want to add decor, consider more tasteful, timeless pieces such as vintage additions over overtly themes decor. Using vintage tinted glassware, ceramics or wooden pieces speaks to the old-world appeal of the fall aesthetic and grounds the room in earthy, natural elements.
What is the fall aesthetic?
The fall aesthetic is all about living your life as cozily as you can and romanticizing the smaller aspects of the season. Creating a cozy home with layering, warm tones, and natural textures all continue the fall aesthetic along with other lifestyle aspects such as dressing cozily in sweaters, boots, and cozy socks and relishing in fall favorite foods such as warm pastries, cookies, and hot drinks.
Sign up to the Homes & Gardens newsletter
Decor Ideas. Project Inspiration. Expert Advice. Delivered to your inbox.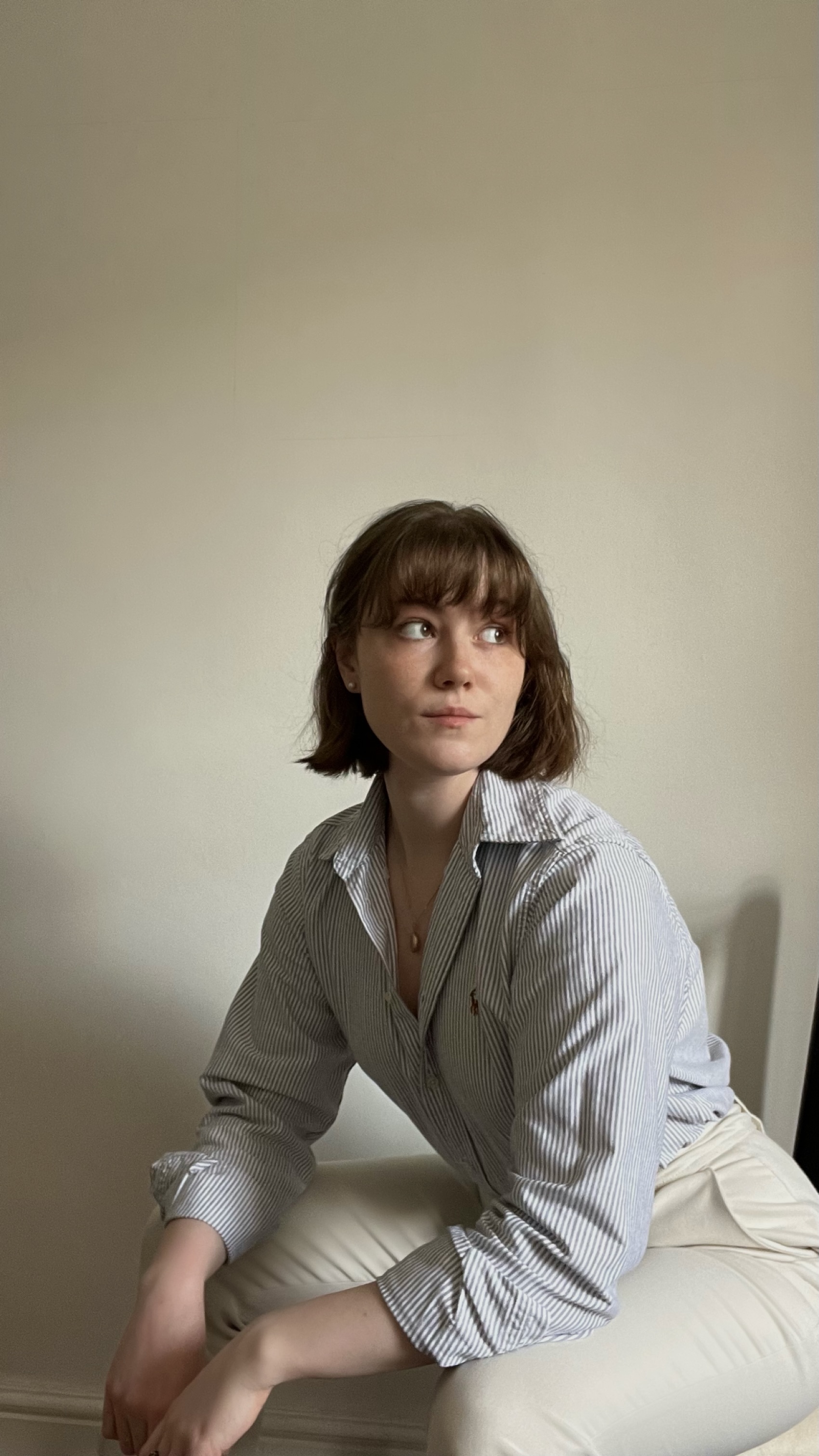 Chiana has been at Homes & Gardens for a year, having started her journey in interior journalism as part of the graduate program. She spends most of her time producing content for the Solved section of the website, helping readers get the most out of their homes through clever decluttering, cleaning, and tidying tips – many of which she tests and reviews herself in her home in Lancaster to ensure they will consistently deliver for her readers and dabbles in the latest design trends. She also has a first-class degree in Literature from Lancaster University.